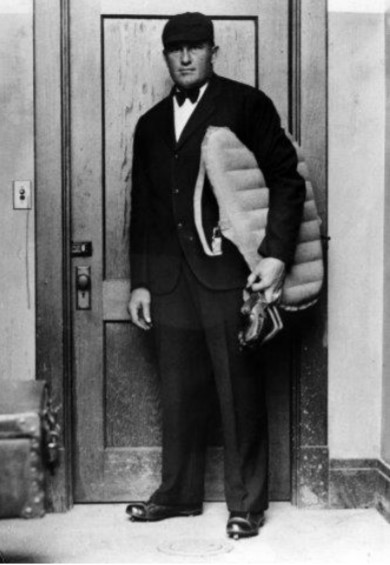 ---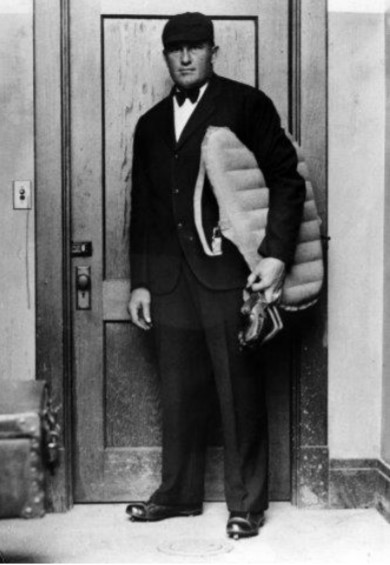 "Who is the only person enshrined in both the Pro Football Hall of Fame and the National Baseball Hall of Fame?"
Cal Hubbard first earned acclaim as a bone-crushing tackle, then as a formidable umpire, and finally as an exceptional baseball executive. For nearly half a century his name was known by every self-respecting football or baseball fan. Alas, fame can be fleeting. Today, if sports fans are familiar with him at all it is probably as the answer to the above trivia question, but Hubbard deserves to be remembered more as just a means to win a barroom bet. To be bestowed the highest honor of a sport is a remarkable achievement; to be inducted into the shrines of two different sports is extraordinary, requiring an array of diverse talents.1
Robert Cal Hubbard, of Scotch-Irish descent, was born on October 31, 1900, in a small Keytesville, Missouri, farmhouse. One of six children born to Robert Porter Hubbard and Sarah "Sallie" (Ford) Hubbard,2 he was always known by his middle name to distinguish him from his father.3 His formative years featured family, fishing, farming, and football, all of which would remain important to him his entire life. Cal also always kept his country-boy roots, preferring the quiet charms of small-town living to any of the many bustling metropolises in which he would work.
At age 12, Hubbard smoked his first Camel cigarette behind the barn with a boyhood friend and became a chain-smoker for nearly the next five decades.4 The bad habit certainly didn't stunt his growth. By age 14, he was a tall teenager, weighing a muscular 200 pounds. He discovered in his youth that he excelled at every sport; every sport, that is, except baseball. His bulk made him rather awkward on the diamond but he loved the game and would serve as umpire for his friends on the sandlot.5 They nicknamed him "The Enforcer" because of the way he controlled the game.6
Football was an obsession with young Hubbard. He worshipped from afar Alvin "Bo" McMillin, the legendary college quarterback whose exploits Cal would faithfully follow by newspaper. Hubbard would travel to Glasgow, a town 15 miles away, because his hometown school did not have a football team. (He was back, however, at Keytesville High School for graduation.) His dreams of playing football for the United States Military Academy at West Point were dashed when he was denied acceptance after a physical exam revealed his flat feet.7 So he enrolled in Chillicothe (Missouri) Business College because of its promising football program. He lasted only one year before returning home to work on the family farm.
In 1922 Hubbard enrolled in Centenary College in Shreveport, Louisiana, after his hero Bo McMillin became the school's head football coach. He joined the football, track, wrestling, boxing, and baseball teams. (He made the baseball team only because of the college's small enrollment.) Nobody had ever seen anyone quite like him before on a football field – a player with such an awesome combination of size and speed. Able to run the 100-yard dash in 11 seconds, Hubbard was a sensation on the gridiron. In addition to his girth and quickness, the fierce intensity with which Hubbard played made a durable impression. "I liked to hit people," Cal would say, so much so that coach McMillin would bar him from participating in team scrimmages for fear of injuring his teammates.8
Virtually every article ever written about Hubbard mentions his imposing physical stature, even those written when he was an elderly man in retirement. Sportswriters would turn to their thesauruses to find new ways to describe his build – towering, enormous, massive, gigantic – but there was no consensus on how big he really was. He was variously listed as weighing anywhere from 220 to 280 pounds and standing between 6-feet-2 and 6-feet-5. Everyone agreed, however, that Hubbard had an intimidating physique, particularly for the era in which he played. (Actually, Cal stood 6-feet-3 and weighed 250 pounds, somewhat heavier in later life.)9
By leading Centenary College to three successful seasons, Hubbard earned acclaim as its menacing tackle. Meanwhile, coach McMillin came under heavy criticism from school administrators for placing too much emphasis on athletics over education. Professors complained that his football players were missing too many classes because of practices and long road trips.10 When the controversy became heated, McMillin quit and became head coach at Geneva College in Beaver Falls, Pennsylvania. And he took Cal Hubbard with him.
Under Geneva's eligibility rules for switching schools, Cal had to sit out the 1925 football season. On the plus side, Geneva was where he met his future wife. Their college courtship reads as if it were taken from a screenplay for a romantic comedy. One day, while strolling on the campus grounds with McMillin, Hubbard saw a pretty coed walk by with an armful of books. Transfixed, he stood silent until she passed out of sight. "There goes the future Mrs. Cal Hubbard," he said to his flabbergasted coach.11 Catching up to the young woman, he bluntly asked her, "What's your name?" She replied "Ruth Frishkorn." Cal's comeback: "That name's too hard to pronounce. I'm going to change it to Hubbard."12 Following the movie-script theme, he asked her for a date, was predictably turned down, he persisted, a college romance blossomed, and he eventually won her heart.
During his year away from football, Hubbard worked in the local steel mill and kept in shape by joining Geneva's track team. He set the school record in the discus throw at 142 feet, 8 inches. Returning to the gridiron in 1926, he earned national attention as a virtual one-man team when Geneva defeated powerful Harvard – a classic contest that remains one of the most stunning upsets in college football history. Cal's roommate Paul "Pip" Booth never forgot him: "[Hubbard] moved like a cat and always smashed into the ball carrier with his face or chest. Once I saw him smash down the whole side of a defensive line by himself. He was six to eight years older than most of us, and we looked up to him more as a father than as a teammate."13
Hubbard was admired as much for his character as for his athletic ability. He helped his coach maintain discipline on the squad, making sure his teammates followed McMillin's strict rules of no smoking, no drinking and no card playing. Booth said, "No man had clearer living habits [than Hubbard]. His only bad one was sitting up all night to drink coffee and talk sports. Baseball and football rules were his hobby; he spent days and nights studying them and drinking coffee."14 The contrast in Cal's Jekyll-and-Hyde personalities was striking. On the football field he was brutal, mean, and intimidating; elsewhere, he was congenial, amiable, and friendly, a gentle giant replacing a scowl with a smile. A college professor who knew him said, "Big Cal was as kind and generous a man off the field as he was an untamed savage on it."15
For Hubbard 1927 was a landmark year, in which he earned his bachelor's degree, began his fabled career in the National Football League, and married his sweetheart, Ruth. When it was pointed out that it took him three colleges and seven years to obtain his degree, Cal joked that he was not exactly "what you would call a professional student."16 After completing his college education, Hubbard was bombarded with offers from every NFL team. He signed with the New York Giants, teaming up with tackle Steve Owens to turn a good defensive team into a great one. By shutting out their opponents 10 times in 13 games and allowing in the entire season an absurdly low 20 points, the Giants won their first NFL championship. Hubbard kept up his ruthless, hard-nosed style of play from his college days – explaining to teammates "the fine art of using an opponent's helmet ear holes to improve your grip in preparation for smashing the opponent's head on your knee."17
Not only was Hubbard a star player, he was an influential one. He revolutionized NFL defensive tactics by creating the linebacker position. Cal realized that if he stayed anchored on one side of the scrimmage line, the opposing team would just run the other way to avoid his shattering tackles. Hub was missing out on all the fun. So he began roaming the backfield and with his amazing speed was able to plug up any hole to crash into opponents. "What was really scary for quarterbacks and blockers was that on any given play, they couldn't be sure where Cal would line up," wrote football historian Murray Greenberg. "Sometimes he'd play up on the line, but just as often he'd back off the line and freelance … and when he reached the ball carriers, it wasn't for a social visit."18
In those days of leather helmets and one-platoon teams, Hubbard usually played all 60 minutes of the game, roaring into the enemy line as an end on offense and creating havoc as linebacker on defense. In his later years, as retired athletes are prone to do, Cal commented on how much tougher you had to be in the old days: "I can't imagine playing less than half a game. We had to be in shape, and we were – or we'd have been killed."19
Professional sports a century ago paid relatively meager salaries, requiring players to seek employment in the offseason. Although Hubbard had one of the highest salaries of any NFL player, he needed something to supplement his income. A friend suggested that he write to the head of the minor leagues, Judge William G. Bramham, and apply to be a professional umpire between football seasons.20 Although Hubbard had not umpired since he was a teenager on the sandlots, he thought the suggestion intriguing; it turned out to be a life-changing decision. He met personally with Bramham, who was so impressed with Cal's quiet confidence, style, and knowledge of the rules that he hired him immediately. For the next eight springs and summers Cal would gain experience as a minor-league umpire while in the fall and winter he continued his stellar career in football.
Hubbard was back with the Giants in 1928 but with his lifelong distaste for big cities he wanted out of New York. After the season, he demanded to be traded to Green Bay and a deal was made. Playing for Earl "Curly" Lambeau, Hubbard helped create pro football's first dynasty with the Packers winning three straight NFL championships (1929-1931), going undefeated the first year.21 To improve their chances of beating Green Bay, opposing teams would provoke fights with Hubbard to get him ejected from the game. In one notable contest, Chicago Cardinals substitute Phil Handler persistently taunted Hubbard but the big guy did not fall for the scheme. "Get away from me, small change," he yelled at his tormenter. "I'm not getting tossed out for the likes of you."22 A major brawl broke out between the two teams near the end of the game. After the players were separated and order restored, Handler was found lying unconscious in the end zone and Hubbard standing off to the side with bruised knuckles and an innocent smile.
On the gridiron, Hubbard left a lasting impression on the minds and bodies of every opponent he would come in contact with. "Green Bay had the most brutal lineman in the game – Cal Hubbard," said quarterback Harry Newman decades after their clashes. "He played with the intensity that Dick Butkus did later. We used to say of Cal that even if he missed you, he hurt you. When he tackled you, you remembered it. I do to this day."23
In 1934 Hubbard left the professional ranks and returned to college to serve as line coach at Texas A&M. The following year he was back playing for the Packers, after which he told his wife, Ruth, that he was retiring from football for good. She laughed because for years, after each battering season, he had said the same thing. It had become a running joke in the Hubbard household with Cal saying he was going to retire only to be back on the field each October smashing heads.24 Sure enough, in 1936 Cal was playing football for the Pittsburgh Pirates (later renamed the Steelers) and then for the Giants, now coached by old friend Steve Owens.
During the last game of New York's 1936 season, with just over a minute left to play, several Boston Redskins players crashed into Giants halfback Les "Red" Corzine. The play had a profound effect on Hubbard. He heard the sharp crack of his teammate's leg being snapped in three places. He watched Corzine being placed on a stretcher and carried off the muddy field of the Polo Grounds. It got him thinking. When play resumed, Cal suddenly announced in a booming voice to the opposing team, "If any of you guys has a grudge against me, get it out of your system in the next minute and five seconds. This is your last shot at me. Come and get me because I'm through after this game."25 Reportedly nobody was foolish enough to take him up on the offer. And, with that, Hubbard was out of football and this time he meant it. "I've taken enough beatings for one man," he later explained. "Not that I couldn't take some more, it's not fat nor age that's driving me out. … I've just had enough shoving and kicking around."26
After the game Hubbard returned home to his family in Zelienople, Pennsylvania (his wife's hometown). By then, Ruth had become Mother Hubbard, having given birth to Robert Cal Jr. in 1929 and to a second son, William, in 1935.27
Already firmly established in his second sports career, Hubbard felt secure enough to retire from football. For the past eight years he had been toiling in baseball's minor leagues, traveling to towns and cities in 17 states and 2 Canadian provinces. He began in the North Carolina Piedmont League (Class C), calling balls and strikes for such teams as the High Point Pointers and the Henderson Bunnies. Being promoted to the Southeast and South Atlantic Leagues (Class B) meant umpiring in larger locales, including working Selma Cloverleafs and Charlotte Hornets games. And then up to the Western League (Class A) with teams like the Des Moines Demons and the Tulsa Oilers. Eventually, he was working International League games, one step below the majors, for teams representing larger cities like Baltimore and Toronto.28 Hubbard still did not care for the noise and congestion of big-city life, but it meant he was advancing in his umpiring career; it also offered an opportunity for him to attend the opera, for which, probably surprising to his friends, he had developed a fondness.
Early in his umpiring career, Hubbard had a hostile relationship with the Macon Peaches fans of the Southeast League. Although recognizing that umpires are the natural enemy of many rabid baseball fans, Cal could not understand the particular hatred Georgia fans had toward him. Whenever he worked a Peaches game, the heckling and objects thrown in his direction were excessive. After one rambunctious game, Cal had to jump on a train and sneak out of town to escape a mob.29 In an attempt to earn their respect, Hubbard agreed to be one of the fighters in a local boxing event. On Labor Day 1929, the Macon venue was filled to capacity with Peaches fans excited to see their nemesis take a beating. Cal's opponent was Spike Webb, a young heavyweight with about 40 bouts to his credit. Hubbard's battle plan was to forgo any finesse and just swing his massive fists at a furious pace until Webb fell to the canvas. For three rounds the plan worked. Webb was barely able to lay a glove on Hubbard, who relentlessly assaulted the veteran boxer with a barrage of blows. Ultimately, the strategy backfired. By neglecting to employ the finer points of boxing, Cal became completely exhausted and physically unable to rise from his stool for the fourth round. Although there was not a scratch on him, Hubbard threw in the towel, admitting later that he was so fatigued he would have fallen flat on his face if anybody had just given him "a harsh look."30 As for Webb, the battered boxer stood wobbly and surprised when he learned that he had won. (It was said that had Webb received only one more punch, he would have collapsed.) Hubbard had lost the bout but had won the admiration of the Macon fans, who never again heckled him. The fans may not have liked Hubbard but they now respected him, which is all an umpire wants.
What separated Hubbard from other minor-league umpires was his encyclopedic knowledge of the rules, a reputation he took with him to the big leagues. Bo McMillin said that as a football player Hubbard would often hold up games to correct the rulings of referees, even if it went against his own team. Perfectionist Cal insisted that every call be the correct one. "He was born to be an official," said McMillin. "(As a player), he knew more about the rules than the officials! He spent more time studying them. He was a fanatic on rules."31
When asked what the greatest thrill of his umpiring career was, Hubbard found it difficult to name just one but said it might have been when he first learned he would be working in the major leagues. "Every time I walked out on the field of the American League, it was a thrill as it was a new challenge and it kept me always striving to do a perfect job," he said.32 Hubbard's umpiring philosophy was simple: "You really have to understand only two things and that's maintaining discipline and knowing the rule book."33
It was apparent even as a rookie major-league umpire that Hubbard was something special; veteran umpires would praise him as the best newcomer they had ever seen.34 Several attributes combined to make Hubbard exceptional; in addition to his vast knowledge of the rules, his imposing presence, cool manner in controlling a game, and sense of humor and professionalism all contributed to the package.
"What made him a great umpire?" said umpire Joe Paparella. "He carried the respect of the ballplayers, carried the respect of the management, and he knew how to handle the ballgame. He was rough, tough and fair. … And he was a good ball-and-strike umpire. I mean real good."35 It was Hubbard's uncanny ability to call pitches that was truly astonishing, made possible by his extraordinary eyesight. Examined at Boston's American Optical Laboratory, Hubbard was found to have 20-10 vision, the strongest they had ever recorded and keener than that of Ted Williams, who also was tested at the lab. When told of this, Cal modestly said, "But I didn't have to call many strikes on Williams. If it was a strike, he hit it."36
In only his third year as a big-league umpire, Hubbard was assigned to work the 1938 World Series, indicative of how highly regarded he was as an arbiter. Even more remarkably, he had been initially selected to umpire the fall classic a year earlier but Commissioner Kenesaw Landis, fanatical about gambling, rejected Cal's assignment after learning that Hubbard had visited a racetrack. Hubbard, who rarely gambled, had gone just as a lark after being invited by two other umpires. Although disappointed at the time, he would laugh about it later, saying "Did the horse win? I don't even remember, only bet five bucks."37
Hubbard would be assigned to work three other World Series – 1942, 1946, and 1949 – and also the 1939, 1944, and 1949 All-Star Games. He was especially proud to have been chosen to umpire the last game of the 1949 season between the Red Sox and Yankees. The winner of that game would advance to the World Series, the loser would go home. Although a regular-season game, it was deemed important enough to have six umpires assigned with Hubbard behind the plate. After the game, losing Boston catcher Birdie Tebbetts approached him and said, "Hub, you worked a perfect game." It meant a lot to Cal, who said, "It is always easy for a catcher to tell you how well you've done, if his team had won."38
Though extremely confident in his umpiring abilities, Hubbard was humble enough to admit that he was seldom perfect but always strived to be. This was a departure from many headstrong umpires of an earlier era, who would never confess to being anything less than infallible. Bill Klem was noted for proclaiming, "I never called one wrong." Hubbard would say to players, "Boys, I'm one of those umpires that can make a mistake on the close ones. So, if it's close, you'd better hit it."39 One game in which Hubbard would have acted differently in hindsight took place on September 12, 1939, when partner Lou Kolls misinterpreted a rule. American League President Will Harridge sustained the protest waged by Washington and ordered that the game against Chicago be replayed in its entirety. Although Kolls was an older and more seasoned veteran umpire than Hubbard, Cal should have conferred with him and insisted that he change his call when the protest was made.40
Sportswriters are apt to tag prominent athletic figures with catchy nicknames and it was no different in Hubbard's case. In his football days, he was called "The Mammoth Missourian," "Big Cal," or "The Human Bowling Ball" for his ability to bowl down opposing lines (and not leave many spares).41 As an umpire he was dubbed "His Majesty" because of his regal manner on the field.42 In any case, he was usually called simply "Hub," "Cal," or "Mr. Hubbard."
Hubbard's daunting physical presence earned him a reputation as one with whom players rarely argued and he thus had fewer ejections than other umpires. It is true that several of his ejections did involve players fighting among themselves and not for directly arguing with Hubbard, but he did have his share of confrontations with players. "I always hated to throw a guy out of a game, but sometimes it was necessary to keep order," he said. "When it was time for a player to go, he went."43 Sometimes Hubbard was troubled to have to eject a player, such as when he had to toss Mike Guerra after a call of catcher's interference. The catcher never argued or swore but refused to get back behind the plate to continue the game. "I have to wind up throwing him out, but it had been bothering me ever since," said Hubbard, "How can you throw out of a game a player who's refusing to stay in it?"44
Relationships that develop between home-plate umpires and catchers are intriguing and the one between Hubbard and Yogi Berra especially so. On June 11, 1948, Berra was ejected for the first time in his major-league career for repeatedly arguing Hubbard's pitch calls. When the popular rookie was sent to the showers, the Yankee crowd responded by showering the field with newspapers, cans, and bottles. One fan ran onto the field and threw a beer can directly at Hubbard, barely missing him. To his credit, Berra found Hubbard after the game and apologized, beginning an ongoing amusing rapport between the two. When upset about one of Hubbard's calls, Yogi would refer to the umpire's football days by saying, "I think you got hit in the head once too much."45 During one blistering hot game in Boston, Berra swore at Hubbard in hopes that he would be ejected and escape the suffocating heat, but the umpire didn't fall for it, saying, "Yogi, you could call me anything you want. If I'm going to suffer, you're going to suffer with me."46
The most famous of Hubbard's ejections took place on July 20, 1944. The rule prohibiting the throwing of a spitball was introduced in 1920 with a penalty of ejection and 10 days' suspension. It took 24 years for the rule to be enforced and Hubbard was the first umpire to do so. After St. Louis pitcher Nelson Potter ignored the umpire's repeated warnings not to lick his fingers while on the mound or rubber, Hubbard gave him the thumb. "I made out a report to the league, and they suspended Nellie for 10 days," said Cal. Potter missed his next two starts when he went home and did some fishing, as well as some other pleasurable activities. "They said his wife gave birth to a child nine months later," said the umpire. Hubbard took some pride in giving Potter a vacation and the "chance to be home" with his wife. The pitcher acknowledged that the story was true but said, "We did not name the baby Cal Hubbard Potter."47
Hubbard thoroughly enjoyed all aspects of his profession except for the traveling that included riding in boiling Pullman railroad cars, lugging two large bags of clothing and equipment, and staying in hotels before the day of air-conditioning. "You'd almost smother to death," he recalled. "I would get so hot I'd soak a sheet of ice water and lay it on top of me in bed. Did that a million times."48 Hubbard disagreed with American League President Will Harridge, his boss and close friend, about the umpires' travel arrangements. Harridge had an abnormal aversion to air travel, insisting that his umpires travel by rail even after airplanes had become the preferred mode of transportation for major-league teams. Whenever an emergency arose and his umpires had to travel by air to work a game, Harridge would have the three arbiters take three separate airplanes. "Before we got on the plane," said Hubbard, "we also had to sign a release to the effect that the American League wouldn't be responsible for anything that might happen."49
Hubbard made certain he always kept his cool and sense of humor on the field. He would tell his partners, "If you can't control yourself, you can't control a ball game."50 One day while Cal was working an exhibition game in Houston, the fans suddenly burst into laughter. Base umpire Joe Rue had no idea what was going on until a giggling Hubbard came out to him, gave him his mask and chest protector, and told him to take over behind the plate because he had just split his pants wide open. The only problem for Rue was that Cal's huge mask kept wobbling, providing inadequate protection. "If a foul ball would have hit me," said Rue, "I would have been killed."51
Not only was Hubbard a revered partner to his fellow umpires, he was also their friend and mentor. In a September 1945 game, Cal saved the umpiring career of Joe Rue and possibly the life of a player. When Philadelphia A's catcher Charlie "Greek" George sucker-punched Rue during an argument, Cal quickly prevented his partner from retaliating. "Hubbard wrapped those large arms around me," said Rue, adding that it was a good thing he did because "I might have killed [George]."52 Hubbard yelled at the player, "You'll never play another game in the big leagues!"53 Cal was true to his word because George never did.
Hubbard was admired by his colleagues because he made them better umpires. "Hubbard would do anything he could to help you on the field," said umpire Bill McKinley.54 Joe Paparella said, "He taught me more about umpiring in one year that I had ever dreamed there was to learn. If I wasn't in the right position, he'd move me over, and if I was calling pitches too quick, he'd flash me a sign. … I don't know if I would have made it if it wasn't for him."55 Paparella said that when he became a veteran and had the opportunity to break in younger umpires, "I tried to teach them the same things that Cal Hubbard taught me, to work with them the same way he worked with me. Hubbard did so much for me that I wanted to pass it on to the guys who really wanted to be good umpires."56
Hubbard could be outspoken in his opinion of other baseball men but always mixed compliments with criticism. Cal said that Chicago White Sox manager Jimmy Dykes "was the only guy I couldn't stand. He was profane, foul-mouthed, and his voice irritated me." But Hubbard also said that he admired Dykes as a manager because he "got more out of humpty-dumpty players than anyone I ever saw."57 Hubbard called fellow Hall of Famer Bill McGowan "a super umpire" but said, "I hope Bill never gets into arguments over the rules, because I don't think he owns a rule book – but he gets by because his instincts are great."58
Every offseason Hubbard traveled to small-town Milan in northern Missouri, which he called "God's Country," to walk the woods with his hunting gun and bird dogs. (The one year he did not, 1941, he returned to his first love, football, to serve as head coach for his alma mater Geneva College, recording a respectable 6-3 record.) In the late 1940s Cal was ecstatic when Ruth agreed to move their home from Pennsylvania to Milan, where they purchased a 300-acre farm. (For a while the couple operated a dry-cleaning store in town.)59
At the end of the 1951 season, Hubbard could not have been happier. He had just completed his 16th year as a major-league umpire, one featuring the thrill of working behind the plate in Yankee Stadium for Allie Reynolds's no-hitter.60 By this stage in his career, Cal was already recognized as "one of the most respected and authoritative umpires in baseball history" by no less an authority than Larry Gerlach, baseball's foremost umpire historian.61 A few years earlier, his big mug had even graced the cover of Newsweek.62 Hubbard looked forward to working several more years in a profession he cherished. Then tragedy struck.
On December 10, 1951, Hubbard went quail and rabbit hunting in the prairies near his home with a group of friends, including fellow umpire Al Barlick. While the group was taking a break with Cal sitting in the front seat of his truck, a neighbor boy took a shot at a passing rabbit. The bullet ricocheted and a small pellet, no larger than the head of a pin, entered Hubbard's left eye just above the pupil. After a local doctor superficially treated the delicate wound, Cal traveled to St. Louis, where the doctors were leery of risking further damage to his eyesight with an operation. He could still see out of the eye but his vision had been affected. Hubbard visited eye specialists in the East, including ones in Pittsburgh with experience in removing metal slivers from steelworkers' eyes, but none of the doctors would risk an operation. Cal had a trial run to see if he could still call balls and strikes with his sons playing pitcher and catcher. After a few pitches, his heart sank when he realized that he had no depth perception. The doctors had said that with proper rest his vision might recover completely, but it was not to be.63
Considering Hubbard's profession and the particular injury he suffered, the accident was as poignant and tragic as Beethoven losing his hearing. Realizing that he could no longer continue his career as an umpire, Cal sank into a deep depression and spent his time just staring off into space. Friends from town attempted to cheer him up with visits and talk about football, but to no avail. The Hubbards had regularly played bridge with their close friends Robert and Mildred Freeman but Cal was no longer interested. Ruth felt helpless seeing her husband so disheartened; a sharp change from his usual blissful nature. It was a difficult period for Hubbard, made tougher when he learned that his old friend Bo McMillin had died.64 With each passing day, Cal became more saddened.
When Opening Day of the 1952 baseball season arrived, Cal wept. Shortly thereafter, a phone call from Will Harridge triggered more tears from Hubbard but this time they were tears of joy. Harridge offered Cal the position as assistant to Tommy Connolly, supervisor of American League umpires. Cal readily accepted, saying, "It would have broken my heart to be forced out of baseball. … This is wonderful and thank you a million."65
When Hubbard began his third sports career, this one as an executive, it was a particularly opportune time for baseball because the major leagues had just introduced the four-man umpire crew for regular-season games. Cal immediately devised new mechanics and supplied charts outlining various rotations, clearly defined duties, and the positioning the four arbiters should take on the field to cover every possible play, basically the same system that is used today.
When Connolly retired in 1954, Hubbard was promoted to his position as American League umpire supervisor. Cal was frequently on the road touring AL ballparks to observe and assist his umpires, as well as visiting minor-league parks to scout and support their umpires. Hubbard served as a goodwill ambassador for baseball, representing his league as a speaker at winter high-school athletic banquets in towns across America, beginning each speech by saying, "I can speak on only three subjects, football, baseball, and bird dogs."66
In 1959, Joe Cronin replaced Will Harridge as AL president and kept Hubbard as his umpire supervisor. Cronin's ascension left a void on the major-league Rules Committee, of which he had a member, and Hubbard became his logical replacement; for years, Cal had served as consultant for the committee even as an active umpire. As a committee member, Hubbard was instrumental in the introduction, rewriting, and establishing the proper interpretation of several baseball rules. Considering the focus of baseball today to improve the "pace of game" and introduce speed-up rules, it is interesting that this was also a concern of Hubbard in his day. As highly respected as he was as a Rules Committee member, Cal did not always get his way in this regard and was also unsuccessful in his efforts to legalize the spitball, called the existing rule "unenforceable."67 Hubbard would joke that baseball instead should ban another pitch, saying, "They outlawed the spitter, Christ, they ought to outlaw that knuckle ball," he said. "You don't know where the hell it's going. … To umpire knuckle ball pitchers, you've got to wait because if you call it too quick, hell, you're liable to miss it a mile."68
In hiring new umpires, Hubbard preferred the "strong, silent type," big men like himself who had a "low-key demeanor and made calls with understated gestures."69 Joe Paparella said, "He hated what he called showboating. … When Cal took over as supervisor, he toned us down quite a bit. 'I don't want your sacrificing judgment for color' – those were his famous words."70 When Hubbard (and Joe Cronin) hired Emmett Ashford in 1966 as the first African-American umpire in major-league history, it may have been a surprise to many because Ashford was one of the most flamboyant arbiters in history in both attire and gestures. After Ashford's historic first game behind the plate, Cal gave him a big hug. "Cal and I became good friends," said Ashford. "Later, when some of the umpires were getting set to organize against me, he quelled the uprising."71
Hub's dual positions as AL umpire supervisor and rules-committee member meant more travel – from one minor-league city to another to scout another umpire, to Florida to conduct another clinic, to Oakland to approve the A's wearing white shoes, and to Chicago to investigate charges that the White Sox were using frozen baseballs. If he wasn't busy enough, in the late 1960s, he wrote a nationally syndicated feature called "Cal's Column" on baseball rule interpretations.72
When the Pro Football Hall of Fame was established in 1963, Cal was among the first group enshrined, bringing back memories of his exceptional gridiron career. Fellow inductee George Halas, Chicago Bears coach, commented, "There never was a better lineman than that big umpire."73
Hubbard retired from baseball in 1969, ending 18 years of service as executive. He might have served longer if not for a major controversy. In September 1968 Joe Cronin had fired umpires Al Salerno and Bill Valentine, supposedly for incompetence but patently for spearheading an effort to organize a union for American League umpires. (National League umpires had been unionized for years and received much higher salaries and better benefits than their AL counterparts.) Several managers and sportswriters expressed their outrage at the unfair firings. The two umpires sued "Major League Baseball, Joe Cronin, and the American League alleging federal antitrust violations." 74 Cronin stubbornly maintained that he was totally unaware of their union activities and that they were dismissed solely because of their ineptitude as umpires. Salerno swore that shortly after Hubbard learned that Salerno and Valentine were unionizing, Cronin fired them.75
It was an agonizing situation for Hubbard, torn between allegiance to his umpires and to Cronin, his boss, who he said was "one of the finest men I ever met in baseball."76 Wanting to avoid the entire mess, Hubbard responded by giving some tepid support to Cronin and then retiring. The National Labor Relations Board held a nine-day hearing on the case in July 1970. Cronin testified for almost two days, stuck to his story that Salerno and Valentine were incompetent, and related how both he and Hubbard had heard repeated complaints about the two umpires. Hubbard briefly testified and corroborated Cronin.77 The board eventually ruled against the two umpires.78
It was probably best that Hubbard retired when he did because his big body was beginning to break down. In 1972 he collapsed in his home and recovered nicely but his decades of smoking had taken its toll. Cal had given up cigarettes in the late 1950s only to switch to inhaling cigars and then quitting smoking entirely in 1966. "I didn't do it soon enough," he would mutter and then chuckle and say, "If I'd known I was going to live as long as I have I'd have taken better care of myself."79 On the advice of his doctors, Hubbard began spending the colder months living in Florida.
When he retired, Cal had returned to his farm in Milan, became active in local youth sports, and spent his time fishing. When Ruth died in 1964, his friends Robert and Mildred Freeman were there to comfort him; when Robert died soon after, Cal was there to comfort Mildred. The friendship between the widow and widower flourished into romance and Cal and Mildred were married in 1966.80
In 1976 Hubbard received the news that he had been elected to the Baseball Hall of Fame.81 Although suffering from emphysema, he made the trip to Cooperstown to attend the induction ceremony, the first one ever held indoors because of inclement weather. The rain didn't dampen Cal's spirits on his big day. Walking onto the stage using a cane and breathing heavily, he still projected a formidable figure, beaming with a broad, proud smile, as he acknowledged his family and bowed graciously.82
On October 17, 1977, two weeks shy of his 77th birthday, Cal died of cancer in St. Petersburg, Florida. His body was brought home to Milan for burial.
Hubbard has been enshrined in at least eight Halls of Fame.83 The high-school football field in Milan and the high-school baseball field in his hometown Keytesville have been named in his honor. An impressive bronze and marble historical marker erected in Milan depicts Hubbard in a three-point stance and outlines his many achievements and honors.
Cal was proud of his sports careers and the many tributes bestowed upon him, yet he remained modest. He had devoted his life's work to games; albeit important because they provide an escape for many from society's ills, he recognized that sports stars are not the world's true champions. Late in life, Hub said: "Sports heroes are glamorized because they are constantly in the lime-light, but as I look back over the years that have brought honor to me, I realize that I fall short of the dimensions of many of the nation's unsung heroes – the Veterans of Foreign Wars. … In their presence I stand in awe."84
This biography is included in "The SABR Book on Umpires and Umpiring" (SABR, 2017), edited by Larry Gerlach and Bill Nowlin.
Notes
1 Other members of national halls of fame of two different sports are Jim Brown (football and lacrosse), Ted Williams (baseball and fishing), and Cumberland Posey (basketball and baseball).
2 Sadly, as was commonplace for many people a century ago, death was a recurring presence in Hubbard's life. He was 11 when his 16-year-old brother John died. Two unnamed brothers did not survive infancy. Cal was still a teenager when his father died. He was at the deathbed of his widowed mother (1935), as well as his younger brother Thomas (1954), with whom he was particularly close. Older sister Mary outlived Cal. (Mary Bell Hubbard, Strike Three! and You're Out: The Cal Hubbard Story [Marceline, Missouri: Walsworth, n.d.], 67, 71, 96; and family member grave markers found on Cal Hubbard Memorial page, Find a Grave website.)
3 Several sources contend that Hubbard's middle name is Calvin and not simply Cal. The Baseball Hall of Fame website has it both ways with Calvin being listed on his biography page and Cal embossed on his bronze plaque. To add to the confusion, his name is written as Calvin in the Hubbard family Bible yet he always insisted it was Cal. Larry R. Gerlach, Cal Hubbard entry, John Arthur Garraty et al, eds., American National Biography, Volume 11, (New York: Oxford University Press, 1999), 379.
4 Gary Ronberg, "Pigskins and Horsehides," Bears-Packers Game Program, November 28, 1976.
5 Martin Appel and Burt Goldblatt, Baseball's Best: The Hall of Fame Gallery (New York: McGraw-Hill Book Company, 1977), 216.
6 Bob Broeg, "Hubbard in Reminiscent Mood," The Sporting News, April 10, 1976: 6.
7 State Historical Society of Missouri website, Cal Hubbard entry under "Historic Missourians."
8 Ronberg, "Pigskins and Horsehides."
9 Hubbard said he never weighed more than 250 during his playing days. John Maxymuk, Packers By the Numbers: Jersey Numbers and the Players who Wore Them (Boulder, Colorado: Big Earth Publishing, 2003), 165. He is listed as 6-feet-3 and 260 pounds on his Sporting News umpire card, found on the Retrosheet website.
10 Mary Hubbard, Strike Three!, 55. After three years at Centenary College, Hubbard had earned only 32 credits. Cal Hubbard page on Louisiana Sports Hall of Fame website.
11 Hubbard, Strike Three!, 58.
12 Dan Jenkins, "A Lot Packed in a Little," Sports Illustrated, September 20, 1965: 82.
13 Ibid.
14 Ibid. Hubbard never drank hard liquor in his life and rarely drank beer or gambled, but he must have kept hidden from his teammates his smoking vice.
15 John Mosedale, "Football: A Hall of Fame Book," (New York: World Pub., 1972), 105.
16 Cal Hubbard obituary, The Sporting News, November 5, 1977: 41. Centenary and Geneva are strict Christian colleges, respectively affiliated with the United Methodist Church and the Reformed Presbyterian Church. Geneva College has "Pro Christo et Patria" (For Christ and Country) as its motto and an open Bible displayed on its logo. In March 2015, Geneva College proudly announced that its alumnus Hubbard had been selected as one of the "Top 25 All-Time Best Athletes from Christian Colleges" (news release found on Geneva College website). All of which makes it interesting that Hubbard's sister described Cal as "agnostic." (Mary Hubbard, Strike Three!, 57.) Hubbard did not attend these two colleges for their religious philosophy but simply because Bo McMillin was their football coach.
17 Murray Greenberg, Passing Game: Benny Friedman and the Transformation of Football (New York: Public Affairs, 2008), 199.
18 Ibid.
19 Lew Freedman, The Packers Experience: A Year-by-Year Chronicle of the Green Bay Packers (Minneapolis: MBI Publishing Company, 2013), 22.
20 Who was the friend who first suggested to Hubbard that he become an umpire? According to his sister Mary, it was Ed Holly, whom Hubbard had met through Giants teammate Steve Owens. (Mary Hubbard, Strike Three!. 69.) Holly was a longtime baseball man then serving as a New York Yankees scout. A sportswriter who interviewed Hubbard said the friend was Charlie Moran, a veteran major-league umpire who had met Cal through coach Bo McMillin (Stanley Frank, "Strong Silent Man," Collier's Weekly, April 15, 1939: 57).
21 Hubbard respected Curly Lambeau professionally, but not personally. "They won't be able to find six men to bury the so-and-so, but he got the job done," he said. "To be frank, Curly didn't know that much about football," adding that Lambeau would design plays "we just knew wouldn't work, and one of the veteran players would go right up to the blackboard and change it around." Rob Reischel, 100 Things Packer Fans Should Know & Do Before They Die (Chicago: Triumph Books, 2010), 92-93.
22 Hubbard, Strike Three!, 66.
23 Richard Whittingham, What a Game They Played (New York: Harper & Row, 1974), 113.
24 Frank, Collier's Weekly: 55.
25 Ibid. The quote varies somewhat depending on the source but it all meant the same thing, the big boy was retiring and this time he meant it.
26 Pro Football Hall of Fame website, Cal Hubbard page. There is little doubt that Hubbard, as tough as he was, could have played a few more years in the NFL. A trainer once examined Hubbard and discovered that Cal had played an entire game with a broken foot. (Louisiana Hall of Fame website, Cal Hubbard page.)
27 Robert C. Hubbard Jr. became a prominent physician in St. Petersburg, Florida (one of the last doctors in the area to still make house calls), and died in 2013. (A.T. Still University website memorial page.) William Hubbard, who died in 2014, was a Korean War veteran, owner of a gun shop in Milan, Missouri, for 50 years, and active in the Boy Scouts, Special Olympics, the American Legion, and local Democratic politics. (Obituary found on Tributes.com website).
28 Cal Hubbard's Sporting News umpire card, Retrosheet website.
29 Appel and Goldblatt, Baseball's Best, 216.
30 Frank, Collier's Weekly: 56.
31 "Hubbard Fanatic on Rules Even When Playing Football," The Sporting News, March 31, 1954: 22. Hubbard even tried his hand officiating basketball games, with Bo McMillin saying, "After (working) a few games, he was qualified to rewrite the rules."
32 Hubbard, Strike Three!, 93.
33 Cal Hubbard obituary, The Sporting News, November 5, 1977: 41.
34 Gerlach, Hubbard entry, American National Biography, 379.
35 Larry R. Gerlach, The Men in Blue: Conversations with Umpires (Lincoln: University of Nebraska Press, 1994), 134-135.
36 Ronberg, "Pigskins and Horsehides."
37 William B. Mead, Baseball Goes to War (Washington: Broadcast Interview Source Book, Inc., 1968), 59-60.
38 Hubbard, Strike Three!, 94.
39 Wayne Stewart and Roger Kahn, The Little Red Book of Baseball Wisdom (New York: Skyhorse Publishing Inc., 2012), 29.
40 For a more complete account, see David Nemec and Eric Miklich, Forfeits and Successfully Protested Games in Major League Baseball (Jefferson, North Carolina: McFarland Publishers, 2014), 215-216.
41 Lee Freedman, New York Giants: The Complete Illustrated History (Minneapolis: MBI Publishing Company, 2009), 19.
42 Appel and Goldblatt, Baseball's Best, 218.
43 Hubbard obituary, The Sporting News. In the 2,467 regular-season games that Hubbard worked, he had 64 ejections. Is this a particularly low number for his era? A study was conducted to determine the rate of ejections of the 38 major-league umpires who had worked at least 1,000 games and had worked at some point during the years 1936-1951 (Hubbard's career). Frank Dascoli has the highest rate with an ejection every 18.2 games; Harry Geisel has the lowest, every 134.4 games. Hubbard ejected a player or manager every 38.6 games, placing him near the bottom of the top third for the lowest ejection rate. Twenty-four of his contemporaries had a higher rate of ejections than Hubbard and 13 were lower. (Umpire games worked and ejections from Retrosheet website.)
44 Bill Nowlin, Mike Guerra biography, SABR website.
45 Carlo DeVito, Yogi: The Life and Times of an American Original (Chicago: Triumph Books, 2014), 92.
46 Ibid.
47 William B. Mead, Baseball Goes to War, 157-158. After the ejection, Potter's main concern was that he would be labeled a cheater and insisted he never threw a spitball in his life. He said he just had a habit of going to his mouth and then to the rosin bag. "[Hubbard's] report never mentioned the spitter," said Potter. (Frank Bilovsky, "Spitball Charge was a Phony, Potter Claims," The Sporting News, August 28, 1965: 14.) Hubbard agreed, saying, "I never said he was throwing spitters. I just said he was violating pitching rules." (Mead, 159). It should be noted that other pitchers before Potter had been ejected for cutting or discoloring baseballs.
48 Ronberg, "Pigskins and Horsehides."
49 Ibid.
50 Gerlach, Men in Blue, 138. Hubbard's Hall of Fame plaque includes the passage: "Gentle giant boasted special knack for dealing with situations on field."
51 Gerlach, Men in Blue, 63.
52 Gerlach, Men in Blue, 66-67.
53 Norman L. Macht, The Grand Old Man of Baseball: Connie Mack in His Final Years 1932-1956 (Lincoln: University of Nebraska Press, 2015), 323.
54 Gerlach, Men in Blue, 161.
55 Gerlach, Men in Blue, 135.
56 Ibid.
57 Broeg, "Hubbard in Reminiscent Mood."
58 Bob Luke, Dean of Umpires: A Biography of Bill McGowan (Jefferson, North Carolina: McFarland Publishers, 2005), 127.
59 Hubbard, Strike Three!, 75.
60 Hubbard also was behind the plate for Bob Lemon's no-hitter on June 30, 1948.
61 Gerlach, American National Biography, 378.
62 Newsweek, April 14, 1947. The magazine cover, promoting an article entitled "Baseball: The Year of Decision," features Hubbard with his mouth wide open making a call while holding his mask.
63 Hubbard, Strike Three!: 78-79; Ronberg, "Pigskins and Horsehides."
64 In an interview shortly before his death, Bo McMillin said, "The greatest football player who ever lived was Cal Hubbard, lineman or back, college or professional." (Jenkins, "A Lot Packed in a Little," Sports Illustrated: 82.) McMillin was inducted as a player into the College Football Hall of Fame, in its inaugural 1951 class.
65 Hubbard, Strike Three!, 79-80.
66 Ibid.
67 Appel and Goldblatt, Baseball's Best, 218.
Hubbard also wanted to eliminate all batting out-of-order incidents by permitting umpires and the official scorer to correct mistakes before they occur instead of the opposing manager having to appeal. Dan Daniel, "Harridge Denies A.L. Rule to Bar Batting Mixups," The Sporting News, March 25, 1953: 21.
68 Mead, Baseball Goes to War, 228-229.
69 Gerlach, American National Biography, 379.
70 Gerlach, Men in Blue, 161.
71 Gerlach, Men in Blue, 278.
72 Gerlach, American National Biography, 379.
73 Tom Barnidge and Joe Hoppel, Football Hall of Fame Fact Book (St. Louis: Sporting News Publication, 1983), 47. Hubbard was subsequently selected as the all-time greatest tackle of the NFL's first 50 years and, 25 years later, as a member of the NFL's 75th Anniversary All-Time Two-Way Team.
74 For a full and outstanding account, see Mark Armour, "A Tale of Two Umpires," The Baseball Research Journal, Society for American Baseball Research, Volume 38, Number 2, 2009: 126-130.
75 John Bacchia, Augie: Stalag Luft VI to the Major Leagues (iUniverse Publishing, 2011). 200.
76 Hubbard, Strike Three!, 85.
77 Bob Ryan, "Fired Umps, A.L. Awaiting Verdict," The Sporting News, August 8, 1970: 13.
78 "The NLRB ruled in favor of the American League, claiming that the umpires had not adequately proven that they were fired for their union activities," wrote baseball historian Armour. "The decision read that, although many umpires backed Salerno and Valentine in contending that the union activities were well known, no umpire would admit to telling Cronin or Hubbard." (Armour, "Tale of Two Umpires"; 129.) The active umpires who failed to testify on their colleagues' behalf were likely fearful of repercussions.
79 Ronberg, "Pigskins and Horsehides."
80 "Caught on the Fly," The Sporting News, March 5, 1966: 29. In an article written by sportswriter Gary Ronberg ("Pigskins and Horsehides"), for which he had interviewed Hubbard and his wife, Mildred, he states that their marriage began in 1970.
81 Hubbard worked the fewest major-league games (2,467) of any of the 10 umpires who have been elected to the Hall of Fame, 852 fewer than the next lowest on the list (Billy Evans). As outstanding as Hubbard was as an umpire, it is unlikely that he would have been made it to Cooperstown had it not been for his additional contributions to the game as American League supervisor and Rules Committee member. The executive positions also kept him known in baseball circles.
82 Bob Broeg, "Lemon Steals Show at Hall of Fame Induction," The Sporting News, August 21, 1976: 5.
83 In addition to the National Baseball, Pro Football and College Football Halls of Fame, Hubbard is a member of Missouri, Louisiana, Centenary College, Helms Foundation, and Green Bay Packers Halls of Fame.
84 Hubbard, Strike Three!, 102-104.
Born
October 31, 1900 at Keytesville, MO (US)
Died
October 17, 1977 at Gulfport, FL (US)
If you can help us improve this player's biography, contact us.
https://sabr.org/sites/default/files/CalHubbard.jpg
600
800
admin
/wp-content/uploads/2020/02/sabr_logo.png
admin
2012-01-04 20:50:05
2012-01-04 20:50:05
Cal Hubbard