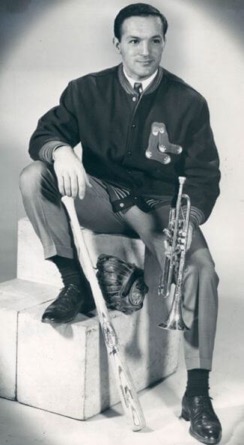 ---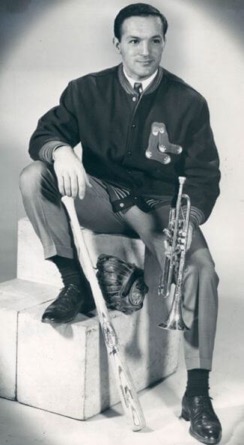 "Carmen Fanzone always led a double life." That's how Jerry Crowe led a story about the former ballplayer and trumpeter that ran in the Los Angeles Times.1 Primarily a third baseman on the diamond, Fanzone played in parts of five seasons (1970-1974) for two major-league teams that suffered nearly century-long droughts between World Series wins: the Boston Red Sox and the Chicago Cubs. After baseball he fashioned a career in the music industry in Los Angeles.
Fanzone was born in Detroit on August 30, 1941. "My dad's name was Pat, or Pasquale. He was a tool and die maker. My mother Louise was a homemaker. They were very young when they came over but they were both born in Italy. My family started off in Pennsylvania and my oldest sister Marie was born in Pennsylvania, but my dad got a job with Ford Motor Company as a tool and die maker and that's how we moved to Detroit. My other sister Emily, who is four years old than me, and myself were born in Detroit."2
There is an amusing story about Fanzone's year of birth. Ballplayers have always wanted to appear younger than they truly were, to have stronger appeal to scouts and on the trade market. Even after he had made the majors, he may have set a record of sorts, as Paul Lukas explained: "His baseball cards for 1973, '74, and '75 show three different birth years. This means he stayed the same age for three seasons—a pretty neat trick."3
"The first card had the right year, 1941," Fanzone told Lukas. "The next season I convinced Topps [the baseball card manufacturer] that that was wrong, and they changed it to 1942. And then I don't know how I got away with it, but I came up with some other cockeyed story and convinced them that it was '43." That year apparently stuck, at least in the baseball record books. But not for Carmen, who went back to his real birthday once his baseball career ended. "As soon as I retired," he said, "I became two years older."4
"I'd always wanted to be a baseball player growing up," he said in a 2017 interview. "I think I got my first glove when I was 5…I used to sit on the front porch with a couple of gloves and just wait for people to walk down the street and ask them if they wanted to play catch. I just always wanted to be a ballplayer and I was fortunate enough that I was able to live out my dream."5
He started playing baseball at age 7. When he was 8, Carmen started playing the trumpet. "As he was growing up in Detroit in the 1950s, Fanzone's interests in baseball and music began at an early age," wrote Bruce Markusen. "He developed idols in both areas. From music, he admired horn players Chet Baker and Paul Desmond. From baseball, he idolized Tigers stars Al Kaline and Harvey Kuenn."6 Even in high school, there was a pull and tug between baseball and music "If I wasn't going to a band rehearsal, I was going to a baseball practice, or vice versa."7
In an online newspaper search conducted in early 2018, Fanzone first turns up in the July 21, 1958 Detroit Times playing a cornet solo with the Parks and Recreation Boys' Band.8 It was the following year that he broke into the news playing baseball. He'd played sandlot ball, of course, but it was in high school that he made the newspaper. Playing for the unbeaten Cass Technical High School team, Fanzone homered and tripled and drove in four runs to help beat Northeastern and clinch at least a tie for the East Side crown.9 After the school year he played American Legion ball with the Edison Post team. In the Detroit Times-Hearst Junior baseball championship, his first RBIs in the deciding game helped the Favro team beat Lundquist Insurance. He made the All-Star team in 1959 and again in 1960; the All-Star Game was played at Briggs Stadium (later known as Tiger Stadium). Later in the summer of 1960, he played semipro ball for Dearborn Adray.10
He worked out sometimes at Tiger Stadium and was certainly known to Tigers scouts. He was given an offer of some kind by the Tigers after high school "but there was no money involved and my dad thought it would be best for me to go to college. I'm really glad that I did."11
Fanzone elected to go to college rather than immediately try his hand at professional baseball. He enrolled at Ferris State in Big Rapids, Michigan, then transferred to Central Michigan University, where he majored in music. He was a star player there, and one newspaper account shows how highly regarded he was as a ballplayer — while also reminding us of the double life he was leading. Just before game time against Illinois State Normal University, Fanzone had been playing trumpet a couple of hundred miles away from the Mount Pleasant, Michigan campus. He was rushed back — by private airplane — arriving during the fifth inning. He stepped into the batter's box with a man on second base and two outs, and knocking in the baserunner.12
Fanzone was right-handed, stood an even 6 feet tall, and was listed at 200 pounds. On February 4, 1964, he was signed as an amateur free agent by Boston Red Sox scout Maurice DeLoof for a reported bonus of $5,000.13 Years later, Fanzone himself said he was signed for only $25, in the year before baseball adopted the amateur draft.14 Asked about the discrepancy, Fanzone said the latter amount was the correct one: "I had to beg to sign. I had just bought a new Wilson A2000 glove, so he gave me the $25 for the glove."15
In any event, he said "the Red Sox were the only club that offered me a contract. So I signed with them and gladly so, because without them offering me a contract, I wouldn't have been able to live out my dream and play professional baseball."16
The Red Sox assigned him to the Wellsville Red Sox in the New York-Penn League (Class A). He tore up the league, hitting .386 with 21 homers and 71 RBIs after 85 games. Fanzone had a good eye and patience at the plate. He drew 50 bases on balls, fueling an on-base percentage of .472. In mid-July, he was sent to the Winston-Salem Red Sox (Carolina League) where he played in another 43 games. The move appeared to be a lateral one — the Carolina League was also Class A — but it was seen as a promotion.17 He hit .299 (.392 on-base percentage) with another 5 homers and 19 RBIs. Winston-Salem won the league pennant.
He truly enjoyed himself then, telling Cubs Vine Line, "My first year of pro ball was in Wellsville, N.Y., an intimate town where players lived in boardinghouses and walked to the ballpark. I have such fond memories of that year."18
In 1965, he played the full season with Winston-Salem, mostly in the outfield — the only year he didn't play the majority of his games at third base or shortstop. In 139 games, he hit .289 with 3 homers and 67 RBIs. The power he had shown at Wellsville never really returned.
In 1966, he advanced to the Double-A (Eastern League) Pittsfield Red Sox. There he hit .273 in 91 games, missing six weeks with a broken wrist. Though his on-base percentage was .402, he homered only once and drove in 40 runs. His manager was Eddie Popowski that year, and Pop had been troubled by Fanzone's dedication to his music. "He couldn't get used to accepting a ball player with musical interest. He always advised me to make up my mind whether I wanted to be a ball player or a horn blower."19 During the offseason, Fanzone taught music in Detroit junior and senior high schools.20
In 1967, Fanzone played for Pittsfield again. His batting average dipped again, to .253. He played in 138 games and drove in 62 runs, fewer runs per game than the year before.
At Ocala in the spring of 1968, Fanzone became Ted Williams' pet pupil in batting lessons.21 It was a memory he always treasured: "It was like God was talking to me."22 Williams was serving as a roving minor-league hitting instructor at the time. "He noticed something when I was hitting in the cage. I took some swings and he asked, 'Have you always hit that way? You're not moving your hands. You're not getting them started. You're losing all kind of power.' In the next couple of swings in the cage, the ball started jumping off my bat."23
"We were always categorized as prospects and suspects, and I was always on the suspects side of the deal, but for one week he noticed everything I did. It was really a kick. I ended up having a decent year, being the Player of the Year in the Eastern League, and I think that had a lot to do with it. Just to have his acknowledgement for a week, it was very thrilling."24
"If nothing else," he said in another interview, "it helped because it bolstered my confidence to see a man of Ted's reputation show an interest in me."25 Sam Mele, then an instructor for the Red Sox said, "Williams showed Fanzone how to get his body behind his swing."26
Something changed; in his third season for Pittsfield, Fanzone slugged 17 homers, hit .270, and drove in 75 runs. He led the league in homers and runs batted in. The "fence-breaking third baseman" was named Eastern League MVP in 1968.27
As of 1968, he had played all four infield positions, and in the outfield, and in the spring of '68 had been worked out some as a catcher. He felt it was advantageous that he had this versatility but felt that third base was his best position.
Fanzone played in only 21 games in all of 1969. With the Triple-A Louisville Colonels, he hit .290, but a back operation cost him the whole season from May 23 on. He did play in the Florida Instructional League that fall and proved he had recovered. He started the 1970 season with Louisville, but new Boston manager Eddie Kasko wasn't sure he would be calling up Fanzone, whom he'd managed at Louisville in 1969. In the latter half of May, he said, "He's a solid hitter but he doesn't have great range and he has throwing problems."28
In July, Billy Conigliaro had to report for two weeks of reserve duty with the U.S. Army at Camp Drum, New York. The Red Sox called up Fanzone.29 He had been leading the Colonels in homers, RBIs, and total bases at the time.
Fanzone had an unusual big-league debut on July 21 at Fenway Park. In the bottom of the eighth, California Angels reliever Ken Tatum hit Fanzone (pinch-hitting for Jim Lonborg) on the elbow with a pitch. The inning ended without a run being scored.
The following day — July 22 — the Red Sox were leading the Angels, 6-0, after seven innings. Eddie Kasko put Fanzone in at third base. The first batter up was Jim Fregosi and he hit the ball to Fanzone, who committed a double error, one on fielding the ball (it bounced off his knee) and the other on an errant throw when he picked up the ball and threw it into right field. Fregosi ended up on second base. He was, however, cut down at the plate two batters later when Fanzone got him in a rundown between home and third, and tagged him out. He recalled the P.A. announcer as saying, "Error at third base — twice." And then added, "At Fenway, just as at Wrigley Field, you can hear every word that was said, and all I heard was, 'We waited seven years for this?'" At the plate or in the field, it seemed like almost everything that could go wrong did go wrong, "and to this day when I think about it, I have nightmares."30
Fanzone got his first start on July 25 and went 0-for-4. On July 26, in Milwaukee he collected his first major-league base hit, a double in the top of the ninth; the Red Sox won, 12-5. He pinch-hit four more times but failed to get a hit. On August 23, he was optioned back to Louisville to make room for a couple of other Sox players returning from military reserve duty, but was recalled when rosters expanded on September 1. By season's end, he was 3-for-15 (.200) with three RBIs. Beyond that, he was very shaky in the field, committing four errors in only 16 chances.
On December 3, 1970 the Red Sox traded Fanzone to the Chicago Cubs for Phil Gagliano. The Cubs sent him to Triple A, too, to the Tacoma Cubs (Pacific Coast League). He had an excellent year, playing in 135 games and batting .327 with 28 homers and 106 RBIs.
Chicago called him up in September; Fanzone barely made it to Pittsburgh's Three Rivers Stadium before game time on September 8. He suited up and sat on the bench. The score was 10-0 Pirates in the top of the eighth. "[Cubs manager Leo] Durocher looked down the bench and said, 'Hey, you. Grab a bat.' He didn't even know who I was. I was so physically tired that I wasn't even nervous."31 So Fanzone was inserted, ready to face National League pitching for the first time. He swung at the very first pitch he saw and hammered it about 400 feet for a home run off Steve Blass. "It was the biggest thrill of my life," he said after the game.32
Fanzone drove in two runs with a single in his next game. In all, Durocher used him in an even dozen games, and he wound up batting .186 with five runs batted in.
Fanzone was hot in spring training in 1972 but future Hall of Famer Ron Santo was the team's third baseman. Near the end of March, in hopes of a place where he could play every day, Fanzone said, "I hope the trade rumors are true."33 The season started a little late because of that year's player strike, yet this was the year that Fanzone played most in the majors, appearing in 86 games. In 22 of them, he pinch-hit, pinch-ran, or was a late-inning defensive replacement with no more than one plate appearance. In all, he accumulated 264 plate appearances and hit .225 (.333 on-base percentage), with 8 homers and 42 RBIs.
Some of those pinch-hits paid off, such as the two-run double on April 30 that beat the Reds, 6-4. A week later, in his first starting assignment, he hit two tape-measure homers and drove in four in another 6-4 Cubs win, over Houston. Three days after that, the 30-year-old rookie drove in the winning run in another Cubs victory. "He's been a real revelation," said Durocher.34 His biggest game — also against Cincinnati — was the second game of the July 9 doubleheader. He had a two-run homer in the fourth and a bases-clearing double in the fifth. In the field, he was versatile, playing 36 games at third base, 21 at first base, 12 at second, and one game each as shortstop and left fielder.
There were a couple of other memorable moments. On June 18, with the Dodgers in town, Fanzone had the honor of playing the National Anthem on his trumpet before the game at Wrigley Field. On September 2, also at Wrigley, Milt Pappas had a perfect game going against the Padres. With two outs in the top of the ninth, and a 3-2 count, Pappas threw a pitch that plate umpire Bruce Froemming called a ball — thus, pinch-hitter Larry Stahl walked and the perfect game was ruined. The no-hitter was, of course, still intact. Fanzone agreed the call was correct, but still thinks Froemming should have called it a strike. Another pinch-hitter, Garry Jestadt, came to the plate and popped up to Fanzone at second base. "I was just glad it wasn't a ground ball," he said.35
Before the 1973 season, Fanzone talked about his musical side. He played both trumpet and flugelhorn. Though he'd been playing since he was very young, he said that it was only in the mid- to late 1960s that he became interested in jazz. "It may sound funny," he said, "but it was a Chet Baker album with strings that got me started. I played along with it until I had it memorized." His other big influence was, unusually, not another jazz trumpeter; rather, it was saxophone player Paul Desmond. "I was blessed with decent ears," he said. "I really think I have something to offer with my music, particularly on the ballads. Ballads are my bag."36
In 1973, Fanzone played in 64 games and in 1974 he played in 65. The Cubs traded Ron Santo across town to the White Sox after the '73 season, but Bill Madlock emerged as Santo's successor in '74. Fanzone had 162 and 170 plate appearances, respectively, but dropped off from .273 to .190 in 1974, though he drove in 22 runs each year. Both years he played third base more than any other position.
In May 1974, then aged 32, Fanzone talked about how he could turn to his music at times. "Sometimes, when things are going bad for me at the park, I'll just pick up the trumpet and play. It helps. It doesn't completely pacify me, but it helps. I'm human. If I'm going bad, I'm going to think about it just like anybody else. Hopefully, I won't resort to a razor blade, but I think about it. And I get my trumpet."37 He was, he allowed, probably the only major-league ballplayer with a college degree in music. And he knew that playing in the big leagues would help his musical career: "The further I go there with the Cubs, the further I can go with my music."38
Fanzone knows of other baseball players that have played music, for example Bernie Williams. The only other major-league athlete he knows of who went on to a career in music is pro football player Mike Reid.39 Reid played with the Cincinnati Bengals for five seasons at the same time as Fanzone, 1970-1974 but then gave up football to write and sing country music.
Fanzone's last big day in the big leagues was August 18, 1974, with four RBIs against the Dodgers (unfortunately, in an 18-8 loss). His last game-winning hit was a bases-loaded single in the top of the 12th inning on August 30 in San Diego.
Tony La Russa told Chicago sportswriter Jerome Holtzman why the Cubs kept Fanzone for four seasons. "They were afraid Ron Santo would get hurt and they wanted protection at third base. But all this time, the Cubs refused to trade him. They kept him as a back-up player. So Carmen had to sacrifice the money he could have made as a regular, plus the same, and all that. Stuff. The Padres wanted to get Fanzone in a trade, but the Cubs wouldn't deal. If Fanzone had come up with the San Diego organization, he might have been an eight-year regular."40
There was one advantage to being with the Cubs all those years. Only day games were played at Wrigley Field then, leaving nights free. When the ballclub was not on the road, Fanzone could sit in with jazz groups.
On December 12, 1974 the Cubs told Fanzone they were placing him on waivers for the purpose of giving him his unconditional release. He was less than three months from qualifying for a major-league pension. He said he was surprised. "I can't believe I have to hang 'em up…I'm not the first guy to get the news, of course. But it's something you just can't prepare yourself for."41 The night after the news broke, Fanzone opened an engagement with a musical quartet at Chicago's Wise Fools Pub.
There was one more year of baseball in him. In 1975, Fanzone played in 54 games for the Hawaii Islanders (Pacific Coast League), before a broken ankle ended his season. He hit .217 with 18 runs batted in. He also got in a brief stint with Don Ho's band.42 "After I broke my ankle playing with the Islanders, I was sitting in, in another club, and he walked in one night and said, 'Why don't you come play for my band?' I guess for about a month I played in his band."
Then it was time to make a move. "I majored in music in college. When my baseball career ended, I felt that I had to test the waters to see if I could compete musically. I knew that I had to go either to New York or L.A. just to be honest with myself. My last year in pro ball was in Hawaii. I met a couple of trumpet players there who had been through the Hollywood scene. They convinced me to come here. That's how I ended up here [in the Los Angeles area.
"I joined the AF of M [American Federation of Musicians] when I first moved here in 1976. I started working for the AF of M in 1990. For about 14 years I was just a freelance musician and doing whatever I could do — rehearsal bands and the like. I substitute taught in the Burbank School System for about six or seven years. That paid my rent, but I was so busy doing that, I was really getting away from the reason that I moved here. I stopped that and started doing more rehearsal bands and doing whatever I could do. Burbank was a nice school system, so it was OK. I had done some substitute school teaching in Detroit."43
It was while teaching that he first became aware of Sue Raney, the woman who became his wife. "This one particular day I was watching The Mike Douglas Show out of Philadelphia. The Four Freshmen were on and I was a big Four Freshmen fan — I loved their harmony. The trumpet player was one of my heroes. This particular day, they introduced Sue Raney. She was doing a nightclub act in Vegas with them. I liked what I saw and the minute I heard her sing, I immediately became a fan of Sue Raney. I started collecting her LPs. When I moved to LA she was appearing at jazz clubs and I would go to the clubs to hear her. I was a big fan of hers. She was married at that point. In the late '70s or early '80s I started playing with the Baja Marimba Band and everybody in that band knew of her and her situation. They would give me updates. One thing led to another. I called her, and it took her a couple of months to agree to go out with me. That was '81 and all these years later, we're still together. I got pretty lucky."44
"I work — I'm still working — at the Local 47 of the AF of M in Los Angeles. We're located in Burbank now. I've been with them for 28 years.
"I work as a business rep in the motion picture and TV department. I'm a troubleshooter, helping the musicians who work in those areas with things such as pension payments and work dues and payments on time, to try to satisfy musicians who pay to belong to the union. I try to help as much as I can. We go to sessions occasionally, just to let them know that we're interested."45
There is a long-standing story that Fanzone played trumpet in The Tonight Show band. It wasn't true.46
There was one unexpected tribute of an unusual sort. The animated TV series Transformers Animated had as one of its characters the captain of the Detroit Police Department and named him Carmine Fanzone.47
Over the years, Sue Raney has received four Grammy nominations as a jazz vocalist. "That's how good she is," says her husband. "She's so well respected in the musical community here, and abroad." Does she still perform? "A little bit. She still teaches and records some, but we're both slowing down a little bit."
Because of his work with Local 47 of the AFM, Fanzone at least receives a pension for his time spent in the music industry.48
That's not true of baseball. He has been an outspoken advocate for a number of big-league ballplayers who lacked the five years of service time to qualify for a pension. In 1980, however, a change was made to reduce the time to be vested to just 43 days. According to author Doug Gladstone, who has led a campaign on this issue, the big problem was that the union didn't ask for retroactivity for the men who had more than 43 game days but less than four years."49 Fanzone concurred: "They forgot to include the guys who played prior to '80. We got the short end of the stick. About six or seven years ago, they started giving us a dollar amount every year based on how many quarters you'd been in the big leagues. But it's not a pension. If something happens to me, Sue doesn't get that."50
"The pension fund is something like 2.7 billion dollars. The really ironic thing was that in 1972 — my first full year in the big leagues, with the Cubs—we went on strike for the pension fund. It's all backwards. We didn't make any money then and we didn't qualify for the pension, and now the guys are making so much money that — if they have half a brain — they'll never need a pension. It's completely ass-backwards, but until somebody wants to change it, it's going to stay status quo. When we started out, there were maybe 1200 of us. Now we're maybe 600."51
"Doug Gladstone, I just can't say enough about him. He's been such a warrior. If I go in a foxhole, I want him next to me. We keep hoping that we can embarrass baseball and the Players Association so that they can do something, It's not about money. It's just about somebody wanting to do the right thing. Maybe that's just what they're waiting for — that we will all die off."52
Fanzone keeps active. "I know that I've used up 76 [years] and I know I'm not going to get another 76. But I just take it day by day. I'm dealing with some health issues now, but I'm still able to stay active. I still run and walk every night. I like to stay active and that's always been important to me. I'm not going to stop because I'm getting old. I'm going to stop because I can't do it."53
Last revised: June 27, 2018
Acknowledgments
This biography was reviewed by Rory Costello and fact-checked by Rod Nelson. Thanks also to Rod Nelson of SABR's Scouts Committee.
Sources
In addition to the sources noted in this biography, the author also accessed Fanzone's player file from the National Baseball Hall of Fame, the Encyclopedia of Minor League Baseball, Retrosheet.org, and Baseball-Reference.com.
Notes
1 Jerry Crowe, "Carmen Fanzone's Two Passions Have Taken Him Around the Horn," Los Angeles Times, July 3, 2011.
2 Author interview with Carmen Fanzone on April 12, 2018.
3 Paul Lukas, "Permanent Record; Age Really Is Just A Number," www.slate.com, September 18, 2001. http://www.slate.com/articles/briefing/permanent_record/2011/09/permanent_record_age_really_is_just_a_number.html\
4 Ibid.
5 Bob Lazzari and Tony De Angelo interview with Carmen Fanzone, Monday Night Sports Talk 14, November 27, 2017, at https://www.youtube.com/watch?v=TAGm4ozDvUg
6 Bruce Markusen, "Detroit's Carmen Fanzone Refused to Choose Between Music and Baseball," Detroit Athletic Co., January 26, 2017. https://www.detroitathletic.com/blog/2017/01/26/detroits-carmen-fanzone-refused-choose-music-baseball/. Even in 2018, and despite having lived in the L.A. area for 40 years, Fanzone remains a Tigers fan.
7 Jerry Crowe.
8 "Boys' Band at Belle Isle," Detroit Times, July 12, 1958: 9.
9 "Cooley Recovers to Club Western," Detroit Times, May 23, 1959: 10.
10 George Maskin, "Playoff Spots Wide Open," Detroit Times, July 12, 1960: 10.
11 Bob Lazzari and Tony De Angelo interview.
12 Ed Alsene, "Quotes and Notes," Daily Illinois State Journal (Springfield, Illinois), May 1, 1963: 14.
13 Email from Rod Nelson, SABR Scouts Committee, March 8, 2018. Source: Fanzone's Baseball Blue Book transaction card accessed from Chicago Cubs files in March 2003 by Dave Zeman, courtesy of Gary Hughes.
14 Brian Sullivan, "Ex-major Leaguer Fanzone, Dowd Teammates Until the End," Berkshire Eagle (Pittsfield, Massachusetts), September 10, 2013. http://www.berkshireeagle.com/stories/ex-major-leaguer-fanzone-dowd-teammates-until-the-end,398893;
15 Author interview.
16 Bob Lazzari and Tony De Angelo interview.
17 Hy Zimmerman, "The Bee Is Busy; Rainiers Not Scalped," Seattle Daily Times, October 22, 1964: 35.
18 Cubs Vine Line, Vol. 26, #7, July 2011.
19 "Fanzone Still Hopeful at 27," Springfield Union (Springfield, Massachusetts), August 4, 1968: 61.
20 Ibid.
21 "Pittsox In Home Opener," Springfield Union, April 21,1968: 60.
22 Jerry Crowe.
23 Bob Lazzari and Tony De Angelo interview.
24 Author interview.
25 "Fanzone Still Hopeful at 27."
26 Tim Horgan, "Jesse Owens To Join Ted As Senator Aide," Boston Herald, February 16, 1969: 67.
27 Associated Press, "Sox' Fanzone Named MVP in Eastern League," Boston Globe, September 17, 1968: 30.
28 "Reshuffled Sox Lose Again, 10-7," Boston Herald, May 2, 1970: 28.
29 Fred Ciampa, "Red Sox Call Fanzone As Spare for Billy C," Boston Herald, July 18, 1970: 21.
30 Bob Lazzari and Tony De Angelo interview.
31 Ibid.
32 Richard Dozer, "Cubs Eye Fanzone as Nucleus for '72," Chicago Tribune, September 10, 1971: C1. The homer accounted for the only Cubs run of the game.
33 Richard Dozer, "Trade? Fanzone Hoping," Chicago Tribune, March 29, 1972: C1.
34 Associated Press, "Fanzone Finds Home, Pounds Reds," Lexington Leader (Lexington, Kentucky), May 11, 1972: 25.
35 Bob Lazzari and Tony De Angelo interview.
36 Harriet Choice, "Jazz By Choice: Fanzone, Moody Double Play," Chicago Tribune, February 18, 1973: E5.
37 Wayne Minshew, "Cub Fanzone: A Hornblower," Atlanta Constitution, May 8, 1974: 3D.
38 Ibid.
39 Steve Wulf, "The Hall of Famer," ESPN The Magazine, February 2, 2015. http://www.espn.com/nfl/story/_/page/music1502029/mike-reid-nfl-all-pro-turned-country-music-hitmaker
40 Jerome Holtzman, "Remember Carmen Fanzone?" The Sporting News, February 5, 1977: 43.
41 Richard Dozer, "Fanzone Gets Drummed Out By the Cubs," Chicago Tribune, December 17, 1974: C7.
42 Brain Allee-Walsh, "Crack of Bat Still Sweet Music to Carmen Fanzone's Ears," Times-Picayune (New Orleans), March 16, 1980: 181.
43 Author interview.
44 Bob Lazzari and Tony De Angelo interview. In the 2018 interview with the author, Fanzone said, "I didn't get married until I was 44. My wife was 46. She had been married before and didn't have children. It was kind of like we missed the boat on that. Both of us agreed we didn't want to have children right away, or adopt. It would have been nice if we had met when we were younger, but it just didn't happen." That said, their marriage has lasted for more than 30 years.
45 Author interview.
46 "I never played on The Tonight Show.That got into newspapers all over the country. But I used to hang out there a lot because I was living in Burbank, a mile or two from NBCF Studios, and knew some of the band. One day before the show, Doc Severinsen, he gave me a half-hour lesson!" Cubs Vine Line, Vol. 26, #7, July 2011.
47 Some of the transformers toys depicting Captain Fanzone may be seen here: https://www.seibertron.com/transformers-toys/gallery/animated/captain-carmine-fanzone/1721/1/. Accessed April 13, 2018.
48 Jerry Crowe.
49 Patrick Burke, "MLB Pension Policy Leaves Some Former Players Out in the Cold," Narragansett Times, March 25, 2018.
50 Bob Lazzari and Tony De Angelo interview.
51 Author interview.
52 Bob Lazzari and Tony De Angelo interview.
53 Author interview.
Born
August 30, 1941 at Detroit, MI (USA)
If you can help us improve this player's biography, contact us.
https://sabr.org/sites/default/files/CarmenFanzone.jpg
600
800
admin
/wp-content/uploads/2020/02/sabr_logo.png
admin
2018-06-27 13:13:13
2020-04-09 14:38:44
Carmen Fanzone