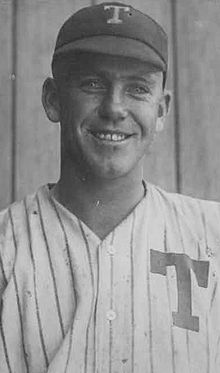 ---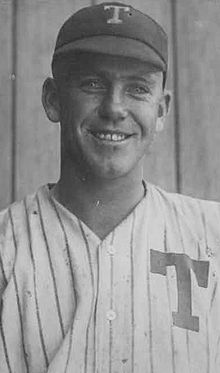 It was pouring rain at Forbes Field in Pittsburgh in the waning twilight of October 15, 1925, when Pirates outfielder Carson Lee Bigbee stepped into the left-handed batter's box to pinch-hit. There were two out in the bottom of the eighth inning of the seventh game of the 1925 World Series. The Washington Senators had Walter Johnson on the mound. Sawdust had just been spread on the wet, sloppy mound at the request of Johnson, who hoped to improve his footing. Pittsburgh was trailing 7-6. Emil Yde stood on second base for Pittsburgh. Bigbee, in his 10th year with Pittsburgh, had once been a starter. He had hit .350 just three years before. But health problems, including an appendicitis attack in 1925, had reduced him to a part-time role (and a .238 batting average). He was not imposing at the plate, at just 5-feet-9 and 157 pounds. After passing on two outside pitches, Bigbee drove Johnson's third offering into left field for a double, scoring Yde with the tying run. Three batters later, when Kiki Cuyler drove a ground-rule double down the right-field line, Bigbee crossed the plate with the winning run of the series. In less than a year, his time in the big leagues would be over, but for now, Bigbee was a World Series hero.1
Carson Lee Bigbee was born in Waterloo, Oregon, on March 31, 1895.2 He was the last of three sons born to Missouri native Claiborne Fox Bigbee and native Oregonian Callie (Morris) Bigbee. Claiborne was a high-school teacher and Callie taught in elementary school.
All three of the boys were athletic. In 1911, the Albany High School baseball team featured senior Morris Bigbee at third base, junior Lyle Bigbee on the mound, and sophomore Carson Bigbee at shortstop. Carson was the team's catcher in his senior year. He was also a guard on Albany High's 1911 Western Oregon champion basketball team (his older brothers were forwards) and quarterback of the football team. In the summer Carson played third base for the semipro Albany Athletes.3 And he was manager of the school paper besides.4
Bigbee was small and not very strong. In high school his hits were groundballs through the infield, not blasts to the outfield. But he possessed blazing speed. He once scored from second on a putout at first and was known to score from first on singles.5 The story is told that a spectator at an Albany High football game watched the tiny 14-year-old speedster and exclaimed, "Look at that mosquito."6 From then on he was known as Skeet or Skeeter.
Professional teams were after Bigbee early on. There were reports in the summer of 1912 linking him with both Vancouver and Tacoma of the Class B Northwest League.7 But both of his parents were teachers, and both of his brothers were at the University of Oregon, and Carson was headed there as well. In his freshman year, 1912-1913, Carson again played all three sports, starring in basketball and baseball and also seeing playing time as the backup quarterback on the football team. The 1914 Oregon Ducks varsity baseball team featured all three Bigbee boys, with Lyle pitching, Morris in left, and Carson at short.8 Carson led the team in hitting in 1915, at .333.
By the spring of 1914 it was reported that Carson had an offer to sign with the Chicago White Sox.9 But he stayed at Oregon, filled out to 150 pounds,10 and in 1915 was the scoring star of a bad Oregon Ducks basketball team. He led the conference in scoring, and on more than one occasion was the only member of his team to score a basket.11
Besides being teammates in three sports, Lyle and Carson were also fraternity brothers, at Phi Delta Theta.12 While at Oregon, Carson fell in love with Kappa Alpha Theta sorority girl Grace Ellen Bingham, who was a freshman when he was a sophomore.13 Grace was the daughter of Isaac Hannah Bingham, an Oregon state senator who also had interests in mining, timber, and railroads.14
In the spring of 1916 both Lyle and Carson Bigbee left the university to sign with the Portland Beavers of the Pacific Coast League, and headed south to Sacramento, California, for training camp. Beavers manager Walt McCredie was not impressed by the Bigbee brothers. He released them both to the Tacoma Tigers of the Class B Northwestern League before the season started.
Lyle had a sore arm and didn't catch on in Tacoma, but Carson quickly became a star. Tacoma manager Russ Hall moved Skeeter from the infield to center field to take advantage of his speed. Bigbee not only adapted to the outfield, he hit .340, with 25 doubles and 50 stolen bases.15 He became known as "the Ty Cobb of the Northwest League." Tacoma spent most of the year fielding offers from major-league teams for Bigbee, finally settling for a $5,000 payment from the Pittsburgh Pirates.16
Bigbee said he would give himself two years to make it as a star, and otherwise he would return to Oregon and work the family ranch. "I know that a baseball player's career doesn't amount to much unless a man is at the top of the list," he said. "I'm going to be a first-class player or quit entirely."17 On August 24, 1916, at the tender age of 21 (and after an all-night train ride), Bigbee made his major-league debut at Forbes Field against the New York Giants, who started Jeff Tesreau on the mound. Bigbee had two hits and a walk in five plate appearances, and the Pirates won, 10-1.18
While he spent his offseason working on the family peppermint farm,19 Bigbee figured prominently in the Pirates' plans for 1917. Manager Jimmy Callahan wanted to give him a shot at second base, with an outfield job as a fallback. But the season did not go well for Bigbee. As the Eugene (Oregon) Morning Register put it, "Carson has been hit in the face with a pitched ball, sprained his leg, ruptured a muscle, suffered from the grip and finished up with tonsillitis."20 Despite a regular role in left field, he managed only a .239 batting average for a Pittsburgh team that finished last in the National League.
He did get his name in the record books in 1917. On August 22, in a 22-inning game against the Brooklyn Dodgers, Bigbee had 11 at bats in a single game. The record has since been matched 13 times, but never bettered. Still, the highlight of his year came at 4:30 on the afternoon of October 24, at St. Stephen's Episcopal Church in Portland, Oregon. On that day Carson Bigbee was married to his college sweetheart, Grace Bingham. The wedding, most likely hastened by the United States' entry into World War I, was informal and quickly put together.21
On March 28, 1918, Grace Bigbee lost her father. The state senator was in Washington, D.C., lobbying on behalf of shipbuilders when he was stricken with pneumonia and died.22 He was 60 years old. This was no doubt a heavy blow to the newlyweds.
Bigbee worked in the shipyards in Seattle during the 1917-1918 offseason, which protected him from the draft. But he exposed himself to military service by returning to the Pirates for the 1918 season. He insisted that he hadn't gone to work in the shipyards to dodge service as many other ballplayers did. He did it because it paid well. Bigbee expected to be called up soon and was "keen" to go.23 Despite regular reports that he was about to be called up, he was able to finish the season as a Pirate, playing in 92 games and batting .255. At season's end, he enlisted in the Army Coast Artillery Corps at Fort Stevens, Oregon. By December, with the war over, he was honorably discharged.24
Although he had not proved himself as a "first-class player' in his first two full years, Bigbee returned to Pittsburgh for the 1919 season. As he headed to spring training in Birmingham, Alabama, he faced a tough challenge breaking into an outfield that included Max Carey, Casey Stengel, and Billy Southworth. But when center fielder Carey was out with a case of boils for much of the season, Bigbee got a chance to play regularly. He showed off his speed in the outfield and on the basepaths, where he was third in the league with 31 stolen bases. With a solid .276 batting average, the 24-year-old Bigbee established himself as a regular in the Bucs lineup. In mid-August, with Carey back in the lineup in center field, the Bucs traded Stengel to the Philadelphia Phillies for the wonderfully named Possum Whitted, making Bigbee the regular left fielder. In the fall he joined a picked team of Pittsburgh and Brooklyn players for a tour of Cuba. His wife, Grace, accompanied him on the tour.25
Bigbee put up similar numbers in 1920, and then broke out in 1921, hitting .323 in 683 plate appearances and managing a 23-game hitting streak. Carson helped future Pirates star Pie Traynor with his baserunning that spring. Manager George Gibson noticed that Traynor ran the bases flatfooted and asked Bigbee to teach him to run on the balls of his feet, as well as how to slide properly.26
In September 1921, Carson's older brother Lyle joined the Pirates as a pitcher. He was used sparingly in a mop-up role, but the brothers had a chance to be teammates again, if only briefly. The Pirates finished the season in second place, four games back of the Giants. Small and fast but lacking power, Bigbee specialized as a place hitter and as a bunter. He led the National League in singles in 1921 and 1922, and was third in triples both years.
The 1922 season was the high-water mark of Bigbee's career. Manager Gibson said, "Carson Bigbee has no equal in the league as an outfielder, when one considers his intelligence, his ground-covering ability, his batting and his base running."27 In 1922 he lived up to his manager's claims. He hit .350, with 215 hits, and led National League left fielders in putouts and assists. On top of everything else, on October 19, thoughtfully after the season had ended, Grace gave birth to their first child, a daughter named Jean. Carson also found plenty of time for his favorite offseason pastimes, fishing and duck hunting.
Bigbee came back to earth the next year as sinus problems caused him headaches and vision problems.28 He still hit a solid .299, but it was an off-year. He again gave Pie Traynor assistance, this time with his hitting. "I have always regarded Bigbee as a scientific hitter," Traynor said. "He told me to try holding the bat down low against my body and see if that would make any difference. After getting accustomed to the change I noticed that I not only could hit balls pitched high and inside but I was hitting every kind of a ball better."29
Bigbee drove back to his home in Portland, Oregon, in a brand-new Stutz motor car.30 Cars were both a passion and a business for him. In 1922 he made what General Tire claimed was the first transcontinental round trip in a car with balloon tires.31 In the fall of 1923, he partnered with Pirates outfielder Max Carey in a business selling Balcrank automobile bumpers in Portland.32 Business was good, and by February they had opened branches in San Francisco and Los Angeles, which made the Pirates 1924 spring training camp in Paso Robles, California, quite convenient.33
Bigbee underwent a tonsillectomy and two sinus surgeries in the offseason, hoping to solve his health woes, but the sinus problems continued. Both quality of his play and his role on the team gradually declined accordingly. Bigbee had become a part-time player by 1925, when the Pirates made it to the World Series and he scored the series-winning run. In 1926, he was again playing a minor role, and batting only .221, when his big-league career abruptly ended in controversy.
The story of what became known as the ABC Affair has been reported in a number of places, and the details vary in each telling. But Bigbee's role, and the consequences thereof, are consistent. The incident is named for the three principal players involved – pitcher Babe Adams, Bigbee, and center fielder Max Carey. The most senior members of the Pirates, they were popular players and each had been a hero for the Bucs in a past World Series.
The controversy centered on Fred Clarke, a former Pittsburgh player and manager who was now vice president of the Pirates. During the 1926 season, Clarke had taken to sitting on the Pirates bench during games. According to some reports, he was very vocal in his criticism of the players and manager Bill McKechnie. Things came to a head between games of a doubleheader in Boston on August 7. Carey was struggling and Clarke told manager McKechnie that he should pull Carey from the game. McKechnie replied that he didn't have anyone to put in Carey's place. Two forms of Clarke's caustic response are frequently reported – "I don't care, put the batboy in there!" or "Put somebody out there, even if it's a pitcher." Either way, his message was clear.
Bigbee overheard all of this. He was insulted on behalf of his friend Carey (and presumably on his own behalf as well, since he was the utility outfielder most likely to replace Carey). Bigbee reported the slight to Carey and they went together to consult with Adams, the elder statesman of the Pirates. The three veterans agreed that, for the good of team, there could only be one manager at a time. They went together to McKechnie to argue for Clarke's removal from the bench.
With owner Barney Dreyfuss overseas in Europe, the principals had to resolve the issue on their own. They sort of bumbled into holding a meeting of Pirates players at a New York hotel, at which McKechnie decided to speak in support of Clarke. The players then took a vote on the matter, and they supported Clarke by 18 to 6.
Victorious, Clarke now demanded strong disciplinary action for the ringleaders of the uprising. Adams and Bigbee, who were at the tail end of their careers anyway, were immediately released, and their major-league lives put to an abrupt end. Carey, who still had some big-league baseball left in him, was waived by Pittsburgh and caught on with Brooklyn.34 The incident proved that marginal players should not make waves.
While the Pirates dealt with angry fans in the aftermath of firing the three popular veterans, Bigbee drove home to Oregon. He was done with baseball for the season. Former Pirates teammate George Cutshaw owned a 30-acre grapefruit ranch in Brawley, in California's Imperial Valley.35 Bigbee bought a share in the ranch and became an active partner with Cutshaw.36 On March 17, 1927, he and Grace welcomed their second daughter, Marilyn.
Bigbee was determined to play ball on the West Coast, near his home in Portland and the ranch in California.37 He also wanted to be paid well, especially if he was going to endure the 200-game Pacific Coast League schedule. He turned down a reported offer of $5,000 from the Hollywood Stars before signing with the Seattle Indians for the 1927 season. At age 32, he was thought to have some good Coast League seasons ahead of him. But Seattle was deep in outfield talent, and by the end of June, tired of paying Bigbee's big salary for a part-time outfielder, the club released him. He caught on with the rival Portland Beavers, who needed outfield help. He posted a solid .296 average in 98 games between the two teams.38
On February 10, 1928, Claiborne Bigbee, Carson's father, died of pneumonia in Wapinita, Oregon.39 Then Carson got off to a very poor start for the Portland Beavers, and he was released in May. He was able to sign on with the Los Angeles Angels, but he managed to hit only .227 for the year. He was the worst hitter on the team. That proved to be Bigbee's last year as a ballplayer. The Bigbees moved full-time to the grapefruit ranch in Brawley.40
Bigbee's ongoing health issues continued to plague him. In April of 1930 he was critically ill with lobar pneumonia and was not expected to survive.41 He pulled through, but by the end of August it was reported that his strength had not yet returned. For some reason, he had gone to the mountains to recuperate.42 The Bigbees stayed on the ranch in Brawley for most of the 1930s, Carson raising grapefruit and Grace raising their two daughters. She was also active in the local Women's Community Club and her sorority alumnae club, frequently presenting book reviews at meetings of both groups.
But the Bigbees were about to go through some major changes. In about 1937 they left the ranch in Brawley and moved back to Portland. George Cutshaw would continue to run the grapefruit ranch on his own. Carson returned to the automobile business as a salesman for a Cadillac and La Salle dealership in Portland.43 It must have been a tough job in the midst of the Great Depression. In 1942, after the United States entered World War II, he again took work in the Portland shipyards, where he had found the pay so attractive back in 1917.44
In August of 1942, tragedy struck the Bigbee family. Carson's older brother Lyle, who had been a teammate in high school and college, and with the Pirates, committed suicide, shooting himself in a boarding house in Portland. He was 48.45 In the aftermath of all these events, Carson and Grace Bigbee were divorced. On October 8, 1943, Carson, aged 48, married 34-year-old Dorothy M. Scott (née Ward) in Vancouver, Washington.46 She had two children from a failed marriage to an interior decorator.47 Carson and Dorothy's marriage would prove to be short-lived.
In 1947, Carson and Grace Bigbee reunited and were married again.48 This time the marriage would last the rest of their lives. Carson also reunited with professional baseball. His old pal, Pirate teammate, and business partner Max Carey was now president of the All-American Girls Professional Baseball League. In 1948, Carey persuaded Bigbee to become the manager of the Springfield (Illinois) Sallies. Initially a skeptic of the league, Carson became one of its biggest boosters.49 But he was not a successful manager. He led the Sallies to the worst record in the league in 1948 (41-84) and then guided the Muskegon (Michigan) Lassies to a sixth-place finish in an eight-team league in 1949.
After the 1949 season, Bigbee returned home to Portland, where he and Grace would live out the rest of their days. Carson died in his sleep on October 17, 1964. He was 69, and was survived by Grace, their two daughters, and four grandchildren.50 He was also survived by his 96-year-old mother, Callie, and his older brother, Morris. Callie, who had continued teaching school until the age of 81, died in 1968 at the age of 99. Morris died in 1978 at the age of 88.
Grace died on June 28, 1967, at the Portland home of her daughter Jean, at the age of 71. Carson and Grace were both buried at Willamette National Cemetery in Portland.
Acknowledgments
This biography was reviewed by Len Levin and fact-checked by Alan Cohen.
Sources
Most of the material for this article was found in contemporary newspapers found at GenealogyBank.com, Newspapers.com, and Chronicling America. In particular, articles from the Oregonian (Portland), the Albany (Oregon) Democrat Herald, the Pittsburgh Post-Gazette, and the Pittsburgh Daily Post provided helpful feature articles that went beyond the daily game accounts.
Major- and minor-league season stats came from Baseball-Reference.com when available, and from year-end newspaper sources when needed. Game-by-game data from Retrosheet.org was also helpful.
Notes
Born
March 31, 1895 at Lebanon, OR (USA)
Died
October 17, 1964 at Portland, OR (USA)
If you can help us improve this player's biography, contact us.
https://sabr.org/sites/default/files/BigbeeCarson.jpeg
600
800
admin
/wp-content/uploads/2020/02/sabr_logo.png
admin
2017-06-08 15:04:34
2017-06-08 15:04:34
Carson Bigbee