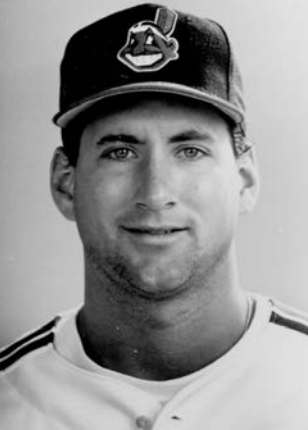 ---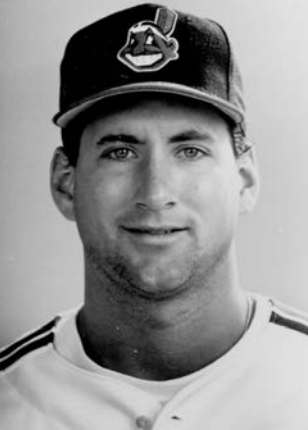 He was an everyman, a solid but not spectacular New Englander who went out and did his job every time. Never a dominant pitcher, he was once called the "master of the 11-hitter."1 He never liked attention; all he wanted to do was take his place in the rotation. Even when his arm gave out, he hung on for years, just hoping that somehow it would all come back and he could go to the mound again.
Charles Harrison Nagy was born on May 5, 1967, in Bridgeport, Connecticut, to Richard Nagy and the former Beverly Harrison. His father was of Hungarian ancestry, the name Nagy meaning great or big in Hungarian. As a child Charles lived in St. Petersburg, Florida, for six years, where he played Little League baseball, and lived in the same condo development as Tom Seaver.2 Returning to live in Fairfield, Connecticut, he spent much time with his brothers (Richard Jr., two years older, and David, two years younger), playing baseball and football, being coached by their father.
He played baseball, football, and basketball at Roger Ludlowe High School in Fairfield, Connecticut, and was a standout in all three sports. Despite being recruited for baseball, Nagy chose to go to Cornell to play football, but after one semester he transferred to the University of Connecticut, where he joined the baseball team and his career took off. Playing two seasons with the Huskies, Nagy was named Big East Pitcher of the Year in 1987 and 1988, dominating with big strikeout numbers, including a conference-record 17-strikeout game in 1988. Despite this, his most memorable moment was a bad one, at the Big East Tournament in 1987, when future major leaguer Mo Vaughn hit one of his pitches out of the ballpark.
In the summer of 1987 Nagy pitched in the Cape Cod League, and in 1988 he was invited to try out for the US Olympic team, making the team prior to the Seoul Olympics that year. Pitching from the bullpen throughout the summer, he made 19 appearances, going 3-1 with a team-leading 1.05 ERA and six saves. Alongside future major leaguers like Jim Abbott, Ben McDonald, and Andy Benes, Nagy helped the US team win Olympic gold. His efforts were acknowledged in 1999 when he was named to the 15-man all-time USA Baseball team.
During the summer Nagy became the first UConn player to be drafted in the first round, taken 17th overall by the Cleveland Indians. He quickly signed with the team for a bonus of $126,000,3 and in 1989 he started his professional career with Kinston in the High-A Carolina League. After dominating there (8-4, 1.51 ERA), he was quickly moved up to the Double-A Canton-Akron Indians (Eastern League). Results weren't as spectacular (4-5, 3.35), but Nagy still performed well enough to be noticed.
Before the 1990 season, Nagy married his high-school sweetheart, Jacquelyn Schuh. He returned to Double A, but only for a short time; he performed well enough to get the call to the big leagues in June. On June 29, 1990, he made his major-league debut in Cleveland against the California Angels, pitching against his former Olympic teammate Jim Abbott. Nagy struggled in his debut, losing and giving up four runs in 4⅓ innings on seven hits and four walks. "I was pretty nervous. … I'm pretty happy that my first start is over with," he said.4 His next game he was a little better, three runs in seven innings against Seattle, but still took the loss. In his next start he was terrible, six runs in 1⅓ innings, and he was sent back to the minors with an 0-3 record and a 9.24 ERA.
It didn't take long for Nagy to return. Brought back at the end of August for a longer look, he got in another six games, five of them starts, and toward the end was starting to look much better. He got his first win on September 18 against Milwaukee ("I'm just real excited right now," he said),5 and by the end of the season had brought his record to 2-4, 5.91. Not a great start, but Nagy certainly showed the promise the team was looking for.
In 1991 Nagy looked good in spring training, appearing to have become more composed, and began the season in the Cleveland rotation. His first start was a complete game. He gave up just one run in eight innings against Kansas City, but the Indians couldn't score, and Nagy took the 1-0 loss. Pitching against the Royals again on April 22, he was perfect through six innings, creating some excitement before giving up a leadoff double in the seventh. On July 4 he threw his first career shutout, against Milwaukee, a six-hitter. He was inconsistent all season long, having streaks of a few really good games followed by a few really bad games. The result: Nagy ended the 1991 season with a 10-15 record despite a 4.13 ERA.
The Indians began improving with a core of homegrown players, with the likes of Albert Belle, Sandy Alomar Jr., and Carlos Baerga joining Nagy in the big leagues. Most of the prospects coming up were hitters, and the team was trading its veteran pitchers away, leaving Nagy as the default number-one starter in 1992. On Opening Day he was the starting pitcher in the new Orioles ballpark, Camden Yards. Despite being named the number one, Nagy didn't get too excited: "If I start getting too happy, balls start flying around all over the place."6
Nagy stepped up to the task of staff ace, going 17-10 on a team that finished 10 games below .500. No other starter won more than six games, and Nagy established himself as the Indians' star. He was pitching so well that he was selected to the All-Star Game in San Diego, and pitched a 1-2-3 seventh inning. With the AL running out of players, manager Tom Kelly left Nagy in to bat in the top of the eighth (he had to borrow a helmet), and he led off the inning with an infield single – the first AL pitcher to get a hit in the All-Star game since Ken McBride in 1963. "I didn't know what was going on. I just closed my eyes and ran," he said.7 He also came around to score a run as the AL dominated the NL, 13-6.
On August 8 Nagy had perhaps his best game in the major leagues, throwing a one-hitter with two walks in Baltimore. The only hit was in the seventh inning, a groundball by Glenn Davis deep in the hole to shortstop, and the next batter grounded into a double play. Typically self-effacing, Nagy said, "The result was one of my best, but it wasn't a thing of beauty."8
Again the ace in 1993, Nagy started the season slowly. On May 15 he faced just six batters before leaving the game in the first inning with a sore shoulder. A few days later he had surgery for a torn labrum and was expected to miss a couple of months. He came back late in the season, starting the final game in the old Cleveland Stadium on October 3. His final record of 1993 was 2-6 with a 6.29 ERA, a disappointment in an injury-ravaged season.
Now that they had a core of young hitting, the Indians were in need of pitching, and they signed veteran free agents Dennis Martinez and Jack Morris for 1994, taking the pressure off Nagy as he came back from his injury. "I don't know if our pitching staff will ever gain a lot of respect," Nagy said. "We do get overshadowed by our hitting."9 In 1995 the team replaced Morris with Orel Hershiser, and they took off. Dominating throughout the season, they ended up winning their division by 30 games, with Nagy and Hershiser having identical 16-6 records. Nagy was amazed at how the team had grown around him. "You couldn't even imagine a couple of years ago that we'd be here today."10
The Indians swept the Boston Red Sox in the American League Division Series, got by the Seattle Mariners in six games in the Championship Series, but then lost the World Series to the Atlanta Braves in six games. Nagy faced John Smoltz in Game Three and cruised through the early innings. He gave up solo home runs in the sixth and seventh innings to make the score 4-3 Indians. In the eighth he gave up a single and a double to the first two batters before being pulled, with manager Mike Hargrove being criticized for leaving Nagy in too long. The Indians blew the lead, but rallied to win the game in the 11th inning. Nagy would not pitch again though, being scheduled for Game Seven before the Indians lost in six.
Nagy started 1996 with a new contract, a two-year, $6.75 million deal. He celebrated by having his best year in the major leagues, going 17-5 with a 3.41 ERA. Back in the All-Star Game, he was selected by his manager, Mike Hargrove, to start for the American League – facing John Smoltz, whom he'd pitched against in the World Series the previous fall. This time his All-Star performance was not successful; he gave up three runs in two innings and took the loss. He started Game One of the ALDS against the Orioles and struggled, taking the loss with seven runs in 5⅓ innings. Brought back in Game Four, he did better, allowing two runs in six innings, and was in line for the win until Jose Mesa blew the save in the ninth and the Indians lost in the 12th, ending their season. Nagy finished fourth in the Cy Young Award voting.
In 1997 the Indians were back in the playoffs, and in ALCS Game Two Nagy struggled, leaving in the sixth inning down 4-2 to the Orioles, but the team rallied to get him off the hook. He was back in Game Six, facing Mike Mussina and the pair settled in for a pitching duel. Mussina was excellent, eight innings of one-hit ball, but Nagy matched the score with 7⅓ innings of nine-hit ball. Again the game went to extra innings, and this time a home run by Tony Fernandez in the 11th won the game and the series. Back in the World Series for the second time in three years, the Indians had high hopes against the Florida Marlins. With the series tied, Nagy got the start in Game Three, but struggled, giving up three home runs and a bases-loaded walk. He left having given up five runs in six innings, but had a 7-5 lead that the bullpen again could not hold, and the Marlins eventually won the game, 14-11, on the back of a seven-run ninth.
The Indians fought back to take the series to a Game Seven. After agonizing over his decision, manager Mike Hargrove decided to start Jaret Wright instead of Nagy, saying that Nagy looked tired and Wright had the hot hand. Wright vindicated the decision by giving up one run in 6⅓ innings, but Jose Mesa blew it with two out in the ninth, giving up the tying run on a sacrifice fly. In the bottom of the 10th Hargrove turned to Nagy – who had warmed up four times already – with two on and two out, and he got Moises Alou to fly out and end the inning. Then came perhaps the defining moment of Nagy's career. In the bottom of the 11th, with the bases loaded and two out, Edgar Renteria lined a single that tipped off Nagy's outstretched glove and fell in center field for the game-winning hit. All Nagy could do was walk off the field as Marlins leapt and celebrated around him.
Nagy didn't pitch well in 1998, his 15-10 record hiding a 5.22 ERA. The Indians made it back to the postseason, and he beat Boston in the ALDS. He pitched well in Game Two of the ALCS against New York, but received a no-decision in the Indians' 4-1 win. In Game Six, Nagy gave up six runs (three earned) in three innings on the way to the season-ending loss. The Indians still had faith though, and signed the 31-year-old to a four-year contract that would pay him $6 million per season through 2002. Nagy celebrated by donating $100,000 to UConn to establish a baseball scholarship.
In 1999 Nagy improved a little, and was back in the All-Star Game for the third time. The Indians reached the playoffs once again. In the ALDS he won Game Two, putting the Indians up 2-0, but the Red Sox won three in a row, including Game Five, in which Nagy got a no-decision despite giving up seven runs (including Troy O'Leary's grand slam) in three innings, and somehow leaving with an 8-7 lead after three.
Everything changed in 2000. Nagy started the season poorly, and with a 7.19 ERA he was placed on the disabled list in May, and had surgery to remove bone chips from his elbow. With the injury he broke his personal streak of 192 consecutive starts over eight seasons. He managed to return for three outings in September, but he wasn't any better, giving up 15 runs in 10⅔ innings and taking three losses. Despite hope for recovery in the offseason, Nagy started 2001 on the DL again, trying to build up arm strength in the minor leagues. Returning to Cleveland in June, he lasted through August but pitched poorly. Another offseason of rest helped get him going again, and in 2002 the team decided he would be better coming out of the bullpen for a while. After a couple of months this wasn't working, and when Nagy gave up nine runs in two innings to Minnesota on June 4, he was put back on the DL. Coming back to the rotation in July he got five more starts, and then was put back in the bullpen to finish the season.
With his contract over at the end of 2002, and the team seeing little hope that he would be effective again, Nagy became a free agent. Despite the desire early in his career to be a one-team man, he signed a minor-league deal with the San Diego Padres for $500,000 in December. He started 2003 at Triple-A Portland, and was brought up on May 16 for a spot in the bullpen. After just five appearances, he was sent back down on June 2, and was released on June 6.
Nagy returned to the Indians a few weeks later as a special assistant to GM Mark Shapiro, working in the front office and on the field. He was hired by the Angels to be pitching coach for the Triple-A Salt Lake Bees in 2006, but after two seasons there he decided to spend some time at his home in San Diego. Nagy always kept his personal life private, talking little about his family and his life growing up. He preferred to let his work on the field tell his story. He and his wife, Jacquelyn, had two daughters, Makeala and Lily. "My kids are at a certain age and I was missing a lot," he said.11 After a couple of years of being home with his family, they could tell he still had baseball in him, and urged him to return to the game in some capacity.
In 2007 Nagy was inducted into the Indians Hall of Fame, and in 2009 he returned to the team, this time as pitching coach at Triple-A Columbus. He spent one year there, then took another year off, but he was back in the major leagues in 2011, this time hired by the Arizona Diamondbacks as pitching coach, in part due to his relationship with GM Kevin Towers, who had been GM in San Diego when Nagy was there.
The Diamondbacks pitchers had been struggling for a while, but in Nagy's first year as pitching coach they improved their team ERA by a full run. Nagy tried, as always, to deflect any credit to others, saying, "I really didn't bring much to the table. … I just tried to communicate as much as possible."12 Nagy's players disagreed, calling him optimistic, calming and reassuring as a pitching coach. However, the Diamondbacks showed no further improvement over the following two years, and at the end of 2013 Nagy was fired. He quickly returned to his roots in Cleveland again, this time as a roving pitching instructor in the Indians minor-league system.
Nagy returned to the Diamondbacks' as their pitching coach in 2016. However, it turned out to be only for a year. As of 2018, Nagy will be in his second season as the pitching coach for the Los Angeles Angels.
Charles Nagy was driven out of the big leagues by his injuries, spending much of his last four seasons on the disabled list. His New England drive kept making him try again and again, but led to some regrets and some might-have-beens.
This biography was published in "1995 Cleveland Indians: The Sleeping Giant Awakes" (SABR, 2019), edited by Joseph Wancho.
Notes
1 Tom Boswell, "Indians Could Rock or Get Rolled by M's," Spokane Spokesman-Review, October 13, 1995.
2 Tom Yantz, "A reluctant No. 1," Hartford Courant, April 28, 1992.
3 Tracy Ringolsby, "Frey Takes Charge, Shakes Up Cubs Scouting Staff," Traverse City (Michigan) Record-Eagle, November 5, 1988: 19.
4 "Baseball," The Sporting News, July 16, 1990: 13.
5 "Segui's Home Run Sparks Orioles to Win Over Bosox," Daily Gazette, September 19, 1990: C2.
6 Sheldon Ocker, "Expect No Miracles, G.M. Hart Warns," The Sporting News, April 6, 1992: 25.
7 Dave Ruden, "Fairfield's Nagy Living His Baseball Dream," The Advocate (Stamford, Connectivut), November 28, 1992: B4.
8 Sheldon Ocker, "Dugout Chatter," The Sporting News, August 17, 1992: 36.
9 "Pitching Is the Key to Indians' Success," Roswell (New Mexico) Daily Record, October 8, 1995: 15.
10 Paul Sullivan, "Here's the Pitch: Don't Overlook Cleveland's starters," Chicago Tribune, October 19, 1995.
11 Nick Piecoro, "Arizona Diamondbacks Pitching Coach Charles Nagy Quietly Effective," Arizona Republic (Phoenix), March 17, 2011.
12 Chris Elsberry, "Nagy's Calm Reassurance a Plus for D'Backs," Connecticut Post (Bridgeport), May 13, 2012.
Born
May 5, 1967 at Bridgeport, CT (USA)
If you can help us improve this player's biography, contact us.
https://sabr.org/sites/default/files/NagyCharles.jpg
600
800
admin
/wp-content/uploads/2020/02/sabr_logo.png
admin
2012-01-04 20:19:02
2012-01-04 20:19:02
Charles Nagy