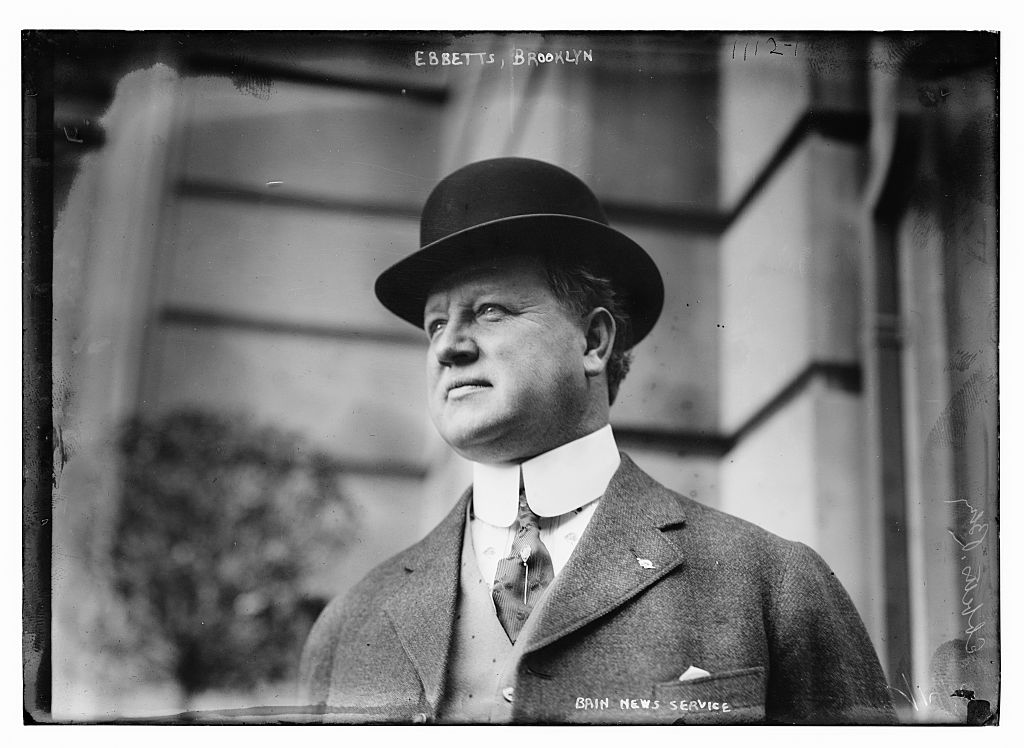 ---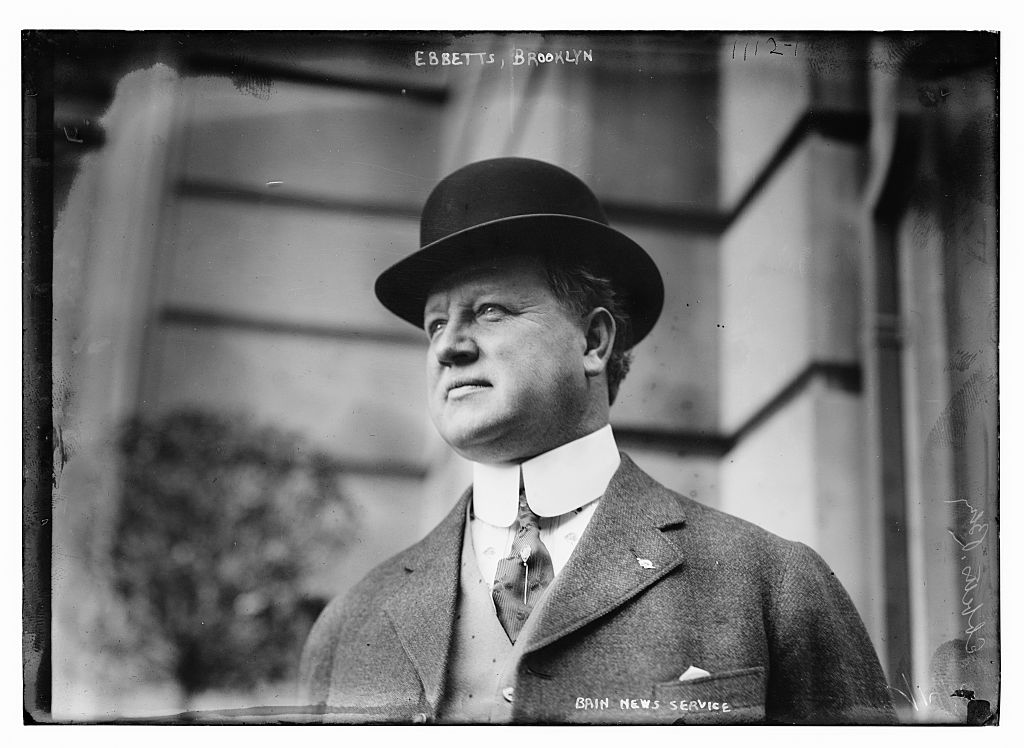 Hardworking and ambitious, Charles Ebbets worked for the Brooklyn baseball club for 42 years, serving at various times as ticket seller, clerk, bookkeeper, scorecard salesman, business manager, president, field manager, part owner, and eventually owner. Though often criticized for his miserliness, the good-natured owner was generally popular with the fans, and deservedly so; he incurred huge personal debt to purchase the team and keep it in Brooklyn when a move to Baltimore threatened, and he did it again a decade later to give the fans a state-of-the-art ballpark in an era when public financing of such a facility was unthinkable. Today Ebbets is best remembered for Ebbets Field, which opened in 1913 and was razed in 1960, three years after the Dodgers moved to Los Angeles. His name lives on in the 21st century primarily because of the current trend towards retro-style ballparks—every city wants its new stadium to be an "Ebbets Field-style" ballpark.
Charles Hercules Ebbets was born in New York City on October 29, 1859, and attended the city's public schools. Baseball was his favorite sport even though he was a much better bowler than baseball player. Initially pursuing a career in architecture, Charlie was a draughtsman on several prominent projects, including the Metropolitan Hotel and Niblo's Garden, a famed New York amusement center. He also tried his hand at publishing, printing cheap editions of novels and textbooks and selling them from door to door himself. Active in local politics, Ebbets served four years on the Board of Aldermen and one in the New York Assembly before an unsuccessful campaign for the New York Senate convinced him to devote his considerable talents to the business of baseball.
Charlie was 23 years old when he started working for the Brooklyn baseball club as clerk, bookkeeper, and scorecard salesman during its inaugural season in the Interstate League in 1883, and his ascent in the Dodgers organization dovetailed with the history of the borough. He joined the club two weeks before the opening of the Brooklyn Bridge, the engineering feat of its day but also the death knell for Brooklyn as an independent city. Charlie remained with the team as it moved to the American Association in 1884 and the National League in 1890, ascending to its presidency when his predecessor in that office, Charles Byrne, died three days after Brooklyn was incorporated into New York City in 1898. Later that season Ebbets even tried his hand as field manager, sitting on the bench in the club president's traditional top hat and compiling a 38-68 record. Ned Hanlon replaced him as manager the following season.
Having acquired his first shares of stock in the team from George Chauncey some 12 years earlier, Ebbets invested his life's savings in 1902 to buy out Ferdinand Abell, one of the club's original owners. Shortly thereafter the majority owner, Harry von der Horst, put his entire Brooklyn stock interest up for sale, and Hanlon expressed his desire to buy the team and move it to Baltimore. Tapped out but desperate to keep the team in Brooklyn, Ebbets obtained a loan from his friend Henry W. Medicus, a Brooklyn furniture dealer, and purchased the outstanding shares. Now in control of virtually all of the club's stock-he bought the remnants from Hanlon several years later—Charlie re-elected himself as president (with a raise in salary from $7,500 to $10,000) and elected Medicus and his son Charles H. Ebbets Jr., as treasurer and secretary, respectively.
With his background in architecture, Ebbets dreamed of constructing a magnificent concrete-and-steel baseball palace to replace outmoded Washington Park. After considering several potential sites, he finally settled on a 4.5-acre plot that was being used mostly as a garbage dump on the edge of a disreputable neighborhood called Pigtown. Located between the Bedford and Flatbush sections of Brooklyn, the land had two primary benefits: it was affordable and adjacent to the tracks of nine separate trolley lines. Without revealing his intentions, which would have driven up the price significantly, Ebbets set about acquiring the land parcel by parcel, making his first purchase in September 1908. Operating his club frugally and borrowing heavily from the bank, he eventually bought the final parcel on December 29, 1911.
At the groundbreaking ceremony on March 4, 1912, when asked what he would name the new ballpark, Ebbets' initial reaction was to continue the name Washington Park. "Washington Park, hell," said Len Wooster of the Brooklyn Times. "That name wouldn't mean anything out here. Why don't you call it Ebbets Field? It was your idea and nobody else's, and you've put yourself in hock to build it. It's going to be your monument, whether you like to think about it that way or not." With its proper name decided, construction on Ebbets Field continued throughout the 1912 season, and Charlie Ebbets wielded the trowel at the ceremonial laying of the cornerstone on July 6. That August Ebbets solved his financial problems by taking on the builders, his old friends the McKeever brothers, as half partners in the club.
With a seating capacity of 25,000 and a final price tag of $750,000, Brooklyn's gorgeous new ballpark officially opened on April 9, 1913. The exterior featured a curved brick façade at the corner of Sullivan and Cedar streets highlighted by classical arched windows. Inside the main entrance was an ornate lobby with a domed ceiling that stood 27 feet high at its center. The terrazzo floor was tiled like the stitches of a baseball, and a chandelier with 12 baseball-bat arms holding 12 baseball-shaped globes hung from the ceiling. The double-tiered stands ran along the foul lines from the right-field corner to a bit beyond third base, where a single double-deck bleacher section extended to the left-field corner. At the time the park's dimensions were 419 feet to left field, 476 to dead center, 500 to right center, but, because of Bedford Avenue, only 301 feet to right field. Ebbets installed two long benches at the back of the lower tier of the grandstand, one for himself and his friends and the other for the McKeevers and their friends. After Brooklyn victories the owners smilingly received the congratulations of their customers; after losses Ebbets and Steve McKeever, the older and more outgoing of the brothers, often engaged the fans in good-natured debates, loudly defending themselves and their players.
Over the years Ebbets received credit for several baseball innovations, including the rain check and the idea that teams should draft in inverse order to their final standings in the annual minor-league draft. He was also an early proponent of uniform numbers. During an exhibition game in Memphis on March 28, 1917, the previous year's World Series combatants, Brooklyn and the Boston Red Sox, wore numbers on their sleeves because Ebbets thought that fans in non-major league cities would be unfamiliar with the players. He proposed that all teams be required to put numbers on players' sleeves or caps at the NL meeting on December 13, 1922, but the league voted to leave it to the discretion of the individual teams. The practice of putting numbers on uniforms didn't catch on until after the New York Yankees wore large numbers on their backs in 1929.
Ebbets purchased a home in Clearwater during the Florida land boom. In 1923 he moved the Dodgers' training camp to that small town on Florida's west coast, and over the next several years so many Brooklyn fans attended spring training that the tiny Clearwater ballpark took on many of the sights and sounds of Ebbets Field. Late in the 1923 season Ebbets began to suffer heart difficulties. On the advice of his doctor he returned to Clearwater and contemplated selling his stock in the Brooklyn team. In the spring of 1925, shortly after coming north from spring training, Ebbets fell ill again and his doctor ordered him to the suite at the Waldorf-Astoria where he lived during the season. Early on the morning of April 18, 1925, 65-year-old Charles Ebbets died with his sister, his son, two daughters, and his second wife at his bedside. He left behind an estate valued at nearly $1.28 million.
The Dodgers were scheduled to open a three-game series against the Giants at Ebbets Field later that day. "Charlie wouldn't want anybody to miss a Giant-Brooklyn series just because he died," said Dodger manager Wilbert Robinson. The game went on, with the crowd standing for a moment of silence beforehand and both teams' players wearing black mourning bands on the left sleeves of their uniforms. NL president John Heydler ordered all NL games postponed on the day of the funeral, which was attended by most of the league's magnates. A penetrating wind swept the gravesite at Greenwood Cemetery, and Ed McKeever, Brooklyn's acting president, contracted pneumonia. He too died within a week of the funeral.
Note: A different version of this biography appeared in Tom Simon, ed., Deadball Stars of the National League (Washington, D.C.: Brassey's, Inc., 2004).
Sources
New York Times, various issues.
Golenbock, Peter. Bums: An Oral History of the Brooklyn Dodgers. Putnam, 1984.
Lowry, Philip J. Green Cathedrals. Addison-Wesley, 1993.
Snyder-Grenier, Ellen M. Brooklyn: An Illustrated History. Temple, 1996.
Solomon, Burt. Where They Ain't. The Free Press, 1999.
Wolpin, Stewart. Bums no More. St. Martin's Press, 1997.
Born
October 29, 1859 at New York, NY (USA)
Died
April 18, 1925 at New York, NY (USA)
If you can help us improve this player's biography, contact us.
https://sabr.org/sites/default/files/EbbetsCharles.jpg
600
800
admin
/wp-content/uploads/2020/02/sabr_logo.png
admin
2012-01-04 19:54:01
2022-02-28 12:22:56
Charlie Ebbets