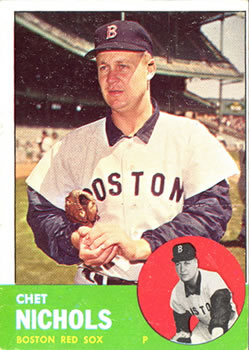 ---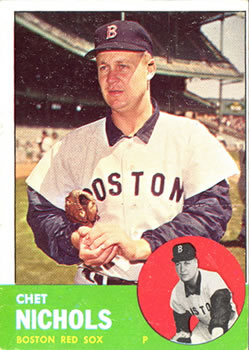 As a 20-year-old rookie, Chet Nichols Jr. led the National League with a 2.88 earned-run average while pitching for the 1951 Boston Braves. He came in second in the Rookie of the Year voting to Willie Mays. Nichols spent the next two years in the United States Army, working as a quartermaster during the Korean War. When he returned, the Braves had moved to Milwaukee.
He pitched four years for the Braves, and then four years for the Boston Red Sox, ending his playing career in 1964 with three innings for the Cincinnati Reds.
Young Chet's father, Chet Nichols Sr., had professional baseball experience. He was a right-hander who pitched eight years of professional baseball from 1925 through 1932, including parts of six seasons for the Pirates (0-3), Giants (0-0), and Phillies (1-5). He was 53-46 in the minors.
Chet Sr. and his wife, Marion (Simmons), welcomed Chester Raymond Nichols Jr. into the family on February 22, 1931. He was born in Pawtucket, Rhode Island, their only son. Chet went on to graduate from Pawtucket East High School. He also played basketball in high school, and worked part-time at the YMCA. He was 6-feet-1 and listed at 165 pounds.
While at East High, Nichols attracted attention of big-league scouts. The 10-0 record he posted his senior year certainly helped, as did the fact that he was a left-hander and had a baseball pedigree. He struck out 162 batters in the 10 games, including one in which he struck out 23.1 Chet Sr. – a right-handed pitcher – had encouraged his son.
Two days before Christmas in 1948, Chet Jr. was signed by the Boston Braves' top New England scout, Jeff Jones.2 Braves GM John Quinn said later that Jones had been attending a baseball school at Pawtucket and "young Chet showed up and stood head and shoulders over the rest of the talent. … Jeff almost dislocated his arm to get his fountain pen out of his pocket to have his parents sign a contract."3 As many as five other clubs had reportedly expressed interest, but when Nichols lost two of three games in a playoff series, the interest melted away – only to return when he enjoyed an exceptional summer pitching semipro ball. "They all got interested in me again," he said, "But all the time the Braves had never quit on me. That's the reason I signed with them."4
Chet boarded the Braves train in Providence and headed to Bradenton, Florida, for spring training in 1949. He was assigned to the minor-league camp at Myrtle Beach and then to pitch in Indiana for the Evansville Braves in the Class-B Three-I League. He got in a full 198 innings of work (with 183 strikeouts) and posted a 14-7 record with a 2.32 earned-run average. Perhaps the most impressive game was a 1-0, 15-inning win over the Davenport Pirates on August 14, a four-hitter. After giving up a leadoff single in the eighth, Nichols retired the next 21 batters in order.5 That was followed three days later by a two-hitter he won against Springfield, also by the score of 1-0.
Under manager Bob Coleman, Evansville finished first in the standings. That earned Nichols a jump to Triple A, pitching for the American Association's Milwaukee Brewers. (Coleman managed that team, too, and pushed hard to have Nichols join him.) GM Quinn saw Nichols as "just one of those gold nuggets you occasionally find on a sandlot," adding, "While his dad had been with the Phillies, (young Chet) didn't remain in the big league long enough to have the boys on the sandlots telling him he'd never be as good as his old man."6 The Brewers finished 68-85, in sixth place. Nichols had a decent earned-run average, 3.73, with a 7-14 record. As was true throughout his career, he mixed starting with relieving, getting starts in 19 of his 29 games.
Nichols was brought to Bradenton again in February 1951 and when it was announced that Johnny Antonelli would enter the Army in mid-March, the Braves had more of an opening for a left-hander.
Before the season, Braves manager Billy Southworth expressed how pleased he was: "He's my boy. That Nichols is one of the most natural kid pitchers I've ever seen. He still has a few things to learn, but he's going to be one of the best left-handers in the National League. He can't miss."7 Nichols made the team and debuted on April 19, in the second game of a doubleheader against the visiting New York Giants. He was the sixth Braves pitcher of the game, on in relief in the top of the ninth. He worked 1⅔ innings, including the top of the 10th, and he was credited with the win when Buddy Kerr walked, Nichols sacrificed him to second, and – after two more walks – Earl Torgeson singled to center to give the Braves a 13-12 victory.
The game that might have cemented Nichols' role with the team was his second one. More than a dozen years later, Tom Monahan of the Boston Traveler wrote that "early in the season on a damp, misty night at Ebbetts (sic) Field, Nichols was called from the bullpen with none out and Gil Hodges, Carl Furillo, and Duke Snider listed as the three Dodger batters" and that Nichols had "whiffed the three of them to gain his reputation." Teammate and fellow southpaw Warren Spahn purportedly asked the 20-year-old if he'd been worried facing such fearsome sluggers. "Why should I be worried? They tie their shoes the same way I do, don't they?" Spahn then is said to have said, "Nice going, Squirrel. You're a true left-hander. You don't have to be crazy to pitch up here, but it doesn't hurt."8
His first start was on June 3, a 4-2 loss, followed by wins on June 9 (6-1) and June 17 (a 5-0 shutout). After the June 9 game, Nichols went home to Pawtucket, where Chet Sr. had watched the game on television. In the second inning, Nichols had walked three men in succession and set up the one Cardinals run (on an error). His father had a few words for his son. "I got hell," Nichols reported.9
In 1951, Nichols started 19 games and relieved in 14 others, working 156 innings. He credited Southworth for initially using him just in relief: "He nursed me along very carefully."10 His year-end record was 11-8, with 12 complete games, three of them shutouts. His ERA was a league-leading 2.88, and that pleased both Chet Jr. and Chet Sr. "Dad always has encouraged me and he never has hesitated to correct any flaw he noticed in my delivery. He's getting as big a kick out of my earned-run average as I am."11
On December 22, Nichols received notice to report for an Army physical examination on January 22. He was ultimately ordered to report for induction on April 7.
In the Rookie of the Year voting, announced in January, Mays received 18 votes, Nichols 4, and Clem Labine (like Nichols, a Rhode Islander) the final 2.
Although he signed his 1952 contract and trained with the Braves, Nichols reported for duty as ordered and was posted to Fort Lee, Virginia. He pitched for the camp's baseball team. On January 17, 1953, he married Beryl E. Lovering in Lincoln, Rhode Island. In 1953, Fort Lee won the Virginia Semipro Baseball Championship. Nichols was 18-2 with a 1.22 ERA.12 On August 3, the Nicholses had a son, Steven. On February 10, 1954, he was discharged from military service.
When he returned to the Braves, the team was now based in Milwaukee, the franchise having moved just prior to the 1953 season. Professional baseball was a whole different thing from pitching on an Army team. "Right now I feel just like a rookie," he said, "and I suppose I'll have to sort of feel my way around for a while."13
Nichols struggled in Milwaukee. He'd gotten off to a poor start in 1954, with Warren Spahn saying, "He's too tense" and prescribing that the team buy a checkerboard so he could relax more before games.14 He lost his first three decisions, then won four in a row. His best games were both against the Cubs – a 1-0 shutout at Wrigley Field on July 7 and a 3-1 three-hitter on August 14 at County Stadium.
Arthur Daley of the New York Times wrote, "[I]n the Army the young southpaw gained weight and lost control. So he staggered through with a 9 and 11 record."15 His ERA was 4.41, partially reflected in the fact that he walked considerably more batters (65) than he struck out (55).
In 1955, Nichols' control slipped further; he walked 67 and struck out only 44. He was 9-8 with a 4.00 ERA. His first win was a 12-inning complete-game effort on April 23 against the Cardinals, a 5-4 game that ran so long only because of three errors behind him resulting in three unearned St. Louis runs. He won three, then lost three (the Braves scoring a total of four runs in those three losses).
In 1956, Nichols appeared in only two early-season games, 0-1 with a 6.75 ERA. On May 22, he cleared waivers – unclaimed by any other major-league team – and was assigned outright to Triple-A Wichita. GM John Quinn stated the obvious: "Nichols just hasn't performed like he did before he went into the service. He hasn't been able to do the job for us."16 Nichols himself said he was in shape, but "Dad used to say that confidence was the biggest part of pitching and perhaps that's what I've lost, rather than my fastball. Pitching is mostly rhythm, and I think I seem to have lost that. … I can't get my breaking stuff where I want it."17
Nichols worked in five games for Wichita and then 11 games in Double A for the Atlanta Crackers, where he was sent in early July, unable to work much more due to a "mysterious shoulder ailment." He believed he'd gotten it by throwing too fast too soon after coming out of the Army.18
He underwent physical therapy and diathermy over the winter and had hopes for a comeback in 1957. His 1957 season, however, was entirely spent in the minor leagues, for Atlanta, Wichita, and in 21 games in the Double-A Texas League for the Austin Senators. He was 8-5 (3.32) for Austin.
Before the 1958 season began, Nichols was released by the Braves and took a position working as a bank teller in Rhode Island. He was out of baseball entirely for a year, giving his arm and shoulder a rest. But he still thought he could pitch, and scout Neil Mahoney of the Red Sox looked him over, recommending him to Johnny Murphy, the head of the farm system. He was signed to a contract with the Minneapolis Millers, the Red Sox' Triple-A team, on February 9, 1959.19
Nichols pitched in 31 games (20 starts) for the Millers and was 7-7 with a 2.58 ERA. After the season, however, his contract was sold to Vancouver of the Pacific Coast League.
Nichols spent much of the 1960 season with Vancouver and was 18-6 (3.84). In late August, the Red Sox repurchased his contract.20 He appeared in six games for Boston before the end of the year, 0-2 in games with scores of 3-2 and 3-1. His ERA in 12⅔ innings was 4.26. Nichols stuck with the Red Sox for the next three seasons, 1961 through 1963.
Nichols drove from Pawtucket to Boston to catch a team flight to Phoenix for spring training only to find the Boston airport fogbound, and the party out of Boston hopped onto a bus to fly out of Hartford – and then the bus itself had to pull over on the Massachusetts Turnpike due to the fog.21 They made it to their spring training site in Scottsdale, though, and Nichols had an excellent spring – not yielding a run until March 28.
Used as a reliever (he had two starts in 1961 and one in 1962) throughout most of his time with the Red Sox, Nichols had good back-to-back seasons his first two full years. In 1961, he appeared in 26 games, closing 12 of them, pitching 51⅔ innings with a year-end ERA of 2.09 (he was 3-2). He would have been used more except for suffering a broken left hand on June 24. There was a story that Nichols had broken it in a fight with Tracy Stallard, but both pitchers denied it and Nichols said he broke it in a game of pepper.22 He missed a little more than five weeks, returning on July 30 and earning his first win with two innings of scoreless ball in a 9-8 10-inning win over the White Sox. On August 6, he worked 8⅔ innings of relief to win a 4-2 game over Kansas City, after being summoned to replace Galen Cisco in the top of the first. Oddly, given his ERA, he walked more batters (26) than he struck out (20).
In 1962, Nichols was 1-1 in 29 appearances (13 finishing games) and 57 innings. He missed three weeks in August with a muscle spasm in his back. His 1962 ERA was 3.00; he struck out 33 and walked 22. He worked in tandem with right-handed reliever Dick Radatz; the two were at times formidable. They finished April having worked 16 innings between them, almost evenly split, without an earned run yielded by either one. Nichols' one win came in the one game he started, a 9-5 win over the Angels on August 14.
Nichols worked somewhat fewer games (21) and innings (52⅔) in 1963, perhaps used less frequently because he was less effective, something that is statistically apparent. His ERA for the year was 4.79. He started seven games, and all four of his decisions (1-3) came in starts.
On October 1, three days after the 1963 season ended with the Red Sox in seventh place, the team asked waivers on Nichols in order to give him his unconditional release.23
On January 24, 1964, Nichols announced he had signed on with the Cincinnati Reds.24 His tenure was brief. He pitched exactly one inning closing each of three games, all lost by the Reds, on April 13, 19, and 24. In each of the latter two, he gave up one earned run. He was without a decision, had a 6.00 earned-run average, and was released on May 15, when the time came to cut down the rosters.
Nichols returned to the bank where he had continued to work in the offseasons – Rhode Island Hospital Trust Bank. Starting as a teller, he "worked in various departments of the bank, managed the Fairlawn branch, and the downtown branch, both in Pawtucket, was a regional manager, and retired in 1987 as vice president and senior lender."25 After retiring from the bank, he got back into baseball briefly, appointed in 1989 as pitching coach of the Baltimore Orioles' Class-A rookie team in Bluefield, West Virginia.
The Pawtucket Red Sox may not have survived into the current century had Nichols not lent a hand to save the PawSox. As the Providence Journal noted, "The franchise went bankrupt after the 1976 season. Nichols asked his longtime friend, Ben Mondor, to look into taking over the franchise, which was in danger of moving. Mondor eventually said he would. And then Nichols persuaded the Red Sox to move [Mike] Tamburro from Elmira to Pawtucket, as the PawSox' general manager. Nichols's behind-the-scenes work set in motion efforts by Mondor, Tamburro, et al to turn the franchise into one of the most successful in minor league baseball. 'There was no one more instrumental than Chet in getting us up and going and operational,' Tamburro said."26
Nichols was active in charitable work, serving on the executive board of the Boys & Girls Club in Pawtucket, and on the board of the Pawtucket Corps of the Salvation Army. He was a trustee of the Boys & Girls Club of Cumberland/Lincoln.27
He attended occasional old-timer's games and reunions of both the Boston Braves and Boston Red Sox.
Nichols died at his Lincoln, Rhode Island, home of cancer on March 27, 1995. He was survived by his wife, Beryl, their son, Steven, and their daughter, Debra Abraham.
One of 53 players who played for both the Boston Braves and Red Sox, Nichols was 34-36 in his major-league career with a 3.64 lifetime ERA.28
Acknowledgments
This biography was reviewed by Len Levin and fact-checked by Chris Rainey.
Sources
In addition to the sources noted in this biography, the author also accessed Nichols' player file and player questionnaire from the National Baseball Hall of Fame, the Encyclopedia of Minor League Baseball, Retrosheet.org, Baseball-Reference.com, Rod Nelson of SABR's Scouts Committee, and the SABR Minor Leagues Database, accessed online at Baseball-Reference.com.
Notes
Born
February 22, 1931 at Pawtucket, RI (USA)
Died
March 27, 1995 at Lincoln, RI (USA)
If you can help us improve this player's biography, contact us.
https://sabr.org/sites/default/files/NicholsChet.jpg
600
800
admin
/wp-content/uploads/2020/02/sabr_logo.png
admin
2017-05-01 13:30:04
2017-05-01 13:30:04
Chet Nichols