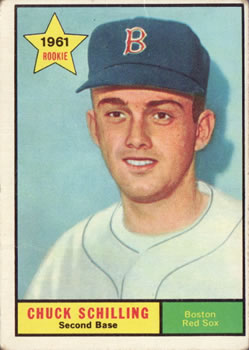 ---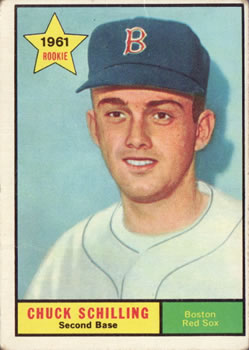 Two Long Islanders joined the Boston Red Sox in 1961: Carl Yastrzemski and Chuck Schilling. It was Schilling, a second baseman, who won the team's MVP award that year. Of course, Yastrzemski went on to become a Hall of Famer and one of the most celebrated Red Sox ever, whereas Schilling's big-league career ended after 1965. Yet Yaz didn't get any votes for 1961 AL Rookie of the Year, whereas Schilling's first season was also good enough to tie him for third place behind another teammate, Don Schwall. As leadoff man, his offense compared quite well to the output of Yastrzemski, whose bat was cool for much of the year – and he also brought his main asset, slick fielding.
Schilling was right-handed, stood 5-feet-10, and was listed at 160 pounds. He wasn't flashy. Indeed, sportswriter Ed Rumill dubbed him "a quiet little fellow, colorless in uniform but all business and every inch a ballplayer."1 Sox coach Billy Herman said, "You forget he's out there until they hit the ball to the right side of the infield. Then Chuck goes and gets it. He just doesn't miss."2
Schilling was born in Brooklyn, New York on October 25, 1937, the son of Charles and Theresa Schilling. In his younger days, his father pitched semipro for the Oneidas of Brooklyn, had a tryout with the Giants, and later pitched in Queens Alliance baseball.3
The family moved from Brooklyn to New Hyde Park, New York. Charles Schilling was a mechanical engineer "in the wire and cable business" at the time of Chuck's rookie season, 1961.4 Chuck had a younger sister, Ginny, and a younger brother, Bobby.
Chuck attended St. Mary's High School in Manhasset, where he was MVP of the baseball team in his senior year. He graduated in 1955. He'd played sandlot ball for the New Hyde Park Hawks and CYO baseball. In 1956, he played in a park where he and his father had often gone to watch ballgames – the Polo Grounds. It was the 11th annual Hearst Sandlot Classic, matching a New York squad (which George Stirnweiss helped choose) vs. the United States Amateur All-Stars. Schilling was the only New Yorker who made it to the majors, though five of his opponents did so.5
Schilling attended Manhattan College, majoring in electrical engineering but then switching over to mechanical engineering. In college, he got to play in another big-league stadium of yesteryear: Brooklyn's Ebbets Field. The first time came in May 1957, during one of the regional district tournaments that determined which teams played in the College World Series that year. Manhattan lost to Penn State, 2-1, on a two-run homer by Cal Emery.6
Ebbets Field also hosted a number of baseball games at various levels in 1958 and 1959, after the Dodgers had departed for Los Angeles. On April 24, 1958, Manhattan played St. John's. The Jaspers lost in exactly the same way they had to Penn State the previous spring: 2-1, on a two-run homer. This one was hit by another Brooklyn-born infielder: Ted Schreiber, who later competed with Schilling for a job with the Red Sox.
In September 1958, while still in college, Schilling signed a bonus contract with Red Sox scout Frank "Bots" Nekola for a reported $25,000.7 Nekola, who lived in Long Island too, had signed Schreiber the previous month and added Yastrzemski after Schilling.8 It helped that Schilling had grown up a New York Giants fan, because it was the Yankees who had first scouted him at college. "After my junior year, the Yankees started the bidding for my services. They put on the pressure. It got down to picking between the Yankees, who I hated, and the Red Sox."9 Schilling promised his parents he would complete his college education.10
His first assignment was in 1959 with Raleigh in the Class-B Carolina League, where he appeared in 14 games and was batting .275, but the decision was made to have him drop down to a lower classification. He was sent to Texas, where he played for the Alpine Cowboys in the Class-D Sophomore League. In 95 games, Schilling hit .340 and drove in 90 runs while scoring 111. Don Schwall was on the team, too, leading the league with 23 wins. Alpine won the league playoffs. A great deal of credit was given to manager Eddie Popowski for bringing Schilling along; Pop was himself a former second baseman. Schilling also played briefly in four games for the Triple-A Minneapolis Millers.
In 1960 he spent the full season with the Millers, batting .314. He received the "personal endorsement" of future Hall of Fame second baseman Bobby Doerr; "Bobby's extremely high on him," reported D. Leo Monahan in the Boston Daily Record.11 That meant a lot. Through most of the 1950s, the Red Sox had struggled to find a second baseman who could handle the position since Doerr had retired. "He can do things at second base that I could never do," Doerr said after Schilling's first year in the majors.12
Before he could join the Red Sox, however, Schilling had to squeeze in an obligation to the United States Army. He served six months of active duty from October 1960 to March 1961. He was released from Fort Devens, in Massachusetts, and reported to Scottsdale for Red Sox spring training on March 7. "Schilling will open your eyes when you see him play second base," said Yastrzemski.13 The day he showed up, a Boston Globe headline read: "All Eyes on Schilling."14
There was a lot of hope placed on Schilling. The Globe had run headlines in late February and early March: "Can Schilling Rescue Sox?" and "All Depends on Schilling."15 The Sox second baseman in 1960 had been Pete Runnels, and he was the American League batting champion, but he wasn't seen as an adequate fielder. Runnels was shifted to first base (and won another batting title in 1962). Manager Mike Higgins used Schilling as leadoff batter, saying, "He is a single and line drive hitter, but he looks the ball over good and he can get on base."16 Higgins valued him for his defense. He apparently told Schilling he could hit .087 and stick with the Sox.17
The only real concern was that Schilling might be too frail, that he might "lack the physical durability" and stamina to compete on a regular basis.18 He admitted, "Playing day after day wears anyone out, even strong guys. When I try to play every day it becomes a drag just to walk out to my position."19 He had started the 1960 season at 172 pounds and was down to 154 at season's end.20
He made the team and went 2-for-4 on Opening Day, with two singles, one on a bunt. He hit safely in his first three games, but collected his first RBI only in the fourth game, when he went 0-for-4 but an eighth-inning groundout drove in his double-play partner that day, Pumpsie Green.
On May 7, at Metropolitan Stadium in Minneapolis, Schilling had what – 30 years after retirement – he considered to be "my greatest day."21 And with good cause. In the top of the fourth inning, the Twins held a 3-2 lead when Schilling came up with the bases loaded, facing Camilo Pascual. He hit his first homer in the majors, to deep left field, about a dozen rows into the seats. The grand slam gave Boston a 6-3 lead. Later in the game, in the top of the eighth, with the Red Sox up by just one run, 8-7, Schilling doubled in two more runs off Don Lee. It was enough insurance to win the game (the final score was 11-9). He later downplayed the homer a bit, telling Steve Jacobson of Newsday, "The coach gave me signals on what he [Pascual] was throwing. That can make all the different in the world. Other times he made me look like a sandlotter."22
In Schilling's rookie year, his .991 fielding percentage led all second basemen. Several newspapers of the day cited it as a new record for fielding by a second baseman.23 It didn't surprise Carl Yastrzemski, who had played all season with Schilling in Minneapolis. Before the '61 season began, Yaz marveled, "He picks up ground balls and throws all in one beautiful motion. You know, in all the games I saw him last year I never once saw him get taken out of a double play, because he gets the ball away so fast."24
What's more, Schilling's offensive production in 1961 was comparable to that of Yastrzemski (who was usually his roommate on Red Sox road trips). His 62 RBIs weren't far behind Yaz's 80. Whereas Yaz hit .266, Schilling hit .259, but he got on base more (.340 to Yaz's .324) and scored 87 runs to Yastrzemski's 71.
Working alongside Don Buddin, Schilling helped the often-maligned Sox shortstop. Higgins, who had been a little sour on Buddin before the season, said in early August that Buddin had improved 100 percent. He credited Schilling for covering more ground so that Buddin didn't have to charge balls as much as he had.25 After the season, though, the Sox traded Buddin for Eddie Bressoud.
In October, Schilling became engaged to Mary Ann D'Amato of New Hyde Park. She apparently lived two blocks away. The 1961 Rookie of the Year voting also took place that month. Dick Howser placed second behind Schwall and Schilling was tied with Floyd Robinson of the White Sox for third. In December, the Boston baseball writers unanimously selected Schilling as the team's MVP for 1961 – the first time any rookie had won that honor.26
The 1962 baseball season was a disappointment all the way around, however, and right from the start. Schilling was expecting more of himself. Though Boston sportswriter Larry Claflin observed that his .259 batting average in 1961 was "a commendable average for a rookie with such defensive genius," Schilling himself said, "I am definitely not pleased. I thought I'd hit a lot better than that. And I think I will next season…Maybe you forgot I hit .310 at Minneapolis in 1960…I figured I'd hit maybe .280 in the majors."27 Schilling declared his goals: to add 20 points to his batting average, hit more home runs, drive in more runs, and improve his fielding.28
He started off ice-cold, though, going hitless in his first 25 at-bats of the season. As late as May 22 he had an average under .200. He showed signs of emerging from the slump; on May 29, his sixth-inning homer broke a 5-5 tie and gave the Red Sox an 8-5 win over the Twins. But on June 8, hitting .219, Schilling was hit by a Gary Bell pitch, breaking his left hand. It was a month before he returned.
By season's end, Schilling had appeared in 119 games, with a .230 batting average, 35 RBIs, and 48 runs scored. Looking back on the season, he said, "After I broke my hand, it took me a while to work my way back. The team was also mired in the second division, so there wasn't much to shoot for."29 His defense was just about as good (.985) as in 1961.
Schilling's marriage had been set to follow Mary Ann's graduation from college in June 1962; it took place after the baseball season, that October 13.
The Red Sox traded for Felix Mantilla in December, looking to add more power. However, Mantilla got into just 66 games in 1963, making a mere five starts at second base. Schilling remained Boston's starter there, appearing in 146 games.
Schilling started the 1963 season strongly, and had two four-hit days (April 27 and May 1). He was batting .311 on June 1, and everything was looking rosy. On June 11, 1963, Schilling received his bachelor's degree from Manhattan College in absentia; he was playing in a 15-inning game against the Tigers in Detroit. The Red Sox won, 7-3, with four unanswered runs in the top of the 15th. Schilling's run was the one that made the difference. Just the next month, he and Mary Ann welcomed a daughter, Karla Ann. They later had three other children: another daughter, Kristen, and two boys, Charles and Thomas.30
After hitting over .300 for the first couple of months, Schilling's batting average tailed off. He finished at .234, a minimal improvement over 1962's .230. Despite 174 more plate appearances, he drove in two fewer runs (33). He scored 63 times. However, he precisely matched his .985 fielding percentage of the prior year.
The Red Sox finished in seventh place, up one from 1962's eighth-place finish, but the team went another direction in 1964, trading in a touch of defense for a little more offense. The primary second baseman was 20-year-old Dalton Jones, with Felix Mantilla in 45 games and Schilling in 47. He hit .176 with just seven RBIs.
There was some thought that Schilling was trying too hard to pull the ball. Coach Billy Herman said, "He's not strong enough to do it…When Schilling first joined this club, I told him that we had a very short left field wall in Boston, but he still wasn't robust enough to hit it and that he'd have to spray the ball around." For his part, Schilling admitted he hadn't taken the advice to heart. "I know I've been wrong. I had time to think this winter and I realized I should be going to right field."31 By this time, though, the Sox had already acquired Mantilla and promoted Jones.
In a 1989 interview, when Schilling was at Fenway for an old-timers' game with his former roommate Yaz, he reflected, "I think the pitchers caught up with me after that first year. I saw a lot of inside fastballs after that, and I may have tried too hard to hit the fence knowing how the team needed runs."32
Schilling was reduced to a utility role in 1965, but rebounded a bit, hitting .240 in 71 games (many just as a pinch-hitter.) He drove in nine runs. Two of them came in back-to-back games in Detroit on April 30 and May 1, when he pinch-hit and homered each time. It was reported to have been the 11th time in major-league history that a pinch-hitter had homered in consecutive plate appearances.33
Just as the 1966 season was getting underway, Schilling was traded (along with catcher Russ Nixon) to the defending American League champion Minnesota Twins for a player to be named later and Dick Stigman. In a way, it was like going home. Initially, Schilling was excited, returning to a city where he had always played well, both for the Millers and as a visiting player for the Red Sox. He was also going to a team that was a recent winner, not one languishing deep in the second division. But when he learned that Twins manager Sam Mele wanted to send him to Triple-A, he elected to retire instead. "Right after I got there, Sam Mele called me into his office and said they wanted me to go to Denver. I got disgusted, and I had an education behind me…I could see the writing on the wall, so I decided to quit, use my engineering degree and go back to being a regular person."34
The Twins added him to the voluntary retired list. Schilling took a position with the E&M Machine Co. in Farmingdale, Long Island, in which his father was a partner. "I worked for my dad during the last two winters," said Schilling that May, "mostly as a draftsman, and helping out in other jobs around the shop. We've been doing a lot of sub-contract work, providing machine parts for various aircraft plants on the Island."35
He worked at that for "a few years, and then went to work for a printed circuit manufacturer and worked for them for another four years or so."36 Schilling then returned to school in order to get the extra credits he needed to be certified as a teacher in New York State. The Mets invited him to spring training in 1967 but he declined.
Once he earned the extra credits, he took a position as a mathematics teacher, a career he practiced for 24 years. At the time of his 1995 interview, he was teaching at Selden Middle School in Centereach, Long Island. He remained in the same school district, teaching math to seventh and eighth graders, until retiring in 1998.
Schilling also played competitive softball – as an infielder – until he was almost 70 years old. "I still follow baseball," he said in 2017. "I still pull for the Sox. And coming from Long Island, I like to see the Mets do their thing."37
Having never appeared in a game for the Twins, Schilling did indeed play his full major-league career with the Red Sox. His career totals: 541 games, a .239 batting average (.304 on-base percentage), 23 homers, 146 RBIs, 230 runs scored, and a lifetime .985 fielding percentage (37 errors in 2,522 chances).
Just over 50 years after he retired from baseball, Schilling was asked, "You had such a strong first year. Why do you think your career kind of tailed off after that?" He responded, "Well, in my second year, I was hit with a pitch and it broke my hand. My wrist. I was out for a month. It took me a little time to get back into the swing of things. Then the team decided they needed somebody to hit home runs. They didn't have much in the way of pitching so they had to score runs. They went out and got Felix Mantilla who hit 30 home runs."38
Looking back, Schilling reflected, "It was one of my dreams as a youngster to play major league ball, and I was lucky to get the opportunity, to be at the right place at the right time and stay with the Red Sox for five years. Sometimes I wonder, if given the same opportunity when I was 25, if I could do it again in this day and age. You know, I think about it and say to myself, yeah, I probably could. I loved every minute."39
Because their children lived in the Philadelphia area, the Schillings moved to West Chester, Pennsylvania, where they make their home in 2017.
Chuck Schilling  passed away in West Chester on March 30, 2021.
Last revised: May 27, 2022 (zp)
Acknowledgments
This biography was reviewed by Rory Costello and fact-checked by Kevin Larkin.
Sources
In addition to the sources noted in this biography, the author also accessed Schilling's player file and player questionnaire from the National Baseball Hall of Fame, the Encyclopedia of Minor League Baseball, Retrosheet.org, and Baseball-Reference.com. Thanks to Rod Nelson of SABR's Scouts Committee.
Notes
Born
October 25, 1937 at Brooklyn, NY (USA)
Died
March 30, 2021 at West Chester, PA (USA)
If you can help us improve this player's biography, contact us.
https://sabr.org/sites/default/files/SchillingChuck.jpg
600
800
admin
/wp-content/uploads/2020/02/sabr_logo.png
admin
2017-12-18 12:53:56
2022-05-27 06:58:57
Chuck Schilling