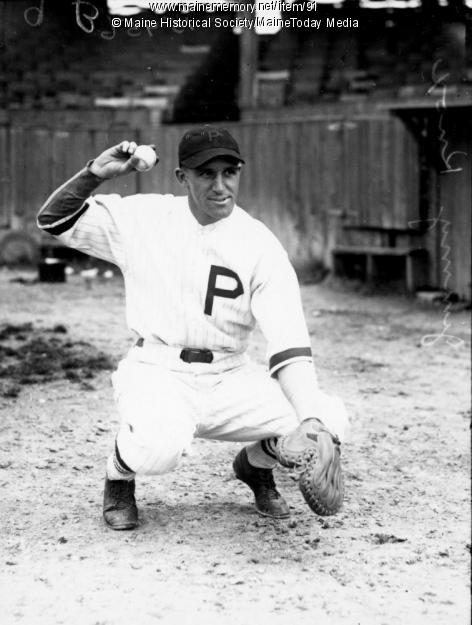 ---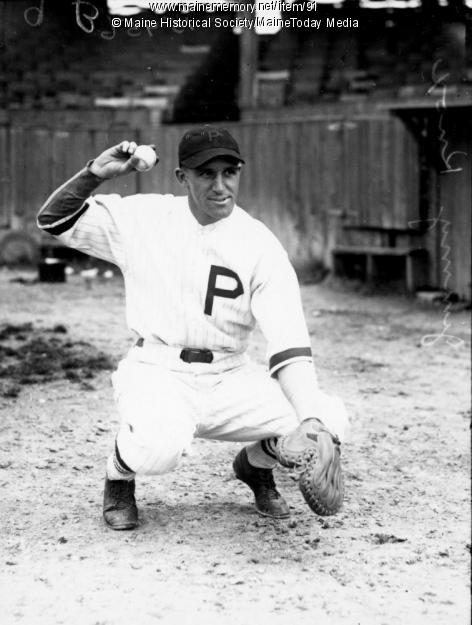 Bud Knox played briefly with the Pittsburgh Pirates in the mid-1920s. But he made a greater impact on baseball as a minor league player and manager, on national sports as a football official, on Great Plains sports as a basketball referee, and on Iowa sports as an all-around amateur athlete plus football, basketball, and baseball official.
Clifford Hiram "Bud" Knox was born in Coalville, Iowa, a small town near Fort Dodge, on January 7, 1902. His father, Archibald Knox (1870-1951), worked as a coal miner, while his mother, Minnie Belle Balm (1874-1946), was a homemaker. Bud Knox attended McKinley Grade School in Fort Dodge and graduated in 1920 from North High School in Des Moines, where he starred for three years in football at end. He made the All-City team in 1918 and 1919, when he was also selected All-State. Knox also participated in baseball and basketball three years and track and field two years.
The "dark-eyed, [Johnny] Evers-jawed"[fn]Ralph Wagner, "Packers Have Their Own Iron Man," Omaha Bee-News, August 9, 1933.[/fn] 5-foot, 11-inch, 178-pound Knox excelled in four sports at Des Moines University, making the 1921-22 all-state team in basketball as a forward and second team All-State in football in 1922 as a triple-threat quarterback, for his passing, running, and kicking. He co-captained the 1923 football squad until quitting in late October because of "parental objections and the fear that injury might incapacitate him for baseball."[fn]"Bud Knox, Tiger Captain, Quits Gridiron Sport," Des Moines Register, October 25, 1923.[/fn] Knox also ran for the track and field squad, caught for the baseball team, and spent summers playing semi-professional baseball. The Arizona Republic touted Knox as someone who "could shoot golf, box," and "bowl," and achieved success "in whatever sports line he chose to follow."[fn]Arizona Republic, December 20, 1948.[/fn]
Knox married Effie Mildred Holmes, a Des Moines University co-ed from Oskaloosa, IA, on January 31, 1924 at her local First Christian Church. They had one son, Lee (1925-1995). Mildred taught history in the Ankeny, Iowa, public schools and later farmed in Oskaloosa, where she died on April 18, 2003 at age 103.
Bud began his professional baseball career at age 20 in 1922 as a catcher with the Des Moines Boosters (Class A Western League), batting .273 in 17 games. He finished 1922 as an outfielder with the Mitchell Kernels (Class D Dakota League), hitting .288 in 66 games. Mitchell won the Dakota League championship with a 60-37 record. Knox caught for the third-place Kernels in 1923, but the Dakota League disbanded after 55 games. The Pittsburgh Pirates signed the switch-hitting, right-handed thrower in October 1923 and, after he performed well in spring training, made him their third string catcher in 1924 behind Johnny Gooch and Walter Schmidt. Knox appeared in six NL games between July 1-14, batting .222 with four singles and a pair of RBI. "I got a sore arm a few days after I joined the Pittsburgh club and I never got over it," Knox lamented. "It cost me a lot of money."[fn]Gordon Gammack, "Bud Knox Swaps Catcher's Mitt for Oskaloosa Farm," Des Moines Register, c. September-October 1938, 5A-6A.[/fn] The Pirates' star-studded 1924 team, which finished in third place with a 90-63 win-loss record, included second baseman Rabbit Maranville, third baseman Pie Traynor, and outfielders Ki Ki Cuyler and Max Carey – all National Baseball Hall of Fame members – as well as first baseman Charley Grimm, shortstop Glenn Wright, and pitchers Wilbur Cooper, Ray Kremer, Emil Yde, and Lee Meadows.
Knox's biggest major league thrill came when the Pirates won five of eight games against the first place New York Giants between July 16 and August 2. "Those Pirates were hot," Knox recalled. "It seems every game we got men on base Cuyler would come to hit and get an extra base hit."[fn]Ibid.[/fn] Knox, who compiled a .917 fielding average, pulled Traynor off third base with an errant throw in one game, but redeemed himself by getting the winning hit. Knox was warming up pitcher Arnie Stone in the ninth inning of another game when Cuyler clouted the game-winning home run into the bullpen. Stone did not see Knox turn to look at the ball and uncorked a pitch that hit Bud in the chest. Knox recollected, "It would have killed me if it had hit me in the face."[fn]Ibid.[/fn] He enjoyed playing under Hall of Fame manager Bill McKechnie, who treated and disciplined players well. Knox remembered McKechnie as "the greatest fellow who ever wore a baseball suit. . . . He'd never ride a player for making a mistake."[fn]David Porter, "Oskaloosa's Knox played with Hall of Famers," Oskaloosa Herald, September 26, 1996, 8.[/fn] Although occasionally fining players for breaking rules, McKechnie usually reimbursed them.
In 1925, Pittsburgh won the NL pennant with a 95-58 record and defeated the Washington Senators, 4-3 in the World Series. The Pirates designated Roy Spencer their third-string catcher behind Earl Smith and Gooch and assigned Knox to the Birmingham Barons (Class A Southern Association), where he batted .268 with four homers in 92 games. "It was plenty hot there," Knox recalled. "I was catching every day and, by the end to the season, I was really worn out." Birmingham merchants rewarded players who hit home runs, especially grand slams. In the ninth inning with the score tied, Knox belted a grand slam home run. "They handed me about seven or eight tickets for all kinds clothes," including "a suit, shirts, shoes, a hat" worth $125.[fn]Ibid.[/fn]
After training with the Wichita Falls Spudders (Class A Texas League) in 1926, Knox batted .300 in 10 games for the Waco Cubs (Class A Texas League) and .268 with 13 doubles in 65 games for the Hartford Senators (Class A Eastern League). After being acquired by the Boston Red Sox organization in a trade in the offseason, Bud likely would have been third string catcher for Boston in 1927, but broke his finger in spring training. When his finger healed, Boston assigned him to the Portland Mariners (Class B New England League) under manager Duffy Lewis. Knox batted around .300 the first two weeks, belting a pinch hit double with the bases loaded against the Manchester Blue Sox in the eighth inning to spark a come-from-behind 15-10 triumph before a season-high 2,623 fans at Bayside Park. The Portland Press Herald lauded his defensive ability, noting his "rapid fire rifle" arm prevented runners from stealing bases.[fn]"Portland Is Set For Little World Series," Portland Press Herald, August 1927.[/fn] After hitting .255 and making only one error in 45 games Knox broke a bone in his left ankle sliding into third base. Crippled again, and having earned the nickname "Hard" Knox, he watched Portland finish in second place with a 54-44 record. "That was the end of the majors for me," Bud lamented.[fn]Gammack, "Bud Knox." 6-A.[/fn]
Knox began the 1928 campaign with the struggling Nashville Volunteers (Class A Southern Association), batting .257 in 68 games. He finished that season with the Spartanburg Spartans (Class B South Atlantic League), hitting .308 in 23 games. Bud trained in 1929 with the Atlanta Crackers (Class A Southern Association), but was sent on April 12 to Spartanburg. The Spartans traded him on July 14 to the Macon Peaches (Class B South Atlantic League). Knox caught 125 games that season, compiling a .974 fielding percentage. In 1930, Bud batted .326 with 3 home runs in 103 games for the Augusta Wolves (South Atlantic League).
When the Great Depression forced the South Atlantic League to suspend operations, Knox joined the Peoria Tractors (Class B Illinois-Indiana-Iowa League). Batting .293 with 8 home runs in 109 games in 1931, he helped Peoria place second the following year, hitting .297 in 63 games. In 1933 Knox batted .320 with career-high 441 official plate appearances and 141 hits in 121 games for the Omaha Packers (Class A Western League). He paced the league's catchers with a .984 fielding percentage, compiling 606 putouts, 88 assists, and only 11 errors in 705 chances. Omaha occupied first place until June and ended fifth with a 63-61 record. The Omaha Bee-News dubbed Knox an "iron man" like New York Yankee great Lou Gehrig and admired his stamina, noting that the Packers carried no reserve catcher in August.[fn]Wagner, "Packers."[/fn]
Knox batted .295 in 89 games for the Rock Island Islanders (Class A Western League) in 1934 and replaced Riley Parker as manager the second half of the split season; the Islanders finished sixth with a 58-65 record. In 1935 Knox hit .320, including a career-high 10 triples, in 106 games for the third-place Decatur Commodores (Class B Illinois-Indiana-Iowa League). Knox replaced Johnny Butler as the team's manager after 14 games and guided them to a 45-48 mark. In 1936 the St. Louis Cardinals appointed Knox manager of the Mitchell Kernels (Class D, Nebraska State League). The player-manager had a fabulous year: combining career-highs in batting average (.347), slugging percentage (.558), and doubles (32) with 11 home runs. Mitchell's team placed second at 68-50 in 1936 (and won the league championship) and 75-41 the following year. The next year, 1938, proved the last of Knox's professional baseball career ended in 1938. He appeared in 100 games for the Fayetteville Angels (Class D, Arkansas–Missouri League), batting .326 and hitting a career-high 17 home runs. He piloted Fayetteville to a third-place 66-53 record, but the Angels lost, 3-2, in the playoffs.
During 16 minor league seasons, Knox had not done badly. He batted .302 with 1,303 hits and 71 home runs in 1,267 games (excluding 1923, 1929). He did even better as a manager, compiling 254 wins and 192 losses with his teams for a .570 winning percentage from 1935-38. "It was hard to get away from the game after all those years" he acknowledged, "I miss the ball parks."[fn]Gammack, "Bud Knox."[/fn]
Knox operated a farm at the northwest edge of Oskaloosa from 1936-65 with his wife, Mildred, and later his son, Lee. He admitted that Mildred "had to spend a lot of time alone while I've been on playing and officiating trips and was the guiding force in our going into the farming operation."[fn]"Knox Launches 28th Officiating Year," Oskaloosa Herald, September 14, 1955.[/fn]
The "officiating trips" were substantial. Knox officiated college Iowa scholastic football and basketball games for over three decades, beginning in 1928, and umpired Iowa high school baseball games for over 20 years. He drove over 10,000 miles annually, and rode the train or flew to officiate games. Eventually he had either played or officiated in 45 of the 48 continental states. Knox refereed numerous Big Seven Conference and Missouri Valley Conference football and basketball games and twice called National Association of Intercollegiate Basketball tournament games at Kansas City, Missouri. His biggest officiating thrill came in the 1951 Sugar Bowl game, in which Kentucky defeated Oklahoma, 13-7, before 83,00 fans in New Orleans. Knox also refereed the 1949 Salad Bowl game, in which Drake edged Arizona, 14-13, at Phoenix, Arizona; and he served as a linesman in the 1960 Orange Bowl game in Miami, in which Georgia blanked Missouri, 14-0. Players and coaches respected Knox for his knowledge and enforcement of the rules.
Knox, a man with a great sense of humor and a love for board games and cards, managed the semi-pro Oskaloosa Sports baseball team for several years as well as coached the William Penn College Rangers baseball team to 44 wins and 53 losses from 1954-61. When head basketball and assistant football coach George Quire died suddenly of a heart attack in mid-1956, Knox coached the 1956-57 Rangers hoop squad to a 5-16 record and assisted the 1956 football team which went winless in five games.
During a heavy rainstorm on May 5, 1961, Knox was in a serious road accident when his farm tractor was rammed from behind by a '57 Ford on Highway 163 a half mile from his farm. Knox's head struck the car windshield when he was thrown from his tractor, and he broke several ribs, suffered head lacerations, and sustained a left shoulder separation. . He died a few years later on September 25, 1965 at Mahaska County Hospital in Oskaloosa from a lingering illness at age 63. He is buried at Forest Cemetery in Oskaloosa.[fn]"'Bud' Knox seriously injured in tractor-automobile collision," & "Clifford 'Bud' Knox, well known sports figure, dies today," Ibid., May 6, 1961, September 25, 1965.[/fn]
Coalville, now unincorporated, produced two of the over 220 Iowans who have played major league baseball. Knox and Jim Grant, who pitched in the first professional league night game for the Des Moines Demons in 1920, hurled four innings in two games for the Philadelphia Phillies in 1923. What are the odds of a tiny Iowa town having two players make major league debuts one year apart and thence appear in only eight games between them?
Acknowledgments
This biography was reviewed by Tom Schott and fact-checked by Chris Rainey.
Sources
Books
Clark, Jerry E., Anson to Zuber (Omaha, Nebraska: Making History, 1992).
Oracle (Des Moines, Iowa: North High School, 1920).
Quaker (Oskaloosa, Iowa: William Penn College, 1954-1961).
Tiger (Des Moines, Iowa: Des Moines University, 1922).
Newspapers
"Mariners Grab Twin And Are Back In Sun," Portland Press Herald, August 1927.
Penn Chronicle, 1955-1961.
Magazines
Liepa, John, "Covering the Bases," Iowa History Journal 9 (May-June 2017).
Online
Baseball-reference.com
Findagrave.com
Personal correspondence
Susan Knox to author, June 1987, April 6, 2017.
Born
January 7, 1902 at Coalville, IA (USA)
Died
September 24, 1965 at Oskaloosa, IA (USA)
If you can help us improve this player's biography, contact us.
https://sabr.org/sites/default/files/KnoxBud.jpg
600
800
admin
/wp-content/uploads/2020/02/sabr_logo.png
admin
2017-06-19 13:43:47
2017-06-19 13:43:47
Cliff Knox