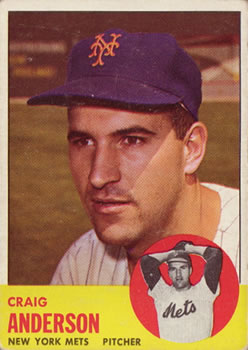 ---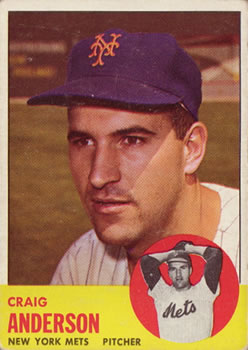 The year 1962 saw National League baseball return to New York City with a new expansion team, the New York Mets. From its origin, the Mets were very fortunate in that it had a very enthusiastic fan base. While enthusiastic, these fans suffered significant frustration in 1962 as the Mets lost 120 games. Sharing that frustration was an original Met, right-handed pitcher Craig Anderson, who, after a good start, lost 16 decisions in a row. Anderson, who stood 6-foot-2 and is listed at 205 pounds, was selected by the Mets in the expansion draft after showing promise in his 1961 season with the St. Louis Cardinals.
Anderson's debut in St. Louis was on June 23, 1961 as the San Francisco Giants were playing the Cardinals in Sportsman's Park. Billy O'Dell was the starting pitcher for the Giants while Curt Simmons was pitching for the Cardinals. Anderson, called up the previous day from the Cardinals' Triple A-farm team in Portland, Oregon, was in the bullpen.
The Cardinals jumped out to a 4-1 lead as the Giants came to bat in the top of the sixth. The Giants rallied and took a 5-4 lead. With one out and Ed Bailey on first, Anderson was summoned from the bullpen to make his major-league debut. The first batter he faced was Billy O'Dell. While pitching to O'Dell, Bailey was thrown out at second trying to steal. Anderson then struck out O'Dell.
The Cardinals tied the Giants in the bottom of the sixth and Anderson retired the Giants in the top of the seventh. In the bottom of the seventh, Anderson in his first major league at-bat lashed a double down the right field line. He later scored, giving the Cardinals the lead, 6-5. In the same inning, the Cardinals scored four more runs on a Stan Musial grand slam, making the score 10-5 in favor of the Cardinals.
Anderson retired the Giants in the eighth, including Willie Mays on a groundball to third base. In the ninth inning, Willie McCovey pinch-hit for the Giants with two on and two out. McCovey flied out to center field.1 Anderson was the winning pitcher hurling 3 2/3 innings of scoreless relief in his major-league debut.
After the game Anderson was interviewed by both Joe Garagiola and Jack Buck in the postgame show and had dinner with Cardinals pitcher Larry Jackson in a fine St. Louis restaurant to celebrate his debut.2
Norman Craig Anderson, better known as Craig, was born in Washington, DC, on July 1, 1938, to Millard (Andy) and Dorothy Coe Anderson. Andy was an excellent athlete from Minneapolis and after World War I attended Valparaiso University in Indiana. He starred on the basketball, football, and baseball teams. Following graduation in 1924, Andy Anderson became the school's athletic director and coach of the football, basketball, and baseball teams for one year. From 1926 until 1929 he taught and coached at Key West High School. From 1929 until 1935 Andy worked for the American Bridge Company in Peoria, Illinois. In 1935 he joined the Department of the Navy's Bureau of Yards and Docks as a civil engineer, retiring in 1965. For his athletic accomplishments, Andy Anderson was inducted in the Valparaiso Athletics Hall of Fame in 2004.3 Craig had two older brothers, Don and Coe, who were both excellent athletes. After completing military service, both graduated from George Washington University.
While growing up in the District, Craig was very active athletically and played a considerable amount of sandlot baseball. In his sophomore year at Anacostia High School, Craig was the starting pitcher in the District of Columbia Inter-High public school championship game at Griffith Stadium, losing 3-2 on a squeeze play in the ninth inning. Craig pitched well in both his junior and senior years, leading Anacostia to the Inter-High championships in both years. In 1954 Craig pitched for an American Legion team, Bunker Hill Post 31, which was coached by Marshall Jacobs, a well-known District of Columbia Legion coach. In 1955, Craig's American Legion team coached by Bill Pickler advanced in the national tournament in St. Paul, Minnesota, eventually losing two consecutive games to a Cincinnati team; winning either one of those games would have resulted in Bunker Hill winning the national championship.4
In his senior year in high school, Craig received a phone call from Tony Packer, the baseball and basketball coach at Lehigh University and the father of basketball player and announcer Billy Packer. Tony Packer requested that Craig visit the Lehigh campus. Craig's father, impressed by Lehigh's academic stature, encouraged Craig to apply and attend, which he did beginning in September 1956.5
During the summer of 1956 while preparing to attend Lehigh, Craig pitched for Federal Storage, a 19-and-under team in the Clark Griffith Memorial All American Amateur Baseball Association (AAABA) League in the District of Columbia. He also pitched for Federal Storage in the summer of 1957. Federal won the league both summers and then competed in the National AAABA tournament in Johnstown, Pennsylvania, winning the tournament in 1956 and finishing third in 1957. Craig was undefeated in both tournaments. One of Craig's teammates was future major-league pitcher Steve Barber.
Craig starred on the mound while at Lehigh. Included in his accomplishments were striking out 18 Muhlenberg batters in a game and no-hitting Bucknell. In three seasons at Lehigh he pitched 190 innings, struck out 228 batters, and had 12 wins and 18 complete games. His career earned run average of 1.89 is the best in Lehigh history.6 In addition to pitching for Lehigh, Craig pitched for the Pierre, South Dakota, franchise in the Basin League7 during the summers of 1958 and 1959. The Pierre Cowboys won the league championship each year. Many players in the Basin League ended up on major-league rosters.
Between his junior and senior years at Lehigh, the Cincinnati Reds made Craig an offer to join the Reds organization. Craig's father was insistent that he finish his college education, which he did. Interestingly, in his senior year Craig was a walk-on to the Lehigh football team and was the team's punter. Just prior to his Lehigh graduation, Craig was asked to participate in a Cardinals tryout. Ollie Vanek, the Cardinals scout, liked what he saw and signed Craig to a contract; Craig received an $8,000 bonus and would get an additional $2,000 if he made the Double-A level.  
Anderson became a member of the Tulsa team in the Texas League, a Double-A league, in 1960. He had a very successful season, leading the league with an ERA of 1.68. After the season, Anderson served six months of active duty in the United States Army.
As a member of the Cardinals' 40-man roster for the 1961 season, Anderson was invited to the Cardinals' spring training camp in St. Petersburg, Florida, arriving late due to his service obligation. Anderson was then sent to the Cardinals' Triple-A farm team in Portland, Oregon, where he was successful with six wins and three losses leading to the callup in June.
As noted, his first game was a huge success and so was his first season. Anderson finished the 1961 season with four wins and three losses with one save. His ERA was 3.26. A highpoint of that first year was Anderson meeting Judy McCarty after a Labor Day doubleheader in St. Louis. Judy was from Benton, Illinois, and, in a visit to Judy's home town, Anderson met her parents and her extended family including her fifth-grade cousin Doug Collins, who later starred in the NBA. 8
Anderson and Judy were married on October 14 and honeymooned in Puerto Rico after Anderson was asked by the Cardinals, specifically Vern Benson, to pitch winter ball on the island. Anderson's team, Santurce, won the Puerto Rican championship with a starting rotation of Bob Gibson, Juan Pizarro, and Anderson. They were also victorious in the Pan American playoff.
Just before leaving for Puerto Rico and two days before his marriage, the expansion draft to stock the New York Mets and Houston Colt 45s took place on October 12, 1961. Anderson was placed on the Cardinals' unprotected list and was the eighth pick by the New York Mets, just behind Gil Hodges. Solly Hemus, the Cardinals manager when Anderson was called up by the Cardinals, was now a Mets coach and probably influenced the Mets to take Anderson. As spring training began in 1962, Anderson found himself once again in St. Petersburg but now with the New York Mets.
Anderson began the Mets' first season on the 25-man active roster. While the Mets floundered at the beginning of the season, Anderson was fairly effective. On May 12 the Mets were playing the Milwaukee Braves a doubleheader at the Polo Grounds. The first game pitted Roger Craig of the Mets against the legendary left-hander Warren Spahn of the Braves. Craig left after seven innings losing 2-1 as Anderson came in to relieve. He kept the Braves scoreless in the eighth and ninth innings. In the bottom of the ninth with a man on base and two out, Casey Stengel, the Mets manager, sent Hobie Landrith to the plate as a pinch-hitter. He hit a game-winning two-out home run off Spahn. It was Landrith's only home run as a Met.
In the second game the Mets and Braves entered the ninth inning tied 7-7. Anderson became the sixth Met pitcher and set the Braves down in the ninth. In the bottom of the ninth, Gil Hodges hit another game-winning home run.9 Craig Anderson had won his second game in one afternoon. Anderson recalled the moment after the Hodges home run, "I was still in the dugout. Judy was in the stands. I came out and held up two fingers and she held up two fingers."10
The Mets played the Braves once again the following weekend. After losing the Friday night game, the Mets won on Saturday, 6-5, with Anderson getting the save. On Sunday, May 20, the Mets swept the Braves again with Anderson getting the save in the first game of two.11
At the conclusion of the May 20 doubleheader, Anderson had three wins, one loss and two saves with a 2.38 ERA. For the rest of 1962, the baseball gods did not look kindly on either the Mets or Anderson. The Mets proceeded to lose 17 consecutive games. During the remainder of the season, Anderson lost 16 decisions in a row.
The game that caused Anderson significant grief was the second game of a doubleheader on June 10 in Chicago's Wrigley Field – and he wasn't the losing pitcher. Anderson entered the game in the sixth inning with the Mets leading 2-1. While he kept the Cubs scoreless in the seventh and eighth innings the Mets extended the lead to 4-1. Anderson retired the first two batters in the bottom of the ninth and the next batter reached first base on a Mets error. Anderson then walked the next batter and Ernie Banks came to the plate as a pinch-hitter. He hit a change-up for a three-run homer tying the score. Anderson was removed and the Cubs won in the 10th inning.12
Another tough loss occurred on July 7 against the St. Louis Cardinals. Anderson pitched a complete-game five-hitter but lost 3-2 on a Stan Musial home run in the top of the eighth inning. This may have been Anderson's finest pitched game as a Met. It was one of the two complete games in his career. The other was a 5-3 loss in Cincinnati on July 21; three of the five runs scored by Cincinnati were earned.
Anderson's final record for 1962 was three wins, 17 losses, and four saves with a 5.35 ERA. He appeared in 50 games and started 14. The overall record for the hapless Mets was 40 wins and 120 losses.
Between the 1962 and 1963 seasons, Anderson was invited once again to pitch in the Puerto Rican Winter League. He stayed for approximately one month and left to prepare for spring training with the Mets. While he had appeared in 50 games and saved four in 1962, he was optioned to the Buffalo Bisons, the Mets' Triple-A farm team in the International League, on April 1.13 He did return to the Mets late in 1963 season and had the distinction of being the losing pitcher in the last major-league baseball game ever played at the Polo Grounds. He lost another game during the season extending his big-league losing streak to 18 games.
Returning to spring training with the Mets in 1964, Anderson was pitching well but then suffered a broken bone in his pitching hand when hit by a pitch by Ed Rakow.14 Once again he was sent to Buffalo. He had a brief stay with the Mets early in the season losing his only decision. Anderson now had 19 consecutive major-league losses, which, at that time, was a major-league record. He returned to Buffalo where he had a successful year winning 12 games and losing seven. Anderson was still plagued with an issue that diminished his effectiveness in professional baseball. He walked almost the same number of batters he struck out inflating his WHIP (walks and hits per innings pitched).
No longer on the Mets' 40-man roster in 1965, Anderson pitched for both Buffalo and Indianapolis in the Pacific Coast League. His combined record was five wins and 16 losses. His last season with the Mets organization was 1966 as he pitched first for the Williamsport Mets in the Eastern League (4-1) and then finishing the season with the Jacksonville Suns in the International League (4-2). As the season was coming to an end, Anderson was recruited by Lehigh University's Development Office to return to Lehigh as a fund raiser with the title of Assistant Director of Development. He accepted the offer, ending his professional baseball career except for one season in the Canadian Provincial League in 1970. Anderson also received his Master of Education degree from Southern Illinois University in 1966.
While working in the Development Office, Anderson was recruited to be the pitching coach of the Lehigh baseball team. During 1967 Anderson agreed to be business and ticket manager in Lehigh's Athletics Department. He later became Assistant Athletics Director with similar responsibilities. He continued his role as pitching coach. Anderson was not done with playing baseball as he pitched in the Blue Mountain League, an amateur league in eastern Pennsylvania, for six years.
In 1971 Paul Hartzell entered Lehigh and became a pitcher on the university baseball team. After successfully pitching for Lehigh, Hartzell was signed by the Los Angeles Angels in 1975 and pitched in the major leagues from 1976 until 1980. Hartzell says of Anderson, "Craig was my pitching coach longer than any other person, but he was and continues to be one of my best Lehigh friends. He gave me a phrase that I used throughout college and especially in the major leagues to get through tough times – 'Think, Fight, Hustle.' As a coach, Craig taught me the single most important thing that allowed me to go from Lehigh to the majors in less than 10 months. He taught me how to read a hitter and pitch them based on my best stuff that day."15
Hartzell has also described the following incident involving Anderson as a coach. "In 1973 we made our annual trip to Georgia Southern. We had a local restaurant which was to feed us each morning. Lehigh had an African-American player named Harry Stevens. We went to our designated breakfast place and a waitress refused to serve Harry. Craig heard her say it and I will never forget the look on Craig's face. He was really mad but he was also a coach and a teacher. Somehow he controlled his voice but calmly and loudly said 'Let's go team. We are going to find a better place for the team to eat together." Hartzell adds "this incident taught me more in five minutes about being a team and a leader of young men than almost anything I ever learned off the field."16
In his last position while working in the Athletics department, Anderson was named Lehigh's first Director of the Athletics Partnership responsible for fundraising and Alumni Relations. Anderson concluded his role as pitching coach while Sean Leary, Lehigh class of '93, who played for Anderson in Little League and Junior Legion, was the new Lehigh baseball coach. Coach Leary said, "Coach Anderson was a tremendous teacher and mentor to so many Lehigh pitchers over his tenure as the pitching coach. His enthusiasm for the game and his craft are unparalleled and his experience as a major league pitcher was an amazing resource. He also had so many amazing stories that he shared….from facing Aaron to playing for the legendary Casey Stengel!"17
Anderson, as might be expected, was an ardent supporter of Lehigh Athletics including the wrestling team. On several occasions, Judy's cousin Doug Collins, who was then playing for the Philadelphia 76ers and his wife, Kathy, would join Anderson, Judy, and an overflow crowd to watch a Lehigh wrestling meet.18 Wrestling has always been a big sport at Lehigh.
In 2000 Anderson retired from Lehigh and the following year was inducted in the Roger Penske/Lehigh Athletics Hall of Fame. Anderson said, "After 38 years at Lehigh, four as a student and 34 as an administrator and pitching coach, I am truly honored to now be a part of the great Lehigh athletic tradition when I am inducted into the Athletics Hall of Fame."19
Lehigh bestowed further honors on Anderson in October 2017. Lehigh upgraded its baseball complex, the J. David Walker Field at Legacy Park. Included in the upgrades was the unveiling of the N. Craig Anderson '60 Wall of Records which is now displayed in the Lehigh locker room.20 Anderson also had the home bullpen dedicated to him.
After retiring from Lehigh in 2000, Anderson and Judy sold their Lower Saucon Township, Pennsylvania, home and bought a motor home. For three years they lived in it and travelled extensively from Alaska to Florida and from Maine to San Diego. In the fall of 2003 Anderson and Judy sold the motor home and bought a house in Dunnellon, Florida, where they resided in early 2018.
In his retirement Anderson pursued pension benefits for the 874 players who played for less than five years between 1948 and 1979.21 His efforts along with other former players resulted in these players receiving a pension check in 2012. Anderson also sent Mets pitcher Anthony Young a note urging him to hang in there when Young's losing streak reached 27 games.22 In 2012, he attended the Mets 50th reunion of its beginnings in 1962. Also attending was Clarence "Choo-Choo" Coleman. In interacting with Choo-Choo, Anderson realized he needed financial support. Anderson made a few phone calls to Major League Baseball Commissioner's Office and was able to ensure that Coleman was eligible for pension payments, which Coleman received. Anderson described Choo-Choo's response, "A few weeks later I received the most beautiful note from Choo-Choo, thanking me."23
Anderson and Judy have two children, Mike and Jill. Mike, coached by his Dad, played Little League and American Legion baseball. He also played in high school and junior college. Mike was subsequently drafted and signed by the Texas Rangers. He pitched three years in their system, reaching High A. After professional baseball Mike continued to pitch and play in the Blue Mountain League. Mike and his wife Lori live in Alburtis, Pennsylvania and have two daughters, Carly and Isabella. Carly attends West Chester University. Mike is currently regional operations manager for a trucking company.
Jill received a Bachelor of Arts in English and a Master of Science in Instructional Technology, both from Lehigh University. She is now Vice President of Development and Alumni Engagement at Moravian University in Bethlehem, Pennsylvania. She previously worked at Lehigh, Drew, and Muhlenberg Universities. Jill lives with her husband Sal and son Jacob in Orefield, Pennsylvania. Jacob attends Moravian..
Today, Judy and Craig are very interested in World War II and visiting Civil War battlefields. They also enjoy the Sport of Kings – horse racing – which means spending an occasional day with friends at Tampa Bay Downs. Of course, Anderson still follows baseball and the Lehigh athletics teams.
In an interview with George Vecsey of the New York Times, Anderson stated, "I reached the top level of my field. Better to be a has-been than a never-was." Vecsey responded, "Craig Anderson is much more than a has been. In this milepost season (article was written in 2012, the 50th anniversary of the Mets), he is part of the DNA of every fan who agonizes over the Mets."24 Lehigh alumni will also agree that Anderson is not a has-been but a major contributor to the university and its athletic programs.
Last revised: April 19, 2018
Acknowledgments
This biography was reviewed by Bill Nowlin and fact-checked by Kevin Larkin.
Sources
The author wants to thank Craig Anderson for his interview, editing and timely responses to questions. I would also like to thank www.baseballreference.com for providing valuable information concerning Anderson's career and the York College of Pennsylvania library for providing electronic access to newspaper archives.
Notes
1 https://www.baseball-reference.com/boxes/SLN/SL.N196106230.shtml.
2 Author interview with Craig Anderson, January 26, 2018.
3 Valparaiso Athletics Hall of Fame, http://www.valpoathletics.com/athletics/hofmembers/2003-04/2827/millard-andy-anderson/.
4 Interview with Craig Anderson.
5 Ibid.
6 Sean Leary, e-mail to author, February 22, 2018.
7 http://www.attheplate.com/wcbl/basin_league.html.
8 David Krauss, "Catching Up With: Former Lehigh University pitcher and Amazin' Met Craig Anderson, The Express Times, www.lehighvalleylive.com/sports/index.ssf/…/amazin_met_craig_anderson_stil.html, July 29, 2012.
9 Frank Jackson, "Craig Anderson's greatest day, https://www.fangraphs.com/tht/craig-andersons-greatest-day/, May 8, 2013.
10 George Vecsey, "Happy Anniversary, Craig Anderson, https://www.georgevecsey.com/home/happy-anniversary-craig-anderson/, May 10, 2012.
11 https://www.baseball-reference.com/teams/NYM/1962-schedule-scores.shtml.
12 Interview with Craig Anderson.
13  Louis Effrat, "Snider, Once the Idol of Brooklyn Is Sold by Dodgers to Mets for $40,000," New York Times, April 1, 1963, 56.
14 "Anderson a Casualty," New York Times, March 21, 1964, 18.
15 Roger Penske/Lehigh Athletics Hall of Fame, http:/lehighsports.com/hof.aspx?hof=89.
16 Paul Hartzell, e-mail to author, February 2, 2018.
17 Sean Leary, e-mail to author.
18 Interview with Craig Anderson.
19 Roger Penske/Lehigh Athletics Hall of Fame.
20 https://www.lehighsports.com/news/2017/10/15/lehigh-baseball-formally-dedicates-walker-field.aspx?path=baseball.
21 Douglas J. Gladstone, A Bitter Cup of Coffee, (Pittsburgh: Word Association Publishers, 2010), 21-22.
22 George Vecsey, "Happy Anniversary, Craig Anderson."
23 Ibid.
24 Ibid.
Born
July 1, 1938 at Washington, DC (USA)
If you can help us improve this player's biography, contact us.
https://sabr.org/sites/default/files/AndersonCraig.jpg
600
800
admin
/wp-content/uploads/2020/02/sabr_logo.png
admin
2018-04-19 11:04:44
2023-01-10 14:16:19
Craig Anderson