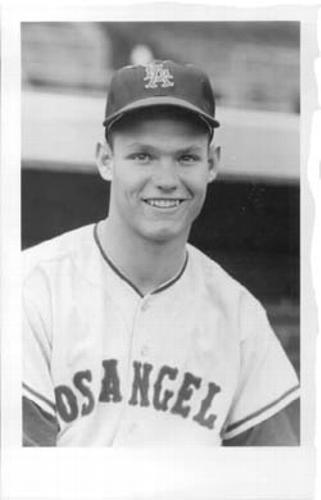 ---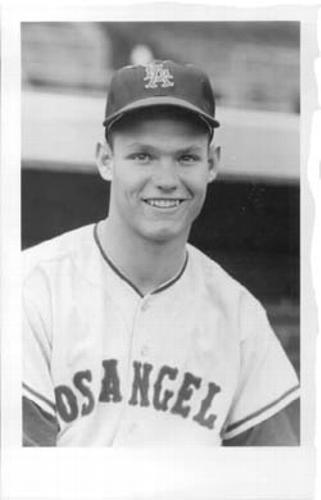 For the Los Angeles Angels, 1961 was the first year in franchise history. For first baseman Dan Ardell, it was his first year in the big leagues, too. Though he'd been born in Seattle, he'd been raised in the LA area, graduating from University High in Los Angeles and then going to the University of Southern California, also in LA. It was also, as it happened, his only year in the big leagues.
Daniel Miers Ardell was indeed born in Seattle, on May 27, 1941. In a January 2019 interview, he explained, "My mother's name was Miriam and my father's name was Barclay. Miers is my mom's maiden name. My father was in the theater and church and school equipment business. He bid on the seats going into Dodger Stadium, that kind of thing. He did that for most of his life. He went to Manual Arts High School, so you can guess that was not the high academic school of LA. He did not graduate from college. My mom did not graduate from college. But my great-grandfather was the second president of Indiana University. There was quite a wide range in our family.
"My twin brother, Dave, went to UCLA. We both grew up UCLA fans. We grew up about a mile from UCLA. Hated SC. Hated the Los Angeles Angels (of the old Pacific Coast League), because I was a Hollywood Stars fan. And I ended up within a relatively short period of time playing for both."1
Barclay Ardell was a native of Vancouver, British Columbia, a Canadian citizen. The family moved to the Los Angeles area when Dan and Dave were around 4 years old. His father encouraged them to play baseball from a very early age. "He got us started at the age of 4. It was early. We were very lucky. He definitely pushed us on it, but it was not in a bad way. We both enjoyed doing it. We both played varsity basketball, too. I remember when we were in the 12th grade and he asked, 'How did you guys ever learn to play basketball without me?' It wasn't braggadocious. He just didn't understand how we learned to play basketball."
The year they turned 10, their father became one of the founders of the West LA Little League in 1951 and remained active with it for quite some time.
In both 1957 and 1958, Dan was named All-City first baseman. Brother Dave was also All-City.
After graduating from high school, Dan spent a little more than six months in the US Army, from February to August 1959. He had graduated in January and wasn't due to start at USC until September. "I figured I'd just do the six-month program," he said. "Get it out of the way. So I went in a week out of high school. All US basic training and then I was in the artillery. I was in the Fire Direction Center, where we would determine where the guns would shoot. I was a math-type guy and so I got to do that instead of the real stuff. I was in the Reserve for seven years. I should have been called up during the Berlin Crisis, but Dedeaux, I think, got ahold of the colonel or something and said, 'He's playing baseball' and they gave me a deferment. I stayed in the Reserves but I was never called up."
Dan played at USC under legendary coach Rod Dedeaux. Coaching the Trojans in his 20th season, Dedeaux had seen his teams win their 11th consecutive California Intercollegiate Baseball Association title in 1961. On June 3 Tom Satriano doubled and Ardell tripled to break a 4-4 eighth-inning tie and beat Washington State for the NCAA district title. Dedeaux then saw his team go all the way to the College World Series, win all five games there, and by beating Oklahoma State in the championship game, triumph as the College World Series champions.    
Dan's twin, Dave, played for UCLA, infield and outfield but a little more outfield. Dedeaux had had only one scholarship to give to USC and it went to Dan. Dan was a little larger than Dave, by two to three inches in height. Dave was right-handed and Dan was left-handed. They were definitely not identical twins. "He played at UCLA for three years and was the captain," Dan said. "At one point, he laughingly said, 'I think I had more at-bats than anybody in UCLA history.' He was a good ballplayer. He was All-City. Nothing great, but very, very solid."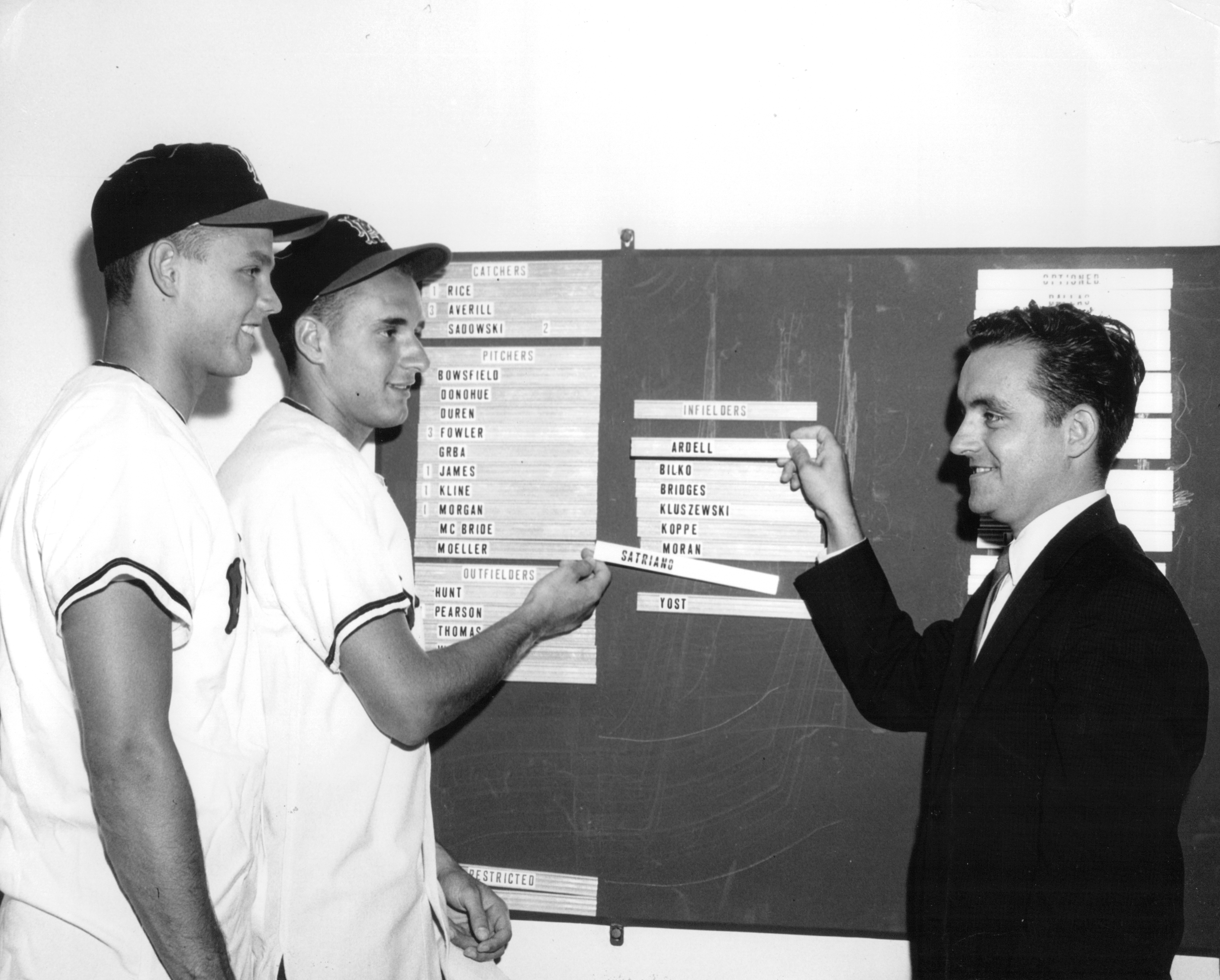 After Dan Ardell's sophomore year, he was signed by the Angels for a bonus of $37,500. Tom Satriano was signed on the same day. At Dan's request, his signing bonus was paid out over five years. Roland Hemond was the scouting director for the fledgling ballclub. Hemond told Dan that if he did well, he'd be called up to the big leagues after the minor-league season was over.
Ardell was sent to the Artesia (New Mexico) Dodgers of the Class-D Sophomore League, a Dodgers farm club. The Angels had only two farm teams at this point, and neither needed a first baseman. Ardell spent about a month with Artesia, managed by Spider Jorgensen. The team finished 48-78, in last place in the six-team league, 29½ games out of first place. Ardell, 20 years old, played in 33 games, batting .240. There were 13 players on the team with a higher batting average. He likewise ranked 14th in on-base percentage. He drove in 25 runs, ranking ninth. He made nine errors in the 33 games, though as a first baseman he saw a lot of action. His fielding percentage was .971. "The Sophomore League was so bad," Ardell once wrote, "that it folded at season's end."2 The team reported an attendance of 9,724 — for the whole season. Why did Dan Ardell get the call to the major leagues?
Obviously, the Angels needed players. As of August 30, they were 29½ games out of first place, and seventh in the standings of the 10-team American League.
Ardell was 6-feet-2 and listed at 190 pounds. He batted and threw left-handed. And somehow full of self-confidence. "I was thoroughly convinced I belonged in the major leagues. My fielding was suspect, and I did not hit left-handers well, but I was sure I could work through these problems. My optimism outran my talent."3
Ardell was added to the roster on September 1. Called up at the same time were "Jim Fregosi, Tom Satriano, Buck Rodgers, Dean Chance, and me. And a guy named Bob Sprout. He threw bullets, but he threw his arm out. Out of the five they called up, three were pretty good."4
After he sat on the bench for about a couple of weeks, Ardell's debut game came at Metropolitan Stadium in Minneapolis on September 14. Due to rain the days before, the Angels and Twins played two on that date. In the first game, the Angels held a 3-1 lead after eight innings. In the top of the ninth, two singles and a walk loaded the bases. Earl Averill pinch-hit and singled, driving in one more run. Manager Bill Rigney sent in Ardell as a pinch-runner for Averill. Joe Koppe walked, forcing in a fifth run. Ardell moved up to second base, but a 9-2 double play ended the inning. The Angels won, 5-1.
Two days later, he pinch-ran again, this time at Comiskey Park in Chicago. With a 6-3 lead, he ran for Steve Bilko in the top of the seventh. He advanced to second on a groundout and to third on another groundout, but a third groundout ended the inning. Once again, he was running in the pitcher's spot in the order and so left the game in favor of a reliever.
Ardell's third appearance was also as a pinch-runner. This time, he scored. After seven innings the White Sox held a 2-1 lead. Averill led off, pinch-hitting for the pitcher. He singled and Ardell entered to run for him. A single and a sacrifice moved him to third base. George Thomas singled, driving in two runs. It became 3-2, Angels, but the White Sox tied it in the ninth and won it in the 10th.
On Wednesday, September 20, the Angels were at Tiger Stadium and this time, Ardell got a chance to hit, his first at-bat in the big leagues. It was the top of the ninth and the Tigers had a 6-2 lead as the inning began. George Thomas reached on an error, and made his way to second base, though there were then two outs. Ted Kluszewski singled to center and scored Thomas, making it 6-3. "The day I got the base hit, Bill Rigney didn't know me from squat. I was sitting at the end with Satriano or Fregosi or whoever it was, and he says, 'Rook! Rook, get up here and hit.' We looked at each other, not knowing who he was referring to and he points to his left arm. I was the only left-hander there, so I knew he wanted me to hit. No advance notice. Nothing."
Ardell was to face Detroit's Ron Kline. He tells the story: "I saw myself as a power hitter, and did not think Kline looked overpowering. It was clear to me that I could hit a home run and make it a 6-5 ballgame. It was probably also clear to Kline that I was a big young rookie thinking about hitting a home run. He threw me pitches that were around the plate, ones that were not overpowering. Finally, he threw one that looked very hittable. I swung and almost broke my knuckles, but the ball had enough on it to get over the second baseman's head for a single. The pinch-runner on first rounded second too aggressively. The right fielder gunned the ball to second and the runner was tagged out. The game was over. And I was standing on first base, batting 1.000."5
Ardell added, "I was unhappy that we had lost, but ecstatic about getting on base in my first at-bat. I was confident that many more at-bats and hits lay ahead."
There were three at-bats ahead, but no more hits.
Playing for the first time in front of the home crowd, at Los Angeles' Wrigley Field, Ardell pinch-hit in the September 23 game. In the bottom of the ninth, with one out, nobody on, and the Angels down by two runs, he batted for Jim Fregosi and struck out.
On the 24th, he pinch-ran in the seventh inning and got as far as third base but the inning then ended. Again, he'd been running in the pitcher's spot and so did not play in the field.
On September 27, it was Trojans Day and Ardell took the field for the first time, playing first base and batting eighth against the Washington Senators. The game in Los Angeles drew 1,717 spectators. First time up, Claude Osteen struck him out. Second time up, in the fourth, he drew a walk. In the sixth, he grounded back to the pitcher to end the inning. In the eighth, with the Angels down by one run, Ardell was asked to sacrifice and did, successfully moving up two baserunners into scoring position. The first one scored on a wild pitch; had he not been advanced to third base, he would not have been able to score. And then pinch-hitter Buck Rodgers doubled, driving in the go-ahead run. The Angels won the game, and Ardell's sacrifice had truly paid off.
Though he had no way to know it at the time, his major-league career was over. He had the one base hit to show for it (one more than many). He had scored one run and — with the sacrifice — helped win a ballgame.
Ardell's career batting average was .250, with an on-base percentage of .400. He'd played the complete game on the 27th and handled 13 chances without an error, a lifetime fielding percentage of 1.000.
The question was asked: If you'd had two hits in the major leagues, it wouldn't really have been as interesting, right?
Ardell replied, "I think that's exactly true. There's no way I should have played in the major leagues. I hit the perfect timing. Everything was perfect. At USC I had an All-American in front of me so I wasn't going to play. Willie Ryan. 5'8". 140 pounds. Nobody would sign him because he was too small. But he was exceptional. He was All-American and had another year to go."
Speaking in early 1962, however, he might yet have had a bright career in front of him. Coach Dedeaux was very high on Ardell's prospects, declaring, "Dan Ardell will be the Angels' first baseman eventually. Dan has size, real good power, and can run. He's intelligent and he has good desire."6 Dedeaux noted that he'd even stolen home more than once.
In December, Ardell married Pam Allen. The marriage lasted about 13 years and produced two children.
Over the wintertime, it was reported that Dan, his brother, Dave, and their father worked importing clothes from Hong Kong.7 This venture was nowhere near as grand as it may have seemed to the reporter at the time. More than 50 years later, Dan recalled, "We thought we'd turn it into a business; I think we sold two suits."
In 1962 Ardell joined the Angels for spring training at Palm Springs, California, but at the end of camp was assigned to the San Jose Bees of the Class-C California League. He played in 105 games that year, but it was a season interrupted by a very bad beaning in the first inning of a June 17 home game against Stockton. His season stats were not impressive, either before or after the incident. "I started the season slowly," he wrote, "and then, in June, facing another of those dreaded left-handed pitchers, I took a fastball in the forehead. It happened at twilight, when it was difficult to see the ball. … I literally did not see the pitch. … The ball bounced off my forehead and went past third base. I was unconscious but not paralyzed as they took me from the field."8 He had a concussion and a broken right orbital bone. After consultation, doctors decided it might be more dangerous to operate than to see if the injury would heal.
It did heal, and Ardell was back on the field about six weeks later. He finished with a .239 batting average (.366 OBP), drove in 46 runs, and scored 70 times. He struck out 101 times and hit 11 home runs. There was one good feeling he was left with at the end of the season: "Although I finished the season as poorly as I have begun it, I did have the winning RBI in the final game to win the league championship."9
Ardell transferred from USC to San Jose State. He also invested part of his signing bonus in real estate and began to work part-time for a realtor.
In 1963 spring training was with the minor-league clubs, in a growing Angels system. From the two teams in 1961, the system had grown to five in 1962. Ardell began the 1963 season with the Nashville Volunteers of the Double-A South Atlantic League. He started the season very well, hitting .325 after the first 25 games, but was transferred downward rather than up to Triple A. He was back with San Jose (the California League had been upgraded to Single A.) For whatever reason, he had a mediocre season, with stats very similar to the year before: After 102 games, he was hitting only .232. He had driven in 57 runs. And at one point, he even pitched in a game — striking out the one batter he faced.
Ardell was back in minor-league training camp in 1964, which proved to be his final season as a player. "Despite enjoying playing baseball," he recalled, "I was coming to realize that I did not enjoy the life of a minor league player." There were the difficult travels, the "sleeping in cramped beds in second rate hotels, and eating mediocre food at odd hours," and there was the "male tendency to descend to the lower common denominator."10
Ardell was getting a little older, and the prospect of making the majors again did not seem bright. He had, however, shone brightly in a March 31 exhibition game, playing first base for the Hawaii Islanders against the Los Angeles Angels. Ardell singled, doubled, and homered in four trips to the plate.
He played out the 1964 season based in Pasco, Washington, playing first base for the Tri-City Angels in the Single-A Northwest League. In 124 games, he showed significant improvement — .267 (.373 OBP), with 17 homers and 63 RBIs. But it wasn't enough of an improvement. Ardell finished his studies and graduated from college in June 1965.
"I hated the life," he said. "My brother could have played, but I said, 'I just don't think you're going to like it.' Once I realized what the life was going to be like, I actually quit before they fired me. I remember going to Roland Hemond. I said, 'I'm not doing very well. I'm not enjoying it. Can I quit?' And Roland being one of the most wonderful human beings in the world said, 'Yeah. You're the one who asked to spread the money over five years. That doesn't mean you're obligated to play.'"
Dave went to work for IBM out of college. "My dad, he and I started buying foreclosed apartments. Probably syndication before the term existed. We would buy one a year. Friends and relatives would put money in. After about seven or eight years, he and I formed our own company — DA Management, where we did more stuff like that and then we advised pension funds on real estate. (Dad) retired in his early 50s."
The interest in real estate had started while Dan was still in college.
"My dad had read a book somewhere along the way — How I Turned a Thousand into a Million in Real Estate in My Spare Time. Being a great student, I thought, 'Man, that sounds like a great book. I've got to check that out.' I talked to one of the professors and said I want to be in real estate. I had a minor in real estate. He said, 'Well, if you want to learn about real estate. There's only one place to go. Union Bank.' It ended up that I was able to get in there. I was there for five years.
"One of the guys I was working with moved to Wells Fargo in a real estate investment trust and asked me if I wanted to join him. I spent the next seven years with them. There were seven of us when we started and he and the fellow who started it both became chairman of Wells Fargo, back when it was a good company."
He was a banker, with a specialization in real estate. "I did construction lending. I did mortgages on industrial buildings. Offices. Apartments. It was all income property. Nothing to do with residential.
"I retired December 31, 1999. Around 2013, a guy who I played baseball with in high school called and he said, 'Are you a little bored?' Yeah. He said, 'I know you lost a lot of money in the Great Recession. Are you still broke?' We were very close. I called him some bad names. Then he said, 'The big question is, do you still have your faculties?' That was of issue. This was the right hand for the guy who started Public Storage."
"It was the bottom of the housing market. He said, 'We're going to buy houses all over the country. We're going to fix them up and we're going to rent them.' When I joined the company, we had a thousand houses and 50 employees. Today, we have 50,000 and 1,350 employees."
"It has been something. We have 20 offices. I had to set the offices up, find people to get the offices started, and then mentor (for want of a better term) various people in the company."
Asked what his position at American Homes 4 Rent is, he chuckled and said, "I am officially a training manager. I do no training and I do no managing. They don't know what to do with me."
In 1981, some six years after his divorce, Dan married Jean Hastings. Jean had two children of her own. The marriage has endured. "She's still talking to me," Dan said nearly four decades later.
Dan Ardell never begrudged his short run with the Angels, and remained a solid Angels fan more than 50 years later. He had won a couple of key games at different levels, and had that one base hit in the big leagues.
"My one base hit went to Al Kaline. He picks the guy off second and the game is over. I'm standing there on first base, batting 1.000, happier than hell, and thinking, 'Man, I should have gone long.' Twenty years old. You never know."
Last revised: March 5, 2020
Sources
In addition to the sources cited in the Notes, the author consulted Retrosheet.org, Baseball-Reference.com, the Encyclopedia of Minor League Baseball, and the Dan Ardell player file and player questionnaire at the National Baseball Hall of Fame.
Notes
1 Dan Ardell with author on January 27, 2019. Unless otherwise indicated, all quotations from Dan Ardell come from this interview.
2 Dan Ardell, "A Cup of Coffee in the Show: My Seven Games in the Majors," in William M. Simons, ed., The Cooperstown Symposium on Baseball and American Culture, 2003-2004 (Jefferson, North Carolina: McFarland, 2005), 19. Dan Ardell's presentation at the Symposium is the source for a great deal of the material in this biography.
3 "A Cup of Coffee," 21.
4 Left-handed pitcher Bob Sprout appeared in only one major-league game, on September 27, 1961. He successfully executed a sacrifice bunt in his one and only major-league plate appearance. He pitched four full innings in the game, allowing three runs (two earned) on four hits and three walks.
5 "A Cup of Coffee," 21. The runner was Ken McBride.
6 Braven Dyer, "Dedeaux Says Ardell Cinch Future Great," Los Angeles Times, February 5, 1962: B8.
7 Dyer.
8 "A Cup of Coffee."
9 "A Cup of Coffee." The winning hit was a two-run single in the seventh inning, beating Reno, 5-3.
10 "A Cup of Coffee." He details a number of experiences on the road.
Born
May 27, 1941 at Seattle, WA (USA)
If you can help us improve this player's biography, contact us.
https://sabr.org/sites/default/files/ArdellDan.jpg
600
800
admin
/wp-content/uploads/2020/02/sabr_logo.png
admin
2020-03-05 16:44:41
2021-10-19 15:25:11
Dan Ardell