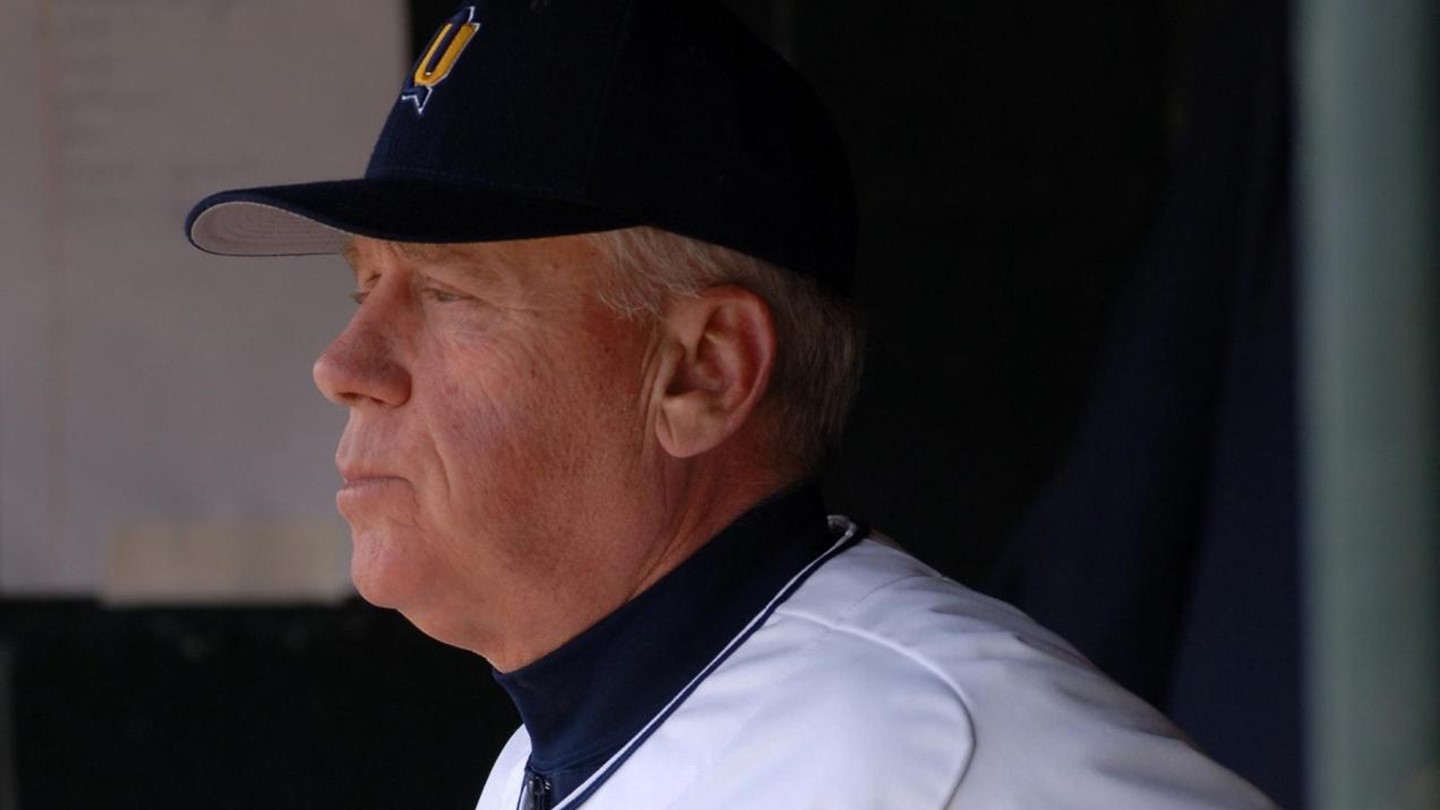 ---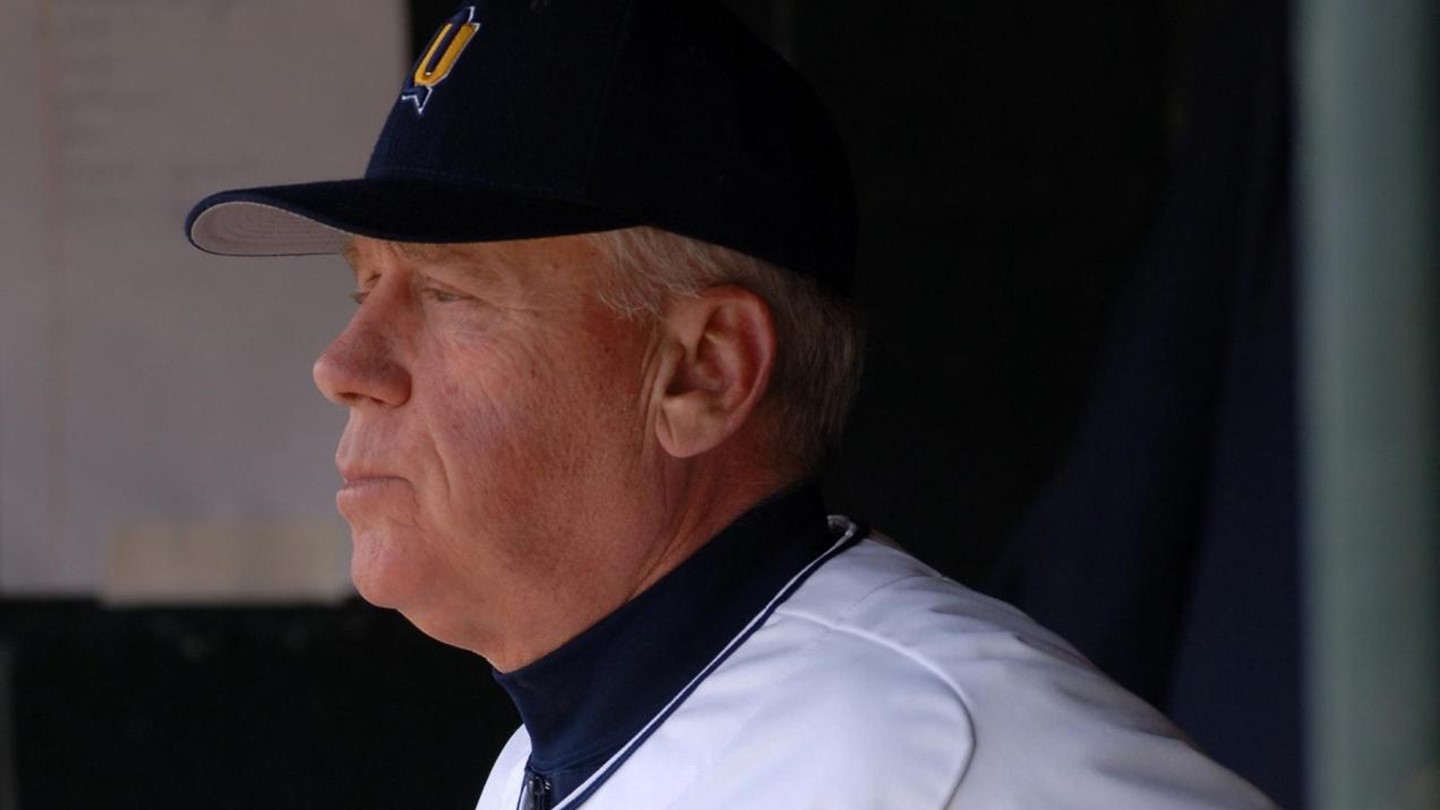 Dan Gooley was the head baseball coach at the University of Hartford for Jeff Bagwell's sophomore and junior seasons. He coached at the U of H for five years. The well-seasoned coach had a long stint helming the Quinnipiac University nine, too. In Hartford, Gooley took the program to new heights and aided in Bagwell's development. In his Hall of Fame induction speech, Jeff spoke directly to Gooley: "Coach Gooley, Skip — just a memorable time playing for you, we had such a great team."1
Dan Gooley, a fourth-generation Irish-American, was born on March 3, 1947, in a snowstorm in New Haven to Raymond Gooley, a postal worker and restaurant owner, and his wife, Roseanne. His great-grandparents immigrated to the United States from County Cork. The Gooley family ran a restaurant called Danny Gooley's on Kimberly Avenue in New Haven at one time. Dan was a student athlete at Hillhouse High School and Cheshire Academy before attending Quinnipiac University.2
While pitching at Cheshire Academy in 1966 for Coach Steve Cook, Gooley had Kent School's Steve Greenberg, the son of Hall of Famer Hank Greenberg, down 0-and-2 in the count. Some 25 years later Gooley, then the head coach at the University of Hartford, recalled the contest.
"I threw a fastball up and he hit it — home run," Gooley said. He recalled Cook coming out to the mound and saying, "Never throw a pitch up to a kid with glasses. He can see it too well. You always throw it down because he has to look through the lens and that can be tough."3
Gooley, who also attended Hillhouse High, lost that day in 1966, the only defeat he suffered at Cheshire, a no-hitter against Laurelcrest among the victories.4 Still, the loss and the advice are part of the Gooley legacy. "Where you've been, where you are, and where you're going is all part of the big picture," Gooley said, "because nothing, nobody, is bigger than the game itself."5
Announcing Gooley's appointment as the new University of Hartford baseball coach in June of 1987, Athletic Director Don Cook told the Hartford Courant's George Smith, "[Gooley] is a true baseball person, one that strikes the best balance between educational and athletic values. His reputation and integrity speak for themselves."6
After 27 years of coaching, after 1,500 games, Cook's appraisal remains right on. Does it get any better than being mentioned in Hall of Famer Jeff Bagwell's acceptance speech? It was perfect because Gooley's wife, Sue, and daughter, Bree, were in Cooperstown with Dan to share it. But he's more than the guy who coached two major leaguers, including Turk Wendell, at Quinnipiac. He is a baseball man with a list of friends as wide as the game itself.
Coming from Quinnipiac College, where he had a 203-122-5 record including a trip to the 1983 Division II World Series, Gooley beat out 78 applicants for the Hartford job. Then 40 years old, he was the perfect choice to take over a troubled program that had suffered through a devastating campaign in 1987. Cook, the athletic director, had become temporary coach after an incident in a game with UConn forced the firing of Bill Denehy.7
While one may immediately think of Quinnipiac at the mention of his name, Gooley played a vital role at the University of Hartford and in the success of Bagwell. His first step at Hartford was hiring Moe Morhardt and Randy Lavigne as assistants. Both had sterling reputations. Success was immediate — a very successful fall program in 1987.8
Blessed with great talent including a quartet (Bagwell, Brian Crowley, Chris Petersen, Pat Hedge) grouped together as the Crunch Bunch, and pitching prowess led by Mark Czarkowski and Keith Wiley, UHartford went to the postseason in 1988 for the first time in its baseball history. It lost to Fordham in the ECAC tournament finale, a contest that went to the final pitch.9
Gooley never failed to acknowledge that the 1988 success came with a Denehy-recruited team. That same spring, however, a Gooley-gathered group at Quinnipiac, led by Wendell, won the Northeast 10 crown and went to the NCAA Division II Northeast Tournament.10
His time at the University of Hartford notwithstanding, Gooley is the face of Quinnipiac athletics. He points to two Quinnipiac stars — the late Burt Kahn and Frank Vieira — as forces in helping him post the résumé that so impressed Cook in 1987. Coach/AD Kahn, of course, was an ally while University of New Haven baseball coach Vieira, a Quinnipiac grad, was a rival. All three are Quinnipiac Hall of Fame members.11
It was Kahn who brought Gooley to Quinnipiac as a player. He won a record 20 games over four years in Hamden, setting records for innings pitched (269) and strikeouts (316). His 20th victory came on May 23, 1970, Gooley striking out 11 in a 9-5 decision that eliminated Eastern Connecticut State from the NAIA district tournament.12
The list also includes a 15-inning, 4-1 win over Monmouth College in New Jersey on April 28, 1968. Gooley, while fanning 11, battled future major leaguer Ed Halicki for 14 innings, each allowing a run.13 Four days later, Gooley fanned 12 beating the University of New Haven 7-1 on a five-hitter.14 His reputation was established in 1968 when, in an NAIA District 32 contest, he struck out 20 in 11 innings in a game Quinnipiac won 1-0 in 15 innings.15
It was Kahn who hired Gooley in 1971 as an assistant in three sports (including baseball under Bill Merrill) and as director of sports information. Whether the latter was part of Kahn's genius is debatable, but there can be no doubt about the relationship Gooley enjoyed with the media over the years. It is rivaled only by how the scouts regard him.
And it was Kahn who made Gooley head baseball coach in 1977.16 College baseball in New Haven was not an easy place. Coaches Joe Benanto at Yale and Joe Bandiera at Southern Connecticut were hardly pushovers and there was nobody tougher than Porky Vieira at the University of New Haven. And nobody was more willing than Kahn to help a young coach's psyche when it was needed. Gooley never fails to acknowledge that.
The 1983 season may be the pinnacle of his first tour at Quinnipiac. After failing to make the tournament in 1982 (despite a 22-7-1 record) the Braves had stellar pitching — Frank Trasacco (7-2), Tom Signore (8-5), John Glenn (6-2), and Tom O'Neil (4-0). The team hit 50 homers, led by the Bruise Brothers — Tim Saller, Andy Riccio, Vin Anasasio, and Dave Palo.
In the 1983 Northeast Tournament in Syracuse, Quinnipiac beat New Haven twice on the final day, 12-9 and 6-4, the latter on tournament MVP Bob Bruzik's three-run homer in the seventh. Quinnipiac had lost earlier to New Haven, 7-6. Victory led to the school's first visit to the College World Series.17
Gooley was New England Division II Coach of the Year for the second time in '83. He won it in '79 when Quinnipiac was 23-8. It was New Haven, however, going to the Division II World Series, eliminating Quinnipiac in the Regional final. Quinnipiac returned to the regional in '84, this time losing to New Haven and future major leaguer Mike Raczka, 12-3 in the finale.18
Between 1979 and 1987, Quinnipiac never won fewer than 18 games. Gooley saw Tom Signore replace him as Quinnipiac's all-time winning pitcher, recording his 21st win beating the University of Bridgeport 9-0 on April 23, 1985. The 22-7-1 1982 team not earning a postseason berth was disappointing, as was the 20-10 effort in '86.
Gooley was never a believer in excuses. After missing the postseason at Hartford in 1989, he gave the Courant's George Smith a little more of his baseball philosophy: "In no way am I disappointed with the effort of the kids, but I am disappointed with our performance and I include myself in that category. When you don't earn [a bid] — as we should have — we don't deserve it. … That's what makes the game of baseball great. When you earn it, you get it."19
The fact that Bagwell, Crowley, Hedge, and Czarkowski were major-league draft picks in 1989 was cause for some joy. The year before, four Gooley recruits, pitchers Wendell, Dominic Rovasio, and Brian Landy, and first baseman Doug Bond, were drafted out of Quinnipiac. Gooley was the only coach to recruit Wendell, who posted 13 wins, 7 saves, and 169 strikeouts in 180⅓ innings over three seasons in Hamden. He went to Atlanta in the fifth round. Wendell spent 11 years as a major-league reliever, appearing in 552 games.
After losing campaigns in 1990 and '91, Gooley returned to the postseason with UHartford in 1992. The team started 1-6 but won 12 of its last 15 games to earn an at-large ECAC bid. Shortstop Mike Desjardins and pitcher Scott LaRock (a '94 draft pick) were tournament All-Stars. Catcher Mike Lane and first baseman Bob Nenna were NEIBA All-New England, and second baseman Steve Mathews and outfielder Aaron Leonard were second-team All Conference picks. It was Gooley's team.20
Then everybody gasped when Gooley took a job with New Haven-based sports-equipment company Starter right after the tournament.21
Gooley was back at Quinnipiac as director of athletic development before the dawn of a new century and back as baseball coach in 2002. Now running a Division I program, Gooley suffered through two tough campaigns before running off a streak of four straight winning efforts, topped by an NCAA Division I Tournament appearance in 2005 — the first in the school's history. Draft picks Bryan Sabatella, Ari Kafka, and Pat Egan, the latter two pitchers, and MVP Ryan Rizzo, a sophomore, guided Quinnipiac through the Northeast Conference tournament, only to run into eventual champion University of Texas in the first round of the NCAA super-regionals.22
The last eight seasons were not winners but Gooley's place in Connecticut baseball remains brilliant.
Steve Greenberg went from Kent to stardom at Yale, to Triple A in professional ball, and, armed with a law degree, to a turn as deputy commissioner of baseball. Dan Gooley went from Cheshire to a lasting place in the state's baseball lore, surrounded by a multitude of friends.
Dan Gooley holds a master's degree from Southern Connecticut State University. Susan, his wife, is a master chef. She was working at a restaurant in New Haven when she and Dan met. They've been married for 30 years and in May 2018 they welcomed a granddaughter into their family, Reilly Rose. Dan is very active in his community and his church and in the Greater New Haven Diamond Club.
Last revised: May 14, 2019
This biography was originally published in "Jeff Bagwell in Connecticut: A Consistent Lad in the Land of Steady Habits" (SABR, 2019), edited by Karl Cicitto, Bill Nowlin, and Len Levin.
Sources
University of Hartford Baseball Media Guides, 1990-1995.
Baseball America's Almanacs, 1980-95.
Anderson, Woody. "Quinnipiac Picking Up in Baseball," Hartford Courant, April 30, 1983.
Notes
1youtube.com/watch?v=-OUxX7dMe_M. 7 minutes and 58 seconds into the speech. Accessed May 19, 2018.
2 Telephone interview by the author with Dan Gooley, May 19, 2018.
3 Interview with Dan Gooley by Pete Zanardi at the University of Hartford, February 1, 1992.
4 "Gooley Hurls Cheshire Over Laurelcrest," Hartford Courant, May 1, 1966: C3.
5 Interview with Dan Gooleyby Pete Zanardi at the University of Hartford.
6 George Smith, "U of H Baseball Taps Quinnipiac's Gooley," Hartford Courant, June 19, 1987: E1.
7 Ibid.
81990University of Hartford Baseball Media Guide.
9 Ibid.
10 Chip Malafronte, "Quinnipiac Baseball Coach Built More Than a Legacy," New Haven Register, May 11, 2014.
11 Ibid.
12 Bill Newell, "Eastern Bows in NAIA Event as Charters Win Title," Hartford Courant, May 24, 1970.
13 Quinnipiac Beats Monmouth 4-1 in 15," Hartford Courant, April 29, 1969: 31.
14 "Quinnipiac Stops New Haven 7-1," Hartford Courant, May 3, 1969: 27.
15"Quinnipiac Captures NAIA District 32," Hartford Courant, May 19, 1968: C5.
16 "Quinnipiac Baseball Coach."
17 Ibid.
181984 Baseball America's Almanac.
19 Smith, "Hawks Coach Not Expecting ECAC At-Large Bid," Hartford Courant, May 9, 1989: E2.
201994 University of Hartford Baseball Media Guide.
21"Gooley Leaves for Promotions Job, "Hartford Courant, June 5, 1992: E3.
22Mike Anthony, "Man Who Built Bobcats Up Is Stepping Down, Quinnipiac Baseball Coach Dan Gooley to Retire After 2013-14 Season," Hartford Courant, June 28, 2013: C7.
---
Dan Gooley's coaching record
Compiled by Pete Zanardi
Year
School
Record
Postseason
Draft Picks
1977
Quinnipiac
8-19-2
P-Bill Martin
1978
Quinnipiac
16-14
1979#
Quinnipiac
23-6
Northeast Div II Regional
1980
Quinnipiac
9-15-1
1981
Quinnipiac
18-8
1982
Quinnipiac
22-7-1
1983#
Quinnipiac
25-10
Northeast Div. II Regional,
Div. II World Series
1984
Quinnipiac
25-8
Northeast Div. II Regional
P-Francesco Trasacco
1985
Quinnipiac
18-12
1986
Quinnipiac
20-10-1
1987
Quinnipiac
19-11
1988#
UHartford
29-12
ECAC Div. I
1989
UHartford
17-15-1
3B-Jeff Bagwell
OF-Brian Crowley
OF-Pat Hedge
P-Mark Czarkowski
1990
UHartford
15-20
1991
UHartford
13-22
1992
UHartford
27-21
ECAC Div. I
2002
Quinnipiac
12-30
2003
Quinnipiac
17-24
2004
Quinnipiac
23-21
Northeast Conference
2005
Quinnipiac
26-24
Northeast Conference,
NCAA Regional
P-Pat Egan
P-Ari Kafka
3B-Bryan Sabatella
2006
Quinnipiac
22-24-1
Northeast Conference
P-Pat Egan
2007
Quinnipiac
29-18-1
Northeast Conference
SS-Randy Gress
2008
Quinnipiac
16-36
P-Chris Gloor
SS-John Delaney
2009
Quinnipiac
18-34
P-Chris Gloor
2010
Quinnipiac
14-39
2011
Quinnipiac
15-32
2012
Quinnipiac
9-38
2013
Quinnipiac
17-36
2014
Quinnipiac
16-31
---
# New England Coach of the Year
Born
March 3, 1947 at New Haven, CT (US)
If you can help us improve this player's biography, contact us.
https://sabr.org/sites/default/files/GooleyDan.jpg
600
800
admin
/wp-content/uploads/2020/02/sabr_logo.png
admin
2019-05-14 13:24:52
2020-04-09 14:37:34
Dan Gooley