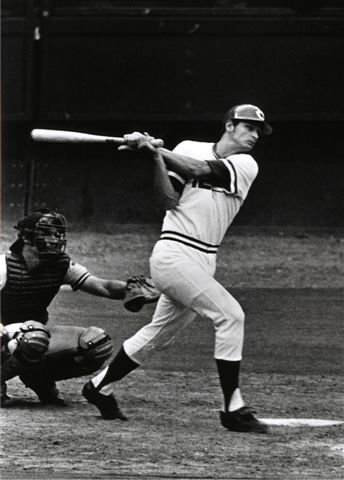 ---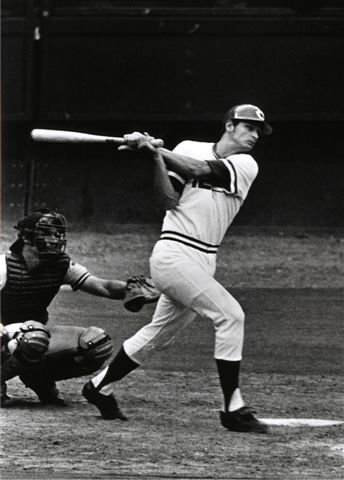 An 11-year major-league infielder, Darrel Chaney stayed in the game due largely to his versatility and positive attitude. After a career that included appearances in three World Series, Chaney became a successful announcer, businessman, and motivational speaker.
Darrel Lee Chaney was born on March 9, 1948, in Hammond, Indiana, the second of Carlos and Eleanore Chaney's three children. His brother, Larry, was older by a year, while his sister, Mary Kay was seven years younger. Chaney played football, baseball, and basketball growing up in Hammond. In baseball he was a gifted switch-hitting shortstop whose hero was Chicago Cubs star Ernie Banks. When he was 12 Chaney met Banks at a Little League banquet in Hammond. Chaney's friends sent him up to the podium to talk to Banks. Banks signed his autograph: "To Darrel Chaney: I'll see you in the big leagues."1
In football at Morton High School, Chaney was a 1965 Parade High School All-American quarterback. "Back in the day, they ran a running offense – single T, split T formation."2 Chaney was especially known for his ability to carry out fakes, keeping and running the ball himself. He received 35 scholarship offers, including academic/athletic scholarship combinations from the University of Washington and the Air Force Academy. As a two-way player, Chaney intercepted 27 passes in three seasons. He was heavily recruited by Notre Dame, whose coach, Ara Parseghian, wanted him to play safety (with Terry Hanratty and Coley O'Brien already at quarterback). Chaney turned down a chance to visit Notre Dame because he already had scheduled a visit with coach Duffy Daugherty at Michigan State, and his commitments to his high-school basketball team limited his time. Notre Dame never called back.
Chaney was a five-tool prospect as a baseball player. "You have to be, in order to get drafted that high," he said. (The Reds drafted him in the second round of the June 1966 in draft, number 33 overall.) "I could hit for power, I could hit for a high average, I could throw, and I could run some." The Reds sent an official to make an offer, giving Chaney a day to deliberate with his family. Chaney discussed it with his father and decided to accept the Reds' offer because he always dreamed of becoming a major-league ballplayer.
The 18-year-old spent his first professional summer with Sioux Falls (SD) in the Class A Northern League, hitting just .206. He then spent most of a year in the Army Reserve, playing just 26 games with Knoxville (TN) of the (Double-A Southern League in 1967 and hitting .189. Back from the service, Chaney broke through in 1968 with Double-A Asheville (NC), hitting just .231 but with 23 home runs, good for second in the league. After the season the Reds traded their starting shortstop, Leo Cardenas, to the Minnesota Twins, partly because they felt Chaney was ready.3
Chaney was the Reds' regular shortstop most of the first half of the 1969 season, though poor hitting eventually cost him the job and veteran Woody Woodward took over. On his first trip to Chicago, in June, Chaney met up with Ernie Banks, his old hero, and doubled and singled with his parents in the stands. Banks had read about Chaney in the paper that morning, and warmly greeted Chaney as he took first, "Welcome to the big leagues, kid. I knew you would make it. It's a long way from that banquet hall in Hammond, Indiana." Chaney recalled, "One of my greatest thrills was seeing my mom and dad, sitting behind the dugout in Chicago when I first came up the leagues, knowing how much it meant to them, especially my dad, who had been my coach."4
After hitting just .191 with no home runs in his rookie year of 1969, Chaney realized he was never going to be a power hitter. "I have to forget about the home run completely," he said in retrospect. "If I'm going to hit for any kind of respectable average, I have to shorten my swing, use a heavy bat, choke it, and swing down on the ball."5
While playing that winter in Puerto Rico, Chaney and his wife, Cynthia, were driving on a four-lane highway when a car sideswiped their rented Volkswagen on the passenger side. "It didn't hit us at a sharp angle or else it would have been tragic," Chaney recalled. The four men in the other car were all drunk, and one of them clubbed Chaney over the head when he was getting a pen to write down their license-plate number. Chaney's eyes were still leaky four days later. He did get their plate number, and the perpetrators were caught and jailed. "It was a traumatic experience for a young couple with a wife who was seven months pregnant at the time," Chaney recalled.6
Back in Hammond, Cheney worked for the city engineer as a city inspector before reporting for 1970 spring training in late February. "I know I had troubles at the plate last year, but I'm going to spring training with the idea of making the club," he said before the season.7 He made the club as a utility infielder, playing shortstop, second, and third and hitting .232 in 101 plate appearances. He did get his first major-league home run, on September 7 off the San Francisco Giants' Juan Marichal. He played in three games in the World Series against the Baltimore Orioles as a late-innings replacement at shortstop, striking out in his only plate appearance.
Besides Woodward, by 1971 Chaney had been passed on the shortstop depth chart by rookie Dave Concepcion, and that spring Chaney was sent to Triple-A Indianapolis. He played the entire International League season, batting .277 in 120 games. His good year earned a September recall to the majors, where he hit .125 in 24 at-bats. After the season Woodward retired, clearing the path for Chaney to assume his role as the top utility infielder. He even went to work in the offseason for Woodward, his ex-roommate, who had become an executive with Winewood, Inc., a Florida land-development firm. "Woody had just retired, and then I started working for his golf course development in Tallahassee," Chaney said. "I bought a lot and built a house on it. We kept the house until I got traded."8
During the summer of 1972, when the Reds were on the road in St. Louis, Chaney got a call from his brother, telling him their mother had cancer. "I suddenly realized there are so many things over which I have no control, and which I can't fix. I can't do anything about my playing time. Sparky Anderson made the lineup card. That very night, I went back to my hotel room (at the Chase Park Plaza Hotel), got down on my knees, and asked Jesus into my life," Chaney recalled.9
Chaney saw plenty of action over the next few seasons. In 1972 he played in 83 games, including 54 starting assignments, and hit a respectable .250 with 11 extra-base hits and a fine .345 on-base percentage. The Reds returned to the postseason and Chaney played in nine games, batting 3-for-16 in the NLCS win over the Pittsburgh Pirates, then 0-for-7 in the World Series loss to the Oakland Athletics. Despite his increased playing time, the Reds did not see the 24-year-old as a regular player. "It's our belief," said general manager Bob Howsam, "that Chaney's future in the major leagues is limited to the role of a utilityman."10 Concepcion emerged as a star in 1973, making his first All-Star Game, but his broken leg in July made a regular out of Chaney for the last eight weeks of the season. Chaney ended up playing in 105 games, but hit just .181 in 227 at-bats. Late in the season he stopped switch-hitting, hitting just left-handed for a couple of years before reverting back.
Chaney spent the winter of 1973 working with former Cincinnati first baseman Gordy Coleman, who headed the Reds speakers bureau. "He's doing a good job," said Coleman at the time. "We've received a lot of letters complimenting him from the organizations he's talked to." Chaney reported, "What surprises me is that despite all the banquets I've attended, I'm still only two pounds over my reporting weight."11 Reds' broadcaster Al Michaels also helped Chaney get a third-class operator's license through the Columbia School of Broadcasting. "I didn't have the credentials to become a broadcaster through my playing career alone," Chaney recalled.12
Chaney played in 117 games in 1974, but most of them were as a late-inning defensive replacement at third base, a role he assumed 79 times. He hit just .200 in 135 at-bats, but did have one memorable hit, the only grand slam of his career, against the Cardinals during the second game of a doubleheader. "I still remember the date and time. It was July 7, 1974, at 4:20 P.M. Sparky Anderson had told me to stop switch-hitting. I got up to bat with the bases loaded in the second inning. Rich Folkers left one out over the plate."13 Chaney hit his homer from the left side against the left-handed-throwing Folkers.
The switch of Pete Rose to third base in 1975 gave the Reds All-Stars at all four infield positions. Chaney remained the primary backup infielder, hitting .219 in 160 at-bats. "It was a thrill to be a part of a world championship team," he recalled. "I considered myself the 25th best player on a 25-man team, but being able to wear a world championship ring around Cincinnati was unbelievable. I was the only member of the team that played for Sparky Anderson at Double-A Asheville. I went to Sparky's office to ask for more playing time, but Sparky explained that while we had Hall of Famers at almost every position, I had a role to play. I was a defensive replacement for Pete Rose at third, while no one turned the double play better than me at second and short." The lessons Chaney took from his time on the Big Red Machine, and which he always shared as a public speaker, was to recognize and believe in your own significance, always tell the truth, and no matter what position you have, you are a valuable part of your organization.14
"My first manager with the Reds, Dave Bristol, told me that he would try to trade for me if he had the opportunity," said Chaney. With Bristol now managing in Atlanta, Chaney was traded to the Braves for outfielder Mike Lum on December 12, 1975. For the first time in his career he was the regular shortstop for an entire season, and he responded by hitting .252 with one home run and 50 RBIs. He struggled in the field, however, making a league-leading 37 errors.
After the 1976 season the Braves returned Chaney to his utility infielder role, and he hit .201, .224, and .162 in that role over the next three seasons. On May 17, 1978, Chaney was ejected for arguing after being called out on a play at home plate. He recalled the incident: "Bobby Cox will stand up for his players whether you are Chipper Jones or David Justice, or whether it's people like me. There was a play at the plate in New York. I slid in under the catcher's tag, and kicked up dirt when I got up. The home-plate umpire was Ed Montague, and he ejected me for kicking up dirt. Bobby took up the argument. Bobby destroyed the toilet with a bare hand after that."15
Support or not, Cox, near the end of the 1979 season, had some truth to impart. "They're not renewing your contract," Cox told Chaney. "They're gonna release you. But I'll play you as much as I can these last two weeks, so other clubs can see you." Chaney hit .333 (9-for-27) for the Braves in what turned out to be the final two weeks of his career.16 It didn't work out well: "I didn't retire. I was released. I would have liked to continue my career, but I couldn't. Most of us don't retire."17
Unable to hook on with another big-league team, Chaney joined the Braves' broadcast crew in 1980, teaming with Ernie Johnson, Skip Caray, and Pete Van Wieren for three seasons. His many years of speaking for the Reds had prepared him for the new role. "I didn't retire from the broadcast booth, either. I was naïve then. After the Braves lost to the Cardinals in the 1982 playoffs, I was brought into the office of the Braves senior vice president to discuss the improvements they were going to make. I asked, 'What are we going to do?' 'We're going to replace you.' It was Halloween, late in October, and everybody had filled their vacancies. I was a couple of weeks late, or I may have had an opportunity with the Reds."18
Chaney spent nearly three decades in corporate reality before retiring. He had married the former Cynthia Pajak, a fellow Hammond native, on February 17, 1968. The couple raised a son, Keith, who eventually gave them three grandsons. Darrel and Cindy settled in the Atlanta area when he was traded there, and after he retired they moved to Sautee, in White County, Georgia, two hours north of Atlanta. "I moved to the mountains. I make appearances as a public speaker, but I live off Social Security and my major league pension," he said.19 He also spent many years working with the Major League Baseball Alumni Association.
Chaney also got involved in charitable work in White County. "The United Way White County Celebrity Golf Tournament started with a fundraiser to play a round of golf with me. I didn't think anybody would want to buy a round of golf with me but someone paid $800. Then I called my MLB friends, and I called my NFL friends. The golf tournament is now the biggest fundraiser the United Way has in White County," Chaney said proudly.20
Last revised: May 1, 2014
This biography is included in the book "The Great Eight: The 1975 Cincinnati Reds" (University of Nebraska Press, 2014), edited by Mark Armour. For more information, or to purchase the book from University of Nebraska Press, click here.
Notes
Born
March 9, 1948 at Hammond, IN (USA)
If you can help us improve this player's biography, contact us.
http://sabr.org/sites/default/files/images/ChaneyDarrel-5854.72_Bat_NBL.jpg
600
800
admin
/wp-content/uploads/2020/02/sabr_logo.png
admin
2012-01-04 19:50:21
2012-01-04 19:50:21
Darrel Chaney