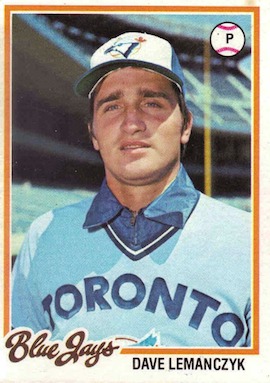 ---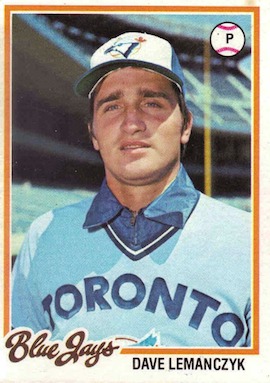 "Would you believe the failure of the [Detroit] Tigers to protect Dave Lemanczyk in 1976?"1 This was the kind of question being asked in October 1977 after Toronto Blue Jays right-hander Lemanczyk tied Seattle Pilots righty Gene Brabender for the major league mark of 13 wins by an expansion team pitcher. In spring training he had been fighting simply to gain a spot in the Jays rotation; eight months later the durable hurler was anointed by the Toronto sportswriters as the club's Pitcher of the Year. On April 24, 1979, Lemanczyk's one-hit shutout against the Texas Rangers was deemed "the premier pitching performance in the three-year history of the Jays."2 By July he had earned the privilege of representing the Jays on the American League All-Star team.
But playing for an expansion club had its challenges as well. In the first two years of their existence the Jays were either last or next to last in the AL in runs scored, a primary reason why Lemanczyk placed among the circuit leaders in losses. His cause was not helped by a large yield of walks, wild pitches and an AL-leading 119 earned runs surrendered in 1977 that tied him with Oakland's Vida Blue. A back injury at 28 years old brought a rapid end to Lemanczyk's promising future and saddled him with a dismal record of 4-11, 5.24 over the last year-and-a-half of his career.
David Lawrence Lemanczyk was born August 17, 1950, the first of three sons of Lawrence and Helen (Nester) Lemanczyk in Syracuse, New York. A World War II veteran of Polish, Russian and Czech extraction, Lawrence married Helen in the 1940s and supported his family by working at the Chrysler automobile plant in Syracuse. Attending Westhill High School shortly after it was established in 1963, David put the Westhill Trojan Warriors on the map with his prowess as a gridiron quarterback. Recruited by colleges and universities nationwide, Lemanczyk eventually spurned these pursuits because he hated football. He found far more enjoyment in basketball and baseball. Used primarily as a catcher, he attracted minor interest from the St. Louis Cardinals before choosing college instead.
Following his high school graduation in 1968, Lemanczyk attended Hartwick College in Oneonta, New York, 25 miles south of the National Baseball Hall of Fame in Cooperstown. A walk-on on the school's basketball team, he led the Hartwick Warriors to two NCAA playoff berths and a combined 51-21 record over three seasons. The assistant basketball coach happened to be the school's baseball coach as well and in 1969, after observing Lemanczyk unleash a 90 mph fastball from a practice mound, recruited the tall, burly sophomore to the diamond. In his first start for the Warriors, Lemanczyk delivered a one-hit win while striking out 15 batters.3 Advanced to team captain in his junior and senior years, he established a single-season record 70 strikeouts and ended his collegiate career with Hartwick career marks in wins, innings pitched and strikeouts. In 1972 Lemanczyk graduated with majors in history, world religion and philosophy. "I had a philosophy professor who handed out a one-word test: 'Why?'" Lemanczyk recalled years later. "I answered 'Why not?', turned in the test and got an A."
Lemanczyk's athletic achievements were not limited to the college campuses. During summer breaks he joined the Guelph (Ontario) C-Joys in the Senior Intercounty League and in 1970 helped lead the club to a championship. It was during these tours that Lemanczyk first caught the attention of longtime Detroit Tigers scout Bob Prentice, whose glowing reports prompted the club to dispatch Cy Williams, another longtime associate. When Williams' reports mirrored those of the Canadian Baseball Hall of Famer's, the Tigers selected Lemanczyk in the 16th round of the 1972 amateur draft.
He was assigned to the Lakeland Tigers in the Florida State League. It was a short-lived appointment as Lemanczyk mastered the Class A circuit: 7-1, 1.77 in eight appearances (66 innings). Promoted to the AAA Toledo Mud Hens, Lemanczyk tamed the offensively charged Charleston Charlies in his first International League appearance with a four-hit, 7-1 win July 22, 1972. His 3.00 ERA in limited play bested that of fellow circuit hurlers and future major-league All-Stars Steve Rogers and Kent Tekulve as Lemanczyk collected five wins in 12 appearances (60 innings).
In 1972, a Tigers staff anchored by All Star pitchers Mickey Lolich and Joe Coleman compiled a 2.96 ERA to lead the club to the AL East Division flag. Breaking into this staff the following spring would be no easy task. But Lemanczyk's brilliant debut season, combined with a strong Grapefruit League campaign in 1973, earned the 22-year-old a spot on the parent roster. On April 15, 1973, he made his major-league debut in Tiger Stadium in relief of Detroit starter Tom Timmermann. Entering the seventh inning against Cleveland trailing 4-0, Lemanczyk retired the first four batters he faced before the Indians touched him for a run in the eighth. He was responsible for two additional runs in the last frame. Shortly after this appearance, he was reassigned to Toledo.
That July 2, Lemanczyk delivered a four-hit 2-1 win against the Pawtucket Red Sox. Unfortunately, this outing proved a rare highlight as Lemanczyk struggled in his return to the Mud Hens. Demoted to the AA Montgomery Rebels in the Southern League, he was quickly returned after delivering a no-hitter against the Asheville Orioles on August 8. Nine days later outfielder Tom Shopay was the one player who stood between Lemanczyk and another no-hitter as the hurler disposed of the Rochester Red Wings in 88 pitches in a 3-0 shutout. Lemanczyk's late surge lifted his minor league season record to 9-9, 4.19.
The upturn carried into 1974, as Lemanczyk delivered another strong Grapefruit League campaign; in April many observers were surprised when he was demoted to the AAA Evansville Triplets in the American Association. A month later, with pitcher Chuck Seelbach struggling, Lemanczyk replaced the promising righty on the parent roster. "Lemanczyk's record was amazing in the spring," Tiger manager Ralph Houk explained. "I don't think he had one bad outing. He was the most impressive pitcher of those who didn't make it. But I thought it would be best if he went down where he would be sure to get a lot of work so he'd be ready if we needed him. Actually, I think it worked out perfectly."4
Used sparingly over the first five weeks following his promotion, Lemanczyk struggled to keep his ERA below 8.00. He also proved susceptible to the long ball, surrendering six homers over 8⅔ inning including monstrous back-to-back home runs to sluggers Dick Allen and Bill Melton, Allen's shot nearly clearing the roof in Tiger Stadium. Fortunately, Lemanczyk's season inexplicably turned around two days later. He surrendered just six earned runs over the next 28⅓ innings to earn his first major league start August 2 in Milwaukee. Lemanczyk held the Brewers to one hit over 6⅔ innings and yielded just one run overall to record his first big league win. Two subsequent starts—including his first major league loss—were not nearly as successful. He was moved back into the bullpen where he continued to thrive. Excluding a final appearance on September 30—a game in which both he and Mickey Lolich were hit hard—Lemanczyk finished with a record of 2-1, 2.53 ERA over his last 16 appearances.
In 1975 Lemanczyk's fate mirrored the fortunes of the club as the Tigers tumbled to its second 100-loss season in franchise history. He registered 109 innings, primarily in relief, and produced a disappointing 2-7, 4.46 slate. The following spring, he was optioned to Evansville. Following a 4-0, 1.86 run that included a three-hit shutout against the Wichita Aeros on May 23, Lemanczyk was back with the Tigers. His stint in Evansville showed evidence of improvement when, on June 29, he held the New York Yankees to one run over 6⅓ innings to capture his first win; a week later Lemanczyk matched Texas Rangers ace Bert Blyleven pitch for pitch in an eventual 2-1 Detroit victory in which he did not figure in the decision. But his overall performance proved inconsistent as Lemanczyk slid back and forth between the starting rotation and the bullpen. Four no-hit innings August 10, 1976, against the Texas Rangers — a game in which Lemanczyk garnered his fourth win — was followed four days later by a start in Kansas City in which he retired just one batter. Left unprotected in the 1976 expansion draft he was selected by the Blue Jays in the fourth round (43rd pick overall). Lemanczyk learned of the move while pitching for Indios de Mayaguez in the Puerto Rican Winter League. Oblivious of the expansion draft he asked, "What's a Blue Jay?"5 In January 1977 he delivered 9⅓ innings of no-hit ball in preparation of one of his finest seasons in the major leagues.
Shortly before the start of the 1977 season Lemanczyk was fighting with righty Jesse Jefferson for the role as the Jays' fifth starter before a late-spring surge secured him a spot in the rotation. On April 9, Lemanczyk achieved the franchise's first complete game while also earning the dubious distinction of collecting the club's first loss, a 3-2 defeat to the Chicago White Sox. Four days later, though, he was not nearly as sharp when he garnered a 7-6 win over his former Detroit teammates. But Lemanczyk was on his game on April 18 as he delivered a four-hit 2-1 complete game win over the defending AL champion Yankees. Seven weeks passed before he collected his next win — "just say I was 0-for-May" he cracked6 — as the Jays limped through an 8-19 mark through June 3. Five and two-thirds innings into a perfect game July 31, Lemanczyk settled for a 4-1 win against the Brewers to halt the Jays' nine-game losing streak. Two months later he stopped an even longer streak (11 games) by outdueling future Hall of Fame righty Fergie Jenkins in a 3-2 win over the Boston Red Sox. But not all went as swimmingly. A recurring blister on his right hand contributed to a dismal 3-6, 5.29 ledger through August while his 20 wild pitches came within one of matching the AL single-season record. Lemanczyk finished the season with career-high marks in wins (13), losses (16), appearances (34 starts) and strikeouts (105). Perhaps more impressive was the number of innings worked (252), more than double the amount received in any prior season. "[In years past] I got a lot of miles on my car, but not on my arm," he joked.7
During the offseason Lemanczyk joined the Jays' winter publicity caravan through Ontario and Buffalo while the club spent its time fending off trade queries for the large right-hander. In the spring he experimented with a different grip on the ball and appeared poised for his finest season after a strong Grapefruit League campaign. After manager Roy Hartsfield anointed him as the team's Opening Day starter, Lemanczyk admitted, "It's an honor. It's a matter of being the most ready, the one the staff has the most confidence in."8
But it became quickly apparent that spring training gains did not translate to regular season success. Struggling with his control — 18 walks in his first 31⅓ innings — Lemanczyk's 1-9, 8.52 mark through 11 starts resulted in a demotion to the bullpen. "One day he's dropping his arm too low. The next start his back leg isn't moving right," Jays pitching coach Bob Miller explained. "[I'm] trying to get him to stop thinking and just let the ball fly like it used to."9 On June 27, in a move of necessity more than success from the bullpen, Lemanczyk was reinserted into the rotation. He bested Baltimore ace Jim Palmer 6-2 and, nine days later, defeated the future Hall of Fame righty again 2-0 (missing by one out his first career shutout). Another shutout bid was lost July 24 when Lemanczyk surrendered a ninth-inning run to the Seattle Mariners in a heartbreaking 1-0 loss. An ankle injury brought an end to this late surge. Lemanczyk made just five appearances (11⅔ innings) after August 5 and finished the season with a record of 4-14, 6.26 in 136⅔ innings. In October he reported to the Jays' Florida Instructional League team in Dunedin, Florida, to straighten out his mechanics.
The six weeks spent in Florida proved valuable to Lemanczyk's confidence when he reported to spring training two weeks early. Despite Hartsfield's projected starting rotation — a list that did not include his 1978 Opening Day starter — Lemanczyk remained optimistic. "If I'm healthy, everything will fall into place," he said. "If I do as well as I think I can, I would expect to start. I don't expect to be a high-priced mop-up man."10 Though he began the season in the bullpen he was quickly moved into the rotation. On April 24, 1979 Rangers first baseman Pat Putnam's third inning leadoff single was the only thing that stood between him and a no-hitter as Lemanczyk collected his first career shutout. As the Jays crumbled to a franchise-worst 109 losses — a record that still stood through 2015 — he proved the only stopgap to many of the club's extended losing streaks. From April 15 through June 5, Lemanczyk won five of the mere nine victories captured by the bumbling Jays. "Thank God for small favors and big Dave," Hartsfield exclaimed.11 In June sportswriters began nominating Lemanczyk as an early candidate for Comeback Player of the Year as the hurler collected three wins — including his second shutout — and yielded just three earned runs over 35 innings. Placing among the league leaders in ERA (2.32) and complete games (9), Lemanczyk earned a spot on the AL All Star roster (he did not make an appearance in the Midsummer Classic). On July 28 he carried a perfect game through five innings and a no-hitter through six before Tigers second baseman Lou Whitaker drove a single to left field; Lemanczyk settled for his third — and last — career shutout.
Unfortunately, Lemanczyk was unable to maintain this level of success. A nerve inflammation in his back — an injury that initially surfaced in May — grew progressively worse and by late June Lemanczyk was deprived of normal feeling in his right leg. He tried to persevere with little gain. Excluding the July 28 shutout, Lemanczyk surrendered 28 runs in 28 innings through August 5 and was placed on the 21-day disabled list. He forced his way back into the rotation on September 3 only to be greeted roughly by the Orioles in 1⅓ innings. It was Lemanczyk's last appearance of the season and, after a promising start, he finished with a record of 1-6, 7.51 over his last eight appearances.
In 1980 a healthy Lemanczyk again reported early to spring training, having shed about 10 pounds. "I know they give everybody a prescribed weight for reporting and you get fined for every pound you are over," he said. "I wonder if you can get a rebate if you are under it?"12 Though he lost an arbitration filing, Lemanczyk came out ahead with a raise to $130,000. In late March the Yankees, hoping to bolster their right-handed pitching, inquired of him but nothing came of this. For the second (and last) time in his career Lemanczyk earned the Jays' Opening Day assignment but was chased in the first inning by the Mariners. A similar fate awaited him a month later against the Red Sox. Lemanczyk was moved out of the rotation and on June 3 was traded to the California Angels for a player to be named (a week later right-handed hurler Ken Schrom was sent to Toronto). He continued to struggle in California until the three-quarter mark of the season, at which point Lemanczyk yielded just one earned run over his last 15 innings (all in relief). He finished with a record of 4-9, 4.75 over 110 innings and drew his release on October 24.
The following year Lemanczyk reported to the White Sox spring training as a non-roster invitee without success. There is some indication he had an invite to the Yankees camp as well with similar results. Lemanczyk spent two years as a Yankees scout before retiring from baseball altogether. He returned to his new-found home in Rockville Centre, New York, southeast of Queens, where he was reunited with his wife and two sons. In November 1972 he married his college sweetheart, Joan Bacher, whom he met through the matchmaking efforts of her girlfriend. Lemanczyk's athleticism would show through in both sons. In the 1990s David Jonathon, the elder, attended the University of Bridgeport (Connecticut) on an athletic scholarship before carving a professional basketball career in Europe. He later became a fitness trainer servicing professional athletes. Matthew Jacob Lemanczyk attended Sacred Heart University in Fairfield, Connecticut, before being drafted as an outfielder by the St. Louis Cardinals in the 10th round of the 2002 amateur draft. A year later he advanced to the AA Tennessee Smokies in the Southern League — the same circuit his father toiled in 1973 — before retiring in 2005.
In 1988, Lemanczyk participated in the Men's Senior Baseball League, a circuit sprinkled with former major-league alums such as Jim Barr, Jose Cardenal and Rico Carty. A year later, following earlier stints as a players' agent and working in sales, he opened a baseball training center in Lynbrook, New York, called Dave Lemanczyk's Baseball Academy. "It's the perfect job," he related. "I don't have to grow up." On September 30, 1995, Lemanczyk was inducted in the inaugural class of Hartwick College's Athletic Hall of Fame. Six years later his name was added to the Syracuse Chiefs' Wall of Fame. This was followed by induction into the Greater Syracuse Sports Hall of Fame in 2006 and the New York State Baseball Hall of Fame in 2013.
As is often the case for an expansion team, Lemanczyk's meager win total in 1977 was not surpassed by a Blue Jays hurler until five years later. The 13 wins represented more than 35 percent of his career total, as Lemanczyk concluded an eight-year major league career with a record of 37-63, 4.62 in 913 innings.
Last revised: August 10, 2016
Acknowledgments
The author wishes to thank Mark Pattison for review and edit of the narrative.
Sources
Ancestry.com
Dave Lemanczyk, telephone interview, May 26, 2016; unattributed quotes derive from this conversation.
Notes
Born
August 17, 1950 at Syracuse, NY (USA)
If you can help us improve this player's biography, contact us.
http://sabr.org/sites/default/files/LemanczykDave.jpg
600
800
admin
/wp-content/uploads/2020/02/sabr_logo.png
admin
2016-08-10 18:49:14
2016-08-10 18:49:14
Dave Lemanczyk