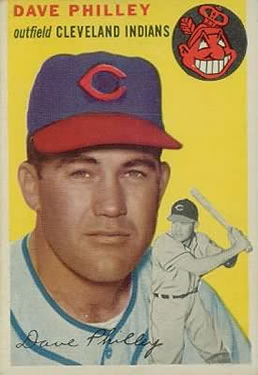 ---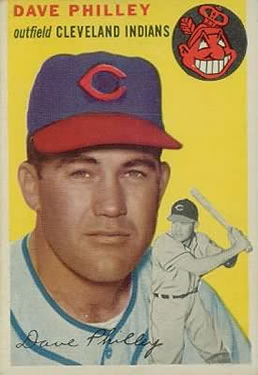 Equally at home rounding the bases or rounding up cattle, Dave Philley played major-league baseball with the same no-nonsense efficiency he successfully utilized in operating his 557-acre ranch and managing his other business enterprises.
David Earl Philley was born on May 16, 1920, in Garret's Bluff, a suburb of Paris, Texas, in the northeastern part of the state. He was the second son of Maxie and Leila Philley. Maxie played semipro ball in East Texas, while older brother Noel and younger brother Frank each had brief professional careers. On many a summer day in the Red River Valley, young Dave could be found playing sandlot baseball. He generally played on Boys Club Field, where hitting one out of the park counted for only a double. "You could hit the ball two blocks and it was still two bases," he once told his hometown newspaper.[fn]Tom Walts, Paris (Texas) News, June 20, 1990.[/fn]
Dave threw right-handed and batted left until a fall from a tree cracked a bone in his left arm. The injury made it impossible for the 8-year-old to swing from his natural left side. To keep playing, he learned to hit right-handed and became adept enough to switch-hit after the arm healed. He was mostly a catcher, but was versatile enough to play several other positions, even taking the mound to pitch on occasion. Philley was a standout in football and track at Chicota High School, where he also excelled at boxing and became a local Golden Gloves champ.
Chicago White Sox scout Hub Northern signed Philley in 1940 as a catcher. Farmed out to play for the Marshall Tigers in the Class C East Texas League, Philley was converted to an outfielder to take advantage of his fine speed and long, graceful strides. After hitting .264 for Marshall, Philley played in 1941 for the Monroe White Sox of the Class C Cotton States League, where he posted a .346 batting average, made a brief stop with Shreveport in the Texas League, then was brought up for a seven-game looksee with the Chicago White Sox in September. Manager Jimmy Dykes cautiously inserted him into the lineup against the Washington Senators. The Washington correspondent for The Sporting News reported: "A rookie named Dave Philley played left field for five innings and escaped without serious injury."[fn]Art Morrow, The Sporting News, May 27, 1953.[/fn] As an outfield newcomer, Philley completely missed one ball hit in his direction. Later a scorching line drive barely missed his head, prompting Dykes to "remove the youngster before being charged with manslaughter." (But not before Philley hit a double, walked twice, and scored four runs as the White Sox romped, 12-4.) Philley carried the tattered news clipping in his wallet for many years.
Philley entered the Army after the 1941 season and except for a few early 1942 games with St. Paul in the American Association, he served until the end of World War II. "I was proud to join the army when the war broke out and I never regretted my decision," he told a baseball researcher many years later.[fn]www.baseballhistorian.com[/fn]
Discharged from the service in 1946, Philley hit .329 with Triple-A Milwaukee and .363 in 17 games with the White Sox late in the season. The jury was still out on Philley. He became the White Sox' regular center fielder in 1947, hitting .258 in 143 games. His 21 stolen bases were second best in the league. On occasion, he'd showcase his strong throwing arm and overall versatility by competently filling in at third base. An impressed White Sox general manager Frank Lane commented," I don't know how he'll do, but I'll say this: He'll give it a battle. He's not afraid of anything."[fn]The Sporting News, May 27, 1953.[/fn]
Philley had married Nell Marie Bratcher, a native of Leonard, Texas, on June 11, 1942, and the couple settled into Paris, Texas. Sons Bill and Paul later completed the Philley family. Over the years, Dave partnered with his brother Noel in several local business ventures, including the cattle farm, a Tucker auto dealership, an insurance agency, and a Humble Service Center.
The 6-foot, 188-pound Philley posted a .287 mark in 1948, followed by a consistent .286 average in 1949. He realized he hit about 100 points higher from the left side and decided to start the 1950 season solely as a left-handed batter. The experiment ended when Yankee left-hander Tommy Byrne plunked Philley during a contest at Yankee Stadium. Dave resumed switch-hitting and finished the season with a .242 average and a career-best 14 home runs.
Former White Sox skipper Jimmy Dykes was running the Philadelphia Athletics in 1951, when the A's acquired Philley, along with outfielder Gus Zernial, in a seven-player deal also involving the Cleveland Indians. (Minnie Miñoso moved from the Indians to the White Sox in the trade.) By now Philley had become an accomplished flyhawk and his old field boss had no qualms about his improved defensive skills – or his defending ability. On numerous occasions, Philley saved his diminutive manager from surly pitchers and argumentative catchers. A bench-clearing brawl generally resulted in Dave's interceding by gruffly stating: "All right, you want to fight somebody – fight me. Let him alone. He's an old man." "Well, that took me down a peg or two," Dykes once commented. The hard playing Philley confidently stated, "I never look for trouble."[fn]The Sporting News, May 27, 1953.[/fn] But teammates and opposition alike agreed that he never ran from it either.
Philley posted identical .263 averages in 1951 and 1952 and enjoyed his most productive offensive season with the A's in 1953, when he hit .303 in 157 games. The strong-armed Philley led league outfielders in assists three times during his American League tenure. Dykes noted: "He has always been a sort of a ballplayer's ballplayer, faster than most and with a stronger arm than the majority." Philley also practiced hard to become an exceptional bunter and usually led the A's in sacrifices.
After his fine 1953 season, Philley held out for more salary than the Athetics offered in 1954. The A's said they couldn't meet Philley's salary demands, and traded him to Cleveland before the start of the season. Dave learned of the deal while negotiating a cattle sale in Oklahoma and couldn't have been happier with the news. "With Cleveland, I'll have a chance at the pennant. They're nice people and fine players. It's a real break for me," he told his hometown newspaper. Cleveland general manager Hank Greenberg said: "He's fast of foot, a good defensive man and an outstanding hustler. We've got another solid outfielder who can be very helpful to us. He's the kind of ballplayer we've been looking for."[fn]Bill Thompson, Paris News, February 21, 1954.[/fn]
Philley liked to win and called himself "the most hated player in the American League." He added, "I play so hard to win that if a man gets in my way, I go into him, knock him down. If I was a manager and one of my men didn't go into the second baseman to break up the double play, I'd fire him. That's part of team play."[fn]Bill Thompson, Paris News, April 7, 1954.[/fn]
The 1954 Indians may have been pennant-bound, but Philley proceeded to have the worst season of his career, hitting only .226. "But Cleveland teammates and fans agree that the Paris outfielder was the man who built the pennant fire under the Redskins," a Paris sportswriter commented in an admiring if ethnically offensive tribute.[fn]Bill Thompson, Paris News, October 10, 1954.[/fn] It was the only World Series appearance of Philley's career that October, as the New York Giants swept the Tribe in the Series. Philley started the first and third games, against Giant right-handers. In the first inning of the first game, at the Polo Grounds, he narrowly missed a two-run homer when his drive to deep right was hauled in at the fence by the Giants' Don Mueller. Later in the game his sharp drive struck a pitcher and resulted in an out.
Further down in the 1954 standings, the former St. Louis Browns, in their inaugural season as the Baltimore Orioles, finished a dismal seventh. The O's went from bad to worse as 1955 opened, going 20-53 under new manager Paul Richards. Desperate to add offensive punch, Richards was surprised to find the 35-year-old Philley available and promptly plucked the big Texan off the waiver list. This acquisition immediately sparked the team. "He's too good a hitter to be fooled consistently," explained Richards. "That's the penalty a line drive hitter must pay. Too many of those drives go straight into the gloves of the opposition. I'm not worrying about him."[fn]Salisbury (Maryland) Times, April 24, 1956.[/fn] Philley went on to hit .299 for the Orioles, primarily playing left field and third base. The Orioles improved to a 37-44 record after his arrival, earning him Most Valuable Oriole honors, as voted by the media. Back home in Paris, appreciative townfolk celebrated Dave Philley Day in October, when family, friends, and associates honored him during the halftime ceremonies of the Paris-Gainsville high-school football game.
In May of 1956 the Orioles traded the well-traveled Philley to the White Sox in a six-player deal. With Chicago he added first base to his growing résumé of defensive positions. On June 23 the White Sox won their sixth game in a row, 2-0 over New York, and moved within three games of the league-leading Yankees. Both runs came in a sixth-inning spurt that began after the fiery Philley was struck by on the shoulder by a pitch from right-hander Bob Grim, and charged the mound. Philley was thrown out of the game, but the White Sox proceeded to get the only two runs of the game. The White Sox trounced the Yankees the next day and moved within two games of the top, but at the end of the season they were 12 games behind the pennant-winning New Yorkers.
Philley was next shuttled to the Detroit Tigers in 1957. His .400 average as a pinch hitter was the highest in the major leagues. Dave enjoyed playing at Briggs Stadium, where, he said, he was able to see the ball very well. Overall, he hit .295.
Philley made his initial National League appearance when he was sold to the Philadelphia Phillies before the 1958 season. Acquired specifically as a pinch-hitting specialist, the 38-year-old veteran was still agile enough for outfield or first-base duties. He feasted on National League pitching to the tune of a .309 batting average in 91 games. The hard-charging veteran broke his nose on May 17 when he dived into the first-base stands chasing a foul ball; the collision kept Philley out of the lineup for just six days. He had 18 hits as a Phillies pinch-hitter, with eight coming consecutively at end the season. "Hitting, I guess you'd call it a battle of wits up there," he told his hometown paper. "You learn more about pitchers. You have to keep learning."[fn]Bill Thompson, Paris News, October 1, 1958.[/fn]
Philley extended his streak to nine in a row, then a National League record, when he connected in his first appearance of 1959. He elaborated on his approach to pinch-hitting in a 1959 interview with Ed Wilks of the Associated Press. "I walk to the plate with all the confidence in the world. I figure I've got only one shot at it. I relax as much as possible, yet manage to bear down. Of course it helps to know the opposing pitchers. I study them as much as I can."
After a productive .291 mark in 1959, Philley was sold to the San Francisco Giants in May of 1960. After hitting only .164 in 39 games, he was reunited with the Orioles and old manager Paul Richards on September 1. Although obtained specifically for pinch-hitting, the veteran was immediately pressed into the starting lineup after left fielder Gene Woodling suffered an injury. Philley hit .265 in 14 games for Baltimore.
In 1961 the Baby Birds of Baltimore sprouted wings and started to fly, winning 95 games and finishing a very respectable third. A solid group of youngsters was supported by 41-year-old Dave Philley. Coming off the bench, he laced 24 safeties, to establish an American League record. Overall he posted a .250 average in 99 games. Despite his pinch-hitting prowess, he was released by the Orioles at the end of the season. By then old boss Paul Richards had been hired away from the Orioles to develop the expansion Houston Colt .45's. Richards signed Philley as a free agent in March 1962 and on the same day traded the veteran to the Boston Red Sox, where Philley wrapped up his big-league career. He went on to manage in the Houston organization and also served as an instructor and scout in the Red Sox system.
Overall, Philley's 1,700 hits in 6,296 at-bats produced a lifetime batting average of .270, with 84 home runs, in a career spanning World War II to the Kennedy administration. Philley was a competitor on the field and strived to improve every aspect of his game. A believer in top physical conditioning, he was a proponent of fingertip push-ups, as taught to him by Ted Williams. He always got plenty of sleep and strictly adhered to training rules. The strongest drink he'd consume was soda pop and his only admitted vice was smoking an occasional cigar. In retirement, Philley continued to run his expansive cattle ranch east of Paris, Texas. He also became an active community leader and held local elected posts. He enjoyed fishing and quall hunting with fellow major leaguer and Paris native Eddie Robinson. Often in demand as an after-dinner speaker, he would happily appear before youth and church groups.
Philley was a devout Baptist. An article in his hometown paper commented, "Dave is a walking testimonial to the fact that you don't have to be a sissy to be a Christian. He speaks frankly about his religious views, and has no patience with major league idols who set bad examples for their fans with partying and carousing."[fn]Paris News, March 8, 1959.[/fn]
"I figured I'd play five or six years," said Philley. I had one thing on my mind and that was to play big-league ball. Nothing was going to interfere with that."[fn]Tom Walts, Paris News, June 20, 1990.[/fn]
Philley was at his ranch on March 15, 2012, when he died from an apparent heart attack; he was 91 years old.
This biography is included in the book Pitching to the Pennant: The 1954 Cleveland Indians (University of Nebraska Press, 2014), edited by Joseph Wancho. For more information, or to purchase the book from University of Nebraska Press, click here.
Sources
New York Times
Paris (Texas) News
Salisbury (Maryland) Times
The Sporting News
Washington Post
www.astroland.net
www.baseball-almanac.com
www.baseball-reference.com
Born
May 16, 1920 at Paris, TX (USA)
Died
March 15, 2012 at Paris, TX (USA)
If you can help us improve this player's biography, contact us.
http://sabr.org/sites/default/files/PhilleyDave.jpg
600
800
admin
/wp-content/uploads/2020/02/sabr_logo.png
admin
2012-01-04 20:27:48
2021-10-05 15:59:35
Dave Philley