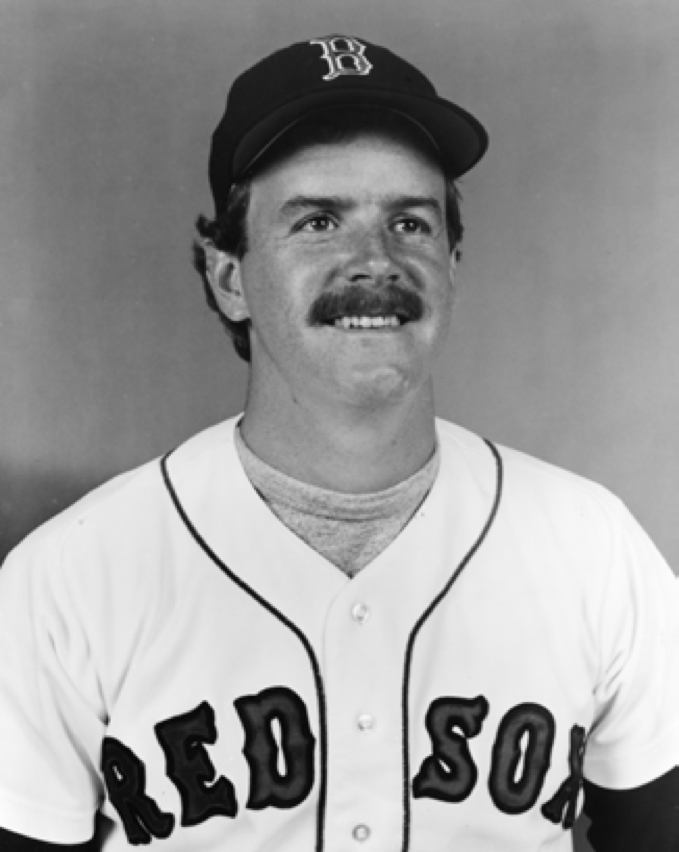 ---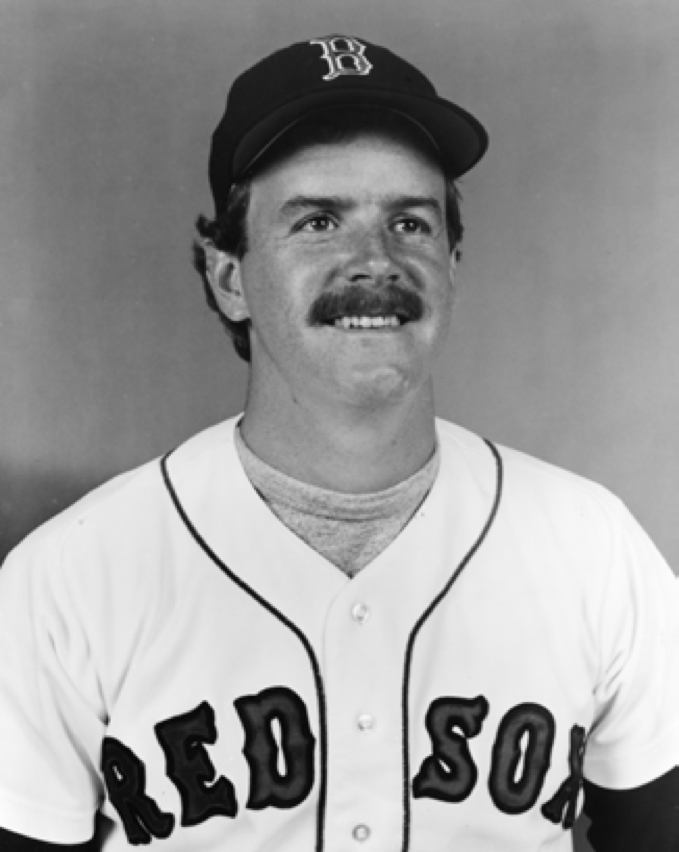 David Leslie Stapleton played his entire seven-year major-league career with the Boston Red Sox. An infielder and renowned utilityman, Stapleton made his lone World Series appearance as a member of the 1986 American League Champion Red Sox.
Stapleton was born on January 16, 1954, in Fairhope, Alabama. He grew up in Loxley, Alabama with his brothers, Jim, Larry, and John, and sisters Judy and Sandy. His father, Jim Stapleton, was a farmer who worked in the timber business, while his mother, Hazel, ran the household.1
A 6-foot-1, 180-pound second baseman, Stapleton smacked 39 doubles in his collegiate days for the University of South Alabama Jaguars.2 Before starring for the Jaguars, he played two years at Faulkner Union, a junior college. He attended Robertsdale High School, a private institution. Stapleton led the Jaguars in RBIs (69) during the 1975 NCAA Division I season and was named to the university's athletic Hall of Fame in 1993. The Red Sox drafted right-hander Stapleton in the 10th round of the 1975 amateur draft.
Playing for the Winter Haven Red Sox in the Single-A Florida State League in 1975, Stapleton hit .241 with just 10 extra-base hits in 56 games played. He batted .288 the following year in Winter Haven, meriting a promotion to Double-A Bristol for the start of the 1977 season. Stapleton led the Bristol Red Sox with a .306 batting average in 86 games before his elevation near the end of the season to Pawtucket, where he hit .243 in 25 contests. He spent two seasons in Pawtucket, improving his average from .259 in 1978 to .306 with 15 homes and 64 RBIs in 1979, figures that earned him the International League MVP award. After Stapleton's torrid start to the 1980 season — a .340 batting average with three home runs and 19 RBIs in 37 contests — he was promoted to the Red Sox at the end of May.
Appearing in his first major-league game on May 30, 1980, at Fenway Park, Stapleton went 1-for-4 against the Milwaukee Brewers. He recorded his first career hit in his third at-bat, doubling off Lary Sorensen to begin the bottom of the fifth inning. John Flinn entered the game for the Brewers and Stapleton advanced to third on a groundout by Carl Yastrzemski, then scored his first career run on a sacrifice fly hit by teammate Tony Perez. The Red Sox won the contest 5-3.
A season-ending knee injury to Jerry Remy — who underwent the first of five operations on his knee in 1980 — opened the door for Stapleton to be a full-time starter with the Red Sox.3  Stapleton took advantage of the opportunity, and had the best season of his career in his rookie year. He registered a .321/.338/.463 batting line and bashed 33 doubles in 106 games. Stapleton finished second in the American League Rookie of the Year voting behind Cleveland Indians outfielder Joe Charboneau.
Unable to replicate his rookie success in 1981, Stapleton lost the starting second baseman duties to Remy, who hit .307 in his return to action in 1981. Stapleton batted .285 — the start of a trend that saw his batting average drop each season for the remainder of his career. No longer the everyday second baseman, Stapleton began his role as a utility player, starting at various infield positions. As of 2015, he was one of 19 major leaguers to start  at least 12 games in a season at first base, second base, third base, and shortstop — a feat he accomplished in 1981.   
Stapleton overtook Tony Perez for the starting first-baseman job in 1982. His numbers continued to dip, as he posted a .264/.305/.398 slash line. He kept the starting duties the following season, hitting .247 with 31 doubles in 151 games played. That season proved to be Stapleton's final as a starter. He appeared in just 82 games in the last three seasons (1984-86) of his career. The final regular-season game of Stapleton's career came on October 5, 1986, at Fenway Park against the New York Yankees. Stapleton entered the contest in the top of the eighth inning as a defensive replacement at second base for Marty Barrett. His lone at-bat came in the bottom of the ninth against the Yankees' Scott Nielsen, who pitched a 7-0 shutout and retired Stapleton on a groundout to third base.
In the final season of his career, Stapleton was primarily used as a defensive replacement. In particular, he often relieved first baseman Bill Buckner, who endured constant pain in his legs (particularly chronic ankle issues) throughout the 1986 season.4 Red Sox manager John McNamara used Stapleton at the end of all seven of Boston's postseason victories in 1986.5 Yet with the Red Sox leading the New York Mets, 5-3 (and holding a 3-2 series advantage) in Game Six of the World Series, McNamara opted not to sub in Stapleton for Buckner in the bottom of the 10th inning. This error in judgment saw the Mets complete their improbable three-run rally with a Mookie Wilson groundball through the legs of Buckner. Buckner's error completed the comeback for the Mets, who went on to win Game Seven and capture their second World Series title.
Rumors swirled that McNamara kept Buckner in the game because he felt his first baseman deserved to be on the field when the Red Sox got the final out to clinch the championship. McNamara disputed that claim in a 2011 interview on MLB Network, which was celebrating the 25-year anniversary of the classic Mets-Red Sox World Series.
"Buckner was the best first baseman I had," McNamara said. "And Dave Stapleton has taken enough shots at me since that he didn't get in that ballgame, but Dave Stapleton's nickname was Shakey. And you know what that implies. I didn't want him playing first base to end that game, and it was not any sentimental thing that I had for Billy Buck."6
McNamara said he didn't trust Stapleton in the field (hence the "Shakey" reference), but used the infielder at the end of every previous playoff victory. Furthermore, Stapleton played terrific defensively in 1986, recording a perfect 1.000 fielding percentage during the regular season and in the playoffs. Stapleton (who posted a .993 career fielding percentage) told Steve Buckley for his book Boston Red Sox: Where Have You Gone? that McNamara was "afraid" to upset the veteran players (e.g., Buckner) and said that was the main reason he did not get the call to play first base in the potential championship-closing inning.7
Stapleton final major-league action came in Boston's 4-2 triumph in Game Five on October 23 at Fenway Park, as a defensive replacement for none other than Bill Buckner in the top of the ninth inning.
Stapleton's career had seemed destined to last a decade-plus, but he was finished after seven seasons. He was released by the Red Sox after the 1986 season. He signed with the Seattle Mariners on December 23, but was cut by the team just before the 1987 season.
Stapleton batted .271 for his career with 41 homers, 8 triples, and 118 doubles. He registered 224 RBIs, scored 238 runs, stole 6 bases, walked 114 times, slugged .398, and posted a .310 on-base percentage. Among major leaguers who played for at least seven seasons, Stapleton is the only hitter in history whose batting average declined in each sequential season over his career.8
After being released by the Mariners, Stapleton started David Stapleton Builders, a house-building company, in Alabama in 1989. Stapleton, a member of the Baldwin County Home Builders Association, also spent his post-baseball years coaching his children in baseball from the time they were 4 years old until their completion of Little League.9
Stapleton fathered three children (Shaun, Joshua, Cara) with his wife, Cheryl, a former New England Patriots cheerleader and a lifelong Red Sox fan.10 Shaun, the oldest child, graduated from Auburn University and as of 2015 worked as a project manager for a road-building company. The middle child, Joshua, played college baseball at his father's alma mater in his freshman year before transferring to Auburn University, where he started games from 2006 to 2008 at designated hitter, third base, and right field.11 In 2015 he owned the Josh Stapleton State Farm Agency, in Cartersville, Georgia. Cara, a graduate of the University of Mississippi, was an event planner in Washington, D.C.
Notes
1 Author interview with Dave Stapleton, July 21, 2015.
2 al.com/sports/index.ssf/2013/12/south_alabama_all-time_teams_s.html
3 "Evans Has Surgery," Victoria Advocate, November 1, 1984.  Retrieved from  news.google.com/newspapers?nid=861&dat=19841101&id=Xi1JAAAAIBAJ&sjid=ln8MAAAAIBAJ&pg=4732,411010&safe=strict&hl=en.
4 boston.redsox.mlb.com/bos/fan_forum/all_fenway_team_bios.jsp?bio=BENCH_Stapleton.
5 nytimes.com/2011/11/08/sports/baseball/former-red-sox-manager-john-mcnamara-recalls-final-out-that-wasnt-to-be.html?_r=0.
6 Ibid.
7 Steve Buckley, Boston Red Sox: Where Have You Gone? (Champaign, Illinois: Sports Publishing, 2005), 43.
8 soshwiki.com/index.php?title=Dave_Stapleton.
9 Author interview with Dave Stapleton.
10 Buckley.
11 auburntigers.com/sports/m-basebl/mtt/josh_stapleton_236269.html.
Born
January 16, 1954 at Fairhope, AL (USA)
If you can help us improve this player's biography, contact us.
http://sabr.org/sites/default/files/Dave%20Stapleton.png
600
800
admin
/wp-content/uploads/2020/02/sabr_logo.png
admin
2012-01-04 20:45:25
2021-02-13 10:53:30
Dave Stapleton