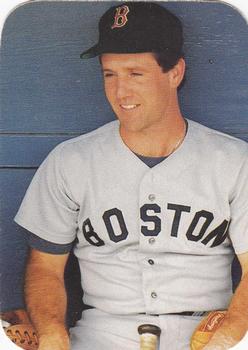 October 23, 1986: Red Sox take 3-2 lead as World Series heads back to New York
---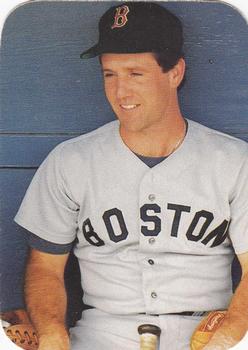 After Game Four of the 1986 World Series, reporters asked Boston Red Sox manager John McNamara about his slumping hitters, notably former batting champion Bill Buckner and reigning batting champ Wade Boggs, who against the New York Mets were hitting a combined .171 (6-for-35), effectively neutering the advantage provided by their hottest hitter, Marty Barrett, who batted between the lefties in the lineup and was hitting .412 (7-for-17). "Sure I'm concerned," the manager replied, "but what am I going to do about it."1 Starting Bruce Hurst would help a great deal.
Buckner and Boggs were not the heroes in Game Five, but they each hit safely against Dwight Gooden. The Red Sox hammered Dr. K again, waiting him out as he tried to beat them with his curveball. On a night when his fastball did not have its usual movement, half of his 82 pitches were curves. Boston Globe reporter Dan Shaughnessy likened that idea to "a Playboy centerfold trying to impress her date in the kitchen."2 Gooden's strategy cooked up trouble. He reached two strikes a dozen times, but fanned just three while allowing seven singles and two triples. Boston also coaxed two walks from Gooden and took advantage of a key infield error.
With Boston leading 1-0 on a Spike Owen sacrifice fly, Bill Buckner hit a grounder that shortstop Rafael Santana mishandled. Jim Rice walked and Don Baylor struck out, bringing up Dwight Evans with two outs. Two days in a row Evans had been retired with the bases loaded to end the first inning; now up with two men on in the third, he lined a Gooden fastball into right-center field with Buckner hobbling home and bellyflopping across the plate as the throw sailed wide. "He's got the Red Badge of Courage on his chest," NBC's Vin Scully said as Buckner scraped his battered body off the ground for congratulations in the Boston dugout.3
Bruce Hurst, pitching on four days' rest, was not as sharp as he'd been in Game One, but he was just as effective. He stranded two Mets in both the third and fifth, striking out Lenny Dykstra and retiring Tim Teufel after the Mets put runners on second and third with one out. Boston doubled its lead in the home fifth as the first three Red Sox hit safely to start the inning. Davey Johnson handed the ball to Sid Fernandez.
Fernandez, an All-Star, 16-game winner, and 200-strikeout pitcher in 1986, had been banished to the pen when the Mets manager cut his four-man rotation to three after his team's Shea Stadium debacle to start the World Series. Asked to stem the tide in Game Five, Fernandez allowed a run-scoring double to Dave Henderson to make it 4-0, which was no crime given that Hendu's average stood at .471 as he stood on second base. But Fernandez got out of the jam and allowed just two other hits, walked none, and fanned five while pitching the final four innings. It may have been too late to save the game, but just giving a night's rest to weary Mets relievers Roger McDowell and Jesse Orosco was a positive.
Hurst didn't need any relievers, though John McNamara had the bullpen warming up as the game neared its conclusion. The Mets finally scored on Hurst after 15⅓ innings of frustration when Tim Teufel hit an opposite-field home run on an 0-and-2 pitch in the eighth. McNamara had batted for Hurst in the ninth inning of Game One with a one-run lead, but at Fenway Park, with the designated hitter precluding Hurst from batting, McNamara stayed with the southpaw. He did send in a new first baseman, however. As he'd done in Boston's six previous postseason wins in October 1986, Dave Stapleton came in for defense. He made the first two putouts of the ninth. The third out did not come as easily.
Mookie Wilson doubled to left and Rafael Santana singled to score Wilson and bring the tying run to the plate. Up came Lenny Dykstra, who'd homered the past two nights and won a game in New York with a homer in the ninth inning in the NLCS. This time he chased a high fastball for strike three and Boston, with its 4-2 win, led the Series once more, breaking the visiting team's mojo to boot. Finally, a home team won a game in the 1986 World Series. It would not be the last time.
This article originally appeared in "The 1986 New York Mets: There Was More Than Game Six" (SABR, 2016), edited by Leslie Heaphy and Bill Nowlin. Read more game stories from the book at the SABR Games Project by clicking here.
Notes
1 New York Daily News Scrapbook History of the N.Y. Mets 1986 Season (New York: New York News, 1987), 235.
2 Dan Shaughnessy, One Pitch Away (New York: Beaufort Books Publishers, 1987), 247.
3 New York Mets 1986 World Series Collector's Edition, Game Five. MLB Official DVD, A&E Home Video, 2006.
Additional Stats
Boston Red Sox 4
New York Mets 2
Game 5, WS
---
Fenway Park
Boston, MA
Box Score + PBP:
Corrections? Additions?
If you can help us improve this game story, contact us.
Tags
http://sabr.org/sites/default/files/BarrettMarty_0.jpg
600
800
admin
/wp-content/uploads/2020/02/sabr_logo.png
admin
2016-12-20 13:59:20
2020-04-17 13:34:07
October 23, 1986: Red Sox take 3-2 lead as World Series heads back to New York