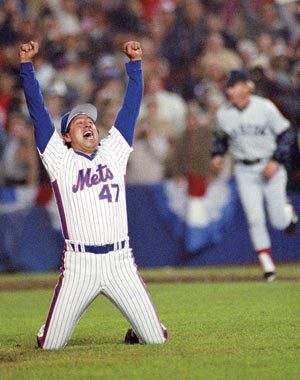 October 27, 1986: Mets rally late to beat Red Sox in Game Seven
---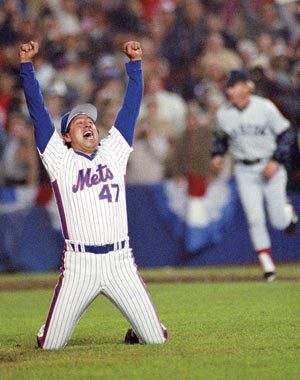 In the years that followed, it was simple to say that victory in Game Seven was preordained after their miraculous escape from Game Six, but triumph in the deciding game was far from assured. As in the 1975 World Series, the Red Sox — after their own legendary '75 Game Six win on Carlton Fisk's home run — took a 3-0 lead in Game Seven. Both 1975 and 1986 ended with Game Sevens Boston wished it could it forget but could not; those with longer memories recalled Game Sevens from 1946 and 1967.
First, all parties had to wait an extra day in 1986. After the Mets' dramatic Saturday-night victory, Sunday was a washout and the teams convened again on Monday night. The two baseball teams did not only have to contest each other, but the game also went up against Giants-Redskins from the Meadowlands on Monday Night Football. The competition was a total rout in terms of ratings, with baseball on NBC garnering a 38.9 rating and 34 million viewers, while the football game had just an 8.8 rating, ABC's lowest since MNF debuted in 1970. In addition, the reactions from the crowd at Giants Stadium were such that they confused the football players on the field who were not following the goings-on at Shea Stadium.1 What a game they missed.
Dwight Evans and Rich Gedman hit back-to-back home runs for the Red Sox in the second inning, with Gedman's ball bouncing off irate Darryl Strawberry's glove on its way over the fence. Then Wade Boggs singled home Dave Henderson and it was 3-0. Two innings later, with a man on second and two outs, Mets starter Ron Darling was replaced by Sid Fernandez, an All-Star who had been bounced from the rotation when the Mets fell behind two games to none. Now he played as important a role as any Met in 1986. Standing between the Mets and oblivion, El Sid walked his first batter, batting champion Wade Boggs, to bring up Marty Barrett, who had already tied a World Series record with 13 hits. Fernandez got him to fly to right to end the inning and start a stretch of seven straight batters retired to take the Mets through the top of the sixth.
Like Ron Darling, Boston's Bruce Hurst was making his third start of the World Series. The rainout bumped Oil Can Boyd from the rotation, and Hurst, pitching on three days' rest, was brilliant. He retired 16 of the first 17 batters with Rafael Santana grounding out to start the home sixth. And just like that, everything changed.
Lee Mazzilli, batting for Fernandez, singled to left. Another switch-hitter, Mookie Wilson, followed with a single. The tying run came to the plate for the first time in the game, yet Hurst could have gotten out of the jam by getting Tim Teufel to hit into a double play. He pitched carefully to Teufel, who had hit him better than any other Met in the Series, going 4-for-9 and breaking up Hurst's string of 15⅓ innings of shutout ball in the Series with a home run in Game Five. In Game Seven, Teufel walked on five pitches to load the bases.
That brought up a left-handed batter against the southpaw, but lefty vs. lefty was secondary as Keith Hernandez stepped to the plate. He was as qualified for the job as any player in Mets history. To that point he had the franchise's highest career average by 22 points (Hernandez at .309 topped Steve Henderson's .287 for best average in at least 1,000 at-bats by a Met through 1986) and he had led the juggernaut '86 Mets in batting average, runs, hits, and doubles.2 And Hernandez as a St. Louis Cardinal had come through in almost this exact same spot in the 1982 World Series against the Milwaukee Brewers, following a walk by a lefty (Bob McClure) to a right-handed batter (Gene Tenace). Back then Hernandez cracked a game-tying two-run single off McClure and the Cards went on to beat the Brewers.
"I was like, 'You've got to be kidding me,'" Hernandez said of the similarities between his sixth-inning World Series at-bats in Game Seven in '82 and '86. "It was the same situation basically, which I thought was kind of ironic."3
And he came through again. Hernandez's two-run single got the Mets on the board. And while Hernandez didn't tie the game as he had in the 1982 World Series, Gary Carter followed by knocking in the tying run.
Hurst got through the inning, but when Tony Armas pinch-hit for him the following inning, it became a battle of bullpens – and that played to the Mets' strength. Roger McDowell, who had won 14 games and saved 22 during the season, fanned Armas while setting down the Red Sox in order in the seventh. In the bottom of the inning Calvin Schiraldi returned to the scene of New England's nightmare two nights earlier. Ray Knight, who scored the winning run on Bill Buckner's fateful error in Game Six, scored the tiebreaking run again, this time under his own power. He drilled Schiraldi's fastball over the wall in left-center as the Mets took a 4-3 lead. Schiraldi allowed a hit to Lenny Dykstra, a wild pitch, and an RBI single to Rafael Santana. After McDowell's sacrifice, John McNamara replaced Schiraldi with Joe Sambito, who walked two batters (one intentionally) and permitted an insurance run when Hernandez drove home another run home against a lefty. Bob Stanley ended the rally by retiring Gary Carter.
Boston came ever so close to tying the score in the eighth inning. In his 82nd appearance and 142nd inning of relief (postseason included), McDowell was done. The first three Red Sox got hits off him, with Dwight Evans' two-run double making it a 6-5 game. Jesse Orosco, who had saved 21 games during the year, plus three wins and a save in October, came in with the tying run on second and no one out. Rich Gedman hit a bullet that was snagged by Wally Backman, brought in for defense. Orosco fanned Dave Henderson, and Don Baylor, in his only at-bat of the Series in the NL park, grounded out to end the threat.
The Mets opened up the lead when Darryl Strawberry homered and Jesse Orosco – in the old "butcher boy play" – pulled back a bunt attempt and singled through the vacated hole to drive in the final tally and allow the Mets to take an 8-5 lead into the ninth. With two down, nobody on, and New York preparing to explode, Marty Barrett swung through the fastball. Orosco's glove went airborne, and the Mets were world champions.
What had been a rather ho-hum World Series for five games turned into an all-time classic thanks to the comebacks in the final two games. Parachutists dropping in, balls going through infielders' legs, balls bouncing off gloves into the stands for home runs, teams skipping workouts, botched bunt plays, muffed rundowns, designated hitters, pitching changes that were made, pitching changes that weren't, and curses unleashed by long-dead sluggers – it wasn't a work of art, but the images produced in the 1986 World Series were indelible marks on the baseball landscape. The pain stayed with Red Sox fans for 18 years, until they finally won their next World Series, and the memory of '86 glory would have to last as Mets fans endured decades without a title and their own brand of demons.
This article originally appeared in "The 1986 New York Mets: There Was More Than Game Six" (SABR, 2016), edited by Leslie Heaphy and Bill Nowlin. Read more game stories from the book at the SABR Games Project by clicking here. It was also published in "Met-rospectives: A Collection of the Greatest Games in New York Mets History" (SABR, 2018), edited by Brian Wright and Bill Nowlin. To read more articles from this book at the SABR Games Project, click here.

Notes
1 Michael Goodwin, "NBC Scored in Game 7, Too," New York Times, October 29, 1986.
2 1987 Mets Information Guide: 216.
3 Author interview with Keith Hernandez, December 22, 2014.
Additional Stats
New York Mets 8
Boston Red Sox 5
Game 7, WS
---
Shea Stadium
New York, NY
Box Score + PBP:
Corrections? Additions?
If you can help us improve this game story, contact us.
Tags
http://sabr.org/sites/default/files/OroscoJesse.jpg
600
800
admin
/wp-content/uploads/2020/02/sabr_logo.png
admin
2016-11-02 04:03:49
2020-04-17 13:34:07
October 27, 1986: Mets rally late to beat Red Sox in Game Seven