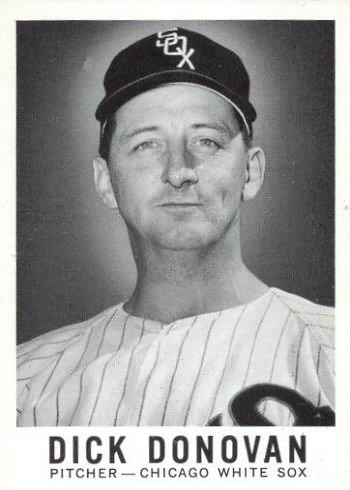 ---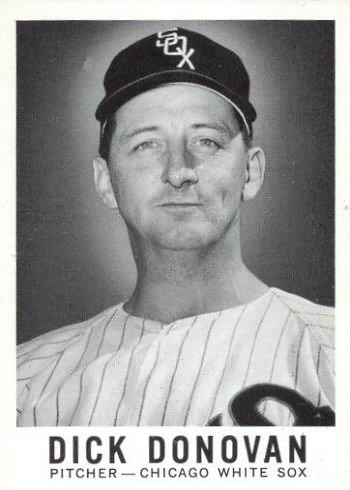 Ken Coleman, the legendary broadcaster of the Cleveland Indians, Boston Red Sox, and other teams, was truly thrilled when he heard that pitcher Dick Donovan was coming over to Cleveland in a trade with the Washington Senators after the 1961 season. Coleman and Donovan had been teammates on North Quincy (Massachusetts) High School baseball teams – only it was Coleman who was the pitcher; Donovan was the shortstop. Coleman regaled television viewers of Indians games with stories of Donovan when they were coming up together through their boyhood days.
"Dick became such a good pitcher for the CYO [Catholic Youth Organization] that he was invited to pitch for the American Legion All-Star team in an exhibition," recalled Coleman. "Dick put on his uniform and rode his bike to the game. When he got there, they thanked him for coming and told him he would work in the bullpen. He protested, saying that was not the promise that was made. He got on his bike and started to pedal out of the park. On his way, he ran into his dad, who asked him where he was going. Dick told him what happened and his dad began to laugh. Dick then got back on his bike and went home. His dad made no effort to stop him. To me, this incident typified the makeup of Dick. He still has the determination to do what he thinks is right, and has the wonderful ability to see the humor in a situation. This latter quality he obviously gathered from his father."1
Richard Edward Donovan was born on December 7, 1927, in Boston, the youngest of five children born to Jeremiah and Gertrude Donovan. Dick attended North Quincy High School and enjoyed success on the baseball diamond, first as a shortstop and then as a pitcher his senior year. He was signed by scout Jeff Jones of the hometown Boston Braves. Jones was overwhelmed by Donovan, calling him "the fire-ballingest pitcher" he'd seen in the scholastic ranks since Bob Feller pitched for the Van Meter, Iowa, High School team in the '30s. Before reporting to the Braves, Donovan served three years in the United States Navy, from 1944 to 1947.
After his discharge, Donovan bounced around in the Braves' minor-league system, making stops in Fort Lauderdale of the Florida International League (1947), Evansville of the Three-I League (1948), and Hartford of the Eastern League (1949), with a brief stint at Milwaukee of the American Association, the Braves' top farm team, in '49. Donovan posted a 12-6 record with an ERA of 2.66 at Hartford, and his ticket was finally punched to break camp with the Braves for the 1950 season.
Donovan made his major-league debut against the Brooklyn Dodgers and Don Newcombe on April 24. The Braves lost, 6-4, and Donovan was lifted in the seventh inning by manager Billy Southworth. Donovan started only seven games for Boston over the next three years, accumulating a record of 0-4. He spent most of his time pitching for Milwaukee, and helped the team claim the American Association flag in 1951. But despite pitching well for the Brewers, he was used sparingly by the parent team in Boston, and he could never find his pitching groove. From 1950 through 1952, he was 0-4 for the Braves and 14-17 for the Brewers.
The Braves moved to Milwaukee for the 1953 season, and sold Donovan outright to Toledo, now the Braves' Triple-A farm. Donovan refused to report, saying that if he went there he would be buried in the Milwaukee organization. He demanded to be traded. "I believed I could win in the major leagues and wanted a chance to prove it,"2 said Donovan.
At first, his request was denied. Braves general manager John Quinn eventually relented and granted Donovan his wish in principle, but Quinn refused all of the trade offers that were made for Donovan. Unable to work out a deal with Quinn, Donovan got a call from his former roommate with Boston and Milwaukee, Gene Mauch, who was the player-manager of the Atlanta Crackers of the Southern Association. He begged Donovan to come down to Atlanta.
One reason he liked it in Atlanta so much was the relationship he struck up with pitching coach Whitlow Wyatt. "That was the best thing that ever happened to me," said Donovan. "It brought me under the wing of Wyatt. If I make the grade this time, I'll owe it all to Wyatt. It was a slider, you know, that made him a winner with Brooklyn after he had slid back to the minor leagues. But nobody taught it to Wyatt. He picked it up accidentally. 3"
Even though Donovan got his wish to play for another organization when he was sold to Detroit after the 1953 season, he was overjoyed when Tigers manager Fred Hutchinson sent him back to Atlanta for the 1954 season. (Wyatt had succeeded Mauch as manager.) The idea of pitching for Wyatt rather than riding the bench for the big-league club was much more appealing. Wyatt had confidence in his young hurler, and showed patience with him. He taught Donovan how to throw the slider, to go along with his tremendous curve and fastball. Donovan responded with an 18-8 record for Atlanta in 1954, after having gone 11-8 in 1953. Considered a good hitter for a pitcher, he socked an astonishing – even in the hitter-friendly Southern Association – 12 home runs and had 32 RBIs for the Crackers, and was the team MVP in 1954.
At the end of the 1954 season, Donovan's contract was sold to the Chicago White Sox. Manager Marty Marion inserted him into the starting rotation to start the 1955 season. Donovan made sure that Marion did not regret it, recording a 15-9 record with a 3.32 ERA. He was named to the American League All-Star team in July, though he didn't get into the Midsummer Classic, played that year at Milwaukee's County Stadium. Donovan's record was 13-4 on July 30 when he was stricken with appendicitis. After the appendectomy, he made a rapid recovery and resumed workouts in early August. He made his first start back on August 21 against the Tigers and won, giving up only one earned run and raising his record to 14-4 for the year. However, for the rest of the season, Donovan posted just a 1-5 record, raising the question of what might have been if the big Irishman had not had surgery in August. The White Sox finished the season five games behind pennant-winning New York.
The White Sox finished in third place in 1956, and in second place in 1957 and 1958, as the Yankees claimed the American League flag each of those years. Al Lopez replaced Marion as the Sox skipper in 1957. Donovan and Billy Pierce formed a formidable one-two punch of the Sox pitching staff over those three years. But the Sox had little else in the starting rotation and an often unreliable bullpen. Donovan averaged 14 wins against 10 losses, 15 complete games, 234 innings pitched, and 112 strikeouts to 52 walks. His best year was 1957, when he went 16-6 with a 2.77 ERA. Donovan and Pierce led the American League in complete games with 16 apiece in 1957.
As 1959 dawned, Dick made a major change in his life when he married the former Patricia Casey of Quincy on February 7. Dick and Patricia, a stewardess for United Airlines, were married for just short of 38 years.
Another change for Donovan and his White Sox teammates that year was that it was the season Chicago brought home the American League pennant for the first time since 1919. The Chisox, nicknamed the "Go-Go Sox," finished five games ahead of second-place Cleveland. The White Sox teams of the late 1950s were built around pitching, defense, and speed on the basepaths to take advantage of the spacious contours of Comiskey Park. Luis Aparicio led the American League in stolen bases every season from 1956 to 1964, and teammates Jim Landis and Jim Rivera were constantly among the league leaders.
As for Dick Donovan, he suffered from a slow start to the season and later from a sore shoulder, causing him to miss a month. At times he pitched in bad luck. In a game against Detroit on April 17, Donovan had a no-decision (in a game Chicago ultimately won) because a drive by Eddie Yost hit the foul pole for a two-run homer.
As 1959 wore on, it became apparent that New York was not going to stand in the way of the Sox and their first pennant in 40 years; Cleveland proved to be the main competition. The White Sox arrived at Cleveland Stadium for a four-game set in late August holding a slim lead of a game and a half over the Tribe. Cleveland was riding high with an eight-game winning streak and seemed to be building momentum. More than 165,000 turned out for the weekend series as the Sox swept the Tribe and took a commanding 5½-game lead over the Indians. Donovan beat Jim Perry, 2-0, in Saturday's game to improve his record to 8-6. In his only shutout of the season, he scattered five hits and struck out four. After the White Sox won Sunday's doubleheader, they were welcomed home at Chicago's Midway Airport by a reported throng of 10,000 Sox fans. Cleveland never recovered, and the White Sox coasted to the American League title. Donovan finished the season with a 9-10 record and a 3.66 ERA.
In the World Series, Chicago faced the Los Angeles Dodgers, who were making their first postseason appearance since moving from Brooklyn after the 1957 season. White Sox staff ace Early Wynn mowed the Dodgers down in Game One, 11-0. The Dodgers won four out of the next five games, however, to win the world championship. Donovan lost a close Game Three to Don Drysdale, 3-1, giving up two earned runs in 6 2/3 innings, with five strikeouts.
In Game Five, Donovan came out of the bullpen in relief of Bob Shaw and Billy Pierce to earn the save. Bob Burnes of the St. Louis Globe-Democrat wrote that the battle between Donovan and the Dodgers' Carl Furillo in the eighth inning was not only one of his top thrills of the Series, but one of the all-time great moments in sports. "In that game, the White Sox had their backs to wall," wrote Burnes. "They were down three games to one, and were nursing a 1-0 lead from the fourth inning. Then the Dodgers loaded the bases with one out as Donovan replaced Bob Shaw and Carl Furillo came in as a pinch-hitter. It was a great duel between two tremendous competitors and it was unbelievable Donovan got him out on a pop fly and kept the Sox alive for another day. It was one of the best jobs of clutch pitching that I have ever seen."4
In 1960, the White Sox had high expectations, but New York returned to first place and Chicago slumped to third in the American League, 10 games behind the Yankees. Lopez used Donovan for only 79 innings because he believed the pitcher was nursing a sore arm for much of the season. Donovan went 6-1, but his ERA ballooned to 5.38. He started only eight games, and was primarily used out of the bullpen. After the season, Donovan was left unprotected in the expansion draft, and was claimed by the new Washington Senators franchise for $75,000.
Under Washington manager Mickey Vernon, Donovan bounced back and had a good year for the last-place Senators in 1961. As fate would have it, the Senators opened their home schedule against Chicago. Donovan was pumped up to share Opening Day honors with Washington and new President John F. Kennedy, a fellow native of Massachusetts. But he was unsuccessful, as the White Sox pushed over the go-ahead run in the top of the eighth inning for a 4-3 win.
Still, however, Donovan had a stellar year. His record was only 10-10, but he led the major leagues with a sparking 2.40 ERA, and was the only representative of the Senators to be picked for the All-Star team; he pitched shutout ball for two innings in the year's first of two All-Star Games, at San Francisco's Candlestick Park.
"Donovan is a real professional," Vernon said. "He knows how to pitch and gives you an all-out effort. Dick just doesn't throw the ball — he has every pitch planned."5
Washington finished tied in the American League basement, 47½ games off the pace, which made Donovan's season all the more incredible. He gave up only 138 hits in 169 innings.
So it was shocking that the Senators traded Donovan, catcher-outfielder Gene Green, and infielder Jim Mahoney to Cleveland for outfielder Jimmy Piersall, who had batted .322 in 1961, the third highest average in the American League. The temperamental, sometimes volatile outfielder had just been given a $5,000 bonus for his good behavior during the 1961 season.
One Indian who was thrilled that Donovan was joining the team was outfielder Willie Kirkland. "Donovan alone will help us more than Piersall," said Kirkland. "Piersall may have been a team player at the start when we were winning. But later, he was out for Piersall. Maybe he was out trying to win the batting championship. He'd get two hits and say, 'The hell with it,' and leave the game or start bunting."6
Donovan gave manager Mel McGaha and Indians fans something to cheer for when he won the 1962 season opener in Boston, shutting out the Red Sox, 4-0, scattering five hits. A week later, Dick blanked the Red Sox again, 5-0. He had a string of 19 scoreless innings to start the season.
Donovan raced out to an 8-0 start for the Tribe, making general manager Gabe Paul look like a genius. He and catcher John Romano, a former teammate with the White Sox, both were named to the American League All-Star team for the July 10 game in Washington (the first of two All-Star games that year). Donovan surrendered one run in two innings as the National League triumphed, 3-1. He was also named to the second All-Star game, but did not pitch.
The Indians finished sixth in the 10-team American League in 1962, but Donovan was a 20-game winner for the first time. He finished with a record of 20-10 and a 3.59 ERA while pitching 251 innings for the Tribe, who finished with a record of 80-82. He was named by The Sporting News as its Pitcher of the Year and to its All-Star Team for the American League. Donovan was also named the Indians' Man of the Year for 1962. He cashed in at contract time, signing for a reported $40,000 for the 1963 season.
When Donovan was toiling in Atlanta, trying to develop his slider to go along with his curve and fastball, he and Whit Wyatt developed a relationship that extended past the baseball diamond. Wyatt got Donovan interested in selling insurance as a way to earn extra money during the offseason. Soon Donovan had his own insurance business, operating out of his home in Quincy. In 1963, he received his stockbroker's license, and was now working for a prestigious firm in Boston.
As good as the 1962 season was for Donovan, 1963 was a down season. He started slowly, and it took a little longer to recapture his winning ways. From August 8 to 24, Donovan posted four complete-game victories, but he still ended the season with an 11-13 record and an ERA of 4.24. For Donovan, 1964 was also a struggle, as he went 7-9 and started to come out of the bullpen in the later stages of the season.
The next season, 1965, was his last in the major leagues. The Indians had some fine prospects that they wanted to see pitch on a regular basis. Sam McDowell, Sonny Siebert, and Luis Tiant were all going to be given a lot of work. Donovan was relegated to bullpen duty, making only three starts for the season. He made his final appearance on June 12 in Kansas City, and he was released on June 15.
Donovan was gracious about his departure. "I figure baseball was good to me," he said. "I was good to a lot of people in baseball too — the hitters. It will be nice to take it easy if I don't go with another club."7
Donovan had a career won-lost record of 122-99 with an ERA of 3.67. He hit 15 career home runs, ranking him one of the top home-run hitters among pitchers in major-league history.
During his baseball career, Donovan had joined Eastman & Dillon in Boston as a stockbroker. Later, he became executive vice president for Bache & Co. in Boston. In 1980, Donovan opened his own real estate appraisal office in Quincy. He retired in 1994. He also worked as a distributor for Earth Care Products of Massachusetts in Quincy, which makes products from recycled plastic.
Dick Donovan died of cancer on January 6, 1997. He was survived by his wife, Patricia, and two children, Peter and Amy.
An earlier version of this biography originally appeared in SABR's "Go-Go To Glory: The 1959 Chicago White Sox" (ACTA, 2009), edited by Don Zminda.
Notes

1 Hal Lebovitz, "Injuns Blessed With Irish Luck in Grabbing Slab Star Donovan," The Sporting News, August 18, 1962.
2 Edgar Munzel, "Donovan Winner on Addition of Slider," The Sporting News, July 6, 1955.
3 Edgar Munzel, "Marty Calls Chisox Better Than His '52 Star-Studded Cards," The Sporting News, March 9, 1955.
4 Bob Burnes, "Donovan-Furillo Duel," The Sporting News, December 30, 1959.
5 Bob Addie, "Hats Off," The Sporting News, August 9, 1961.
6 Hal Lebovitz, "Aspromonte Rips 'Reserved' Label Off Keystone Job," The Sporting News, February 21, 1962.
7 Bob Addie, "Bob Addie's Atoms," The Sporting News, July 3, 1965.
Born
December 7, 1927 at Boston, MA (USA)
Died
January 6, 1997 at Weymouth, MA (USA)
If you can help us improve this player's biography, contact us.
http://bioproj.sabr.org/bp_ftp/images5/DonovanDick.jpg
600
800
admin
/wp-content/uploads/2020/02/sabr_logo.png
admin
2012-01-04 20:38:30
2012-01-04 20:38:30
Dick Donovan