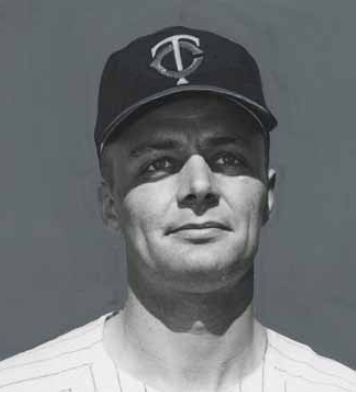 ---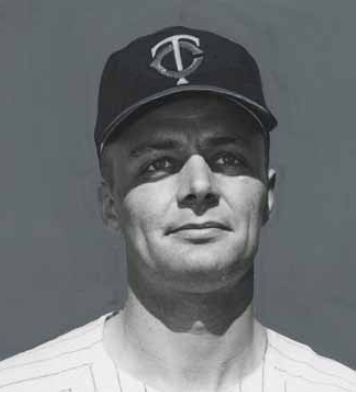 As a young baseball player in rural Minnesota, Dick Stigman picked the perfect day to pitch a perfect game. Cy Slapnicka, the man who signed Cleveland greats Bob Feller, Bob Lemon, and Herb Score, was watching.
In the spring of 1954, three days after graduating from Sebeka High School, Richard Lewis Stigman (born January 24, 1936, in Nimrod, Minnesota) was working in a lumber yard when he was called to the office. Slapnicka had come to sign the strapping left-hander, whom he had seen strike out 21 batters in Stigman's seven-inning perfect game.
"I came walking out of the yard in my overalls and there was his Cadillac with both my parents sitting in the car," Stigman said in an interview with the writer. "We drove to the Graystone Hotel in Detroit Lakes to discuss signing. I was very impressed that he respected my parents enough to include them so they would know that I wasn't getting involved in something that wasn't right.
"He offered me $200 a month and another 200 a month if I stayed. I was only making $185 at the lumber yard."
At the time the offer was the mother lode for the son of a working-class couple with three sons. As a youth, Dick and his older brother, Al, another left-hander and a star in Minnesota's town-team circuit, saved up their money to buy a left-handed catcher's mitt so they could pitch to one another. Al was considered a professional prospect, too, but lacked Dick's drive, and he pitched on town teams while watching his brother work his way through the ranks.
Stigman was a small-town boy with a healthy confidence. Al offered an example from their teenage days. "Dick was so much more confident than I was. I was always the nervous type. I remember when we were just kids, a Legion coach asked us to play for him," he said. "We were fairly young and I told him that I didn't know if we were good enough. But Dick just snapped, 'Yes we are.' That was the major difference between the two of us: confidence."
For both Stigmans, baseball was a sport for all seasons, even in the winter months. Their mother cleaned a large hall, large enough for the boys to play catch during any kind of weather.
So when Slapnicka made his offer, it wasn't simply the money that inspired Stigman to take the big step, to prove to Cleveland what he obviously proved to the former Legion baseball coach … and, who knows, even find his way into a larger, more revered Hall.
Stigman never attained the status or celebrity of Feller, Lemon, or Score, but the 6-foot-3, 200-pound lefty's fastball and his variety of curves were stellar enough to earn him seven years in the major leagues with Cleveland, Minnesota, and Boston. And with a little luck and more offensive support, he might have stuck around longer instead of leaving professional ball at 31.
During Stigman's rookie year at Cleveland in 1960, Chicago manager Al Lopez selected him to the American League All-Star team, but in the years when they played two midseason classics a year, Stigman never got to throw a pitch. He played on the 1965 Minnesota Twins American League champions, winning four games during the regular season, but never got closer to the field than the bullpen during the World Series. Stigman pitched for Boston in 1966, the year before Boston won the American League pennant, but was sold at season's end and never pitched another game in the majors.
Even his finest moment in the minor leagues, 10⅔ innings of no-hit ball for Triple-A San Diego, was overshadowed by Pittsburgh's Harvey Haddix, who the same night (May 26, 1959) pitched 12 innings of perfect ball before Don Hoak's error in the 13th inning led to Milwaukee's 1-0 victory over the Pirates.
Good does not always mean lucky.
Stigman, however, had no major regrets. While some of his high-school peers were delighted to play in or for Detroit Lakes and New York Mills in central Minnesota town-team ball, he lived the childhood dream of a major-league career.
"Some people say, 'Don't you wish you had pitched in another era?' but I figure that all and all I was blessed to play seven seasons in the major leagues," Stigman said, looking back on a career in which he pitched in 119 games, compiling a 46-54 won-lost record with a 4.03 earned-run average. "Just to have done that is an awesome feeling."
Stigman's major-league statistics belie a solid career as a starter and reliever. In a later era, when relief pitchers began to make millions, he might have stuck around much longer, but he appreciated his entire professional experience. He was particularly pleased to have survived a rocky minor-league start, let alone making it to the big leagues at age 24.
In 1954, after a brief stop at Fargo-Moorhead in the Class C Northern League, he was sent to Tifton (Georgia) in the Class D Georgia-Florida League, where he went 0-6, followed by a 5-12 full season with Olean (New York) in the PONY League. Stigman struggled with control early in his first professional season, becoming wild after five or six solid innings, and with Olean he played for a "terrible team." A collective 5-18 record in Class D might have caused many pitchers concern, but Stigman said he never feared being released.
"I think that naïveté carried me through it all. I loved everything about what I was doing. I was playing baseball and getting paid for it," he said. "But during spring training in Daytona Beach, Laddie Placek, Cleveland's director of scouts, came up to me and said, 'Dick, if you don't do something this season, I think you should go back home and look for a job.'
"That was kind of a wakeup call. If you look up my record you'll see I turned things around, one-eighty."
Assigned to Vidalia of the Class D Georgia State League for 1956, Stigman compiled a 17-9 record with a 1.44 ERA. He was second to Sandersville's 20-game winner Gil Bassetti in victories, and his ERA was not only best in the league but in the entire Cleveland farm system. Stigman spent two more seasons in the minors, splitting time between Double-A Mobile and Triple-A San Diego in 1958 and playing the entire 1959 season with San Diego. Too often a slow starter in his first six seasons, the left-hander played from October 1959 through January in Nicaragua and, after a solid spring training, was promoted to the Indians in 1960.
Stigman remembered little about his first professional game or victory, saying that pitchers did a little bit of everything from starting to relieving and even pinchhitting, but he recalled his major-league debut, when he pitched 2⅓ perfect innings of relief against the Athletics in Kansas City.
"I wasn't in awe. … I felt like I belonged there and was completely comfortable by midseason. It wasn't like I was jumping from Nimrod to Cleveland or New York," Stigman said, referring to his Minnesota home town, population 75. "It's a progressive thing in which the crowds get bigger and the pressure stronger as you make your way up. But when you consider that besides spring-training games, the first major-league game I ever saw I played in. … Well, that was something."
Stigman finished his first major-league season with a 5-12 record in 41 appearances, not overwhelming, but Lopez, the American League All-Star Game manager, selected the rookie for his pitching staff. The major leagues played two All-Star games from 1959 through 1962, and though Stigman didn't throw a pitch in '60, he was thrilled to be "hanging around" a group of legends. "I don't know if I deserved to be on the team," Stigman said, "but I obviously did something to impress Lopez when I pitched against the White Sox."
Beset by arm problems, he pitched in only 22 games in 1961, finishing 2-5 with a career-low 48 strikeouts. The following April, in a preseason trade, he and Vic Power were sent to the Twins for pitcher Pedro Ramos. One might expect that Stigman was jubilant, but the Minnesota native was skeptical about going home and being placed in the spotlight.
"I really liked it in Cleveland and felt badly about leaving a bunch of friends behind," he said. "I thought that pitching at home would impose a lot of pressure because they expect you to be Superman and you're not. But the fans were fantastic. They treated me great. I never expected that type of reception.
"It made me proud to be from Minnesota. People recognized me everywhere. It was an exciting time to be a Twin. I felt almost as popular as [Harmon] Killebrew and the other big names."
Stigman wasn't Superman in his first Twins season, but he was extremely solid, finishing 12-5 with a 3.66 ERA. His first 25 games came in relief, but Sam Mele — in his first full season as manager — gave him his first start on July 18, 1962, against Cleveland. Stigman pitched a complete game, striking out the side in the first inning of a 14-3 victory, a memorable game for him as well as for Twins fans because Killebrew and Bob Allison both hit grand slams in the first inning.
Stigman's signature season came in 1963. He had 33 starts, going 15-15 with a 3.25 ERA in 241 innings. He lost seven one-run decisions in which the Twins scored four or fewer runs, and among his 15 losses the Twins were shut out four times and scored two or fewer runs in seven others. His prize victories included three shutouts and a 10-1 two-hitter against the Washington Senators.
"My best year was definitely 1963," Stigman said. "I had a lot of starts and that was good because I thrived on work. The more I worked, the better I felt. I could easily have won 20 games with a little more support, but over the seasons things have a way of evening out."
His best season was underscored by his marriage to Patti Degenhard, a United Airlines flight attendant. They had planned to marry in the offseason, but United closed its base in Minneapolis and she would have been transferred to Denver, so she resigned and they were married on a day off in Minneapolis with most of the Twins in attendance.
Parsimonious owner Calvin Griffith gave Stigman a raise to $18,000, his highest salary as a professional, and manager Sam Mele used him almost exclusively as a starter early in the 1964 season. In 29 games, all but two as a starter, he went 6-15 with a 4.03 ERA, a significant dropoff, but once again he received lackluster offensive support. The Twins were scoreless in five of his starts and scored two or fewer runs on 13 occasions (though he picked up wins in two of those).
The 1965 season was one of mixed emotions for Stigman. He had no-decisions in his first five starts before two innings of perfect relief earned him a 5-4 victory over Detroit. He was sidelined for more than two weeks with a foot injury midway through the season and started only one game after a no-decision on July 21.
In what would be his final Twins appearance, Stigman pitched 2⅔ innings to earn the win in an 8-6 victory over Kansas City on September 6. Manager Mele used nine pitchers in the team's seven-game World Series loss to the Los Angeles Dodgers, but all Stigman had to show for the postseason was his $6,400 share of the losing team's purse. Stigman was disappointed, since he was a competitor who loved challenging baseball's best, but he also was philosophical. His only lament was that his friend, Jim Perry, a Twins stalwart through most of the season, didn't get a World Series start.
"I really hadn't pitched that well at the end of the season," Stigman said. "After a poor July, I only pitched about 20 innings, and the Dodgers had an entire infield of switch-hitters, which limited my opportunities. I warmed up a couple of times during the Series, but that was it."
What was a major disappointment came the next April as the Twins broke camp and headed to Houston for an exhibition game. Mele informed Stigman that Griffith wanted to see him, and the pitcher knew from previous spring trainings that the message meant one of two things, and neither was good.
"The last day is cutdown day, and that was the day players were released or traded," Stigman said. "So when you're called in, your heart is beating like a drum because you don't know what it's going to be." Minutes after Griffith released Jerry Kindall (another Minnesota native), he met with Stigman and told him that he had been traded to the Boston Red Sox.
The good news in Boston was that Stigman began as a starter, but after seven games in which he was 0-1 with six no-decisions, he was yanked from the rotation by manager Billy Herman and sent to the bullpen. He did receive three more starts, with the last, on July 3, being sadly memorable.
"Tommie Agee stole third base the day before when [the White Sox] had a four- or five-run lead … a bush league play," Stigman said. "Herman told me before the game that I should knock him on his ass. Well, I never liked to throw at a hitter anyway and I was involved in a 1-0 game and surely didn't want to put a speedster like Agee on base. It just didn't make sense to jeopardize a game to make a point and I didn't throw at him."
The details don't match Stigman's recollection. In the game the day before (July 2) won by Chicago, 6-0, Agee's only stolen base was in the first inning when the game was scoreless. Also, Stigman's start on July 3 was in the second game of a doubleheader. If something had happened on July 2, it's more likely Herman would have sought retaliation by the first-game starter. It's possible that the offending behavior by Agee came in game one on July 3. However, it wouldn't have been a stolen base when the White Sox had a big lead because Boston won this game 5-2, and Agee did not steal a base. However, he broke a scoreless tie with a two-run homer in the sixth, and could have done or said something in his trot around the bases that offended the Red Sox. All of this is conjecture. As an undisputed fact, it's interesting that in his July 3 start Stigman was relieved after three innings even though he had given up only one run and one hit.
Whatever happened, Herman had made his point to Stigman. Although Stigman made 14 more relief appearances, adding up to 16⅔ innings, Herman virtually ignored him, and after the 1966 season Stigman was placed on a carousel that led him nowhere but toward retirement. He was sold to Cincinnati in the winter and sent to Buffalo, and then late in the 1967 season was sold to San Diego, where the Padres were in a Pacific Coast League playoff run. After the 1967 season, he was sold to Pittsburgh, which wanted him to sign a $9,500 contract and report to Columbus.
A 31-year-old bachelor might have taken a chance, but Stigman and his wife had begun a family, (which eventually grew to nine children, five biological and four adopted, and 22 grandchildren). They couldn't live on that salary, so he didn't report and instead became a Minneapolis businessman and one of the Twins' most avid fans.
Stigman spoke fondly about some of the people he met along the way. He liked the vast majority of his professional teammates and opponents and was grateful for the assistance he received from managers, coaches, and teammates like Mark Wylie, his manager in Vidalia in 1956, Johnny Sain, Jim Lemon, and Twins teammate Frank Sullivan, a close friend with whom he sought counsel when he struggled. He also developed a profound appreciation for former Brooklyn Dodgers great and 1960 Cleveland teammate Don Newcombe, who gave him tips on pitching and golf, the latter game being his extracurricular passion in retirement.
If he were granted one change in his career, Stigman said, he would alter the end. No, he still wouldn't have thrown at Tommie Agee. No, he didn't regret not having taken the final minor-league assignment, hoping to gain another shot at the big leagues. He simply would have preferred a more gratifying exit.
"A couple of years after I retired, I asked for my release so I could close my scrapbook," Stigman said. "[The Pirates] said no; it was as if 'If you don't play for us, you don't play for anyone.' That's a pretty sad way to end a 14-year professional career.
"They sent [the release] to me five or six years later. That's the kind of control the owners had back then."
An updated version of this biography appeared in "A Pennant for the Twin Cities: The 1965 Minnesota Twins" (SABR, 2015), edited by Gregory H. Wolf. It originally appeared in "Minnesotans in Baseball" (Nodin Press, 2009), edited by Stew Thornley.
Sources
The Baseball Encyclopedia, the Baseball Cube, and several other Google sites, Baseball Old-Timers Data Base, the Minnesota Twins media-relations office and website, and a two-hour one-on-one interview with Stigman in Minneapolis.
Born
January 24, 1936 at Nimrod, MN (USA)
If you can help us improve this player's biography, contact us.
http://sabr.org/sites/default/files/DickStigman.JPG
600
800
admin
/wp-content/uploads/2020/02/sabr_logo.png
admin
2012-01-04 20:39:26
2021-09-14 17:47:20
Dick Stigman