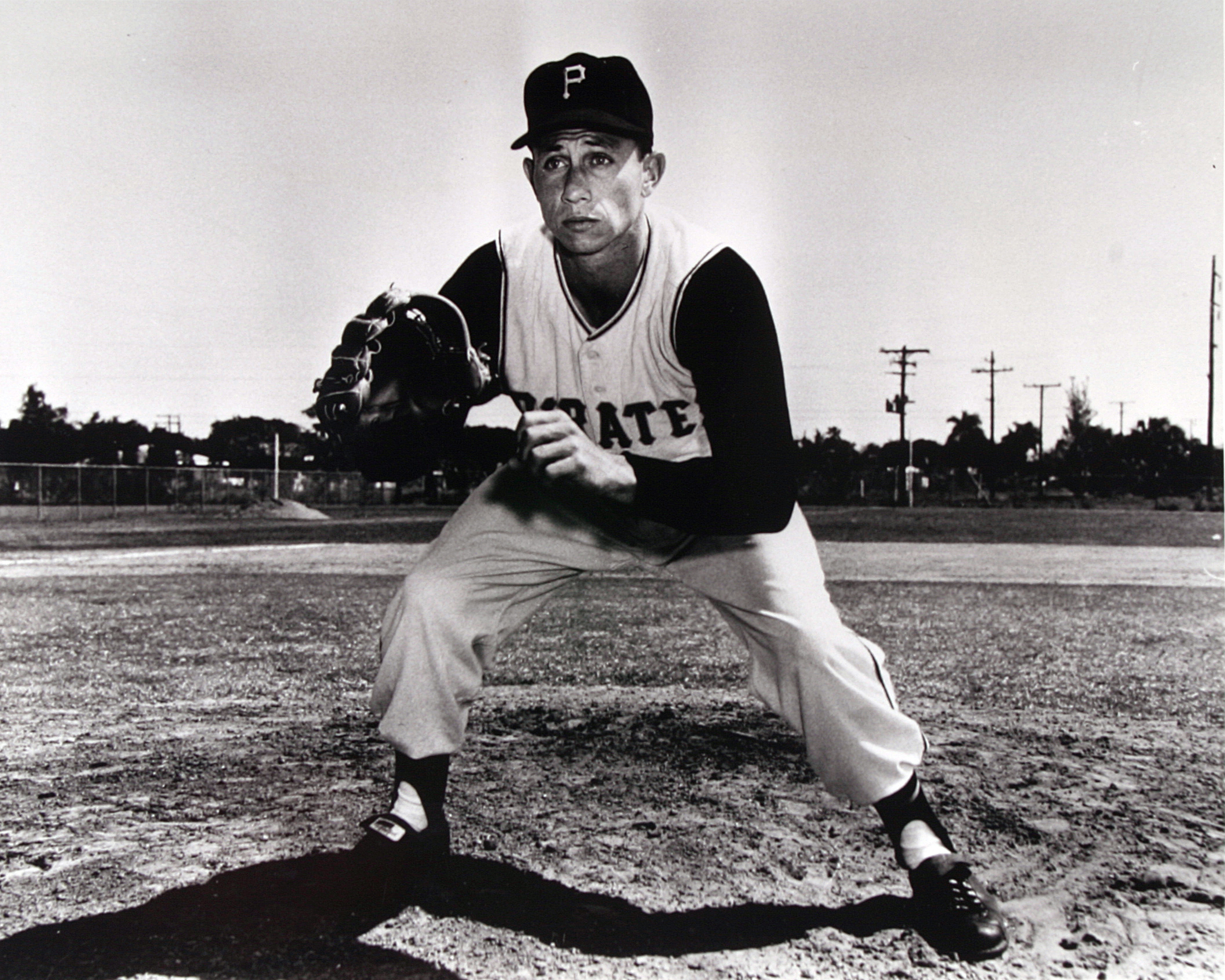 May 26, 1959: Harvey Haddix pitches 12 perfect innings, loses in 13th
---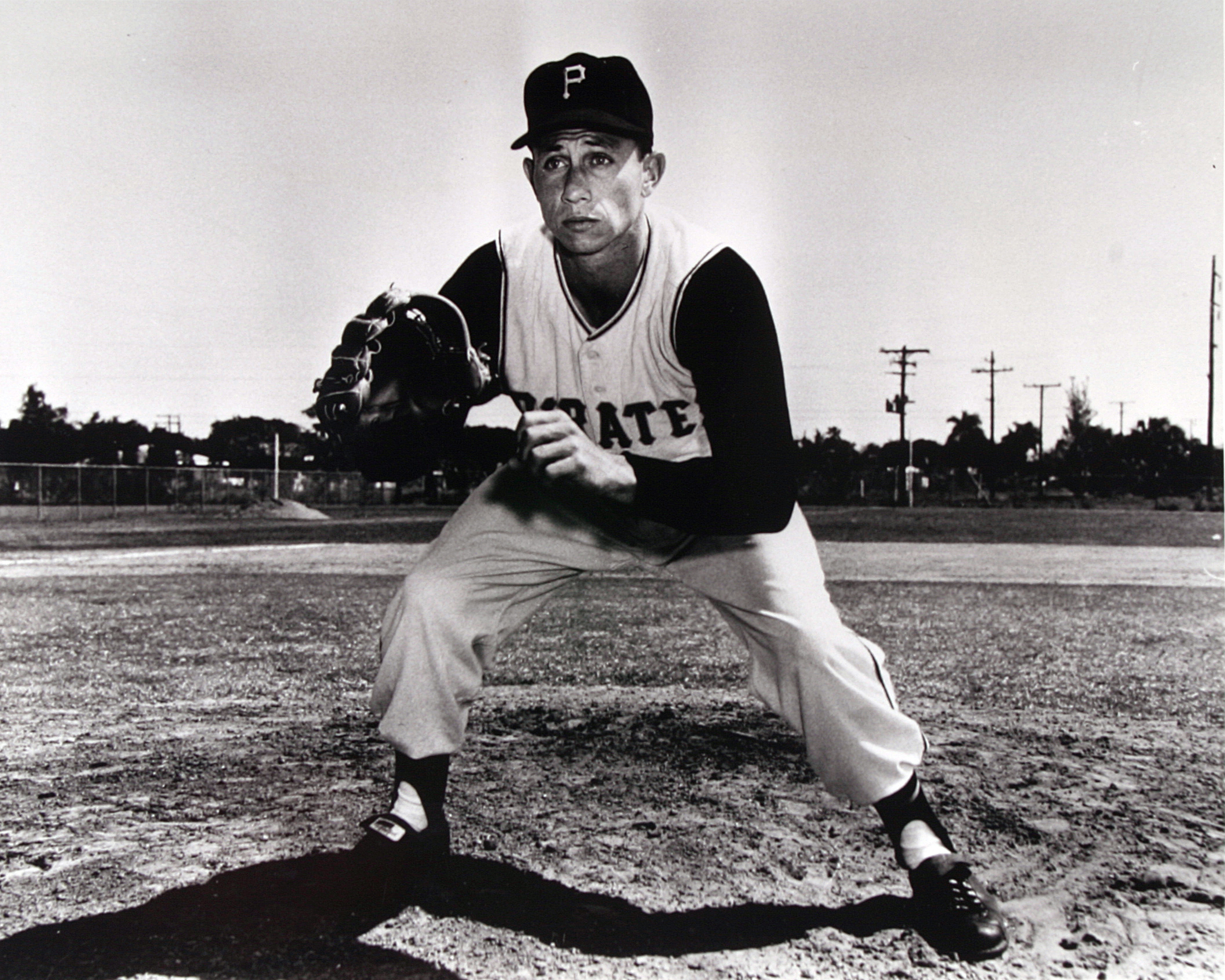 Marcia Haddix was at home — on a Clark County, Ohio, farm — when her mother-in-law called to tell her to turn on the radio — her husband was pitching a pretty good game in Milwaukee. The reception of Pittsburgh's KDKA was poor so she got in her car and drove a few miles to park on a hill where she knew she could pick up the broadcast.1
In the sixth inning, the KDKA engineers decided to start recording the game on a vinyl album, which was not something they typically did.
In Milwaukee, Harvey Haddix was ill. "I had the flu, I felt terrible," Haddix said. "We took a morning flight over from Pittsburgh the day of the game, and we didn't have a lot of rest. I took throat lozenges the whole game to try to keep from coughing."2
The Pirates started the 1959 season slowly, but on May 26 they were riding a five-game winning streak. In their pregame scouting meeting, Harvey spoke up. "Going over the hitters, I figured I would have some fun so I got into the high and tight and low and away stuff. Don Hoak broke up the meeting with, 'If you do that you will throw a no-hitter.' "3
In the grandstand was a 24-year-old Allan "Bud" Selig. "I was a great Braves fan in those days," said the former baseball commissioner. "It was an amazing night, just a great baseball night. A game you never forget. It was unbelievable."4
The Pirates' lineup did not include injured right fielder Roberto Clemente, who was replaced by Roman Mejias. Manager Danny Murtaugh had Dick Schofield at short, rather than Dick Groat, and Rocky Nelson at first, rather than Dick Stuart or Ted Kluszewski.
Braves pitcher Bob Buhl recalled that the Braves' bullpen had pilfered the Pirates' signs. If catcher Smoky Burgess called for a fastball, they flashed a towel to the batter. On breaking pitches, the towel was out of sight. "Smoky couldn't bend over very far when he caught, so with binoculars, you could pick up every sign from the bullpen," Buhl said. "Harvey had such marvelous movement and changes of speed that night that it didn't matter if the hitter knew what was coming or not."5
The Braves lineup was very formidable. Selig remembered, "The Braves were a wonderful, wonderful team and had just won the pennant in '57, '58, and would tie in '59. They could really hit."6 They began the game with a .290 team batting average. Pitching for the Braves was veteran right-handed All-Star Lew Burdette.
The weather at game time was 77 degrees. It was cloudy with a stiff wind blowing in from right field and thunderstorms were forecast.
In the first inning Schofield popped out to Eddie Mathews, Bill Virdon hit a ball in front of the plate that catcher Del Crandall fielded for out number two, and Burgess popped out to left. The Braves followed suit in their first. Johnny O'Brien grounded out to short on the first pitch. Mathews, batting second, worked the count to 3-and-2 before lining out to Nelson at first. It was Haddix's last three-ball count until the 13th inning. Five pitches later, Aaron flied out to center.
Nelson led off the second with a line-drive single to center. Bob Skinner hit a roller to first baseman Joe Adcock, who teamed with shortstop Johnny Logan on a 3-6-3 double play. Bill Mazeroski struck out to end the inning.
Many accused Burdette of throwing a spitball. Logan said, "I can't verify that but I will say he knew how to throw one. I called it a sinker. I got a feeling he was throwing one because we got a lot of double plays."7
Pirates shortstop Schofield said of Burdette, "He would load them up pretty good sometimes. The ball got a little wetter when men got on base."8
In the bottom of the second it took just 10 pitches for Haddix to dispose of Adcock on a strikeout and Wes Covington and Crandall on groundouts to second and third.
In the third Hoak led off with a single as he threw the bat at the ball and hit it back to Burdette, who dodged the bat and missed the ball. Mejias forced Hoak at second on a grounder to Mathews at third. That brought Haddix to the plate in what was the first of two key failed offensive opportunities. Haddix hit a shot off Burdette's leg and hustled down the line, beating the throw to first. But Mejias tried to advance from first to third and was thrown out. Schofield followed with a single to right that would have easily scored Mejias from second. Virdon then flied out to left field to end the inning.
In the third inning Harvey threw just seven pitches — he retired Andy Pafko on a fly to Mejias, got Logan to line sharply to Schofield, and struck out Burdette.
The Pirates fourth saw Burgess fly out to center and Nelson ground out to second before Skinner singled to center and Mazeroski flied out deep to center. In the Braves half, Haddix made quick work of O'Brien, Mathews, and Aaron with a strikeout and two flies to center.
In the fifth and sixth innings, Haddix needed just 11 pitches to complete a perfect second time through the order. Schofield commented, "Standing at short, I would turn around and look at the scoreboard and it seemed like they were all hitting with two strikes."9
The seventh through the ninth were more of the same for both teams. Haddix set them down in order and Burdette kept scattering hits, 12 in the game, and getting timely double plays. The Pirates' seventh inning brought their second near-miss. Skinner, Haddix's roommate, recounted, "I hit a ball to right field and I thought it was gone. But a windstorm had started. Aaron went back on it and kind of gave up on it when the wind blew it back and he caught it against the fence. I thought it was gone."10
Pirates pitcher Bob Friend recalled the mood on the Pittsburgh bench: "We were all squirming around in the dugout. Murtaugh kept asking Harvey, 'Can you go another?' Harvey said, 'I'm OK.' " Pirates closer Elroy Face typically stayed on the bench until the sixth inning before heading to the bullpen. Face said, "I never went to the bullpen, I stayed in the dugout so I could watch."11
After the eighth inning Pirates radio broadcaster Bob Prince shouted, "Don't go away. We are on the verge of … baseball history." When the ninth inning was over, Prince screamed, "Harvey Haddix has pitched a perfect no-hit, no-run game."12
The pattern continued through the top of the 13th as the Braves went out in order and the Pirates failed to score. In the 10th Milwaukee's Del Rice batted for second baseman O'Brien and Felix Mantilla went in at second.
Harvey Haddix went to the mound for what would be his unlucky 13th time. Through 12 innings he had thrown an unbelievably economical 104 pitches. He would throw only 11 more.
Mantilla led off the 13th by hitting the ball to Hoak at third. "About a five-hopper," Haddix said. "Don picked up the ball, looked at it in his glove … and threw it in the dirt. Rocky Nelson couldn't come up with it. Mathews bunted Mantilla to second base; I walked Aaron intentionally to set up a double play." Joe Adcock was next. "Hung a slider on the second pitch and he hit it out in right center."13
Mantilla scored. Aaron assumed the game was over, stopped, and cut across the infield, causing Adcock to pass him. Aaron eventually went to third and scored in front of Adcock but was ruled out. Adcock was credited with a double instead of a homer. Murtaugh argued that Aaron was called out before Mantilla, who went back to tag up, had crossed the plate. Umpires huddled and ruled Mantilla safe and allowed all three runs. National League President Warren Giles overturned that decision the next day. The final score: Braves 1, Pirates 0.
Mantilla explained, "When I crossed the plate I looked up and saw Hank walking across the pitcher's mound." Asked if he crossed the plate in time, he said, "It was close! We were lucky to win that game."14
After the game a despondent Haddix was surprised to hear he had done something — 12 perfect innings — that had not been done before. That did little to console him. "It was just another loss, and that is no good."15
Burdette called the visitors' clubhouse and congratulated Haddix, and the next day asked for a raise since he was the winning pitcher in the "Greatest Game Ever Pitched."
Haddix became an instant celebrity. He was featured in Life and Sports Illustrated articles. He turned down an invitation to appear on The Ed Sullivan Show. At a ceremony in Pittsburgh, Giles presented him with an inscribed silver tea service with 13 silver cups.
This article appears in "Moments of Joy and Heartbreak: 66 Significant Episodes in the History of the Pittsburgh Pirates" (SABR, 2018), edited by Jorge Iber and Bill Nowlin. To read more stories from this book at the SABR Games Project, click here.
Sources
In addition to those listed in the notes, the following sources were used.
Interviews
Recorded at WHIO-FM radio studios, Dayton, Ohio (Darryl Bauer, engineer), April 9-16, 2009. Interviewers were Mark Miller, president, Springfield/Clark County Baseball Hall of Fame, and Tim Bucey, retired sports editor, Springfield (Ohio) News-Sun. Johnny Logan interviewed by Mark Miller, April 9, 2009; Felix Mantilla interviewed by Mark Miller, April 9, 2009; Dick Schofield interviewed by Tim Bucey, April 9, 2009; Commissioner Bud Selig interviewed by Mark Miller, April 16, 2009; Bob Skinner interviewed by Tim Bucey, April 16, 2009. Recorded at PNC Park, Pittsburgh (Mark Miller, videographer), May 7, 2009.
Interviewers were David Jablonski, sports reporter, Springfield News-Sun, and Tim Bucey, retired sports editor, Springfield News-Sun. Elroy Face and Bob Friend (joint video interview). Wright State University major-league baseball panel discussion April 17, 1989, CD, produced by Professor Allen Hye, 2009.
https://www.baseball-reference.com/boxes/MLN/MLN195905260.shtml
http://www.retrosheet.org/boxesetc/1959/B05260MLN1959.htm
Notes
Additional Stats
Milwaukee Braves 1
Pittsburgh Pirates 0
13 innings
---
County Stadium
Milwaukee, WI
Box Score + PBP:
Corrections? Additions?
If you can help us improve this game story, contact us.
Tags
http://sabr.org/sites/default/files/images/Haddix-Harvey-3.jpg
600
800
admin
/wp-content/uploads/2020/02/sabr_logo.png
admin
2017-11-09 15:02:27
2021-05-26 01:33:57
May 26, 1959: Harvey Haddix pitches 12 perfect innings, loses in 13th