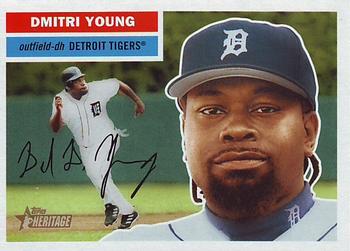 ---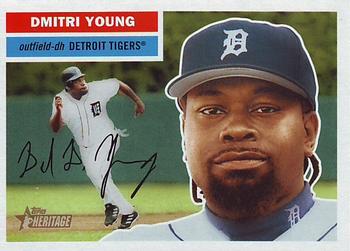 About one of every 200 high-school baseball players is drafted by a major-league team. Of those drafted, about 66 percent of first-round draft picks ever get to play in a major-league game, let alone make an Opening Day starting lineup.1 Of the 18,911 players who have donned a big-league uniform, only four have hit three home runs on Opening Day, making it one of the rarest feats accomplished in the major leagues.2 One of those fortunate men was Dmitri Young, then of the Detroit Tigers, who on a sun-soaked 68-degree afternoon in the Motor City cleared the fence thrice against the Kansas City Royals in an 11-2 Tigers victory to begin the 2005 campaign.
The first two came in Young's first two at-bats off Royals starter Jose Lima. The third time up, Young was hit by reliever Andy Sisco's (presumably innocent) pitch in the fifth inning. He singled off Shawn Camp in the seventh before cracking his third homer of the day, to deep right field in the bottom of the eighth, against Mike MacDougal. Young went 4-for-4 with 13 total bases and five runs batted in to kick off what was an otherwise forgettable 71-91 season for Detroit, the last for iconic franchise figure Alan Trammell as the team's manager.
Young could never have expected such a day, much less after a homerless spring training. "As far as Opening Day is concerned, it doesn't get any better than this," he said. "Four for four, we won, Bondo (winning pitcher Jeremy Bonderman) threw a great game for us." The home runs were also symbolic for Young as a father. "I hit three on the day, and I have three children," he said, referring to his sons, Owen and Damon, and his daughter, Layla. Young's teammates gave him high-fives, and pitching coach Bob Cluck gave him a big hug. "Dmitri's been the heart and soul of our club for three years," Cluck said. "We've got other stars in here now, but he's been the one constant since we've been here (referring to himself and Trammell). So I was pulling for him."3 It was clear that day and often throughout his complex 13-year major-league career that Dmitri Young was born to hit a baseball very hard.
Dmitri Dell Young was born in Vicksburg, Mississippi, on October 11, 1973, the eldest child in an unusually gifted athletic family in which his brother Delmon also became a major-league player (and a number-one draft pick), and his sister DeAnn played softball at Oregon State University. Young's father, Larry, was a Delta Airlines pilot who had been one of the US Navy's first African-Americans to fly an FY-14 fighter jet. After a stint in Virginia Beach, Virginia, his family soon moved to Southern California, where Dmitri and his siblings grew up spraying line drives across Ventura County, a coastal area just north of Los Angeles. He never hit less than .400 during his days at Rio Mesa High School in Oxnard, and was an All-American his senior year. Young had originally committed to play ball at the University of Miami, but after being selected fourth in the first round of the 1991 draft by the St. Louis Cardinals, he decided to pursue the minor-league route to the major leagues. In stints with Johnson City, Springfield, Arkansas, St. Petersburg, and Louisville, Young was a four-time Baseball America Top 50 prospect from 1992-95, ranking as high as number 12 in 1993.
After being named the Cardinals' Minor League Player of the Year in 1996, when he hit .333 at Triple-A Louisville, Young got a late-season call-up to the majors, playing in 16 games. The Cardinals had finished fourth the season before but had brought in future Hall of Fame manager Tony La Russa to lead the team back to prominence. The challenge was that St. Louis already had solid players in the positions at which Young would logically fit. John Mabry, whom the Cardinals had drafted in the sixth round the same year they drafted Young in the first round, had hit .307 as a rookie in 1995 and was also a first baseman/outfielder. Veterans Ron Gant, Ray Lankford, and Brian Jordan all patrolled the outfield and were at or near the prime of their careers. Young also had earned some ill will while in the Texas League in 1995 when he had punched a heckler.
Young started 1997 back in Louisville, but a season-ending injury to Brian Jordan forced the Cardinals to make some early adjustments, one of which brought Young back up to the Cardinals. John Mabry was moved to Jordan's spot in right field, and Young was slotted at first base. The move was short-lived, though; the Cardinals made a blockbuster deal at the trade deadline to acquire slugging first baseman Mark McGwire from the Oakland A's, and Young was used mostly in the outfield for the remainder of '97, batting .258 in 110 games while the team slipped back below .500.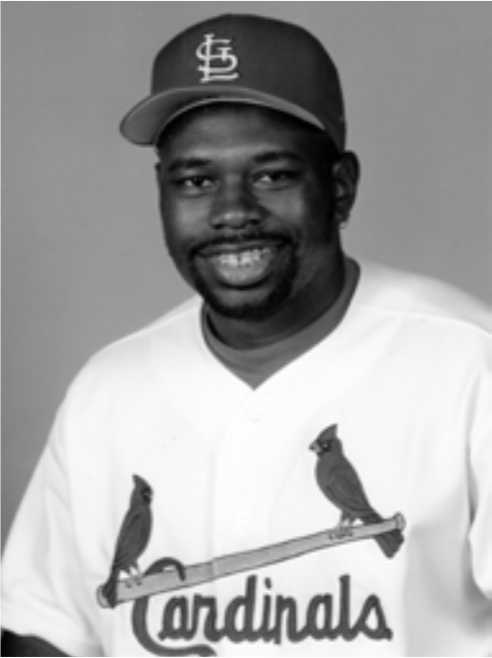 With Brian Jordan expected to return from his injury in 1998, the Cardinals had a long-term decision to make about its former top draft pick, and shortly after the 1997 season traded Young to the Cincinnati Reds for relief pitcher Jeff Brantley. In turn, the Reds made Young eligible for the coming expansion draft. (The major leagues were adding teams in Phoenix and Tampa.) Young was chosen by the Tampa Bay Devil Rays, but then was sent back to Cincinnati to complete a deal made between the two clubs the prior week, in which the Reds had sent outfielder Mike Kelly to Tampa. When the offseason was settled Young was back in the Queen City.
The Reds were also coming off a poor season in 1997, and had a blossoming first-base prospect of their own in Sean Casey. However, the Cincinnati outfield was a far murkier picture than the one Young left in St. Louis, which opened the door for him to win a platoon job in left field with Chris Stynes, who had hit a blistering .348 since being acquired in a midseason trade with Kansas City. Young capitalized on Stynes's numbers returning to more natural levels in '98, got the lion's share of playing time, and led the team in hitting at .310 with 14 home runs, 83 RBIs, and an OPS of .864, second on the team only to future Hall of Famer Barry Larkin.
Young went on to hit .300 or better in each of his four seasons in Cincinnati as a corner outfielder, and became one of franchise's anchor players from 1998 to 2001 along with Casey and Aaron Boone. He was remarkably consistent, entirely unashamed emotionally, and a clubhouse leader. The team won 96 games in 1999 and 85 in 2000, but settled for second place both times as the Astros and Cardinals won division titles respectively. Skipper Jack McKeon won Manager of the Year in 1999 as the Reds stayed in the playoff hunt until the final day of the season despite operating with the 10th lowest payroll in the majors.
Despite his consistency, Young still didn't feel as though he had become a true fixture in the Reds organization, and always felt he was in the middle of trade discussions. General manager Jim Bowden had often seemed to pine for Deion Sanders since Sanders had converted his career to full-time pro football. During an interview prior to the 2000 season with rumors surrounding the addition of Sanders, Young told the Cincinnati Enquirer, "To this day, I don't know what that's about. When they first signed him, I thought, 'Here we go again.' I just thought to myself, 'I may never get 600 at-bats with this team. I may never get to show my stuff.' If Jim feels Deion serves more of a purpose on this team than I do, that's just the way he feels. Deion has so much to offer. He's a very positive force in the clubhouse. But you can't translate that as being the starting left fielder. I've dedicated pretty much my whole life to this."4 After the 2000 season, Cincinnati fired McKeon and hired Bob Boone, a strange move in that Boone came in with just three sub-.500 seasons as manager of the Kansas City Royals on his résumé. He added another in 2001 as the Reds went 66-96 and went the way of a full-scale overhaul. It was in this reshuffling that Young's tenure with the team ended. He was dealt to the Tigers for Juan Encarnacion and Luis Pineda.
Landing in Detroit initially was akin to an exile for Young. The Tigers had also lost 96 games in 2001 but hadn't made any significant moves to improve the team under GM Randy Smith and manager Phil Garner. Both were shown the door early in the 2002 season, the latter replaced by Luis Pujols, who lasted just that season. Due to his below-average speed, Young was used mostly as a designated hitter, and was injured before the All-Star break that year to cap off a disappointing initial chapter in Motown.
The following year the Tigers lost an American League record 119 games under rookie manager Alan Trammell, a franchise icon who played his entire 20-year career as the team's shortstop. For Young, however, 2003 was his best season as a big leaguer. Splitting time between DH and left field, he achieved career highs in hits (167), triples, (7), home runs (29), and OPS (.909), while batting .297 and being chosen for his first All-Star Game that summer. Although the team struggled mightily, Young relished becoming its veteran leader. At 29 years old, he had hit his prime in dramatic fashion.
The Tigers emerged slightly from their abyss in 2004 but still managed only 72 wins. Despite Young's stardom the year before, new GM Dave Dombrowski signed free agent Rondell White to be the team's new regular left fielder. White, originally a fleet-footed center fielder who suffered a knee injury a few years earlier, was older than Young but still a superior defender. Young was relegated to the DH role once again, but adapted and hit a respectable .272 with 18 home runs and 60 RBIs and stayed consistent in 2005 with .271/21/72, including the aforementioned Opening Day heroics. The team also added star power during these two years by signing All-Star catcher Ivan Rodriguez away from the Florida Marlins, and right fielder Magglio Ordonez from the Chicago White Sox. It seemed Young would soon have a chance to play on a rebuilding contender.
Detroit launched high out of the gate in 2006, carrying baseball's best record a quarter of the way through the season at 27-13. Already with four separate winning streaks of five games of more, the Tigers were reminding their fans of their unthinkable start to 1984, in which they won 35 of their first 40 games on the way to a World Series championship. In unfortunate contrast, Young, who had by then become the very picture of consistency over eight seasons, was at his worst point since his rookie year and was starting to show signs of severe personal strife. On May 17 news broke of a misdemeanor domestic-abuse allegation against him by his ex-girlfriend, who claimed he had choked her while to two were at the Townsend Hotel in suburban Detroit. Young pleaded no contest after failing to appear at a pretrial hearing. "It's a bum deal," he told the Detroit Free Press. "Unfortunately it's public knowledge. I don't see this person anymore."5 Within two weeks of these incidents, Dmitri's younger brother Delmon was suspended 50 games in the International League for throwing a bat that hit an umpire.6 Dmitri also was enduring a divorce and had been treated for alcohol abuse and depression. After a month's absence, Young returned to the Tigers and apologized to the fans, and expressed his commitment to forever fighting his addiction.
Despite these recent troubles, Young had endeared himself to the fans in Detroit over the years as one of the few bright spots during an all-time low period for the franchise. So it came as a surprise when on September 6, in the middle of the team's first pennant race in almost two decades, the Tigers released him unconditionally. Detroit went on to win the American League pennant that year, and lose the World Series in five games to Young's former team, the Cardinals. Perhaps the only silver lining to the year for the Young family was that Delmon made his major-league debut with the Tampa Bay Devil Rays (on August 29, exactly 10 years to the day since Dmitri's debut).
After 36 years north of the border, the Montreal Expos had relocated in 2005 to Washington to become the Washington Nationals. By the end of 2006, the Nationals had posted two fifth-place finishes, and their blossoming young first baseman and leading hitter, Nick Johnson, had gone down with a broken leg and missed nearly a year of action. In order to fill the gap in the middle of their lineup, they took a chance on Young, offering him a minor-league contract heading into the 2007 season. "Dmitri Young has been through an awful lot personally over the last several years. He's been extremely apologetic for the mistakes he's made in his life. He has asked for a second chance in life," Nationals general manager Jim Bowden said. "He comes in knowing that the organization has zero tolerance on any incident whatsoever that may take place. If it does happen, he'll be released at that time. He understands that."7
After being invited to spring training by the Nationals, Young took full advantage of the opportunity, winning the first-base job and going on an offensive tear to start the season. In June the Tigers came to RFK Stadium to play the Nats in an interleague game, and honored Young by giving him a World Series ring from the prior year. Then, in a Fourth of July victory over the Chicago Cubs, Young hit his sixth career grand slam.
Finishing the first half hitting .339, Young was chosen for his second All-Star Game that summer as the team's only representative. (He had a hit in his only at-bat and scored on Alfonso Soriano's home run). He finished the season at .320, putting him in the top 10 in the National League and earning him the league's Comeback Player of the Year Award. The Nationals topped off Young's turnaround by signing him to a two-year, $10 million contract extension. The lovable bad boy known as "Da Meat Hook" had officially maximized his fresh start.
Despite this turnaround, Young's status as an everyday player was once again up for debate upon Nick Johnson's return in 2008. Johnson struggled mightily, though, and a third of the way into the year endured another season-ending injury, this time to his wrist. Young's health was also in question, however, as he had not reported to spring training in good shape and had also continued to battle the onset of Type 2 diabetes, which had begun to plague him during his infamous 2006 season and resulted in some time in the intensive-care unit of a hospital late that year.
Although Young was hitting a comfortable .280 in 2008, the rest of his production was waning, and he had been replaced at first base by his former Reds teammate Aaron Boone, by then an aging veteran himself who had signed with the club as a free agent during the previous winter.
After appearing in only 50 games, Young was placed on the 60-day disabled list because of his diabetes, and with that major setback, both his season and effectively his career came to a rather crushing end. He went on to battle his condition for over a year before finally announcing his retirement on March 18, 2010, at 36 years old.8
Young's 13-year career had spanned 1,364 games with four teams, and produced a career batting average of .292 with 1,389 hits, including 301 doubles and 171 home runs. Besides his Opening Day three-home-run highlight reel in 2005 with the Tigers, his career also boasted a 5-for-5 game in Baltimore on May 6, 2003, in which he collected two round-trippers, two triples, and a single. His second triple came in the ninth inning when he was just a double short of hitting for the cycle, but with the game tied, 6-6, he legged it out to third base instead, and in the process drove in Bobby Higginson with the winning run. "It crossed my mind, but since the game was close, my individual accomplishment took a back seat," he said. "The run is the important thing."9 Despite a volatile career, this moment had perhaps best captured Young's spirit as both a truly professional hitter and a team player.
Given the challenges Young had been facing, his post-baseball life continued to be marked by some poor decisions accompanied by recurring redemption. After being named senior adviser of baseball operations for the Frontier League's Oakland County Cruisers on the same day he retired from the major leagues, Young's apparent comeback was squelched within 10 weeks when he was arrested at a Bloomington, Illinois, airport for possession of marijuana and related paraphernalia.10 He offered his perspective on the situation on Sirius XM's MLB Network Radio: "I am doing fine, and am not calling from jail. Without getting into the legalities that are still pending, I have the medical condition, of course being diabetic and having all these old aches and pains. Been to rehab before. And upon retirement been consulting with a doctor about having something to alleviate some of the pain that I've been going through in all my career." He was released on $100 bond and continued to pursue his role with the Cruisers.11
Over the next two years, however, Young underwent another turnaround in the form of an astounding physical-fitness overhaul. In addition to his other challenges, he had battled weight problems his entire career, his 6-foot-2 frame supporting 295 pounds by the end of his playing days. By the spring of 2012, though, Young had lost an Oprah Winfrey-esque 90 pounds and had become an inspiring shadow of his formerly hefty self. "I'm down to 205 pounds, and I did it the right way," he told Charlie Sloes on 106.7 The Fan in a 2014 interview. "I went to a doctor, a preventative doctor, and he told me, 'You want to get off the medicine, lose three inches.' I'm like, forget that, let's lose six. And then I started doing a lot of cardio, the weight started peeling off, and at that point I started working out. And I'm to this size right now, and very, very healthy. I still have to take a shot of NovoLog before each meal, but other than that I'm golden. I feel better, look better. I didn't look like this when I played."12 After a brief and unsuccessful attempt to come back as a major-league player, Young continued his involvement in minor-league player development, as well as in various spring-training instruction roles.
Through all of his ups and downs, Young retained a boyish innocence and lightheartedness, as evidenced by his lifelong obsession with baseball cards. He started collecting them seriously in 2000 while with the Reds, when he and teammate Danny Graves were offered $2,000 to appear at a card show. In lieu of a cash payment for the appearance, Young instead asked for a Pete Rose rookie card that caught his eye, and the love affair had kicked into a new gear. After being introduced to memorabilia collector Dave Bailey some years later by Tigers teammate Robert Fick, Young went on to amass perhaps one of the most valuable card portfolios on record, including some 500 mint-condition rookie cards worth over $2 million. "I dove in headfirst into the deep end of the swimming pool with baseball," he told ESPN. "I was ingrained with Baseball Digest, the Baseball Encyclopedia, and what better way to learn the players than the baseball cards?" He said his two favorites were Hank Aaron and Willie Horton, Aaron having been his favorite player growing up, and Horton as a role model and grandfather figure to him during his time with the Tigers. "He was one of the few people who kept in contact with me and told me that it's not the mistakes a man makes, what makes a man is how he comes back from his mistakes."13 Young eventually auctioned off many of the cards, several of which went for six figures, to help fund his Dmitri D. Young Foundation, which provides equipment, travel expenses, and instruction on baseball and life to underprivileged children in Ventura County, California, where as of 2018 he still resided.
Last revised: December 1, 2018
This biography appeared in "Time for Expansion Baseball" (SABR, 2018), edited by Maxwell Kates and Bill Nowlin.
Sources
In addition to the sources cited in the Notes, the author also consulted Baseball-Reference.com.
Notes
1 Emily Cornelius, "How Hard Is It to Make the Major Leagues," MLB.com, October 7, 2014. huffingtonpost.com/emily-cornelius/how-hard-is-it-to-make-it_1_b_5947308.html.
2 Manny Randhawa and Matt Kelly, "3 HRs on Opening Day? Only 4 Have Done It," MLB.com, March 29, 2018. mlb.com/news/players-with-3-home-runs-on-opening-day/c-268442342.
3 George Sipple, "Opening Day Rewind: Dmitri Young's 3 HRs Live in Detroit Tigers Lore," Detroit Free Press, April 3, 2017. freep.com/story/sports/mlb/tigers/2017/04/03/opening-day-flashback-dmitri-youngs-3-hrs-live-detroit-tigers-lore/99707854/.
4 Tim Sullivan, "Young Fed Up With Trade Rumors," Cincinnati Enquirer, February 25, 2000. enquirer.com/editions/2000/02/25/spt_young_fed_up_with.html.
5 Associated Press, "Ex-Girlfriend Accuses Tigers' Young of Choking Her," ESPN, May 19, 2006. espn.com/mlb/news/story?id=2449289.
6 Associated Press, "Young Suspended 50 Games for Bat Toss," ESPN, May 9, 2006. espn.com/mlb/news/story?id=2438919.
7 Associated Press, "Nats Agree to Minor League Deal with Young," ESPN, February 14, 2007. espn.com/mlb/news/story?id=2765793.
8 Tom Dubberke, "Big D Retires," Bleacher Report, March 19, 2010. bleacherreport.com/articles/365988-big-d-retires.
9 Ibid.
10 James Schmehl, "Ex-Tiger Dmitri Young Arrested on Drug Charges," MLive.com, July 6, 2010. mlive.com/tigers/index.ssf/2010/07/ex-tiger_tiger_dmitri_young_ar.html.
11 Dan Steinberg, "Dmitri Young Says His Marijuana Was Medicinal," D.C. Sports Blog, July 7, 2010. voices.washingtonpost.com/dcsportsbog/2010/07/dmitri_young_says_his_marijuan.html.
12 Dan Steinberg, "Dmitri Young Explains His Amazing Weight Loss," D.C. Sports Blog, July 28, 2014. washingtonpost.com/news/dc-sports-bog/wp/2014/07/28/dmitri-young-explains-his-amazing-weight-loss/?utm_term=.e9fb326642af.
13 Jim Caple, "For Dmitri Young, It's All in the Cards," ESPN, May 2, 2012. espn.com/mlb/story/_/id/7881462/dmitri-young-selling-rookie-baseball-card-collection.
Born
October 11, 1973 at Vicksburg, MS (USA)
If you can help us improve this player's biography, contact us.
https://sabr.org/sites/default/files/YoungDmitri.jpg
600
800
admin
/wp-content/uploads/2020/02/sabr_logo.png
admin
2012-01-04 20:00:51
2012-01-04 20:00:51
Dmitri Young