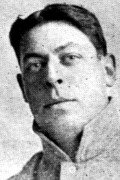 ---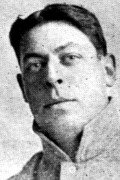 Doc Newton was a left-handed hurler with a reputation as a fast worker who kept "the ball going over the plate at a livelier clip than any other pitcher in the business."1 He used a crossfire delivery and featured "good curves and wonderful speed" when at his peak.2 Plagued with control problems and an inability to adequately field his position, the powerfully built hurler could not achieve lasting stardom. Newton pitched with Cincinnati and Brooklyn in the National League and the American League New York franchise in the first decade of the twentieth century.
Newton's father, Dr. William T. Newton, met young Rachel A. Brown shortly after he entered into medical practice. The couple were wed on June 22, 1876, in Franklin, Indiana. The following year Eustace James "Doc" Newton was born on October 26 in Mount Carmel, Indiana. His brother, Casper, joined the family a year later. The family moved to Hope, Indiana, where Eustace was educated both in the classroom and on the ball field.
Following his local schooling, Eustace attended the Hope Normal School. (Normal schools were two-year post-high school for the preparation of teachers.) He would eventually attend the Central College for Physicians and Surgeons (aka Medical College of Indiana).3 He joined the town team from Hope but was usually found in right field, where his powerful arm cut down runners. A stout lad, he stood 6 feet tall and, when in top condition, weighed 180 pounds.4 As a teenager he was nicknamed Humpy because he walked with a "peculiar stooping walk."5
Newton eventually was given a chance to pitch for Hope and overcame early control problems to become a sought-after pitcher. In an 1898 interview he claimed to have played for the Moore's College (now the University of Evansville) team in 1895.6 That fall he was offered a tryout with the Indianapolis Hoosiers of the professional minor Western League.7 In December newspapers throughout the Midwest showed him on the Hoosiers' reserved list.
In April 1896 the Hoosiers decided Newton was not ready for their level of competition. It was announced that he would be farmed out to Rockford, Illinois.8 Whether he ever reported to Rockford is unclear but on May 31 he was in uniform with the crack independent team from Maysville, Kentucky. "He made monkeys out of the visitors, striking out seventeen" in an 8-2 win.9 He spent the summer with Maysville playing against all comers and earned accolades for his fine work.
In 1897 Newton signed with the Norfolk, Virginia, Jewels in the Class B Atlantic League. He saw action in exhibitions against the Washington Senators before defeating the Philadelphia Phillies. The Philly lineup that day featured Nap Lajoie, Ed Delahanty, and Sam Thompson. The trio of future Hall of Famers managed just two hits in Newton's 4-3 win.10
Newton's performance earned him the start on Opening Day, a 4-4 tie with Reading.11 Still a teenager, he led the team in appearances (39) and innings pitched (332) while posting a 15-21 record. In August his contract was sold to the National League Baltimore Orioles for $700.12 In late December it was reported that NL rival Louisville had secured the rights to Newton.13 Just how the Colonels gained his rights is unknown.
The following spring, Newton told an Indiana paper that the Colonels had offered a $1,000 contract but that he had a better offer in the Atlantic League.14 After a holdout, Sporting Life reported, he was to sign in early April. The following week the paper reported that he was to be farmed out.15 He debuted with the Reading Coal Heavers in the Atlantic League on June 2. With the Coal Heavers he played right field as well as pitcher. In mid-June he left Reading and returned to Norfolk, but the exact circumstances of the transfer have proven elusive.16
Statistics for pitchers are unavailable for the season. From box scores in Sporting Life, Newton most likely had a winning percentage below.500. He also struggled at bat and in the field. He played 51 games, hitting just .190.17 He recorded a fielding percentage of .761 in the outfield (worst in the league) and .882 as a pitcher (nearly at the bottom of the rankings).18
(The poor fielding was a harbinger of the 1901 major-league season that Newton split between Cincinnati and Brooklyn. He committed a combined 18 errors, the most by a pitcher in a season in the modern era. In his defense, his range factor [3.03] was slightly higher than the league average [2.75]).
Newton's father ended a two-year term as a state representative in 1898 and moved the family to Indianapolis. The local Hoosiers in the Western League signed Newton for the 1899 season. He made his debut with them on April 28, losing to Buffalo, 4-3.19 He followed that with a nine-walk performance against Columbus but came away with the win, 11-2.20
Newton's most notable game came on a gloomy June 9 when he no-hit the Milwaukee Brewers and aided his cause with a two-run single.21 At the time Indianapolis was in fifth place but the Hoosiers played solid team ball with excellent fielding to capture the title. Newton reportedly posted a 15-11 record.22
In February 1900 Newton signed with the Cincinnati Reds, rejoining manager Bob Allen, who had guided the Hoosiers to their title. A short time later he reported to spring training in New Orleans. Allen carried a five-man pitching staff during the season. Newton made 27 starts and led the team with nine relief appearances. He also led the team in walks (100) while compiling a 9-15 record. His best performance came on August 30 when he battled first-place Chicago for 13 innings. Darkness brought a halt to the action with the score tied, 3-3.23
Newton was invited to join a contingent of East Coast players on a trip to Cuba that fall. He turned down the offer because his father was very ill with Bright's disease (kidney disease now called nephritis). The elder Newton died in his Indianapolis home on October 21.
Bid McPhee took over as manager in Cincinnati the next season. Ted Breitenstein and Ed Scott left the team, decimating the pitching staff. The Reds would drop into last place and win 10 fewer games than in 1900. Newton began the season as the number-three starter, making his first start vs. Chicago on April 26. He took a three-run lead into the ninth but allowed Chicago four runs. Cincinnati rallied to tie, then won the game in 12 innings, 8-7.24
Newton returned to the mound four days later against Chicago, again taking a lead into the ninth. This time he allowed three runs and when his teammates could not rally, Cincinnati took the loss, 8-7.25 The losses continued to mount and by mid-July Newton was 4-13. He was released by the Reds and signed by Ned Hanlon of the Brooklyn Superbas. Former Red Charlie Irwin had signed with Brooklyn just a few days before Newton.
Newton did not sugarcoat his performance: "I have pitched poor ball for the Reds, but I don't know how to account for it. Things have been breaking bad for me, and a change of teams may bring a change in my success."26
Newton made his first start for Brooklyn on July 20 in Pittsburgh. Irwin was at third base for the revamped fourth-place Superbas. Newton was pounded by Pittsburgh and left the game after surrendering seven runs in the 15-2 loss.27 Finally, in mid-August, Newton found his stride and produced the results Hanlon had hoped for. He went 6-5 with a 2.83 ERA (he had a 4.12 ERA both years with Cincinnati) as the Superbas finished third.
Before the nickname of "Doc" caught on, Newton was Eustace or E.J. The trade to Brooklyn launched the widespread use of "Doc." In later years the moniker spawned copycats like minor-league shortstop Eugene H. Newton and minor-league right-hander Sol Williams Newton.
The core of the Brooklyn pitching staff all returned in 1902. At age 24, Newton was the youngest and the only lefty of the four-man group. The Superbas sputtered in April and May but found their stride in the summer to move into second place. But they never threatened the Pirates, who finished with 103 wins to take the pennant easily. Newton recorded 15 of the team's 75 wins. He led the team in shutouts (tied with Bill Donovan at four), ERA (2.42), and WHIP (1.116).
When the season concluded, Hanlon found that he and Newton were far apart on a new contract. Hanlon choose to just drop negotiations, making Newton a free agent. In December it was reported he had signed with the newly minted New York Highlanders in the American League.28 (They had played in Baltimore in 1901-02.)
Teams in the Pacific Coast League were offering lucrative contracts to players who would make the trek westward. Teammate Irwin made the jump to manage the San Francisco Seals. Newton was approached by the Los Angeles Looloos (aka Angels) and signed with them.
Newton's arrival after a lengthy journey aboard the Golden State Limited was heralded by the Los Angeles Times. Declaring him a "nationally famous twirler" and "one of the most renowned baseball artists in the country," the writer claimed he was an "active fielder" who possessed "slathers of bewildering curves."29 He pitched on Opening Day, picking up the win over Seattle.30
Newton sparkled on the mound for the Looloos, who were the dominant team in the circuit.31 On November 8 Newton tossed a no-hitter in which he did not walk anyone, hit anyone, or unleash a wild pitch while beating Oakland, 2-0.32 Two infield errors kept the game from being perfect. It was the first no-hitter thrown in the Pacific Coast League.33 His 35 wins led the league.34
Baseball records list Newton with both Los Angeles and Portland in 1903 because of a publicity stunt in which pitchers from the two teams switched sides.35 The silliness of swapping pitchers came on November 22 with Oscar Jones leaving the Portland bench to hurl for Los Angeles. Newton took the loss, 3-2.36
In 1904 Newton returned to Los Angeles. Dolly Gray and Rusty Hall also returned to the pitching staff. Newton was the star of the rotation, starting 57 games (10 more than in 1903). He led the team in wins with 39, ERA (1.73), and innings pitched (478). He led the league in wins, winning percentage (.696), and ERA.
Despite Newton's hard work, the pennant went to the Tacoma Tigers. The Looloos dropped a postseason series to the Tigers four games to one. In that series, Newton won one, lost one, and tied one.
Los Angeles was guided by Jim Morley, who had deep pockets and was not afraid to spend money to win a pennant. But Morley would have to dig deep to afford Newton after Doc had posted 74 wins in two seasons. Morley never found out how much he would have to spend because the New York Highlanders drafted both Newton and Hal Chase from his team.
Newton planned to spend the winter in California at a hot springs.37 A case of diphtheria forced him into a hospital quarantine in February and would hamper him with the Highlanders.38 Newton reported to training camp in Montgomery, Alabama, but was obviously not in good shape. By mid-April he was still unable to pitch more than four or five innings.39
In late May the Highlanders sent Newton home to Indianapolis to regain his strength. He recuperated, then played for some independent teams in the area. In mid-July he returned to New York and picked up his first win on August 4 when he beat St. Louis, 7-3. He pitched in 11 games, posting a 2-2 record.
In 1906 Newton won three straight in late May before a shoulder injury sidelined him.40 He came back in July and rejoined the rotation. On August 15 he defeated Detroit 10-2. A few days later newspapers announced his suspension for insubordination. Manager Clark Griffith never revealed the circumstances involved. Late in the campaign, Griffith hoped to use Newton in a game as the Highlanders battled Chicago for the pennant. Much to Griffith's dismay, Newton missed the game and claimed later to have been ill. In December his contract was sold to Montreal of the Eastern League.
New York reacquired Newton in July 1907 and he won the second game of the July 4 doubleheader with the Athletics, 7-3. He stayed in Griffith's good graces and posted a 7-10 record. In 1908 he pitched the second game of the year against the A's, allowing just four hits in a 2-1 victory. A May 11 shutout of Boston raised Newton's record to 4-1 but he did not win again. Relegated to the bullpen, he was used as a scout before being optioned to Newark of the Eastern League.
In 1909 Newton started the Opening Day game for New York in Washington but was pulled after allowing four runs in four innings. He had an 0-3 record before New York sent him to Toronto of the Eastern League. His major-league career was over; he exited with a 54-72 record.
Newton spent the rest of 1909 and the following season with the Maple Leafs, who finished out of the running each year. The next three seasons were spent with Memphis in the Class A Southern Association. Now in his 30s, Newton was reduced to pitching on four days of rest or more.
In December 1914, Memphis sold Newton's contract to Galveston of the Texas League.41 He balked at the prospects of playing there and ended up with the Ogden, Utah, Canners in the Class D Union Association.
Newton spent about two weeks in May with Ogden, pitching at least two games. He was released late in the month.42 In 1915 he returned to the Southern Association and played briefly with Chattanooga. Baseball Reference lists him as manager of the Tifton, Georgia, Tifters of the Dixie League in 1917. This seems to be a case of mistaken identity: The manager was E.H. Newton, who had been in the Virginia League with Norfolk in 1916.43 That matches with the career of infielder Eugene Hervey "Doc" Newton.
Newton's baseball career apparently ended in 1915, which coincides with his marriage to Elizabeth Lorenz (aka Laurence). He appears to have never entered medical practice. Instead the couple moved to Memphis, Tennessee, where Doc entered the cotton business. He died on May 14, 1931, from complications following a nervous breakdown.44 He was survived by his wife and mother. The body was transported to Indianapolis, where he was buried in Crown Hill Cemetery near his father and brother.
Acknowledgments
This biography was reviewed by Bill Lamb and Len Levin and checked for accuracy by SABR's fact-checking team.
Notes
1 "A Big Bouquet," Public Ledger (Maysville, Kentucky), August 24, 1900: 1.
2 "Morley's Team Succeeds in Downing the Cripples," San Francisco Call Bulletin, June 6, 1893: 12.
3 Dr. W.T. Newton Dead, Indianapolis News, October 22, 1900: 6.
4 During his career there were times when the weight went over 200 pounds, according to sportswriters.
5 "Newton Known as 'Humpy,'" Indianapolis News, May 21, 1904: 10.
6 This was a syndicated column from an unspecified Louisville Dispatch writer that appeared in papers, mainly in the Midwest, in January and February of 1898.
7 The Republic (Columbus, Indiana), October 18, 1895: 4
8 The Republic, April 17, 1896: 2
9 "Our Baseball Man," Public Ledger, June 1, 1896: 5.
10 "Well We Don't Know," Norfolk Virginian, April 9, 1897: 3.
11 "Terrible Surprise," Norfolk Virginian, April 27, 1897: 3.
12 "Newton Sold to Baltimore Team," The Republic, August 17, 1897: 1.
13 "Sports in Short Metre," Philadelphia Inquirer, December 28, 1897: 4.
14 "Newton Has Not Signed," The Republic, April 20, 1898: 2.
15 Sporting Life from April 9 and 16, 1898.
16 He last pitched for Reading on June 17 then was with Norfolk by June 23.
17 "Atlantic League," Sporting Life, November 26, 1898: 9.
18 "Atlantic League," Sporting Life, December 3, 1898: 7.
19 "Presented by Mr. Kahoe," Indianapolis Journal, April 29, 1899: 6.
20 "Was Entirely Too Easy," Indianapolis Journal, May 2, 1899: 6.
21 "Great Work by Newton," Indianapolis Journal, June 10, 1899: 6.
22 Pete Cava, Indiana-Born Major League Baseball Players: A Biographical Dictionary, 1871-2014 (Jefferson, North Carolina: McFarland, 2015), 142.
23 "Game of Rare Merit," Inter Ocean (Chicago), August 31, 1900: 8.
24 "Orphans Lose First at Home," Chicago Tribune, April 27, 1901: 4.
25 "Wahoo," Cincinnati Enquirer, May 1, 1901: 4.
26 "Newton with Hanlon," Topeka (Kansas) State Journal, July 18, 1901: 2.
27 "National Leaders Aroused," Omaha (Nebraska) Daily Bee, July 21, 1901: 4.
28 "American League Grounds," New York Daily Tribune, December 10, 1902: 5.
29"'Doc' Newton Arrives," Los Angeles Times, March 14, 1903: 13.
30 "Magnates and Players," Cleveland Plain Dealer, April 1, 1903: 8.
31"League Standings," Los Angeles Times, November 30, 1903: 12. The team was listed with a 133-78 record with Sacramento in second at 105-105.
32 baseball-reference.com/bullpen/Minor_League_No-Hitters_1900-1909, last accessed March 20,2020.
33 There had been previous versions of the PCL and the Pacific Coast National League, but 1903 marked the birth of what we know these days as the PCL.
34 "Pitching Averages," Oregon Journal (Portland), December 5, 1903: 8.
35 baseball-reference.com/bullpen/Doc_Newton. Last accessed March 2, 2020.
36 "Could Not Hit Him," Oregonian (Portland), November 23, 1903: 5.
37 "Gossip About the Players," Seattle Daily Times, January 21, 1905: 5.
38 "Dillon Again to Play for Morley," Los Angeles Herald, February 23, 1905: 9. Diphtheria causes breathing and swallowing difficulties and can lead to heart and nerve damage.
39 Baseball Notes," Boston Herald, April 15, 1905: 11.
40 "Baseball Notes," The Sun (New York City), June 9, 1906: 9.
41 "The Hot Stove League," San Antonio (Texas) Light, December 21, 1913: 15.
42 "Great Crowd Sees Ogden Make It Six Straight," Ogden (Utah) Standard, May 18, 1914: 2.
43 "Doc Newton Signs to Manage Tifton in the Dixie League," Atlanta Constitution, April 14, 1917: 12.
44 "Former Citizen of Hope Passes," The Republic, May 20, 1931: 12.
Born
October 26, 1877 at Mount Carmel, IN (USA)
Died
May 14, 1931 at Memphis, TN (USA)
If you can help us improve this player's biography, contact us.
https://sabr.org/sites/default/files/NewtonDoc.jpg
600
800
admin
/wp-content/uploads/2020/02/sabr_logo.png
admin
2012-01-04 20:50:23
2020-06-30 09:19:16
Doc Newton