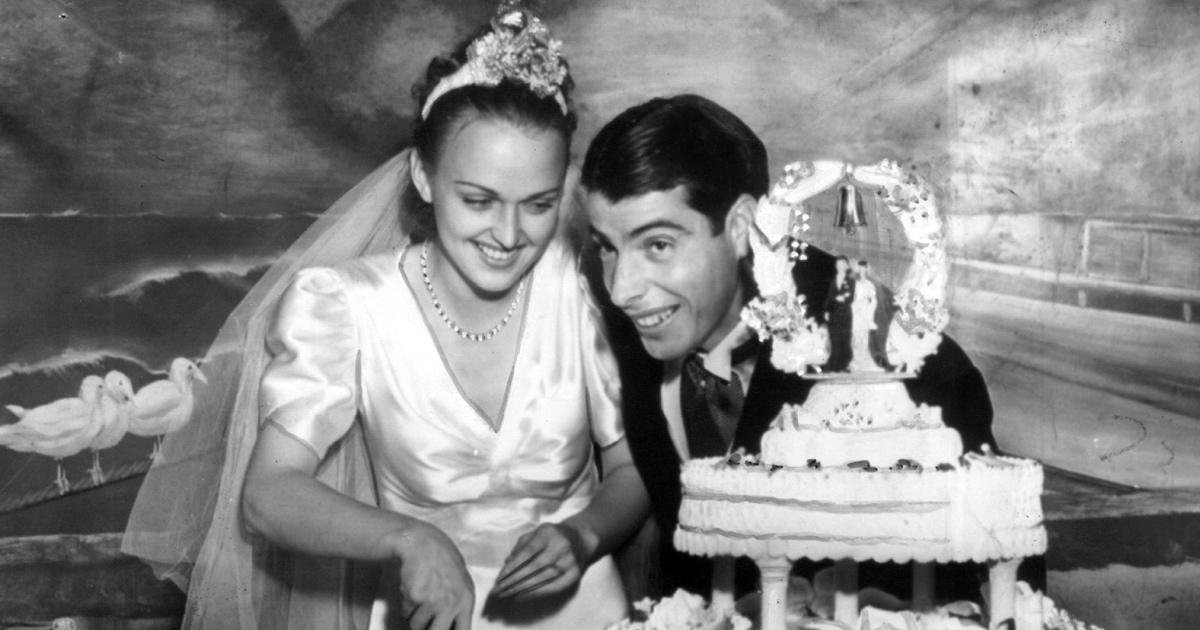 ---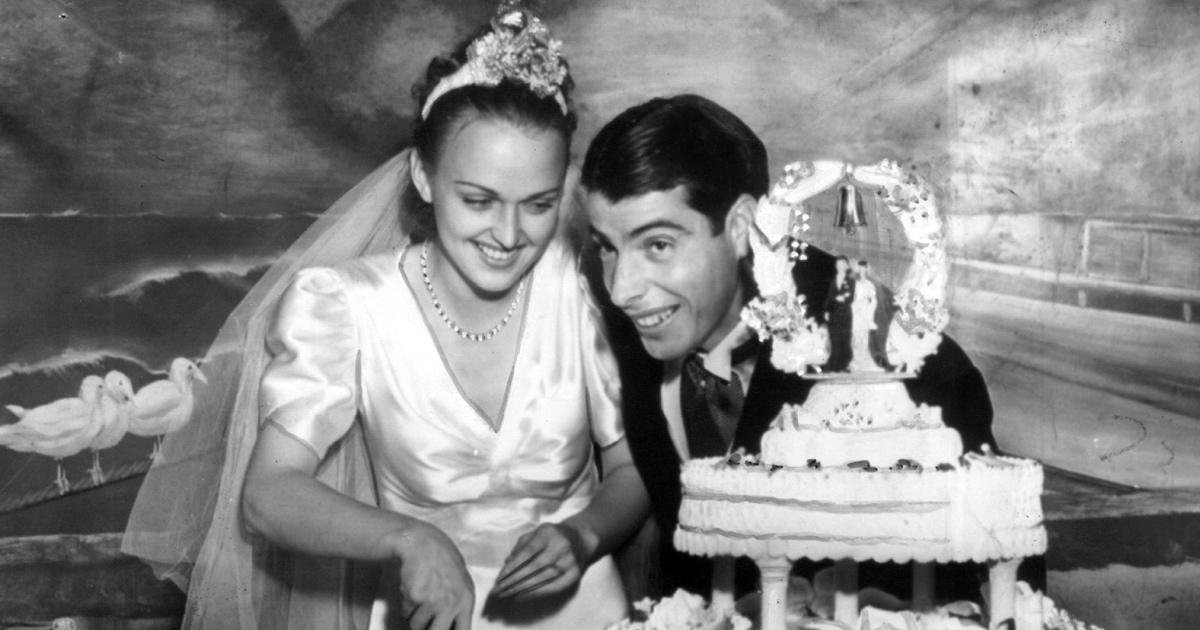 Sometime after World War II, Woody Guthrie wrote a song called "Joe DiMaggio Done It Again." Praising DiMaggio's baseball exploits, the title could also refer to the fact that when Joltin' Joe married Marilyn Monroe in 1954, it was his second marriage to a glamorous blonde actress.
DiMaggio married Dorothy Arnold of Duluth, Minnesota, on November 19, 1939, in San Francisco, his hometown. With 30,000 onlookers gathered on the streets of North Beach and newsreel cameras rolling, the storybook wedding captured the nation's attention.
Dorothy Arnoldine Olson was born on November 21, 1917, the third of five daughters of V. Arnold and Clara (née Kolbak) Olson. Her father, born in Duluth's twin port of Superior, Wisconsin, won the Duluth city ski-jumping championship in 1910 and worked as a conductor for the Northern Pacific railroad. Clara hailed from Duluth.
Arnold first went on stage as a teenager during amateur nights at Duluth's Lyric Theater, which led to her taking lessons from the Geraldine Butler School of Dance. Billed with Dorothy Tetzman as "Dot and Dot (With a Little Bit of Dash)," the girls performed song-and-dance routines in Duluth and the surrounding area.
Arnold graduated from Duluth's Denfeld High School in 1935. Allowed to take her final exams early, she left home that spring to join the Band Box Revue out of Chicago. She adopted her stage name around that time.
Moving on to New York, she attended the Paramount School of Acting. "Between classes, she worked at NBC as a [radio] staff singer, posed for shots in magazine stories, modeled for ladies' wear in ads, modeled clothes, and was in short-subject films," wrote Joyce M. Hadley in her biography of her sister, Dorothy Arnold: Joe DiMaggio's First Wife.1
In 1937, she appeared on the cover of True Romances magazine and met DiMaggio while working as an extra on the set of Manhattan Merry-Go-Round. DiMaggio had a few speaking lines in the film, which featured musicians Cab Calloway, Louis Prima, and Gene Autry.
Then it was off to Hollywood, as she signed a contract with Universal Studios. She appeared in four films in 1938, the first of which was called The Storm. A comparison to Hedy Lamarr ensued in Erskine Johnson's gossip column.
Arnold notched seven acting credits and two uncredited parts in Hollywood features in 1939. Her first significant role was in The House of Fear. She also starred in the 12-part serial The Phantom Creeps, with Béla Lugosi. On a seemingly unstoppable roll, she recalled her beginnings in Paul Harrison's "Harrison in Hollywood" syndicated column in the spring of 1939:
"As a kid in Duluth I was an awful tomboy — always playing baseball and football with the sandlot boys. But that was only until I got to be 13 and decided to be a singer and dancer. By the time I was 15 I looked 22 and was doing torch songs in night clubs. … I went into vaudeville with a song and dance specialty … and the next season went east, where I tried little[-]theater work, and stock, and tried to crash Broadway. I almost starved, and sometimes I sang with cheap dance orchestras. Ever since then I've been a sucker for hard-luck stories; whenever anybody mentions 'landlord,' I reach for my purse."2
The year ended with her most prominent role yet — Joe DiMaggio's bride. Since she'd met DiMaggio, the arc of her life zipped like a Bob Feller fastball. After the wedding, it moved like a Tommy Bridges curveball.
Arnold quit acting. A product of his times, DiMaggio expected his wife to be at home.
The couple came to the Midwest in January of 1941. In Duluth, DiMaggio visited the All-Sports Municipal Stadium (called Wade Stadium since 1954), still under construction at the time. They then traveled to Northfield, Minnesota, where Arnold's sister Leone's husband, Duluth native Orville Dahl, taught English and was dean of men at St. Olaf College (he later became the first president of California Lutheran University). Their final stop, Rice Lake, Wisconsin, is where Joyce and her husband, Les Hadley, lived.
The stay in Wisconsin exposed the peaks and valleys of the relationship.
DiMaggio, disquieted by the attention Arnold gave to Les's boss and coworker who stopped by to meet the celebrities, silently left the gathering at the Hadley residence. Les discovered DiMaggio down the street in a tavern and persuaded him to return.
Olson family lore has it that Joe DiMaggio Jr., born on October 23, 1941, was conceived in Rice Lake, within the paper-thin walls of the Hadleys' apartment.
If Arnold thought that having a baby would smooth out the rocky marriage — DiMaggio, emotionally unavailable, spent most evenings away from their upper Manhattan home — it had the opposite effect. (Perhaps Arnold had the best insight as to what Paul Simon meant by "Where have you gone, Joe DiMaggio?")
They separated in 1942 but reconciled. Another separation occurred in 1943. DiMaggio's military service during World War II delayed the inevitable and they divorced in 1944. They resumed an on-again-off-again relationship that turned off in 1946 when Arnold married George C. Schubert in Baltimore, Maryland.
The Schuberts lived a life of "dining, dancing, and fabulous parties" at the Waldorf Astoria hotel in New York, according to Hadley. Schubert, a stockbroker, took over Arnold's finances. By the time they divorced in 1950, Arnold had lost everything except DiMaggio's $150-per-month child support. She sued unsuccessfully to have it raised to $650 in 1951.
She tried acting again and appeared on a television episode of The Lone Wolf in 1954. In 1957, her credits included one episode each of TV's The Adventures of Jim Bowie and Dragnet, and the film Lizzie. Her final screen role was in a 1958 film called Fräulein.
Although acting parts eluded Arnold in the 1950s and '60s, she found success in the nightclub circuit.
Arnold married Ralph Peck (Peckovich) in Reno, Nevada, in 1970. Peck played football for Arizona State and received a Purple Heart while serving in the Navy during World War II. The couple owned and operated Charcoal Charlie's, a restaurant in Cathedral City, California, for 14 years. Arnold provided the entertainment by singing and dancing. She also kept the business's books.
After spearheading a successful grassroots movement to halt the construction of a road in her neighborhood, Arnold was elected president of the Cathedral City Chamber of Commerce in 1973. She held the position for two years.
Arnold, raised as a Presbyterian, converted to Catholicism to marry DiMaggio and eventually believed in the teachings of Christian Science. When she fell ill in 1984 — some sources cite pancreatic cancer — she requested that Peck take her to the Gerson Therapy Center in Tijuana, Mexico. She died in Tijuana at age 66 on November 13, 1984, after a two-week stay. Her body was shipped to a crematory in San Diego and the ashes were then placed in the Pacific Ocean.
In 1992, the crematory company settled a class-action suit in which it was alleged to have committed several improprieties in its operations between 1981 and 1991. Because no family members saw the body, Hadley had her doubts as to the actual whereabouts of her sister's remains. Peck died in his native Arizona in 2007.
Joe DiMaggio died on March 8, 1999. Monroe's death in 1962 affected him deeply; he never remarried. Joe Jr. died five months after his father. The younger DiMaggio struggled with drug abuse and homelessness for the last 20 years of his life and was estranged from both of his parents. He was 57.
Hadley, the last living Olson sister, appeared on the PBS documentary series American Experience when it dedicated an episode to the life of DiMaggio in 2000. She died in Illinois in 2016.
Acknowledgments
This biography was reviewed by Len Levin and fact-checked by Chris Rainey. It first appeared, in slightly different form, in the Spring 2018 edition of Rootprints, the newsletter of the St. Louis County (Minnesota) Historical Society.
Sources
Besides the sources cited in the Notes, the following were consulted:
Engelberg, Morris, and Marv Schneider. DiMaggio: Setting the Record Straight (Minneapolis: Motorbooks International, 2003).
Ouse, David. Forgotten Duluthians (Duluth, Minnesota: X-presso Books, 2010).
"Clara F. Olson [Obituary], Duluth News Tribune, May 26, 1981.
Ralph Dan Peckovich [Obituary], Arizona Republic (Phoenix), May 8, 2007.
V.A. Arnold (Clara) Olson [Obituary], Duluth News Tribune, March 27, 1979.
"Dorothy Arnold," imdb.com/name/nm0036419/, accessed February 2, 2018.
"Joe DiMaggio: The Hero's Life," American Experience, Season 12, Episode 14, youtube.com/watch?v=_8ugjGF1PZ8, accessed February 2, 2018.
"Joyce Meredith Olson Hadley," findagrave.com/memorial/158311432/joyce-meredith-hadley, accessed February 2, 2018.
Duluth Public Library.
Notes
1 Joyce M. Hadley, Dorothy Arnold: Joe DiMaggio's First Wife. (Oak Park, Illinois: Chauncey Park Press, 2004).
2 Paul Harrison, "In Hollywood," Trenton (New Jersey) Evening Times, April 18, 1939.
Born
November 21, 1917 at Duluth, MN (US)
Died
November 13, 1984 at Tijuana, Baja California (MX)
If you can help us improve this player's biography, contact us.
https://sabr.org/sites/default/files/DiMaggio-Dorothy-Arnold-wedding-1939.jpg
600
800
admin
/wp-content/uploads/2020/02/sabr_logo.png
admin
2018-06-01 12:11:47
2020-04-09 14:40:19
Dorothy Arnold