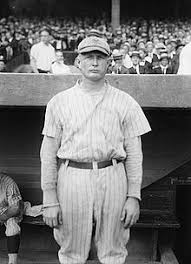 ---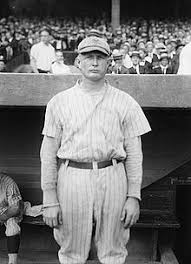 Catcher "Oil" Smith, a bench-jockey and brawler extraordinaire, played on five World Series teams in the 1920s. Behind the plate, he perfected tactics that distracted and intimidated hitters. A potent left-hand batter himself, he finished his 12 seasons in the majors with a .303 lifetime average.
"He probably was involved in as many fights as any player in the game and was regarded as one of the most colorful players in the golden era of sports," the Associated Press wrote of Smith when he died in 1963.1 Columnist Westbrook Pegler gave Smith the nickname "Oil," based on the way Brooklyn fans pronounced Earl Smith's first name.
Earl Sutton Smith2 was born in Sheridan, Arkansas, on February 14, 1897 – Valentine's Day. He would never be mistaken for a sweetheart on the baseball field. "He was a hard-drinking, tough-guy catcher who had no fear of anybody," author Robert Creamer wrote of Smith.3
Smith's parents were Jordan and Julia Belle (Mayberry) Smith. He was the first of their two sons. His brother Luther was born in 1898, the year their father died. Their mother was of English descent, but her family had been in America for generations. After their father's death, the two boys and their mother moved in with her parents. When she worked, Belle Smith was a seamstress. In 1905 she married Enoch W. "Ed" Scott, a farm laborer, carpenter and driver for a transportation company.
Smith attended the Jones School in Hot Springs for the primary grades. Published articles in the 1920s said he went to high school, although Angelo Louisa in his book about the 1926 Pirates found no evidence that Smith attended high school in the Hot Springs area.4
The 1910 U.S. Census lists Smith's occupation as "newsboy." Later news accounts said he had been a stable-hand at a racetrack in Hot Springs and an aspiring jockey until he grew too tall and heavy.. Several major league teams regularly trained or visited Hot Springs, often called the "Spa City" for its baths, in the first decades of the 20th century,5 so Smith would have been exposed to baseball from an early age. "Smith started his career on the corner lots here as a small boy," an Arkansas newspaper reported in October 1921, "and 10 years ago … he was a member of the Hot Springs team."6 That would have meant he was playing on a semi-pro team at age 14 – not impossible but questionable. Other stories had him playing semi-pro ball for a team in Hot Springs in 1915, a year before he began his minor league career.7
Newspapers in and near Hot Springs paid no attention to Smith until he already had played three season in the minors, beginning in 1916. Baseball-Reference.com and the 1957 Baseball Register entry on Smith among "Former Stars of Game,"8 list him as having played briefly for Dallas in the Texas League that season, but neither provides any statistics. Smith caught in 47 games the same year, hitting .269 with Waxahachie in the Central Texas League. Hall of Famer Ross Youngs had played with Waxahachie the previous season.
Smith played closer to home at Fort Smith, Arkansas, in the Western Association in 1917. He was among the league leaders in batting at .332 and in home runs with 21.9 Also with Fort Smith that season was pitcher Mule Watson, who later became a teammate of Smith's in the majors.
In the spring of 1918, Smith "was a free agent hanging around Hot Springs, waiting for someone to hire him," the Arkansas Democrat wrote in 1920.10 He persuaded Wilbert Robinson, whose Brooklyn team was training there, to let the young catcher work out with the team. Robinson was so impressed with Smith that he asked Brooklyn owner Charles Ebbets for permission to allow Smith to go north with the Brooklyn players. Ebbets rejected the idea, supposedly to avoid the cost of another ticket. (Later, Ebbets disputed this widely reported account.)
Robinson touted Smith to his friend Arthur Irwin, manager of the Rochester, N.Y., team in the newly reorganized International League. Offering no bonus other than train fare, Irwin signed Smith to a contract. Smith's performance had several teams bidding for him before the season ended. On the strength of a .358 average in 94 games and strong play behind the plate, he was widely recognized as the league's top player and the best catching prospect in the minors. The winning bid for his immediate services, however, came from Uncle Sam. With the United States fighting in World War I, he was ordered on August 21, 1918, to report for Army induction.11
Smith was sent to Camp Pike in Little Rock, not far from his Arkansas home. He was assigned to the 162nd depot brigade before the war ended and was discharged in late November. Shortly before he left the service, he married Bessie Riley, 20, in Hot Springs on Nov.10, the day before the armistice was signed. In a letter to a friend in Rochester after his discharge, Smith said he looked forward to playing there again in 1919. At least two major league teams had other ideas.
Philadelphia's Connie Mack reportedly offered Rochester four players and $5,000 for Smith. John McGraw's Giant topped that by sending five players, including Waite Hoyt, and as much as $12,000 to acquire Smith in a deal finalized just after New Year's Day in 1919.12
Smith raised eyebrows soon after when he returned his first Giants' contract unsigned. "Smith is the first ball player who was a holdout … before he even played," the New York Times wrote in March.[13Several Giants' pitchers and catchers arrived to work out in Hot Springs in February. The unsigned Smith, who had touted his hometown in a letter to McGraw, took part.14 By mid-month, he had signed for a token raise and was in camp with the team in San Antonio, Texas.
McGraw, not one to gush over rookies, was impressed with the 5-foot-10, 180-pound Smith in spring training. "Our new catcher has made an excellent showing and should develop into a valuable player," the manager told a reporter.15 As was his custom, however, McGraw brought Smith along slowly. The rookie catcher spent most of the 1919 season warming up pitchers. He appeared in just 21 games, starting only seven times. Five of those starts were in September.
Smith made his major league debut on April 24, his only start that month. It would be two months before he started again, and then three more months before his next start. By that time, McGraw must have figured Smith was ready and started him three days in a row in late September. He finished his rookie year with just 40 plate appearances – all against right-handers — and hit .250.
The rookie's relationship with McGraw at that point seemed to be one of respect. In a letter home, Smith said that if he kept listening to his manager, he "would know the tactics of every batter in the National League."16
That fall, Smith and a friend purchased a butcher shop in Hot Springs. He spent the winter wielding a large meat cleaver. Early in 1920, Smith also was working out with pitcher Ferdie Schupp at the local bath house gyms. The two got in the ring and learned to box, a skill that Smith would later put to use more than once during his big league career.17 He and his wife were living with his mother in Hot Springs prior to the 1920 season.18
McGraw had Johnny Evers, the longtime Cubs infielder, as a coach in 1920. Smith was put under Evers's wing, with the two even rooming together.19 Despite his small size, Evers had a reputation as a combative and argumentative player, a trait he may have passed on to his 5-10, 180-pound pupil.
Smith established himself as the Giants' primary catcher against right-handers in 1920, starting 75 of the 82 games in which he appeared behind the plate. His 91 games total and 285 plate appearances would be his highest as a Giant. Just nine of his plate appearances were against lefties. He put the ball in play 251 times, striking out just 16 times, while batting .294.
When the season ended, he accompanied most of his teammates to Cuba for a series of 16 exhibition games. Then he went home to Hot Springs. Apparently no longer involved in the butcher shop, he spent the winter hunting and fishing in the nearby Ozarks.
The 1921 season established the persona that would persist throughout Smith's career. Again, he played almost exclusively against righties. He and Frank Snyder shared the catching duties on a team that would win the World Series. Smith hit .336 and a career-high 10 homers in just 261 plate appearances, which helped produce a .537 slugging percentage, also his tops. He also began to get on the nerves of his manager and opposing batters.
Smith's first reported fight involved a story about a police detective coming into the Giants' clubhouse after a morning practice on July 8 and demanding the keys to players' lockers. The cop, identified as James Dolan of the 125th Precinct, said he was searching for liquor in violation of prohibition laws. Several players complied, but Smith told the detective, "If you want to search my locker, you'll have to produce a search warrant." The cop then asked Smith if he wanted to fight. Smith didn't hesitate and knocked the guy down several times as his teammates cheered him on. The cop retreated, mumbling something about coming back with reinforcements. A news report quoted coach Cozy Dolan as saying the cop "got what was coming to him."
Smith came off as a hero. "Anybody that knows me is aware that I'm not quarrelsome. If this man had come here in a regular way … I would have made no objection," the New York Tribune quoted Smith as saying.20 The story made the front page of the Tribune and was picked by the wire services, but before long Giants management was denying it took place.
What casts doubt on the locker-search story is what happened two days later. By then, it was reported that the 125th precinct had no detective named Dolan. McGraw confirmed that Smith had been in a fight with a Dolan who was not a cop, but a Giants coach. The manager fined Smith $200 for punching Cozy Dolan during a batting practice dispute over Smith's insistence on hitting balls into the right-field stands, where in those days somebody had to retrieve them.21 Whether these reported fights were two separate incidents never became clear. The Tribune reported them that way as did other papers that picked up the stories.
Smith drew his first suspension from McGraw on August 3. Angered at being pinch-hit for with a right-hander on the mound, Smith took to "sassing" McGraw on the bench and in the clubhouse. A Giants' spokesman said McGraw had accepted several apologies from Smith earlier in the season, but finally had enough.22 The suspension lasted until Aug. 15.
Bill Klem, the one umpire for whom Smith later expressed respect, was the first to eject Smith. Klem did it twice in 1920, once before the start of a game despite McGraw's protests. Smith would be ejected in April 1921 by another umpire for throwing his glove in a ball-and-strike argument. The next time Smith was involved in an ejection, it was someone else's. After he made a few comments to which the normally even-tempered Phillies outfielder Cy Williams took umbrage and punched Smith in the face.23 Umpire Barry McCormick banished Williams, but likely did not forget Smith's instigation. In mid-September, McCormick ejected Smith for arguing balls and strikes.
Smith didn't start Game One of the World Series against the Yankees, but he ended it – by hitting into a ninth-inning double play as a pinch hitter. He was behind the plate the next day, however, and made his presence known. He soon began jawing with George Moriarty, the plate umpire, and making derisive comments to Yankees' batters. His taunts enraged outfielder Bob Meusel, who reached first base and kept trading barbs with Smith. After advancing to third, Meusel let the catcher know he intended to come home with his spikes high at the first opportunity, wondering out loud if Smith was brave enough to hold his ground. Sure enough, on the next pitch, Meusel, several inches taller and 20 pounds heavier than Smith, was on his way. The Giants catcher bobbled the ball and was nowhere near the plate as Meusel scored.
If that weren't enough, Commissioner Kenesaw Mountain Landis slapped Smith with a $200 fine for "irregularities" with umpire Moriarty. In Game Three, Moriarty ejected Smith, who wasn't in the lineup, for razzing Meusel from the bench. After the game, Babe Ruth and Meusel, in their street clothes, came into the Giants' dressing room. "I'm looking for Rawlings," Ruth growled, meaning Giants second baseman Johnny Rawlings, who had been yelling insults at him from the bench. "What's the matter, Babe? Can't you take it?" Smith yelled back. Ruth took off his coat as several Giants crowded around. Giants coach Hughie Jennings quickly ushered the two Yankees out of the room before any blows were struck.24
Landis, who showed up in the Giants' dressing room before the series ended, offered to rescind the fine if Smith apologized to Moriarty. A defiant Smith told Landis to take the $200 and buy himself a new hat. To make sure Smith paid his fine, Landis had it deducted from his World Series check.
By 1922, McGraw and Smith were constantly at odds. The manager liked to call pitches from the bench, but Smith wouldn't look over from behind the plate. "If I call for something you don't want, shake me off. Don't hesitate," Smith told pitcher Carmen Hill that season. "As for that pot-bellied son of a bitch on the bench, you don't look at him and neither will I."25
McGraw suspended Smith for about a week after a May 31 game in Philadelphia, sending the catcher back to New York for breaking training rules. Smith homered and drove in three runs on his return to the lineup June 8. But McGraw's main form of punishment that season was to hit Smith in the pocketbook. "It was reported that [McGraw] fined Smith $2,500 during the season, which must have been half his salary," Bill James, who has Smith as number 100 on his list of the 100 best catchers, wrote.26
Smith and Snyder again platooned behind the plate in 1922. The Giants and Yankees repeated as pennant winners. Smith appeared in four of the five World Series games but in just one as a starter. Snyder, coming off a career-best season, started the others.
Back home in Hot Spring after the Series, Smith got into a fistfight with a local police officer outside a tobacco store. The officer tried to arrest Smith because his car had an outdated registration.27 No charges were filed, probably because Smith was by now a local celebrity.
Before leaving for spring training, Smith told a Little Rock newspaper he intended to turn over a new leaf. "Earl has … decided not to be so belligerent…. It cost him considerable prestige last year," the paper reported.28 By this time, Smith had begun selling real estate in Hot Springs in the off-season.
Regardless, Smith was in hot water with McGraw as soon as 1923's spring training began in San Antonio. As was the custom, the manager checked the luggage the players brought to camp. Smith's contained a quart bottle of bootleg liquor and a pair of handcuffs. McGraw never found out what the handcuffs were for, but he banished Smith to the second team, which trained elsewhere. "I have been trying to talk to this fellow Smith for three years. He shows no improvement," McGraw said.29 "This isn't his first offense by any means…. If I could trade him, I would."30
Clearly, Smith was not long for New York. By June 1, he had started just six games and was hitting .194. On June 7, he and pitcher Jesse Barnes were traded to the Boston Braves for veteran catcher Hank Gowdy and pitcher Mule Watson. The Giants were on their way to another pennant; the Braves were headed to 100 losses.
Smith played well for Boston, but the 1924 team was even worse, finishing last. During the season, Smith found himself in the same hotel as his former team. McGraw often sent a team trainer to do bed checks. When the trainer mistakenly knocked on the wrong door, Smith pulled him inside his room and locked him in a closet. He then went down the hall and told his former teammates to go out and have some fun, with no fear of bed checks. He let the trainer out about an hour later.31
At one point, player-manager Dave Bancroft, who had been friendly with Smith when both were with the Giants, fined his catcher $500 for violating team rules. By July 1924, the Braves tried to slip Smith through waivers so the team could sell him to Los Angeles in the Pacific Coast League. The Pirates put a stop to that by claiming Smith for the waiver price. Pittsburgh was on its way to 90 victories, with even better days to come. Smith, who never forgot the $500 fine and kept demanding his money back, would play a key role.
Smith responded to the change of scenery with a.369 average and .586 slugging percentage in 39 games for the Pirates for the rest of 1924. The catcher missed two weeks at the beginning of September with a sprained thumb but returned without missing a beat.
Not long after Smith joined the Pirates, he made a difficult catch of a foul pop near the Giants dugout where McGraw was seated. "What do you think of that one?" Smith yelled before spitting tobacco onto McGraw's shirt. McGraw had to be restrained when he tried to go after Smith with a bat.32 In late July, National League President John A. Heydler wrote the first of several letters to Smith, warning him that he faced suspension unless he toned down his arguments with umpires and opponents.
The next season, Smith posted career highs in games played, plate appearances, hits, doubles and runs batted in and hit .313. Just as important, his combative personality seemed to light a fire under the Pirates, who won the pennant and defeated the Senators in the World Series.
"Ask [players] to name who might be the most valuable catcher in the league," Thomas Holmes of the Brooklyn Daily Eagle wrote in February 1925, "you might find quite a few would answer 'Earl Smith'."33
By then, Smith had perfected his style of annoying and distracting opponents. "He'd flip dirt on your ankles and down into your shoes when you were hitting, or he'd squirt tobacco juice up and down your calf," Lew Fonseca, who played against Smith in the early '20s, recalled in a 1974 Sporting News article.34
"Nobody close to the Pirates in the historic 1925 season doubts that Smith … talked opponents out of enough games to bring the pennant to Pittsburgh," Charles J. Doyle wrote in The Sporting News in 1946. "Smith got away with stuff that has never been matched or even approached."35
He had his usual share of on-the-field adventures. On May 14 in Boston, Smith tried to catch a foul pop near the stands and was mercilessly heckled by a fan who may have taken a swing at him. He climbed into the stands and punched the heckler. Umpire Cy Rigler dragged him back onto the field and into the Pirates' dugout. On the way there, another fan threw a chair that hit Smith in the head. Heydler, the league president, suspended Smith for three days. The fan who was punched filed assault charges against Smith, but the case was dropped when the fan didn't show up in court. In late September, Heydler again had to warn Smith in writing to stop "the use of vile and obscene language" against opponents.36
Despite the warning, Smith was at his aggravating best during the 1925 World Series against Washington, the defending champions. The harassment got so bad the Senators held a team meeting before lodging a protest with Landis, who asked Pirates manager Bill McKechnie to tell Smith to cool it.
Washington slugger Goose Goslin probably got the worst of it, with Smith flapping his arms when Goslin approached the plate and making snide comments about Goose's prominent nose. Those might have been Smith's milder antics. Goslin, with Smith abusing him, looked at a third strike to end Game Seven.
Making contact with opponents' bats, usually before they were swinging, was a Smith specialty. Hall of Fame historian Lee Allen described Smith as "a tipper of bats beyond parallel" in a 1968 column.37With Roger Peckinpaugh at bat in Game Seven, Smith became the first World Series backstop whose bat-tipping resulted in catcher's interference.
With Smith's help, the Pirates became the first team to a win a seven-game series after being down 3-to-1. Starting six games, Smith hit .350, including a key double in Game Seven. He would have hit an even .400 were it not for one of the most controversial catches in World Series history. Smith's eighth-inning drive in Game Three was snared by Sam Rice before he tumbled into the temporary roped-off area in right field at Griffith Stadium. Rice eventually stood up holding the ball. Cy Rigler made the out call, provoking vehement protests by the Pirates, who were sure Rice had not held on. In a letter opened after he died, Rice insisted he had.
Smith hit a career-high .346 – third in the N.L. — in 1926, but the Pirates fell to third place. Heydler sent yet another letter to Smith that season, warning him to stop abusing umpires and opponents.
A fight Smith instigated in 1927 sullied his reputation, even among those who admired him. On June 18 in Boston, verbal exchanges between Bancroft and Smith escalated to the point that Smith knocked the much smaller Boston player-manager cold after Bancroft had crossed the plate and turned away. Heydler suspended Smith for a month and recommended that the Pirates get rid of him. When Smith returned to play in late July, he injured himself jumping a fence in Boston to avoid being served with court papers. Bancroft had filed suit, seeking $15,000.
Although Pittsburgh won the pennant again, Smith started just 58 games and hit .270. He was behind the plate for two games in the World Series, but was hitless as the Yankees swept the Pirates. The next season, even Pirates owner Barney Dreyfuss had tired of Smith's antics. Released in early July, Smith was signed three days later by the pennant-bound Cardinals. "Did I ever get transferred to a team that didn't win a pennant?" Smith announced to his doubters.38
Although he hit just a combined .238, the worst full-season of his career, Smith went 3-for-4 against the Yankees' Waite Hoyt in the one game he started in the World Series. He bounced back to hit .345 in 57 games in 1929, but after six hitless games in 1930, the Cards sent him to the minors. He played well enough at Toledo before moving on to Rochester. When the Cards' starting catcher was injured, Smith returned to the majors for a two-game last hurrah. Connie Mack gave the Cardinals permission to put Smith on the World Series roster, but he saw no action.
Smith gave it a try again in 1931, playing closer to home at Nashville and Little Rock, but with little success. When he was heard of next, in 1934, he was playing and managing the touring House of David team in the Midwest. Grover Cleveland Alexander was playing for the same team, as on occasion was the famous multi-sport female star Babe Didrickson.
Whether Smith actually managed parts of four seasons in the low minors, starting in 1935, is unclear. Several sources, including the 1957 Baseball Register and Smith's Bullpen Wiki page on Baseball-Reference, say he did. However, another Earl Smith managed in the Eastern Shore League at the same time. The 1935 minor league listing on Baseball-Reference for the Charleston team, for which Oil Smith supposedly managed and even played a few games, does not credit him as the manager. In 1936, Oil was signed to manage the Washington, Pa., team in the Pennsylvania State Association. However, the team lost its major league affiliation and folded before the season began.
Smith preferred to stay close to home. He was a candidate to manage the Hot Springs team in the Cotton States League in 1937.39 McKecknie, his former manager, said early in 1939 that Smith was living on a houseboat, fishing and hunting in the Ozarks.40 Smith in April of that year was reported to have recovered from a long illness. His mailing address was his mother's home in Hot Springs. When he registered for the World War II draft, he listed his marital status as divorced.
Smith came out of retirement in 1947 when Hot Springs was preparing to field a new team in the Cotton States League. Players interested in trying out were told in a Sporting News ad to contact him. He served as a coach for the hometown Bathers that season. Smith stayed affiliated with the Bathers at least until 1952, when he helped run a tryout camp.
Still combative at 53, Smith got into a fight in a trailer park in February 1950 and ended up hospitalized with head injuries. The other man in the fight claimed Smith attacked him with an iron pipe before he was able to subdue him. The next year, Smith was among the 1925 champs presented with gold watches in an August ceremony at Forbes Field.
Smith's mother lived in Hot Springs until her death in 1960. His brother had died in 1954. Smith may have continued to sell real estate, but it didn't get in the newspapers. He died June 8, 1963, in a Little Rock hospital. The cause was cirrhosis of the liver. He is buried in Little Rock National Cemetery.
All his fighting may have shortened Smith's career, Bill James wrote, but "a lot of people liked him. He had guts, and there wasn't anything phony about him."41
Acknowledgments
This biography was reviewed by Norman Macht and fact-checked by Stephen Glotfelty.
Notes
1 Associated Press, "Oil Smith Dies," Philadelphia Inquirer, June 10, 1963: 35
2 Smith signed both his World War I and World War II draft registration cards "Earl V. Smith." His death certificate and tombstone also renders his name as "Earl V. Smith" — V. for "Vital." I could find no explanation for the variance in his middle name.
3 Ed Froelich, Big and Little Poison: Paul and Lloyd Waner, Baseball Brothers, McFarland, Jefferson, N.C., 2003: 77
4 Angelo L. Louisa, The Pirates Unraveled, McFarland, Jefferson, N.C., 2015. Louisa contacted multiple sources to determine the education levels of all of the 1926 Pirates.
5 Al Spading brought his Chicago team to Hot Springs in 1886, the first recorded spring training held in the South.
6 "Earl Smith Confident," Daily (Little Rock) Arkansas Gazette, October 1, 1921: 13
7 "Vapor Cityites Win, 5-0, Daily (Little Rock) Arkansas Gazette, May 29, 1915: 13, and "Earl Smith to Winter in Little Rock; Giants' Star Coming for Hunting Trip," Arkansas Democrat (Little Rock), October 30, 1921: 30
8 J. G Taylor Spink, Paul A. Richart and Joe Abramovich, Baseball Register (C.C. Spink & Son, St. Louis, 1957); 329
9 The Western Association leader that season had 43. A teammate with Muskogee had 22, the only other player ahead of Smith and with 20 or more. I could find no park dimensions for Muskogee or Fort Smith. The 1957 Baseball Register lists Smith as having played for Fort Worth -Tulsa, likely the same team.
10 Norman E. Brown, "Starring Sports" column, (Little Rock) Arkansas Democrat, March 20, 1920: 21
11 "Earl Smith Leaves Colts for Service," (Rochester, N.Y.) Democrat and Chronicle, August 22, 1918: 17
12 "Giants Get Earl Smith," New York Times, January 3, 1919: 6. The amount of cash has been variously reported as from $5,000 to $12,000, with the higher amount the most widely cited. The Giants also optioned two players to Rochester as part of the deal. Hoyt refused to report to Rochester and pitched in 1919 for two other minor league teams before being sold to the Boston Red Sox.
13 "Earl Smith Signed Up," New York Times, March 14, 1919: 10
14 "Giants Coming Here Early Next Month," Hot Springs New Era, January 20, 1919: 16, and "M'Graw to Hot Springs," Daily Arkansas Gazette, February 13, 1919: 10
15 Frederick G. Lieb, "M'Graw Hopeful of Giants' Success," New York Herald, April 20, 1919: 26
16 "Local Boy Makes Good With Giants," Hot Springs New Era, August 30, 1919: 9
17 "Hot Springs Again a Baseball Mecca," Hot Springs New Era, February 11, 1920: 4
18 1920 U.S. Census. There is no record that the couple had any children. Smith listed himself as "divorced" on his World War II draft registration.
19 "Evers Helping Develop Smith," Hot Springs New Era, May 25, 1920: 3
20 "Locker-Inspecting Rum Raider Knocked out by Giant Catcher," New York Tribune, July 9, 1921: 1
21 "Catcher Smith Fined $200 by McGraw for Fight With Dolan," New York Tribune, July 10,1921: 14
22 "Catcher Earl Smith Suspended by M'Graw," Star-Gazette (Elmira, N.Y.), August 6, 1921: 8
23 "Fistic Adventure Prove Costly for New York backstop," St Louis Stars and Times, July 24, 1921: 6
24 Ruth, Meusel Invaded Giant Clubhouse, Seeking Heckler," The Sporting News, October 19, 1921: 7. The story says this happened after the third game of the 1922 series, but Rawlings with the Giants in the 1921 series, not '22.
25 Eugene C. Murdoch, Baseball Between the Wars: Memories of the Game by the Men Who Played It (Meckler Publishing, Westport, CT, 1992): 163
26 Bill James, The New Bill James Baseball Abstract (Free Press, New York, 2003): 428
27 "Ball player in Battle," Hot Springs New Era, November 2, 1922: 8
28 "Smith in New Role," Arkansas Democrat, February 25, 1923: 10
29 "Corn Liquor Cause of Rumpus Among Giants," (Rochester) Democrat and Chronicle, March 23, 1923: 32
30 "McGraw Disciplines Scott and Smith," New York Times, March 23, 1923: 22
31 James, 429
32 Pat Robinson, "Catcher 'Oil' Smith One of the Most Rugged Jockeys," International News Service, Kingsport (Tenn.) Times, August 1, 1956: 14
33 Thomas Holmes, "Hartnett the Success and Smith the failure, Alike in Many Respects," Brooklyn Daily Eagle, February 1, 1925: 46
34 Bob Broeg, "'Oil' Smith, Aggravating Catcher," The Sporting News, June 15, 1974: 4
35 Charles J. Doyle, "Pirates' Past Files Show 'New Life' trades, The Sporting News, December 5, 1946: 25
36 Smith's player file at the Hall of Fame and Museum
37 Lee Allen, "Cooperstown Corner," The Sporting News, June 15, 1969: 6
38 Harry T. Brundidge, "College Rah-Rah Spirit Will Bring Cards Another Pennant, Says Their Official Bonesetter," St. Louis Star and Times, July 16, 1928: 3
39 "New Hot Springs Club Signs Working Alliance With Cubs," The Sporting News, December 9, 1937: 9
40 Chilly Doyle, "What's Become Of" column, San Antonio Light, March 5, 1939: 36
41 Bill James, "The New Bill James Historical Baseball Abstract" (Free Press, New York, 2003): 429
Born
February 14, 1897 at Sheridan, AR (USA)
Died
June 8, 1963 at Little Rock, AR (USA)
If you can help us improve this player's biography, contact us.
https://sabr.org/sites/default/files/Smith-Earl.jpg
600
800
admin
/wp-content/uploads/2020/02/sabr_logo.png
admin
2018-03-01 14:45:20
2020-04-09 14:40:23
Earl Smith