---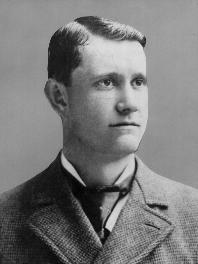 One of the greatest right-handed sluggers of all time, Ed Delahanty dominated the 1890s like no other hitter, batting better than .400 three times, leading the league in slugging percentage four times, and capturing three RBI crowns on his way to a lifetime batting average of .346, the fifth best mark in baseball history. Known as "Big Ed," and the "King of Swat," the muscular Delahanty was more than a one-dimensional slugger; he was also a fleet-footed, rifle-armed left fielder who was good enough to play center, and an excellent base runner who once led the league in stolen bases. "Delahanty is an awfully even, well balanced player all around," Sporting Life once observed. "You look at his batting and say well, that chap is valuable if he couldn't catch the measles, and then you look at his fielding and conclude that it wouldn't pay to let him go if he couldn't hit a bat bag." Despite such versatility, the temperamental star was destined to make more headlines off the field than on it, and his death, less than two years into his tenure with the Washington Senators, remains one of the most fascinating mysteries in the annals of the sport.
The eldest and most talented of five major-league brothers, Edward James Delahanty was born on October 30, 1867 in Cleveland, Ohio, to Bridget and James, Irish immigrants who had immigrated two years earlier. Ed was their second child born and the first to survive infancy. To support his family, James Delahanty took on a variety of blue collar jobs in Cleveland, while his wife converted the family's spacious Phelps Street home into a boardinghouse. Young Edward and his brothers (see also: SABR bios for Jim, Tom, Joe, Frank, and Willie) managed to steer clear of the crowded family home by playing a variety of sports, but especially baseball, in the neighborhood's vacant lots. Ed's impressive hitting caught the eye of local scouts, who recruited him to play for the Cleveland Shamrocks, a semipro club. His success there led to a $50 per month contract with Mansfield of the Ohio State League, where Delahanty spent the 1887 season, batting .351 with 90 runs scored in 83 games. After appearing in 21 games and posting a .412 batting average for Wheeling (West Virginia) of the Tri-State League in 1888, Delahanty's contract was picked up by the Philadelphia Phillies of the National League for approximately $2000.
A strapping 6'1″ tall and 170 pounds, Delahanty was not an instant success in the majors, as opposing pitchers took advantage of the youngster's free-swinging approach at the plate, holding him to a .228 batting average. He improved to .293 in 1889, then jumped to Cleveland of the Players League in 1890, where he batted .296 in 115 games. After that league failed, Delahanty returned to Philadelphia, struggling to a .243 average, though he scored 92 runs and drove in another 86, eighth best in the circuit. Having failed to live up to his potential after more than three years in the major leagues, Delahanty rededicated himself to his profession in the offseason, working out every day and reporting to camp in 1892 in the best shape of his life. He responded with his finest season to date, batting .306 while leading the league in triples (21) and slugging percentage (.495). It was a performance that drew praise from Sporting Life, which credited Delahanty for his "hard and timely" batting, but the slugger was just getting started.
From 1892 to 1901 Delahanty anchored a powerful Philadelphia lineup that featured the likes of Billy Hamilton, Sam Thompson, Napoleon Lajoie, and Elmer Flick. During that span he led the National League in a major offensive category 24 times. In 1899 he became the first player in baseball history to bat better than .400 three times, when he led the league with a .410 mark. Among his league leading 238 hits he collected that season were a career-high 55 doubles. He also captured two home run titles during the decade, blasting 19 roundtrippers in 1893 and 13 in 1896. That season he became just the second player in history to hit four home runs in a single game, turning the trick on July 13 against the Chicago Colts. Two of the four homers were inside the park. Three years later, on May 13, 1899, Delahanty hit four doubles in a single game, making him the only player to achieve both feats.
A pull hitter who kept opposing defenses honest by occasionally hitting to the opposite field, Delahanty once confided to a reporter that he often liked to swing at the first pitch, because a pitcher with good control usually tried to "do his business" with the first offering. Nonetheless, Delahanty could be a patient hitter too, as evidenced by his ranking among the league's top ten in walks four times during his career. When outfielders, fearing the legendary slugger's power, played him deeper, Delahanty responded by place-hitting the ball over the infielders' heads. Delahanty's ability to adjust his hitting approach to confound opposing defenses made him, in the estimation of Cincinnati Reds pitcher Red Ehret, "the hardest man in the league for pitchers to puzzle." Longtime catcher Jack O'Connor concurred, noting, "If Del had a weakness at the bat I never could discover it."
Delahanty left an impression in the field as well, where he developed into one of the game's finest outfielders. After spending his first years in the majors as a subpar infielder, Delahanty found his home in the outfield in 1892, displaying enough range to merit the occasional start in center field. At his accustomed position, left field, Delahanty ranked among the league's best. He became known for his strong arm, which he used to collect 238 career assists, and his hustling style of play, which helped him to reach balls lesser outfielders allowed to drop in for base hits. That same aggressiveness carried over to the basepaths, as Delahanty swiped 455 bases in his career, including a league best 58 in 1898.
Blessed with the ability to hit for average and power, exceptional range in the field, a strong arm, and excellent speed, Delahanty was a five-tool player long before the term came into use. Arguably the game's greatest player in the 1890s, Delahanty nonetheless failed to win a pennant with the Philadelphia Phillies, who often found themselves, in spite of their robust offense, hampered by injuries and short on pitching. While the club struggled, Philadelphia owner John Rogers also managed to suppress the salaries of his top stars. By the beginning of the twentieth century, the great Delahanty earned only $3,000 per year, only a slight increase over the pay he had received when he entered the major leagues over a decade earlier. Nearing 34 years of age at the conclusion of the 1901 campaign, in which he batted .354 with 108 RBI for the Phillies, Delahanty decided to join many of his teammates in seeking higher pay and better treatment with the rival American League.
Indeed, during the final two months of the 1901 season, reports circulated that Delahanty had become an agent for the upstart league, selling his fellow players on the merits of the new circuit. Delahanty's success can be measured by the number of players for the 1901 Phillies who donned uniforms for the American League the following year— — a total of nine players, including Elmer Flick, Red Donahue, Ed McFarland, Monte Cross, Harry Wolverton, Al Orth, and Delahanty himself, who signed a $4000 contract with the Washington Senators, including a $1000 signing bonus.
Following the club's disappointing sixth place finish in 1901, Del gave Washington instant baseball credibility, both to the fans and to the players. He was named captain of his new club, and joined friend Jimmy Ryan in the outfield. As a result of a judge's ruling, any players from the Phillies were forbidden from playing in the state of Pennsylvania, thus preventing Delahanty and his fellow Philadelphia jumpers from playing against the Athletics. To circumvent the court order, Del and the other jumpers would typically get off the Philadelphia train in Delaware and head to the team's next destination.
Big Ed battled former Phillies teammate Nap Lajoie of the Cleveland club for the batting crown in 1902. Though unofficial figures at season's end showed Lajoie with a 15-point lead, .387 to .372, the official statistics released two months later declared Delahanty champion by a seven-point margin, which would have made Big Ed the only player ever to win both an NL and AL batting title. Research in later years, however, uncovered that Lajoie actually bested Delahanty, .378 to .376. By today's standards Delahanty would have been declared champion anyway, because Lajoie had only 381 plate appearances.
Despite his continued on-field success, however, by the end of the 1902 season Delahanty's personal life was beginning to unravel, as his wife, Norine, became ill, and Delahanty squandered the couple's financial resources by gambling on horses and binge drinking. Looking to pay off his mounting debts, Delahanty signed a three-year contract with the New York Giants, reported at either $6000 or $8000 per season. The deal also included an advance on his salary for $4000.
However, the contract was never fulfilled. Prior to the 1903 season, the leagues agreed to honor each other's contracts, with the result that Delahanty's deal with the Giants was declared void and the rights to his contract were returned to Washington. Even worse news for Delahanty, he was ordered to pay back the $4000 advance he had already received. Since Delahanty's 1903 contract with Washington called for a salary of $4500, of which $600 had already been advanced, the ruling effectively cost the already cash-strapped Delahanty $100 to play the 1903 season for the Nats. For a man suddenly on the brink of personal and financial ruin, it was the worst possible outcome. A few days prior to the start of the 1903 season, Delahanty ended a lengthy holdout when Washington agreed to pay the $4000 he owed New York, but in return, $2000 per year would be deducted from the slugger's salary in 1903 and 1904. Even after reporting, however, Delahanty continued to seek opportunities to jump from the Senators, including a dalliance with Denver of the Western League which never came to fruition.
Upon his return to the Senators, Del was out of shape and soon injured his back and ankle. Washington manager Tom Loftus sent him to a health spa in Michigan to shape up, and he rejoined the team on May 29. Though he continued to bat well upon his return to the lineup, posting a .333 average in 156 at bats, Delahanty feuded with Loftus, who ordered him to play right field, while Del adamantly insisted that he only play left. Amidst the turmoil, Delahanty's drinking again increased, and his behavior became more erratic. He started giving away precious keepsakes, including his gold watch, to teammates, and it was even rumored that he had once attempted suicide by turning on the gas in his room in Washington. Prior to embarking on a lengthy road trip with the Senators on June 17, Delahanty took out a life insurance policy on himself, naming his daughter Florence as the beneficiary. On June 25, Delahanty played the last game of his career in Cleveland. When the following morning's newspapers reported that NL President Harry Pulliam had decided to violate the nascent peace agreement by allowing contract-jumping shortstop George Davis to play for the Giants, Delahanty presumably saw his opportunity to finally join the New York club. He abandoned the Senators that morning and went on a drinking binge which left him angry, disoriented, and in no condition to play. He reportedly threatened to kill himself, and several teammates, fearing for his safety, felt it necessary to keep a close watch on him at the team hotel. Delahanty chased one of them away with a knife.
Del accompanied the Senators to their next stop in Detroit, where his mother and two brothers were summoned to help straighten him out. He continued to drink heavily, however, and again abandoned the team on July 2. By this time he knew he would be unable to jump to the Giants, as a court order issued the previous day prohibited Davis from playing for New York. Delahanty nonetheless boarded a train to New York that afternoon but, perhaps tellingly, left his belongings in his Detroit hotel room. Del misbehaved on the train, smoking when he was not supposed to, drinking to excess, and accidentally breaking the glass in front of the emergency tool cabinet. Finally, he fell asleep. When the train made a scheduled stop in Bridgeburg, (now Fort Erie), Ontario, Del became disoriented and tried to enter an already occupied berth. The commotion seemed to confuse him more, and he had to be subdued by three men. The conductor, John Cole, had understandably had enough of him for the evening and ordered Del off the train.
The train crossed the International Railway Bridge over the Niagara River into Buffalo.
In the darkness Big Ed walked out onto the 3,600 foot long bridge and was standing still at its edge, staring down into the water, when he was accosted by night watchman Sam Kingston, on the lookout for smugglers. A scuffle ensued, with Kingston dragging Delahanty back to the middle of the wide bridge, but Kingston then fell down and Delahanty got away. Moments later, according to Kingston – who claimed it was too dark to see what happened – Del either jumped or drunkenly stumbled off the edge of the bridge, falling 25 feet into the 40-foot-deep Niagara River.
His naked body (except for tie, shoes and socks) was found 20 miles downstream at the base of Horseshoe Falls— – the Canadian portion of Niagara Falls—s – seven days later. Dead at the age of 35, he was buried in Calvary Cemetery in Cleveland.
Note
A version of this biography originally appeared in David Jones, ed., Deadball Stars of the American League (Washington, D.C.: Potomac Books, Inc., 2006).
Sources
Mike Sowell. July 2, 1903. Macmillan Publishing Co., 1992.
Jerrold Casway. Ed Delahanty in the Emerald Age of Baseball. University of Notre Dame Press, 2004.
Frederick Ivor-Campbell, Robert Tiemann, Mark Rucker (editors). Baseball's First Stars (SABR, 1996).
New York Times
Cleveland Plain Dealer

Born
October 30, 1867 at Cleveland, OH (USA)
Died
July 2, 1903 at Niagara Falls, ON (CAN)
If you can help us improve this player's biography, contact us.
https://sabr.org/wp-content/uploads/2020/12/DelahantyEd.jpg
600
800
admin
/wp-content/uploads/2020/02/sabr_logo.png
admin
2012-01-04 20:44:39
2022-10-21 16:06:45
Ed Delahanty