---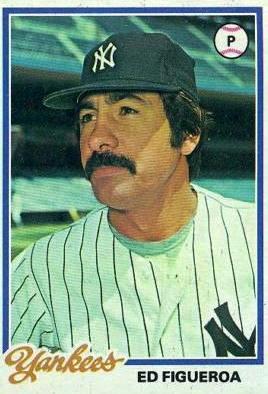 The New York Yankees won three straight American League pennants from 1976 to 1978, becoming World Series champions in the latter two years. Yet even devoted fans might have trouble recalling which pitcher got the most victories for the Bronx Bombers over this period. It wasn't Catfish Hunter or Ron Guidry — it was Ed Figueroa, the only native of Puerto Rico (as of 2017) to have a 20-win season.1
Figueroa relied on a good sinking fastball and a variety of breaking pitches. As Guidry described him, "Figgy was a good pitcher. He wasn't an overpowering guy. He was always around the plate. He wasn't flashy, wasn't dominant, wasn't a strikeout guy. He just won."2 Unfortunately, elbow problems ended his run of success after just four seasons.
Eduardo Figueroa Padilla was born on October 14, 1948 in Ciales, Puerto Rico. He was the eldest of seven boys and three girls born to Otilio Figueroa and María Padilla. Although well over 200 boricuas have made it to the majors, Figueroa is the only one from Ciales, a mountain village about 30 miles southwest of San Juan. However, he lived there for only two months.
Young Eduardo started playing baseball in Little League at the age of nine. When he was 11, his team won the championship in Puerto Rico. At age 14, he went to the Babe Ruth World Series in Farmington, New Mexico. As he told author Brian Jensen in 1999, "I've been a winner all my life in whatever I've done."3
After that, Figueroa graduated to La Liga Bithorn, named for Hiram Bithorn, the first major-leaguer from Puerto Rico. He played for Cidra, a town south of San Juan, along with future Cub Jerry Morales.4 In June 1966, the 17-year-old Figueroa and Morales played on the Puerto Rican national team.5 They took part in the Central American Games, which were held in San Juan that year, and won a silver medal behind Cuba.
The following month, Figueroa signed with the New York Mets. He was one of the club's first prospects to come out of Latin America. The scout was Nino Escalera, who covered the region for the Mets from 1966 to 1981. Figueroa pitched four games in Rookie League and Class A ball in 1966. Joined again by Jerry Morales, he then made his debut in the Puerto Rican Winter League (PRWL) as a reliever with the Caguas Criollos. Caguas is just east of Cidra in the San Juan metro area.
Figueroa first showed promise in 1967. With Winter Haven in the Florida State League, he was 12-5 with a 2.05 ERA. Nolan Ryan, later his teammate in California, was briefly on the same roster. The young Puerto Rican was happy on the field – but not off it, as he told author Dave Klein in 1977. Among other things, he encountered prejudice as a barber refused to cut the hair of an African-American teammate.6
In 1968, Figueroa pitched for Raleigh-Durham in the Carolina League, but his season fizzled out. A 2008 feature by Anthony McCarron for the New York Daily News told the story. "He was called to take a draft physical in Puerto Rico. The Mets said go for a week and come back, but he stayed with his girlfriend for three weeks. 'When you're 18 [sic], you don't know what you're doing,' Figueroa says.
"The day he returned, he pitched and hurt his arm. Then the Marines called, the Mets released him and Figueroa spent the next year in Vietnam. 'I didn't know what the heck I was doing there, but I was there. I learned that life, it's beautiful to be alive. I saw a lot of people dead there. When I got out of there, I was happy I was out, happy I was alive." 7
In a 1976 feature, longtime Yankees beat writer Phil Pepe offered some more detail on the pitcher's military service. Figueroa served 10 months total, including two with the infantry "in country," before he was granted a hardship discharge. He told Pepe, "The Marine training helped me when I eventually returned to baseball."8
When Figueroa got back home at first, though, he did not feel confident about playing again in the U.S., as he told Dave Klein. He had made plans to play in the Mexican League, but Pedrín Zorrilla – owner of the PRWL's Santurce Cangrejeros and a scout for the Giants going back to their New York days – convinced him otherwise. "He said I could be a pitcher, that the Giants wanted me, that I would make a big mistake to give up and not try again. I said to him I did not want to go back to the United States. But he told me the Mexican League was not for me."9
Having missed nearly two full seasons, Figueroa took two more to re-establish himself in Single-A and Double-A. Following the 1971 season, The Sporting News wrote that he "showed extreme promise" with his combined record of 18-9, including a 2.08 ERA in 104 innings after promotion to Amarillo in the Texas League.10 As a result, he finally reached Triple-A in 1972 with Phoenix. Although his ERA was over 4, he had a 10-2 record. "There was talk the Giants wanted to bring me up," Figueroa recalled in 1976. "But my mother died that August. . .We have a very close family so I went home and didn't play the rest of the year."11
Figueroa regressed when he returned to Phoenix in 1973 (1-5, 5.54 in 65 innings). That July, San Francisco traded him to the California Angels for shortstop Bruce Christensen and pitcher Don Rose. He finished the year in better form with the Angels' top farm club, Salt Lake City.
A big breakthrough in Figueroa's development came that winter at home. He had spent the past five Puerto Rican seasons with the Arecibo Lobos, none especially remarkable, though he did post a 2.80 ERA in 1972-73. Before the season, he came back to Caguas along with Manuel Muñíz in return for shortstop Iván de Jesús, then just 20 years old.12 Figueroa was 10-3, 3.47 for the Criollos, tying for the league lead in wins. Ernie McAnally of Ponce and the Montreal Expos edged him in voting for pitcher of the year.13
Figueroa made the Angels staff out of spring training in 1974. He started the season in the bullpen and pitched seldom – only 10 times before the Fourth of July. After Dick Williams replaced Bobby Winkles as manager, the rookie finally got his first start on July 6. He lost a 1-0 decision to the Indians at Anaheim Stadium, despite allowing just six hits and going all the way.
Six days later, he got his first big-league win, shutting out Boston on 10 hits at Fenway Park. Williams – who got his first win in California after 10 straight losses – said, "Even though he gave up a lot of hits, he never was in any real trouble. He did a good job, particularly at keeping the ball down. He's a good competitor. We looked up his statistics and found he did better starting than in relief, so we gave him a chance."14
Figueroa finished with a 2-8 record in 25 games, but his 3.67 ERA was not bad. He then followed up with his best season at home. He went 10-3 again for Caguas, leading the league in wins by himself, and his 2.35 ERA ranked fifth. "The league helped me become a major league pitcher," Figueroa told author Tom Van Hyning. "It gave me seasoning and confidence."15
Although he started the 1975 season at Salt Lake, Figueroa said in 2008 that it still might have been his best year overall. Crediting Angels pitching coach Billy Muffett, he became a sinker/slider pitcher.16 Figueroa told Phil Pepe, "I'd say those two pitches, plus the confidence I gained by pitching regularly at California, enabled me to have a winning season."17 He was 16-13 with a 2.91 ERA for a team that "was one of the worst in baseball. . .We had no hitting." 18 That season, he earned the nickname "Señor Stopper"19 – 15 of his wins came after the Angels had lost. Figueroa actually had a better year than Nolan Ryan in '75, but teammate Frank Tanana emerged to lead the league in strikeouts.
On December 11, 1975, Yankees general manager Gabe Paul made another in his sequence of brilliant trades that helped lift the team back to pennant-winning status. He sent Bobby Bonds to the Angels and received both Mickey Rivers and Figueroa in return. The headline in the Los Angeles Times said "Angel Offense: More Security With Bonds" – but the Christian Science Monitor rightly observed, "The Yankees, in terms of youth and potential, got a lot from California for Bonds."20 Bonds had a disappointing, injury-marred 1976, and though 1977 might have been his career year, he was traded again that December. Meanwhile, Rivers and Figueroa were vital parts of the Yankees' 1976-78 run. Plus, while Paul said he hated to let Bonds go, the deal also allowed him to trade Doc Medich and obtain another key cog: Willie Randolph.
The Bonds swap was not received well in New York. As Phil Pepe wrote in 1977, "Remember the flak that was stirred? Remember how people criticized the deal? Figueroa was a tough sell to Yankee fans and know-nothing television critics." But the club liked how well he had pitched against key divisional rivals Baltimore and Boston. "He's going to be one of the best pitchers in baseball in the next few years," predicted Gabe Paul and George Steinbrenner.21 They were right.
Figueroa (sporting a fierce-looking mustache by then, as did many of his Yankee teammates) won a club-high 19 games in 1976. He might have reached the 20-win plateau two years earlier than he eventually did, but he missed a couple of turns in August with a stiff elbow, lost his last two decisions, and then a rainout canceled his last start of the season. Right around that time, the Christian Science Monitor said, "When it comes to using only the corners of home plate, Ed Figueroa is a craftsman."22
Figueroa's postseason record was not impressive. He was 0-2, 8.10 in four starts in the AL Championship Series of 1976-78, all against the Kansas City Royals. In Game Five of the 1976 ALCS, though, he pitched seven steady innings and left with a 6-3 lead. Grant Jackson then gave up a game-tying homer to George Brett (who hit an astounding .610 against Figueroa in his career during the regular season and .592 overall). An inning later, Chris Chambliss brought New York the pennant with his memorable homer off Mark Littell. In the 1976 World Series, Figueroa went eight innings and allowed five runs as the Cincinnati Reds completed their sweep in Game Four.
On New Year's Day 1977, the New York Times reported that Figueroa was seeking a five-year contract for $2 million. He wound up settling for four years and $500,000.23 For such a modest amount, especially on George Steinbrenner's team, Figueroa gave the Yankees 16 more victories in 1977, despite assorted aches and pains. An intriguing insight into his mindset was revealed 30 years later during the filming of the ESPN miniseries The Bronx Is Burning. "To stroll on the set. . .is to take a remarkable walk back in time. Inside the Yankee clubhouse, no detail goes unchecked. . .In pitcher Ed Figueroa's [locker] sits a yellowed paperback copy of Politics in Africa."24
Though the Yankees gave Figueroa an early 4-0 lead kin Game Four of the ALCS, manager Billy Martin pulled him in the fourth inning. Figueroa was charged with four runs and got no decision. Martin then passed Figueroa over in the 1977 World Series, believing that the pitcher had not yet recovered from nerve damage in his right index finger. This prompted a dispute, and Figueroa considered leaving the team early. He later called the rumors that he had "jumped" a misunderstanding. Figueroa said, "I asked Billy if I could go home and he said go ahead. Then I thought about it and decided it would be a bad move on my part. . .I want to be part of the club until the series is over."25
Ed and Billy just didn't see eye to eye. The pitcher asked several times to be traded out of The Bronx Zoo before Martin resigned under fire in July 1978. "Boy, was he [Figueroa] glad when mellow Bob Lemon replaced Martin as manager of the Yankees. 'Billy thinks he knows pitching. He doesn't know s—. He hurts pitchers because he doesn't know how to use them. And he screws pitchers up because he wants to call all the pitches.'"26 "Billy was always lying to me," Figueroa said in September 1978.27 He had more blunt words the next month: "He treated me like dirt, a second-class citizen. He has told people I'm gutless and cannot pitch under pressure. He never said anything good about me."28
Conversely, Figueroa said of Lemon, "He treats me like a man. He lets me pitch to the hitters my way. I have more confidence with him."29 He added, "Lemon was a pitcher himself. He has a feeling for what it's about."30 Figueroa always insisted he performed best in the classic four-man rotation. There's an irony here. Billy Martin gained a reputation for burning out starters, especially later when he managed Oakland. Yet reportedly he did not want to let Figueroa work on three days' rest – though he did say in late May, "I can't control the weather and the schedule." The most reasonable – not to mention prophetic – remark came from Yankees president Al Rosen. "He's 5-2 and he's started nine times in our 41 games. At that rate he'll start 33 or 34 times and be 20-8. That's what you expect from a premier righthander and he is one."31
It's also hard to blame Martin for the bout of arm soreness Figueroa endured in late June and early July, when he missed a couple of turns and got a cortisone shot. Nonetheless, Bob Lemon consistently gave Figueroa the ball every fourth day – and at least in '78, it paid off. When Figgy got his 20 wins that year, he was 11-2 after Martin left, winning eight of his last nine starts as the Yankees and Red Sox staged their gripping fight for the AL East. Victory number 20 clinched a tie for the division title, but then Rick Waits beat Catfish Hunter in the Yankees' 162nd game, setting up the one-game playoff won by Bucky Dent's homer.
Unfortunately, despite his brilliance down the stretch, Figueroa got knocked out of the box in the second inning of both Game Two of the ALCS and the World Series opener. Following his poor showing in the latter game, he beefed about not getting high strike calls from NL umpire Ed Vargo (back then there was a perceived difference between the leagues' strike zones).32 This was rich, coming from a sinkerball pitcher, but Lemon reasoned with him. Figueroa realized, "After I got shelled by the Dodgers, he talked to me about it. I was getting my fastball too high. I deserved to be chewed out. I can take that."33 The skipper stuck with Figueroa in Game Four; a Yankee comeback left him with no decision.
For reaching the 20-win milestone that year, Figueroa got a hero's welcome in Puerto Rico. He threw out the first ball to open the PRWL season (although he did not play that winter and the next two). Governor Carlos Romero Barceló held a luncheon in Figueroa's honor, and former Governor Luis Muñóz Marín invited the pitcher to his home. On December 2, WKAQ Telemundo made Figueroa's life story – "Ciales to Yankee Stadium" – the first in a series of TV documentaries entitled "Diary of a Winner."34
However, Figueroa was never effective again in the majors after 1978. Author Bruce Markusen summed it up well in 2008: "Over a four-year span, he averaged 248 innings per season, a substantial workload that became exacerbated by an awkward motion. In his wind-up, Figueroa tucked his left leg and left arm in toward his mid-section; by the time he put himself in position to deliver the pitch, he was throwing the ball across his body. It was a fun delivery to imitate (as I know well from hours of throwing a ball up against a boulder outside of my house), but it sure did appear to put extra stress on the arm and shoulder. Figueroa's arm problems began in 1979; by 1981, he was fully cooked."35
In 1979, Figueroa fell out of the rotation in May. He started just four games in June and two in July amid a stint on the disabled list. In mid-August, he finally had bone spurs and chips removed from his elbow. The following season went from bad to worse. As he tried to rebound from surgery, his sinker lacked its former zip. Figueroa was especially unhappy about going to the bullpen. The Yankees sold his contract to the Texas Rangers in late July, as Yankees executive Cedric Tallis said, "All parties concerned felt it was time for a change."36 With the Rangers, Figgy was 0-7 in eight starts.
Figuerpa returned to the Puerto Rican Winter League after three seasons away but was ineffective in seven games. He re-signed with the Rangers on a minor-league deal in March 1981 and was assigned to Triple-A Wichita. He said he didn't start the season "in the right frame of mind. . .I was mad at myself, and mad at baseball." 37 Texas released him in late May.
Figueroa then put aside past acrimony and called up Billy Martin about a job. Billy, who had become manager of the Oakland A's, "decided Figueroa was worth a risk and signed him for Tacoma," the team's Triple-A farm club. That June, Figueroa said, "I've got a lot of confidence I can pitch again in the big leagues. I'm looking forward to the day when my chance comes. If I didn't think I could pitch in the big leagues again, I wouldn't be here. I'd be in San Juan with my family and working in my trucking business." He added, "If I pitch good in Tacoma, Billy thinks I can help the club in Oakland. I'd like to pitch again for him."38 That was exactly how it turned out; Figueroa did pitch rather well in the Pacific Coast League and got into his last two games in the majors with the A's that September.
In 1982 – following removal of another bone spur in his elbow that January – Figueroa pitched five forgettable games with Modesto (Class A) and Tacoma. Also, according to the Modesto Bee, "his attitude stirred team resentment."39 Figueroa was nursing hard feelings. That year he also published a memoir called Yankee Stranger, in which he sounded off about the obstacles that Latino players commonly faced. "We Latins do not get what we should in baseball: not the money, recognition, publicity, or honors. They usually just give everything to the American players before any Latin players are considered." Even after his 20-win season, "not one baseball magazine that came out in the spring of 1979 had my picture in it, nor were there any stories."40
Back in Puerto Rico for the winter of 1982-83, however, Figueroa earned Comeback Player of the Year honors. With Santurce, he led the league in ERA at 2.93.41 However, he then turned down a $200,000 minor-league offer from the Brewers. "I threw $200,000 away that year. . .I should've tried another year. I just retired."42 That was only in the U.S. minors, though – Figgy finally did appear in the Mexican League with the Yucatán Leones, more than a decade after Pedrín Zorrilla convinced him to stay away.43 In 54 innings across nine starts, he posted a 4-5, 3.50 record.
Figueroa also made five more appearances with Santurce in the winter of 1983-84. Across 15 seasons and 188 games in the PRWL, he won 46, lost 40, and had a 3.61 ERA.
Figueroa was a pitching coach for Caguas in at least one season, 1987-88. There he helped Cincinnati Reds flamethrower Rob Dibble break through to the majors. "Ed Figueroa. . .told him to be himself, cut it loose, throw as hard as he could for as long as he could."44
Figueroa's career on the mound did not truly end until 1990. At age 41, he played for the Gold Coast Suns of the Senior Professional Baseball Association in the 1989-90 season. He was 1-10 with a 6.86 ERA, leading the league in losses.45 He got his lone win on a chilly Thursday night in Pompano Beach before just 254 fans. The manager, Earl Weaver, showed his old Baltimore form, getting ejected for the second time in the season's 12th game. "It was a classic Weaver argument. He turned his cap backward, the better to get in [umpire] Shulman's face."46
After leaving the minors, Figueroa focused on his trucking company, United Maritime Transport, which he had bought when his arm problems started. He and his first wife raised three children: Eduardo Jr., Vanessa, and Brandon. Figueroa later got remarried to Diana Jove on November 14, 1999.
After about 14 years, Figueroa sold the trucking firm and got into the restaurant business. He established two Mexican joints called Lupi's, one in Old San Juan and the other near the San Juan airport (though in 2009, they were put up for sale). Brian Jensen's interview with Figgy in his book Where Have All Our Yankees Gone? provided much detail and many personal quotes on the pitcher's post-baseball career, as did Anthony McCarron's story in the Daily News.
Figueroa served as pitching coach for the Puerto Rican national team in 2003, although Cuba knocked them out in the regional qualifying tournament for the Athens Olympics. That year, the Caguas Criollos retired his uniform number, 19. Since then, in addition to further appearances at the Yankees' Old-Timers' games (his last visit came in 2008), he has provided analysis on broadcasts of PRWL games.
Yes, the flashy dominant strikeout guys overshadowed Ed Figueroa even when he was at his best. He was never named to an All-Star team. Even so, only four pitchers won more games from 1976 to 1978: Jim Palmer, Steve Carlton, Dennis Leonard, and J.R. Richard. At times Figgy was described as "temperamental," but it is more accurate to say that he was proud. If he couldn't pitch on his terms, or gain due recognition, that pride could be wounded. "I used to have a lot of pride," he admitted while trying to come back in 1982. "I think I used to have too much."47
Yet that pride also manifests itself in a positive way. Figueroa looks back fondly on his time in New York and the fans there. In January 2008, he attended the first Puerto Rican Yankees Festival at the Museum of Puerto Rican Sports in Guaynabo (the San Juan suburb where Figueroa lives). He said, "I played five years with the organization and the minute I put on the uniform I felt different. It's something you never forget."48
This biography is included in "Puerto Rico and Baseball: 60 Biographies" (SABR, 2017), edited by Bill Nowlin and Edwin Fernández.
Acknowledgments
Thanks to Ed Figueroa for his input and to Benny Ayala for the introduction.
Sources
Figueroa, Ed and Dorothy Harshman. Yankee Stranger (Smithtown, New York: Exposition Press, 1982).
Jensen, Brian. Where Have All Our Yankees Gone? (Lanham, Maryland: Taylor Trade Publishing, 2004: 93-97).
Crescioni Benítez, José A. El Béisbol Profesional Boricua (San Juan, Puerto Rico: Aurora Comunicación Integral, Inc., 1997).
Treto Cisneros, Pedro, editor, Enciclopedia del Béisbol Mexicano, Mexico City: Revistas Deportivas, S.A. de C.V., 11th edition, 2011.
http://www.retrosheet.org
http://www.baseball-reference.com
http://demo.museodeldeportedecaguas.org
http://www.meta.pr (information on 1966 Central American Games)
http://www.extrarealtypr.com
Notes
Born
October 14, 1948 at Ciales, (P.R.)
If you can help us improve this player's biography, contact us.
https://h2j7w4j4.stackpathcdn.com/wp-content/uploads/2020/03/research-collection4_350x300.jpg
300
350
admin
/wp-content/uploads/2020/02/sabr_logo.png
admin
2012-01-04 20:30:11
2021-09-26 14:53:52
Ed Figueroa