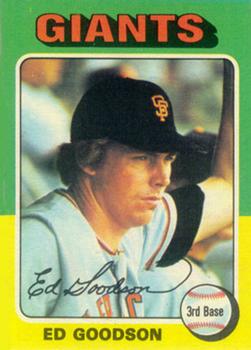 ---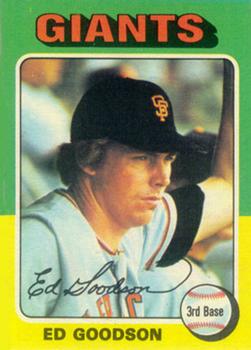 James Edward "Ed" Goodson (nickname: Goody) had an eight-year major league career in the 1970s, beginning with the San Francisco Giants, followed by a stint with the Atlanta Braves and ending with the Los Angeles Dodgers. His final contract was a minor league deal with the Cleveland Indians' AAA Portland team in 1978. Goodson, who batted left-handed but threw right-handed, was primarily a line-drive hitter who laced singles and doubles. He also had occasional power (30 career home runs). Unfortunately, Goodson's career was plagued by injuries that limited his effectiveness and eventually ended his days in professional baseball.
Born January 25, 1948, in Pulaski, Virginia, he spent his early years in the Richmond area. At age 12 or 13, following his parents' divorce, he moved to Ivanhoe in southwest Virginia, where he lived with his grandmother. A few years later Goodson attended Fries High School (in Grayson County, about 20 miles from Ivanhoe). He played basketball and baseball. Starring as a hot-hitting shortstop, Goody posted batting averages of .588 in 1964, .585 in 1965, and .591 in 1966.1 He was named District Player of the Year in his senior season after leading the District in batting average.2
His skills did not go unnoticed by major league scouts. In 1966 he was selected in the 20th round of the amateur draft by the Houston Astros but did not sign. Instead Goodson decided to attend East Tennessee State University (just 125 miles from his home in Ivanhoe) and play for their baseball team. He went on to have two very successful seasons at ETSU, batting .307 in 1967 and .333 in 1968, while playing shortstop. In 1968 he was named to the All-Ohio Valley Conference and NCAA All-District Three first teams.3 He was also chosen as shortstop on the All American second team.
On June 7, 1968, Goodson was drafted by the San Francisco Giants in the first round (third overall pick) of the amateur draft. He would sign a contract with Giants' scout Hugh Poland. Although he left school to pursue a big-league career, Goodson would return for classes in the off-season and eventually completed a Bachelor of Science degree in Biology. In 1982, Ed would be inducted into the ETSU Athletic Hall of Fame.4
His first taste of professional ball came with the rookie-level Salt Lake City Giants of the short-season Pioneer League during the summer of 1968 (two of his teammates were future major leaguers Garry Maddox and Elias Sosa). Goodson was the primary shortstop for Salt Lake and posted a line of .267/.289/.422 in 116 at-bats.
Goodson was assigned to the Decatur Commodores of the Midwest League in 1969 (he also appeared in four games with the Great Falls Giants of the Pioneer League). With Class A Decatur he primarily played first base (52 games) while appearing at short in just nine contests. His offensive performance improved to .285/.307/.407.
Moving up to the Fresno Giants of the High A California League, Goodson hit well while playing first base. His slash line was .314/.352/.502, and he showed more power than he ever had before, slugging 28 doubles, five triples, and 19 home runs while driving in 94 runners. He was selected to the league All-Star team and named Topps Player of the Month in July.5 He was fourth in the league in batting average, second in RBI, and led all first basemen in fielding percentage at .988. His terrific season resulted in his first call-up to San Francisco in September. Appearing in seven games (two at first base, five as a pinch hitter) he went 3 for 11 (.273).
Goodson was assigned to the AAA Phoenix Giants of the Pacific Coast League in 1971. He appeared in 86 games, posting a slash line of .294/.321/.471 including 16 doubles, 10 triples, and seven round-trippers, while driving in 56 runs. Goodson played first base in 19 contests but primarily played third base to make room for the poor-fielding Dave Kingman at first.6 During the season Goodson injured his left knee; he would eventually undergo surgery in August 1972.7 Ed was called up to the majors in late June and appeared in 20 games in June and July, batting just .190 with one double in 42 at bats.
The 1972 season found Goodson starting the season at Phoenix before being called up to San Francisco in mid-May. His line in AAA was .389/.437/.537. With the big league club, he produced .280/.319/.420 in 58 games before knee surgery ended his season.
Ed recovered during the off-season and returned to the Giants starting lineup in 1973. With Willie McCovey, Kingman, and Gary Thomasson all vying to cover first base, Goody was moved over to third. He would have the finest season of his big-league career, but again would be hounded by injuries. His batting stroke never let down, though, and he remained among the top 10 hitters in the National League into the month of August. His final line was .302/.331/453 in 102 games with 20 doubles, one triple, 12 homers, and 53 RBI.
Goodson missed some games in mid-season with a strained right knee ligament, and a freak injury on August 17 ended his season. He collided with catcher and teammate Dave Rader as both men were pursuing a pop foul. Goodson's right index finger caught in the buckle of Rader's chest protector, resulting in a cut that required 10 stitches.8 Another off-season of healing from injury ensued.
Goodson returned healthy in 1974. His position shifted again; he started 67 games at first and just eight at third, as Dave Kingman started 70 at first base. For the season, Goodson appeared in 98 games, with a line of .272/.320/.383, including six home runs, and 48 RBIs. He once again battled injuries with a pulled left hamstring in April and a urinary infection in July.
An unusual play cost Goodson a home run on June 19 in St. Louis. After Garry Maddox led off the third inning with a single Goodson sent a Bob Gibson pitch towards the fence in deep center. Center fielder Bake McBride leaped to rob the homer and appeared to do so. Maddox retraced his steps toward first to avoid being doubled up. As he did so Goodson passed him. Meanwhile the umpires realized that the ball had hit McBride's glove and bounced over the fence. Goodson had homered but was called out for passing the runner. Maddox was allowed to score and Ed received a single and RBI.9
The July 27, 1974 edition of The Sporting News included a favorable story about Ed's off-the-field approach to hitting. Specifically, Goodson believed that fishing was beneficial to hitting, saying, "Some people think you should keep your mind on baseball every single minute, live and breathe it. I'm more successful when I forget the game entirely for a few hours, relax and fish. Then I'm fresh and really able to concentrate on baseball when I come back."10 Ed had been taught to fish by his grandmother back in Ivanhoe, Virginia. His wife and children also enjoyed fishing.
Hunting was another hobby that Goodson relished. In the fall of 1973 he shot an eight-point buck deer with a bow. As for his injuries, Goodson was insightful: "It's hard to explain injuries, this spring I was in the best shape I've ever been in. I hit the bag wrong and was out for a long time with a hamstring tendon pull. Before two or three years ago, I'd never had any kind of a stitch or break or anything. But it's just possible I may stay in bed August 17 this season. That's the date I was operated on for a bone spur in left knee in 1972 and the date I caught my finger in Dave Rader's chest protector buckle when we were chasing that foul ball in Pittsburgh last year. Who knows? This year I might get hit by a line drive in the dugout or something that day."11
Following the 1973 injury to his index finger, Goodson suffered diminished power. His finger remained stiff. In 1974 new Giants manager Wes Westrum encouraged him to switch-hit. He had done so in high school and in 1968, his first season in the minors. After observing him in batting practice, Westrum remarked, "He has considerably more power right-handed than left."12
Goodson dropped 20 pounds before the 1975 season, hoping to stave off the injury bug. He found himself serving as backup to Gary Thomasson at first base. He was unhappy with the state of affairs and asked to be traded.13
By mid-May he had abandoned the switch-hitting experiment.14 There does not seem to be documentation of which at-bats he tried from the right side, other than a mention that he did so against Jon Matlack and the Mets on May 12 (Goodson was 0-3 against the lefty with a strikeout, lineout to right, and reaching on an error by shortstop Mike Phillips.)
On June 11, Goodson's wish for a trade was granted. He was sent to Atlanta in exchange for middle infielder Craig Robinson.15 However, the trade to the Braves did not result in more playing time. Goodson was used mostly as a pinch-hitter in Atlanta – 33 appearances, with just 13 games at first and one at third. For the Braves he would post a line of .211/.228/.276 with two doubles and one homer.
The 1975-76 off-season brought another change of venue for Goodson. He was dealt to the Dodgers with Dusty Baker in exchange for Lee Lacy, Tom Paciorek, Jerry Royster, and Jim Wynn.16 Goodson spent his final two seasons in Los Angeles primarily as a pinch-hitter. In 1976 he entered 63 games as a pinch-hitter, 16 at third base, three at first base, and one in left field. His batting stats were .229/.273/.339 with four doubles, three home runs, and 17 RBIs.
His final season in 1977 yielded even less playing time. Goodson made 46 pinch-hit appearances and played a total of just 61 games. He batted .167 with one double, one homer, and five RBI. On the bright side, the Dodgers were NL West champs and Goodson made the postseason roster. In the NL Championship Series he had just one at-bat against the Philadelphia Phillies. In Game Three he pinch-hit for pitcher Rick Rhoden to lead off the top of the seventh inning. Gene Garber retired Goodson on a grounder to second.
The final at-bat of Goodson's major league career came in the World Series finale (the "Reggie, Reggie, Reggie" game in which Reggie Jackson blasted three homers on three straight pitches to propel the Yankees to another World Championship). With two down and the bases empty in the top of the seventh inning, the Dodgers were trailing, 7-3. Goody was sent to the plate against Mike Torrez. He struck out swinging on a 1-2 count.
On March 17, 1978, Goodson was released by the Dodgers. On May 20, the Cleveland Indians signed him to a minor league contract with their AAA team, the Portland Beavers. Ed seemed to get his hitting mojo back with Portland. In 33 games he produced a line of .327/.366/.452 with seven doubles, two homers, and 15 RBI. He appeared in 15 games at first base, two at third, and one in left field.
Sadly, one last injury would bring an end to Goodson's career. Facing Phil Huffman of the Vancouver Canadians, he was hit by a pitch above the right ear, resulting in a fractured skull.17 With that, Goodson retired as a player.
The end of his days in playing professional baseball did not end Goodson's association with the game of baseball. In 1982 he became head baseball coach at Grayson County High School in the same area where he grew up in Virginia. In 12 seasons he led the team to more than 170 wins and 20 of his players received college baseball scholarships. Goodson founded the Dixie Youth Baseball program in Grayson County. He also taught Environmental Science at the high school.
He was honored for his many accomplishments by a resolution of the Virginia Legislature in 2003. In 2009 Goodson was inducted into the Pulaski County, Virginia, Baseball Hall of Fame. He was recognized for being the only major leaguer to be born in Pulaski.18 Goodson is now retired and lives in Galax, Virginia.
Goodson's baseball genes were passed down to his son Kirk. After being named 1987 Virginia High School Player of the Year, the younger Goodson went to Bluefield College in 1988 and transferred to Virginia Tech for the 1989 and 1990 seasons. A 6-foot-4, 200 pound right-hander, Kirk was 9-7 with a 3.64 ERA as a Hokie. He was chosen in the 22nd round of the 1991 draft by the Chicago Cubs.
Kirk Goodson had a brief career with Huntington in the Appalachian League, going 0-4 with a 6.18 ERA in 17 rookie-ball appearances. Kirk also followed his father as a high school coach. In 1999 he became the first head coach for West Stokes High School baseball in Stokes, North Carolina. Kirk said of his dad: "He fostered my love for the game. He taught me to observe how the best in the game played and emulate them. I had a great opportunity to interact and observe behind the scenes."19 Kirk stepped down in 2016 after coaching West Stokes for 17 seasons.
Last revised: May 1, 2017
Acknowledgments
This biography was reviewed by David Lippman and Rory Costello, and fact-checked by Alan Cohen.
Sources
Baseball-reference.com
Bristol Herald Courier (Bristol, Virginia)
East Tennessee State University Athletics Hall of Fame
Southwest Times (Pulaski, Virginia)
The Sporting News: various issues
The Stokes News (King, North Carolina)
Virginia Legislative Information System, House Joint Resolution No. 714. 2003 (honoring Ed Goodson)
Notes
Born
January 25, 1948 at Pulaski, VA (USA)
If you can help us improve this player's biography, contact us.
https://sabr.org/sites/default/files/GoodsonEd.jpg
600
800
admin
/wp-content/uploads/2020/02/sabr_logo.png
admin
2017-05-01 12:33:15
2017-05-01 12:33:15
Ed Goodson