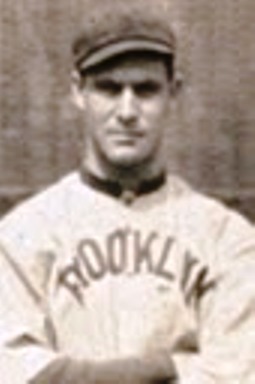 ---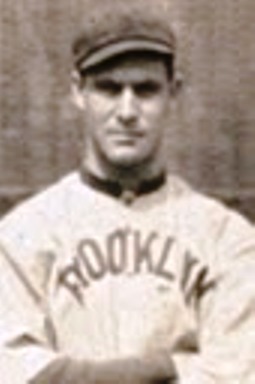 A practicing dentist in the offseason, pitcher Ed Lafitte was a lanky, square-jawed journeyman in the American and Federal Leagues during the Deadball Era. No one knew just what to expect when righty Doc Lafitte took the mound. His hurling was often wild and occasionally brilliant, sometimes both in the same game. His historic contributions to his sport and his profession, however, came after his big-league career had ended, while he was an officer in the US Army serving overseas in World War I.
Edward Francis Lafitte was born in New Orleans on April 7, 1886, son of James A. Lafitte and Jane Templar Huger Lafitte. The family soon relocated to Atlanta, where Ed's father became the superintendent of a private social club. The city always considered Ed an adopted son. His older brother, Jim, was a city firefighter-turned-catcher who for many years played and managed in the Southern minor leagues. The brothers occasionally formed the starting battery for local semipro teams.
The younger Lafitte began his hurling career by accident in 1904, when he tried out for baseball at Atlanta's Marist College. (Marist at the time offered both secondary and college educations.) The team had no pitchers. "What are you, son?" asked the coach, former big-leaguer Joe Bean. Hearing that Ed was a catcher, like his big brother, Bean replied, "No, you must be wrong. You look like a pitcher. In fact, you've got to be a pitcher."1
The rangy right-hander learned quickly. Lafitte starred at Marist for two years, becoming the best pitcher in the Georgia Prep League in 1905. The following year he entered Georgia Tech, where he played for the legendary John Heisman, who also coached the school's football and basketball teams. Heisman was startled the first time he saw Lafitte throwing fastballs. "Heavens, man, the football season is over and this is gentle baseball," Heisman said. "Slow 'em down a little."2
At 6-feet-2 and 185 pounds, Big Ed Lafitte was a star and mainstay of Heisman's pitching staff in 1906 and was elected captain in 1907. During a memorable 1-0, 11-inning win over Mercer, he walked only two men and struck out 20. He struck out 18 in a game in Knoxville against Tennessee. In addition to his hurling, he played every infield position, hit nearly .300, and was a forward on the basketball team. (He also pitched four no-hitters in the Atlanta City League in 1907.) The Atlanta Constitution called Lafitte the "greatest college pitcher the South had ever seen."3
After his father died, Lafitte left Georgia Tech to turn pro, signing in 1908 with Jersey City in the Eastern League. Again playing for Joe Bean, he went 12-19 in 33 games on a weak Skeeters team and accounted for nearly one-fourth of its victories. On July 5 Lafitte tossed 19 scoreless innings against Newark. The sensational game ended in a 0-0 tie, called due to darkness after 3 hours and 40 minutes. He struck out 14 batters, gave up only three hits, two walks, and two hit batsmen, and stretched a personal streak of consecutive scoreless innings to 27. Lafitte was particularly effective with runners on base. "I have hit against Mathewson and some of the old Baltimore Oriole pitchers," Bean recalled years later, "but Ed had as much stuff that day as any pitcher I ever saw."4
The scoreless game caught the attention of a Detroit Tigers scout. The Tigers acquired Lafitte from Jersey City for $5,000, a very large sum at the time. This was a big stride forward, but Lafitte didn't invest all of his hopes in baseball. He enrolled that fall in the Southern Dental College in Atlanta, "not because he wants to quit the baseball game," the Constitution explained, "but rather to have something for his arm to do when it becomes feeble from the strenuous twirling."5
Lafitte began the 1909 season with Detroit, making his debut in relief on April 16 at home against Chicago. His stay in the major leagues was brief, however. He appeared in just three games, including a blowout loss to Cy Young on a raw spring day better suited to football. "I guess I didn't have anything that they couldn't see," the pitcher said afterward.6 The Tigers shipped him off to Providence for more seasoning.
Luck didn't accompany Lafitte to the Eastern League. Although a star for the Providence Grays, he lost one shutout after being ejected in the ninth inning for questioning the umpire. He tossed a no-hitter against his old Jersey City club on July 12, but lost 2-0, "robbed of a well-deserved victory through the misplays" of his infielders, according to Sporting Life.7 Lafitte ended the season at 13-11. An opposing manager noted that Lafitte had abandoned his spitball to become "twice as good as he was last spring."8
The Rochester Bronchos bought Lafitte's contract that fall. Although sold to the New York Highlanders in July 1910, the pitcher remained with Rochester the whole season, finishing a very respectable 23-14. The Tigers reacquired him in September, and he never saw New York. Lafitte made the Detroit club a second time the following spring. This time he stuck.
Detroit got off to a fast 21-2 start in 1911, prompting the rookie to quip that he guessed the Tigers needed the World Series money. Having fellow Georgian Ty Cobb playing behind him certainly didn't hurt. Cobb was having an MVP season in which he would bat .420. Cobb and Lafitte were both members of what a Detroit paper called the Baseball Brothers' Society – each had a brother playing in the minors. (Ed and Jim Lafitte, in fact, had both played with Cobb's brother Paul on a team outside Atlanta.) Ed quickly proved almost untouchable for Detroit, losing only a single game during the first half. Sportswriters began calling him "Chateau Lafitte."
The pitcher achieved another goal in May when he returned briefly to Atlanta to graduate from dental college. This inevitably led to his other, more lasting nickname, Doc. (While he wasn't a direct descendant of pirate Jean Lafitte, it was a shame the big right-hander never pitched for Pittsburgh.) By July he had amassed a 10-1 record to lead the American League in wins. Lafitte's season had started to sour, however, with a serious bout of tonsillitis in late June. He didn't recover his form and finished the year a disappointing 11-8. Lafitte did have one bright moment late in August in an otherwise regrettable loss to Washington. He hit his first big-league home run (he would hit only one more) off Walter Johnson.
The 1912 season also went badly for Lafitte. He announced that he would again leave the team for a few days in May to take an exam for his dentist's certificate in Georgia. Manager Hugh Jennings was never happy about his right-hander taking time away from the team. "If you go home, you can continue on to Providence," Jennings told him.9 Lafitte went, and finished the season in the minors.
"Ed Lafitte belongs to that class of players who are about two points shy of the major league standard," opined the Milwaukee Journal.10 But he was hardly the only Tiger hurler to fall by the wayside in that era. As the Detroit Free Press pointedly noted of the pitching staff in 1917, the club "has purchased and inspected over half a hundred men in the last six seasons."11
The Atlanta Crackers in the Southern Association wanted to acquire Lafitte, but the $3,000 asking price was too high. He wound up back in Providence after a brief holdout. He pitched with the Grays for the remainder of 1912 and finished 15-17. He was there during all of 1913 as well, going 15-15. Like many unhappy ballplayers in the major and minor leagues, Lafitte jumped to the new Federal League the following year, signing with the Brooklyn Tip-Tops for 1914.
Lafitte found modest success in Brooklyn, pitching with what the New York Tribune called his "space devouring stride."12 On September 19, facing the visiting Kansas City Packers at Washington Park, he threw his second no-hitter, the league's first. Again, his outing was exceptional but imperfect. The Tribune noted that "his own wildness and errors in the field let the Packers score a brace of runs" in the 6-2 win.13 "Lafitte pitched a peculiar game," wrote the New York Times. "He was wild and gave six bases on balls, but the Kansas City batters could not seem to connect with him when he did get them over the plate."14 Lafitte's season in the Federal League typified his entire career. He and the Tip-Tops were evenly matched, finishing 16-16 and 77-77, respectively. (Some record books suggest that Lafitte's record was actually 18-15.) Lafitte pitched more than 290 innings, second-most on the team, and led the league in walks with 127.
The 1915 season would be the Federal League's last. It went poorly for Brooklyn, with dissension between players and management apparent as early as the Mississippi training camp. On July 5 the Tip-Tops had lost 17 of their previous 19 games. "I have a lot of incompetent players, and I am going to get rid of them in a hurry," player-manager Lee Magee declared.15 With a 6-9 record, Lafitte was on Magee's list. Newspapers speculated that manager Joe Tinker of the Chicago Whales might try to engineer a trade for Lafitte and Brooklyn outfielder Benny Kauff. In the end, the right-hander went to the last-place Buffalo Blues on the strong recommendation of a former Tip-Top teammate.
Lafitte returned to Brooklyn on July 9 to face his old team at Washington Park. He beat the Tip-Tops 9-1 in the second game of a doubleheader sweep. "About the happiest person leaving New York for Buffalo last night was Dr. Edward F. Lafitte, formerly a Brookfed twirler," the Brooklyn Eagle said the next day. "Lafitte pitched fine ball and inning after inning he just kidded his former team mates along and took many a merry verbal shot at Magee."16
But the pitcher wore a Blues uniform for just seven weeks. Lafitte's record was 2-2 when he and three other players were released on August 28, after a rain-shortened game in Buffalo. Lafitte had "no place to go but home," the Eagle reported. His big-league record was 35-36, with an ERA of 3.34. "I was about ready to call it quits as far as baseball was concerned," he later admitted.17
But the former Georgia Tech star wasn't finished. Always a popular figure in Atlanta, he received a good, unexpected offer from the hometown Crackers of the Southern Association. Lafitte accepted and was the first man to report to camp in 1916. He got himself into great shape and won the home opener, 2-1. For a while, his season looked promising. "I won the first 11 of 12 games [I] pitched for the Crackers," he recalled. "I pitched three or four times a week until my arm could stand it no longer."18
He developed a sore arm, and Atlanta went into a slide. A headline writer noted in mid-July that as a pitcher Ed Lafitte was a fine young dentist. Manager Charley Frank benched him to rest him, unwilling to lose a popular player on a struggling team. Lafitte saw the end coming. "I told him the expense of paying me and not getting any results was too much on a club that was not drawing at the gate and I suggested he release me," Lafitte said of Frank. "He did, but not until after I threatened to quit."19
Lafitte's record was 11-12 when he left the Crackers, bringing his minor-league totals to 89-88. That made his combined record for nine major- and minor-league seasons exactly even at 124-124, plus six big-league saves (counted retrospectively). But the pitching dentist still wasn't finished. He went north to Pennsylvania to hurl for Ridgway in the semipro Interstate League. There he occasionally still summoned big-league stuff. In an exhibition game against Connie Mack's Philadelphia Athletics in September, Sporting Life reported, Lafitte "pitched excellent ball … striking out nine in the five innings he pitched."20
In the spring of 1917 Lafitte was practicing and teaching dentistry in Philadelphia. Although the Tigers had bought his Ridgway contract, he decided not to report back to Detroit. Instead, he worked on teeth during the week, then twirled for Chester in the Delaware County (Pennsylvania) League on Saturdays and for the Doherty Silk Sox in the Paterson (New Jersey) Industrial League on Sundays. These were two strong semipro leagues with a number of former major leaguers on their rosters. Lafitte also pitched for an itinerant all-star team fielded by former big leaguer Red Murray.
When America entered the World War in April 1917, Lafitte's thoughts turned from baseball. His late father had hoped Ed might attend West Point. The pitcher did have some military experience, having drilled as a cadet at Marist and served in 1912 in a militia company called the Marist Rifles. On July 19, 1917, Dr. Edward Lafitte became one of the first current or former major leaguers to volunteer for the Army. He received a commission in the Dental Reserve Corps and reported for duty at Camp Jackson, South Carolina. Shortly before Christmas, First Lieutenant Ed Lafitte got orders to the Army's School of Plastic and Oral Surgery in St. Louis. He was promoted to captain in February and shipped out in April 1918 for England and France. The Brooklyn Eagle reported that he specialized in "the remaking of faces maimed in the war, one of the highest and most important developments of recent military surgery."21
Across the Atlantic, eight American and Canadian military teams made up the Anglo-American Baseball League, founded by American businessmen to play on cricket grounds in and around London. Playing on weekends and holidays before decent crowds, its proceeds going to war charities, the league constituted what the Atlanta Constitution later called "the crest of a baseball mania which has followed American soldiers and sailors wherever they are based in Europe."22 Many former professional and collegiate ballplayers took the field. Naturally, Captain Lafitte was soon drafted to pitch for the AEF Base Section (Army headquarters) team.
A growing British enthusiasm for baseball mounted almost to a frenzy with the announcement of a game between the American Army and Navy headquarters teams at Stamford Bridge, London, on the Fourth of July, 1918. A baseball diamond was squeezed onto the Chelsea Football Grounds, normally home to a soccer team. King George V, who took a genuine interest in baseball, accepted an invitation to attend and let it be known that he was practicing to throw out the first ball. Newspapers trumpeted the game in England and America, The Times of London predicting that it would "undoubtedly become historic."23 Coverage spread beyond the sporting pages in publications around the world.24
An immense crowd of soldiers, sailors, and curious British civilians descended on the soccer grounds on the Fourth. Attendance far outstripped capacity, with estimates running as high as 55,000. In the royal box, protected by netting from foul balls, sat King George, Queen Mary, the Queen Mother, Winston Churchill, many other politicians, industrialists, and diplomats, the American Army and Navy commanders, and what Ladies' Home Journal described as "a huge group of generals, a scattering of princesses and other royalties."25 Newsreels caught Captain Lafitte surrounded by Army officers and VIPs, wearing his Army baseball flannels and a Detroit Tigers cap.
The Navy pitcher was Yeoman Herb Pennock, a lanky young southpaw late of the Boston Red Sox. The game he and Lafitte pitched was remarkable even to the uninitiated. The Ladies' Home Journal correspondent (whose article, published a year later, indicated the widespread interest in the game) recalled a young British officer who was "amazed at the swiftness of Lafitte's practice pitching. He could believe, he said, that the ball might be hit by mere accident, but never by intention."26
Lafitte gave up just five hits to the Navy. Pennock struck out 14 Army batters. Neither team scored until the fourth inning, when the Navy scratched out a run. In the sixth, another Navy yeoman, former Red Sox utility infielder Mike McNally, doubled in Ensign Charles Fuller, a young naval aviator and former Harvard catcher, for Navy's second and final run. "The pitching and fielding were brilliant," The Times said, and in the late innings "it looked as if the Army would be beaten pointless."27 But in the bottom of the ninth, the Army first baseman doubled off Pennock, then stole third. Lafitte followed him to the plate, perhaps remembering the day he had batted against Walter Johnson. He doubled, scoring the runner and pulling the Army to within one run of the Navy. Pennock left Lafitte stranded, however, and recorded the final outs in a 2-1 victory. After the game, both pitchers were summoned to the royal box to shake hands with King George. The amiable monarch chatted with Lafitte about the "receiver being padded up like an armchair when the cricketer bowled."28
The effects of the game were profound. The New York Tribune agreed that it was "bound to become historic."29 In London, The Times marveled at the "REMARKABLE SCENES AT CHELSEA," and added, "Nothing really dimmed the brilliance of yesterday afternoon."30 Three eventful months later, with an American army in the field and the Allied victory in sight, a newspaper in faraway Tasmania concluded that the "Anglo Saxon fellowship was sealed on the Fourth of July, 1918. … [T]he most characteristic gathering was in the afternoon at Stamford Bridge, where the United States Navy defeated the United States Army at baseball." The contest, the writer concluded, had been "some match!"31
Although they lost the game, Lafitte and his teammates captured the Anglo-American league title that year. Each received a wristwatch inscribed Army Baseball Team Champions, 1918. Presented by Major the Hon. Waldorf Astor, M.P. (Member of Parliament).
Lafitte's real mission overseas wasn't to pitch, however. The dentist reconstructed the teeth and jaws of wounded doughboys, first at Queen's Hospital outside London, then at American Base Hospital No. 202 in France. He liked the work and received numerous citations. The Brooklyn Eagle noted Captain Lafitte's return to the United States on the transport ship Patria on March 17, 1919. Two weeks later it reported his promotion to major and added that, with one exception, he was "the only baseball player who has risen to the rank of major by actual work instead of by appointment on his reputation." The paper said in another piece: "Many a soldier today with apparently normal features owes the restoration of his face to Maj. Lafitte's skill."32
"I'm not going to play ball any time soon," the major said while in Atlanta on furlough. "The Army don't seem to be able to do without me, and I'm headed from here to St. Louis for the base hospital there. Don't know when I'll get out." The Constitution tactfully forgot its own earlier wisecrack about the pitcher being a fine dentist. "The army has certainly agreed with Ed," its writer reported. "He looks in the greatest kind of form. When he does break back into baseball, Ed is going to do some hurling the like of which he himself has never seen."33
After his Army discharge, Lafitte returned to Philadelphia but not to professional baseball. He resumed his dental practice and in 1920 pitched for Lansdale in the Montgomery County (Pennsylvania) Baseball League. That spring he also became the baseball coach at nearby Swarthmore College, "one of the most experienced coaches now handling college squads," according to the Brooklyn Eagle.34 During the early 1920s, he coached for both Swarthmore and the Montgomery School for Boys.
Dr. Ed Lafitte practiced dentistry in Philadelphia for more than 42 years, retiring in 1961. He was inducted into the Georgia Tech Athletics Hall of Fame in 1958. He died at his home outside Philadelphia on April 12, 1971, shortly after his 85th birthday, survived by his second wife, Natalie Blizard Lafitte, two grandchildren, and two great-grandchildren.
An updated version of this biography appears in SABR's No-Hitters book (2017), edited by Bill Nowlin.
Sources
In addition to the sources mentioned in the notes, the author also consulted:
Buffalo Express, Detroit News, New London Day, Philadelphia Bulletin, Philadelphia Inquirer, Philadelphia Public Ledger, and The Sporting News.
Notes
Born
April 7, 1886 at New Orleans, LA (USA)
Died
April 12, 1971 at Jenkintown, PA (USA)
If you can help us improve this player's biography, contact us.
http://bioproj.sabr.org/bp_ftp/images4/LafitteEd.jpg
600
800
admin
/wp-content/uploads/2020/02/sabr_logo.png
admin
2012-01-04 19:49:44
2012-01-04 19:49:44
Ed Lafitte