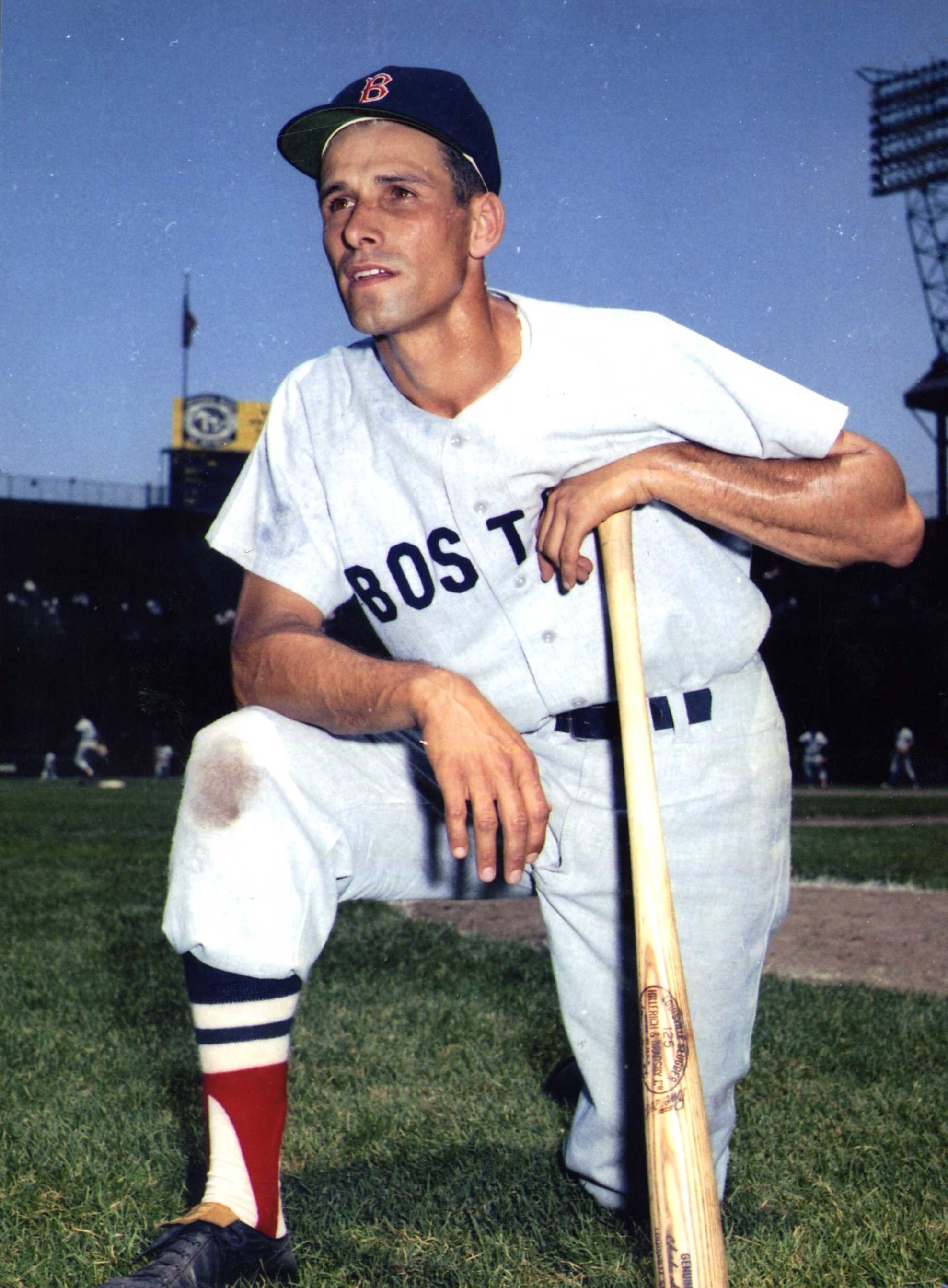 ---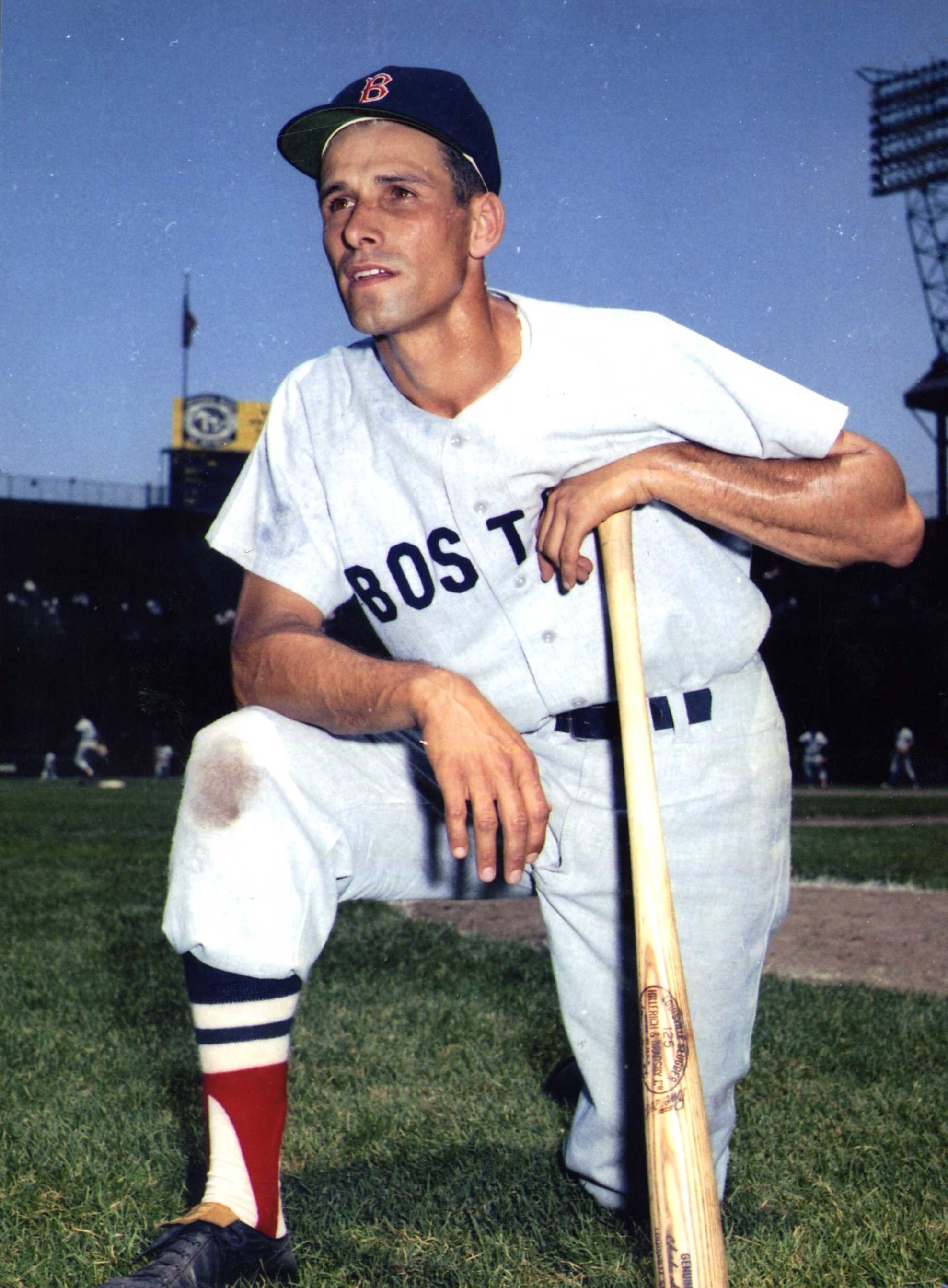 Eddie Bressoud played over 1,000 big-league games as a shortstop in a 12-year career, primarily for the New York and San Francisco Giants, and the Boston Red Sox. He played 10 or more games at each of the other three infield positions, and one inning in left field. He was a .252 career batter who had his best season in 1962, after he was the first selection of the Houston Colt .45s in the 1961 expansion draft, but was then traded to the Red Sox for Don Buddin.
Bressoud was born in Los Angeles on May 2, 1932. His father, Charles Bressoud, had been born in South America — in Lima, Peru, of French parents; he came to the United States in 1917 arriving via Colon, Panama.1 At some point he met and married New Jersey native Josephine Mibielle. The two had seven children. Edward Francis Bressoud was the fourth-born. Charles work as a clerk in the sales department of a lumber firm and then as its purchasing agent.
Eddie attended schools in the Los Angeles area, going to Mount Carmel High at first but graduating from the city's George Washington High School in 1950. He was named All-City in baseball. Bressoud also played American Legion ball and some semipro baseball.
He later attended El Camino Junior College and Los Angeles City College, and received a bachelor of science degree in physical education from UCLA. While playing ball, he went to San Jose State in the offseasons and earned a master's degree in education. All along, he had his mind on being prepared to earn a living. In 1962, midway through his playing career, he said, "I'll play baseball as long as it's profitable, and when it isn't, I'll switch to teaching and coaching."2 He had said, "I've seen too many players wind up their careers unprepared for the future."3
Right after high school, however, Bressoud had been signed to a New York Giants contract. Accounts differ as to the signing scout, but it appears he was signed by Walter "Dutch" Ruether, on the advice of Evo Pusich.4 "That's exactly right," Bressoud said. "But Evo Pusich did all the work for it. He signed Mike McCormick, Chuck Essegian, myself, and probably two or three others who reached the big leagues. He was a spectacular man."5 He was reportedly given $4,000.6
Bressoud's first professional assignment was to the 1950 Springfield (Ohio) Giants in the Class-D Ohio-Indiana League. He got into 70 games, batting .240. In both 1951 and 1952 he played Class-A baseball in the Western League for the Sioux City Soos. He hit .230 in 1951 with 53 RBIs in 149 games, but led the league in fielding by shortstops with a .949 fielding percentage. In 1952, he appeared in 155 games and boosted his average to .255, with 68 RBIs, while leading the league in putouts (302), assists (487), and double plays (105). He was named to the All-Star second team.
The Korean War was underway and the United States armed forces needed men; Bressoud served in the Marine Corps from January 1953 to January 1955. Five months into his service, he married high-school sweetheart Eleanor Griesser on June 6 in Los Angeles. He played baseball in the Marines into August 1953, even playing for the Marine Corps Recruit Depot team in the all-Marine championships in Quantico, but then spent 11 months stationed on the side of Mount Fujiyama in Japan.
When Bressoud returned Stateside, it was to spring training with the Giants in 1955 and then to Triple A, playing in the American Association for the Minneapolis Millers, and it seemed he hadn't skipped a beat, either at bat on the field. He hit .251, with 19 homers, and drove in 74 runs. The Millers won the American Association pennant by eight games over second-place Omaha, and then the Little World Series against the International League champions. Despite finishing 18½ games out of first place, the Rochester Red Wings won the I.L. playoffs. Minneapolis beat Rochester, four games to three.
It looked as if 1956 was shaping up to be a good year. Bressoud was seen by some as a possible successor to Alvin Dark at shortstop for the New York Giants.7 He himself had his sights set on taking the shortstop position away from Alvin Dark on the Giants, and didn't hesitate to say so. Louis Effrat of the New York Times wrote, "Some kids aim high. Ed Bressoud, for example, believes that at the age of 23 and after only one season of Triple-A ball, he is ready to become a regular with the Giants." Effrat averred that "there is nothing brash about Bressoud. He is not a pop-off guy."8 He was confident in his own abilities, and by the end of March it was a possibility that manager Bill Rigney would have Dark moved to third base and Bressoud installed at short.9 It wasn't to be — at least not right away. On April 8, Bressoud was assigned to Minneapolis once more. Nonetheless, sports pundits had seen him as "the most captivating rookie the Giants had presented in their camp for years."10
On June 14, Alvin Dark was one of eight players in a 4-for-4 trade with the St. Louis Cardinals; Red Schoendienst was the Giants' principal target. Because they knew they had Bressoud, they felt freer to make the trade. Bressoud was called up from Minneapolis — and had his major-league debut that very same day.
The Giants were in Milwaukee. Bressoud was the starting shortstop, batting second in the order. Warren Spahn of the Braves struck him out his first time up. He reached on an error in the third inning, but picked up his first big-league RBI on the play. He was 1-for-4 in the game, with a single in the eighth inning.
Bressoud collected one or more base hits in each of his first six games. He played fairly steadily through August 14, though Daryl Spencer took over more of the work at shortstop. Bressoud was hitting .227 with 9 RBIs when the Giants elected to send him on option back to Minneapolis on the 16th. He had appeared in 49 games. For the Millers, he hit .269 over a total of 86 games.
In 1957, Bressoud began the season again with Minneapolis, brought up to appear in his first Giants game on July 5, replacing Andre Rodgers.11 He hit safely in his first five games back, homering to kick off a rally on July 5 and then with four consecutive multi-hit games. All in all, Bressoud fared much better at the plate in his 49 major-league games in 1957, batting .268, but drove in only one more run (10). He hit five homers, oddly hitting all of them in 21 days in July and then not another before the end of the season. He mostly played shortstop but appeared in an even dozen games at third base, albeit less effectively. He hit .286 in 81 games for Minneapolis; it was the last year he was in the minors.
The Giants moved the franchise to San Francisco beginning in 1958 and Bressoud played there through 1961, almost exclusively at short.
Early in the 1958 season, personal tragedy struck. His wife, Eleanor, was hospitalized on April 24, the day before her 26th birthday, and died following surgery for a brain tumor on April 29. When initially hospitalized, Eddie was told the prognosis was as dire as could be. Rigney told him to go home and spend those last few days with his family. Even when he returned to the Giants, Rigney said, "he still was like a man having a bad dream."12 Bressoud moved into his sister's home, where she could take care of his and Eleanor's two children, Edward and Steven.
Bressoud had a living to earn and returned to work in the second game of the May 4 doubleheader against the Pirates, winning the game for the Giants with an RBI single off Roy Face in the bottom of the 10th. He appeared in only 66 games that year, and hit .263.
In 1959 and 1960 Bressoud played in over 100 games. He hit .251 in 1959, but then .225 in 1960. It was 1959 that Bressoud considered one of his most exciting seasons in baseball. The Giants really made a run for the pennant, and were in first place from July 4 to as late as September 19, with only six games to play. The team had dipped to second place for just one day, July 29. They finished third, but it had been quite a run. Before the 1967 season began, he called it his biggest thrill in baseball, "being in the thick of the pennant fight."13 Bressoud had 26 RBIs and he scored 36 runs, but his contribution to the team's success was noted in early September. An Associated Press story said that the day he'd become a regular, July 3, "brought a major turning point for the pennant contenders. He solidified a shaky infield and has contributed some timely hits."14 In Bressoud's first 19 games as a regular, reported Bob Stevens, he hit .406 and was involved in 11 double plays.15 After the Giants season was over, Stevens still credited him as key, writing of "Bressoud, without whose excellent play the Giants would never have been in a contending position."16
Still, Bressoud acknowledged his shortcomings at the plate, during spring training in 1960. "I'm not a good hitter, and I know it. I'm trying to improve, but I concentrate on my glove. A team like this, with a lot of hitting, can carry a guy like me."17 There were some big hits, like the three-run inside-the-park home run on May 7 to beat the Pirates, 6-5. The 43 RBIs he had in 1960 were his high point with the Giants.
After the season, the Giants toured Japan, playing against the Tokyo All-Stars. Bressoud kicked off the October 30 game at Tokyo's legendary Korakuen Stadium with a "towering home run into the left-field bleachers in the first inning."18
In 1961, now playing for a Giants team that had Alvin Dark as manager, Bressoud saw much less work. He struggled with a nagging leg injury at the beginning of the season and appeared in just 59 games that year, batting .211. After the season, Bressoud said, "The manager evidently felt he had a better shortstop in Jose Pagan."19
On October 10, 1961, the expansion draft was held to help populate two new teams for the National League — the Houston Colt .45s and the New York Mets. Houston won the coin toss and its first choice in the draft was Eddie Bressoud.20 
Bressoud never played for Houston. In fact, he was earmarked for the Boston Red Sox even before the Colt .45s drafted him. In discussions during the World Series, Mike Higgins of the Red Sox talked with GM Paul Richards of Houston. The Sox had tried to obtain Bressoud from the Giants, but failed, and so a deal was struck whereby Houston would draft Bressoud and then swap him to the Red Sox for Boston shortstop Don Buddin. Buddin was no fan favorite in Boston, and Higgins was looking for someone steadier in the field. Columnist Dan Daniel quoted an unnamed Boston writer: "Mike Higgins would not have dared to open the 1962 season with Buddin still on his club. The fans hooted Don all last summer."21
The trade was done at the winter meetings, on November 26. Houston manager Harry Craft said Buddin was a good ballplayer "and he'll be a lot better ballplayer once he gets out of Boston."22
Bressoud was told the job was his unless he lost it. He was pleased at the opportunity. On first hearing he's been traded, he admitted, "I know so little about the American League that I'm not even sure Tom Yawkey is still alive and owns the Red Sox. … I have never even seen Fenway Park, but I have certainly heard a lot about it. I'm strictly a right-handed pull hitter so maybe I can do some damage with that short left field wall."23 He said playing for the Red Sox "is going to be like starting a new career."24 Bressoud's former manager, Bill Rigney, with the Los Angeles Angels at the time, said, "I wish we could have landed him. He knows how to play shortstop and he'll be a threat in Fenway Park with his bat."25 Richards later suggested that the trade he regretted most might be Bressoud-for-Buddin.26
Bressoud had remarried, in Alameda on February 7, 1959. He had met Carol Mathews, an airline stewardess, while on a flight with the Giants. They soon had a daughter, Michelle. In 1966, he talked about the need for a baseball spouse to be flexible and for children to be "socially mobile." He said, "A girl who married a ball player, under any circumstances, has to be an extraordinary woman. There are problems unique to our business. There is always a new environment, new companions, new shopping areas, new living conditions and most of all the constant uprooting of children from place to place. The children have to learn to be socially mobile. Mine, fortunately, have enough gray matter to understand the situation. Our kids are socially gregarious."27 Maury Allen added that Bressoud took the family to Florida each spring, then to the city in which he was playing, and moved them back to California for the winter. He wanted to be involved in raising his children, and not leave that responsibility to his wife for the whole of the baseball season.28
In many respects, Bressoud's Red Sox years were his best years.  He was nervous, of course, playing in his first AL game, and in as unique a field as Fenway Park. "When I went out to my position, I was a bit shaky. But once I made the first play, I felt at home."29 In 1962, Bressoud played in 153 of the team's 160 games. He collected one or more base hits in each of his first 14 games. His .277 batting average was his best to date, as were his 14 homers, 40 doubles, 9 triples, and 79 runs scored. The 68 runs batted in proved to be the best season of his career. The downside was that the 28 errors he committed were the most among shortstops in the American League.
For the first time in nearly a decade, the Red Sox had a reliable shortstop. "All I wanted was a chance to play," he said. "The Red Sox made me feel like I was wanted. They told me that the shortstop job was mine."30 Higgins said he wasn't surprised that he hit better in the American League, particularly playing half his games at Fenway Park. Bressoud said he liked both the better background for batters at Fenway, and the fact that the fans were closer to the players.31 A year-end wrap-up concluded, "Bressoud was as valuable as any player on the team, as much as anyone the reason why the 1962 Sox finished eighth instead of tenth."32
Over the winters, Bressoud coached basketball and baseball at Los Altos High School.33
In 1963, he hit a career-high 20 homers, the most by any shortstop in the league; his batting average, though, dipped to under .250 for a good part of the season, though a strong finish brought it up to .260 at the end. Even at midseason, when Bressoud was hitting around .240, Boston columnist Arthur Sampson wrote, "Acquiring him was one of the most profitable transactions the Red Sox have made in some time."34 Bressoud himself had written a column for the Boston Globe in April, an instructional one on playing his position.35
In 1964, with his master's degree now in hand, Bressoud was named to the American League All-Star team by manager Al Lopez, because Luis Aparicio was out with an injury. He did not see action in the game. He topped his own start-of-the-season hitting streak with one or more hits in each of his first 20 games. He didn't go without a hit until May 10. (He set a Red Sox record in the process, besting outfielder Elmer Smith, who had hit in his first 18 games back in 1922.)36  His batting average at year's end was .293, the best of his career and the highest on the Red Sox that year. His 86 runs scored also led the team and stand as a personal career-best.
Bressoud had one last year with the Red Sox in 1965, under new manager Billy Herman. There was talk before the season of trading him when his value was high, and the Red Sox taking their chances with rookie Rico Petrocelli at shortstop. Bressoud's average fell off to .226 in 328 plate appearances in 1965, down from 644 the year before. He played in 107 games, just a few more than rising Red Sox star Petrocelli.
After the season, Bressoud was traded to the New York Mets on November 30 for outfielder Joe Christopher. It was not a major move for either team. Indeed, suggested United Press International, it was "a deal which produced nothing but a lot of yawns."37
The 1966 Mets finished in ninth place (so, for that matter, did the Red Sox.) Though originally seen as a utilityman, Bressoud became a solid member of the team, third in homers, fifth in both runs scored and runs batted in, but he finished seventh in batting average (.225) and struck out 107 times, 26 more than anyone else on the team.
Bressoud started wearing eyeglasses toward the middle of the season. On June 10, he had a game in which he hit two homers, one of them a three-run homer. He'd fought wearing them initially, since they would steam up on him or otherwise be uncomfortable, but the order came down from the front office and he complied. "I see better with the glasses," he said. "I can pick up the ball real well now. For a long time, I had been unable to see the spin on the ball, but I can see that now, too." Once he got the order, though, "There no longer was any choice. I had to wear them. You'd be surprised how that changed things. From then on, they didn't seem to bother me."38 On June 15 and June 17, he hit another two three-run homers.
For the Mets, he played seven or more games at each of the four infield positions. "I like the idea of moving around," he said. "It improves my value."39
In the offseason, he worked substitute teaching in the Fremont and Mountain View/Los Altos high-school districts, often overseeing lunch periods and school senate meetings. He even promoted a Big Mama Thornton concert.40
Just before the 1967 season, on April 1, Bressoud was traded to the St. Louis Cardinals as part of a five-player transaction that was as much as anything a trade of Bressoud for infielder Jerry Buchek.41 The Cardinals wanted him as a backup for shortstop Dal Maxvill. Bressoud didn't see much playing time, mostly being used as a late-inning replacement. In contrast to the 1962 and 1964 seasons, when he started off with hitting streaks, in his first 29 plate appearances in 1967, extending over 20 games and all the way through June 7, he failed to get a base hit, though he did draw six walks. Finally, on June 8, he singled to left field in the bottom of the fifth and came around to score.
Bressoud was happy with the Cardinals, though, saying, "This is the greatest spirit I've ever seen around a ballclub, and I've been around 16 years. I've never been happier with any other club, and that's saying a lot when you know you're not going to play much."42
It was a tough year at the plate, all in all, though. Bressoud hit .134 for the season (in 76 plate appearances over 52 games) and he had only one RBI — a home run in the bottom of the third inning on August 9 against the Dodgers. He came up to the plate in the bottom of the 10th with the bases loaded and nobody out. He popped up to first baseman Wes Parker, who dropped the ball. The run scored, but it was unearned and not an RBI.
The Cardinals won the 1967 National League pennant and played the Red Sox in the World Series. Bressoud made the roster and appeared for last-inning defense in two games, Game Two and Game Five, for one inning each time. He had no fielding chances, but on October 12 celebrated becoming a world champion as St. Louis beat Boston in the Game Seven finale, 7-2. That very day, Bressoud announced his retirement. He began work as head baseball coach for De Anza Junior College of Cupertino, California.43
It was the end of Bresoud's career as a professional ballplayer, but a wonderful way to end a career. He said, "Winning this World Series meant far, far more to me than I could ever say."44
In late November, Roland Hemond of the California Angels signed Bressoud as scout, to work under Rosey Gilhousen.45 "The person who got me the job," Bressoud explained, "was Bill Rigney, who I had played for."46 He scouted for two years, during which time he also, twice, managed a minor-league team, both times taking over in midseason. In 1968, he replaced Tom Sommers managing Idaho Falls (Pioneer League) In June 1969, he was named manager of the San Jose Bees (California League), taking over for Tom Morgan.47
Bressoud's post-baseball career was devoted to teaching. "I went to school in the offseason for 14 years. I got my master's degree and I started coaching for DeAnza Community College after we played in the 1967 World Series. I taught there for 24 years. I retired in 1990."48
As of the time of the July 2017 interview, Ed and Carol Bressoud were married for 58 years. "I'm looking at her right now," he said, "and she's spectacular." 
One of his sons is currently "a cowboy and the other one is the CFO of a newspaper chain." A cowboy? "He was working with PG&E in their geothermal plant up in the mountains, and he had a ranch up there."49
Last revised: December 1, 2018
This biography appeared in "Time for Expansion Baseball" (SABR, 2018), edited by Maxwell Kates and Bill Nowlin.
Sources
In addition to the sources noted in this biography, the author also accessed Bressoud's player file and player questionnaire from the National Baseball Hall of Fame, the Encyclopedia of Minor League Baseball, Retrosheet.org, Baseball-Reference.com, Rod Nelson of SABR's Scouts Committee, and the SABR Minor Leagues Database, accessed online at Baseball-Reference.com.
Notes
1 Speaking of his father, Ed Bressoud said, "His father [Ed's paternal grandfather] was a pharmacist, and the company sent him to Peru. He was there at the time of the war in 1917 and the French government wanted to bring him into the army. He decided to go to the United States instead." Interview with Ed Bressoud on July 27, 2017.  
2 Hy Hurwitz, "Astute Eddie Works Toward Master's Degree in Education," The Sporting News, June 9, 1962: 3.
3 Hy Hurwitz, "Bressoud Likens Trade to Starting New Career," Boston Globe, December 10, 1961: 91.
4 Joe King, "That Bright Flash on Giants' Roster Is Eddie Bressoud," The Sporting News, April 4, 1956: 15, 16. See also Margery Miller Welles, "Bressoud, the Giants' New Infielder," Christian Science Monitor, July 6, 1956: 19.
5 Interview with Ed Bressoud on July 27, 2017.  
6 Jack McDonald, "Giants' Gems Bargain Counter Pickups," The Sporting News, August 19, 1959: 1, 6. Bressoud explained that "$2,000 was the signing bonus and then I got $125 a month for six months." Bressoud interview.
7 "Who Is Ed Bressoud? Giants Next Shortstop," New York World Telegram & Sun, February 3, 1956. 
8 Louis Effrat, "Rookie on Giants Seeks Dark's Job," New York Times, February 29, 1956: 41.
9 Louis Effrat, "Rookie Looms as Giants' Shortstop," New York Times, March 31, 1956: 9.
10 Joe King, "That Bright Flash on Giants' Roster is Eddie Bressoud."
11 Joe King, "Phenom Rodgers Fades, Bressoud Back with Giants," The Sporting News, July 17, 1957: 11.
12 Lester J. Biederman, "Bressoud Starts New Life for Himself, Giants," Pittsburgh Press, July 20, 1958.
13 Biographical summary, 1967, in Bressoud's player file at the National Baseball Hall of Fame.
14 Associated Press, "Ed Bressoud Big Factor in Giants' Race to Top," Greensboro (North Carolina) Daily News, September 9, 1959: 15.
15 Bob Stevens, "Bressoud Bounces From Wings, Grabs Spotlight on Giants," The Sporting News, July 22, 1959: 9.
16 Bob Stevens, "Giants Fall Made Fans Feel Like Morning After," The Sporting News, October 7, 1959: 14, 18.
17 Jack Mann, "Bressoud Won't Give Up, in Baseball or Anything," Newsday, March 15, 1960.
18 Associated Press, "Homer Wins for Giants,' Boston Record, October 31, 1960: 15. The game-winning homer that earned the headline was Willie McCovey's in the top of the ninth.
19 Larry Claflin, "Bressoud Cheers Trade to Sox; Minoso Swapped to Cardinals," Boston Record American, November 28, 1961: 22.
20 Milton Richman, United Press International, "45 Players Picked by Mets and Colts," Atlanta Daily World, October 12, 1961: 7. 
21 Dan Daniel, "Over the Fence," The Sporting News, December 13, 1961: 10. Buddin was characterized as "Bootin' Buddin" and it was said his license plate read "E-6." He made 23 errors in 1961 (for a .956 fielding percentage), while Bressoud — with a much better reputation as a fielder — committed 28 errors in 1962, though his fielding percentage was .965. Over the course of their careers, Buddin's fielding percentage was .954 and Bressoud's was .963.
22 Bob Holbrook, "Sox Trade Buddin for SS Bressoud," Boston Globe, November 27, 1961: 25. Holbrook's story details the talks leading up to the trade.
23 Larry Claflin.
24 Hy Hurwitz, "Bressoud Likens Trade to Starting New Career."
25 Ibid.
26 Mickey Herskowitz, "Colts Like Kasko — He's a Glove Whiz, Off-Field Comedian," The Sporting News, September 12, 1974: 18.
27 Maury Allen, "Teacher With Class," New York Post, July 22, 1966.
28 Ibid.
29 "'Shaky' Bressoud Feels at Home After 1st Play," Boston Globe, April 11, 1962: 47.
30 Dick O'Connor, "Small-Fry Cagers Coached, Polished by Tutor Bressoud," The Sporting News, January 12, 1963: 33.
31 James Enright, "'11 or 12' Pitchers Throw Spitters in A.L., Bressoud Says," The Sporting News, April 11, 1964: 20.
32 Ray Gillespie, "Diamond Facts and Facets," The Sporting News, December 22, 1962: 18.
33 Dick O'Connor, "Small-Fry Cagers Coached, Polished by Tutor Bressoud," The Sporting News, January 12, 1963: 33.
34 Arthur Sampson, "Pats' Acquisition Looks Good," Boston Herald, July 18, 1963: 37.
35 Eddie Bressoud, "Powerful, Accurate Arm SS Most Important Asset," Boston Globe, April 7, 1963:  79.
36 "Bressoud Tops Foxx Mark; Hits in 14 Straight Tilts," The Sporting News, May 9, 1962: 23.
37 UPI, "Twins Eye 2d Sacker, Hit a Snag," Augusta (Georgia) Chronicle, December 1, 1965: A13.
38 Barney Kremenko, "Specs Giving Vet Bressoud New Bat Vim," The Sporting News, June 25, 1966: 19.
39 Barney Kremenko, "Bressoud's Bat Breathing Fire Into Hit-Hungry Mets," The Sporting News, July 16, 1966: 40.
40 Dick O'Connor, "Action! Bressoud Is Always on Go in High School Post," The Sporting News, December 31, 1966: 41.
41 Dick Young, "Bing, Stan Swing That Deal; Bressoud Goes for Buchek," New York Sunday News, April 2, 1967: 132.
42 Neal Russo, "Did Card Flag Team Go Down with Gibson?" The Sporting News, July 29, 1967: 28.
43 "Bressoud to Coach JC Team," San Francisco Examiner, October 13, 1967.
44 Ibid.
45 UPI, "Bressoud Is Now Cal Angel Baseball Scout," San Francisco Examiner, November 27, 1967.
46 Interview with Ed Bressoud on July 27, 2017.  
47 'Bressoud Takes Helm," The Sporting News, June 28, 1969: 48.
48 Interview with Ed Bressoud.  
49 Ibid.
Born
May 2, 1932 at Los Angeles, CA (USA)
If you can help us improve this player's biography, contact us.
https://sabr.org/sites/default/files/17%20-%20Bressoud%20-%20DL.jpg
600
800
admin
/wp-content/uploads/2020/02/sabr_logo.png
admin
2012-01-04 20:49:04
2021-09-22 18:49:59
Eddie Bressoud