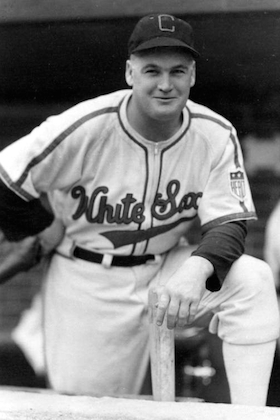 ---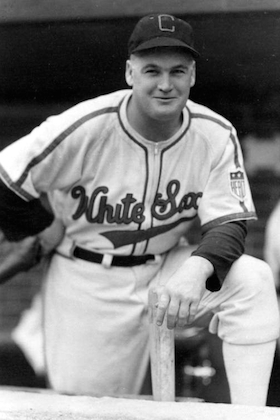 It was said of Edgar Smith that he perhaps "lost more one-run games than any pitcher who ever played the game."1 Hard luck seemed to follow him. He once started the season 0-10, and yet was named to the American League All-Star team.
Eddie Smith, a switch-hitting southpaw, pitched 10 years in the big leagues and won 73 games, but is perhaps best known for giving up the base hit with which Joe DiMaggio began his famous 56-game hitting streak. That was on May 15, 1941, at Yankee Stadium. It was an otherwise fairly unmemorable game in which Smith's White Sox beat the Yankees, 13-1. DiMaggio singled in the bottom of the first, driving in Phil Rizzuto with the only run of the game for New York. Smith himself doubled to lead off the eighth. He threw a complete game for his third win of the season.
George and Emma Smith raised seven children. Edgar "Eddie" Smith was the middle child, born on December 14, 1913, in Mansfield, New Jersey. George Smith worked as a house painter in 1920, and in 1930 worked as a paperhanger with his own business. His eldest son, William, worked for him in the paperhanging firm. Edgar, at the time, worked as a farm laborer at a dairy farm. Some sources say Eddie attended Columbus High School in Columbus (Mansfield Township), New Jersey. Eddie himself reports that he completed grammar school and went no further.2
Growing up in New Jersey, Smith was also known by his nickname "Gorby." For whatever reason, his father was known as "Big Gorby."
Given a tryout at the Philadelphia Athletics' Shibe Park on June 28, 1934, he was "said to have made quite an impression on Manager Connie Mack."3 Apparently, he'd been on the A's radar since at least 1931 when Philadelphia outfielder Doc Cramer gave him "25 cents carfare…to get to Shibe Park, where he hurled batting practice. Three trips or 75 cents later, Connie Mack had himself a left-handed pitcher."4 An American League Service Bureau press release also affirmed that Cramer had traveled some 40 miles on an off-day in 1933 to see a young left-hander that his brother, Paul Cramer, had recommended. Smith had been 12-0 in the Burlington County semipro league at the time. Smith lost the game, 3-2, but Cramer recommended him to Mack.5
He got some additional help hanging around Shibe Park. "Bob Grove sought to teach him control while Eddie Rommel, who is to umpire in the American League in1938, taught him the fundamentals, how to stand, watch the bases and follow through."6
In both 1934 and 1935, he pitched well enough to help the Chesterfield semipro team win the Lincoln Tournament titles. In October 1934, a week after he struck out 17 Chambersburg batters in the semifinal game, Smith struck out 18 batters (in a seven-inning game) to win that year's title over the Broad St. Park team.
Smith was signed by the Athletics and worked out in Florida with the big-league club during 1935 spring training. He had pitched for Reading for a month or so in 1934, but only in batting practice. His pro career started in Pennsylvania with the 1935 Williamsport Grays of the Class-A New York-Penn League, an affiliate of the Philadelphia Athletics. In his first season, Smith was 7-5 with a 4.33 earned run average. Working the full season of 1936 for manager Mike McNally, he won 20 games and lost only 8 (3.78) for the fourth-place Grays. Smith and Hugh Mulcahy were the two pitchers chosen for the league All-Star team. After the season was over, Smith joined the Philadelphia Athletics and didn't see the minor leagues again until 1948.
His debut in the big leagues came on September 20, 1936. It was the second game of a doubleheader against the visiting Boston Red Sox. Smith threw a complete game, 5-4 win with only one of the runs being earned (though one could argue that Jimmie Foxx's three-run home run in the top of the fifth ought to have counted as earned). Foxx drove in all four Red Sox runs. Smith got one other start for the Athletics in 1936, a complete game 6-5 loss in 10 innings to the Yankees in Philadelphia.. Red Rolfe homered to win the game. Again, three of the runs scored by the opposition were unearned.
Connie Mack and the Athletics welcomed Smith back in 1937, when the pitchers started working out in Mexico City. But the team went nowhere and finished 46 ½ games out of first place. Smith's record was 4-17 with a 3.94 ERA that was best among the Athletics' starting pitchers, though his winning percentage was the worst. The A.P. story in August 16 newspapers around the country called him "Hard Luck Edgar Smith" in noting that he had finally won his first game of the season, a 5-4 complete-game win that brought him to 1-11. In six of the losses, his team had scored two or fewer runs. Smith threw 14 complete games. He held opposing batters to a .242 average; only Bob Feller, Lefty Gomez, and Monty Stratton did better in 1937.
"Some pitchers might moan about their support or the umpiring but I am a young fellow just getting his start," he said, "while the breaks of the game were against me most of the season… But, I am learning. In 1938, I will know the batters better."7
His 1938 stats were discouraging. Working mostly in relief (he had just seven starts, but closed a league-high 27 games), he was 3-10 and his ERA rose to 5.92.
Smith was placed on waivers early in the 1939 season, despite having a 1-0 record. It's a good illustration of why wins and losses can be deceptive He had come into a 6-6 tie game in Boston, and gave up two runs in the bottom of the sixth, handing the Red Sox the lead. In the top of the eighth, he was due to lead off but was replaced by pinch-hitter Lou Finney, who drew a base on balls. Though Smith was therefore irretrievably out of the game, the score was still 8-6 in favor of the Red Sox. But the Athletics scored six runs in the eighth, and Smith was given the W. Connie Mack wasn't fooled, though. After 3 2/3 innings in three appearances, he'd given up five runs, four of them earned, and had a 9.82 ERA.
The White Sox claimed him on April 27 and he pitched markedly better, starting 22 games for them and recording a 3.69 ERA for Chicago. He finished the year 10-11 for both teams. The highlight was a complete-game two-hitter on July 5, a 2-1 win over Cleveland. It was his first win in 10 attempts against the Tribe.
He had a very good year indeed for manager Jimmy Dykes in 1940, 14-9 with a 3.21 earned run average (fourth-best in the league), his best game perhaps being his first, on Opening Day, but it was a loss; the opposing pitcher was Bob Feller, who threw a no-hitter to kick off the season.
Smith was marginally better in ERA in 1941, 3.18, though his record was 13-17 despite the team's improved third-place finish. In four times he pitched, the White Sox offense was shut out, and three other times, they scored only once.
In addition to Joe DiMaggio's single on May 15 that started his 56-game hit streak, Smith was also touched for a hit in game 55.
Perhaps Smith's most notable moment of the '41 season was becoming the winning pitcher in the All-Star Game, when Ted Williams hit a three-run homer in the bottom of the ninth to boost the A.L. to a 7-5 victory. Unsurprisingly, it was a game he remembered decades later. "Just dressing in the same locker room beside guys like Bill Dickey, Feller, Williams, and DiMaggio gave me the biggest thrill I ever had in baseball."8
In 1942, Smith was named to the All-Star squad again – though it could be the only time in baseball history that a pitcher started the season 0-10 and was named an All-Star. After winning his first game, on June 14, he lost his next start, 1-0, when a ball hit off him got stuck under the bullpen bench at Comiskey. He was 2-16 by July 19, with an ERA of 4.39. In nine of the 16 losses, the White Sox had either been shut out or scored just one run. On June 9, he lost a two-hitter, 2-0.
Smith did not actually pitch in the 1942 All-Star Game. He did end the season leading the league, in losses: 7-20, despite a respectable 3.98 ERA. Smith was philosophical: "Things ain't never as bad as they could be."9
In 1943 he was 11-11 (3.69.) There was one stretch in July where manager Jimmy Dykes suspended him for being too fat.10
Smith enlisted in the United States Army on November 3, 1943, at Camden. New Jersey. He served in the infantry and saw duty in Africa and Italy. He was married to the former Carrie Burkholder of Williamsport; they had one son, Richard Edgar Smith.
He returned to the big leagues in 1946, and had his statistically best season, 8-11 with a 2.85 ERA. Whatever he had going for him in '46, however, wasn't working in '47. His earned run average was 7.29 over his first 15 appearances, and he wasn't being used much for what are perhaps obvious reasons. On August 11, the Boston Red Sox claimed him off waivers for the $10,000 price.11
He pitched almost identically for Boston, 7.41 in ERA. He was 1-3 for the White Sox and 1-3 for the Red Sox. Smith's final game was on September 20, 1947, the 11th anniversary of his debut. Smith was unconditionally released on October 20.
In February 1948, Smith was acquired by the Hollywood Stars of the Pacific Coast League. For Hollywood, he was 3-4 in what proved to be his last season in baseball. He was released in early June and hooked on with the Sacramento Solons. For Sacramento, he ended 1948, and his career, on a better note; he worked 139 innings in 23 games, with a 3.39 ERA. His record was 10-10. Though still on the roster at the beginning of April 1949, he did not pitch for the team. He was offered the same terms as in 1948, but he wanted a raise and it wasn't forthcoming, so he requested his release and received it.12
Smith played some semipro ball in New Jersey for Bordentown, through 1951.
One odd note cropped up a few years later. Frank Waldman, writing in the Christian Science Monitor in March 1953, described Smith in 1942 as a "stocky, semi-rotund pitcher" and said he "wore what was probably the sloppiest uniform in the League."13 Quite a thing to be remembered for.
Gorby Smith took up work as a bartender at the Pig 'n' Whistle Inn at Browns Mills, New Jersey. He made the news occasionally, once on a charge of disorderly conduct for a fracas at a diner, another time as a passenger and victim in a 1956 automobile accident involving a bridge abutment, for which he received 21 stitches in his scalp.
Some players, such as pitcher Eddie Lopat, credited Smith later for such things as teaching him the slider.14
Around 1960, he was working as a bartender in Bala Cynwyd at the Lynwood Tavern.
He married for the second time in May 1957, but the name of his second wife was not clearly written on Smith's player questionnaire. It appeared to be Lucy Patti Martofel.
On August 13, 1965, Smith was charged with manslaughter in Beach Haven, New Jersey, in the death of 61-year-old Beaman P. Belvin. The two had apparently gotten into a "barroom argument over whose turn it was to play pool."15 They stepped outside, Smith struck Belvin, and Belvin's head struck the sidewalk. Smith was described at the time as "an unemployed bartender." The disposition of the case is not described in any readily available newspaper.
Three years later, he commented while watching an American Legion ballgame, "I just wish I were one of those kids out there right now."16 He did find work again, by the early 1970s tending bar at Eddie Fuller's Bar in Bordentown.
In 1990, Smith was invited to join Bob Feller for the 50th anniversary of Feller's Opening Day no-hitter. He did the occasional card show.
On January 2, 1994, Smith died, apparently of cancer, at Rancocas Hospital in Willingboro, New Jersey.17 He was survived by his son and one sister. Because of his Army service, he is buried in Brigadier General William C. Doyle Veterans Memorial Cemetery in Wrightstown, New Jersey.
Last revised: April 10, 2021 (ghw)
Sources
In addition to the sources noted in this biography, the author also accessed Smith's player file and player questionnaire from the National Baseball Hall of Fame, the Encyclopedia of Minor League Baseball, Retrosheet.org, Baseball-Reference.com, and the SABR Minor Leagues Database, accessed online at Baseball-Reference.com.
Notes
Born
December 14, 1913 at Mansfield, NJ (USA)
Died
January 2, 1994 at Willingboro, NJ (USA)
If you can help us improve this player's biography, contact us.
http://sabr.org/sites/default/files/SmithEddie.jpg
600
800
admin
/wp-content/uploads/2020/02/sabr_logo.png
admin
2016-04-21 20:11:29
2021-04-10 05:37:18
Eddie Smith