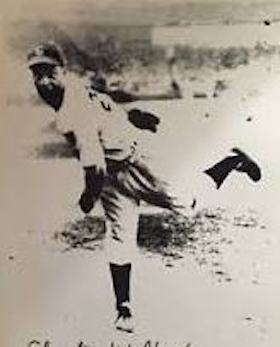 ---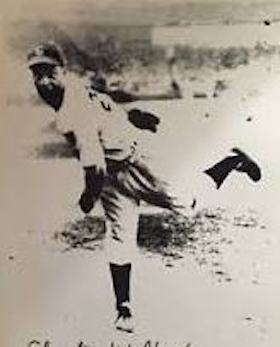 Edsall Elliott Walker learned to love baseball as a child growing up in Catskill, New York. That love and a sinking fastball led him to the Negro Leagues, where he starred for nearly a decade. When his arm wore out he returned to the city where his career began: Albany, New York. After a brief semipro stint Walker then turned his attention to Little League baseball and teaching children the game he loved. A former player, Andrell Young, recalled "he was always giving, always had time for a youngster."1 Walker finally called it quits in 1989—over 60 years after he first suited up for the Albany Colored Giants (later the Black Sox) and played in Albany's Bleecker Stadium.
Jeremiah and Isabelle Walker met and married in Georgia in the 1890s. After starting their family in the South, Jeremiah took a job in Catskill working in a brickyard. The last of six children, Edsall, was born on September 15, 1910. His father passed away five years later. With the help of Jeremiah's brother Elias, Isabelle kept the family together working as a laundress. It was a close knit family. The children stayed at home until they married, with the income they added making for a comfortable life. Walker went to school in Catskill and played football and baseball. When school ended he took a job as a laborer. He also put his 5'11" and 215-lb frame to work as a boxer in Kingston, New York.
In Catskill, Walker became an overpowering left-handed pitcher. Only one local could catch him, Gus Coleman. It was Coleman who convinced Walker to pursue baseball by going to Albany, 35 miles north of Catskill.2 In 1934 Walker joined the Zulu Cannibal Giants, a barnstorming club, billed as the "Oddest Novelty in Baseball." The team's lineup featured assumed names, such as Mofika, Limpopo, and Chief Tenna. Consequently, how Walker fared with the Giants cannot be determined. But he undoubtedly pitched, and may also have played first base or even outfield as the team frequently used two pitchers in a game. The next season he joined the Albany Colored Giants. He was spotted by a local businessman, Scrappy Brown, who mentioned him to See Posey of the Homestead Grays in 1936. Walker met with Posey and they agreed upon a contract. Walker left New York and joined the Grays on the road in Ohio.3
The Grays had future Hall of Famers Raymond Brown and Buck Leonard but the team struggled in 1936 and barely avoided last place. For his part, Walker compiled a 2-0 record in five games.4 Josh Gibson joined the Grays in 1937 and they became the dominant team in the Negro Leagues. Walker posted a 7-1 record in 1937, but walked more batters than he struck out. His nickname "Catskill Wildman" reflected both his control of the strike zone and his attitude towards batters. He had no qualms about throwing inside to a hitter. He added a three-quarter-arm sweeping curve to back hitters off the plate.
The Grays repeated as champions in 1938 and Walker enjoyed his finest season statistically. He went undefeated with seven wins in league play. He twirled six complete games and had a much improved walks-to-strikeout ratio. At bat he hit .333. Unlike Brown and some of the other pitchers, Walker seldom played in the field with the Grays. But he was a powerful hitter. Old-timers claim he hit some of the longest home runs they ever saw. Considering that Walker played with Gibson, who was legendary for his tape-measure blasts, this was quite a compliment.
Walker was so impressive in 1938 that he was named the starting pitcher for the East in that season's All-Star game. But he took the loss, leaving him with a bitter memory, for which he blamed catcher Biz Mackey. With his sinker and curve Walker liked to keep the ball down. Mackey believed the West stars would be victims of high pitches. Walker tried to please his catcher, but the results led to five runs.5
Walker had a down year in 1939, posting a 4-5 mark. The Grays won both halves of the season, but in a revised playoff format they were beaten by the Baltimore Elite Giants. The Grays traveled to Cuba that fall and swept a six-game series with Havana, Almendares, and an all-star team. Walker was the winning pitcher in one of the Almendares games; the score was 5-2. The majority of the Americans stayed in Cuba to play, but Walker opted to return to the States. It proved to be his only playing appearance in the Caribbean.
The Grays returned to dominance in 1940. Ray Brown and Walker handled the bulk of the pitching. Brown went 16-2 and Walker 11-4. In 1941 Walker was shipped to the Philadelphia Stars. His new manager was the legendary Oscar Charleston, who at 45 was still playing first base. Walker was the lone lefty on a staff anchored by Henry McHenry. Walker was out of organized ball in 1942. He worked in a Baltimore shipyard to help the war effort, but occasionally pitched in local exhibition games when his schedule permitted it.6
Walker returned to the Grays in 1943. He was the leading left-hander on the staff, posting a 7-4 record, while batting .343. Homestead lost a seven-game World Series to the Birmingham Black Barons, but Walker did not figure in any of the decisions. The Grays went to Dayton, Ohio, for spring training in 1944. Walker looked good in the early exhibition games, but when the regular season started he floundered. With an 0-3 record he was relegated to bullpen duty for most of the summer. He redeemed himself late and earned the start in Game 2 of the World Series versus the Black Barons. He responded with a dominant pitching performance in a 6-1 win. The Grays took the series in five games.7
Walker's final season in professional ball was 1945. The Grays stopped in Chattanooga, Tennessee, to play an exhibition versus a local squad. Walker was pitching and one of the locals whacked a single. The next time that batter came up "with his chest stuck out," acting superior. Walker tried to burst his bubble by reaching back for all the heat he had. As a result he overthrew and injured his arm. "I couldn't pitch. Four or five innings was the most I could pitch."8 He was used in relief in league games and picked up his lone win on July 22 versus Baltimore. He did enjoy a memorable day on the mound in a July 6 exhibition game in Chester, Pennsylvania. Playing against Lloyd A.C. he tossed a complete-game shutout. At bat he went 4-for-5 and launched a mammoth home run that "flew far and over the center field wall" and landed on the railroad tracks beyond. Manager Vic Harris estimated the blast at 475 feet.9 Years later, Buck Leonard claimed the ball "went more than 500 feet."10 The aging Grays again reached the league finale but lost to a young, hungry Cleveland Buckeyes team in four games. There was discussion about sending Walker to the New York Black Yankees. He retired instead and returned to Albany.
Pitching was out of the question, but Walker played a few years of semipro ball as a first baseman. He then turned his attention to Little League and his family. He was married twice, and those unions produced three children: Edsall Jr., DeWitt and Barbara Jean. By the time of his death, the family had grown with the addition of 27 grandchildren. He joined the Negro League alumni gathering at Cooperstown in August, 1991. After that he would attend other events honoring the Negro Leagues. Albany honored his years of community service with the naming of Edsall Walker Field at Bleecker Stadium, where his career began. Walker passed away at the University Heights Nursing Home in Albany on February 19, 1997. He is buried in Memory's Garden in Colonie, New York.
 Acknowledgments
Thanks to the grandchildren of Edsall Walker for additional family information. This article was originally published in June 2016 and most recently updated in October 2019.
Other sources

Dick Clark and Larry Lester, ed. The Negro Leagues Book (Cleveland, Ohio: SABR, 1994)
Jorge S. Figueredo, Cuban Baseball, A Statistical History, 1878-1961 (Jefferson, North Carolina: McFarland & Company, 2003)
Afro-American (Baltimore, Maryland)
Altoona Tribune
Kingston (NY) Daily Freeman
New York Age
Pittsburgh Courier
Pittsburgh Post-Gazette
Notes
1 Paul C. Webster, "Negro League Star, Local Legend Dies," Sojourner-Herald (Albany, New York), March 1, 1997: 3.
2 Paul Post, "Baseball's Edsall Walker," www.catskillmtn.org/guide-magazine/articles/2005-06-baseball-s-edsall-walker.html
3 Brent Kelley, Voices from the Negro Leagues (Jefferson, North Carolina: McFarland & Company, 1998): 43.
4 Statistics from 1936-40 are courtesy www.seamheads.com. Post-1940 statistics from www.baseball-reference.com.
5 Kelley, Voices from the Negro Leagues: 45.
6 Kelley, Voices from the Negro Leagues: 47.
7 www.cnlbr.org
8 Kelley, ibid.
9 Delaware County (PA) Daily Times, July 7, 1945: 10.
10 Post, ibid.
Born
September 15, 1910 at Catskill, NY (US)
Died
February 19, 1997 at Albany, NY (US)
If you can help us improve this player's biography, contact us.
http://sabr.org/sites/default/files/WalkerEdsall.jpeg
600
800
admin
/wp-content/uploads/2020/02/sabr_logo.png
admin
2016-06-15 12:05:12
2021-09-17 01:07:05
Edsall Walker