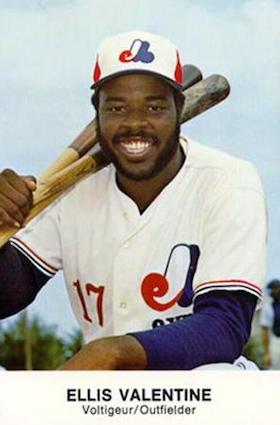 ---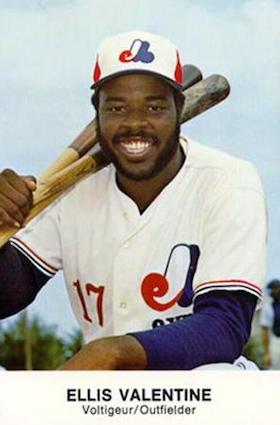 He was as natural a ballplayer as you would ever want to see. His swing was as beautiful as a Michelangelo sculpture and his throws from right field were so powerful and accurate that a cartoonist for the Montreal Gazette drew a caricature of Ellis Valentine that had a cannon where his right arm should be.
Valentine had all the tools to be one of the greats, to go along with a charismatic personality and a megawatt smile. But injuries, drugs, and a lackadaisical attitude derailed what could have been one of the all-time great baseball careers. Nonetheless, Valentine's story is very uplifting in that despite never fulfilling his great potential, he turned his life around and set about using his experience to help others.
Ellis Clarence Valentine was born on July 30, 1954, in Helena, Arkansas, to Ellis Valentine Jr. and his wife, Bertine. When Ellis was 3 the family moved to Los Angeles, where his father worked for the City of Los Angeles as a trash collector and his mother operated a beauty salon out of the family home.
"I didn't grow up hungry," said Valentine. "I didn't grow up needing anything."1
The great throwing arm that became Valentine's trademark was evident even at age 7, when he broke windows throwing rocks at the houses around where he lived. Since the league registration fee was cheaper than replacing the windows, his mother and neighbors pulled some strings to get him into the local Little League with the Southpark Braves, even though the minimum age for playing was 9.
Valentine started out as a pitcher. He didn't kill Kenny or anyone else from the mound, and in fact, continued pitching at Crenshaw High School until he broke his leg during the summer between his junior and senior years. The injury required surgery, as doctors inserted a rod into the leg to assist with the healing.
He played first base his senior year in high school, and despite having first-round talent, he was still available when the Expos drafted him in the second round of the 1972 amateur draft.2
"I didn't jump for joy when I was drafted," he said. "I felt I should have been drafted number one, to be honest. I broke my leg, and people were nervous to take a risk and draft a kid with a pin in his leg."3
Disappointed though he may have been, Valentine impressed at his first stop with the Expos' farm club in the rookie level Florida East Coast League. His manager, Karl Kuehl, "praised 18-year-old outfielder Ellis Valentine as 'the finest hitting prospect I've ever seen.'"4 Valentine hit .266 with one home run and 18 RBIs in the instructional loop.
He moved up to the West Palm Beach Expos of the Class A Florida State League in 1973 and hit an impressive .308, with 8 home runs and 61 RBIs. He also showed tremendous poise for a teenager while speaking to a reporter about being a black man facing discrimination in Florida while trying to find an apartment.
"I just take all this in stride," he said about the racism. "All I do is look at people as people. Prejudice is no problem with me."5
After one season with the Quebec Carnavals of the Double-A Eastern League in 1974, Valentine was reunited with Kuehl at Memphis of the Triple-A International League in 1975. Kuehl and Valentine worked unceasingly in the Tennessee heat to polish off Valentine's rougher edges and prepare him to become a major-league hitter. Kuehl threw to Valentine every day from behind a protective screen three feet in front of the mound, even when it was 90 degrees with 90 percent humidity, helping Valentine hone his batting skills.
The result was a .306 batting average with 13 home runs, 66 RBIs, and a trip to Montreal as a September call-up, and in his first major-league game, at Veterans Stadium in Philadelphia, he prevented Garry Maddox, the husband of his high-school counselor, from hitting an inside-the-park home run. With one out and two on in the Phillies' third, Maddox hit a liner that got by Expos center fielder Pepe Mangual for a triple. A reporter asked Maddox if he thought of circling the bases.
"Yeah, I did," he said. "But (Valentine) did a good job of running it down and he can throw. Funny thing is, my wife used to counsel him when he was in high school."6
Valentine hit his first major-league home run two nights later off Pittsburgh's Jim Rooker in the second game of a doubleheader at Montreal's Jarry Park. The home run endeared him to Expos fans, who booed manager Gene Mauch when he pinch-hit Larry Biittner for Valentine in the sixth inning. Mauch was fired after the season, not specifically for removing Valentine from this game, but for showing a reluctance to use young players.
After a fine season of winter ball in Puerto Rico, Valentine arrived for spring training in 1976 with his old friend Kuehl now at the helm, and with the right fielder position his for the taking. But Valentine got off to a slow start, due in part to a poor spring. He appeared in only 19 of the team's first 29 games and on May 16 was sent to the Expos' Triple-A affiliate, the Denver Bears of the American Association.
He returned to the lineup of a horrid team on July 16, and beginning on July 20 with Valentine starting in center field, the Expos – 55-107 that season – went on the biggest tear in franchise history to that date. They won four straight series, winning two games out of three against Atlanta, the Mets, the Cubs and Pittsburgh. They also played one game against St. Louis in that streak, and won that, too. Expos starter Woodie Fryman credited the team's success to Valentine's return.
"Other guys have helped," Fryman said, but he's the guy that's made all the difference."7
While the team's winning ways didn't continue, Valentine's hitting did. Though he had a .238 batting average when he was demoted to Triple A, he finished the season with a .279 average, 7 home runs and 39 RBIs.
The Expos made substantial changes prior to the 1977 season. They abandoned tiny Jarry Park for the cavernous Olympic Stadium, and they brought in the no-nonsense Dick Williams to harness the team's young talent and turn it into a winner.
A record crowd of 57,592 saw the Expos inaugurate their new facility on April 15 against Steve Carlton and the Phillies. The hometown boys lost 7-2, but Valentine brought the people to their feet by hitting Olympic Stadium's first home run. That homer launched an excellent first half of the season for him, both at the plate and in the field, where opposing runners were learning quickly that trying to take the extra base on Valentine's howitzer was a bad idea.
"They don't take chances against him," said Williams. "That's some kind of respect for a man who's only been in the league for half a season."8
Valentine was also making people notice his hitting prowess as well. At the All-Star break he was batting .315, with 16 home runs and 50 RBIs, and National League manager Sparky Anderson chose him as the Expos' representative for the midsummer classic. He came on in the sixth inning and went 0-for-1 with a walk as the National League defeated the American League 7-5 at Yankee Stadium.
Although Valentine was the only Expo at the All-Star Game, he and his outfield mates Warren Cromartie and Andre Dawson began receiving media attention in American publications.
Injury problems plagued Valentine in the second half, as he missed 22 games after fouling a ball off his foot in Philadelphia. Still, he finished the year with a .293 average, 25 home runs, 76 RBIs, and an .835 OPS.
After the season Valentine had a cameo role in an episode of the television show Fantasy Island.9 He, Steve Garvey, Fred Lynn, George and Ken Brett, and Tommy Lasorda all appeared in their teams' uniforms to help Gary Burghoff (Radar on the show M*A*S*H) fulfill his fantasy of pitching against major-league hitters. For those dying to know, Valentine hits a double off Ken Brett.
Valentine wisely stuck to his day job after that foray into the thespian arts and his 1978 season started off as a continuation of his 1977 campaign. He hit well, batting .289 with 25 home runs, 76 RBIs, and an .820 OPS. Defensively, he won the only Gold Glove of his career, as he and Cromartie tied for the major-league lead in outfield assists with 24 (as of 2016, no one had surpassed that total; only Gary Ward of the 1983 Minnesota Twins equaled it.)10
But as good as those numbers were, Valentine's erratic behavior in September of that year sullied what would otherwise been a fine season. On September 8, he was fined $100 for reporting late to a game at Olympic Stadium against the Chicago Cubs, and another $100 for refusing to take fielding practice. The fines prompted Valentine to remove himself from the starting lineup before the Cubs' first hitter, Greg Gross, completed his at-bat.
Valentine didn't receive any additional punishment for his actions that night, but the irresponsible behavior continued. He showed up late for a September 15 game in Pittsburgh, then the next night, also against the Pirates, he began trotting to the dugout after snaring a fly ball — the problem in that case was that there only two out. Soon after, he became the first player in the Expos history to be suspended. It all started on September 19 at Olympic Stadium in a game against the Phillies. While batting to lead off the bottom of the fourth inning, Valentine hit a ball to deep left-center field off Dick Ruthven. He stood at home plate to watch the majesty of his blast, only to see the ball bounce off the top of the wall and back into the field. Valentine managed to reach second as the fans booed lustily. Then, before even throwing a pitch to the next batter, Ruthven turned around and threw to second, forcing Valentine into a rundown where he was eventually tagged out. As the jeers reached a crescendo, Valentine looked up into the stands and shrugged his shoulders at the fans in a what-do-you-want-me-to-do-type gesture. He then came out from the dugout and repeated the action. Williams immediately pulled him from the game and suspended him from the next game as well. He also fined Valentine $500.
"This disciplinary action resulted from frequent violations of club rules, culminated by his failure to run out a ball against the Phillies on September 19," said Williams. "Over and above these acts, his inciting gestures toward the fans as he left the field and his coming back to repeat them left me with no alternative."11
The erratic behavior of 1978 was a harbinger of things to come in 1979, as Valentine immersed himself deeper in Montreal's party culture, with the wine, women, and drugs that ultimately destroyed his career. He earned himself a three-game suspension and a $500 fine for bumping replacement umpire Steve Fields during an April 21 game in Chicago. (The regular umpires were on strike at the time.) Fields called Valentine out on a force play at second base, then ejected him when Valentine threw his batting helmet in Fields' direction. Valentine lost it and accosted the umpire, despite his teammates' efforts at restraining him.
Valentine missed six games at the end of June – five if you count one pinch-hit appearance – with a thigh injury, although Expos management hinted to the Montreal media that Valentine might have been able to play if he wanted to. "Some players play with pain," said Expos general manager John McHale. "Ellis' history has not been one of playing with pain. He says he's hurt. We take his word."12
During the All-Star break, Valentine used his days off to go on a major bender. Former Expos PR man Richard Griffin described what happened on the day of the Expos' first game after the break: "We're in LA getting ready to play the Dodgers. "It's midafternoon. A car wheels into the Dodger Stadium players lot. The door opens and they push Ellis out. Then the car pulls out and speeds away."13 Valentine didn't play in that day's 7-3 loss to Los Angeles; the team gave "stomach ailments" as the reason for his absence.
Then, on August 1, Valentine pulled off the type of play that was the antithesis of the "stomach ailment." After singling in the bottom of the ninth with the Expos down 5-4 to the Cubs, Valentine stole second, and when Barry Foote's throw went into center field, he charged toward third. Third-base coach Ozzie Virgil frantically held up his hands in an effort to hold Valentine, but Valentine acted as if he were a bull and Virgil a matador holding a red cape. Virgil shouted olé as Valentine ran past him (okay, that part's not true), and slid home with the tying run. The Expos won in 12 innings.
As September of 1979 rolled around, the Expos found themselves fighting for the NL East crown with the Pirates. Despite an almost impossible schedule that included eight doubleheaders, the team won 23 of 34 games that month without a single home run and only 12 RBIs from Valentine.
The Expos finished two games behind the Pittsburgh Pirates, and while numerous factors determine how any team's season transpires, the Expos would have benefited by having Valentine in optimum mental and physical condition the entire season. True, he set a career high with 82 RBIs, to go with 21 home runs and a .276 batting average, but the numbers could have been much better.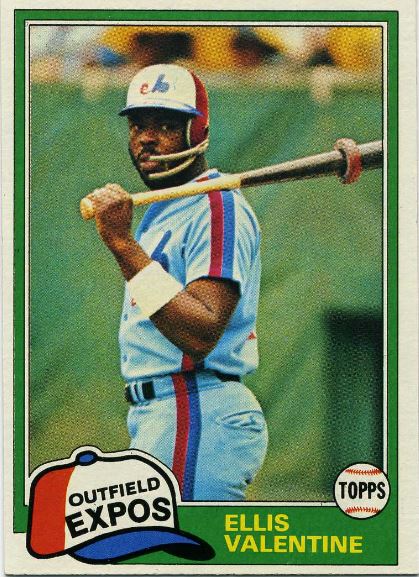 Valentine met with McHale and Williams during spring training at Daytona Beach, Florida, prior to the 1980 season to wipe the slate clean and get off to a fresh start. Although he was overweight, he worked very hard to get in shape. Nonetheless it was all for naught; Valentine's 1980 season was, by any measure, a disaster, as he played in only 86 games. But one injury in particular hurt him not only physically, but psychologically as well, and it ruined any chance for greatness he may have had. In a May 30 game against the Cardinals, a pitch from St. Louis reliever Roy Thomas hit him in the cheek, causing multiple facial fractures and a concussion. Valentine missed 37 games, but more than that, it changed him as a player.
"I wasn't the same hitter any longer," said Valentine. "I wasn't the same athlete any longer. I'd become a different person because of it. I prayed over it, and I realized getting hit in the jaw wasn't fun."14
Considering the effect the injury had on him, Valentine's season was quite good. He hit .315 with 13 home runs and 67 RBIs. Had he maintained that pace for an entire season, he would have hit 25 home runs and had 127 RBIs. Those are MVP numbers, but they didn't mean much since Valentine played so sparingly, especially when he missed the last 13 games of the season after injuring his hand while checking a swing on September 19, but Expos insiders indicated that he wasn't really hurt.15 The Expos could have used him because they were in the pennant race until the second-to-last day of the season.
Valentine's absence at the end of the season did not sit well with his teammates when spring training rolled around for 1981. They were angry with him for what they perceived as not being there at crunch time the previous season, and weren't afraid to let him know it.
"It was bad enough when management was on my ass, but now the players are getting on me," he said. "Little digs, remarks that come back any time I say anything."16
Valentine said during the Grapefruit League season that he wanted to be traded, and after he left the lineup four times due to injury, the Expos accommodated him on May 29. They shipped him to the New York Mets – appropriately enough, he was on the disabled list with a hamstring injury at the time – for pitcher Jeff Reardon and outfielder Dan Norman. The trade was a steal for the Expos, as Reardon became a two-time All-Star with the team, led the league in saves in 1985 with 41, and was still with the Expos after Valentine retired.17 McHale made the trade with a heavy heart, telling the New York Times that he loved Valentine and thought of him as his seventh child.18
As the adage goes, be careful what you wish for, because Valentine's time with the Mets did not work out for him or the team. He was on a mediocre club, and the injuries and deteriorating play continued. After batting .207 in 48 games for New York during the strike-shortened 1981 season, he was often platooned in right field with Joel Youngblood in 1982 until the Mets traded Youngblood to Montreal on August 4. Valentine wasn't even happy with that, calling the move "stupid" because Youngblood went to a team in the Mets' own division; the Mets were 15 games out of first place and nine games behind the Expos when the trade was made.19 Not surprisingly, Valentine became a free agent after hitting .288 with 8 home runs and 48 RBIs in 111 games. After the season, the Angels signed him to a one-year deal for $325,000, for which they got someone who played in 86 games, batted .240 and hit 13 home runs with 43 RBIs. Inexplicably, they gave Valentine a new contract for 1984 worth $1 million over three years, with the first two guaranteed. The Angels ended up releasing him after he played in only two minor-league games in all of 1984, again due to injury. Valentine's baseball career ended after he played in 11 games for the Texas Rangers in 1985.
"He probably had as good basic tools as any player I've ever seen in my lifetime," said former Expos manager Jim Fanning. "He could throw, he could hit with power, he was a fine defensive player. To see all that destroyed was one of the great disappointments of my life."20
Valentine had difficulty adjusting to life after baseball, and within one year of retirement his life was spiraling out of control, as he resumed using drugs and alcohol. But in 1986 he found the willpower to seek help for his addictions. He moved to Phoenix, Arizona, in September of that year and entered rehab. His first two recovery efforts failed, but he got clean on his third attempt and in 2016 celebrated the 30th anniversary of his sobriety.
But the story doesn't end there. Valentine took a job for $4.25 an hour driving cars for Avis Rent-a-Car at the Phoenix airport, not because he needed the money – he drove to work every day in a Mercedes – but because the job gave him some humility. It was the first full-time job he'd ever had outside of baseball. One day a friend invited him to speak to some at-risk youth at St. Luke's Hospital in Phoenix; he was so good at it that they offered him a position with the institution. He worked there before moving back to Los Angeles in May 1988 and earned certificates in behavior-health and chemical dependency counseling. After gaining experience in treatment facilities around Los Angeles, he and a partner founded the A.V. Light Foundation, which provides daily family counseling, parenting classes, anger management, and alcohol and drug education, in Lancaster, California. In 2010, he and his wife, Karen, moved to Grand Prairie, Texas, where he opened a second A.V. Light facility.
Valentine doesn't like to dwell on the past, but he does use a video of highlights from his baseball career in his sessions. "I use that video to let (his clients) see that what was given to you can be taken away," he said in 2001. "So get all you can now."21
Last revised: November 1, 2016
Sources
In addition to the sources cited in the Notes, the author also used:
Detroit Free Press.
Imdb.com.
Los Angeles Daily News.
Montreal Record.
Philadelphia Inquirer.
St. Louis Post-Dispatch.
Notes
Born
July 30, 1954 at Helena, AR (USA)
If you can help us improve this player's biography, contact us.
http://sabr.org/sites/default/files/ValentineEllis.jpg
600
800
admin
/wp-content/uploads/2020/02/sabr_logo.png
admin
2016-10-27 14:07:01
2016-10-27 14:07:01
Ellis Valentine