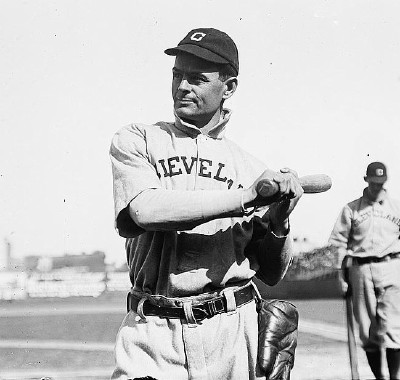 ---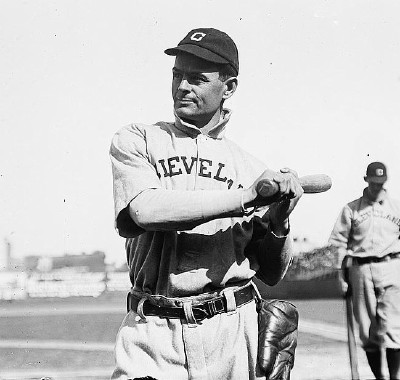 Best known as the player who Cleveland would not trade for the young Ty Cobb or as the man who won the American League batting title with the lowest average prior to 1968, Elmer Flick was more than just an answer to a trivia question. An underrated Hall of Famer whose on-the-field accomplishments are nearly forgotten today, Flick was a hard-hitting, fleet-footed outfielder who had his major league career curtailed by a mysterious gastrointestinal ailment.
Born in Bedford, Ohio, on January 11, 1876, Elmer Harrison Flick was the third of five children—three sons and two daughters—of Zachary Taylor and Mary (Caine) Flick. Elmer's father, an American Civil War veteran, was a farmer and skilled mechanic who operated a chair-making shop in Bedford and gained a certain degree of notoriety because of his failed attempt or attempts (the stories vary) to fly without using an airplane.
A natural athlete, Elmer boxed, wrestled, and played football, but his favorite sport was baseball, something that he first excelled at as a slugging catcher on the Bedford High School team (though some locals considered his younger brother, Cyrus, a better player). Then, sometime in 1891, the Bedford town team was embarking on a trip to play a neighboring team when the manager noticed that he had only eight players. Unwilling to lose any games by forfeit, he began looking for someone with baseball skills in the crowd that had gathered at the train station to wish the team well. And it just so happened that a barefoot, 15-year-old Elmer Flick was among that crowd and was invited to join the team, an offer that he eagerly accepted—despite not having a uniform or even any shoes. The result was that Bedford lost both games of a doubleheader, but the unshod Elmer made a name for himself with his good hitting.
Flick continued to play for the Bedford team until he joined the Youngstown Puddlers of the Inter-State League in 1896, the manager having agreed to hire him sight unseen. Not wanting to disappoint himself or his manager, Flick prepared for his sojourn into the professional ranks by engaging in a two-part exercise program which consisted of running and catching a ball after bouncing it off the side of a building and by making his own bat on his father's lathe, something that he would do more than once during his baseball career.
At Youngstown, Flick was moved to the outfield because the Puddlers already had a catcher, but learning a new position was not easy for him and his fielding percentage was an atrocious .826 for the 31 games in which he saw action. His biggest difficulty was judging the distance of fly balls. However, the change did not affect his hitting, as he pounded the ball for a .438 batting average with five doubles, nine triples, and six home runs among his 57 hits. As Flick described his Youngstown days to Brian Williams of the Cleveland Record in January of 1963, "The manager told me that as an outfielder, I wasn't so hot . . . then he added: 'But you can sure sting that ball.'"
The following year, Flick took his talents to Dayton, another member of the Inter-State League. There, he became the team's regular left fielder, raised his fielding percentage to .921, and continued to hit the ball at a torrid pace, finishing with 183 hits—including 42 doubles, 10 homers, and a league-leading 20 triples—and a .386 batting average. Added to those figures, he stole 25 bases, scored an incredible 135 runs in only 126 games, and ranked first in the league in total bases with 295. And because of his offensive exploits, youngsters who came to see him perform would chant, "Elmer Flick, you are slick/Hit a homer pretty quick."
One of Flick's performances with Dayton caught the eye of George Stallings, then manager of the Philadelphia Phillies, who signed the gifted slugger to a major league contract for the 1898 season. Stallings hoped to use Flick as the club's fourth outfielder, but when starting right fielder Sam Thompson was sidelined with a back injury, Flick was pressed into service and became a fixture in right field for four seasons.  
During those seasons, Flick combined power with speed to establish himself as one of the top offensive threats in the National League, even though he was no taller than 5'8" or 5'9", depending on the source, and weighed between 160 and 168 pounds. In his rookie year, he batted .302 and finished fourth in the league in walks with 86 and in on-base percentage with a .430 average. In 1899, he upped his batting average to .342, scored 98 runs, and drove in another 98. But it was in 1900 that he put together his best season with the Phillies, leading the league with 110 runs batted in and placing second in home runs (11), extra-base hits (59), total bases (297), batting average (.367), and slugging percentage (.545). 
While in Philadelphia, Flick improved his defensive skills and learned to take advantage of the short dimensions of National League Park's right field by playing shallow and getting a number of assists, some by fielding would-be singles and then tossing the batters out before they reached first base. It was also in Philadelphia that Flick showed he had the toughness that it took to be a major leaguer. For example, twice in a game in 1899, he got angry at Nap Lajoie for going back into shallow right field to catch fly balls that Flick thought should have been his chances. Then, during a game in 1900, he and Lajoie got into a fistfight over who owned a bat. Despite giving away at least four inches and about 30 pounds to the larger Lajoie, Flick held his own and settled for a draw when Lajoie, missing with a punch, struck a grate, a wall, or a washstand (the sources disagree) and broke his thumb.
With the arrival of the American League, Flick remained with the Phillies in 1901, batting .333 and coming in second in the senior circuit in triples with 17, third in extra-base hits with 57, and tied for first in assists by an outfielder with 23. However, the following year, he jumped to the Phillies' intracity rivals, the Athletics, with whom he saw action in only 11 games before joining the Cleveland Blues/Bronchos (the club was known by both names during the 1902 season, though its official name was the Bluebirds). This latter change of scenery occurred because Flick wanted to avoid the legal ramifications of the Phillies' court injunctions that prohibited three of his teammates who had jumped to the Athletics the previous year from playing in Pennsylvania for any team except the Phillies. Flick was not named in the injunctions, but the results affected him as well. The move cost Flick a chance to play on a pennant winner with the Athletics, but Cleveland was glad to have a local boy to boost attendance, and Flick was delighted to have his home field in a city not far from where he was born.
Although his final batting average for 1902 dipped below .300, Flick lived up to advance billing for Cleveland fans when he hit three triples in a game against Chicago on July 6, establishing an American League record that has since been tied but may never be broken. Other highlights for Flick for that year included walking five times in a game against Boston on July 18 and finishing sixth in the league in triples with 12. 
The next five seasons marked Flick's heyday with the Cleveland team, now called the Naps. Batting first or third in the majority of the games in which he appeared, Flick led the American League three times in triples (consecutively), twice in stolen bases (as co-champion both times), and once each in runs scored, batting average, and slugging percentage. Arguably Flick's finest season offensively in a Cleveland uniform was 1905, when he topped the league in triples (18), slugging percentage (.462), and batting average (.308, which remained the lowest mark for a batting champion until Carl Yastrzemski won the 1968 title with a .301 mark) and came in second in on-base percentage (.383).  
Another indication of Flick's value occurred during spring training in 1907. Hughie Jennings, the manager of the Detroit Tigers, tired of his troublesome outfielder, Ty Cobb, offered to trade the talented Georgian to Cleveland for Flick straight up. But Charles Somers, Cleveland's president, refused, maintaining that he was quite satisfied to keep the Ohio farm boy, though he was willing to give the Tigers William "Bunk" Congalton, another outfielder, in exchange for the Georgia Peach—an offer Jennings turned down.
Unfortunately for Flick, all his successes on the diamond could not keep baseball life from beginning to take its toll on his physical well-being. The Naps held their spring training sites in the South and Flick developed a distaste for southern cooking. Also, he hated the hot eastern road trips that the Naps would make during the season.
However, it was not just southern cuisine and eastern travel that was affecting the Cleveland star. In a revealing article published in the July 22, 1907, issue of the Cleveland Press, Flick disclosed that "playing the game day in and day out [was] ruining his health," that he was "on the verge of physical collapse," and that "the time of his retirement [was] not far distant." Almost prophetically, less than eight months later, Flick came down with a gastrointestinal illness that caused him to miss most of the 1908 season and play in a total of only 90 games during the 1909 and 1910 seasons. He lost weight, his power and speed declined, and the pain was so severe there were times when he thought that he would die. "My last three years [with the Naps] . . . were awful," Flick later admitted. "I shouldn't have played at all." Initially, Flick's doctors were mystified by what was ailing him, and the exact cause of the illness was never determined, but according to Flick, many of the physicians said that it was acute gastritis, which resulted in Flick taking pills for the rest of his life.
Whatever the cause of Flick's misery, the ailment brought an end to his major league career. From 1908 until mid-1910, Flick batted just .254 in 338 at-bats. Finally, in July 1910, the Naps released him to Kansas City of the American Association—a move Flick negated by refusing to report. Instead, he played part of each of the next two seasons with another American Association team, Toledo, before retiring from professional baseball and returning to Bedford. There, he farmed, hunted (Flick was an outstanding shot with a rifle), raised trotting horses, built houses and office buildings, and, in Flick's own words, "dickered in real estate." In addition, he scouted for the Cleveland franchise and spent more time with his wife, Rose Ella (Gates), and their five daughters.   
Despite his short but highly productive career in the majors, Flick remained largely forgotten by the baseball community in general and the Hall of Fame voters in particular until Ty Cobb's death in 1961. Some articles written about the Georgia Peach mentioned the aborted 1907 trade and thus revived interest in who Flick was and what made him worthy of being suggested in a trade for Cobb. The renewed attention, in turn, led to Flick being voted into the Hall of Fame by the Veterans Committee in 1963, an honor he treasured until he died from congestive heart failure at 8:25 A.M. on January 9, 1971, only two days before his 95th birthday. Flick also suffered from mycosis fungoides, a malignant lymphoma, which contributed to his death.
Buried in Crown Hill Cemetery in Twinsburg, Ohio, Flick was posthumously inducted into the Greater Cleveland Sports Hall of Fame in 1977 and into the Ohio Baseball Hall of Fame 10 years later. Today, one of the baseball parks in Bedford bears his name.
Note
A different version of this article appeared in David Jones, ed., Deadball Stars of the American League (Dulles, Virginia: Potomac Books, Inc., 2006).
Sources
Allen, Lee, and Tom Meany.  Kings of the Diamond: The Immortals in Baseball's Hall of Fame.  New York: G. P. Putnam's Sons, 1965.
Ancestry.com.  1900 United States Federal Census.  Online database.  Provo, Utah: Ancestry.com Operations Inc., 2004.
________.  1910 United States Federal Census.  Online database.  Provo, Utah: Ancestry.com Operations Inc., 2006.
Ancestry.com and Ohio Department of Health.  Ohio Deaths, 1908-1932, 1938-1944, and 1958-2007.  Online database.  Provo, Utah: Ancestry.com Operations Inc., 2010.
Ancestry.com and The Church of Jesus Christ of Latter-day Saints.  1880 United States Federal Census.  Online database.  Provo, Utah: Ancestry.com Operations Inc., 2010.
Appel, Martin, and Burt Goldblatt.  Baseball's Best: The Hall of Fame Gallery, updated ed.  New York: McGraw-Hill Book Company, 1980.
Caldwell, Janet, Director and Curator of the Bedford Historical Society, conversations with Angelo Louisa, July 12-September 15, 2004, and March 29-April 18, 2011. Provided information about Bedford High School and Flick's family and illnesses, and confirmed Flick's year of induction into the Greater Cleveland Sports Hall of Fame. The website for the Greater Cleveland Sports Hall of Fame says that Flick was a member of the Class of 1976, but the induction ceremony took place in September of 1977.
Caldwell, Janet to Angelo Louisa, e-mail message of March 31, 2011.  Provided information on the maiden name of Flick's mother.
Casway, Jerrold.  Ed Delahanty in the Emerald Age of Baseball.  Notre Dame: University of Notre Dame Press, 2004.
Creamer, Robert.  "The Day When All the Sentiment Stands Still."  Sports Illustrated 19, no. 8 (August 19, 1963): 56-57.
"Down on the Farm with Elmer Flick."  Cleveland Plain Dealer, February 12, 1905.
Ellis, James to Angelo Louisa, e-mail messages of August 19, 2004, and March 25, 29, and 30, 2011.  Provided medical analysis of Flick's illnesses.
"Elmer Flick Loves Rural Life More Than He Loves Base Ball."  Cleveland Press, July 22, 1907.
Elmer H. Flick.  Certificate of Death.  Bedford City Hall.  Department of Vital Statistics.  Bedford, Ohio.
Elmer Harrison Flick File.  Bedford Historical Society Manuscript Collection.  The Bedford Historical Society Archives.  Bedford, Ohio. 
Elmer Harrison Flick File.  National Baseball Hall of Fame Library.  Cooperstown, New York.
Fleitz, David L.  Ghosts in the Gallery at Cooperstown: Sixteen Little-Known Members of the Hall of Fame.  Jefferson, North Carolina: McFarland & Company, Inc., Publishers, 2004.
Historical Data Systems, comp.  American Civil War Soldiers.  Online database.  Provo, Utah: Ancestry.com Operations Inc., 1999.
________.  U.S. Civil War Soldier Records and Profiles.  Online database.  Provo, Utah: Ancestry.com Operations Inc., 2009.
Hoie, Bob, and Carlos Bauer, comps.  The Historical Register: The Complete Major & Minor League Record of Baseball's Greatest Players.  San Diego: Baseball Press Books, 1998.
Howard, Reed to Angelo Louisa, e-mail message of August 11, 2004.  Provided statistical research conducted by Ray Nemec.
Hubbell, Ned.  Life in Bedford, 1813 to 1970.  Bedford, Ohio: Bedford Historical Society, 1971.
"Inter-State Facts."  Sporting Life, October 16, 1897, 8.
Jacobson, Lenny, Matthew Marini, Richard Smiley, and Allan Wood.  Research for the "Typical Lineups" sections of Deadball Stars of the American League, edited by David Jones.  Dulles, Virginia: Potomac Books, Inc., 2006.
James, Bill.  The Bill James Historical Baseball Abstract, 2nd ed.  New York: Villard Books, 1988.
Jordan, David M.  The Athletics of Philadelphia: Connie Mack's White Elephants, 1901-1954.  Jefferson, North Carolina: McFarland & Company, Inc., Publishers, 1999.
Lackey, Mike to Angelo Louisa, e-mail message of April 1, 2011.  Provided information on the correct spelling of the Inter-State League.
Lewis, Franklin.  The Cleveland Indians.  New York: G. P. Putnam's Sons, 1949.
Longert, Scott.  "Elmer Flick: The Demon of the Stick."  The National Pastime: A Review of Baseball History, no. 15 (1995): 32-33.
MacFarlane, Paul, ed.  Daguerreotypes of Great Stars of Baseball.  St. Louis: The Sporting News Publishing Co., 1981.
Macht, Norman L.  Connie Mack and the Early Years of Baseball.  Lincoln: University of Nebraska Press, 2007. 
Macht, Norman L. to Angelo Louisa, e-mail message of March 27, 2011.  Confirmed information regarding Flick's joining the Cleveland club in 1902.
Murphy, J. M. "Napoleon Lajoie: Modern Baseball's First Superstar."  The National Pastime: A Review of Baseball History 7, no. 1 (Spring 1988): 1-79.
National Archives and Records Administration.  Civil War Pension Index: General Index to Pension Files, 1861-1934.  Online database.  Provo, Utah: Ancestry.com Operations Inc., 2000.
National Park Service.  U.S. Civil War Soldiers, 1861-1865.  Online database.  Provo, Utah: Ancestry.com Operations Inc., 2007.
"News of the Ball Players."  [New York] Evening World, May 13, 1899.
Palmer, Pete, and Gary Gillette, eds. The 2005 ESPN Baseball Encyclopedia.  New York: Sterling Publishing Co., Inc., 2005.
Phillips, John.  Who Was Who in Cleveland Baseball in 1901-1910.  Cabin John, Maryland: Capital Publishing Co., 1989.
Purdy, Dennis.  The Team by Team Encyclopedia of Major League Baseball.  New York: Workman Publishing Company, Inc., 2006.
Reichler, Joseph L.  The Great All-Time Baseball Record Book.  New York: Macmillan Publishing Co., Inc., 1981.
Reidenbaugh, Lowell.  Baseball's Hall of Fame: Cooperstown, Where the Legends Live Forever.  New York: Arlington House, Inc., 1986.
Richter, F. C.  "Philadelphia Points."  Sporting Life, June 9, 1900, 3.
Rothe, Emil H.  "Elmer Harrison Flick."  In Biographical Dictionary of American Sports: Baseball, edited by David L. Porter.  New York: Greenwood Press, 1987.
Schneider, Russell.  The Cleveland Indians Encyclopedia, 2nd  ed.  n.p.: Sports Publishing L.L.C., 2001. 
Sowell, Mike.  July 2, 1903: The Mysterious Death of Hall-of-Famer Big Ed Delahanty.  New York: Macmillan Publishing Company, 1992.
Squire, Dick.  Bedford Vignettes or Around the Town by the Village Observer.  Reprinted, with revisions, from the Bedford Times-Register, January 1979 to December 1981.  Bedford, Ohio: Bedford Historical Society, 1982.
Squire, Dick.  Bedford Village Views: Selections from Around the Town, with the Village Observer, 1982-1992.  Bedford, Ohio: Bedford Historical Society, 1992.
Thorn, John, Pete Palmer, Michael Gershman, David Pietrusza, and Paul Hoynes, eds.  Total Indians.  New York: Penguin Books, 1996.
Williams, Brian.  "Elmer Flick Is Named to Baseball's Hall of Fame."  Cleveland Record, January 28, 1963.
www.baseball-reference.com
www.retrosheet.org 
Zajc, John to Angelo Louisa, e-mail messages of April 11 and 20, 2011.  Provided information on the name of the Cleveland club in 1902.
Born
January 11, 1876 at Bedford, OH (USA)
Died
January 9, 1971 at Bedford, OH (USA)
If you can help us improve this player's biography, contact us.
http://bioproj.sabr.org/bp_ftp/images2/FlickElmer.jpg
600
800
admin
/wp-content/uploads/2020/02/sabr_logo.png
admin
2012-01-04 20:49:49
2021-10-21 07:21:24
Elmer Flick