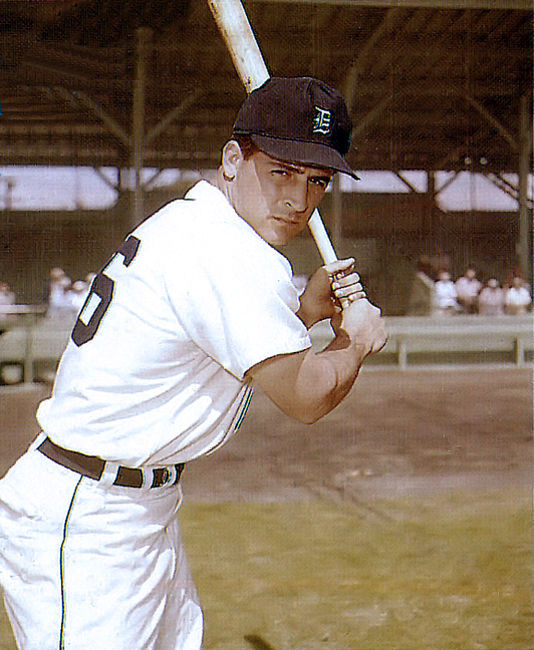 ---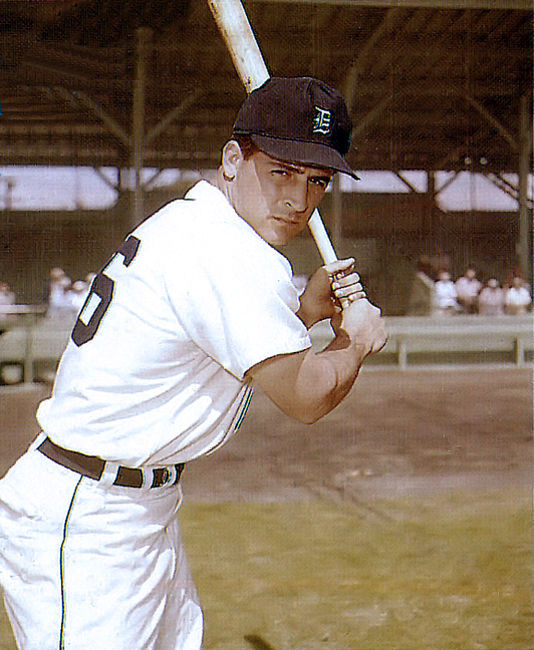 Em Lindbeck's big-league career spanned only two plate appearances. Although unsuccessful in the major leagues, he achieved success in nearly all other areas of his life. Lindbeck was a high school class president, a decorated multisport collegiate athlete, an all-star minor leaguer, an esteemed professional educator, and a public servant. A series of poor decisions in his later years tarnished his admirable legacy, however. He came to be aptly characterized as a "good guy who went astray."1
Emerit Desmond Lindbeck was born of Swedish and German descent on August 27, 1934, in Kewanee, Illinois, to father, Emerit, and mother, Dorothy. Older sister Lorraine rounded out the family. Lindbeck's mother was a homemaker, and his father worked as a manufacturing foreman for 30 years in Kewanee before retiring to begin a second career there in various capacities within the public sector—including serving as the town's mayor for 15 years. In his formative years, Lindbeck himself also displayed considerable drive and leadership ability, volunteering for numerous extracurricular school committees and functions, including serving as the class president of Kewanee High School. He also displayed considerable athletic skill, perhaps inheriting his abilities from his father, who had played semipro football. Lindbeck excelled in basketball and football in high school and as a broad jumper and hurdler on the Boilermakers track team. Not until his senior year, however, did the future Kewanee High School Hall of Famer decide to forego track for the opportunity to play baseball. Despite Lindbeck's being named to the All-Northwest Conference team in his one and only year on the diamond, colleges took notice of his quarterback skills on the gridiron.2
Though not particularly heralded as a football player, his work as a "capable, cool field general" nonetheless attracted offers from Army West Point and several Big Ten football programs. After waffling on a decision for several months, Lindbeck ultimately enrolled at the University of Illinois and became an immediate success quarterbacking the Fighting Illini's freshman squad in 1952. "Lindbeck has been a big surprise," said Illinois coach Mel Brewer. "We knew what [Mickey] Bates could do, and he's doing it, but Lindbeck was something different. That boy can really throw a pass, and how he can run with the ball." In recognition, he was elected as honorary freshman team captain and earned a four-year scholarship. After the "flashy quarterback" was promoted to the varsity squad the following year, he continued adding to his fame. As the Illinois starting signal caller for the 1954 and 1955 campaigns (while also seeing some time on defense), he earned All-Big Ten team honorable mentions both seasons. Lindbeck finished his fine college football career with a standout performance in the postseason all-star East-West Shrine Game on New Year's Eve in 1955.3
As his collegiate football career flourished, Lindbeck traced a similar pattern of success as a member of the Illinois baseball team. The left-handed batter and right-handed thrower, having joined the squad as an infielder after spring football concluded, won his first letter in 1954 during his sophomore year. Moving to the outfield beginning in the 1955 campaign, Lindbeck emerged as one of the Fighting Illini's offensive leaders, hitting a robust .370 for the season. The team's "top prospect" followed up that strong performance with an even better one in 1956, being named as an All-Big Ten second-team outfielder after his .382 batting average placed him among the conference's top-ten hitters. After his exceptional senior seasons on both the gridiron and diamond, the Sigma Chi fraternity member was unsurprisingly voted the University of Illinois Athlete of the Year in May 1956.4
Being a multisport star opened the door to several possible career paths for Lindbeck upon his graduation with a BS degree. Playing in the National Football League was one option; the Los Angeles Rams selected him in the 12th round of the 1956 draft. Around the same time, he reportedly also received an offer from a professional football team in Canada. And on May 26, 1956, Lindbeck agreed to accept a $4,000 bonus and sign a baseball contract offered by Milwaukee Braves scout Rex Carr. It was the only baseball offer he had received. "He has been a regular only since his junior year, but I believe he has the potential," said Illinois baseball coach Lee Eilbracht. "He can run and throw as well as he has to and he usually gets good wood on the ball."
Milwaukee offered him his choice of starting at either the Class-B or Class-C level that summer. Lindbeck decided to join the Eau Claire Braves of the Class-C Northern League because he thought he would "get more experience playing there." Faced with the difficult choice between baseball and football, the 6-foot, 185-pounder planned to base his eventual decision on his performance on the diamond that season. "It will depend upon how things go in baseball," he explained. "If I do alright at Eau Claire, I won't sign to play football."5
Lindbeck's initial foray into professional baseball coincided with that of his Eau Claire teammate Bob Uecker. Ultimately he roomed for two years with the future big-leaguer and celebrity broadcaster and comic. "He was the same as he is now," Lindbeck said in a 1989 news story. "He really cracked us up." Lindbeck's rocky start at Eau Claire, however, left him anything but gleeful. Receiving a "cool reception" from manager Joe Just, he languished on the bench; at one point the outfielder saw action only once over a three-week span.
Despite his early disappointment at C-level baseball, Lindbeck opted to stick with the game and forego football training camp with Los Angeles—even though the Rams' famed coach Sid Gillman had been strongly recruiting him. "I had my chance then to play pro football," Lindbeck later recalled. "I was drafted by the Los Angeles Rams. But they had all the quarterbacks they needed and they wanted to make a defensive halfback out of me. I wanted to be a passing quarterback, if I played at all, so I turned them down." His decision at least had some justification: by season's end, he hit .305 for pennant-winning Eau Claire—albeit in only 32 of the club's 122 games.6
Although some speculated that Lindbeck might be promoted to the Class-A level in 1957, he was assigned instead to the Class-B Evansville Braves of the Illinois-Indiana-Iowa League. After hitting only .179 in 14 games, not to mention a logjam of outfielders on the Evansville roster, Lindbeck was demoted in May back to Eau Claire where he spent the rest of the season. There he had a streaky year at the plate, ultimately hitting a solid, if unspectacular, .286 with seven home runs and 55 RBIs in 103 games—"hardly living up to expectations" according to local media. Lindbeck did, however, display fine defensive skills: he led the league in outfield assists with 18.7
Still stuck at the Class-C level for the entire 1958 campaign, this time with the Boise Braves of the Pioneer League, Lindbeck dramatically boosted his offensive numbers across the board. In fact, it would arguably prove to be his best season in professional baseball. Finishing among the top 20 league leaders in several categories, he earned a .299/.384/.449 slash average in 125 games, with 15 round-trippers and 94 RBIs in helping to lead Boise to the league championship. Lindbeck's performance was good enough to finally elevate him to the upper levels of minor-league ball in the following spring.
He began the 1959 season with the Atlanta Crackers of the Double-A Southern Association, and he performed well against the more formidable competition—once he got the opportunity. Although "practically ignored" early on, poor play by teammates opened the door for Lindbeck to assume a starting role, which he did not subsequently relinquish. Called a "bright spot in a sorrowful season" for the last-place Crackers, the outfielder was among the league leaders in batting average into late June and was named a Southern Association All-Star.
Seeking help as they battled for a playoff berth, the Louisville Colonels of the Triple-A American Association summoned the ascending Lindbeck from Atlanta in late August. Having hit .284 with 17 home runs and 84 RBIs for the Crackers, he bombed in Louisville, hitting a dreadful .119 in 13 games to finish an otherwise successful season on a sour note. Although his quest to reach the big leagues had been progressing more slowly than hoped, Lindbeck seemed undeterred. "Maybe I'll wish I'd played pro football, but so far I haven't regretted my decision to try baseball," he said during the season. "The way I look against left-handers sometimes I wonder . . . but I'm going to keep trying two or three more years. If I can't get to the majors, then I plan to enter coaching."8
Despite Lindbeck's late-season regression with the Colonels, the Atlanta media had praised this "diamond in a coal bin" during his time with the Crackers. He had "a chance to reach the big time," wrote one commentator. Apparently the Detroit Tigers shared that opinion of the promising 25-year-old, and on November 30, 1959, the club drafted Lindbeck from Milwaukee in the MLB Rule 5 Draft. "We got both men [Lindbeck and journeyman veteran Steve Bilko] we hoped to get this time," said Tigers president Bill DeWitt after the draft. Although Detroit scouts reportedly billed Lindbeck as a strong clutch hitter with good legs and an excellent arm, Michigan media reaction to his acquisition was only lukewarm. He did find a supporter, however, in new Tigers coach (and future Hall of Famer) Luke Appling. "I think he has a good chance to catch on with the big club," Appling said. "The kid was with Atlanta, which was going no place, yet he played every single game like it was a World Series. That's my type of ball player."9
Spring training in 1960 began positively for Lindbeck, who thought he received "a real break" when Detroit plucked him away from the Milwaukee organization. "I like the way he moves out there," said Tigers camp instructor Charlie Metro after a lengthy fungo session with his new student. "He gets a good jump on the ball and never gives up on it. He has the determination, and if he can throw as they say he can, he will be all right." Although Detroit had "high hopes" Lindbeck would seize a reserve outfield position outright, his feeble hitting as spring training progressed put him in a tight battle for a roster spot with youngster Steve Boros. Despite an anemic .176 spring batting average, Lindbeck nonetheless went north with the Tigers to begin the regular season.10
After riding the pine for the Tigers' first two regular-season games, Lindbeck finally made his big-league debut in an afternoon tilt at home against the Chicago White Sox on April 22, 1960. Called upon in the bottom of the eighth inning of a tie game to pinch-hit for pitcher Dave Sisler, Lindbeck drew a walk. "I don't recall ever being nervous for a football game. But I have to confess I felt a little tight up there," he admitted. "I was hoping to get a hit and drive in that winning run." After being left stranded at second base, pitcher Bob Bruce immediately assumed his lineup position to begin the top of the ninth inning; thus, Lindbeck never took the field.
The rookie had to wait until May 1 to see action next. Appearing in the first game of a doubleheader on the road against the White Sox, he once again pinch hit and this time grounded out. "It was nice to get in a game for a change," he said in the clubhouse after the twin bill. "But hitting the ball isn't enough. I have to get base hits when I get those chances. But it's hard to come up cold off the bench, and it was pretty cold down there today. I just hope I get a chance to start a couple games pretty soon. I still feel sure I can hit up here if I get the chance." Although he remained on the Tigers' roster for the next couple weeks, Lindbeck never got another chance in the big leagues; Detroit released him in mid-May. He therefore ended his brief time in MLB as a career pinch-hitter. "If I'd been given a chance and messed it up, I'd be mad only at myself," said a frustrated Lindbeck shortly after his release. "But I certainly don't feel they gave me much chance."11
Lindbeck did not play professional ball at any level for the rest of the 1960 season. His contract reverted to the Milwaukee organization when he was cut by Detroit, and the Braves assigned him to the Austin Senators of the AA Texas League. Lindbeck refused to report to Austin, however, believing he deserved to play at the Triple-A level. Following a suspension by the rebuffed Senators, he ultimately relented and reported, but a lingering back ailment sidelined him for the remainder of the season.12
Back for the 1961 season, he bounced between the Birmingham Barons and Macon Peaches of the Southern Association before finishing up the lion's share of the campaign in Austin, where he hit a disappointing .231 with one home run and 10 RBIs in 59 games. He stepped up his production drastically at Austin to begin the 1962 season and received a promotion to the Triple-A level, rejoining his old Louisville club to bolster their postseason chances. The Colonels did indeed make it to the Junior World Series with Lindbeck in their outfield, but once again he struggled at the plate, hitting only .228 in 53 games. Although scheduled to join the Toronto Maple Leafs of the Triple-A International League to begin the 1963 campaign, the floundering 28-year-old decided to quit professional baseball before the season began.13
He had originally planned to become the backfield coach of the University of Illinois football team, but instead was persuaded to return home to Kewanee after baseball. He found employment in his high school alma mater, Kewanee High, and worked his way up from teaching to administrative leadership roles. He also coached basketball, football, and track, with his greatest thrill as a coach coming in 1971 when he led his cagers to the state finals—all the while waiting till the season finished before entering the hospital for treatment of a bleeding ulcer. "He decided not to [get the ulcer treated]," former player Tom Miler later said. "He wanted for us to get the season over first. Right there, he showed me his strong dedication to the team. He showed a lot of strength."14
Lindbeck also spent time raising a family. He married his wife Connie in 1956, after meeting her at a dance during his junior year at Illinois. Connie, who became proprietor of a window treatment business, was pleased that her husband chose professional baseball over football. "I never liked football," she said during a 1959 interview. "I'm a real baseball fan, though. Used to play myself on a girls team." Although they later divorced, the couple raised two sons, Tod and Tyvan, and seven daughters, Amber, Anjay, Autumn, Kami, Kari, Kelle, and Tori. Several of Lindbeck's children and grandchildren also became acclaimed high school and collegiate athletes in their own right. In his free time, Lindbeck counted hunting and fishing among his hobbies.15
Following in his father's footsteps as a public servant in his hometown, Lindbeck served as a city councilman from 1979 until he was elected mayor in 1987. After a lengthy investigation, however, Lindbeck, who pled innocent, was convicted in 1989 in a vote fraud case originating from his mayoral election. He was thus forced out of office and lost his full-time job as dean of students at the high school. "This is a tough thing to go through," Lindbeck said, "But when I was at the University of Illinois, I was booed in front of 70,000 fans." Around the same time, he gained further notoriety when he was convicted of battery after striking a man dressed as Santa Claus at a Christmas party. Lindbeck contended that the incident was "nothing more than a shoving match provoked by a political rival," but he ended up being fined and sentenced to a six-month jail term by the court for his indiscretions.
Even while he was in jail, trouble wouldn't leave the 56-year-old alone. After he was caught attempting to smuggle cash and personal items inside, both his trusty status and good time credit earned were rescinded for his "outright defiance of jail rules and regulations." The incident had been caused by an innocent misunderstanding of jail procedures involving his visiting elderly mother, he protested. "For some reason, everything I do seems to make news," Lindbeck observed somewhat disingenuously. "The media jumped on this latest thing and blew it way out of proportion, but no one has ever asked for my side. My children are hearing this and wondering what in the world dad did. It makes me look like a threat to society."16
After his release from jail, he took a job in Kewanee as a talent agent for nationally renowned etiquette expert Marjabelle Stewart, but he ran afoul of the law again in 1994. This time Lindbeck was placed on one-year probation for driving under the influence of alcohol and leaving the scene of a property accident. But he later earned another 30 days in jail for violating the conditions of his probation. Lindbeck's turbulent later years came to a close when he died of pneumonia followed by sepsis on August 27, 2008—his 74th birthday—at Kewanee Hospital. Funeral services were held in his hometown at the First United Methodist Church, where he had been a member. Lindbeck was laid to rest in Kewanee's Wethersfield Cemetery.17
Acknowledgments
The author wishes to thank Tom Schott for his review and edit of this biography. It was fact-checked by Chris Rainey.
Sources
In addition to the sources noted in this biography, the author consulted Lindbeck's file at the National Baseball Hall of Fame library in Cooperstown, New York, and the following web sources:
Ancestry.com
Baseball-Reference.com
Chronicling America (ChroniclingAmerica.loc.gov)
GenealogyBank.com
Kewanee Public Library District Digital Archives (Kewanee.Advantage-Preservation.com)
NewspaperArchive.com
Newspapers.com
Pro-Football-Reference.com
Retrosheet.org
Sports-Reference.com
Notes
1 Doug Schorpp, "Former Kewanee Mayor Receives 6-Month Jail Term," Quad-City Times Davenport, IA], November 9, 1989: 15.
2 "Emerit Lindbeck, 80," Quad-City Times [Davenport, IA], June 3, 1989: 13; The Kewanite 1952 Yearbook [Kewanee, IL], 39; "Kewanee Ace Athletes Switch from Track Stardom to Baseball," The Freeport, IL] Journal-Standard, May 6, 1952: 9; Dearrel Bates, "Dunsworth Gets Inducted into Iowa Track Officials Hall," Quad-City Times Davenport, IA], December 18, 2003: B6; "Em Lindbeck and Mickey Bates May Be Regulars at Illinois This Fall," The [Galesburg, IL Register-Mail, August 13, 1953: 15.
3 See "Em Lindbeck and Mickey Bates May Be Regulars at Illinois This Fall," note 2; Russ Kiesele, "From the Press Box," [Moline, IL] Daily Dispatch, September 9 & November 19, 1952: 19 & 32; "Hoffman Has Been Awarded a Scholarship," De Kalb [IL] Daily Chronicle, March 6, 1953: 14; "Associated Press Lists 1954 All-Big-Ten Team," Kokomo [IN] Tribune, November 22, 1954: 20; "All-Big Ten Grid Team," Alton [IL] Telegraph, November 22, 1955: 14; Wilfrid Smith, "East Beats West, 29–6, in Shrine Game," Chicago Tribune, January 1, 1956: 4.
4 "Illini Baseball Team for 1956 Should Improve," Jacksonville [IL] Journal, February 1, 1956: 8; "Notre Dame Lone 'Loser' in FSU Baseball Tourney," Tallahassee Democrat, March 18, 1956: 26; Fred Young, "Illinois Wallops Normal, 11-3," & "Young's Yarns," The Bloomington, IL] Pantagraph, May 2, 21, 1956, 12, 12; "Three Gopher Players Are All-Big Ten," Logansport [IN] Pharos-Tribune, June 2, 1956: 9; "Kindall Big Ten Batting Champ," Terre Haute Tribune-Star, June 3, 1956: 52; "Connie DeReu, E.D. Lindbeck to Be Married," Moline [IL] Dispatch, July 19, 1956: 16; May 21, 1956: 12.
5 Stan Spotts, "Fan Breezes," Jacksonville [IL] Journal, February 15, 1956: 8; Jesse Outlar, "From Our Corner of the Sports World by Chuck Keefer," The Kewanee, IL Star-Courier, August 1, 1959: 6; "Lindbeck Signs with Braves," The Kewanee, IL Star-Courier, May 28, 1956: 13.
6 "He Was a Star Athlete," Quad-City Times Davenport IA], March 6, 1989: 4; see Outlar, note 5; Forrest R. Kyle, "Sports in Review," Decatur [IL] Review, July 28, 1959: 10; Bob Paddock, "Kickin' It Around," Arlington Heights [IL] Herald, July 12, 1956: 17; Dave Nightingale, "Knight's Roundtable," Dixon [IL] Telegraph, July 21, 1956: 7; Hal Middlesworth, "Lindbeck's a Tiger to End," Detroit Free Press, February 25, 1960: 29.
7 "Young's Yarns," The Bloomington, IL Pantagraph, September 19, 1956: 17; Clell Buzzell, "Northwest Sportscope," [Eau Claire, WI Daily Telegram, July 16, 1957: 12; Clell Buzzell, "Northwest Sportscope," Eau Claire [WI] Leader, September 12, 1957: 18; Short Bio, Lindberg file, HOF Library, Cooperstown, NY.
8 See Kyle, note 6; "Em Lindbeck 2nd SA Hitter," Nashville Tennessean, June 21, 1959: 5E; "Trakan Named Baron Starter Tonight," Montgomery Advertiser, July 15, 1959: 7C; Jim Swickard, "On the Rebound," Galesburg [IL] Register-Mail, September 2, 1959: 14; "Atlanta Outfielder to Replace Morgan," [Louisville, KY Courier-Journal, August 29, 1959: 4; see Outlar, note 5.
9 See Kyle, note 6; "Huge Bilko, Lindbeck Pair Tigers Wanted," Port Huron [MI] Times Herald, December 1, 1959: 10; "Tigers Buy Steve Bilko," [Lansing, MI] State Journal, December 1, 1959: 23; George S. Alderton, "The Sport Grist," [Lansing, MI] State Journal, December 2, 1959: 55; "Young's Yarns," The Bloomington, IL] Pantagraph, January 17, 1960: 32.
10 See Middlesworth, note 6; Dave Diles, "Dozen Tigers Fight for Jobs," The Benton Harbor, MI News-Palladium, March 29, 1960: 2-2; "Tigers' Outfield of Kuenn, Maxwell, Kaline Rated Among League's Best," Adrian [MI] Daily Telegram, April 16, 1960: 14; Hal Middlesworth, "'The Rock' Is Tops Among New Tigers," Detroit Free Press, April 22, 1960: 51; "The Baseball Story," Detroit Free Press, April 18, 1960: 39.
11 Chuck Keefer, "Our Corner of the Sports World," The Kewanee, IL Star-Courier, April 23, May 2, 1960: 7, 9; "Tigers Cut Lindbeck and Roarke," Detroit Free Press, May 19, 1960: 33; "Lindbeck Stops Here on His Way to Louisville," The Kewanee, IL Star-Courier, May 19, 1960: 17.
12 Joe Heiling, "Butler Stymies Missions, 4–0," Austin American, May 27, 1960: A-18; Charley Eskew, "Sens Rally in Ninth for 7–6 Comeback," Austin American, August 8, 1960: 8.
13 "Braves Put Lindbeck on Toronto Roster," Chicago Tribune, March 17, 1963: 2-2; Chuck Keefer, "Hurdler Sits Out Saturday Action," Rockford [IL] Register-Republic, April 17, 1963: 18B.
14 See "He Was a Star Athlete," note 6; "Emerit Lindbeck Obituary," http://bit.ly/2HVtCNM, accessed May 10, 2018; "Kewanee Mayor Loses School Job" and "Friends Support Him," [Davenport, IA] Quad-City Times, October 18, 1989: 23 & March 6, 1989: 4.
15 "Connie's Custom Curtains Advertisement, Jacksonville [IL] Journal Courier, June 21, 1986: 24; see Outlar, note 5; Nancy Fasano, "Kewanee's Lindbeck Girls Face Moline Tonight," [Peoria, IL] Journal Star, March 22, 1978: C-1; Don Doxsie, "For Recruits, Signing on Dotted Line Isn't Always a Sure Thing," Quad-City Times Davenport IA], March 14, 2004: D2; "Connie DeReu of Annawan Is Bride of Emerit Lindbeck," Moline [IL] Dispatch, September 26, 1956: 37; see "Emerit Lindbeck Obituary," note 14.
16 See "Emerit Lindbeck Obituary," note 14; Doug Schorpp, "Indictments Follow 1½ Years of Investigation," & "Fight Will Go on, Mayor Tells Kewanee," October 7, 1989, October 18, 1988: 1; Judy Schehl, "Jury Convicts Mayor," October 15, 1988: 3; all [Davenport, IA] Quad-City Times; "Mayor Found Guilty of Punching Santa Claus," [Carbondale, IL Southern Illinoisian, April 1, 1989: 2; see Schorpp, note 1; Lydia Sage, "Lindbeck Loses Jail Extra Credit," Moline [IL] Dispatch, November 20, 1990: A4; Martha Szalo, "Ex-Kewanee Mayor Explains Removal as Jail Trusty," [Peoria, IL] Journal Star, November 15, 1990: C-1.
17 Judy Schehl, "Ex-Mayor Pleads Guilty to Charges," & "Ex-Kewanee Mayor Heads to Jail for the Second Time," Quad-City Times Davenport, IA], January 8 & March 25, 1994: 3M & 4M; email correspondence with Henry County [Illinois] Clerk/Recorder's Office; see "Emerit Lindbeck Obituary," note 14.
Born
August 27, 1934 at Kewanee, IL (USA)
Died
August 27, 2008 at Kewanee, IL (USA)
If you can help us improve this player's biography, contact us.
https://sabr.org/sites/default/files/LindbeckEm.jpg
600
800
admin
/wp-content/uploads/2020/02/sabr_logo.png
admin
2018-05-29 20:26:58
2020-04-09 14:40:19
Em Lindbeck