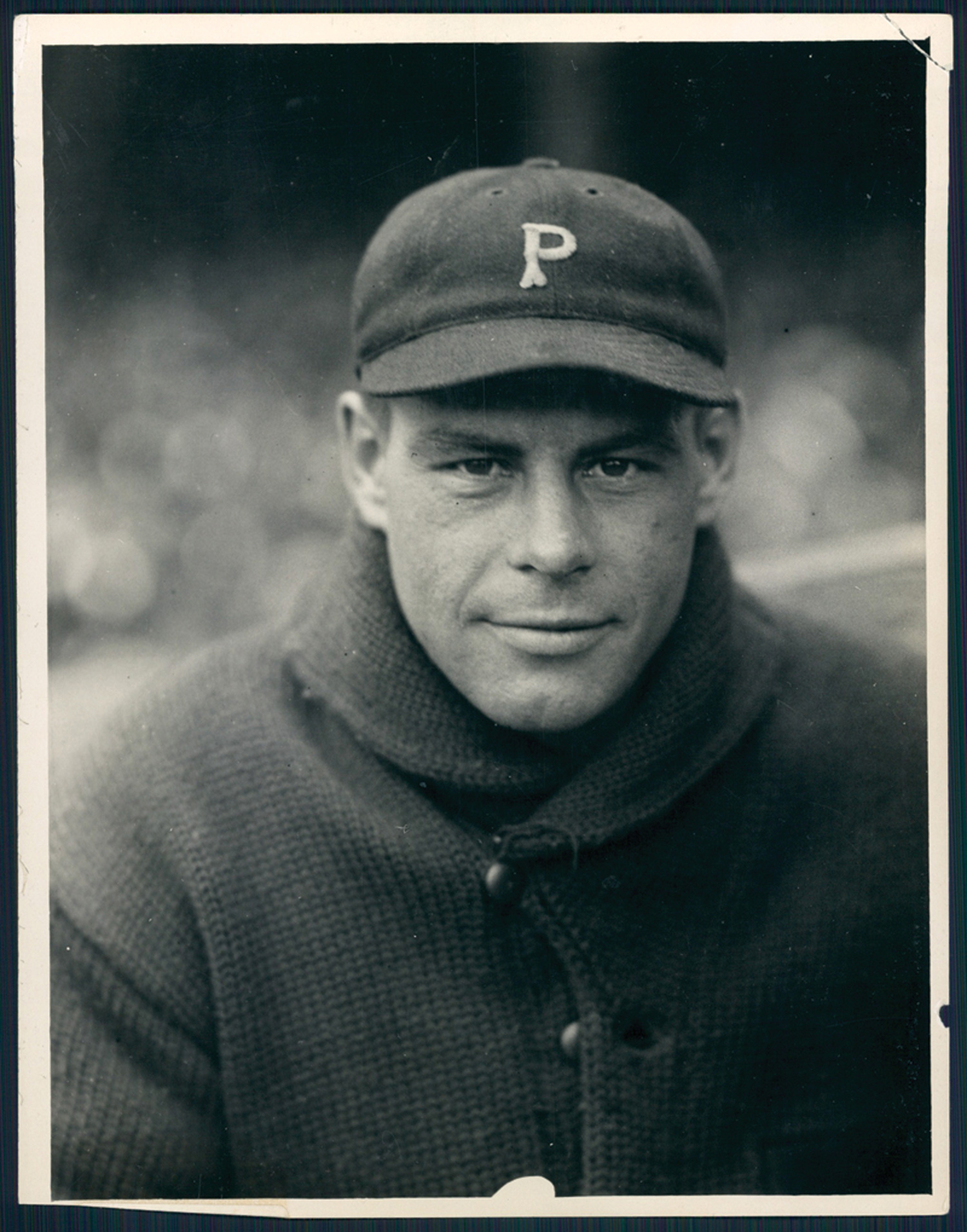 ---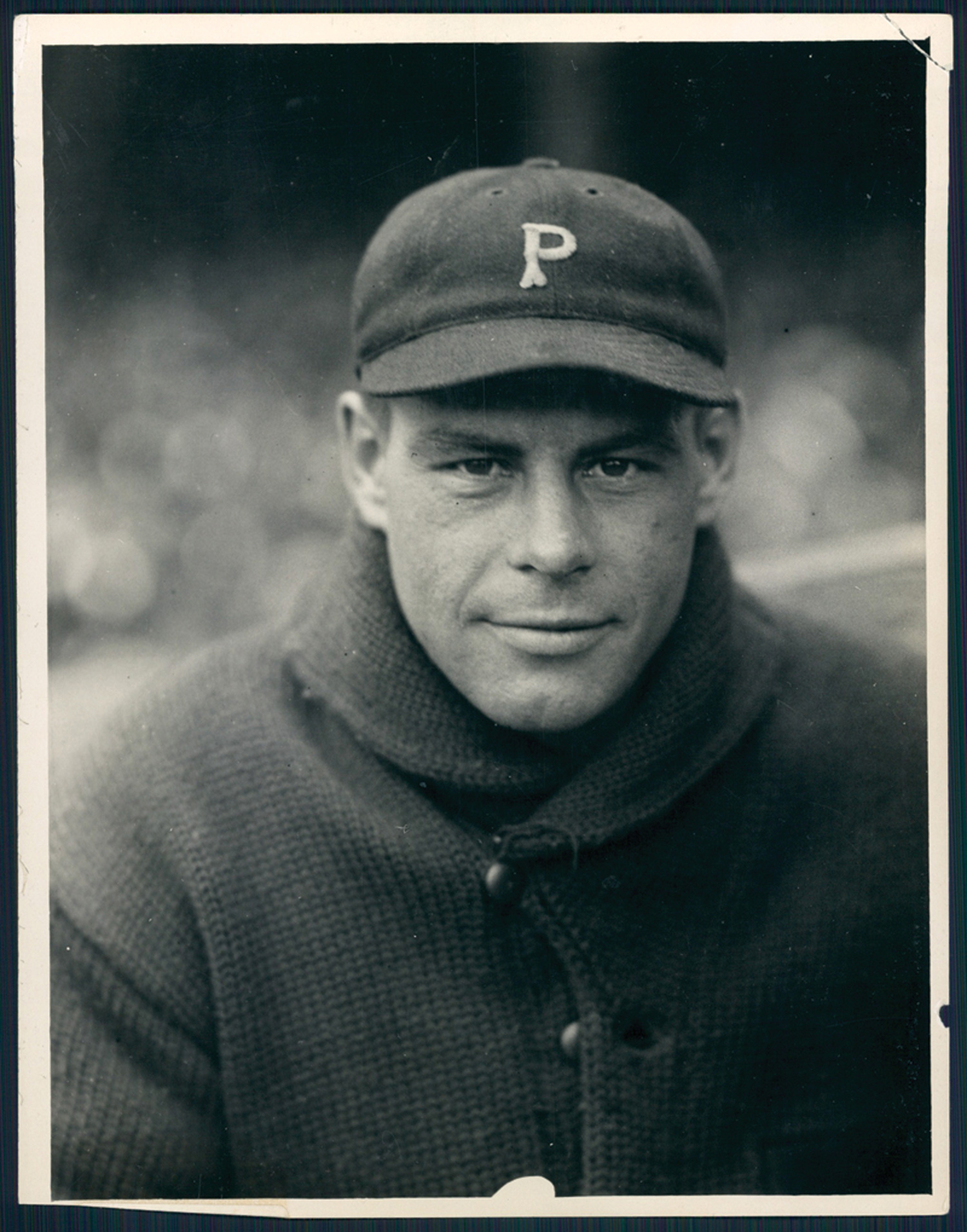 Sportswriter Charles J. Doyle of the Pittsburgh Post-Gazette described southpaw Emil Yde as a "cyclonic sensation" when he debuted for the Pirates in 1924.1 In his second start, Yde tossed a shutout, the first of eight consecutive winning decisions to commence his big-league career, en route to a 16-3 slate. He went 17-9 the next season, including a National League-best nine-game winning streak, as the Bucs captured the NL pennant and then overcame a three-games-to-one deficit to beat the Washington Senators in the World Series. Yde's meteoric rise was followed by an equally precipitous and mysterious plummet despite excellent health. He won only 16 more games in three seasons and was out of the majors by the age of 29.
Emil Ogden Yde ("pronounced as if it were spelled backwards," wrote the Pittsburgh Press2) was born on January 28, 1900, in Great Lakes, Illinois. His parents, Peter Nicholas and Katherine (Jorgensen) Yde, were from Sønderborg, located in the southeastern part of Denmark, close to the border with Germany. The couple married in Denmark and immigrated to the United States in the mid-1890s, where Peter subsequently found work as a caretaker at the Great Lakes naval base, north of Chicago. They welcomed at least 10 children into the world, born between about 1896 and 1915. By the time Emil was school-aged, the Ydes had relocated to Freeport, then a growing city of about 15,000 residents approximately 110 miles northwest of the Windy City. While the elder Yde's job in construction provided the family a limited means, Emil attended Freeport High School, where he played football, basketball, and baseball as the seasons progressed. Upon graduation in 1918, he was drafted into the US Navy and served from May 10 until March 10, 1919.
After his discharge, Yde returned to Freeport, where he began working for the local YMCA and eventually became the athletics coordinator. He also played semipro basketball and baseball, and had established a reputation as a hard-tossing left-hander and a powerful switch-hitting outfielder. According to the Freeport Journal, Yde signed with Cedar Rapids in the Class-B Three-I League in August 1921.3 He lost all three of his decisions in his brief tryout and was released at season's end.4 Yde had a scare in March 1922 when he accidentally discharged a revolver in his hand. Fortunately, it was a basketball referee's starter pistol filled with blanks, and it went off in Yde's right hand. Nonetheless he still missed several basketball games.5
A phenom in local semipro circles, Yde signed with the Oklahoma City Indians in the Class-A Western League in August 1922. The Freeport Journal reported that team owner Jack Holland had been alerted to Yde's pitching prowess by one of his players, Butch Krueger, originally from Freeport, and personally scouted the portsider.6 In his debut with the Indians, Yde tossed a shutout against the Denver Bears en route to a 5-5 record in six weeks of action.
Yde was lauded by one Oklahoma City sportswriter as possessing "the best left-handed curve in the Western League and one of the brightest prospects" as the 1923 season commenced.7 Those predictions seem like an understatement. The 23-year-old southpaw won 28 games and logged 339 innings, marks exceeded only by veteran Karl Black, who compiled 275 victories and more than 4,700 innings in the minors without ever making it to the big show. Major-league scouts were on Yde's tail by June. The Pirates, Chicago White Sox, Detroit Tigers, Brooklyn Dodgers, and Cincinnati Reds seemed like the most likely destinations for the double-threat Yde, who also batted .389 and slugged .544 in 193 at-bats, and occasionally played in the outfield for the league champions. Ultimately, Barney Dreyfuss, owner of the Pirates, purchased Yde for a reported $25,000 on scout Charles Fraser's recommendation.8
Described by sportswriter L.H. Wollen of the Pittsburgh Press as a "crude" prospect, Yde arrived at the Pirates' spring-training site in Bradenton, Florida, with little chance of making the staff, which featured the NL's best southpaw, Wilbur Cooper.9 According to Wollen, Yde fell under the tutelage of pitching coach Grover Land, who began "educating a star in the rough."10 In his big-league debut, Yde hurled two innings of relief against the St. Louis Cardinals at Sportsman's Park on April 21 with no runs charged to him; however, he entered the game with the bases loaded and no outs and permitted all three runs to score. On May 31 Yde blanked the Redbirds on five hits at spacious Forbes Field, located in the Oakland neighborhood of the Steel City, to pick up his first victory. "He smoked the sphere across the corners, dished up a swell assortment with fast and slow offerings and had a curve that kept the heavy-hitting St. Louisians guessing," gushed beat reporter Edward P. Ballinger in the Pittsburgh Daily Post.11 In a dazzling rise to national prominence, Yde won his first eight decisions, and none was more dramatic than the one on June 25 against the Chicago Cubs. Yde relieved Lee Meadows with two outs in the fourth and hurled six-hit ball over 10⅓ innings while allowing just one run. "Not since old King Tut was an urchin and the immortal Casey was learning to hold a bat had such a series of thrills been staged on the Allegheny," mused Balinger.12 With two outs in the ninth Yde bashed a three-run double off future Hall of Famer Grover Cleveland Alexander to tie the score. Then with one out in the 14th, he smashed a two-run triple for an 8-7 walk-off victory. Lauded by sportswriter Regis M. Welsh of the Post as the "find of the year," Yde caught fire over his last nine starts of the season (August 21 to September 29), while the Pirates made an unexpected run at ending the New York Giants' three-year stranglehold on the NL pennant.13 During that stretch Yde posted a 1.96 ERA in 69 innings and won seven of nine decisions, tossed three shutouts, one of which occurred on "Emil Yde Day" at Wrigley Field on August 31. According to the Chicago Tribune, every pitch of Yde's two-hitter was cheered by 2,000 friends and family who had traveled from Freeport.14
Skipper Bill McKechnie's squad came up three games short in the pennant race, which was marred by scandal. Two members of the Giants, infielder Jimmy O'Connell and coach Cozy Dolan, missed the World Series when they received lifetime suspensions by Commissioner Kenesaw Landis for attempting to bribe a member of the lowly Philadelphia Phillies in the last series of the season. Pirates owner Barney Dreyfuss argued in vain that the World Series should be called off to allow further investigation. After the World Series, Yde was interviewed by Landis about any rumors that he had about the scope of the scandal. The Pirates' 90-63 record boded well for 1925, especially given the promising seasons of a quartet of rookies: outfielder Kiki Cuyler (.354 batting average, fourth-highest in the league); Yde's road roommate, shortstop Glenn Wright (a team-high 111 RBIs); and 31-year-old pitcher Ray Kremer (18-10). Yde's 16-3 record produced the best winning percentage in the league while his 2.83 ERA in 194 innings led the squad and ranked fifth in the NL. His four shutouts tied five others for the most in the circuit.15
A darling of the Pittsburgh media, Yde was often called the "great Dane" and references to his Danish heritage were commonplace. The "modern Hamlet" might have been the most exaggerated moniker.16 Standing about 5-feet-11 and tipping the scale at 165 pounds, Yde was muscular with broad shoulders and arms, the product of years of boxing, both in the military and as a YMCA instructor. He had piercing dark eyes, dark hair, and a square jaw, and according to the Post-Gazette was as "handsome and graceful as Jack Barrymore" and had "a physique to rival Jack Dempsey."17
Yde was primarily a side-arm pitcher whose success rested on a mixture of fastballs, occasional curves, and changes of pace. While Wollen considered Yde's delivery "deceptive,"18 sportswriter Ralph Davis of the Pittsburgh Press described his release point as "half-underhand … with the hand going below the knee," though not as extreme as contemporary right-handed submariner Carl Mays of the Reds or the retired Erskine Mayer.19 Davis also detected a sign of danger and potential injury, noting that Yde pitched "entirely with his arm" and that his speed was derived from "jerking his arm and shoulder."20
While Wollen opined that Yde's success in 1924 "brought about more comment than any other pitcher [in the NL] with the possible exception of MVP Dazzy Vance,"21 the 25-year-old pitcher had the added pressure as the staff's sole southpaw in 1925. In the offseason Wilbur Cooper, who had averaged more than 20 wins per season over the previous seven years, was sent along with first sacker Charlie Grimm and shortstop Rabbit Maranville to the Cubs in exchange for pitcher Vic Aldridge, infielder George Grantham, and first baseman Al Niehaus in a blockbuster move widely viewed as Dreyfuss's attempt to rid the club of bad influences. Though the trade eventually paid dividends, the Pirates struggled to play .500 ball through late May while Yde, described as a "mystery," had a 1-4 slate and 6.55 ERA before posting his first victory as a starter on May 30. Yde commenced a stretch of 13 victories in 14 decisions, including a National League season-high nine consecutive wins. On July 4 he tossed a complete game to defeat the Cincinnati Reds, 7-5, in the first game of a twin-bill sweep that gave the Pirates their first pennant-race lead of the season. Not overpowering, Yde benefited from the league's highest-scoring offense with seven starters batting at least .308. Yde pushed his record to 15-6 with a complete-game, 11-2 victory against the Philadelphia Phillies on August 29 as part of a five-game sweep in which the Bucs scored at least 10 runs in each contest. Yde was "shooting curves with wonderful effectiveness," gushed Balinger after the hurler's eight innings of one-run ball to defeat the Phillies, 2-1, on September 24 and thereby clinch the Pirates' first pennant since 1909. Yde's sacrifice fly in the seventh scored what proved to be the winning win. Yde finished with a 17-9 record and was one of five pitchers named to the Collier's Weekly annual All-American baseball team selected by sportswriter Grantland Rice.22 However, Yde (4.13 ERA in 207 innings) may have been the weakest link on a staff featuring five hurlers who all logged in excess of 200 innings: Meadows (19-10), Kremer (17-8), Aldridge (15-7), and Johnny Morrison (17-14).
With the Pirates trailing the Washington Senators two games to one in the World Series, Yde took the mound in Game Four against Walter Johnson at Griffith Stadium. Consecutive home runs by Goose Goslin and Joe Harris in the third accounted for all four of the Senators runs in a 4-0 victory that put the Pirates on the precipice of defeat. In an example of "what have you done for me lately," the Pittsburgh Press opined that "using Yde was a mistake" in the wake of the hurler's 2⅓-inning outing.23 The Bucs stormed back with route-going victories by Aldridge and Kremer in Games Five and Six, setting up a do-or-die game at Forbes Field. With the Pirates trailing 7-6 with two outs in the eighth against the Big Train, Yde entered the game as a pinch-runner for Earl Smith, who had doubled. Yde sprinted home on a double by Carson Bigbee, pinch-hitting for Kremer, to tie the game. Two batters later, Cuyler belted a two-run double to give the Pirates the lead, 9-7, and the eventual victory in one of the most dramatic World Series ever.
The World Series champion Pirates seemed positioned to establish a dynasty with their core of young players, to which future Hall of Famer Paul Waner was added in 1926. However, one year after reaching the heights of baseball, the club destroyed itself with infighting and a players' revolt. While the Pirates got off to a slow start, just 12-14 on May 13, Yde was described as a "flop" by the Press, and was relegated to the bullpen in June.24 The Pirates eventually hit their stride and moved into sole possession of first place on July 26 behind Yde's 8⅓ strong innings in a 3-2 victory against Dazzy Vance and the Brooklyn Robins at Ebbets Field. Derided most of the season as a bust, Yde was heating up at the right time. From July 22 to August 23, he went 6-0 in seven starts, posting a stellar 2.04 ERA in 57⅓ innings while the Pirates went through what Ralph Davis considered the "most sensational period in Pirates history" – and not in a complimentary sense.25 While Dreyfuss was visiting his sisters and relatives in his native Germany, the team was beset by what became known as the ABC affair. The controversy started when Pirates vice president Fred Clarke, who was sitting on the bench and acting in the role of assistant coach, made disparaging remarks about longtime stalwart Max Carey, who was struggling uncharacteristically with a .214 batting average. Clarke, who had been Carey's teammate and had amassed 2,678 hits and a .312 batting average in his big-league career, demanded that McKechnie replace Carey during a doubleheader shutout loss on August 7 to the seventh-place Braves at Boston. Veterans Babe Adams, Bigbee, and Carey held a team meeting to decide whether Clarke should be allowed to remain on the bench. On August 13 Pirates' brass quashed the insurrection by getting rid of all three players; however, the damage had been done. Pittsburgh limped to a 23-24 record and a third-place finish after the players were gone.
Yde's days in a Pirates uniform seemed numbered, too. After falling to register an out in an ugly loss to the Cubs on September 5, he was back in McKechnie's doghouse, appearing mainly in mopup duty and ending his season with two complete-game losses. While Kremer and Meadows each won 20 games, Yde posted an 8-7 record and 3.65 ERA in 187⅓ innings. McKechnie, who many felt had lost control of the team, was replaced by Donie Bush weeks after the disappointing season.
Throughout the offseason and in 1927 spring training, rumors of Yde's imminent trade seemed to be a weekly occurrence in Pittsburgh newspapers. According to the Post, the Pirates placed the hurler on waivers before the season kicked off, but the lefty went unclaimed.26 Eager to establish his stamp on the club, Bush employed primarily a four-man rotation, led by Carmen Hill (22-11), Meadows (19-10), Kremer (19-8), and Aldridge (15-10), each of whom logged well over 200 innings and started 131 of the Pirates' 154 games. Yde found himself at the far end of the bench, and made only nine appearances all season, including two starts, finishing with a 1-3 record and a 9.71 ERA in 29⅔ innings. Yde was seemingly healthy all season long, and his drastic fall from among the league's best left-handers with a promising future to occasional batting-practice pitcher confounded the Smoky City press. Two years earlier, when Yde was struggling at the beginning of the 1925 season, Ralph Davis had written in the Press that Yde was "one of the most conscientious youths" in baseball, but also noted that "he was too earnest about matters" and "worried a lot."27 Sportswriters picked up that theme again in 1927. In an attempt to analyze the pitcher's problems, Lou Wollen mused that Yde had "lost his cunning," and was "obsessed with the idea that he can't win." The result, suggested Wollen, was a "sullen attitude" that made Yde completely ineffective.28
The Pirates captured the pennant in 1927, but the season was anything but smooth. Players clashed with Bush, whom many considered too autocratic, especially after the more lenient McKechnie. The Bucs led the league in scoring and batting average, even though their most exciting player, Kiki Cuyler, missed six weeks with an ankle injury and then later clashed with Bush, resulting in his being benched for the final six weeks of the season. "The 'Cuyler Case,'" wrote Ralph Davis, "almost overshadowed interest in the World Series."29 A prohibitive underdog against the New York Yankees, winners of 110 games and widely considered among the best teams ever in baseball, the Pirates lost four straight in a surprisingly competitive Series. (Two of the Yankees' victories were by one run.) Yde did not pitch in the Series, but he did score a run when he ran for Earl Smith in the seventh inning of the Pirates' 4-3 loss in the deciding game in Yankee Stadium.
After the World Series, the Pirates began peddling Yde and Cuyler. A trade sending both players to the St. Louis Cardinals in a multi-team transaction collapsed in November. Cuyler was subsequently sent to the Cubs on November 28 for infielder Sparky Adams and outfielder Pete Scott in what must be considered one of the most lopsided trades in baseball history. Less than three weeks later, the Pirates sold Yde outright on December 14 to the Indianapolis Indians, their affiliate in the Double-A American Association. Yde's "career here was disappointing," wrote Davis in the Press, while Regis M. Welsh of the Post-Gazette provided an equally brutal epithet: "[Yde's] long been of little value."30
The fresh start, even though it was in the minors, proved necessary for Yde. Just 28 years old, he revived his career and was named to the league's All Star team with a 19-12 record and 280 innings pitched, fourth most in the circuit. Often used as a pinch-hitter, Yde battled .371 in 143 at-bats. Teaming with future Bucs starter Steve Swetonic (20-8) and Dixie Leverett (19-12), Yde helped lead skipper Bruno Betzel's squad to the IL crown and then to the Junior World Series title by defeating the Rochester Red Wings of the American Association five games to one (and one tie).
Big-league clubs took note of Yde's success with Indianapolis, and by season's end a number of teams had lined up to make a bid for the southpaw. The Detroit Tigers eventually emerged victorious, officially acquiring Yde on December 16, 1928. Coming off a miserable sixth-place finish in 1928, manager Bucky Harris's club desperately needed a stable staff. Nine pitchers had logged at least 100 innings in '28, and eight had started at least 11 games. Though workhorse Earl Whitehill was the staff's only southpaw, few sportswriters figured Yde would play a serious role with the team. After making his AL debut on April 18 with 2⅓ innings of scoreless relief against the Cleveland Indians at League Park, Yde was named the surprising starter for the second game in the Tigers' season-opening series. Even a bigger surprise was Yde's eight-hit shutout, the final of six in his career, as the Tigers beat the Indians, 5-0, on a soggy field at Navin Field.31 Bombed in his next start, Yde was relegated to the bullpen for the remainder of the season, save for a four-start stretch in midseason, tossing three complete-game victories. While the Tigers limped to another sixth-place finish with a staff that posted a league-worst ERA (4.96), Yde won seven of 10 decisions with a dismal 5.30 ERA in 86⅔ frames.
In December 1929 Yde was sold outright to the Hollywood Stars in the Double-A Pacific Coast League. Often derided as a warm-weather pitcher in his big-league days, Yde was in his element in Southern California. In 1930 he compiled a 13-10 slate as the Stars finished first and captured the league championship in a seven-game series with the Los Angeles Angels. Records of 15-16 and 17-9 followed in the next two seasons for the second-place Stars, who lost the championship in a four-game sweep to the San Francisco Seals in 1931 while no playoff was held in 1932 because of the Depression.
Since at least 1925, Yde had been spending his winters in Leesburg, Florida, about 50 miles northwest of Orlando. He was originally introduced to the sleepy town of about 2,000 residents by his good friend and teammate Lee Meadows. Yde decided not to report to the Stars in 1933, opting to remain in his adopted, and rapidly growing, hometown. Three years earlier, Yde had married his high-school sweetheart, Doris Keck (Keene) and raised a stepdaughter, Barbara (according to the 1930 US Census). In between real-estate pursuits, Yde agreed to manage and occasionally pitch for the Leesburg club in the independent Central Florida League in 1933. By mid-June Yde gave in to the tug of professional baseball and signed a contract with the St. Paul Saints of the American Association. He posted a 3-4 record and 6.90 ERA in 77 innings, and drew his unconditional release at the end of the season.
At the age of 33, Yde's professional career had ended. He went 49-25 and logged 704⅔ innings with a 4.02 ERA in parts of five seasons in the majors; he also batted .233 with 74 hits. In parts of eight campaigns in the minors he won 100 games.
Yde returned to Leesburg, where he spent the remainder of his life with his wife, Doris. Over the next 3½ decades, Yde proved to be an astute businessman and engaged civil servant. After owning a clothing store in the 1930s, Yde became a successful real-estate agent.32 He also served on a number of boards, including the Florida State Racing Commission and the Zoning Board of Lake County, where he resided. By all accounts, he never lost his ballplayer's physique or his love for baseball. In 1940 he served as manager of the Leesburg Anglers in the Class D Florida State League, but could not dedicate enough time to the sport given his other pursuits. In 1944 he was appointed sheriff of Lake County for two years.33
Emil Yde died at the age of 68 on December 4, 1968, at the Leesburg Convalescent Center after a battle with prostate cancer, and was subsequently cremated.34
Sources
In addition to the sources noted in this biography, the author also accessed Yde's player file and player questionnaire from the National Baseball Hall of Fame, the Encyclopedia of Minor League Baseball, Retrosheet.org, Baseball-Reference.com, the SABR Minor Leagues Database, accessed online at Baseball-Reference.com, and The Sporting News archive via Paper of Record.
Notes
Born
January 28, 1900 at Great Lakes, IL (USA)
Died
December 4, 1968 at Leesburg, FL (USA)
If you can help us improve this player's biography, contact us.
http://sabr.org/sites/default/files/YdeEmil.jpg
600
800
admin
/wp-content/uploads/2020/02/sabr_logo.png
admin
2017-03-14 17:32:05
2017-03-14 17:32:05
Emil Yde