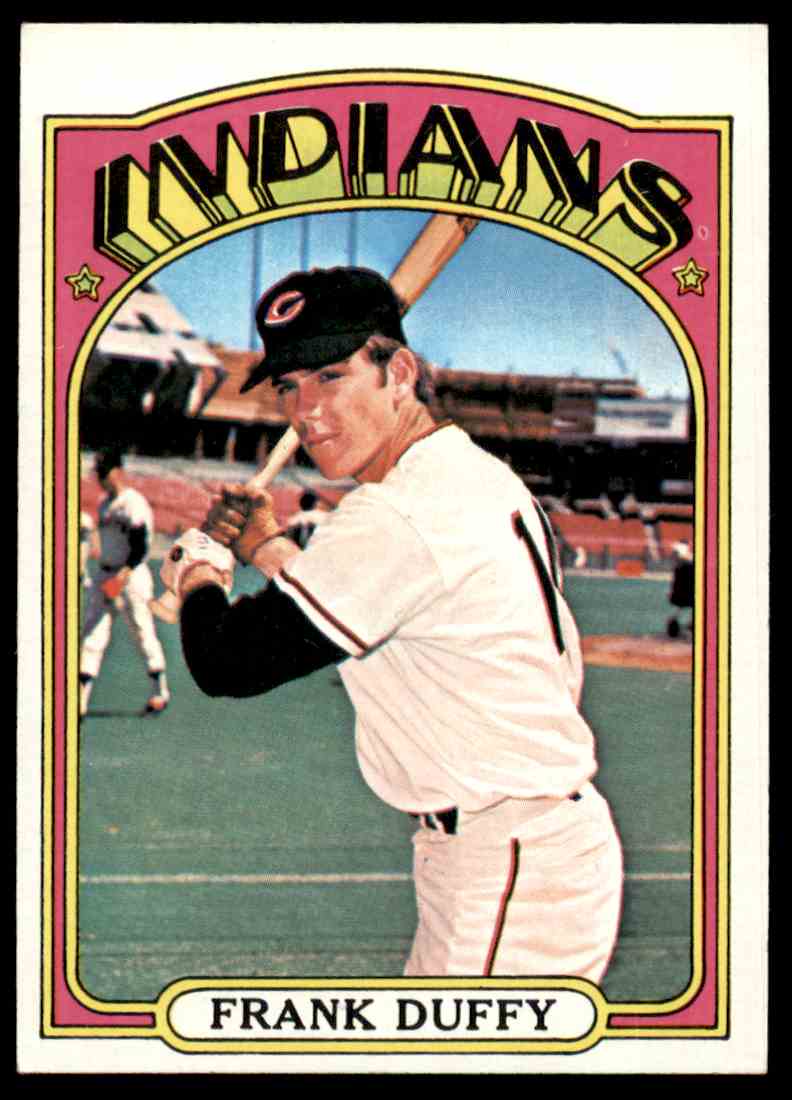 ---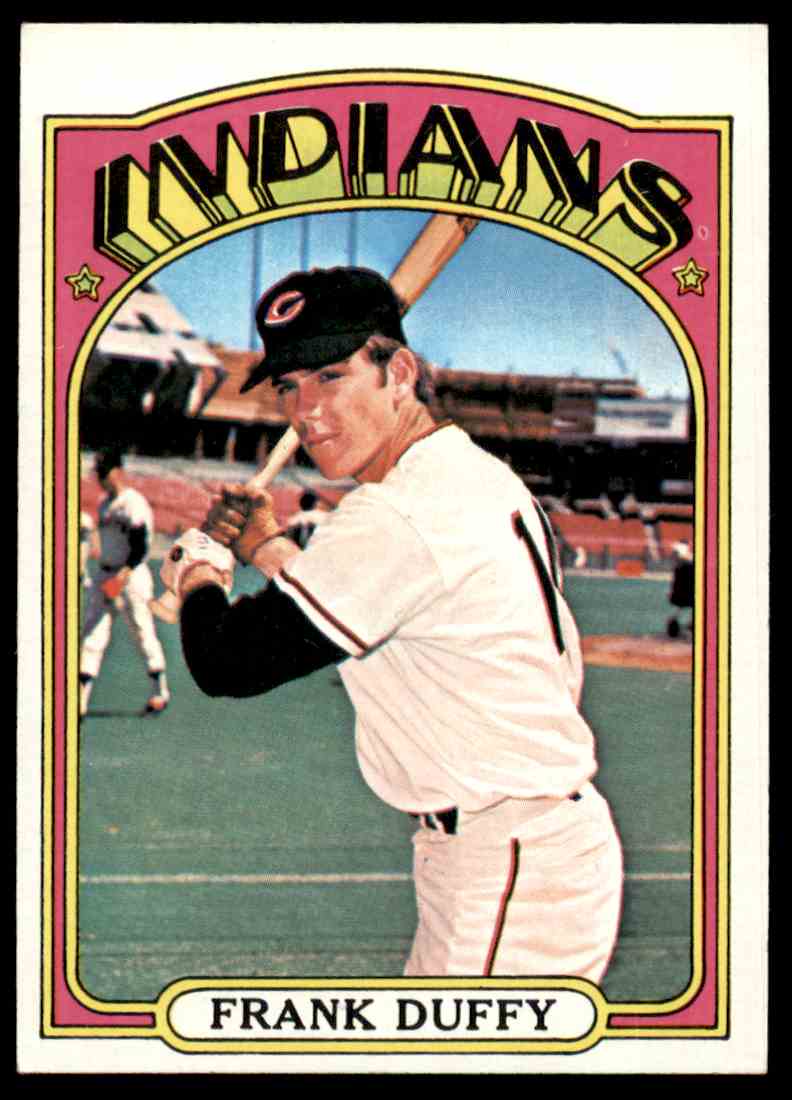 On November 29, 1971, the Cleveland Indians dealt pitcher Sam McDowell to the San Francisco Giants. Sudden Sam had struck out more than 2,000 batters in his 11 years with the Indians, but his career spiraled downward in 1971, when he posted a 13-17 record with a 3.40 ERA. His 192 strikeouts were his fewest since 1964.
In return, the Giants sent pitcher Gaylord Perry and shortstop Frank Duffy to Cleveland. Perry had made quite a name for himself. His résumé included two 20-win seasons, two All-Star Game appearances, and a no-hitter in 10 seasons hurling for the Giants. Perry may have been four years older than McDowell, but many thought he was the better pitcher.
Duffy? The young infielder had played parts of two seasons with Cincinnati and San Francisco. But he couldn't seem to break into the starting lineup with either team. Some might have viewed him as a throw-in in the deal with Cleveland. After all, to the everyday baseball fan, he was a virtual unknown.
But not everybody had that opinion. Ken Aspromonte was the rookie manager for Cleveland in 1972. He had been promoted from Wichita of the Triple-A American Association. Aspromonte had gotten a close-up look at Duffy, who was the starting shortstop for Indianapolis, the Reds' top farm team. "My main concern was to complete the infield with a shortstop," said Aspromonte. "That was number one as far as I was concerned and I'm sure Duffy can do the job."1
"He can run, throw, hit, and field, you just can't find his kind anymore."2
Aspromonte knew what he was talking about. Duffy, a slick fielder, settled in as the Tribe's everyday shortstop for the next six seasons. Indians baseball was not noted for much winning in the 1970s, but Duffy's consistent play was one constant Tribe fans could count on.
Frank Thomas Duffy was born on October 14, 1946, in Oakland, California. He was a three-sport star (baseball, basketball, football) at Turlock High School. After high school, Duffy studied at Stanford University, graduating with a bachelor's degree in psychology. Duffy was named All-Pac 8 in 1966 and was drafted in the third round of the 1966 amateur draft by the Atlanta Braves. He did not sign with the Braves and returned to Stanford. In 1967 the Cardinal turned out one of their best seasons ever with a record of 36-6-1 (.849). Stanford finished in third place in the College World Series.3 Duffy was a big part of their success; he was named All-Conference again as well as All-American by The Sporting News.4
Cincinnati drafted Duffy with the sixth pick overall in the 1967 amateur draft.
That summer Duffy played in the National Baseball Congress tournament with the Boulder (Colorado) Collegians and was named Most Valuable Player after batting .407 as Boulder won the title, beating Honolulu 5-3 in the championship game. He was also named Sandlotter of the Year by the NBC.
After the tournament, Duffy reported to Cincinnati's rookie team in the Florida Instructional League for nine games.
The next two seasons for Duffy were spent in the Reds' minor-league chain. In 1968 he started at shortstop for the Asheville Tourists of the Double-A Southern League. In 93 games, Duffy fielded at a .970 clip with 13 errors. He batted .246 with 4 home runs and 25 RBIs.
After the season, Duffy enlisted in the US Marine Corps Reserve. He stayed active in the Reserve for several years.
Duffy was promoted to Indianapolis of the Triple-A American Association for 1969. Although he was considered a top prospect for Cincinnati, he was starting to find out that getting to Cincinnati was a tough task. The Reds had acquired shortstop Woody Woodward in a deal with Atlanta on June 11, 1968, and Woodward split time with Darrel Chaney at shortstop in 1969. In 1970 it was Woodward and Dave Concepcion who shared time at short while Duffy remained at Indianapolis. Concepcion, who was two years younger than Duffy, was an undrafted free agent from Venezuela who had signed with the Reds in 1967.
On June 4, 1970, Duffy married Jan Hornberger, a scholar like her husband, who was working toward a law degree.
Duffy was called up to the Reds late in 1970, making his major-league debut on September 4 against San Diego at Riverfront Stadium. By this time, the Reds had a commanding lead over Los Angeles in the National League West. They swept Pittsburgh in the League Championship Series, winning their first pennant since 1961. (Baltimore toppled the Reds in five games in the World Series.)
Duffy was in for a battle as spring training dawned in 1971. All four competitors were still in the Reds' fold. Duffy made an impact, batting well over .300.5 "I was worrying last year about what everybody else was doing," he said. "This year, I'm just worrying about myself. I think it's working. I'm hitting the ball good. I think I have a good chance.
"Klu (batting coach Ted Kluszewski) has been a heck of a help to me. I guess I had kind of a slow bat when I came in. I worked out a month in California, and I saw pitchers there not as good as the ones here. I was getting into a slow rhythm. Ted saw it and got my hands moving quicker. He's been on me constantly."6
When the Reds broke camp, Duffy headed north with the team. Cincinnati acquired Al Ferrara from San Diego on May 13, feeling that they needed someone who could give them some pop from the right side of the plate. Reds manager Sparky Anderson favored Concepcion as his starter. Woodward was a suitable backup who was able to fill in at second and third base as well. Duffy started four games at shortstop and in 16 at-bats hit .188. All of these factors made the decision to send Duffy down to Indianapolis an easy one for Anderson.
But Duffy balked and asked the Reds to trade him. He was suspended by Indianapolis general manager Mike Schumacher and manager Vern Rapp for not reporting within the allotted five days. Duffy, who had completed the work for his degree, was also studying to obtain his real-estate license from the State of California. Outright retirement for Duffy was not out of the question.
But on May 29, 1971 Duffy got his wish when he was dealt to San Francisco with pitcher Vern Geishert for outfielder George Foster. Duffy was going home, and he was elated. "You bet I didn't waste any time getting here," he said. "I couldn't have done better if I had engineered the deal. Being a Stanford graduate and living in Palo Alto, I've always wanted to play for the Giants. What a club."7
Duffy's exuberance may have worn off quickly when he put on the Giants uniform. He was again playing second fiddle, this time to Chris Speier, the Giants' starting shortstop. San Francisco also had utility infielders Hal Lanier and Bob Heise on the roster, which cut into potential playing time for Duffy. In 21 games and 28 at-bats, Duffy batted .179.
The Giants won the NL West, edging out Los Angeles by one game. They faced Pittsburgh in the NLCS and lost in four games. In the only postseason game of his career, Duffy pinch-hit in Game Two and struck out.
Phil Seghi had been the farm director in Cincinnati when the Reds drafted Duffy. He had since moved on and was now the director of player personnel in Cleveland. When the Indians began discussions with San Francisco about a possible trade for McDowell, Seghi wanted Duffy. "Don't make any deal with the Giants without Duffy being included," Seghi told Cleveland general manager Gabe Paul.8
San Francisco was giddy about getting McDowell. When told that the Indians were going to make Duffy their starting shortstop, Giants manager Charlie Fox said, "I wonder if that's the same Frank Duffy I know."9
While McDowell was making news with playoff predictions for the Giants, Perry (24-16, 1.92 ERA) became the first Indians pitcher to win the Cy Young Award in 1972. Duffy was the starting shortstop. With Graig Nettles at third base, the Indians had a solid defense on the left side of the infield. When Nettles was traded to the New York Yankees after the 1972 season, Buddy Bell stepped in to man the hot corner and formed a fine duo with Duffy.
As it turned out, Frank Duffy was involved with two of the worst trades in San Francisco Giants history, one coming to the team and the other leaving. In 11 seasons with Cincinnati, George Foster belted 244 home runs, drove in 861 runs, and batted .286. In two years with the Giants, McDowell was 11-10 with a 4.36 ERA and 157 strikeouts. He was out of the big leagues in 1975.
The 1973 season might have been Duffy's best in the major leagues. He led the AL in fielding with a .986 percentage, making only eight errors in 115 games. It was also the best season he had had at the plate. Duffy had career highs in batting average (.263), home runs (8), and RBIs (50).
Duffy will never be confused with the great hitting shortstops. But with the ones who could flash the leather, he was right up there. On July 19, 1974, Dick Bosman was pitching for Cleveland and was working on a no-hitter against the World Champion Oakland Athletics. In that situation, it takes fine defensive plays to complement the great pitching effort. Duffy was an example of this in the fifth inning. Joe Rudi sent a grounder between short and third; Indians shortstop Duffy went deep in the hole to field the ball and threw Rudi out. "I knew it would be tough for two reasons," Duffy said after Bosman's gem. "One was that Joe Rudi runs well, and the other was that I had to backhand the ball and field it on an in-between hop. But I knew, too, if I fielded it cleanly, I could throw him out. And as soon as I let go of my throw, I knew we had him."10
Going into the last month of the 1974 season, the Indians (65-65) were in fourth place, 6½ games back of Boston in the AL East. But they posted an 11-19 record in September and faded from the race.
Frank Robinson had been acquired from California on September 12. Although the Cleveland front office insisted that Robinson was picked up for the division race, the smoke screen fooled no one. Robinson was named manager of the Tribe after the season, replacing Aspromonte.
Not only was Robinson the first black manager in the majors, but he brought a résumé as a player that was second to none. He was in his third decade in the big leagues and he knew the type of talent that he had on the team. "Duffy is the last guy I would want to lose from our lineup because he's so valuable," said Robinson. "He makes the whole infield better and he's a threat at the plate, too. Frank is always thinking. He's a very heady player.
"When I played against the Indians, I tended to overlook Duffy, too, mainly because it seems we never heard anything about him, and also because he's not a spectacular type of shortstop. But he makes all the plays and he's always doing something to help you win.
"Frank is not a quick mover, but he positions himself so well, he always seems to be in the right place. A ball is hit and you say, 'Uh, uh,' but then Duffy is there picking it up."11
Duffy led the AL again in fielding in 1976 with a .983 percentage and 10 errors in 132 games. Like many of his teammates, he went about his job and didn't get much recognition, mostly because Cleveland was never regarded as a serious contender. "When the fans vote for the All-Star shortstop, I think too many of them place too much emphasis on a player's offensive statistics," said Duffy. "I'm not saying that a guy who hits .180 or .190 should be picked an All-Star shortstop, but I am saying that what a shortstop does in the field is more important to his team than what he does at the plate."12
After the 1977 season, Duffy was a six-year man and was eligible to become a free agent. He was hoping to sign with a team on the West Coast so he would be closer to his home in California. The Indians went about restocking their shortstop position. Seghi, now the GM, acquired Tommy Veryzer from Detroit and Dave Rosello from the Chicago Cubs. Larvell Blanks, a utility infielder in his third season with Cleveland, and rookie Alfredo Griffin would all be vying for the open position created by Duffy's apparent departure.
But Duffy returned to the Indians just in time for the start of spring training in 1978, signing a two-year deal. "There was not a perfect deal anywhere," said Alan Hendricks, Duffy's agent. "By the time we got everything down, he was better off going back to Cleveland. The Indians may have appreciation for his many talents. Some teams look only at statistics. The door was never closed. The bridges were never burned."13
Duffy's return to the Indians was short-lived. He was dealt to Boston at the end of spring training on March 24 for pitcher Rick Kreuger. Duffy found a familiar face in Boston: His former keystone partner with the Indians, Jack Brohamer, was a member of the Red Sox. "I'm happy as hell with Duffy," said Boston manager Don Zimmer. "He gives us something I felt we lacked all my five years here."14
Besides having him back up starting shortstop Rick Burleson, Zimmer also planned to use Duffy at second base, a position he had played only once in his professional career. After Duffy reported to Boston, he was joined by Dennis Eckersley and Fred Kendall as part of a six-player swap between Cleveland and Boston.
The Red Sox and Yankees were in a battle for supremacy all season long in 1978. Each club took turns occupying first place. The season ended in a tie and Boston and New York had to play a 163rd game to settle the issue. New York won the tiebreaker game at Fenway Park on October 2, by a score of 5-4.
Zimmer used Duffy at third, short, and second base. He batted .260, but his defense at shortstop slipped a bit: He made seven errors in 19 games at the position, a .929 fielding average.
After playing in just six games in 1979, Duffy was designated for assignment on May 22 and retired as a player. During his big-league career, Duffy batted .232 with 26 home runs and 240 RBIs. He was a fair hitter in the clutch, batting .292 (19-for-65) with the bases loaded. His career fielding percentage at shortstop was .977.
"Overall, in Cleveland, we were just like a happy family, which is what I missed in Boston," said Duffy many years later. "Everything with the Red Sox was stratified. They had their superstars like Carl Yastrzemski, Fred Lynn, Jim Rice, and Carlton Fisk, then the rest of the starters, and then us (nonregulars). We were like a bunch of utility guys and were treated like crap."15
In retirement, Duffy relocated to Tucson, Arizona. He had received an MBA from Santa Clara University while he was still playing baseball. He opened a real-estate office, Duffy Realty. Duffy married his second wife, Pam, in 1986. They had two sons, Ryan and Logan.
"Playing for the Indians was the epitome of my major-league experience," said Duffy. "The front office wasn't real good. … Nick Mileti and Ted Bonda had something like 97 or 98 partners (actually about 52) but playing with Buddy Bell, Jack Brohamer, Dennis Eckersley, and Duane Kuiper was like a family thing, Everybody pretty much felt equal."16
Last revised: October 2, 2019
Acknowledgments
This biography was reviewed by Bill Nowlin and Len Levin and fact-checked by Kevin Larkin.
Notes
1 Russell Schneider, "Sam Traded to Giants," Cleveland Plain Dealer, November 30, 1971: 3-D.
2 Ibid.
3 2010 Stanford University 2010 Baseball Media Guide, 65.
4 Abe Chanin, "Far West Corrals Six All-America Berths," The Sporting News, July 8, 1967: 20.
5 Jim Schottelkotte, "Duffy Challenging for Reds' Position," Cincinnati Enquirer, March 28, 1971: 5-C.
6 Ibid.
7 Al Corona, "New Giant Delighted," San Francisco Examiner, May 31, 1971: 43.
8 Schneider, "Sam Traded to Giants."
9 Wells Twombly, "Trade Talks Are Incredibly Complex," The Sporting News, December 18, 1971: 42.
10 Russell Schneider, "Bosman Hurls No-Hitter Over A's," Cleveland Plain Dealer, July 20, 1974: 2-D.
11 Russell Schneider, "Indians Rate Duffy a "10" on Shortstop Scale," The Sporting News, May 24, 1975: 15.
12 Russell Schneider, "Shortstop Is Highly Underrated, Says Robby," Cleveland Plain Dealer, May 9, 1975: 2-C.
13 Dan Coughlin, "Duffy Tests Market, Returns to Tribe," Cleveland Plain Dealer, February 24, 1978: 3-D.
14 Peter Gammons, "Zimmer Praises Duffy," Boston Globe, March 27, 1978: 23.
15 Russell Schneider, Whatever Happened to Super Joe? Catching Up with 45 Good Old Guys from the Bad Old Days of the Cleveland Indians (Cleveland: Gray & Company, Publisher, 2006), 163.
16 Ibid.
Born
October 14, 1946 at Oakland, CA (USA)
If you can help us improve this player's biography, contact us.
https://sabr.org/sites/default/files/DuffyFrank.jpg
600
800
admin
/wp-content/uploads/2020/02/sabr_logo.png
admin
2019-10-02 14:13:31
2020-04-09 14:37:30
Frank Duffy