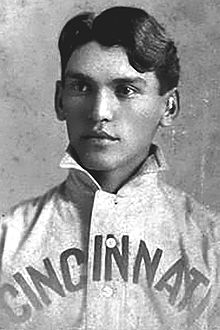 ---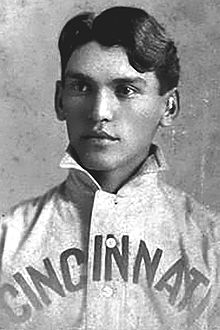 Like classmate Jim Thorpe, Frank Jude was one of many outstanding all-around athletes at the Carlisle (Pennsylvania) Indian Industrial School in the early 1900s. He was rushed to the major leagues before he was ready because teams hoped to uncover another American Indian star like the Philadelphia Athletics' Chief Bender. News features at the time assessed the chances for any Indian player of making it in the big leagues. Would they have the success of Bender or fail due to excessive drinking like Louis Sockalexis? John McGraw was being cautioned about a young catcher named Chief Meyers he was considering bringing up to the Giants.
When Jude first came up with the Cincinnati Reds, in 1906, he drew comparisons to Sockalexis, so when he didn't live up to expectations, moral failings like laziness or alcoholism (neither of which was true for Jude) were suggested. Even reports of his accomplishments were usually accompanied by racial stereotypes. Upon his arrival in Cincinnati, Jude "…was welcomed in a chorus of war hoops that were almost loud enough to arouse the bones of the aborigines cached in the far western hills…"1 and, speaking of his promotion to the Reds "…was compelled to run the mid-season gauntlet from the teepees of the Mud Hens to the hunting grounds in Redland."2
By 1909, although Jude was only 24 years old, he was written about as a failed has-been. "Frank Jude … is now in the bush league class, and will probably never again play in even a Class A organization … just as soon as he struck in the big league he seem to forget all he ever knew."3 Jude played another dozen seasons in the minors, even winning a league batting title, but never got another opportunity in the major leagues.
Frank Donald Jude (Gay-Bay-Aush)4 was born on November 11, 1884, in Libby, Minnesota, a small community near the Mille Lacs Indian Reservation about 100 miles north of Minneapolis, to a white father and Ojibwe (Chippewa) Indian mother. Little is known of his early childhood other than that by the time of the 1900 US Census, when he was 16 years old, he was a student at the Carlisle Indian School.
An excellent all-around athlete, Jude set a school record in the pole vault and played left end on the school's celebrated football team. In the 1905 game against Army, played at West Point, Jude recovered a fumble and returned it 65 yards for a touchdown that won the game for Carlisle, 6-5. He also doubled as the team's placekicker, picking up the nickname Golden Toe, and at one point converted 32 of 34 point-after-touchdown kicks.
He was a 5-foot-7, 150-pound fleet-footed outfielder on the school's baseball team and was elected captain for the 1906 season. Although small in stature, his best asset was always his speed. Like many students at Carlisle at the time, Jude usually went AWOL during the summers and played with area semipro teams. It is known that he played with an independent team in Washington, Pennsylvania, in 19055 and with the local Carlisle team, which may have also been called the Linder team, a member of the independent Pennsylvania League.
As early as November of 1905, Jude and a Carlisle teammate, pitcher Charlie Roy, were being scouted by Garry Herrmann, owner of the Cincinnati Reds. Jude decided to forgo his senior season at Carlisle when he was signed by Ed Grillo, manager of the Toledo Mud Hens of the Class A American Association in January of 1906. He proved successful in fast company, batting .315 in 72 games. He was described as "crackerjack at the bat, like lightning on his feet, magnificent whip arm, as lithe as a cat."6
During the first half of the season, Jude was drawing attention from Jimmy Collins of the Boston Americans but Hermann continued to keep tabs on him as well. On July 7, 1906, the Reds traded pitcher Charlie Chech and outfielder Fred Odwell to Toledo to obtain Jude. He made his major-league debut on July 9 against the Giants in New York, starting in right field and batting cleanup. In his first big league at-bat, he rapped an RBI single off Joe McGinnity, scoring Miller Huggins, to plate the game's first run. Two weeks later he rapped a two-out, two-strike RBI single in the 10th inning, giving the Reds a 1-0 win over Philadelphia.
Shortly after Jude's debut, the Cincinnati Post wrote, "He stands up to the bat all right and handles himself like a natural born sticker. He is fleet on his feet and the fearful sun glare in right doesn't seem to bother him a bit." But the article also noted an obvious weakness: "But can he throw? Is his wing O. K? That's the question still to be settled. His two efforts to throw in Monday's game — which was his debut in Red — were pitfully [sic] weak. They weren't on a line, and they weren't in the air. Instead they were more on the bounding grounder order. However, that weakness, if it exists, may not be vital."7
Fred Odwell had been the Reds' regular right fielder the previous two seasons but was mired in a slump, hitting just .223 at the time of the trade. Jude had got off to a hot start and by early August was hitting .305, but he faded badly. Sporting Life reported, "[Jude] has not impressed Redlanders as one whit better than Odwell. … as a leather-rapper he has not been an impressive success."8 Sporting Life echoed the comment: Jude "failed to hit as hard as Fred Odwell whom he supplanted."9
Overall Jude hit just .208 for the Reds in 80 games but there was one highlight to his otherwise poor rookie year. After the season, on November 6, he married Daisy Dyke, a young Indian woman he met while they were students at Carlisle. The couple made their home in Minneapolis, where he worked that winter as a typesetter in a printing office, a trade he learned at Carlisle.
In December 1906 the Reds sold Jude to the Columbus (Ohio) Senators of the American Association, beginning a 15-year odyssey through 13 minor-league teams in 11 leagues that lasted until 1923. In March 1907 he held out, demanding $50 a month more than Columbus was offering, but he eventually signed. He hit a solid .275 in 142 games for the Red Birds, including two five-hit games, but was put on waivers in August and sold to Youngstown of the Class C Ohio-Pennsylvania League. He was later recalled by Columbus and placed on its reserve list.
In the spring of 1908 Columbus sold Jude to the Lincoln (Nebraska) Railsplitters of the Class A Western League. He spent the next three seasons with the team, the longest tenure he would enjoy with one club in his professional career. During spring training with Lincoln in 1910, it was reported that Jude was "showing surprising speed and pepper … playing the best baseball of his career."10 In the spring of 1911 he was on the move again as Lincoln sold him to Mobile of the Class A Southern Association.
In March 1912 it was reported that Jude was signed by Utica of the Class B New York State League. There is no evidence that he played for Utica but he did appear with two other league teams, Albany and Syracuse. He was unconditionally released by Syracuse in July and hooked on with the Peoria (Illinois) Distillers of the Class B 3-I (Indiana-Illinois-Iowa) League, for whom he hit .270 in 35 games the rest of the season. In 1913 Jude joined Dubuque in the 3-I League and hit a solid .288 in 137 games. He was reserved by Dubuque but after hitting just .201 over his first 45 games in 1914 was sent down to Class D, the Marshalltown (Iowa) Ansons of the Central Association.
Jude was signed by Winnipeg of the Northern League in April 1915, hit .277 in 128 games, and then disappeared from Organized Baseball. One report said he played for a time with an independent team in Chisholm, Minnesota.11 At the time of his World War I draft registration he was employed with the Minnesota Steel Company in Duluth, Minnesota. He listed his wife, Daisy, as his nearest relative, but a Chicago address was given for her.
Jude enlisted in the US Navy in early 1918, was assigned to the Great Lakes Naval Training Station, near Chicago, and played baseball for the base team. He split the next couple of years between independent teams near his home in northern Minnesota and semipro industrial leagues around Chicago.
After a six-year absence from Organized Baseball, Jude was signed by the Saskatoon Quakers of the Class B Western Canada League in 1921. Now 36 years old, he hit .335 and had the best season of his career since his debut with Toledo 15 years earlier. Because it was not clear if eligibility for the league batting title was based on plate appearances or games played, he and two other players were the subject of a disputed batting race.
Regina player-manager Bill Speas hit .350 but because the team folded late in the season he played in only 74 games. Edmonton outfielder Floyd "Lefty" Herman — who would be known as Babe Herman during his career with the Brooklyn Dodgers — hit .330 in 107 games, and several sources, including Spalding's Official Baseball Guide, declared him the league batting champion. Jude's .335 average in seven fewer games than Herman played was determined to be the league's official batting leader by The Sporting News and the Encyclopedia of Minor League Baseball. One source reported that Jude struck out just nine times in 343 at-bats.12
Jude played the 1922 season with Ottumwa in the Class D Mississippi Valley League and ended his professional career with Carrington-New Rockford in the Class D North Dakota League in 1923. With the latter team Jude hit an even .300 at the age of 39. Perhaps this was Jude's way of making a statement that he could have used his speed and batting eye to help a major-league team during the prime of his career had he only been given another opportunity.
Little is known of Jude's life after he quit playing baseball. At the time of the 1930 and 1940 US Censuses he was divorced, and living in International Falls, Minnesota, working as a truckdriver for a mill. His World War II draft card from1942 indicated he was employed with the M&O Paper company in International Falls.
Sometime around 1950 Jude moved to Brownsville, Texas. At one point he and a partner were the proprietors of a nightspot, the 77 Club. He died on May 4, 1961, at the age of 76 and was buried at Roselawn Memorial Gardens in Brownsville. He was survived by two sisters and a brother but left no known descendants.
Acknowledgments
This biography was reviewed by Len Levin and fact-checked by David Kritzler.
Sources
Unless otherwise noted, genealogical information is taken from Ancestry.com and statistics from his playing career from Baseball-reference.com.
Cook, William A. Jim Thorpe: A Biography (Jefferson, North Carolina: McFarland, 2011).
Notes
1 Sporting Life, July 21, 1906.
2 Sporting Life, November 17, 1906.
3 Duluth (Minnesota) News-Tribune, January 17, 1909.
4 Covington (Kentucky) Post, August 2, 1906.
5 Washington Times, March 17, 1906.
6 New York Evening World, January 30, 1906.
7 Cincinnati Post, July 11, 1906.
8 Sporting Life, September 29, 1906.
9 Sporting Life, November 17, 1906.
10 Topeka (Kansas) State Journal, April 6, 1910.
11 Duluth (Minnesota) News Tribune, February 28, 1918.
12 Jeffrey P. Powers-Beck, The American Indian Integration of Baseball (Lincoln: University of Nebraska Press, 2004).
Born
November 11, 1884 at Libby, MN (USA)
Died
May 4, 1961 at Brownsville, TX (USA)
If you can help us improve this player's biography, contact us.
https://sabr.org/sites/default/files/JudeFrank.jpg
600
800
admin
/wp-content/uploads/2020/02/sabr_logo.png
admin
2018-12-20 14:56:21
2020-04-09 14:38:38
Frank Jude