---
As of 2016, three major-league pitchers had triple-digit lifetime ERAs.[1] One was Frank "Socko" Wurm, a 20-year-old veteran of World War II who allowed four runs to score in one-third of an inning with the Brooklyn Dodgers in September 1944. After his rocky debut, the lefty never got a chance to lower his 108.00 mark. The same twin demons, arm and control problems, plagued him and another Brooklyn mound prospect of that time, Claude Crocker. A third lurked as well, fueling his wildness: combat fatigue. Wurm had to be alive to appear in the record books – only the grim luck of the battlefield spared him to wear a big-league uniform – but his nervous disorder flared up on the mound. The repercussions proved to be lifelong.
Frank James Wurm Jr. was born on April 27, 1924, in Cambridge, New York. This little town is in Washington County, in the east-central part of the Empire State. The nearest place of note is Saratoga Springs. Wurm grew up in Salem, another village about 12 miles north of Cambridge. His father, a former state trooper, became chief of police there. He was also an insurance agent.[2] At various other points in his career, Frank Wurm, Sr. – whose family came from Brooklyn – served as a security guard at the Watervliet Arsenal, as a Washington County deputy sheriff, and as a prison guard.[3]
Frank's mother, Elizabeth Rose Trimble, was a talented musician. She taught music and was the organist and a singer at Salem's Holy Cross Catholic Church. Bess Wurm's Orchestra (with Bess on piano) also provided the entertainment for many years at local dances. In addition, she was a reporter for the Troy Record. Frank was their only child.[4]
Wurm was first called Socko as a 5-year-old. Frank Sr., realizing that his little boy had an aptitude for baseball, bought him a bat, ball, and glove. When he pitched to his son, he shouted, "Sock it, Frank" – and friends knew him by that nickname ever after. Like so many big leaguers, Wurm played other games well, too. Bob Kana, Frank's coach at Salem High School (also known as Washington Academy), said, "That lad surely loves sports." He won letters in basketball, which was probably his second best sport, as well as football and track.
Baseball, however, was his forte.[5] He threw one no-hitter as a junior and another as a senior.[6] The newspaper of Middlebury College, which Wurm attended after his pro career ended, said, "Frank was good right from the start and soon found himself playing during his summers on an American Legion squad and traveling most all over the country. He graduated from Salem High in the spring of '41 but went back the following winter for a postgraduate course and a last season of basketball. Frank had already been given his first offer from the Dodgers but didn't start with that team until the following spring, after he had worked out with the St. Louis Browns and the Boston Red Sox."[7] Indeed, Wurm – "a speed artist with a fine curve" – tried out for manager Luke Sewell of the Browns at Yankee Stadium.[8]
In the spring of 1942, Brooklyn invited Socko to minor-league camp with other young hopefuls in Staunton, Virginia. He became "the hero of every young aspiring ballplayer in Salem."[9] Among other players at that camp was a young slugger from Reading High in Pennsylvania named Vic Wertz – but Wertz went home. Heavy competition meant paltry pay.[10] He signed with Detroit later that year and wound up hitting 266 homers in the majors.
At first Wurm went to Dayton in the Middle Atlantic League, but before he got into a game there, he was reassigned to Olean in the Class D PONY League.[11] Socko made his debut with Olean on June 15 when he pitched against the Army team of Fort Niagara. He lost that game, 3-2, giving up nine hits and walking eight with four wild pitches. However, he struck out seven and showed enough stuff to win a contract from manager Jake Pitler (a future Dodgers coach) of the Oilers.[12]
In 12 games for Olean, Wurm was 3-2 with a 4.42 ERA. The southpaw's elbow gave him trouble; in August, he wrote that he planned to have it examined after the season.[13] Yet just a few weeks later, he enjoyed his season highlight against Lockport. "Frank Wurm looked good, mighty good. . . . Handicapped by a bad arm all season, Wurm was back in form, fanning seventeen."[14] In 1946 Jake Pitler said that the Dodgers would not have taken $50,000 for his contract then.
At the height of World War II, in February 1943, Frank went to Albany and enlisted in the US Army. Without doubt he viewed it as his patriotic duty. His father had served with New York State's famous 27th Infantry Division, O'Ryan's Roughnecks, in World War I.[15] In 1929 Frank Sr. became commander of American Legion Post 812 in Salem, receiving a citation of merit from Legion National Commander Paul V. McNutt.[16]
After basic training at Fort Bragg – where he was asked to form a baseball team[17] – Private Wurm went into battle in May. He fought under General Mark Clark with the field artillery in North Africa, Sicily, and mainland Italy. Known to his comrades as Wiggle, he was the number-one man on his gun, the one who pulls the lanyard.[18] There was time for some baseball too, though. "Hurling for his battery nine Socko twirled one no-hitter [against an English team] and in another allowed the foe one lone single."[19]
Wurm was a good soldier. After seeing action at Salerno, he spent two months in an Army hospital with a badly sprained back, suffered lifting a heavy 155-millimeter howitzer shell (they weighed 90-100 pounds). His battery commander praised Frank highly: "Rather than drop one of the huge missiles when he felt it slipping from his grasp, 'Socko' fell, allowing the shell to drop on top of him. 'Had the shell fallen, an explosion would have occurred, possibly wiping out the entire gun crew.'"[20]
He then rejoined his company near Monte Cassino, which authors have called the "hardest fought" and "most controversial" battle of World War II.[21] Wurm saw more than four months of action in this horrific theater before going back into the hospital with "front line shock."[22] Karl Lindholm, a Middlebury dean who is the college's leading authority on its baseball history, has also studied Wurm's life. He shared letters from the hurler's personal files, on loan from family. They reveal that Wurm suffered what came to be known as combat stress reaction or post-traumatic stress disorder.
Specifically, "a shell routed him out of a foxhole at Cassino and led to his medical discharge from the Army."[23] The Sporting News noted in its issue of July 6, 1944, that Wurm had been sent home to recuperate from his wounds. Frank told the Brooklyn Eagle the story in his own words: "We made for a foxhole together, my buddy and I. He couldn't make it and was hit by a German shell. The concussion blew me out of the shelter. I picked myself up and ran to him, but he was going fast and died in my arms."[24]
The Middlebury Campus wrote, "He himself blacked out. . . . Frank woke up in Naples and started the long trip home in June of '44 on an army hospital ship. [He] was given strict warning to take it easy for at least a year."[25] Yet he ignored the advice and soon bolted Rhoades General Hospital in Utica for the mound. It is hard to fault a young man for wanting to play the game he loved, but in retrospect, it was a grave mistake.
On August 9 Harold Burr of the Brooklyn Eagle said, "Frank Wurm, still on the national defense list, cannot be reckoned with until he's reclassified."[26] Just two days later, though, the well-known sportswriter Hugh Fullerton reported, "Pitcher Frank Wurm . . . has joined the Dodgers. Almost any day now you can expect the papers to report: 'Wurm's turn.'"[27] A couple of days later, though, the team brought 37-year-old Art Herring up from St. Paul in the American Association and sent the rookie southpaw plus cash to the Saints.[28] Following the deal, "the gag writers had a great time. . . . Branch Rickey landed Herring with a Wurm."[29]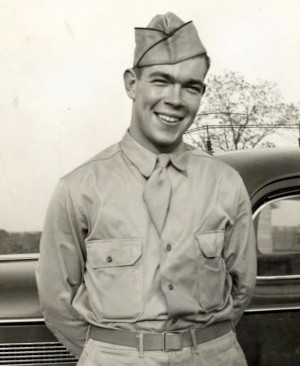 On August 28 the Dodgers played the Army team of Camp Kilmer, New Jersey, before a capacity audience of GIs. Wurm (who had not gotten into a game with St. Paul) was one of two pitchers used; he went the first six innings, giving up two hits and one run as the Dodgers won 9-2.[30] The next day Brooklyn released the veteran Paul Waner, as they "wished to make another place for youth with whom they could experiment in hopes of building for the 1945 season."[31]
"Wurm's turn" in the majors came on September 4. At Braves Field in Boston, he started the second game of a Labor Day doubleheader. The "unsteady" 20-year-old (as the Associated Press described him) walked five of the seven batters he faced. After allowing a bases-clearing double to cleanup hitter Ab Wright, he struck out one and walked two more before departing. The New York Times called it a "lamentable" outing. Yet he did not get the loss, as the Dodgers came back to win, 6-4. Rube Melton allowed one inherited runner to score but pitched shutout ball the rest of the way.
The rookie Wurm did not get another chance as the seventh-place Dodgers played out the string. In fact, as soon as the Montreal Royals finished their season, Brooklyn sent them Frank and two other pitchers, Claude Crocker (also just 20) and Tommy Warren, "1945 delivery," while recalling several other players.[32] Later in September, another in-season exhibition game between the Dodgers and a team from Kingston, New York, was scheduled, then postponed. Wurm was added to the Kingston staff, but it does not appear that the game was played.[33]
At the time, the highest tangible lifetime ERA belonged to Harry Heitmann, also at 108.00. Heitmann pitched in one game for the 1918 Dodgers and allowed four runs. It was long thought that he had retired one batter in his only outing, but the June 2004 issue of SABR's Records Committee newsletter revealed that in fact he had not. As a result, Heitmann became one of 14 men with an infinite career ERA. Wurm did not hold his unenviable mark long, though – in August 1945 Joe Cleary of the Washington Senators gave up seven earned runs in one-third of an inning (189.00). Fritz Fisher of the 1964 Detroit Tigers also wound up at 108.00.
Ahead of the 1945 season, Wurm was with the Dodgers at their spring training camp in Bear Mountain, New York. In late March he was reportedly nursing a sore arm. Right around then the Dodgers also signed Frank's cousin Kenneth, who appeared briefly for Olean in 1945.[34]
That camp was notable because in early April, Branch Rickey gave tryouts to African-American players Dave "Showboat" Thomas and Terris McDuffie. The Mahatma rated at least three pitchers above the 34-year-old McDuffie: Crocker, Vic Lombardi, and Wurm (who pitched to Thomas).[35] Brooklyn's traveling secretary, Harold Parrott, also praised Frank in an article called "Baseball's Baby-Snatchers" that appeared on April 21, 1945, in the Saturday Evening Post. Parrott called him "a fine-looking left-hander" and mentioned that Rickey kept in touch with Wurm by letter.[36]
Brooklyn sent Wurm to Montreal, but he got into only two games there, with an 0-1 record. The loss, on May 30 against Rochester, mirrored his one big-league outing: "Wurm started the nightcap, but walked four of the first five Wings and then yielded a hit before being yanked."[37] In June he was optioned to the Class B farm club in Newport News, managed by Jake Pitler. One start was encouraging: a complete game, allowing six hits and no walks with six strikeouts. The switch-hitter even drove in three runs in a 14-1 rout of Richmond.[38] It wasn't pretty overall, though: 2-3, 6.00 in 12 games, with 38 walks in 54 innings pitched. On July 17 Wurm left the club complaining of a sore arm and was placed on the suspended list.[39] He had hurt a nerve in his arm while pitching batting practice at Ebbets Field.[40]
The Troy Record noted briefly that Wurm had rejoined the Dodgers in September 1945.[41] However, he never played again in the regular season at any level. That fall, thanks to the G.I. Bill of Rights, Wurm entered Middlebury, a well-respected small liberal-arts college in Vermont.[42] It was not far from home in Salem. There he played basketball; one account that December said, "His athletic aptitude carries over on the basketball court and he plays a rugged game offensively and defensively."[43]
In January 1946 the Montreal Gazette indicated that Wurm would pitch for the Royals in 1946.[44] In fact, that month Branch Rickey, Jr. (then farm director) had written to Frank at college to say, "I am personally counting on your making the Montreal club." Socko took a semester off from Middlebury, which also wished him well with the Royals in spring training.[45] However, he was released. The April 15 letter from Montreal general manager Mel Jones talked about the trouble and expense that the Brooklyn organization had gone to on his behalf because of their interest in him. It concluded, "In the event that you are able to get things straightened out and your arm comes around I would be most happy to hear from you about it."
Another letter from Branch Rickey Jr., on May 1, shed more light on the cryptic first half of that line. Counseling at least a year's rest, he went on to say, "You know as well as I do that the extreme nervousness that you have at present must be a result of the war, and, as such it may leave you with time. However, a baseball career is so short that it is very difficult now to expect you to have very much of a future ahead of you." Jake Pitler, then a Brooklyn scout, overheard the dictation of this letter at the Dodgers office. The postscript was his remark about how the club would not have taken $50,000 for Wurm a few years before.
Still another letter contained the observations of Dodgers trainer Harold "Doc" Wendler over the 1944-46 period. "His nervousness seemed to increase with exertion, and especially was this true when he tried to pitch for any length of time. I firmly believe Mr. Wurm's nervous system will eventually stabalize [sic] itself. But the time element in such a recovery is uncertain."
The closest parallel to Wurm's experience among major leaguers may be that of Phil Marchildon, the Canadian pitcher who spent nine months in a POW camp after the Germans shot down his plane in August 1944. Marchildon was able to perform again at a high level, though, despite the toll World War II took on him.
Perhaps if it had been a later era, advances in medication might have helped Socko, not unlike how outfielder Jim Eisenreich was able to make a comeback in the 1980s after his Tourette's syndrome was properly diagnosed and treated. Sad to relate, over time Wurm developed an alcohol problem; as with many damaged veterans, this could well have been self-medication. Even without the psychological obstacles, though, the bad elbow was probably too much alone to overcome.
Socko returned to college, but he did not play baseball because he was no longer eligible. He still tried to catch on with various other pro organizations – in June 1948 The Sporting News mentioned that Cincinnati had optioned him to its Class A farm club in Columbia, South Carolina (though there is no record that he ever appeared). Frank did get into some friendly competition with the VFW post in Granville, New York, another little village near the Vermont border.[46]
Wurm graduated from Middlebury in February 1950 with a degree in physical education. Among other things, he served as class secretary and showed that he inherited his mother's musical ability. Frank was well known on campus as a drummer; when he didn't go home on weekends to join Bess Wurm and the Night Crawlers, he was entertaining his fellow students at a local pizza joint with an orchestra of his own. The Campus ads said, "Wriggle and Squirm with Frank Wurm."
On August 24, 1950, Wurm married Marie Reajeanne Bourdon, the 19-year-old daughter of French-Canadian parents.[47] She had graduated from Middlebury High School in 1947, attended business school in Quebec, and worked in the publications department at Middlebury College. A guest of honor at their wedding was the famous artist Grandma Moses, who lived in Eagle Bridge, New York, south of Cambridge. [48]
The newlyweds went to live in Maine. Frank was a schoolteacher and coach at the high school in Gorham, near Portland. He and Reajeanne were divorced within several years, though. At some point in the early to mid-1950s, Wurm returned to central New York, living in the town of Glens Falls. He still made it over to Salem, especially if his old coach needed him. The Salem High players got a taste of a major-league popup. A man named Jim Tyler said in 2010, "In May of 1955 before a home baseball game, Socko was asked by Bob Kana to hit fungoes to us outfielders. When it was my turn to catch a fungo, I was surprised how high the ball was hit and how hard it landed in my glove."
In November 1956 Wurm attended the annual banquet of the Intermediate Baseball League of Cohoes, just north of Troy. The featured speaker was Dodgers lefty Johnny Podres, who came from Witherbee, about an hour north of Glens Falls. Frank was noted as being a Brooklyn scout.[49] In his leisure hours, he continued to play basketball and enjoyed bowling too. He also became an officer of the Salem VFW post.
Wurm sold insurance for a time, as his father had done, but for many years he served as a special-education teacher in Fort Edward, New York, a village in the Glens Falls metro area. He then left the classroom and got back into the field. SABR's Scouts Committee shows him working the area for the Pittsburgh Pirates organization from 1972 to 1974. Dave LaPoint, a Glens Falls native who pitched in the majors from 1980 through 1991, remembered him well. He told Karl Lindholm that Wurm discovered and mentored him.
At the age of 50, by then on his third marriage, Wurm became a father for the first time. This union too ended in divorce, but his daughter Kristin told Karl Lindholm that Frank continued to live right around the corner. Dave LaPoint recalled that in the last few years of his life, Socko enjoyed spending his evenings at a Glens Falls pub called Sippy's, which displayed a good deal of his memorabilia. He loved to play Jeopardy and tell baseball stories.
After a long battle with lung cancer, Frank Wurm died on September 19, 1993, in Glens Falls. Kristin, who inherited her father's collection, suggested that memorial donations be made to the Glens Falls Little League.[50] "He always loved baseball and celebrated each year the anniversary of his major-league game," she recalled.
Grateful acknowledgment to William A. (Al) Cormier, town historian of Salem, New York; SABR member Karl Lindholm, dean, Middlebury College; Eric Costello (additional research). Thanks also to Marie Clum, archivist of the Glens Falls Post-Star; Jim Tyler and Gerald "Ace" Ennis, longtime Salem residents (fungo memory and origins of the "Socko" nickname).
Sources
Frank Wurm's personal collection, courtesy of Kristin Wurm Casey and Karl Lindholm
Middlebury College, Digital Collections
Town records of Salem, New York
www.baseball-reference.com
www.newspaperarchive.com
www.fultonhistory.com (especially the Glens Falls Post-Star)
www.ancestry.com (1930 census, marriage records, and various other articles)
---
Born
April 27, 1924 at Cambridge, NY (USA)
Died
September 19, 1993 at Glens Falls, NY (USA)
If you can help us improve this player's biography, contact us.
http://bioproj.sabr.org/bp_ftp/images4/WurmFrank1.jpg
600
800
admin
/wp-content/uploads/2020/02/sabr_logo.png
admin
2012-01-04 20:04:01
2012-01-04 20:04:01
Frank Wurm