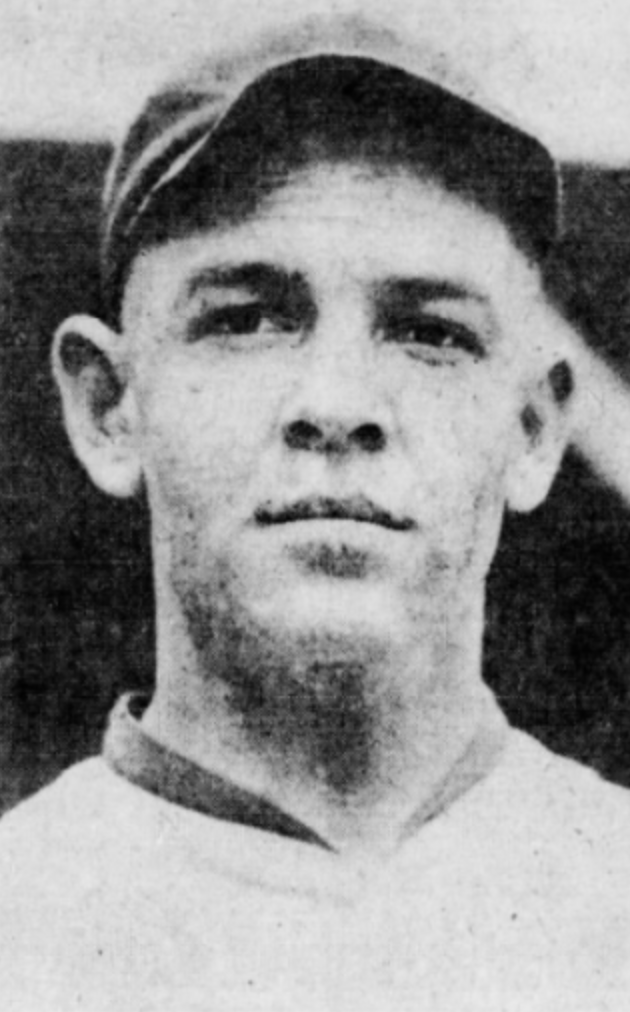 ---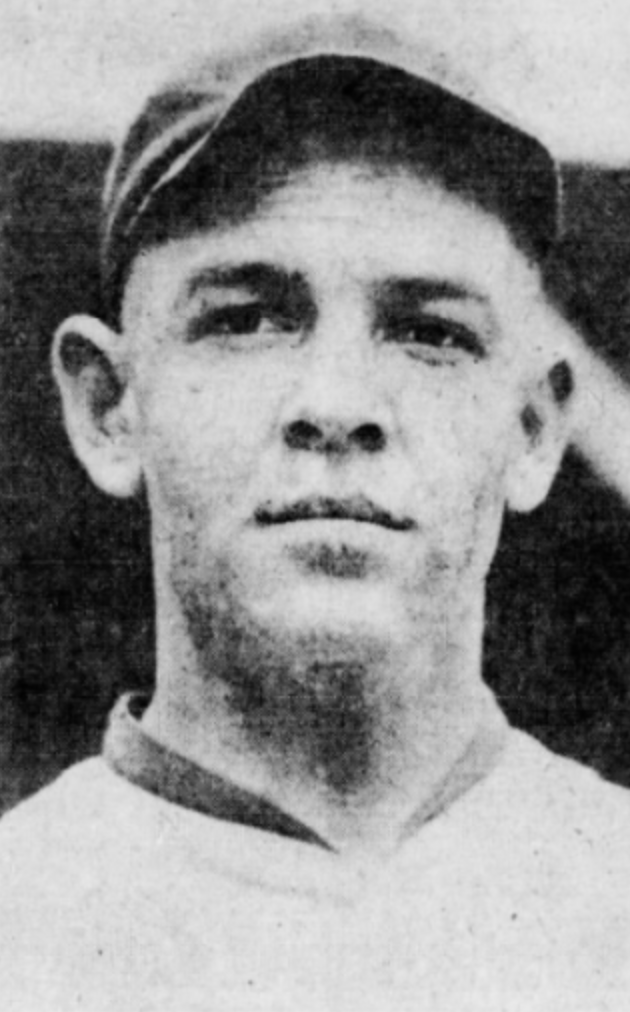 Buck Schemanske had a blazing fastball when scouts saw him on the Detroit sandlots in the early 1920s. The growth of sabermetrics has altered how we view the game of baseball, but some things remain constant. A prime example is that scouts still look for speed from a pitching prospect. Talk all you want about a prospect's spin rate, but without a projectable 90 mph fastball, the conversation tends to be brief. There were no radar guns to track Schemanske – but scouts and opponents knew he was bringing heat.
Fred could have used some coaching to develop a curve or a sinker that put movement on his offerings. His heater quickly earned him a berth in the majors at age 20, but a 27.00 ERA proved that hitters were not deterred by a one-pitch hurler. Buck drifted into the minors for a brief career and then dropped from sight in the baseball world. His death in 1960 went unnoticed in the weekly Sporting News and in its yearly guide.
Gottfried Schemanske (census records have various spellings of the surname, often with an 'I' at the end) and Augusta Dorsch both emigrated to America from Germany in 1881. Gottfried found work as a laborer in the rail yards of Detroit. Augusta and Gottfried were wed in January 1886 in Wayne County, Michigan. The couple would welcome eight children to the family—four boys and four girls. Born on April 28, 1903, Frederick George Schemanske was their seventh child.
The Schemanskes lived on the south side of Detroit in the area known as Wyandotte. Fred attended Beard Elementary School and then went to Nordstrom High School for two years before entering the work force. At 6-foot-2 and weighing 190 pounds, he was an imposing specimen. Like so many young men of the time he embraced the game of baseball and quickly developed his talent. Batting and throwing right-handed, he rose through the amateur ranks with local teams such as Cowpers and Haviland Oil.
His fastball struck fear into opponents across the state of Michigan. Professional teams took notice of Schemanske after fellow Michigan native, infielder Pinky Pittenger of the Boston Red Sox, spoke highly of the hurler. In 1922, Hamilton (Ontario) in the Michigan-Ontario (MINT) League reportedly invited Schemanske to spring training.1 He did not earn a roster spot with them, but later in the season he made his debut with the Port Huron Saints in the same Class-B circuit.
Schemanske's name does not appear in the local box scores for the Saints. Whether the team simplified his name or it was altered to protect his amateur status is unknown, but Fred appears as "Shamas." In the spring of 1923 Schemanske went to spring training with the Detroit Tigers in Augusta, Georgia. A Port Huron sportswriter revealed to fans that "Shamas" in the 1922 box scores was indeed Fred Schemanske.2
Schemanske made two relief appearances for the Saints, both against the Saginaw Aces. In the first he worked 4 1/3 innings and took the loss in a 4-2 game.3 He allowed three runs while striking out three. A few days later he again faced the Aces, who had already scored 11 runs. In 3 2/3 innings he allowed five more runners to cross the plate.4 His fastball had plenty of speed but "the Ace batters… fed it back to him with success."5 Schemanske returned to the Detroit sandlots soon after.
Back on the ballfields around Detroit he caught the eye of Henry Leibold, the father of Nemo Leibold, earning an invitation to Navin Field for a trial with the Tigers. Detroit liked what they saw, and Schemanske worked with the team for a month under the tutelage of Fred Carisch. His improvement got him invited to spring training.6
Manager Ty Cobb employed three rookies in the first exhibition game of the spring against the Augusta Tygers, a Class-B team from the South Atlantic League. Two of them made favorable impressions on their skipper. One was Georgian Charlie Gillman, a knuckleballer. After watching Gillman's floater for three innings, the Tygers then faced Schemanske and his heat. Fred worked the final three innings and allowed one hit while striking out three in the Detroit victory. 7
Schemanske developed a "felon" on his hand soon after. Whether that was an infected blister or a boil is uncertain, but the irritation kept him out of action.8 Unable to assess his talent fully, the Tigers optioned him to the Evansville Evas in the Class-B Three-I League. After a couple of relief appearances, Schemanske earned the first start of his career on June 9 against second-place Rockford. He was dominant in a 4-0 win, allowing only four hits and letting no runner advance past second.9
The Rockford game proved to be the highlight of his season. Shuffled between starting and relieving, Schemanske was never able to establish a mastery of his pitches. After an especially ugly performance versus Peoria when he surrendered 10 hits in relief, he was given his walking papers. The local paper suggested that he "lacked the pep…to make a winning pitcher."10
Fans in Evansville must have been shocked when they learned that the Washington Senators had contacted Schemanske and he was being considered for a contract. Nemo Leibold was with Washington and no doubt mentioned the availability of the young fireballer. What did Washington have to lose by looking at the youngster? Manager Donie Bush was willing to see if Schemanske could harness the fastball and add other pitches.
Bush gave Schemanske his major-league debut on September 15 against the Tigers – but not on the mound. The Senators were staging a ninth-inning rally and had the bases loaded when Bush sent Schemanske in as a pinch-hitter for pitcher Cy Warmoth. He coaxed a walk from Earl Whitehill to plate a run and force Cobb to bring in reliever Ken Holloway. Bush – making his last appearance as a big-league player – entered the game to pinch-run for Schemanske. Choosing to use a young pitcher as the pinch-hitter was a curious decision, especially since Bush himself was batting .416 according to the local newspaper. Washington continued the rally, eventually scoring seven runs to win, 9-8.11
Schemanske watched the remainder of the September homestand from the bench. He finally got a chance to toe the rubber on October 3 in Philadelphia. The Athletics jumped out to a 9-2 lead before A's pitcher Roy Meeker started to tire. Schemanske was again sent in to pinch-hit for Warmoth in the eighth. This time he singled; he then stayed in the game to pitch the eighth.12 He surrendered three hits and three runs to the A's. In the ninth inning, he came to the plate and singled again. The season ended a few days later with Schemanske batting 1.000 while sporting a 27.00 ERA.
Washington decided that they did not have room for Schemanske in 1924 and looked for a team with which to place him. They eventually included him in a transaction that brought pitcher By Speece from Omaha to Washington. Schemanske joined the Buffalos in Shreveport, Louisiana for spring training. He arrived out of shape and had trouble getting his arm ready. One writer said it would "take a siege of warm-as-hades weather to bring it around."13 He was handled roughly in an exhibition game with Shreveport and left after allowing five runs in three innings.
When the season opened, Schemanske was in the bullpen. He saw his first action against Oklahoma City on April 22 and gave up four runs in an 8-4 defeat. Manager Art Griggs gave him a start on May 2 versus Tulsa but removed him after he had surrendered 13 hits. The Sporting News announced Schemanske's release in the May 8 edition.
In 1925 Schemanske joined Indianapolis at their spring training in Plant City, Florida. A paperwork error had made him a free agent and Indians manager – none other than Donie Bush – was eager to give the youngster a try. An Indianapolis sportswriter noted that Schemanske was now 205 pounds with "great strength and power that makes him a player of unusual stamina."14 He showed great promise in Plant City with excellent outings against Cleveland and Cincinnati.
The Indians opened the regular season against Kansas City. The second game of the series went 13 innings and Schemanske picked up the win with four hitless innings of relief.15 He got his first start on May 3 in Minneapolis but lost, 2-1. Fred and a couple of fellow hurlers were stricken with the flu and forced to miss time. He dropped weight as a result, forcing Bush to work him in relief until his strength returned.16
In late June, he returned to a starting role, but three losses sent him back to the bullpen. On August 7 he got another start and turned in a complete-game victory in Kansas City. He alternated as starter and reliever the rest of the season, going 6-9 with a 5.34 ERA as the Indians finished in second place behind Louisville.
The 1926 season was a complete bust for Schemanske. After a brief holdout, he joined the Indians in Hot Springs, Arkansas, for training camp but was soon felled by illness. The malady was originally thought to be appendicitis but was then determined to be an intestinal blockage. An emergency operation was performed, and he was listed in critical condition for days before starting to improve.17 When he was able to travel, he returned to Detroit and spent the summer recuperating.
Buck Schemanske rejoined the Indians in the spring of 1927 in their Florida training camp. New manager Bruno Betzel had four experienced starters plus young Steve Swetonic and immediately installed Schemanske in his bullpen. He made 36 appearances covering over 100 innings and posted a 5-7 record with a lofty 6.59 ERA for the second-division Indians. American Association hitters were not intimidated by his fastball and he allowed a team-high (for pitchers with over 10 innings) 1.35 hits per inning.
Late in the season the Indians franchise was sold. New owner Jim Perry signed an agreement to use Quincy in the Three-I League as a farm club. In mid-January it was announced that Schemanske was being sent to Quincy for the 1928 season.18 He still went to spring training with Indianapolis in Plant City, Florida and played in exhibition games before joining Quincy.
He made an impressive debut on May 21, taking a shutout into the ninth before beating Decatur, 11-2. At the plate he opened the scoring with a bases-loaded double in the second. He also killed off a Decatur rally that inning by starting a double play. His pitching was far from perfect, though; he surrendered nine hits while walking five.19 It was more than a month before he won again.
Quincy dropped into the cellar and finished the year there. When the first league statistics were released in early June, Quincy batters were last in batting average while fielders were last in fielding percentage. Their top six pitchers had all allowed more hits than innings pitched and more walks than strikeouts.20
Schemanske alternated between starting and relieving and posted a career-high 154 innings. His bat accounted for a 4-2 win on August 5 against Evansville. With the score tied in the last inning he blasted a home run.21 He batted .193 and posted a record of 7-10, 5.26 for the Indians. Over the winter it was announced that his contract had been assigned to Beaumont in the Texas League.
He joined Beaumont for spring training as one of nine pitching candidates. He earned the starting nod for the regulars in the first intra-squad game and tossed four scoreless innings. He was not as dominant or lucky against Kansas City on March 29. In relief he was pounded for six runs by the Blues. He was literally knocked from the game when an infielder's throw to the plate caught him on the back of the head and rendered him unconscious.22 About a week later the local writers noted his return to Quincy. The Exporters, they opined, had a "wealth of pitching material" and Fred had been slow to get into shape.23
Indianapolis chose to give Schemanske his unconditional release and he was quickly signed by Montgomery in the Class-B Southeastern League for a reported $1,000.24 A search of box scores did not reveal him in any regular-season games. Now 26 years old, he was finished professionally. Fred returned to Detroit and played for the semipro Risdon team in the city's Triple-A League.
Schemanske joined the work force at the Ford Motor Company. He was a press operator for many years and closed out his career with Ford as a foreman. His name disappeared from the baseball box scores but "Big Fred Schemanske" started getting mention in the bowling league reports.25
His bowling exploits were reported through the spring of 1939, stopping before he married Beatrice M. Menard on December 2, 1939. The couple took up residence in the suburb of Allen Park. During World War II, Fred was required to register with the Selective Service. His draft registration listed him at 250 pounds. Perhaps the added pounds were the result of dropping both baseball and bowling from his regimen. Schemanske died suddenly on February 18, 1960. He was buried in Woodmere Cemetery in Detroit.
As a pitcher and pinch-hitter, Schemanske played only three innings in the majors. His minor-league career spanned five seasons and 113 games. Baseball-Reference.com credits him with a .202 batting average in the minors, but his brief tenure in the majors left him in rarefied company with a lifetime 1.000 on-base percentage in three plate appearances. Pete Sims was the first to record those stats in 1915; since then Tige Stone, Chet Kehn, and Esteban Yan have joined the group. John Paciorek dwarfed all their accomplishments with three hits and two walks in five plate appearances in 1963.
Acknowledgments
This biography was reviewed by Bill Nowlin and Rory Costello and fact-checked by Kevin Larkin.
Sources
In addition to the sources cited in the Notes, the author also consulted Baseball-Reference.com and Retrosheet.org.
Notes
1 "Hamilton Looks for Good Year in M-O League," Times Herald (Port Huron, Michigan) April 13, 1922: 11.
2 Ray Bouslog, "Fred Schemanske May be Making Impression Down South but he Failed Here," Times Herald, March 31, 1923: 15.
3 "Wildness," Times Herald, June 7, 1922: 11.
4 "Awful," Times Herald, June 12, 1922: 9.
5 Bouslog, March 31, 1923.
6 "Manager Ty Cobb Thinks Well of Charlie Gillman, Local Boy," Augusta (Georgia) Chronicle, March 31, 1923: 6.
7 Ibid.
8 "Training Camp Chatter," San Bernardino (California)County Sun, April 10, 1923: 9.
9 "Schemanske Shuts Out Rox as Evas win 4-0," Evansville Journal, June 10, 1923: 8.
10 "Eva Twirler is Given his Release," Evansville Journal, August 6, 1923: 1.
11 "Nationals Rout Tygers by 7-Run Rally in Ninth," Evening Star (Washington, D.C.), September 16, 1923: 77.
12 A play-by-play of the game from Retrosheet is unavailable. Newspapers accounts of the game carry at least 4 different spellings of Schemanske. The Philadelphia Inquirer does not even list him in their box score, they mistakenly listed Pinky Hargrave as the pinch-hitter even though he had entered the game for Muddy Ruel in the sixth spot in the order.
13 "Pitchers Worry Barney Burch," The Sporting News, April10, 1924: 2.
14 "Pitching Staff is Center of Interest at Plant City," Indianapolis Star, March 7, 1925: 11.
15 W. Blaine Patton, "Indians Grab Second of Series from Blues, 6-5, in Thirteen Innings," Indianapolis Star, April 16, 1925: 14.
16 "Battered Bushmen in Milwaukee Windup," Indianapolis News, May 14, 1925: 28.
17 "Schemanske is Critically Ill," Indianapolis Times, April 13, 1926: 9.
18 "Two Tribe Hurlers Released to Quincy," Indianapolis Star, January 17, 1928:
19 "Quincy Trounces Commodores Before Sunday Crowd, 11-2," Decatur (Illinois) Herald, May 21, 1928: 7.
20 "Three-I Averages," Decatur Herald, June 10, 1928: 11.
21 "Tractors Trim First-Half Champs in Double-Header; Indians Win Two," Decatur Herald, August 6, 1928: 7.
22 "Shippers go to DeQuincy Today After Losing Final Game to Kansas City 8-4," Beaumont (Texas) Journal, March 30, 1929: 25.
23 "Exporters," Beaumont Journal, April 8, 1929: 2.
24 Bill Scurlock, "Tiny Talks," Beaumont Journal, April 11, 1929: 16.
25 "Series Record is Shattered," Detroit Free Press, February 13, 1932: 15.
Full Name
Frederick George Schemanske
Born
April 28, 1903 at Detroit, MI (USA)
Died
February 18, 1960 at Detroit, MI (USA)
If you can help us improve this player's biography, contact us.
https://sabr.org/sites/default/files/SchemanskeFred.jpg
600
800
admin
/wp-content/uploads/2020/02/sabr_logo.png
admin
2019-11-22 00:57:22
2020-04-09 14:37:29
Fred Schemanske