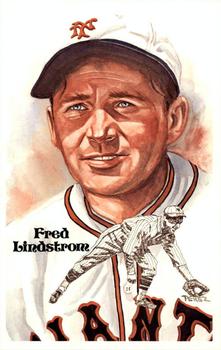 ---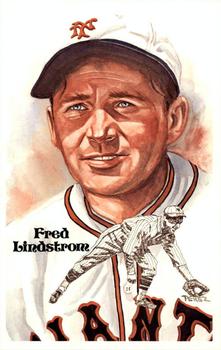 Someone once wrote that his rise to fame was meteoric, and like a meteor his flame burned out quickly. Certainly his rise was rapid. At 16 he was playing in the highest classification of minor league baseball. Two years later he became the youngest player ever to appear in the World Series, a distinction he still holds more than a century later. He was known as the "boy wonder" of the major leagues. For several years his star shined brightly in the National League. When his stardom faded, the afterglow was strong enough to secure the election of Freddie Lindstrom to the National Baseball Hall of Fame in Cooperstown, despite the objections of his detractors.
Frederick Anthony Lindstrom was born on the Southwest Side of Chicago on November 21, 1905, the son of Mary Sweeney and Fred C. Lindstrom, a plumber. His maternal grandparents were Irish immigrants, while his paternal grandparents came from Sweden. At some point the lad changed his middle name from Anthony to Charles. Freddie grew up a White Sox fan and reportedly was devastated when his hero, Shoeless Joe Jackson, was implicated in the Black Sox Scandal of 1919.
After starting high school at Tilden, Freddie transferred to Loyola Academy, where he became a schoolboy star. A scout from the New York Giants watched Freddie bang out four extra-base hits against Lake View High School and signed him to a contract for $300 per month. He was assigned to the Toledo Mud Hens of the American Association, where the 16-year-old hit over .300 in 18 games in the fall of 1922. He was back at Toledo the following year, until the Giants purchased his contract on September 18, 1923.
In his very first season in the major leagues, Lindstrom was involved in some of the more memorable events of his entire career. Heinie Groh was the Giants' regular third baseman in 1924 but late in the season he tore up his knee and Lindy replaced him at the hot corner. Freddie became the youngest player ever to appear in a World Series game at the age of 18 years, 10 months, and 13 days, a record that has never been broken. In Game 2 of the series against the Washington Senators, he made seven assists, a single-game World Series record for third basemen that stood for 16 years. The "boy wonder" made four hits in Game 5 off Walter Johnson, arguably the game's greatest pitcher.
It was in Game Seven that Lindy gained his infamy. With the best-of-seven series tied three games apiece, this was the game for the world championship. In the eighth inning the Giants were leading 3-1. Then the Senators loaded the bases with two outs. Washington's playing manager Bucky Harris slammed a sharp grounder toward third base. Just as Freddie was about to field it, the ball took a wicked hop right over his head and two runs scored to tie the game.
The game remained tied into extra innings. In the 12th inning with runners on first and second and one out, Earl McNeeley slashed a grounder toward Lindstrom at third. Amazingly, the ball hit a pebble or a clod of dirt, perhaps the same one that had deflected the hit by Harris four innings earlier. The ball bounded into left field for a base hit and Muddy Ruel raced home with the winning run. The Washington Senators won their first World Series, and Freddie Lindstrom was the goat of the series.
Some observers thought Providence had a hand in the miscues. Clark Griffith, owner of the Senators, said "God was on our side in that one. Else how did those pebbles get in front of Lindstrom, not once, but twice?"1
Heinie Groh was not sure whether to blame the Lord or Fate. He told Lawrence Ritter, "I guess the good Lord just didn't want us to win that game, that's all there is to it."
Later in the same interview he said: "It wasn't Freddie's fault. It could have happened to anybody. He never had a chance to get the ball. It was Fate, that's all. Fate and a pebble."2
Lindstrom recovered quickly from the World Series disaster. In 1925 he had what Bill James called the second-best season ever by a 19-year-old third baseman.3 He got even better over the next several years. From 1926 through 1931 Freddie hit .300 or better every single year. In 1928 he led the league with 231 hits and matched that total two years later to become only the second player in National League history to have two seasons with more than 230 hits. He came in second to Sunny Jim Bottomley in the voting for the NL Most Valuable Player Award in 1928.
In 1930 Lindstrom became the first third baseman in the twentieth century to hit 20 home runs in a season. In that year he had a personal high with a .379 batting average. This is somewhat less impressive than it may seem, for 1930 was the year of probably the liveliest ball ever used in the major leagues. The batting average for the league as a whole, including pitchers, was .303. Lindstrom's average was fifth best in the circuit, as Bill Terry became the last National Leaguer to hit .400 in a season. Although not generally regarded as an outstanding defensive third baseman, Lindstrom was more than adequate at that position.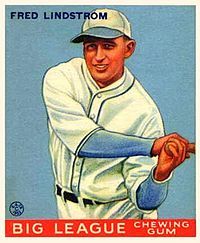 During the 1931 season Lindy broke his ankle sliding into third base and also suffered back problems, limiting his action to only 78 games, mostly in the outfield. For the rest of his career he mainly patrolled the outer garden, logging time at all three outfield positions. Bill James thought Freddie's play in the outfield was worthy of a Gold Glove in 1933.4
When John McGraw stepped down as manager of the Giants in 1932, Lindstrom had played his entire major league career in the shadow of Coogan's Bluff. He thought he was Mac's favorite player and that he should succeed the Old Man as skipper. When the position went to Bill Terry, Freddie was bitter. Worse, he was outspoken in his reaction. "It was the worst mistake I ever made," Lindstrom told a reporter a quarter of a century later. "I know that now. The only trouble is you don't get wise until you get old. … If I could have just accepted that setback it'd have worked out in time. I'm sure I'd have managed some club. It was just a matter of waiting. But I fouled the whole thing up — forever."5
After his tirade against the Giants for not giving him the managerial post, Lindstrom was traded to the Pittsburgh Pirates. He had a good year in 1933, hitting over .300 for the seventh and last time in his major-league career. After the 1934 season he was traded again, this time to the Chicago Cubs, where he hoped to play out his career. But it was not to be. After an injury to his knee and an ineffective season at Wrigley Field, he was released by the Cubs in January 1936. A week later he was signed as a free agent by the Brooklyn Dodgers. After playing only a few games for the Dodgers, Lindstrom asked for and received his release. He played his last major league game on May 15, 1936, at the age of 30.
After his retirement as a player, Lindstrom tried to catch on as a manager. He was an unsuccessful contender to follow Casey Stengel as the Brooklyn manager in 1936. When that job went to the old spitballer, Burleigh Grimes, Freddie applied for Burleigh's former job with the Louisville Colonels of the American Association. Failing to nab that position, Lindy set his sights a little lower and became manager of the Knoxville Smokies of the Southern Association. After two last-place finishes in Knoxville in 1940 and 1941, he spent one season as skipper of the Fort Smith Giants of the Western Association. Although the Giants finished the regular season in third place, they won the 1942 league championship by defeating the Topeka Owls four games to three. The Association suspended play in 1943 because of World War II.
Sportswriter Henry McLemore penned a tale that was widely circulated in the 1930s and purported to show that Lindstrom's mind was always on baseball, even when he was at the race track. McLemore accompanied Freddie to Hialeah one January day in 1936. Before the seventh race, Freddie purchased a $2 ticket on a horse named Lawmaker. According to the story, Lawmaker challenged for the lead as the steeds headed down the stretch. Freddie jumped on a chair and screamed. "Come on baby! Lawdy, lawdy, lawdy! Run for me, you dog you. Run for me." As the horses neared the finish line it appeared that Lawmaker might be caught at the wire. The old ball player shouted. "Slide for it, Lawmaker, slide." Lawmaker made it without sliding but when the jubilant Lindstrom went to cash his ticket, he discovered he had mistakenly torn it up. McLemore wrote that Lindy's bad luck had followed him all the way from Brooklyn to Florida.6
In 1947 Lindstrom became baseball coach at Northwestern University in Evanston, Illinois. He coached the Wildcats for 14 years until he resigned on May 12, 1961, to accept an appointment as postmaster at Evanston.
In 1976 Freddie Lindstrom was elected to the National Baseball Hall of Fame by the Veterans Committee. An intensive lobbying campaign by his son Andy may have contributed to his selection, which proved to be very controversial. Bill James, for example, wrote: "His selection to the Hall of Fame, while it ignores players like Ken Boyer, Ron Santo, Ed Yost and Stan Hack, was a bad joke."7
Given his relatively short playing career, perhaps his installation in the Hall of Fame is not as unreasonable as it at first appears. Unpopular as Lindy's selection may have been with the writers, it was welcomed by his friends and relatives. About 62 of them made the trek from the Chicago area to Cooperstown for the ceremony.
In addition to Andy, Lindstrom had two other sons, Fred Jr., and Charles William "Chuck" Lindstrom, a catcher who had exactly one major league appearance — with the Chicago White Sox on September 28, 1958, and had a 1.000 batting average with one hit in one time at bat. After living for 10 years in New Port Richey, Florida, Lindstrom returned to Chicago. He died at Mercy Hospital, following a long illness, on October 4, 1981, at the age of 75. He and his wife Irene are buried in the family plot in the All Saints Cemetery in Des Plaines, Illinois.
Acknowledgement
This biography is adapted from a chapter in Charles F. Faber, Major League Careers Cut Short, (Jefferson, North Carolina: McFarland & Co., 2011.)
Notes
Full Name
Frederick Charles Lindstrom
Born
November 21, 1905 at Chicago, IL (USA)
Died
October 4, 1981 at Chicago, IL (USA)
If you can help us improve this player's biography, contact us.
https://sabr.org/sites/default/files/LindstromFreddie-Perez.jpg
600
800
admin
/wp-content/uploads/2020/02/sabr_logo.png
admin
2012-01-04 20:39:12
2012-01-04 20:39:12
Freddie Lindstrom