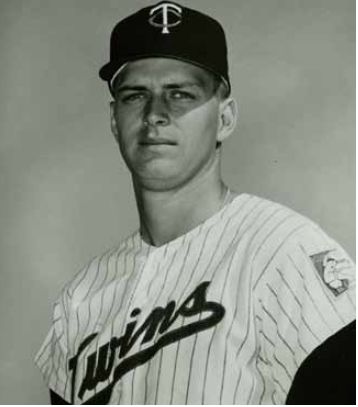 ---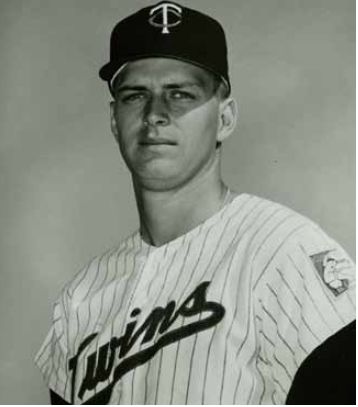 An accomplished two-sport college athlete, Garry Roggenburk saw his baseball career ultimately shortened by an elbow injury suffered after his rookie major-league season.  A tall, hard-throwing left-handed pitcher, he had one healthy and effective big-league year, and then six more trying to hang on with three different big-league teams. But even late in his career, with two surgeries behind him, Roggenburk remained upbeat about his job. "I have no regrets," he said. "Baseball has been good to me. I've been to Hawaii, Puerto Rico, the West Coast.  I've been to just about every major city in the United States."1 Once he stopped playing, he continued to find success in and out of baseball.
Garry Earl Roggenburk was born in Cleveland on April 16, 1940. He starred in basketball and baseball at St. Ignatius High School (where he played with Mike Hegan, a future big-league teammate), earning all-state honors in basketball in 1958. Moving on to the University of Dayton, he again played both sports, again earning more accolades on the hardwood. In three varsity seasons, the 6-foot-6, 195-pound forward led his team in scoring each year, hauled in a school-record 32 rebounds in a game against Miami of Ohio as a sophomore, and earned All-American honors as a senior while leading his club to the NIT title. "He has phenomenal timing and great spring," said coach Tom Blackburn. "When he jumps, his hands are always above the rim even though we play him out in the corner."2 In baseball he set school records (that still stood as of 2014) for single season (0.33) and career (0.75) ERA.
After earning a B.S. in education, Roggenburk spurned an offer from the Philadelphia Warriors of the NBA (who had drafted him in the fourth round) and instead signed a contract with the Minnesota Twins, receiving a $12,000 bonus. "I had to make a decision," he recalled, "but I never really considered basketball. It seemed like I had my mind made up. It was really always set on baseball."3
Roggenburk began his career with Erie in 1962, and he proved more than up to the competition of the New York-Penn League, finishing 13-4 in 18 starts, with a 2.07 ERA. In his second professional game, he came within one out of a no-hitter when a groundball bounced over the third baseman's head. He was named the league's Player of the Month in July. After the season, he played for the Twins' Florida Instructional League club, winning three of four decisions.
"I like Roggenburk very much," said Twins executive Joe Haynes in spring training of 1963. "He has a live fastball and good curve and showed me a good change of pace in the Instructional League."4 Nonetheless, the Twins spent time that spring revising Roggenburk's straight-up easy delivery and taught him to use his legs more, to push off the mound and strengthen his stride. He had four pitches — fastball, curve, slider, and sinker, and fielded his position well. "You don't have to worry about him on bunts," said manager Sam Mele. "He gets off that mound like a cat."5
Under the rules of the time, Roggenburk had to either make the Twins roster in 1963 or be subject to a first-year player draft at the end of the year. The club elected to put him on the big-league pitching staff. After starting the year as a situational left-hander, he got longer bullpen stints and even a couple of spot starts as the year went on. He pitched quite well — a 2.16 ERA in 50 innings — and especially well in relief, a role in which his ERA was 1.44. 
After the season Roggenburk headed back to Florida to again pitch in the Instructional League, but he soon developed a bone chip in his pitching elbow and was sent home after a few weeks. He pitched in spring training in March 1964 but again came up lame, and underwent surgery in April. The team was optimistic that he would return in midseason, but other than a July exhibition game his injury and recovery cost him all of the 1964 season. He later admitted considering a return to basketball, but when his arm recovered he decided to stick it out.
Roggenburk returned in 1965, but the Twins sent him to Triple-A Denver to start the season. Working mostly out of the bullpen, he put up a 9-3 record with a 3.22 ERA in 81 innings. In late July he was recalled to the Twins, joining a first-place team on its way to the American League pennant. His best outing came on July 28, when he relieved an injured Camilo Pascual and pitched 5⅓ innings of one-run ball to earn the win. Over the last 10 weeks of the season Roggenburk pitched 12 games in relief, and posted a 3.43 ERA over 21 innings. He did not pitch in the World Series, which the Twins lost in seven games to the Dodgers.
In 1966 Roggenburk divided the first four months of the season between Minnesota (where he pitched 12 times in relief) and Triple-A Denver (where 11 of his 12 appearances were starts). He struggled in both places, and on September 7 he was sold to the Boston Red Sox. "I feel fine," he told a reporter at the time of the deal. "There is nothing the matter with my arm. Haven't had a minute's trouble with it. Happy to be with the Red Sox."6 On September 18 he got into his first game with his new club, pitching a third of an inning at Fenway Park and allowing a hit and a walk. The Red Sox were headed for a ninth-place finish, and the 26-year-old was no longer the hot prospect he had been a few years earlier.
As it happened, the 1967 Red Sox had an unexpectedly great season, capturing a surprising pennant on the final day of the season. Roggenburk, however, spent the entire season with the Red Sox' Triple-A affiliate in Toronto. In 21 games (17 starts), he finished 5-10 but with a 2.60 ERA in 121 innings. "They didn't score too many runs off me," he said. "It was the worst hitting team I've ever been on."7 Though the Red Sox called up several pitchers during the season, Roggenburk stayed in the minors despite his strong pitching.
After an excellent spring, Roggenburk made the Red Sox to start the 1968 season. "He is faster than you think," said an impressed manager Dick Williams. "He's much faster this year than last spring."8 After pitching in just four games (two runs in 8⅓ innings), once again Roggenburk underwent surgery on his left elbow. "It's hard when you're not playing," said the frustrated pitcher. "You have to contribute something to feel like you're part of the team."9
In mid-July Roggenburk began working out with the team again. "I'll run, throw, maybe pitch some batting practice," he said. "And I'll have some treatments on my arm. I'm really happy."10 Nonetheless, when he was well enough to pitch he was sent to Louisville, where he finished the season with just four relief appearances.
Roggenburk married Karen Dorenkott on October 6, 1962, and the couple raised a daughter and two sons. "Sure it's tough moving around," he said in 1968, "especially when you have kids in school. But it's hard for me to visualize staying in one place. I've never really settled down. I know during the winter it gets to me. Around February you're ready to go down to spring training and get out of the snow. My wife looks forward to it, too. I know when I get out of baseball I'll miss that."11
He headed back to Louisville to start 1969, and he won five of his six starts before another recall to Boston on May 25.  He pitched in seven games for the Red Sox (8.38 ERA in 9⅔ innings) before being sold to the expansion Seattle Pilots in late June. He pitched seven more games for Seattle, including four starts (his first in the majors since two starts as a rookie six years earlier). On July 8 Roggenburk pitched a complete-game five-hitter to beat the California Angels. After a few mediocre relief appearances at the end of the month, he abruptly retired and returned home to Cleveland. "I plan to either teach school or go into some kind of sales work," he said. He had no complaints about his pitching, or about the Pilots organization.12
Roggenburk's sudden departure from the Pilots led to an interesting observation in his teammate Jim Bouton's book Ball Four, a diary that largely chronicles Bouton's 1969 season pitching for Seattle. "I know Roggenburk has his four years in on the pension," wrote Bouton, "and has a college degree and planned to go into teaching this fall. The trouble is, when you're a marginal player and you walk out, you can't come back. No one runs after you. You get marked down as a nut and it's all over. I don't know if Garry fully appreciated that fact when he left. Sometimes it's better not to act. Sometimes it's better just to sit around and grouse."13
Still just 29, Roggenburk's baseball playing career was over. 
After baseball Roggenburk resettled in Cleveland, where he worked as a real-estate appraiser. He also coached the baseball team at Cleveland State University from 1972 to 1978. He spent several seasons coaching in the Red Sox minor-league system, including six years (1978-1983) as the general manager of the Winter Haven Red Sox. As of 2014 he was living in Avon, a suburb of Cleveland. 
Roggenburk was inducted into the University of Dayton's Athletics Hall of Fame in 1970 and was named to the school's All-Century Team in 2004. In 2012 he was inducted into the Ohio Basketball Hall of Fame.
Notes
1 Bob Sales, "A Happy Time For Roggenburk," Boston Globe, July 11, 1968, 28.
2 Tom Fitzpatrick, "Dayton Fans Dance to New Victory Tune Over Flashy Flyers," The Sporting News, February 24, 1960, 5.
3 Sales, "A Happy Time For Roggenburk."
4 Arno Goethel, "Twins School Bonikowski, Stange to Solve Hill Puzzle," The Sporting News, March 2, 1963.
5 Max Nichols, "Mele Handing Tough Rescuer Missions to Fast-Learner Garry," The Sporting News, August 3, 1963.
6 Cliff Keane, "Lefty Roggenburk Purchased by Sox," Boston Globe, September 8, 1966, 45.
7 Ray Fitzgerald, "Lefty Roggenburk Impresses Williams, Boston Globe, March 8, 1968, 29.
8 Fitzgerald, "Lefty Roggenburk."
9 Sales, "A Happy Time For Roggenburk."
10 Sales, "A Happy Time For Roggenburk."
11 Sales, "A Happy Time For Roggenburk."
12 Hy Zimmerman, "Roggenburk Surprises Pilots by Quitting," Seattle Times, July 31, 1969, 65.
13 Jim Bouton with Leonard Shecter (ed.), Ball Four — My Life and Hard Times Throwing the Knuckleball in the Big Leagues (New York: World, 1970), 280-81.
Born
April 16, 1940 at Cleveland, OH (USA)
If you can help us improve this player's biography, contact us.
http://sabr.org/sites/default/files/GarryRoggenburk.JPG
600
800
admin
/wp-content/uploads/2020/02/sabr_logo.png
admin
2012-01-04 20:34:28
2021-09-01 05:59:13
Garry Roggenburk