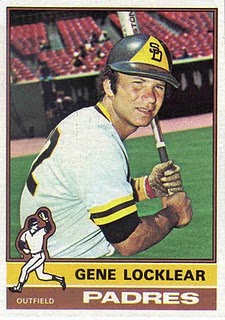 ---
This outfielder was the first member of the Lumbee people of Robeson County, North Carolina, to play in the majors. Throughout his playing days, Gene Locklear's skill as an artist also got attention. "They are both individual things, and you have to have talent. You can't just have desire," Locklear said in 2005.[1] One of Gene's paintings hung in the White House during President Gerald Ford's administration, and his reputation has steadily grown over the years.
Gene Locklear — he has no middle name, and Gene is not short for anything — was born on July 19, 1949, in Lumberton. This town is a popular overnight stop on Interstate 95. It's about 20 miles from the state line with South Carolina and the kitschy roadside attraction South of the Border. Although Locklear was delivered in a home in Lumberton, he grew up in Pembroke, about 12 miles northwest.
In Robeson County, nearly 40% of the population is Lumbee, a people whose origins have prompted many theories. They are Indians, but the uniqueness and complexity of this identity have made it the subject of numerous books and studies. Another part of Lumbee history that is beyond the scope of this story is the tribe's quest for full Federal recognition. As Gene said in 1971, "We never have lived on a reservation. We're not supported by the government. We have our own farms."[2] In 1976 he added, "Reservation life degrades you. It limits everything. It's like putting a dog in a cage."[3]
Articles about Locklear often called him "full-blooded," if the term truly applies to the Lumbees — there is much evidence of tri-racial descent. One romantic conjecture holds that the local Native Americans absorbed the "Lost Colony" of Roanoke back in Elizabethan times. Another fascinating example is a Lumbee hero of the 19th century — and one of Gene's artistic subjects — "swamp outlaw" Henry Berry Lowry. In his 1872 book about the Lowry Gang, the noted war correspondent George Alfred Townsend vividly described the admixture he saw in Lowry and gang member Pop Oxendine.
Gene himself said in 1972, "Most people think an Indian is supposed to have a big nose, dark skin and long, black hair."[4] This fits with the thinking of Lumbee historian Malinda Maynor Lowery, who nonetheless cautions against overemphasizing the "mixed" background. "There are four layers of identity among the Lumbee, Lowery maintains: First, there is kinship, or 'who's your people' as the local saying goes; second, there is place, or 'where do you stay' in terms of church and community; third, tribe; and fourth, race."[5] The Lumbee also have a distinctive manner of speaking, which serves as an immediate identification mechanism. It stands out strongly upon listening to Gene Locklear.
Locklear is a common surname among the Lumbee. Indeed, both of Gene's parents — Lonnie J. and Cathern Ann Locklear — came from this clan.[6] Yet while they were born just a few miles apart, they were not blood relations.
Lonnie was a tobacco farmer, and Gene worked with him, plowing the fields. ("The Tobacco Farm" was the work that hung in the White House.) Yet he harbored dual dreams from a very young age. In 1985, he said, "I loved to paint and I loved to play ball. If you had asked me when I was 6 or 7 what I was going to do, that's what I would have told you. I'd do both. As a kid from a small country town, I figured my chances of becoming a ballplayer were probably something like one in a million. I had the common sense to realize I'd better have something to fall back on. So I painted."[7] In 1971, Gene recalled, "We didn't have an art teacher in high school. I liked working with crayons and paint, so I took a correspondence course."[8]
"Where I came from, we didn't have Little League," Locklear said in 2005. "I played with the adult males in the tribe until I could play in high school."[9] Yet despite the lack of formal infrastructure, the sport has long been popular among the Lumbees. In 1994, Dwight Lowry — another Pembroke native and the other Lumbee major leaguer to date as of 2010 — said, "It's just something everybody loves to play."[10]
In 1969, the Cincinnati Reds signed Gene as an undrafted free agent. He had graduated from Pembroke High about a year before and was working on the farm. "I never did learn how to study," he said in 1998. "I didn't do very well in school."[11] The area scout was Bill Jamison, who also signed Dan Driessen out of South Carolina for the Reds. Locklear told the story of his signing in 1972.
"'I batted .500 one year in high school and over .400 in another, but nobody was interested in me. I went to a Pittsburgh tryout camp, hit two balls out of the park of the five that were pitched to me and was the fastest of the 60 boys in the camp. But the Pirates weren't interested.' Then he went to a Cincinnati tryout camp at Hope Mills, N.C. . . .He was signed as a free agent with no bonus."[12] Locklear's first brief stop in the minors was Tampa in the Florida State League, but after reassignment to Sioux Falls in the Northern League, he hit .303 in 44 games.
Military service caused Gene to miss the first half of the 1970 season. "I got out of the Army on the Fourth of July on a hardship discharge. My dad died and I was so intent on making good in a hurry, I tried too hard and wound up with that .164 in 46 games." He returned from Asheville in the Southern Association to Sioux Falls, where he righted himself (.289 in 23 games). He followed up with a strong performance in the Florida Instructional League (.339).[13]
Locklear really made a name as a prospect by winning back-to-back minor-league batting titles in 1971 and 1972. The first came with Trois-Rivières in the Eastern League (.323), where his teammates showed that a tired baseball tradition endured into the '70s by calling him "Chief." "I liked being called 'Chief,'" said Gene in 2000, though. "It was a term of respect, not anything negative."[14]
The main theme of that season was mental approach; after pressing at Asheville, Gene said, "I keep telling myself I have to relax. It isn't easy, but I'm convinced that at least 50 percent of this game is in the mind." He found it was a balancing act, especially as his name remained at the top of the league stats list.[15]
Locklear had something else to concentrate on that year too. Originally signed as an infielder, he was converted to the outfield. He said, "Playing the outfield gives me a lot of trouble. My biggest problem is going back on a ball, especially if the fence is near."[16] Although Gene worked hard on his fielding, the view persisted that he was a defensive liability.
Gene's second batting crown (.325) came after he made the Reds' top farm club, Indianapolis in the American Association. That June, manager Vern Rapp said, "I would say he has a major league bat and it's up to him to show steady production throughout the year. He has improved 100 percent since I first saw him in the spring of 1971 — improvement in all-round ability of fielding, base running and hitting. But he still needs to improve on defense." Locklear felt more comfortable in right field than in left (where he mainly played in the majors). He also talked about using the whole field more as a hitter because the Triple-A pitchers were smarter. In addition, he took pride in advancing more rapidly than players who had received big bonuses. [17]
After a good winter-ball season with Águilas Cibaeñas in the Dominican Republic, Locklear came to spring training 1973 ready to prove he belonged in the majors, even though he was skeptical about the odds he faced. He commented that in the previous year's camp, "All I heard was the name Dan Driessen. This year I come to camp and all I hear is the name of Ken Griffey Sr. ." He felt that he needed to toot his own horn a bit more. "Sometimes you talk too much and sometimes you don't talk enough." [18]
There was also a lot of veteran competition: Ted Uhlaender, Joe Hague, Richie Scheinblum, and Larry Stahl. Like Locklear, the latter three were lefty swingers, and the Reds front office still viewed Gene's fielding askance. General manager Bob Howsam said, "From our reports, Locklear has the potential to be a very fine hitter, but he must improve in all other areas of play."[19]
Yet Gene made the Reds roster, beating out Griffey as well as Ed Armbrister. His debut came on April 5, Opening Day. Pinch-hitting for Darrel Chaney, Gene struck out to end the game against Juan Marichal. Playing time was hard to come by in the Cincinnati outfield, however; Gene sat behind Pete Rose and Bobby Tolan. He did almost nothing but pinch-hit in his 29 appearances for Cincinnati. In 1975, he said, "I wasn't given a fair chance."[20]
That April, Gene also commented on Indian stereotypes in America. "Education, that's the only way it's going to change. People are waking up. That's what's going on in my home town where there's been some trouble. The Indians aren't leaving anymore. They're staying and trying to improve things. They realize all the trouble will last until they do something about it."[21]
On June 12, the Reds sent Locklear, Mike Johnson, and cash to the San Diego Padres for Fred Norman. Gene hit .240 in 67 games with the Padres, backing up Leron Lee in left field. Dave Winfield, a rookie that year, also started frequently in left from mid-June onward. Locklear hit his first of nine big-league homers on August 3 at Atlanta off Ron Schueler. That October, he commented, "The Reds told me I would get a chance to play every day with San Diego, and that pleased me. . .but I hadn't played regularly in so long that I got off to a bad start with the Padres and the first thing I knew, I was on the bench." Again he cited problems with pressing and his mental approach. "It has taken a long time for me to get my mind straightened out. I wasn't able to concentrate for a long time, but now I can."[22]
Locklear had a backer in Padres manager Don Zimmer, but Zim quit San Diego after that season, one step ahead of the axe. Gene started the 1974 season with the top farm club, the Hawaii Islanders. He was unhappy in the minors and still resented the "good-hit, no-field" tag, but by that time he had his commercial art degree from Minneapolis Art School. In his view, his painting had greater earning potential.[23]
Gene hit .341 with 14 homers in 77 games in Hawaii. He earned a call-up in July, despite a brief suspension in May for failing to run out an infield fly that dropped. He replaced Bobby Tolan, who had gone down with a knee injury. Over the remainder of the season, Gene hit .270 in 39 games, again mainly pinch-hitting.
Locklear rode the bench again early in the 1975 season, and he was annoyed about it. He was irked that Tolan — who had also blocked him with the Reds — was starting despite hitting at the Mendoza Line. In mid-May, general manager Peter Bavasi sent the disgruntled outfielder down to Hawaii again, reportedly for criticizing the club, even though he was hitting .441 at the time. Several days later, Gene asked to be traded, saying, "I'm through busting my butt for this organization."[24]
In 2008, Locklear spoke out about what he perceived behind the demotion. "In Gene Locklear's eyes, the prejudice never disappeared. 'I endured a lot of stuff. . .I think that's racism. They didn't like me.'"[25]
The Padres recalled Locklear in June, though, and he hit .321 in 237 at-bats for the year. Dave Winfield had shifted to right field that year, swapping with Tolan. The departure of Cito Gaston after 1974 had opened up time among the outfield reserves, and Tolan would also start elsewhere on occasion (for example, spelling achy-kneed first baseman Willie McCovey).
Gene followed up his busiest and most successful big-league season with a strong return to winter ball. With Águilas del Zulia in Venezuela, he batted .307-0-13 in 39 games during the 1975-76 season. Yet in 1976, Padres manager John McNamara again relegated Locklear almost exclusively to pinch-hitting. Jerry Turner was the primary left fielder, with Merv Rettenmund and Luis Meléndez in reserve.
On July 10, San Diego sent Gene to the New York Yankees for a player to be named later. The Yankees assigned him to Syracuse, their Triple-A team, but called him up in early August. Gene got into 13 games with the Bombers and hit .219, mainly as a designated hitter. He was left off the playoff roster in favor of Elliott Maddox.
Locklear spent the 1977 season with Syracuse, hitting .290 with 20 homers and 84 RBIs. His single-game highlight came on July 14, 1977: four homers as the DH at Columbus. In fact, he almost hit a fifth, which would have set an International League record, but it was caught at the wall in center field.[26]
The Yankees recalled Gene in September — he was not eligible for the playoffs — and he made his last appearance in the majors in the last regular-season game on October 2. As the left fielder, he went 3 for 5 with two RBIs.
Locklear became a free agent after the season ended. In 2010, he recalled, "I got an offer from Minnesota and one from the Dodgers. But they weren't good enough. Minnesota was only going to give me a $10,000 raise. But I shoulda went ahead and did it just to get my time in the majors for the pension."
Instead, in 1978 Gene wound up playing in Japan, where the salaries were often the best available at that time. With the Nippon Ham Fighters, he had a so-so season (.240-8-38 in 107 games). "I didn't like it there," he said, "and they had the option of determining my contract. I had a three-year contract, and they canceled it after the first year."
In February 1979, the Reds invited Gene to spring training as a non-roster player. He was there until the last round of cuts, but when Cincinnati released him, he retired.
Locklear then concentrated full-time on his art. His two primary themes are sports and Native American culture. Landscapes also feature prominently in his work. Gene's website details his many personal and professional honors and the visibility that his paintings have attained. His statement as an artist: "I paint subject matter and technique according to how I feel."
In 1996, the San Diego Union-Tribune wrote, "Locklear has a studio back home in Pembroke and one in a condo that's a line drive away from our stadium. Until last year, Gene occasionally would jog over and take a turn at pitching batting practice."[27]
Gene and his wife Susan (they have been married since 1985) live in El Cajon, California. However, Robeson County always remains with him. In 2004, Gene helped establish an art academy for young people at the University of North Carolina at Pembroke. He said, "I cherish the experiences I had growing up in Pembroke and treasure the land, people and rich heritage of the area. Our hope is that new generations will be inspired, as I was, by this special place, its precious legacy and the rich cultural experiences it has to offer." At the opening, Dr. Martin Brooks of Pembroke said of his old friend, "Gene Locklear is a man who works with his hands, his heart and his soul."[28]
Thanks to Gene Locklear for his input (telephone interview, July 11, 2010). Thanks also to Malinda Lowery.
Sources
www.genelocklear.com
www.locklearandsonfuneralhome.com (Cathern Ann Locklear obituary, October 2007)
www.lumbeetribe.com
www.retrosheet.org
www.baseball-reference.com
www.planeta-beisbol.com/lvbp (Venezuelan statistics)
Photo Credits
The Topps Company
www.genelocklear.com
---
Born
July 19, 1949 at Lumberton, NC (USA)
If you can help us improve this player's biography, contact us.
http://bioproj.sabr.org/bp_ftp/images4/LocklearGene1.jpg
600
800
admin
/wp-content/uploads/2020/02/sabr_logo.png
admin
2012-01-04 20:27:09
2023-08-19 12:30:34
Gene Locklear