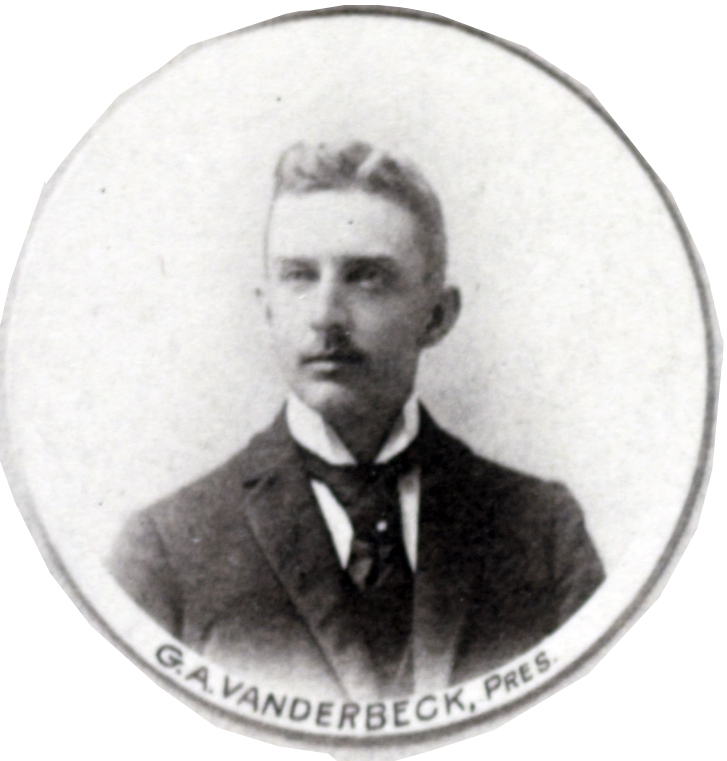 ---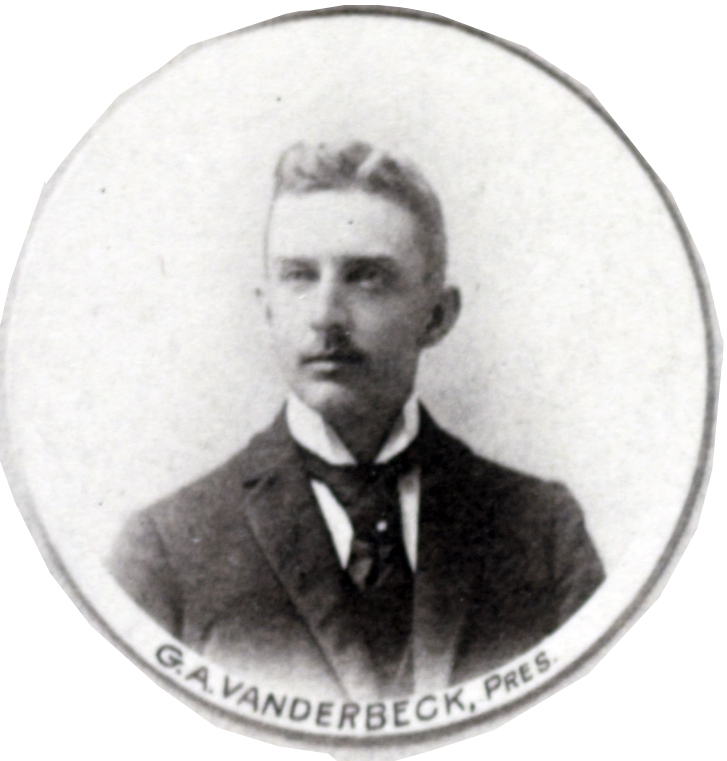 In the late 19th century, real estate investor, stockbroker, and fruit and produce wholesaler George Vanderbeck gained attention in sporting circles as a prominent minor-league baseball magnate. Between 1890-94, he was involved in the launch of three franchises and rubbed shoulders with notable contemporaries such as Charles Comiskey, Ban Johnson, and Connie Mack.
Although refined enough in outward appearance to receive the moniker "Count," Vanderbeck was also brash, petty, and litigious. Often deceitful in his business deals and destructive in his personal relationships, Vanderbeck repeatedly wore out his welcome. Yet, despite his faults, Vanderbeck's legacy is his role in founding the Western League club that developed into the Detroit Tigers — the American League's oldest continuous single-city franchise.
George Arthur Vanderbeck (sometimes spelled in contemporary newspapers as "Van Derbeck" or "Van Der Beck") was born on September 21, 1864, in Parma, New York, the youngest of three children born to Andrew Vanderbeck and his wife Hannah (née Tripp). The Vanderbecks' first child, Marvin, died at age 3 in 1861. George's sister Elizabeth was born in 1862.1
The 1850 United States census lists Andrew's occupation as "farmer." At various times, he also owned a sawmill, tannery, and country store. The Vanderbecks were among the more prosperous families in the area. In 1867, Andrew purchased a 200-acre farm in nearby Greece, NY (since annexed by the city of Rochester). Like many wealthy Rochester-area citizens of the time, Andrew constructed a mansion residence north of the city's central business district.2
It's unknown if young George played baseball or followed the game. But he was likely aware of the sport. Organized baseball became popular in Rochester by the late 1850s, and the city had an International Association team in 1877-78.
The Vanderbeck family went through a tragic upheaval in 1878. Andrew was accidentally killed at age 55 after his buggy collided with a team of runaway horses in downtown Rochester. George was 13 when his father died.3
In 1882, George's older sister married a bookkeeper, who may have influenced his young brother-in-law's future occupation. According to the 1883 Toledo city directory, 18-year-old Vanderbeck worked as a bookkeeper for A.A. Geroe & Son, a fruit and produce commission firm. He also lived with Aaron Geroe, the company founder, at 331 Jefferson.
Department of Health records for births in the city of Toledo indicate a son "VanDerbeck" was born on May 5, 1884 to Arthur G. VanDerbeck [sic] and Birdie Gero [sic] of Jefferson Street. The first name of newborns often went unrecorded in these records. Without further documentation, it's not clear if the child was stillborn or how Birdie was related to the Geroe family.4
Vanderbeck continued working for Aaron Geroe through 1888. During this time, Vanderbeck married his boss's daughter, Esther Mae Geroe. Their only child, Florence, was born in Toledo in September 1887. It appears the young couple divorced shortly thereafter.5
Around 1888, Vanderbeck moved to the Portland, Oregon, area and joined the West Shore Land and Investment Company. Presumably with an inheritance from his father's estate, Vanderbeck purchased large tracts of land in the area, including several fruit farms. He went on to enter baseball in 1890 when he helped establish the Pacific Northwest League, the region's first professional league. He was one of three owners of the Portland club in a four-team circuit that also included Seattle, Spokane, and Tacoma.6
The 1890 Portland Webfeet finished last with a 25-67 record. In a postseason analysis, The Sporting Life remarked, "The Portlands opened with poor management and closed likewise, the result of having men at the head of the team who do not understand the management of ball or how to make money in a town like Portland."7
Vanderbeck sold his team shares in May 1891 and relocated that fall to San Francisco. Soon afterwards, he began negotiations to consolidate the Pacific Northwest League and California League. The merger failed, but Vanderbeck became owner of the California League's first Los Angeles entry, which began play in 1892.8
Los Angeles was one of the state's fastest-growing cities, and the fans welcomed their new franchise and 27-year-old Vanderbeck. The 5-foot-10½, blonde haired, blue-eyed magnate struck a handsome profile. "Count" Vanderbeck became known as a sort of dandy for his stylish attire and habit of carrying a cane. During this period, he also became a stockholder in the University Bank of Los Angeles.9
Despite Vanderbeck's initial reception, his fellow team owners soon regretted bringing him into the league. They had reluctantly agreed to his proposal to split the season in half to create two pennant races, but when San Jose beat Los Angeles in a decisive game to claim the first-half title, Vanderbeck protested, falsely claiming his team had been forced to forfeit a game earlier in the season. The title remained with San Jose.10
After Los Angeles won the season's second half, Vanderbeck proposed a championship playoff to San Jose owner Mike Finn. But before meeting with Finn, Vanderbeck struck a deal with the San Jose players behind Finn's back to split the proceeds from an eight-game championship series. Finn and league officials were livid. The Sporting Life commented on the postseason scheme:
"That Vanderbeck, by his cupidity, has given base ball in Los Angeles a black eye, will doubtless be seen before many weeks elapse. That he'll never again be a manager in the California League is already settled; in fact, he created enemies among his colleagues before he was in the base ball association three months, and long ago a majority of them decided that he should be dropped at the close of the season."11
At a California League meeting in December 1892, the owners ignored the playoff results, declared Los Angeles and San Jose co-champions and expelled Vanderbeck.12
Disregarding his expulsion and without league consent, Vanderbeck tried unsuccessfully again in 1893 to merge the Pacific Northwestern and California leagues, while repeatedly attempting to reclaim the Los Angeles franchise. Against this tumultuous backdrop, and one month after his mother's death, Vanderbeck married Mary Hamilton McNab, a 26-year-old schoolteacher from Rochester, New York, in August 1893.13
In that same month, former Spokane owner John S. Barnes of the Pacific Northwest League began having discussions about reviving the recently failed Western League. Soon afterwards, magnates representing franchises in Indianapolis, Kansas City, Milwaukee, Minneapolis, and Toledo met to consider adding three more clubs to create an eight-team circuit. The organizers considered Detroit a front-runner along with Columbus, St. Paul, Lincoln, and Sioux City.14
Vanderbeck applied for ownership interest in any city that received a franchise. Despite his tarnished past, the league organizers accepted Vanderbeck's application and awarded a franchise to Detroit under his ownership on November 21, 1893. Barnes, who owned the Minneapolis club and had ties with Vanderbeck from the Pacific Northwest League, may have paved the way for his approval. Vanderbeck also had an advocate in Bob Glenalvin, who had played with Cap Anson's 1890 Chicago Colts of the National League. Before selling his Portland team shares, Vanderbeck signed Glenalvin to manage and play for Portland in 1891. He was also player-manager for Vanderbeck's 1892 Los Angeles club.15
"I have always found [Vanderbeck] a most exemplary man in all his dealings, both with players and the public generally," Glenalvin wrote in December 1893. "I assure those who may have business relations with him in the future that [he] will promptly and cheerfully meet all obligations."16
Detroiters knew little about Vanderbeck and his past business dealings, but they had high hopes for their new baseball team. The city had a taste of major-league baseball with the National League Wolverines (1881-1888) but showed little interest in its entries in the International League (1889-1890) and the short-lived Northwestern League (1891).
Tapping his California League experience, Vanderbeck quickly signed eight players from that circuit to play for Detroit. This included Glenalvin to manage and play second base.
Newspapers initially referred to the Detroit club as the "Creams" after Vanderbeck boasted his roster comprised the "cream of the Pacific coast." The Detroit Free Press also called them the "Giants," claiming Detroit had the tallest players in the league. The team wasn't called the "Tigers" until April 16, 1895, when the Detroit Free Press used the nickname in a story covering a Detroit exhibition game.17
Vanderbeck's Detroit tenure soon became marked by futility on the field and controversy off the field. After a June 18 loss against Toledo, Vanderbeck publicly blamed shortstop Monte Cross and suspended him indefinitely. When Vanderbeck refused to grant Cross's request for a release, the two men scuffled in the club's offices, and adding insult to injury, he fined Cross $75 for insubordination and foul language. Vanderbeck claimed he didn't intend to release Cross, but, though he played 13 more seasons in the major leagues, he never played for Detroit again. 18
At this time, Detroit was 19 games under .500 and struggling to stay out of last place. Vanderbeck criticized Detroit Free Press sports editor and team official scorer Frank Cooke for "roasting" the club in the paper. "Cooke is acting like a kid," Vanderbeck said. "I'll take everything away from him. I gave the [Toledo] Blade an item about my new players I will not give to him. The trouble with the base ball reporters in Detroit is that they are accustomed to getting a hundred or so for doing the right thing by a club. Well, they'll not get it here."19
Despite winning seven of its last 10 league games, Detroit finished with a 57-69 record and in sixth-place. The Free Press observed: "Properly run the present team can play pretty good ball, but there is a demand for a change. . . . Baseball has regained life here, and a good team will make the game popular and very profitable. If we cannot have National League ball give us a good article of minor league variety, not another season like the past."20
The season was over, but Vanderbeck's troubles continued. In early October, the Grand Rapids correspondent for The Sporting Life accused him of sending outfielder Howard Earle to umpire Grand Rapids games while still under contract to Detroit. In addition, Glenalvin changed his mind about Vanderbeck's business ethics, claiming he owed him a little over $800 in salary. While Vanderbeck blamed his manager for the team's poor play, Glenalvin accused the owner of creating conflicts with his players throughout the season. "Although the people here think they know him [Vanderbeck] pretty well by his actions of the past season, when I get through with him he will be glad to sell out and go somewhere else," Glenalvin said.21
Glenalvin's salary dispute extended into early 1895, when he appealed to Western League officials. Among other things, he mentioned an incident during the 1894 season involving Detroit outfielder Jim Burns. Vanderbeck reportedly released Burns while the team was on a train to Chicago and refused to pay his salary or railroad fare back to Detroit. Burns would have been stranded at a remote Missouri way station had Kansas City player/manager Jim Manning not been on the same train. Manning advanced Burns the funds needed to return to Detroit, and shortly after season's end, the Western League forced Vanderbeck to pay Burns in full. In mid-February 1895, the league's directors also ruled in Glenalvin's favor and ordered Vanderbeck to pay his full salary. If he didn't pay, the Detroit franchise would be revoked. Vanderbeck paid and promptly sold Glenalvin to the Indianapolis club.22
"One thing that struck me forcibly was the perfect unanimity with which the Western League magnates don't like their Detroit colleague — Vanderbeck," W.A. Phelon, Jr. wrote in The Sporting Life. "[He] has been responsible, so they say for 90 percent of all the league's troubles and difficulties; he has been invariably turned down, and yet keeps on troubling."23
Vanderbeck signed career minor leaguer John "Con" Strouthers to play first base and manage the club in 1895. The Tigers improved only slightly, finishing fifth with a 59-66 record. After two seasons, it became clear that the Tigers' first wooden ballpark (alternately called Boulevard Park or League Park) was inadequate for baseball. Besides being too far from the city center, the park was also crammed in a rectangular lot. The Sporting Life characterized the grounds as "cramped" and "casket shaped" with odd outfield dimensions allowing many cheap doubles.24
In November 1895, Vanderbeck secured a five-year lease on property at the northwest corner of Michigan and Trumbull avenues that had been used as a hay market, a sawing ground for cedar paving blocks, and the city stone pile. Bennett Park, a modest wooden structure named after Charlie Bennett — the popular catcher from Detroit's former National League team — opened for the 1896 season.25
Vanderbeck's site selection proved popular and prescient — and a large part of his legacy. Fans could reach the grounds from downtown in just five minutes by streetcar; the larger property allowed for more distant outfield fences. Few fans then could have imagined the Tigers would play at the corner of Michigan and Trumbull for 103 seasons until Tiger Stadium closed in 1999. The site would host nine World Series and three All-Star Games, as well as professional football, boxing, and numerous entertainment and civic events. The location remains hallowed ground for generations of sports fans.
Despite the new ballpark and improved playing surface, the Tigers played mostly mediocre baseball. Although the team finished over .500 in three of the next four seasons under Vanderbeck, the Tigers never finished closer than 10 games from first place.
Vanderbeck continued to stir plenty of controversy during these years. After the 1896 season, Indianapolis owner W.F.C. Golt accused him of artificially reducing player salaries. At the spring 1897 Western League meetings, Vanderbeck paid a $100 fine in lieu of league expulsion for player tampering. After the 1897 season, an anonymous Tigers player told The Sporting Life that when the club was on a midseason road trip, Vanderbeck had paid the team's return railroad fare only to the furthest stop from Detroit, forcing the players to pay the remainder themselves.26
Vanderbeck's run-ins weren't confined to players or league officials. In 1897, cigar manufacturer William Gordon, whose home and business adjoined Bennett Park, complained of foul balls damaging his plantings and endangering his customers. Vanderbeck responded by leasing his property and doubling his rent. Later, when Gordon refused to return two foul balls hit during a game, Vanderbeck accused him of theft and had him jailed.27
Vanderbeck also continued his habit of taking action without league consent. He created a stir in late 1898 by attempting to buy an existing major-league franchise and move it to Detroit, thus dumping his association with the Western League. Vanderbeck reportedly offered $75,000 for the Cleveland franchise, then $45,000 for the Louisville club. The respective owners rejected the offers. Western League President Ban Johnson stated his circuit would retain its territory despite Vanderbeck's actions, and in any case, a franchise move would have required Western and National League approval.28
Detroit's tumultuous ownership situation boiled over in 1899. Fan criticism reached a high point near season's end. Vanderbeck had purchased two players from the Hamilton, Ontario team in the Canadian League to bolster the roster. But the Canadian team withdrew the players when Vanderbeck refused to submit payment. And the team's caliber of play wasn't inspiring. The Sporting Life remarked, "[N]ow at the end of the season the best a crowd gets for its money is a patched-up team, overworked, and amateur pitchers and ragged exhibitions."29
Shortly after the 1899 season, Detroit Free Press sports editor Moulton "Bo" Needham confronted Vanderbeck, demanding his $300 fee for working as official scorekeeper for Detroit's home games. Needham, who also covered boxing for the paper, landed several punches on Vanderbeck. Detroit manager George Stallings broke up the fight and straightened Vanderbeck's broken nose with a pencil.30
These incidents were characteristic of Vanderbeck. But the end of his baseball endeavors came in the wake of a highly publicized divorce settlement. In June 1899, Mary Vanderbeck, the owner's second wife, was granted a divorce on grounds of adultery and cruelty. When the court found Vanderbeck had "consorted constantly with lewd women," he didn't deny the charges. The court ordered Vanderbeck to pay his wife $8,000 in alimony. He protested, claiming the amount was excessive and would lead to his financial ruin. The court therefore placed the Detroit franchise, its baseball grounds, and rights to all players under contract in receivership and ordered an auction of the entire package.31
After much legal wrangling and sale postponements, the auction occurred on February 17, 1900 outside Detroit's City Hall. Vanderbeck watched the proceedings from his attorney's office across the street. Through her attorney, Mary Vanderbeck placed a bid of $9,500. She was the only bidder, making her the new team owner. 32
Vanderbeck immediately appealed the sale in the state Supreme Court, placing franchise ownership in limbo and jeopardizing the future of professional baseball in Detroit. League President Ban Johnson stated that even if Vanderbeck regained ownership, the league had already expelled him. Johnson clearly felt an ongoing ownership squabble would tarnish the reputation of his circuit, recently renamed the American League, which was pursuing major-league status. He intimated further that the league was considering dropping Detroit for Louisville if the legal tangles weren't resolved quickly.33
On March 5, 1900, Vanderbeck's attorney submitted a $9,000 bond to the court as a preliminary to an appeal of the alimony judgement. The court accepted the bond, negating the auction sale. Mary Vanderbeck and her attorney agreed to this arrangement, anticipating an immediate franchise sale to a third party. The following day, James D. Burns — a well-known Detroit saloon owner and former amateur boxer and wrestler — partnered with Tigers player-manager George Stallings to purchase the Detroit franchise for $12,000. Local ownership meant Detroit would have professional baseball for the upcoming 1900 American League season.34
Following the sale, The Sporting Life summarized Vanderbeck's Detroit tenure:
"After having aired his affairs in the papers for many weeks and tried in every way to defeat his wife in her attempts to secure alimony, he is no longer a magnate. Had he taken the advice of his friends and not tried to beat his wife out of everything, or had he acted fairly and kept a few of the promises which he made, he could have settled his domestic affairs and might still own the Detroit Club and franchise. Now he is out, and among the other American League magnates there will be no regrets, for he was thoroughly disliked and distrusted.35
Vanderbeck remained in Detroit for the next three years, reportedly earning $18,000 one year through stock trading. In October 1902, he returned to Toledo to rejoin A.A. Geroe & Son, the fruit and produce commission firm owned by the family of his first wife. Vanderbeck became a partner in the firm and worked with his former brother-in-law. In the spring of 1903, he reported his virtual estrangement from baseball. "I have not seen a game since I sold the Detroit club, and I'm afraid it would make me sick for the old excitement if I should." Sometime before 1910, he began working as an independent fruit and produce wholesaler.36
On February 9, 1903, Vanderbeck married his third wife, Amanda Young, who was 15 years his junior. She filed for divorce in March 1918 on the grounds of cruelty and desertion. The divorce was granted that July. Based on city directory listings, it appears Vanderbeck left Toledo between 1915-16, likely for Los Angeles. He appears in the 1920 Los Angeles city directory with "real estate" as his listed occupation.37
Problems with personal relationships followed Vanderbeck into his later years. In May 1927, he filed a lawsuit against Lydia Mills, a divorcée and "close friend." Vanderbeck claimed he had deeded property to her in a trust, but when he requested its return, she refused. Mills claimed she purchased the property with funds left to her by her ex-husband. The judge suggested Vanderbeck and Mills marry after learning they had once considered doing so. Mills agreed to the idea, but Vanderbeck had a different plan. His lawyers filed for a change of venue, citing "judicial prejudice."38
Vanderbeck's last known involvement with baseball came in June 1936 when he was one of several featured guests at a Pacific Coast League old-timers' game at Wrigley Field in Los Angeles.39
Vanderbeck died from heart failure and kidney disease at age 73 on April 9, 1938 in Los Angeles. He was cremated at the Rosedale Cemetery in Los Angeles.40 While the Tigers had recently won their first World Series (in 1935) and averaged about 1 million in annual attendance between 1935-37, it seems the team's founder had largely been forgotten — even among family and friends. His uncollected ashes were interred without record on the cemetery grounds.41
Acknowledgments
Thanks to Rock Bauer, Peter Morris and Steve Weingarden for their assistance.
This biography was reviewed by Bill Nowlin, edited by Tom Schott, and verified for accuracy by the BioProject fact-checking team.
Sources
Aside from sources cited, I also consulted Baseball-Almanac.com and Baseball-Reference.com.
Notes
1 "United States Census, 1870," FamilySearch, Andrew Vanderbeck, New York, United States, https://familysearch.org/ark:/61903/1:1:M8JD-MRS, accessed August 12, 2019.
2"United States Census, 1850," ibid., Andrew Vanderbeck, Clarkson, Monroe, New York, United States, MCB9-8SX, accessed August 12, 2019; National Register of Historic Places Inventory — Nomination Form. Vanderbeck House, February 1, 1984.
3 "Runaway," & "Fatally Injured," Rochester Evening Express, March 12, 13, 1878.
4 "Ohio, County Births, 1841-2003," FamilySearch (https://familysearch.org/ark:/61903/1:1:X6XH-79X: March 9, 2018), Arthur G. Van Derbeck in entry for Van Derbeck, May 5, 1884.
5 "Ohio Births and Christenings, 1821-1962," database, FamilySearch (https://familysearch.org/ark:/61903/1:1:XXSN-RXT: December 8, 2014), Florence Vanderbeck, September 30, 1887.
6 "Another Schedule," The Sporting Life, May 3, 1890: 13.
7 "Portland Pointers," ibid., October 25, 1890: 7.
8 "A Serious Hitch in the Pacific Coast Consolidation Deal," ibid., January 16, 1892: 11.
9 "California Voter Registration, 1892" in California, Voter Registers, 1866-1898, accessed Oct 21, 2014, Ancestry.com; "Sporting News," The Los Angeles Times, August 29, 1892; "Magnate G.A. Vanderbeck," [Detroit] Sunday News-Tribune, January 28, 1894.
10 John Spalding, Always on Sunday: The California Baseball League 1886-1915 (Manhattan, KS: Ag Press, 1992), 58-59.
11 "California Cullings," The Sporting Life, December 17, 1892.
12 Spalding, Always on Sunday, 58-60.
13 "In the Northwest," The Sporting Life, February 25, 1893: 4; "McNab-Vanderbeck," [Rochester] Democrat and Chronicle, August 18, 1893: 8.
14 "Reorganizing the Western League," Detroit Free Press, October 26, 1893: 8.
15 "Western League Meeting," Indianapolis News, November 22, 1893: 2.
16 "Vanderbeck All Right," The Sporting Life, December 9, 1893: 4.
17 "Generous Johnson," Evening News (Detroit), February 19, 1894; "The Detroit Giants," & "Their First Breather," Detroit Free Press, April 22, 16, 1895: 6, 2.
18 "Cross Was After Core," Detroit Free Press, June 20, 1894: 2.
19 "Indiscreet Vanderbeck," The Sporting Life, June 30, 1894: 1.
20 "Fitzsimmons' Career," Detroit Free Press, September 30, 1894: 6.
21 "Rustling Grand Rapids" & "Bosom Friends No Longer," The Sporting Life, October 6, 20, 1894: 5, 4.
22 Ibid., "In a Bad Light," & "Western League," February 16, March 2, 1895:10.
23 "In a Bad Light," ibid.
24 "Detroit Dotlets," The Sporting Life, October 19, 1895: 5.
25 Ibid., December 7: 9
26 "Golt Scores Van Derbeck," "Western League," & "Chicago Gleanings," The Sporting Life, March 6, March 20, October 23, 1897: 8, 10, 8.
27 "Objects to Foul Tips," Detroit Free Press, August 26, 1896: 5, "Detroit Dotlets," & "Van Derbeck's Rights," The Sporting Life, October 31, 1896, November 27, 1897: 7.
28 "A Big Sensation," The Sporting Life, December 10, 1898: 5.
29 "Detroit Dotlets," ibid., September 16, 1899: 9.
30 "Magnate Mauled," ibid., October 28, 1899.
31 "News of the Courts," Detroit Free Press, June 10, 1899, January 10, 1900: 5; Michigan Reports: Cases Decided in the Supreme Court of Michigan May 2 to October 31, 1900 (Chicago: Callaghan & Co., 1901), 24: 479-82.
32 "League is In Control," Detroit Free Press, February 18, 1900: 8; "Good Stories for All," Boston Globe, March 9, 1900: 10.
33 "In Sporting Spheres," Detroit Free Press, March 4, 1900: 7.
34 "Still another Angle," & "Burns Doesn't Need an Ax," ibid., March 4, 7, 1900: 8, 6.
35 "Detroit Doings," The Sporting Life, March 17, 1900: 9.
36 "Van Derbeck Goes to Toledo," [Detroit] Evening News, October 29, 1902; "Vale, Vanderbeck," & "Afraid to Trust Himself," The Sporting Life, November 22, 1902, May 23, 1903: 7, 26; Toledo: The Convention City, (Toledo, OH: Toledo Hotel Men's Association, n.d. [c. 1910]), 42.
37 Michigan, Marriage Records, 1867-1952 & Michigan, Divorce Records, 1897-1952; accessed July 22, 2016. Ancestry.com.
38 "Judge Suggest Couple Wed; They Get a Change of Venue," Los Angeles Times, May 10, 1927: 25.
39 "Old-Timers Play Today," Los Angeles Times, June 28, 1936: A13.
40 State of California, Certification of Vital Record, Standard Certificate of Death, George A. Van Derbeck. Document obtained September 20, 2012.
41 Phone interview, author with Courtney Rhodes, Angelus-Rosedale Cemetery manager, May 13, 2019.
Born
September 21, 1864 at Parma, NY (US)
Died
April 9, 1938 at Los Angeles, CA (US)
If you can help us improve this player's biography, contact us.
https://sabr.org/sites/default/files/VanderbeckGeorge.jpg
600
800
admin
/wp-content/uploads/2020/02/sabr_logo.png
admin
2019-09-04 01:26:33
2020-04-09 14:37:31
George A. Vanderbeck