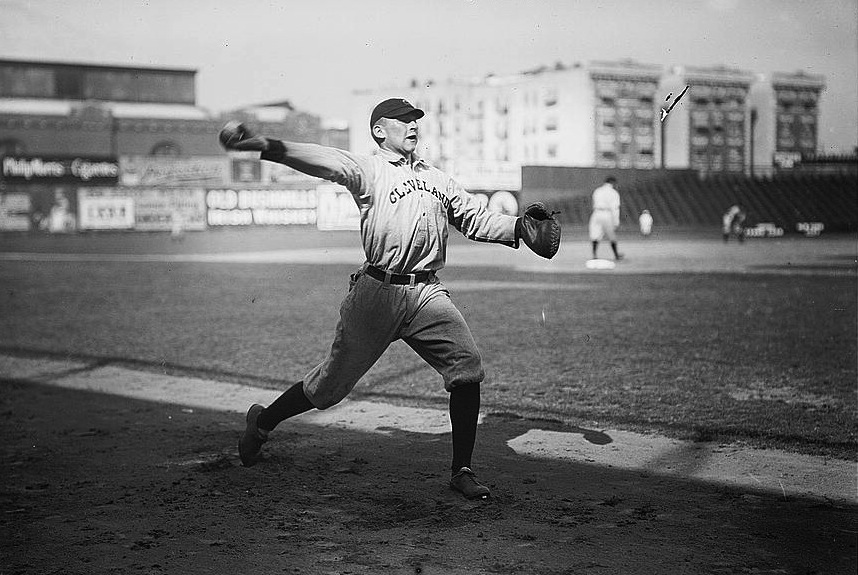 ---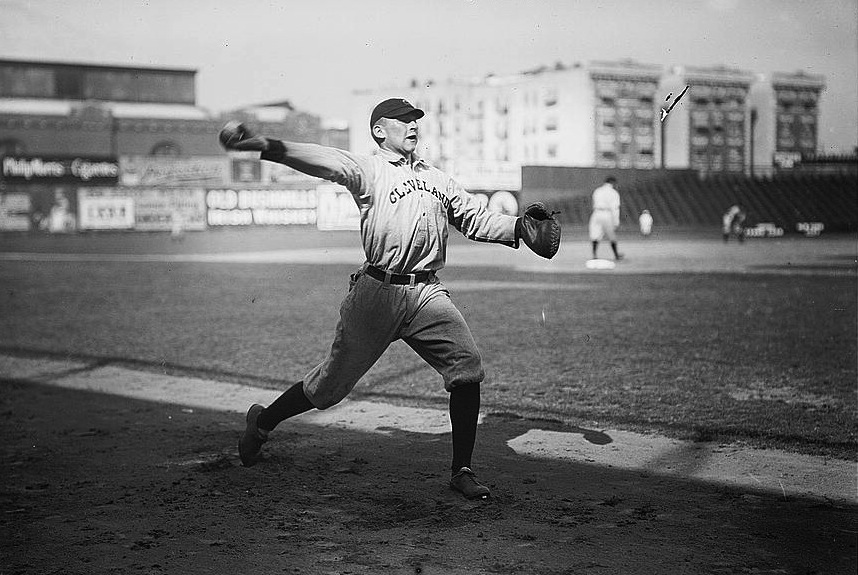 In May 1912, veteran outfielder Joe Birmingham of the Cleveland Naps claimed that "next to Walter Johnson," one of his teammates was "the best right-hander in the [American] league." However, few if any baseball fans today would be able to identify that young hurler as 21-year-old George "Crum" Kahler. For despite the high praise, Kahler, then entering the second full year of his big-league career, pitched his final game in the majors less than two years later.1
George Runnells Kahler was born on September 6, 1889, in Athens, a college town in the Appalachian foothills of southeastern Ohio.2 He was the youngest child of George and Sarah Runnells Kahler.3 His siblings, oldest to youngest, were Joseph, Mary, and Charlotte.4 The elder George Kahler owned a dry-goods business and was active in Republican politics in Athens County. He died in January 1892 when George was about 3 years old. At the time he was serving a term as a probate judge for the county.5 George was raised by his mother, who earned a living working at Boyd Hall on the campus of Ohio University. She, George, and sister Mary resided there.6
Kahler attended Athens High School and participated in sports, particularly shining in football. He remained in Athens, furthering his education at Ohio University beginning in 1905. He excelled in basketball and baseball as well as football. Yet Kahler's early collegiate notability stemmed from the latter sport. On the gridiron he was a fullback as well as a punter and dropkick specialist for the Bobcats. In late 1906 he was named second-team fullback on the All-Ohio [collegiate] football eleven and a captain of the Bobcat team for the 1907 season.7 Kahler's football prowess was recognized in 1966, when he was a member of the second class of athletes inducted into the school's Hall of Fame.8
On the hardwood court, Kahler was a 6-foot, 183-pound center. On the baseball diamond, at first he was primarily a right-hand-batting third baseman. That all changed in mid-April 1908. The Bobcats, in desperate need of an additional starting pitcher and facing an Ohio Wesleyan team coached by Branch Rickey, turned to Kahler for help. The former infielder responded by striking out 16 in a 10-3 Bobcats victory.9 It was the first of seven wins for Kahler as his team marched to a perfect 13-0 season, laying claim to the mythical "Championship of Ohio." In those seven wins Kahler gave up 25 hits, walked 18 batters and was credited with an even 100 strikeouts.10
By mid-June, professional scouts were taking a keen look at the right-hander. Less than a month later, it was announced that Kahler had been signed to pitch for the Newark Newks of the Class D Ohio State League.11
When Kahler arrived in Newark — fresh off a college campus — he received a rude awakening. The Athens native was soon homesick: "I was only seventeen and had never been away from home more than half a dozen times, and I was scared stiff when the coaches and fans got after me." An early pitching performance did not help. "We lost 10 to 9. I passed eight batters, hit five and fanned ten."12
By year's end Kahler's won-lost record was an unimpressive 3-7 in 17 appearances. Still, he apparently showed enough. In mid-August, business manager Bob Quinn of the Double-A American Association Columbus (Ohio) Senators purchased his contract.13
During the 1908 offseason, Kahler returned to Athens and Ohio University, where he resumed his education and assisted in coaching the school's 1909 football squad.14 He would repeat this pattern over the next several offseasons, taking classes and coaching in some capacity, not only in Athens but also later at West Virginia University in Morgantown. In 1911 he took medical-related subjects there and coached the baseball team on an interim basis.15
In spring 1909 Kahler reported to his new employer, the Columbus Senators. In short order he was sent back to the Ohio State League for more seasoning, this time to the Lima Cigarmakers. There he played for a first-place team under the guiding hand of future big-league manager Lee Fohl. The move proved successful — Kahler posted a 20-7 record in 30 appearances. (Other statistics are lacking.) On July 31 he tossed a two-hit shutout against Marion.16 On August 20 it was announced that Fohl, "Crum" Kahler, and another pitcher were on their way to join the Senators for the remainder of the season.17
On August 28, in a relief performance in Louisville, Kahler made his mark for his new team. As he took the mound in the fourth inning, the Senators trailed the eventual league champion, Louisville. Kahler allowed just one hit over the remainder of the game as Columbus came from behind to win, 6-3. The Senators' new ace credited manager Fohl with his rapid improvement.18
The late-season heroics in 1909 raised Kahler's stock as he fought for a Columbus roster spot in the spring of 1910. The Senators' new manager, former St. Louis Browns infielder Bill Friel, entrusted Kahler's care to former major-league catcher Fred Carisch. Carisch refined the pitcher's delivery, including his curveball and ability to hold runners. As for speed, after one workout Carisch told Friel, "That boy has something great."19
Kahler soon proved him right. On June 25 he struck out 12 St. Paul Saints on the way to one of his 11 wins (against eight losses).20 Just over a month later he was sold to the Cleveland Naps. The initial report indicated that he was to report to the American Leaguers in 1911.21 Nonetheless, he was on his way to Cleveland on August 9. The unexpected move was met with disdain in Columbus. One local headline blared, "Bad Move to Permit Kaler [sic] to Join Cleveland Before the End of the Baseball Season."22
The agreement afforded a salary of $150 per month.23 On August 13, 1910, Kahler made his major-league debut against the pennant-bound Philadelphia Athletics of Connie Mack. He had been a pitcher for just three seasons, one of them at the collegiate level. Yet at the end of the day the youngster had spread 10 A's hits over nine innings, recording a 3-2 victory. He outdueled wily veteran Colby Jack Coombs, well on his way to a 31-win season. One sportswriter liked what he saw: "To all intents and purposes he [Kahler] will do. He's as cool as an ice cream factory, has a curve or two, and knows how to behave on the slab."24 Connie Mack concurred. "I believe he [Kahler] is a man who can win against odds; one who will live through a lot of hits, and come out with a victory."25
Kahler continued to impress in the season's few remaining weeks as his team crept to a fifth-place finish. He finished the year 6-4 with a 1.60 ERA. Eight of his 12 starts were complete games, and he had two shutouts. There was one cautionary sign: He walked 12 more than he struck out. Two of his starts stood out: an 11-inning shutout of the New York Highlanders on August 30 and a 2-0 shutout of the St. Louis Browns on October 8. The latter win came in game two of a season-ending four-game series in which Cleveland great Napoleon Lajoie desperately chased Detroit's legendary Ty Cobb for the top batting average in baseball and a promised Chalmers automobile. Lajoie had one questionable hit in the contest.26
When Kahler reported to New Orleans for spring training in 1911, he was a big part of the Naps' pitching plans. According to pitching mate Addie Joss, quoted only weeks before his untimely death on April 14, "That boy [Kahler] will some day be one of the best pitchers in the game. I never saw a young fellow with so much speed and such a puzzling array of curves."27
Yet the early-season optimism for Kahler seemed vastly overstated. In mid-May he was sent home to rest up because it appeared he was "overtrained." When he returned a few weeks later, one of his better outings was a three-inning appearance — facing the likes of Cobb, Eddie Collins, Tris Speaker, and other all-time greats — in the Addie Joss benefit game held on July 24 in Cleveland. Kahler gave up just one run on four hits. Shortly thereafter, his season turned around.28
While Kahler recuperated in late May, he had experimented with the spitball.29 Later he would throw the emery ball, credited as the second major-league pitcher to do so after Russ Ford.30 The youngster's dedication to his craft paid off. As of July 31, his record had stood at 0-7 in 14 appearances — but he finished the season winning nine of his last ten decisions. The Naps surged from sixth to third place. Kahler's winning record of 9-8 (30 games, 17 starts, 10 complete games, 3.27 ERA, 97 strikeouts, 66 walks) earned him a $600 bonus.31
In early 1912 Kahler picked up right where he left off. In his first two starts, both against the Tigers, he gave up but one run in 19 innings. He also had a run-in with Ty Cobb. After Kahler had plunked Cobb in the first of the two games, Cobb vowed to get revenge. Upon hearing this, Kahler said, "If he tackles me, he will find that he is going up against just one more man who can take his measure. I don't claim to be a fighter, but I don't think Ty Cobb will ever scare me with any threats."32 The next time they met, Cobb slid in spikes high with Kahler covering first on Ty's grounder. The two squared off with former fullback Kahler getting in the last words before the umpires broke the pair up. He returned to the mound to finish pitching a 10-inning shutout.33
The 1912 season provided a few more highlights, including a pair of six-hit shutouts over the Yankees on June 5 and 8. But on balance, there were many more lowlights. The Naps fell to fifth place and Kahler finished the year 12-19. The loss total was the most by a Cleveland pitcher since 1901, when Pete Dowling lost 22. His 41 appearances led the team, as did his 121 walks in 246⅓ innings. For the second straight season his ERA (3.69) climbed.
In one major respect, 1913 turned out to be a better year for Kahler. On November 5 he took his childhood sweetheart — Virgene Henry, daughter of a prominent Athens banker — as his bride. The new Mrs. Kahler had been a fellow student at Ohio University.34 As for baseball, though, Kahler's career continued to trend downward. As in 1912, Kahler pitched rather well in the early going. He evened his record at 2-2 on May 28 with a complete-game, six-hit win over Eddie Cicotte of the White Sox. Another complete-game, six-hit performance, over the Yankees on June 6, raised his record to 3-3. But over the remainder of the season Kahler lost eight of his last ten decisions, even though the Naps improved to third place. By season's end Kahler was primarily pitching in relief. Although his ERA dropped to 3.14, his record was 5-11. Joe Birmingham, who'd become the club's player-manager, had clearly lost faith in him. Kahler's last major-league win was on July 29 against the Yankees. He pitched only twice (covering three innings) in the Naps' last 39 games.
Therefore, it was not surprising that Kahler, newly married and still only 24, searched for greener pastures during the 1913-14 offseason. The upstart Federal League offered more money and a fresh start. Kahler and two other Naps pitchers took the bait, though Kahler denied it was about the money when it was reported that he'd signed with Buffalo. "There were afternoons when if I had had less nerve, I would have been driven from the mound by the actions of the fans. I have seen as many as 8,000 fans rise from their seats and vent their displeasure when I was sent in to pitch on big days."35 The departures angered Cleveland owner Charles Somers. The American League threatened legal action. By early March Kahler was back in the Naps spring training camp with a reported $6,500 contract.36 According to Kahler, the Federals were unable to stand behind theirs.37
While Cleveland was Kahler's home for baseball in 1914, he was a Nap for only a short time. He appeared in but two games for what turned out to be a last-place team. In his last major-league start (against Detroit on April 19), he lasted 8⅔ innings but was tagged with a 7-6 loss. On May 4, his last big-league work, he pitched five innings of relief, allowing two earned runs in a loss to the Tigers.
Shortly thereafter he came down with tonsillitis. When the team departed on an Eastern swing, he was unable to make the trip. Instead he was assigned to pitch for the Cleveland Bearcats (a.k.a. Scouts), formerly the Toledo Mud Hens, an American Association team also owned by Charles Somers.38 During the remainder of the 1914 season, Kahler was one of three workhorses for the fifth-place Bearcats. In 38 appearances he pitched 238 innings, finishing the season at 15-11.
During the offseason Kahler assisted with the Ohio University football and baseball teams. In the spring of 1915, he again pitched briefly for Cleveland in the American Association, now renamed the Spiders. In five games his record was 0-3. In June his contract was purchased by the Portland Beavers, a struggling franchise in the Double-A Pacific Coast League. He debuted on June 13 with a 6-4 win over Salt Lake City. Expectations for Kahler ran high; by one report, his contract made him the highest-paid player in the league.39 Early on it looked like a fine deal — Kahler twirled a one-hitter in defeating San Francisco on June 23.40 Overall, though, he did not excel. He finished the season 9-17, walking more batters than he struck out and giving up 210 hits in 211⅔ innings. In October he was advised that his contract would not be renewed.41
No longer a desired commodity, Kahler bounced around the Western minor leagues in 1916. In January his contract was sold to Lincoln (Nebraska) of the Class A Western League. He refused to report and negotiated briefly with an Arizona outlaw league team.42 Instead he returned to the PCL, this time for the Los Angeles Angels. His stay was brief. In seven appearances he went 2-1, but his 4.85 ERA did not impress. He was released on July 30 and continued bouncing around. In early August Kahler had signed a contract with Oroville of Northern California's semipro Trolley League.43 Six weeks later he announced he was quitting baseball to return to Athens, where he planned to coach the Bobcat pitchers the next spring.44
Kahler's retirement proved short-lived. In February he was in the spring camp of his previous employer, the Columbus Senators. It was revealed that his pitching troubles the previous season were linked to poor health, namely a serious case of gingivitis that began in 1913 and resulted in the loss of 25 teeth in 1916. Because he could not eat, he lost weight and experienced weakness.45 What was left unsaid was that for the past few years, if not longer, Kahler had been suffering from what we now call Type 1 diabetes at a time when insulin was either nonexistent or at best experimental. Diet was the only way to control the chronic disease.46
The 1917 stay in Columbus lasted until June. After a stop with American Association foe Milwaukee, he finished the season and his baseball career compiling a 10-3 record for Muskegon (Michigan) of the Class B Central League.
After baseball Kahler lived a productive life. In a 1914 article he had expressed a lifelong interest in practicing medicine.47 Thus, it was no surprise in 1918 when he enrolled in the American School of Osteopathy in Kirksville, Missouri, the world's first school of osteopathic medicine. He graduated in 1921 as class valedictorian. His wife graduated from the school the following year.48 The couple practiced together at the new Detroit Osteopathic Hospital.
In early 1924 Kahler entered a sanitarium in Battle Creek, Michigan, where despite insulin treatment and surgery his condition turned critical. On February 7, 1924, at age 34, he died from multiple causes resulting from his diabetes.49 He is buried in West Union Street Cemetery, Athens.
A sports columnist in Columbus, sensing Kahler's imminent death, summed up "Crum" Kahler and what might have been, stating that "although he looked the picture of health, Kahler was anything but a well man most of the time he was in Cleveland." Telling his readers that "Kahler was one of the finest men [I] ever met," the columnist closed by saying, "[I]t does seem a pity that in his case fate has intervened to spoil what otherwise would have been a brilliant career in athletics."50
Joe Birmingham, Connie Mack, Addie Joss and many others would no doubt agree.
Acknowledgments
Thanks to Ohio University Archivist and Records Manager William Kimok for his considerable contributions to this biography, which was reviewed by Rory Costello and Len Levin and fact-checked by Alan Cohen.
Sources
Magazines
Kenneally, Daniel. "Old Ball Game," Southeast Ohio, Spring 1911.
Online Sources
Ancestry.com.
Baseball-Reference.com.
George R. "Crum" Kahler Scrapbook, Mahn Center for Archives and Special Collections, Ohio University Libraries, ohio.edu/library/collections/archives-special-collections, accessed October 15, 2019.
Retrosheet.org.
Archives
Baseball Hall of Fame Library, player file for George R. Kahler
Notes
1 "Joe Birmingham Touts Pitcher Kahler Warmly," Cleveland Plain Dealer, May 7, 1912: 9.
2 George R. Kahler Certificate of Death, Michigan Department of Community Health, Division for Vital Records and Health Statistics, Lansing, Michigan, Death Records, 1867-1952, accessed August 6, 2019, at ancestry.com. See also George R. Kahler grave marker, U.S., Find A Grave Index, 1600s-Current, accessed August 6, 2019, at ancestry.com.
3 The Kahler name, of German origin, frequently appears incorrectly spelled in print as "Kaler." See "A Nap Pitcher's Correct Name," unsourced, undated news clipping, Baseball Hall of Fame Library, player file for George Kahler. In addition, on Kahler's death certificate (see Note 2) his father is listed as James. His mother is often named Sallie. The confusion with Kahler's middle name stems from the two almost interchangeable spellings of his mother's maiden name as Runnells or Rannells. Kahler's nickname, "Crum," is of unknown origin and sometimes spelled "Krum." See Kahler's signature at "Christmas Greetings," Wilbur Harrison Smith Bohm Collection, Museum of Osteopathic Medicine, museum @atsu.edu, accessed July 9, 2019.
4 Entries for household members under George Kaler, McArthur, Vinton, Ohio, 1880 United States Federal Census, accessed August 7, 2019 at ancestry.com.
5 Gallipolis (Ohio) Journal, January 27, 1892: 5, accessed September 5, 2019 at ancestry.com.
6 Entries for household of Sarah R. Kahler, Athens, Ohio, 1910 United States Federal Census, accessed on August 6, 2019 on ancestry.com.
7 "New Captain of Football Team," Athens Daily Messenger, December 6, 1906: 1. See also Columbus Dispatch, December 6, 1906: 15.
8 "Ohio Will Induct Six into Hall of Fame," Ohio University Post, October 25, 1966: 3. The article states that Kahler was a 1908 graduate of the school. However, per email correspondence dated July 16, 2019, from Brenda Cox, assistant registrar, Ohio University, he never earned a degree there.
9 "Wesleyan Worsted by Ohio," Columbus Dispatch, April 19, 1908: 17.
10 "Ohio Claims State Honor," Columbus Dispatch, June 21, 1908: 13.
11 "Newark Signs Young Kaler, Columbus Dispatch, July 15, 1908: 11.
12 "Kaler Wished He Was Back," Lima (Ohio) News, January 6, 1911: 8.
13 "Sign Two Boys of Newark," Columbus Dispatch, August 18, 1908: 11.
14 "Kaler Will Coach His Old Mates," Columbus Dispatch, January 16, 1909: 6.
15 Kahler was enrolled at Ohio University on a full- or part-time basis during some point in 1909, 1910, 1914, 1915, 1916, and 1917. Email correspondence, July 16, 2019, Brenda Cox, assistant registrar, Office of the University Registrar, Ohio University. As for his time in Morgantown, see "George Kaler to Coach West Virginia Nine," Pittsburgh Press, January 13, 1911: 27 and "To Study Medicine During the Season," Dayton Herald, March 16, 1911: 10, where Kahler states, "I went into baseball because it gave me money for my medical education."
16 "Kaler Was Effective," Columbus Dispatch, August 1, 1909: 14.
17 "Geyser's Sale No Surprise," Columbus Dispatch, August 20, 1909: 14.
18 "Kaler Relieves Pickett and Gets Credit for a Neatly Earned Victory," and "Dope For The Fans," Columbus Dispatch, August 29, 1909: 13.
19 "Carrisch Will Teach Kaler Fine Points," Columbus Dispatch, March 30, 1910: 15.
20 "Kaler Strikes Out Even Dozen Saints," Columbus Dispatch, June 26, 1910: 13.
21 "Pitcher Kaler Is Sold to McGuire," Columbus Dispatch, July 30, 1910: 6.
22 Columbus Dispatch, August 4, 1910: 11.
23 "Salary Raise Given Kaler," Columbus Dispatch, August 8, 1910: 6.
24 "Naps Turn Defeat into Victory," Cleveland Plain Dealer, August 14, 1910: 15.
25 "Mack Likes Kaler's Looks," unsourced, undated news clipping, Kahler Scrapbook: 13, accessed October 3, 2019.
26 "Lajoie Drops in Auto Race," Cleveland Plain Dealer, October 9, 1910: 17.
27 Addie Joss quoted in unsourced, undated news clipping, Kahler Scrapbook: 25.
28 Columbus Dispatch, May 17, 1911, 13, and May 28, 1911: 16.
29 Columbus Dispatch, May 28, 1911: 16.
30 Bill James and Rob Neyer, The Neyer/James Guide to Pitchers (New York: Simon & Schuster, 2004), 262, citing The Sporting News, October 1, 1914. The baseball was roughened using emery paper to cause it to break unnaturally.
31 "Kaler Gets $600 Bonus," Columbus Dispatch, October 10, 1911: 11.
32 "George Kahler Is Not Worried by Ty Cobb," Cleveland Plain Dealer, April 21, 1912: 5C.
33 "Kahler Has Run-In with Cobb and Then Shuts Out Bengals," unsourced, undated news clipping, Kahler Scrapbook: 32.
34 "Former Star of Columbus Pitching Staff Claims Childhood Sweetheart as Bride," Columbus Dispatch, November 7, 1913: 1.
35 "Jeers of Cleveland Fans Have Caused Former Lima Hurler to Flop to Feds," Lima News, February 1,1914: 4.
36 "Kahler and Blanding Jump Back to Naps?" Columbus Dispatch, March 1, 1914: 16; "Kahler Now in Nap Camp," Cleveland Plain Dealer, March 8, 1914: 17.
37 "Says Feds Cannot Live Up to Promises," Daily Gate City (Keokuk, Iowa), March 10, 1914: 6.
38 C.L. Kirkpatrick, "Scouts Will Open Home Season with Millers Today," Cleveland Plain Dealer, May 14, 1914: 11. According to the article the "experiment" of Double-A baseball in a major-league city was driven by economics (poor attendance in Toledo) and the idea of discouraging the Federal League from placing a franchise in Cleveland.
39 "First Photo of New Beaver Pitcher," Oregon Journal (Portland), June 7, 1915, Kahler Scrapbook: 47.
40 "Seals Drop Double-Card to McCredie's Beavers," Herald-Republican (Salt Lake City), June 24, 1915: 6.
41 "Pitchers for Portland Are to Be Ousted," San Bernardino News, October 13, 1915: 6.
42 "McCredie Denies He Tried to Make Swap," Oregon Journal, February 25, 1916: 10.
43 "Kahler Is Now Bushing It," Oregon Journal, August 9, 1916: 11.
44 "Kahler Quits Baseball," Columbus Dispatch, September 13, 1916: 15; Columbus Dispatch, February 13, 1917: 16.
45 Unsourced, undated news clipping, Kahler Scrapbook: 60. See also "Sporting Comment," Columbus Dispatch, May 11, 1917: 26.
46 Diabetes Mellitus of 10 years duration was listed on Kahler's death certificate as a contributory cause of his death in February 1924. See Note 2. The connection between diabetes and gingivitis is discussed by Tim Newman, "Causes and Treatment of Gingivitis," Medical News Today, medicalnewstoday.com, accessed October 14, 2019. Numerous sources trace the discovery of insulin to 1921-22. Prior to that time a "so-called starvation diet, or under-nutrition treatment" was utilized. See "Insulin and Diabetes Management," National Museum of American History, si.edu/spotlight/insulin-and-diabetes-management/diabetes-remedies-before-insulin, accessed September 5, 2019.
47 "Kahler Will Again Study," Cleveland Plain Dealer, February 15, 1914: 2.
48 Email July 17, 2019, from Christine Gran, research coordinator, Museum of Osteopathic Medicine and ICOH A.T. Still University, Kirksville, Missouri. At the time "education equivalent to graduation from an accredited high school" was a minimum admission requirement. Regarding Kahler's valedictorian achievement and his wife's school attendance, see Kahler Scrapbook: 82.
49 "George Kaler Dead After a Long Illness," Athens Messenger, February 7, 1924: 3.
50 "Tuttle's Tales," unsourced, undated news clipping, Kahler Scrapbook: 83.
Born
September 6, 1889 at Athens, OH (USA)
Died
February 7, 1924 at Battle Creek, MI (USA)
If you can help us improve this player's biography, contact us.
https://sabr.org/sites/default/files/KahlerGeorge.jpg
600
800
admin
/wp-content/uploads/2020/02/sabr_logo.png
admin
2020-02-04 10:55:23
2020-04-09 14:37:27
George Kahler