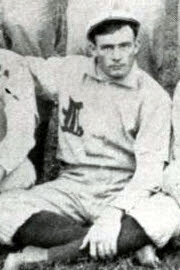 Southpaw pitcher Pete Dowling made his major-league debut with the Louisville Colonels on July 17, 1897, just two days after his 21st birthday, and two days before Honus Wagner played his first game with the same club. Louisville acquired the two in separate transactions, Dowling from Paducah, Kentucky, of the Central League for pitcher Jim Jones and $900, and Wagner from Paterson, New Jersey, of the Atlantic League for an undisclosed price.
The legendary Wagner logged 21 seasons in the Show with a .327 batting average, entered the Baseball Hall of Fame, and died in his 81st year. Dowling's four-year career with three big-league clubs from 1897 through 1901 produced a won-lost record of 39-65, and his life ended at the age of 28 in a tragic train accident.
Henry James Peter Dowling started life on July 15, 1876, in St. Louis, Missouri, the first of seven children born to Irish immigrants Michael J. and Ellen Dowling. According to the 1880 U.S. Census, Michael was employed as a laborer, while Ellen took in washing and ironing.
The sandlots of St. Louis were great places for aspiring ballplayers; one of the early stars of the game, James "Pud" Galvin, came out of the Irish settlement known as the "Kerry Patch" to log 360 major-league victories and earn a plaque in Cooperstown. Several years later other St. Louis sandlotters followed Galvin to the majors, including Jack O'Connor, Silver King, and Patsy Tebeau.
Young Dowling grew up on the local sandlots, and equipped with a live fastball and sweeping curve, joined the professional ranks in 1897 with Paducah of the Class C Independent Central League. No individual statistics are available for the '97 Central League; the six-team circuit disbanded on July 20.
The left-hander was acquired by Louisville several days before Paducah's collapse; he compiled a 1-2, won-lost record in 26 innings with the Colonels. Thirteen players made their major-league debuts with Louisville in '97, including Dowling, Wagner, and Rube Waddell. Pete finished the year in the Western League with Milwaukee, managed by Connie Mack. The 5'11", 165-pounder posted good numbers with the Brewers, completing five of 12 starts and posting a 4-2 mark and 3.04 ERA.
Back up with Louisville in 1898, Dowling completed 30 of 33 starts. His 13-20 won-lost mark and 4.16 ERA mirrored the club's ninth-place performance in the NL standings. The Colonels featured a .300-hitting outfield of Charlie Dexter, William "Dummy" Hoy, and player-manager Fred Clarke; Wagner played first base and batted .299.
In 1899 Louisville finished ninth again, two games below the .500 mark at 75-77. Individually, Hoy and Clarke topped .300, The Flying Dutchman sparkled with a .341 batting average and 114 RBIs, and rookie right-hander Charles "Deacon" Phillippe contributed 21 wins. Dowling led Colonels hurlers in ERA at 3.05, pitched 298 1/3 innings, completed 30 of 33 starts, and was victorious in 13 of 30 decisions.
After the '99 season the National League reduced its ranks from 12 to eight teams, ousting Louisville, Washington, Cleveland, and Baltimore. In 1900 Louisville magnate Barney Dreyfuss became part owner of the NL Pittsburgh Pirates, taking future Hall of Famers Wagner and Clarke with him. Meanwhile, Western League President Ban Johnson, continuing a battle to gain major-league status, changed the name of his circuit to American League.
Dowling's future appeared to be with the Pittsburgh club; however, he was fighting a growing battle with alcohol, leaving his baseball future in doubt. Pete went to Kentucky after the '99 season ended to rejoin his family, now living there on a farm, "Where there is no temptation to get out of condition," as Sporting Life reported in October, 1899. The hurler strayed away from the farm a few weeks later, noted by Sporting Life in its November 18 edition. "Dowling's Escapade" was the caption over the following paragraph: "Pete Dowling, of the Louisvilles, got drunk in Paducah. When he was placed in jail he kicked over a stove, setting fire to the prison. Later he was brought before the police judge, who gave him one hour in which to leave town."
Milwaukee of the new American League purchased Dowling's contract from Pittsburgh in February 1900. Charlie Comiskey's Chicago White Sox bested Connie Mack's Brewers by four games to win the pennant, but Pete turned in a productive season. The southpaw led the Brewers in innings pitched (293), games started (36), complete games (29), and strikeouts (107). His 16 wins tied for second on the club, three behind Bill Reidy's 19.
In 1901 the American League was classified as a major league and Dowling was back in the Show. Outfielder Hugh Duffy replaced Mack at the Milwaukee helm when the Tall Tactician moved to Philadelphia to inaugurate a 50-year reign as owner-manager of the Athletics. Pete started off slowly with the '01 Brewers; after pitching only 49 innings in 10 games, with four starts, he was dealt to the Cleveland Blues on June 1.
Cleveland skipper Jimmy McAleer gave Dowling the ball often; he led the mound corps in innings pitched (256), games started (30), and complete games (28). He threw a pair of one-hit victories over his former Milwaukee club, and compiled an ERA of 3.86. He won only 11 of 33 decisions, however, and the 22 losses remains to this day the most in a season for a Cleveland American League hurler. Coupled with the four defeats with Milwaukee, he dropped 26 contests that season. The left-hand swinger hit his lone home run with the '01 Blues; he left the majors with a .198 career batting average.
Cleveland fired McAleer as manager before the 1902 campaign, and at contract time, Dowling balked at the club's proposal. According to a Los Angeles Times article dated March 12, 1902, the pact included a stipulation whereby a portion of the hurler's salary would be withheld and not paid until he had demonstrated his sobriety over the whole season.
Pete turned down the proviso, and in May headed west to play with Sacramento in the independent California League. He started off on a high note, shutting out Oakland, 1-0, on April 24. After discovering the local watering holes, however, his pitching slacked off; after 20 appearances and a record of five wins and 15 losses, he was released.
The dismissal came on July 12, a month after Dowling had endeared himself to the Sacramento populace by saving three men from drowning. The story was carried in newspapers across the nation. Sporting Life reported the incident as follows: "Pete Dowling, the baseball player, has saved the lives of three men. Patrolman Duhain, Alexander Stevens, and James McGrath were bathing in the Sacramento River. Stevens got into trouble and Duhain went to his aid. They both went down, and McGrath, in trying to get them out, became exhausted and helpless. Dowling dashed into the deep water and succeeded in dragging his companions to a sand bar."
Veteran player-manager John McCloskey, known as "Honest John," was very familiar with Dowling's pitching skills. A native of Louisville, McCloskey had piloted the Colonels briefly prior to Pete's arrival there in 1897, and was managing Butte in the Class B Pacific Northwest League in '02. He contacted the southpaw after hearing of his termination by Sacramento and offered a contract, again with a key provision: lay off the booze.
After signing a temperance pledge in the presence of McCloskey and a Catholic priest, Pete helped the Miners capture the league pennant by a three-game margin over Seattle. Individual pitching records for the Pacific Northwest League's 1902 season are unavailable; scattered news reports indicate that Dowling and three other former major leaguers (right-hand hurler Skel Roach, outfielder Walt Wilmot, and infielder Frank "Piggy" Ward) played key roles in Butte's championship year.
In 1903 Butte became a member of the Pacific National League, a new Class A circuit consisting of eight teams. Dowling returned, as did Roach, Wilmot, and Ward. McCloskey chose to manage San Francisco in the new circuit. Pete turned in an outstanding year in '03; the 26-year-old lefty led the loop's hurlers with 30 wins and 249 strikeouts. With a won-lost record of 85-62, the Miners outdistanced Spokane by four and one-half games to win the loop championship. The German-born Roach contributed 22 victories, and Ward and Wilmot each batted over .300.
When the San Francisco franchise disbanded in August, 1903, McCloskey moved on to Salt Lake City in the same league. He was well-aware of Dowling's turnaround season, in stride with other admirers. The November 14, 1903, issue of Sporting Life stated, "Dowling has been playing with Walter Wilmot and 'Piggy' Ward all season, and both veterans look to see him 'make good' in the National League."
Reports circulated that Dowling had been observed by scouts representing Brooklyn and St. Louis of the National League. November writings in Sporting Life were pro and con over whether the Cardinals would tender a contract. They did, and Pete celebrated long and hard over the winter in anticipation of pitching before the home folks in St. Louis. When he arrived at the St. Louis camp in the spring of '04, his return to the bottle had left its mark. Out of shape, run down, and unable to pitch, he was sent to his father's farm to recover. Pete failed to respond, and in June 1904 St. Louis cut ties with the left-hander, returning him to Butte.
Things had changed in the Pacific National League when Dowling returned in mid-season. The loop had been reduced to four members (Boise, Butte, Salt Lake City, and Spokane), resulting in its reclassification to Class B. The Walt Wilmot-piloted Miners finished in third place, 27 games in arrears of the Boise club managed by John McCloskey. In 21 games, Pete posted eight wins and 12 losses.
He wore a new uniform in 1905, as Ogden replaced Butte in the lineup of Pacific National clubs. In his fifth start of the season on May 20, he was struck in the face by a line drive off the bat of a Boise player and left the game with a broken jaw. Ten days later he was released in a move Ogden management made to reduce salary on a club that, along with the loop's other members, was on shaky financial ground. When Salt Lake City withdrew on June 20, the Pacific National League disbanded.
Pete left Ogden with an even split in four decisions, and the hurler's downward spiral continued. He signed to pitch for an independent semipro club in La Grande, a town of some 4,000 located in eastern Oregon. La Grande played against neighboring teams in Pendleton and Baker City, Oregon, and Walla Walla, Washington.
Scheduled to pitch over the Fourth of July weekend in La Grande, Dowling had gone to Hot Lake, a village nearby, to sober up after a reported heavy drinking spree. On the night of June 30 he was ticketed for La Grande, but missed the train at the Fox Lake station. He chose to walk along the tracks toward La Grande, and a short time later was unresponsive to the whistle of an oncoming train. He was killed instantly by the impact, with his head completely severed.
The remains of 28-year-old Henry James Peter Dowling were gathered and buried in the Odd Fellows Cemetery in La Grande. Letters from the Dowling file at the Baseball Hall of Fame indicate that attempts were made to locate a death certificate, but neither the Oregon State Health Division nor the Oregon State Library were able to find one. The July 1, 1905, edition of the La Grande Evening Observer stated, "He (Dowling) and his wife arrived here from Ogden, Utah, on June 4." This writer was unable to find another reference to a spouse.
The Seattle Daily Times of July 4, 1905, reported on Dowling's passing: "When he was sober there was not a more decent chap in the business than this same erratic southpaw. McCloskey had tears in his eyes when talking about Pete yesterday. Mac was the only man who could manage Dowling.
"It was a sad ending to a brilliant career. He was as tender hearted as a woman and generous to a fault but he could not let liquor along and his end was a tragic one."
John McCloskey returned to the major leagues in 1906 to manage the St. Louis Cardinals. He remained there for three seasons, never piloting the club higher than seventh place. One can only speculate what contribution Pete Dowling might have given his hometown Cardinals, under the watchful eye of Honest John.
Sources
Baseball Hall of Fame Library, player file for Pete Dowling.
Statistics from Dowling file of SABR founding member Ray Nemec.
Lloyd Johnson and Miles Wolff, eds. The Encyclopedia of Minor League Baseball (Baseball America, 2007).
Ancestry.com
Baseball-Reference.com
GeneologyBank.com
LA84foundation.org
Retrosheet.org