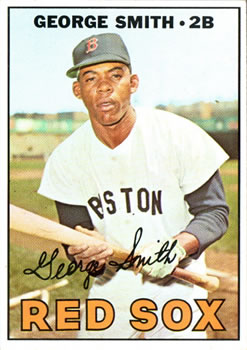 ---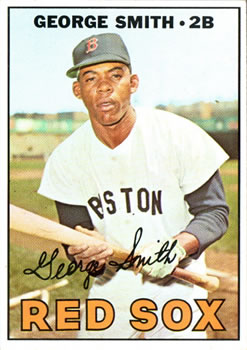 Second baseman George Cornelius Smith played professional baseball for 14 seasons, mostly in the minor leagues, but with two years in the Negro Leagues and four in the major leagues.
Smith was born in St. Petersburg, Florida, on July 7, 1937 or 1938.1 He attended David Elementary School and graduated from Gibbs High School, where he was all-state at football.2 His parents were Wallace and Johnnie Ruth (Nelson) Smith. George had a brother, Wallace Smith Jr. His father Wallace, an Army veteran of World War II and member of the Disabled Veterans of America, is found listed in St. Petersburg city directories as a "laborer" and, in 1959, as a driver for Orkin Pest Control. His 1989 obituary in the St. Petersburg Times said his last position was working for 15 years for Dandee Bakery Industries.3 Johnnie Ruth Smith had also been a Gibbs graduate, with a degree in cosmetology. She owned and operated a beauty salon and also served in later years as a janitorial supervisor for E-Systems.4
George first appears in the historical record as playing in two 1955 games for the St. Petersburg Saints, collecting one base hit in nine at-bats.
Smith took a job in St. Petersburg working as a roof repairman, then "quit his sure-pay job for an exhausting summer of exhibition baseball at even lower wages and longer hours," talked into joining the traveling Indianapolis Clowns baseball team by player/manager Ed Hamman, a fellow St. Petersburg resident. "It was something," Smith recalled. "We played 200 games that summer. Rode a bus everywhere. It was play ball…ride the bus…play ball…ride…ride." Hamman said later, "The pay wasn't much either. We don't promise the boys much money. We merely give them the opportunity to be found by major league scouts. Once Hank Aaron had a great year for us. He got one of our few bonuses. He got a new suitcase and a suit of clothes."5
In 1956 and 1957, Smith played second base for the Indianapolis Clowns. He impressed those who saw him play on a regular basis. Pitcher (and later Clowns player/manager) Carl Forney said, "The best ballplayer we had out there during my time was George Smith. That man could play some second base."6 Team owner Syd Pollock's son Alan said, "Dad offered Smith to the Braves, but their scouting reports were not favorable and they declined to sign him. But Dad was persistent in bringing him to the attention of the major league franchises and in July 1958, the Detroit Tigers purchased his contract."7
Smith said that after a game in Flint, Michigan when he went 3-for-4, "That's when Detroit got interested and bought me." Hamman didn't disagree but added, "I had notified birddog scouts long before Flint that the Clowns and Smith were moving in. They knew about him. Flint most likely clinched the deal."8 The transaction reportedly was for $7,500. Hamann said, "The Clowns have never had a player as gentlemanly as was George Smith. He was perfect with us and we hated it when he left."9
George and Dorothy Jean Felton had married on March 24, 1957.10
The Tigers placed him with the Durham Bulls in the Class-B Carolina League. In 83 games during the 1958 season, Smith hit .227 in an even 300 at-bats. He drew half as many walks (34) as he had base hits (68), and achieved a .318 on-base percentage. He committed 12 errors in 390 changes (.969).
Smith was a right-hander standing 5-foot-10 and listed at 170 pounds.
In 1959, he began the season with Durham but after just 11 games (during which he hit .238) he was assigned to the Duluth-Superior Dukes in Class-C ball (Northern League). With the Dukes, he played in 107 games, driving in 30 runs but scoring 61. He hit for a .237 batting average.
In 1960 and 1961, and almost all of 1962, Smith played in Knoxville for the Smokies of the Class-A South Atlantic League. He was limited to just 41 games in 1960 and hit for a .233 average, but the next two seasons saw him improve significantly at the plate. In 1961, he played second and third base, appeared in 104 games, and hit .251. In 1962, in 121 games, playing more often in the outfield but also at third base, he hit .292 (with a .373 on-base percentage), scored 90 runs, and collected 45 RBIs. He also played in five games for the Triple-A Denver Bears, going 7-for-18 (.389).
Smith was elevated to Triple A for 1963, playing second base for the Syracuse Chiefs. His batting average suffered, hitting just .225 in 111 games – but when Detroit's Jake Wood suffered a finger injury that required surgery, Smith got a call to the big leagues, and played in 52 games for the Detroit Tigers. He was 0-for-3 in his big-league debut, playing second base and batting eighth on August 4 against the Cleveland Indians. His second game was against the Boston Red Sox on August 6 – and he was 3-for-4 with two doubles and a triple and three RBIs. And followed that the next day with a 2-for-4 game. Smith played steadily for the remainder of the 1963 season, appearing in 52 games and collecting 195 plate appearances. His batting average was .216 (.298 on-base percentage) and he had 17 RBIs.
In 1964, Smith returned to Syracuse and played 151 games, batting .267 with a career-high 48 runs batted in. In September, he was called up to Detroit and appeared in five games, going 2-for-7 with a couple of runs batted in.
Smith started the 1965 season with the major-league club, but was only batting .118 when it came time to trim rosters. He was sent to Syracuse again, this time playing in 91 games (hitting .259) before being called back up in late August. He hit even less effectively in this second '65 stint with the Tigers, getting only three base hits in 37 plate appearances and finishing the season with a .094 average.
After eight years in the Tigers organization, Smith was packaged in a trade with the ninth-place Boston Red Sox on October 4, 1965. The Tigers acquired pitcher Bill Monbouquette and sent both George Smith and George Thomas to the Tigers, with Jackie Moore as a player to be named later (much later, as it happened – on October 13, 1966. On the day of the trade, Boston manager Billy Herman said it would be the first of many trades. Of giving up the veteran starter Monbo, he said you have to give to get, that the Sox believed they had several young pitchers coming along, and that Thomas would give them better defense in center field and right-handed power. Of Smith, "he said he had seen very little of the colored infielder but had very good reports on his defensive skill. 'And that's what we need, defensive help.'"11 Herman said Smith had speed and would likely be the fastest man on the 1966 Red Sox, that he had "a fine arm, good range and could make the double play" as well as play several infield positions. He added, "They offered us six or seven other players, but we wanted Smith."12
Smith played more games for the Red Sox in one year than he had for the Tigers in the three years he had been up and down with Detroit. He endured something of a strikeout streak to start with, striking out 12 times in his first six games with the Sox. He struck out his very first time at bat, leading off for Boston on Opening Day, but had a 2-for-6 day at the plate.
Smith's biggest thrill playing for the Red Sox – who finished in ninth place again – had to be the second game of a July 10 doubleheader at Fenway Park hosting the White Sox. He came to bat facing Juan Pizarro in the bottom of the 10th inning with the bases loaded and hit a grand slam to win the game, 10-6.
He played in 128 games, mostly at second base but in 19 games at shortstop, where he proved more defensively challenged (a .913 fielding percentage). At second base he was .969. At the plate, Smith hit for a .213 batting average, scoring 41 runs and driving in 37. Several weeks before the season was over, it was clear the Red Sox were going to be looking for a more permanent second baseman come 1967. Bill Liston wrote in the September 8 Boston Traveler, "The Red Sox also would like to come up with a new second baseman. George Smith did the stop-gap job he was asked to do this season but his hitting has fallen off the last half of the year and it is believed Herman would like to make a change there."13
Red Sox ownership made another change first, firing Herman the very day the Liston story was published and replaced by interim manager Pete Runnels. Dick Williams was soon named Red Sox manager for 1967 and he ultimately elected to go with Mike Andrews as his second baseman, though Reggie Smith was tried out there as well for a time.
George Smith had played winter ball in Venezuela for the Navegantes del Magallanes, signed his Red Sox contact for '67, and joined the team for spring training. He was expected to serve a utility infield role, primarily as backup for shortstop Rico Petrocelli. On March 4, however, he tore the ligaments in his right knee and was sent back to Boston from Winter Haven for cartilage surgery that was anticipated to sideline him for all of April and May, but in fact took longer than expected to heal.
On July 15, the Red Sox acquired Norm Siebern on waivers from the San Francisco Giants. They released Galen Cisco and also optioned George Smith – then ready to play – to the Phoenix Giants, San Francisco's Triple-A team in the Pacific Coast League. Smith remained Red Sox property, however.14 He played in 46 games for Phoenix, batting an even .200.
The Impossible Dream Red Sox won the American League pennant in 1967, and when it came time to divide up the shares of World Series money, George Smith was not forgotten. He was voted a one-third share.15
In 1968, Smith began the season in the International League, playing for the Buffalo Bisons, the Triple-A affiliate of the Washington Senators but still on a Boston Red Sox contract. In 22 games he hit for a .325 batting average, when he was transferred to the Oklahoma City 89ers on May 14, "part of a deal between the Astros and Red Sox, who own Smith's contract."16 He was unhappy with the transaction. "I had all the confidence here (in Buffalo) that I was on my way to my best season. Now it's like starting all over again."17 Self-fulfilling prophecy or not, he hit just .186 in 11 games for Oklahoma City and they were his last games in professional baseball.
After the 1968 season, Smith retired.
After leaving baseball, Smith worked as a physical education teacher and recreation aide at the Lake Vista Community Center in St. Petersburg.18
Smith died of cancer on June 15, 1987, at the reported age of 49, at Bayfront Medical Center in St. Petersburg. Both parents survived him. He had divorced in 1969, but left seven daughters (Valerie, Joyce, Natlie, Phillistein, Georgina, Janice, and Annetta) and three sons (Gerald, Andre, and George Jr.), as well as 14 grandchildren.
Acknowledgments
This biography was reviewed by Norman Macht and fact-checked by Kevin Larkin.
Sources
In addition to the sources noted in this biography, the author also accessed Smith's player file and player questionnaire from the National Baseball Hall of Fame, the Encyclopedia of Minor League Baseball, Retrosheet.org, and Baseball-Reference.com. Thanks to Rod Nelson of SABR's Scouts Committee. Thanks to SABR member Bill Mortell for invaluable help with Smith's genealogy.
Notes
1 Standard sources give the year of his birth as 1937, but Smith himself gave 1938 when completing the player questionnaire which is on file at the National Baseball Hall of Fame, perhaps in an effort to appear one year younger than he was.
2 "Mr. George C. Smith, 49," St. Petersburg Times, June 16, 1987.
3 "Wallace Smith Sr, 76," St. Petersburg Times, September 3, 1989.
4 "Johnny Ruth Smith, 77," St. Petersburg Times, March 20, 2000.
5 Jimmy Mann, "Tigers May Decide To Let George Do It," St. Petersburg Times, April 2, 1965: 3-C.
6 Alan J. Pollack, Barnstorming to Heaven (Tuscaloosa: University of Alabama Press, 2006), 281.
7 Ibid.
8 Jimmy Mann.
9 Ibid.
10 Player questionnaire in Smith's player file at the National Baseball Hall of Fame.
11 Henry McKenna, "Sox Trade Monbouquette," Boston Herald, October 5, 1965: 33.
12 Ibid.
13 Bill Liston, "Hose Must Find Stopper for '67," Boston Traveler, September 8, 1965: 24.
14 "Red Sox Get Norm Siebern from Giants," Boston Record American, July 16, 1967: 24.
15 "56 Get Sox Series $," Boston Record American, October 31, 1967: 5.
16 "Deal Displeases Smith," The Sporting News, June 1, 1968: 34.
17 Ibid.
18 "Mr. George C. Smith, 49," St. Petersburg Times, June 16, 1987.
Born
July 7, 1937 at St. Petersburg, FL (USA)
Died
June 15, 1987 at St. Petersburg, FL (USA)
If you can help us improve this player's biography, contact us.
https://sabr.org/sites/default/files/SmithGeorgeC.jpg
600
800
admin
/wp-content/uploads/2020/02/sabr_logo.png
admin
2018-03-29 14:01:41
2021-09-17 01:14:43
George Smith