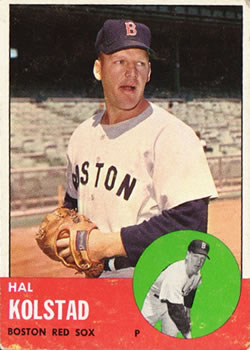 ---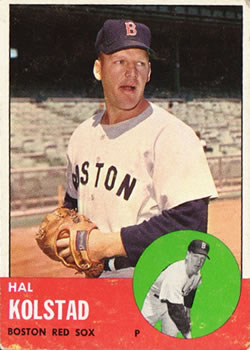 Hal Kolstad had an unfortunate record as a major-league pitcher, losing four games without a win to his credit. It certainly didn't help that he pitched for the eighth-place Boston Red Sox in 1962 and the seventh-place Sox in 1963. But he had a very solid 67-67 record in minor-league baseball, mostly at a high level, with a career 3.48 earned run average.
Harold Everette Kolstad was a right-hander, born in Rice Lake, Wisconsin, on June 1, 1935. His father, Martin, was a dairy farmer. His mother, Emma Lina (Schulthess) Kolstad, helped raise at least eight children, six boys and two girls. Hal was the sixth-born. The family was of Norwegian descent. Hal grew to become 5-feet-10, and is listed at 195 pounds.
In 1943, during the Second World War, Martin Kolstad joined the war effort and brought the family to California where he worked as a machinist in the shipyards at Richmond. The Depression may have been a factor in the move west as well. "Around 1945 or 1946, just after the war, we moved down to Watsonville. We leased some property and tried to make a go of raising some berries — loganberries — but that was kind of fruitless."1 The family made do and stayed in Watsonville through Hal's high school years. "Those were some tough times for all of us, but we were a tight family. We made it."2
As a child, Hal attended the E.A. Hall Middle School in Watsonville and graduated in 1953 from Watsonville High, where he was All-League in both baseball and football. He went to Hartnell Junior College in Salinas, where he was the baseball team's MVP and was named to the All-Conference team. He ultimately graduated from San Jose State College with a bachelor's degree in 1957. In that year, he was named to the N.C.A.A. All-District Eight team.
At age 21, he had married Nancy L. Self on September 3, 1956. The couple has remained married for more than 60 years.
Kolstad was signed to a professional contract by Red Sox scout Charlie Wallgren.3 Wallgren got the credit in the annals of baseball but perhaps a now-unknown train conductor should share credit. Red Sox GM Joe Cronin said he was sitting in the club car of a train heading from Chicago to California when the conductor engaged him in conversation. He said he'd recognized Cronin and was a big baseball fan. Cronin urged him to sit down. The conductor asked, "I have a friend who has a boy who seems to be a pretty good pitcher. How can he get a tryout with some major league club?" Cronin replied, "Write me the boy's name and his address on this piece of paper and I'll have one of our scouts take a look at him." He then put the paper in his pocket and forgot the conversation. Several days later, when having lunch with a Red Sox scout, he reached into his pocket for a piece of paper to take some notes and rediscovered the paper already there with the name "Kolstad" on it. Cronin said, "At first glance I couldn't recall where I had picked up that name. Then suddenly I remembered it was the name of a pitching prospect the conductor had given me on the train. So after listing the names our scout was giving me to write down. I said, 'Now you have given me five names. I'll give you one. Here's a kid who's supposed to be a good pitcher but he lives somewhere where nobody seems to know anything about him. He may be a diamond in the rough. Dig him up when you have some time." The scout took it as more than a casual suggestion, hopped right on it, "and signed him without too thorough an examination."4
Hal was signed to a San Francisco Seals contract, then optioned to Oklahoma City. He was first placed with the 1957 Greensboro (North Carolina) Patriots in the Class-B Carolina League, managed by Len Okrie. He got his feet wet, appearing in 11 games (four of them starts) and was 1-3 (5.77). In 1957, he also appeared in one game for the Class-A Eastern League's Albany Senators, working three innings on July 27 and giving up eight earned runs. He was returned to the Pats on August 5, and finished the season in Greensboro.
Hal's younger brother, Harvey, pitched for a while in the Kansas City organization, though Harvey had started in 1956 (0-1 for Grand Island in the Nebraska State League); in 1957 he was a combined 7-8 with a 9.51 earned run average, for the Sooner State League's Seminole Oilers and the Mattoon Athletics in the Midwest League.
Hal pitched the 1958 season in Class D for the Midwest League's Waterloo Hawks. He got in a good year, 16-7 (2.36) with 250 strikeouts in 198 innings. On August 8, he threw a one-hitter for Waterloo, beating Dubuque, 11-1.
In 1959, Kolstad was back in the Eastern League to stay, working for the Allentown Red Sox (12-13, 3.64), at one point throwing 28 consecutive shutout innings.
Kolstad was never much of a batter; his career minor-league batting average in 439 plate appearances was .121.
The Red Sox saw promise in his pitching, however, and from 1960 on he was either in Triple A or the majors. First came Triple A, where he was 10-11 (3.45) in the American Association for the Minneapolis Millers. In October, he was promoted to the major-league Red Sox roster for the first time, in order to protect him from the minor-league player draft. He was apparently a pretty well-regarded prospect at the time. The Boston American wrote, "The majority of American Association people think more highly of this Californian than they do of [Don] Schwall."5
In 1961, Kolstad joined the Red Sox for spring training in Scottsdale. He earned a positive remark from pitching coach Sal Maglie in early March: "Among the newcomers, I'd say Hal Kolstad has shown the most stuff up to now."6 Nine days later, Maglie was still singing his praises, especially for his sinker.7 He was considered the surprise of the spring, but come April 19 he was optioned to the Pacific Coast League's Seattle Rainiers on 24-hour recall. "He'll work on his change to go with his fastball and curve," said manager Mike Higgins.8
Kolstad also credits Mace Brown for his work with the pitchers during spring training.
Kolstad spent most of the rest of his career pitching for Seattle. In 1961 he was 11-8 (3.78) in 27 games, all but one of them in a starting role. In early September, he was once again called up, on paper, to the big-league team and looked forward to another spring training with Boston.
This time he made the team. He'd heretofore primarily worked as a starter. With the 1962 Red Sox, he was asked to work out of the bullpen. His first game was on April 22 at Fenway Park, pitching the top of the ninth in a game the Detroit Tigers led, 8-6. He got an out, walked a man, and then secured a double play. Two other Red Sox pitchers made their debuts the same day — Ike Delock and Arnold Earley.
On the 29th, he had another full, hitless inning. It wasn't until his third appearance that he surrendered his first base hit, on May 11. Over his first six appearances, he gave up no runs. The first run scored off him was an uneventful one in two innings of work on May 30.
Kolstad's first decision was a loss on June 8. With runners on second and third and nobody out in the top of the 12th, he was asked to come in and stop the Indians. He got out of the inning unscathed, but Boston failed to score in the bottom of the inning. In the top of the 13th, with one out, he hit John Romano. Willie Kirkland then homered into the center-field seats. Manager Higgins left him in, and before the inning was done, Kolstad had been pounded for three hits, four walks, and six runs. Boston lost, 15-9. The very next day, he pitched two more innings and gave up five more runs (four earned), but was not involved in the decision.
He continued to work four or five times a month, picking up a second save on September 12. On the 15th, he had his second decision of the year, a loss to the Yankees. He gave up two runs in relief in the top of the eighth, giving New York a 5-1 lead, but then his teammates gave him a chance for victory, scoring five runs to take a 6-5 lead in the bottom of the eighth. In the top of the ninth, he gave up two more runs and was replaced. The Sox lost, 9-6.
For the year, he was 0-2 in 27 appearances, with an ERA of 5.43 over 61 1/3 innings. After an injury to Ike Delock, Kolstad was given two spot starts in August, both lasting more than six innings but neither ending in a decision for him. In the second game of the August 5 doubleheader against the visiting Washington Senators, the score was 4-4 after seven full, and Dick Radatz took over for Kolstad. The Red Sox won it on an error in the bottom of the 11th. On August 19, in the second game of a doubleheader in Minnesota, he pitched 6 1/3, and left the game with a 4-2 lead, but two runners he had left on base scored after Galen Cisco came on in relief. The Twins won in the end, but Kolstad had neither a win nor a loss.
Johnny Pesky, who had managed Seattle in 1961, took over as Boston manager in 1963. Kolstad began the season with the Red Sox, but got off to a rough start. In his first game, on April 14, he was clobbered for four runs in relief and was saddled with the loss to Washington. He had a good outing on the 21st, pitching two scoreless innings, but was hammered for eight runs in a 14-3 loss in Kansas City that only lasted five innings. Ike Delock was the losing pitcher. On May 9, Kolstad was optioned to Seattle.
He was 2-1 with Seattle when Gene Conley needed to go on the disabled list; Kolstad was recalled on June 27. He pitched in four more games — June 30, July 4, July 16, and July 17. He was tagged with the loss on July 4, in the first game of a doubleheader in Cleveland. It was the bottom of the 14th inning. He faced one batter, Jerry Kindall, who swung at the very first pitch and homered to left field. His last appearance, on the 17th in Kansas City, was in a game the Sox were already losing, 4-1. Brought on in the bottom of the eighth, with two outs and the bases loaded, the first batter he faced — George Alusik — hit a grand slam on the second pitch he saw. That made four home runs in the 10 innings since he'd been brought back from Seattle. When the Sox signed Bob Turley, Kolstad was returned to the Rainiers on July 23. For his season with Seattle, Kolstad was 3-7 (4.22).
He could not have known it yet, but his time in the major leagues was over. His stat line is 0-4 (6.59), in 72 1/3 innings.
Kolstad pitched two more full seasons for Seattle. In 1964 he was 11-9, with a league-leading six shutouts, and a very good 2.75 ERA.
On April 8, 1965, Kolstad had been traded to the California Angels for right-handed pitcher Bob "Ach" Duliba.9 In 1965, Seattle was a California Angels affiliate, so even though Kolstad was still pitching for Seattle, he was now with another organization. In 1965, he appeared in 34 games (11 starts) with a 3-9, (4.07) record. He was put on the disabled list on July 21 with a sore elbow, missing time midseason, but returning in August.
"It was just not going to happen to me. It was time to look for other means of making a living. I had always wanted to get into coaching, so I did." He took a position on the faculty of Leigh High School in San Jose, where he coached baseball and football, and taught P.E., driver's ed, and health for 25 years until his retirement in 1990. "We had some success. The C.C.S. [Central Coast Section], which was all of Northern California at that time, we won that a couple of times. It was very competitive. We had some dry periods, too."10
Nancy Kolstad also worked, after their children were in high school. She was a teacher's aide, and also worked at an insurance company for many years.
During his baseball career, in 1962, their two children, Scott (4) and Ron (3). were depicted with Hal in a Boston newspaper article showing them at Fenway Park during the annual Fathers and Sons Day.11 Scott later worked as an engineer at Lockheed, but passed away in October 2012 of melanoma. Ron works as a sales rep for a chemical company. Ron played a little baseball when younger, first as an infielder and then as a pitcher, and played at San Jose State.
In 2011, Hal Kolstad was inducted into the Watsonville High School Foundation Hall of Fame.12
In retirement, "I just keep busy around the house, do all the chores and all that good stuff. I take pleasure in doing a little yard work, but it's getting tougher [laughs.]"13 He still follows baseball, particularly the Northern California teams, the A's and the Giants. The Red Sox brought the Kolstads back to Fenway Park for the 100th anniversary of the ballpark in 2012, where they thoroughly enjoyed meeting over 200 other former Red Sox players. "That was really a thrill. It was nicely done."14
Acknowledgments
This biography was reviewed by Norman Macht and fact-checked by Stephen Glotfelty.
Sources
In addition to the sources noted in this biography, the author also accessed Kolstad's player file and player questionnaire from the National Baseball Hall of Fame, the Encyclopedia of Minor League Baseball, Retrosheet.org, and Baseball-Reference.com.
Notes
Born
June 1, 1935 at Rice Lake, WI (USA)
If you can help us improve this player's biography, contact us.
https://sabr.org/sites/default/files/KolstadHal.jpg
600
800
admin
/wp-content/uploads/2020/02/sabr_logo.png
admin
2017-12-18 13:05:57
2020-04-09 14:40:28
Hal Kolstad