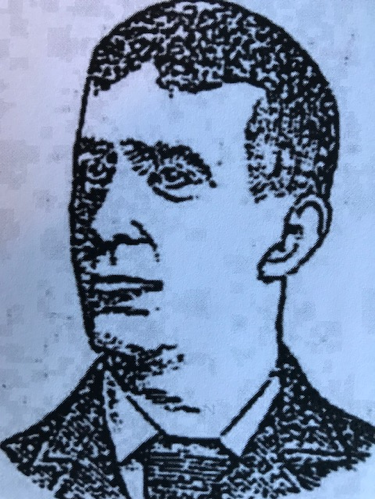 ---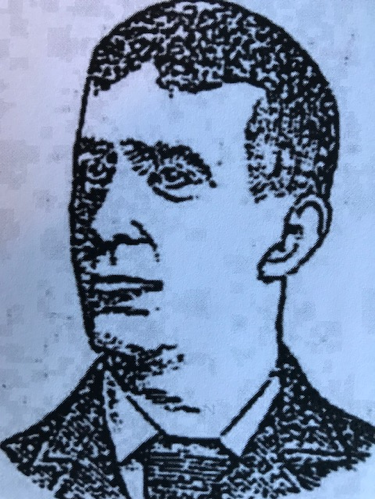 This rare left-handed catcher had a cup of coffee in the major leagues in the fall of 1888. In his two games, though, he managed to get a hit off a Hall of Famer, Hank O'Day (later inducted as an umpire). As an outfielder, he threw another one, Connie Mack, out at the plate. In the minors, he was a batterymate with one of the greatest pitchers of all time, Cy Young, and with another who was an ace in black baseball.
Henry Yaik, the son of German immigrants, was born in Detroit, Michigan, on March 1, 1864.1His parents were Philip, who was a tailor in Detroit, and Margaret (Rosbach) Yaik. Henry was one of the couple's four children. The original spelling of the family's last name may have been Eick or Yaick, until it was settled upon as Yaik.2
Henry Yaik was 5 feet 10 inches tall and weighed 175 pounds. He was "a fine catcher, excellent thrower to bases, hard left-handed hitter and a good base runner."3At the ages of 19 and 20 he played on a skilled amateur club in Windsor, Ontario and on the Cass team of Detroit.4In 1885 Yaik began his professional career in Sandusky, Ohio; he then played two seasons for a club in Mansfield of the Ohio State League.5
In his second season with Mansfield, Yaik posted a .253 batting average with seven doubles and one triple. He was the starting catcher, but also logged playing time at every position except pitcher and center field. A total of ten Mansfield players that season eventually made it to the major leagues, including a future Hall of Famer, Yaik's backup catcher: Ed Delahanty. Despite the team's talent, the 1887 club finished below .500.
The Detroit native then signed to play in the Tri-State League in 1888. The Wheeling (West Virginia) Nailers offered Yaik a $150 cash advance, while he was wintering in Detroit. After he received the first installment of $100, the catcher inquired about the remainder and was told it wasn't going to be paid. Management's response caused Yaik to get "warm under the collar," and he initially declared his intent not to report to the Nailers. However, he soon decided to honor his end of the deal.6By the time Yaik's contract squabble made the press, he was checking into Wheeling's Howell House and preparing for the new season.7As was the case in Mansfield, this Wheeling squad was full of future major leaguers, but the Nailers didn't win the league pennant that year.
An early season exhibition game between Wheeling and the National League's Pittsburgh Alleghenys may have initially introduced Yaik to the big-league club, which he would join later that summer.8There are no compiled individual statistics for the 1888 Wheeling team; however, The Sporting News did print box scores throughout the season. Yaik played catcher and normally batted in the second slot. In the final weeks of their season, he hit a hot streak, which made him marketable.9
The Tri-State circuit experienced financial problems that season. Several franchises folded, and the league disbanded in mid-September.10 Nailers club President Seely was now in the process of selling player contracts to cover his debt; on September 26, Yaik and teenaged outfielder Sam Nicholl went to the Alleghenys, who were mired in the bottom half of the NL standings. The Pittsburgh Press characterized the duo as "very promising young players," with Yaik "one of the best in the league" and Nicholl (the paper mistakenly called him Nicholson) "the hardest batter in the league." According to the paper, both were inked to "fill weak points in the local make-up."11 The 1888 Allegheny club's hitting was anemic, with only one player ending the year above the .280 mark. Yaik and Nicholl joined a club that needed their skills at the plate.
Their excitement at joining the big-league roster was likely tempered by some bad vibes. Nagging injuries plagued the roster and team dissension ran rampant – the old-timers didn't want the new blood to take anyone's job. Alleghenys veterans were said to be "clannish" and known to "freeze a newcomer."12 Manager Horace Phillips was also at the time trying to squash a rumor of a black player joining the club. Phillips announced he wouldn't manage a black ball player and believed there were enough white ones, "without hunting for colored ones."13
The newcomers were among the 14 players who pulled out of Pittsburgh for Philadelphia in late September for a four-game series. It was rumored that Nicholl would start the series opener in left field.14 During the series, injuries hit the club again. Nicholl, backup catcher Fred Carroll, and outfielder Billy Sunday all got hurt. Carroll had committed "two wretched misplays" behind the plate in game three with Philly, and manager Phillips returned to starter Doggie Miller to catch the "very loosely" fielded finale. Management then informed Yaik, who had been on the bench for the Philly series, that he would play his first game as catcher and then be temporarily moved to the outfield.15
In his major league debut on Wednesday, October 3, Yaik caught Harry Staley against Washington. Luckily for him, there were few witnesses at D.C.'s Capitol Park – only about 100 people strolled through the turnstiles on a very cold autumn day. The ball game was dubbed a "hard-hitting" affair, but with enough misplays "to drive one crazy."16 The chilly weather was blamed for much of the bad fielding and both starting pitchers were wild. Yaik batted in the top of the first in his debut and was put out, which ended a four-run spurt. In the bottom of the opening frame, he had a difficult time handling Staley, allowing four passed balls. That wasn't all. Dummy Hoy led off for the Nationals with a walk and then promptly stole second and third base off the rookie backstop. A throwing error in returning the ball to Staley led to a run, as did two of the passed balls.17
The Pittsburgh Daily Post game headline read, "Catcher Yaik Doesn't Make A Brilliant Start." The paper was more forgiving in its story: "He was very nervous, it being his first National League game. His nerves caused him to have more passed balls than he should have had; besides, Staley's pitching was somewhat wild. Yaik, however, despite his mistakes, made a good impression."18 Yaik finished the game with only one more passed balls and no more errors. At the plate, he walked and knocked an RBI single to left field off righty Hank O'Day (who was already umpiring on occasion) in a five-run fourth inning. The game was called after eight innings because of darkness. The Alleghenys won, 13-8, evening their record at 63-63.19
Unfortunately, the next day Yaik didn't fare any better in left field. He was charged with three of his team's six errors in a 5-0 loss to Washington. Even fewer fans (around 50) braved another cold day in the nation's capital. Yaik did record one of Pittsburgh's game highlights. With the bases loaded in the eighth inning, George Shoch lifted a fly ball, which Yaik caught and on a "brilliant" throw nailed the Nationals' Connie Mack at the plate.20 He also had an earlier assist and recorded three putouts. Washington's lefty pitcher, George Keefe, twirled a shutout. Yaik singled for one of Pittsburgh's three hits.
The Pittsburgh Press was critical: "Yaik plays nearly as tough a game in the outfield as he did behind the bat. He is either dead nervous or else too slow for his present company."21 With that assessment, Yaik's major league career came to an end, as he sat out Pittsburgh's final eight regular season games. He remained on the roster and played an exhibition versus Cincinnati at the end of the year.22 The 24-year-old ended his major league career hitting 2-for-6 (.333).
A few days after Yaik's debut. a Pittsburgh newspaper projected next year's Allegheny roster and was unexcited about the club's recent additions. "Nicholl and Yaik…it is not likely that these two players will be reserved. At least they give no promise of being as good as any of the old players."23 The 19-year-old Nicholl struggled more than Yaik, going a paltry 1-22 at the plate in eight games. The clubhouse discussion of the new players continued after the end of the season. The Pittsburgh Press quoted "some of the older Alleghenians" as viewing Nicholl and Yaik as "too light" to return, but added that the pair were "very clever men" and admitted "neither one of them had been fairly tried yet."24 The Sporting News piled on Yaik and noted his weakness was "passed balls."25 Yet despite this negative press, the club surprised by picking up their contracts for the 1889 season.26
Trade rumors hinted that Yaik was headed to Detroit, but Pittsburgh eventually released him in the off-season, so he could sign with his hometown team. The Detroit Free Press was much more complimentary about his baseball skills following his brief stint as an Allegheny. A December report noted Yaik's "very good work" in the National League and described him as a "good hitter, very fast runner, especially to first base and a strong and accurate thrower." As a bonus, the player didn't imbibe "intoxicating liquors." It added that his friends in nearby Windsor, Canada would be excited to see him return home to play in 1889.27 A pre-season story in the Free Press featured Yaik and other homegrown players. It included a picture profile and more glowing praise of his ball talents.28
Unfortunately, the Detroit Wolverines folded in the off-season and the city no longer was going to field a major league club in 1889. It appeared that Yaik would be a man without a team, until Bob Leadley organized a Detroit entry in the International League. That club left for spring training in Richmond, Virginia in late March.29 A few days later, Yaik severely sprained his left ankle during practice when "he stumbled in a hollow spot." The injury was serious enough that he left spring training and returned to Detroit using a cane and limping badly. While home he predicted that the Detroit entry would surprise and was "playing like clockwork" in Virginia.30 For whatever reason – maybe the bum leg was a major factor – Yaik made a single appearance at first base for the Detroit team that season.
Yaik then appears in Davenport, Iowa, where he was reunited with fellow Allegheny rookie Sam Nicholl. Yaik's initial appearance on June 9, 1889 against Quincy, Illinois was a poor one. His performance behind the plate was described as a disaster; pitcher "William Rhines' lightning speed was too much for him." His team's loss was mostly blamed on "the numerous balls which passed him and which allowed the Quincy's to trot the bases with impunity." The Davenport paper added the catcher "may be an excellent backstop and in time may redeem himself, but just at present there is no superfluous amount of glory encircling him."31 Yaik lasted for about a week with the Iowa ball club, batting .111. He ended the 1889 season on the roster of the Grand Rapids club in the new Michigan State League.
Yaik was back behind the plate in 1890 as the Canton, Ohio Nadjys of the Tri-State League needed someone to catch their young phenom, Denton "Cy" Young. Apparently, the Nadjys had been frustrated locating someone to catch their fireballing righthander and decided a former major league backstop was required. Upon signing, Yaik said he had never seen a pitcher he couldn't catch. Young's prowess led to a short stay in Canton before joining the National League's Cleveland Spiders. On July 25, 1890, in front of 600 people at Canton's Pastime Park, Young allowed a single run and fanned 18 in his final minor league appearance. Young's pitches appeared to be "fired from a cannon" and "Yaik supported him finely" behind the plate.32
Following his stint with Canton, Yaik's baseball career took a hiatus. He took jobs as a factory foreman and as either an iron or steel molder in a Detroit foundry.33 He returned to baseball in July 1894, playing for the semi-professional Adrian, Michigan Light Guard Armory team. Adrian was attempting to become a significant baseball town and hired Yaik to catch teenaged hurler George Wilson, who went on to dominate "colored" baseball for the next decade. Newspaper accounts of Yaik's play noted his "steadiness behind the bat and his shrewdness as a player." In a win against the Hudson, Michigan Chaffs, the lefty Wilson fanned 11 and an Adrian paper praised Yaik's "excellent service in making a number of hot stops."34 The success in Adrian led Yaik to resume his minor league career the following season.
In 1895, Yaik played five games with his hometown Detroit Tigers of the Western League and later transferred to Ottumwa in the Eastern Iowa League. He hit .341 in about a three-week span while in Iowa and then he was no longer on the team. Those appear to be his last games as a professional baseball player.
Eventually, Yaik became an employee of the Detroit Street Railway Company, first as a trolley conductor and later as a night watchman, until his retirement in March 1932.35 He and his wife, Carrie (Zink), whom he had married in April 1887, lived in Detroit; the couple had no children.36 However, by 1930 they were raising the three teenaged daughters of Carrie's widowed nephew, William J. Carroll, while he worked as a professional baseball umpire.37
Five years later, on September 21, 1935, Henry Yaik died at the age of 71 from a series of ailments, including high blood pressure, heart disease, and diabetes. He was buried in Detroit's Mt. Elliott Cemetery. 38
Acknowledgments
This biography was reviewed by Sam Gazdziak and Rory Costello and fact-checked by Warren Corbett.
Notes
1 State of Michigan Death certificate; Find-a-Grave.
2 1872, 1873, 1877 J.W. Weeks & Company, Detroit, MI.; 1900 Federal Census.
3 "The Crack of the Bat," Detroit Free Press, January 20, 1889: 3.
4 Ibid; "Catcher Yaik Signed," Detroit Free Press, December 23, 1888:19; "Notes from Windsor," Detroit Free Press, December 25, 1888: 8.
5 "Catcher Yaik Signed," Detroit Free Press, December 23, 1888: 19.
6 "The Diamond," Democrat & Chronicle, Rochester, New York, March 25, 1888: 2.
7 "Base Ball," The Wheeling (West Virginia) Daily Intelligencer, March 26, 1888: 1.
8 Ibid.
9 The Sporting News, September 8, 15, 22 and 29, 1888.
10 "Sandusky Disbands," The Sporting News, September 8, 1888: 1; "The Tri-State League," The Sporting News, September 15, 1888: 1.
11 "Diamond and Turf," The Pittsburgh Press, September 27, 1888: 5.
12 "About the Diamond," The Pittsburg Press, October 21, 1888: 8.
13 "Another Cripple," Pittsburgh Post-Gazette, October 3, 1888: 4.
14 "Base Ball Briefs," The Pittsburgh Press, September 28, 1888: 4.
15 "Another Cripple," Pittsburgh Post-Gazette, October 3, 1888: 4.
16 "Sporting," The Pittsburgh Press, October 4, 1888: 4.
17 "Old Time Fun," Pittsburgh Daily Post, October 4, 1888: 6.
18 Ibid.
19 Ibid.; "Sporting," The Pittsburgh Press, October 4, 1888: 5.
20 "At O 'Day's Expense," Pittsburgh Commercial Gazette, October 4, 1888: 5.
21 "Base Ball Briefs," The Pittsburgh Press, October 5, 1888: 4.
22 "Sporting," The Pittsburgh Press, October 19, 1888: 5.
23 "Pluck Is Needed," The Pittsburgh Daily Post, October 8, 1888:6.
24 "Baseball Briefs," The Pittsburgh Press, October 17, 1888: 5.
25 "Caught On The Fly," The Sporting News, October 20, 1888: 2.
26 "Contracts and Releases," The (Chicago) Inter Ocean, October 9, 1888: 3.
27 "Catcher Yaik Signed," Detroit Free Press, December 23, 1888: 19; "Notes from Windsor," Detroit Free Press, December 25, 1888: 8.
28 "The Crack of the Bat," Detroit Free Press, January 20, 1889: 3.
29 "Sporting Matters: Base Ball," Detroit Free Press, March 27, 1889: 8.
30 "Yaik in the City," Detroit Free Press, April 9, 1889: 3.
31 "Quincy Gets There," The Daily Times (Davenport, Iowa), June 10, 1889: 4.
32 Jerome Holtzman, "Cyclone Young Retains Laurel as Hardiest Pitcher," Chicago Tribune, November 10, 1987: Section 4, 1; 7.
33 R.L. Polk, Detroit City Directory, 1891 and 1893.
34 Adrian Daily Times & Expositor, August 12, 1894.
35 R. L. Polk Detroit City Directory, 1899; 1900 Federal Census; Henry Yaik death certificate.
36 1900, 1910, 1920, 1930 Federal Census; State of Michigan marriage certificate.
37 1930 Federal Census.
38 State of Michigan death certificate.
Born
March 1, 1864 at Detroit, MI (USA)
Died
September 21, 1935 at Detroit, MI (USA)
If you can help us improve this player's biography, contact us.
https://sabr.org/sites/default/files/HenryYaik.png
600
800
admin
/wp-content/uploads/2020/02/sabr_logo.png
admin
2018-08-09 09:06:51
2020-04-09 14:38:42
Henry Yaik