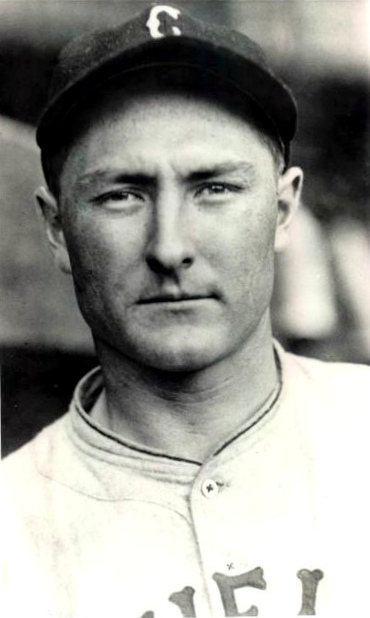 ---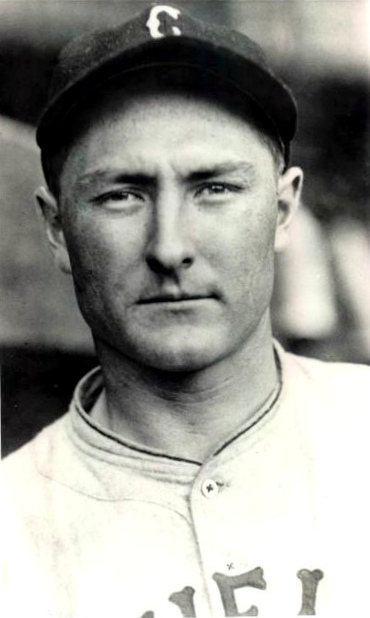 Homer Summa logged over 3,300 plate appearances and posted a .302 batting average in the major leagues. The Baseball-Reference list of highest career batting averages for players with 3,000 plate appearances has him at 191st. He is a mere .0001 behind Willie Mays.1 That is select company. As one of only 16 players who have hit into an unassisted triple play, he is in an even more exclusive group. On May 31, 1927, he came to bat for the Cleveland Indians with Glenn Myatt at second and Charlie Jamieson on first. He ripped a scorching liner at Johnny Neun, Detroit's first baseman. Neun gloved the ball, tagged Jamieson and then waved off the shortstop and ran to second to finish the play.
Homer Wayne Summa was born on November 3, 1898, to the farming family of Franklin Lester and Frances Matilda (Walker) Summa. His father was known as Lester and his mother was called Fanny. The family lived in Gentry County, Missouri. The oldest child, he was joined by brothers Walker Elwood and Franklin Lester. In the 1910 census there is no mention of his father. His mother was working as a telephone operator to support the family. A bright lad, Homer attended schools in Gentry through the 10th grade, then finished at Albany High School. He was valedictorian of the Class of 1915 and played on the basketball and track teams. He also took a turn onstage in the class play.
Homer learned his baseball on the sandlots and became an excellent shortstop and outfielder. He played for the local amateur team under the guidance of Lee Garvin, who had been in the Texas League. The local newspaper, the Albany Ledger, made frequent mention of Summa. He played locally, but also traveled to nearby towns and even into Iowa to play on weekends. In 1917, he and a local player named Russell Gill were recommended by Garvin for Waco in the Texas League. Waco had a veteran team and an 18-year-old would have had to be super to crack the lineup. It appears that Summa was sent to the Northern League with teams in Minot, North Dakota, Winnipeg, Fargo-Moorhead and Warren, Minnesota. The league disbanded in early July.2 He returned to Albany in mid-August, six weeks after the league folded. This could indicate that like many other players Summa stayed in the north and either joined a newly formed league in North Dakota or the Duluth-Mesabi League in Minnesota.
After graduation from high school in 1915, Summa took the teachers examination. He took a job in Gentry for the 1915-16 school year. He was most likely assigned to a one-room school because it was announced in February that school would be closed for a week because he had come down with the measles.3He resigned as a teacher in June and enrolled that fall in the University of Missouri in Columbia. He spent two years at the university, where he played baseball.
In the summer of 1918, Summa traveled to Akron, Ohio, where he found work with the Goodyear Rubber Company. More importantly, he found a spot in the outfield on Goodyear's baseball team. The squad won the regular-season city championship, but did not win the playoffs to qualify to represent Akron in national tournaments. That honor went to the General Tire team, which then added Summa to their roster. He played third base. He also fell in love and on Christmas Day of that year he and Willa Marie Lyman were wed in Akron. The couple traveled back to Missouri and spent the winter in Gentry.
The St. Louis Cardinals invited Summa to spring training in 1919. On April 8 they assigned him to Mobile in the Southern Association. He played center field there until July, when he became the property of the Birmingham Barons in the same league. His fielding drew praise but he was overmatched at the plate, hitting a mere .192, the lowest average for any player in the league with over 90 games. Summa returned to Birmingham in 1920, but he was batting .161 after 18 games. He was sent to Norfolk in the Class B Virginia League. His fielding continued to impress as he led outfielders with a .986 fielding percentage and piled up 21 assists, second in the league. He found his batting stroke and hit .351, but only 21 of his 147 hits were for extra bases. Norfolk sold Summa to Pittsburgh in August and he reported in September after the Virginia League schedule concluded. He had a pinch-hitting appearance on the 13th, then made his first start on September 17. He was in center field against Fred Toney and the Giants. Summa smacked three hits, including a double, in the 4-3 Pirates loss. The performance earned Summa five more starts and he closed out the campaign batting .318.
Summa and his wife returned to Gentry that winter. Pundits speculated that he would be the fourth outfielder for Pittsburgh in the coming 1921 season. But after spring training, the Pirates sent him to Rochester in the International League. The Colts were a youthful squad led by George Stallings. They finished a distant second to the Baltimore Orioles, but were destined to supply a load of talent to the majors. Summa led the team, playing in 166 games and amassing 218 hits. He also found a more powerful swing and belted a team-leading 70 extra-base hits. He hit .333, which trailed Bob Fothergill, Jim Mattox, and veteran Fred Merkle. At the close of the season, Summa's rights were returned to Pittsburgh.4
Manager Walter Salm of the Texas League Wichita Falls Spudders was on a mission to improve his ballclub. When training camp opened in March, he found himself with a hole in the outfield because veteran Bob Bescher was a holdout. Salm rectified the situation by purchasing Summa from the Pirates. It was a shrewd pickup as Summa went on to dominate league pitching. He won the batting title at .362. He also led the league in runs scored5 and doubles.
The Cleveland Indians were struggling and sent out a call to their scouts to send talent to the big club. The team spent over $50,000 during the summer inking players. Many were brought to Cleveland to work out under the watchful eye of manager Tris Speaker. Summa was purchased and became one of 46 players who put on Indians garb that year. Unlike many of his teammates, he stayed for years to come.
Summa saw his first action with the Tribe on September 17 against the Philadelphia Athletics. Playing right field, he had a single, double, and an RBI in the win. Speaker would use him in right field 11 more times that month. Summa responded with .348 batting average and seven extra-base hits, cementing a place in Speaker's future plans.
Summa won the right-field spot in training camp and opened the 1923 campaign on fire at the plate with consecutive three-hit games. He batted fifth in the lineup until July, when he was moved to second. Summa had been in a slump and the move reignited his hitting. Over the last 75 games of the season, he had 31 multi-hit games. He closed out the year hitting .328.
Homer Summa had developed into a decent ballplayer, but there would always be critics. He had good range in the outfield, but not enough to handle center field. He also had trouble with groundballs in the outfield. At the plate, he had an annoying tendency to waggle his bat. The critics accused him of not being set to swing and of swinging at anything that came his way. He needed to get set and be more selective.6 Every spring the Cleveland papers trotted out a list of challengers for his job. As a left-handed hitter, there was always a thought of platooning. That's how Summa spent 1924; then in 1925 a broken nose late in spring training kept him out of the starting lineup until mid-May. He never did win a regular spot and played only 75 games, batting .330.
The 1925 season was Summa's toughest off the field too. He and Willa lived in Cuyahoga Falls, outside Cleveland, and the marriage turned rocky. Willa filed for divorce, citing neglect and cruelty. In August a hearing was held in the Akron courthouse and Summa came "blustering into court like a lion." He refused to answer questions about his salary and domestic affairs until finally the judge cited him for contempt of court. He was fined $25 on the contempt charges and was also ordered to pay $20 a month to Willa and their daughter, Jennie.7 A final verdict would not be rendered until after the season closed.
In 1926 Summa regained his starting spot. The Indians were a very streaky team. They stood 21-22 when Summa was moved to leadoff. During a June homestand they went 12-6 and Summa won praise for his work at the top of the order. But he was soon moved back down in the lineup. That season was his best for stolen bases with 15. Oddly, only one of them came as a leadoff hitter.
That winter, Homer married Clevelander Gertrude Donnelly on December 31. The couple would stay together until Homer's death. Gertrude died in 1971 and is buried beside her husband. The couple had two children, Homer Wayne Jr. and Audrey Ann.
Summa held down the right field spot in 1927-28 for a pair of lackluster teams. Managed by Jack McCallister, the 1927 squad finished in sixth place. Under Roger Peckinpaugh they finished seventh the next year. Management felt the need for a complete rebuild and Summa was sold to the Philadelphia Athletics. It was a case of going from the outhouse to the penthouse for Summa. The Athletics team in 1929 broke the Yankees' grip on the pennant, then followed up with another crown in 1930. Summa was a pinch-hitter for the most part on these teams. He made a World Series appearance in 1929 and struck out in his only at-bat. He earned over $5,600 for his cut of the World Series money.
The Athletics farmed Summa out to Portland in the PCL for 1930, but brought him back for duty in August. As a result, he was voted a half-share of Philadelphia's World Series cut. Just over $2,500 came in handy as the Depression worsened. The family used some of those winnings to move to the West Coast. In 1930, Summa had been paid approximately $1,300 a month while with Portland because he was under a major-league contract. In 1931 he was sent outright to the Beavers and they offered about $750 a month. Summa balked at the pay cut. Rather than have a disgruntled veteran, the Beavers traded him to the Missions in mid-March for Fred Berger.8
On April 3, the Missions swapped Summa to Los Angeles for Jimmy Welsh. He played left field the next two years for teams that finished in the middle of the standings. In 1933 Summa closed out his professional career with Seattle. A broken hand in June forced him to miss time and he found himself relegated to bench duty. He closed out his minor-league career with over 1,000 games played and a .316 average.
The family lived in Los Angeles and Summa began a 30-year career with the Bank of America as a teller and cashier. He played semipro ball for a few years in the Los Angeles area. On January 28, 1966, he was suddenly taken ill and was taken to a hospital where he died the next day.9 He is buried in Grandview Memorial Park in Glendale, California.
Acknowledgments
This biography was reviewed by Len Levin and fact-checked by Alan Cohen.
Notes
Born
November 3, 1898 at Gentry, MO (USA)
Died
January 29, 1966 at Los Angeles, CA (USA)
If you can help us improve this player's biography, contact us.
https://sabr.org/sites/default/files/SummaHomer.jpg
600
800
admin
/wp-content/uploads/2020/02/sabr_logo.png
admin
2017-10-19 13:15:04
2020-04-09 14:40:30
Homer Summa