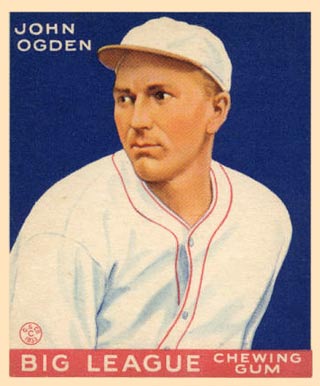 ---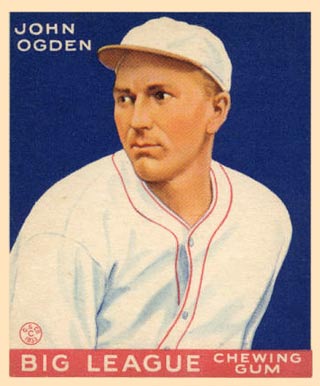 John Mahlon "Jack" Ogden played in the major leagues for fewer than five unremarkable seasons but he left his mark on baseball in other capacities: as the pitcher with the most victories in International League history and as an executive and scout for four decades.
In an era when unaffiliated minor-league teams paid their star players well enough and priced them high enough to keep them for as long as possible, Ogden pitched eight seasons for Jack Dunn, owner and manager of the Baltimore Orioles. The team won six of its seven consecutive International League pennants during Ogden's tenure. Four of those Orioles teams were ranked among the minor leagues' 19 best ever in the twentieth century.1
Ogden won more than 20 games six times for the Orioles, with seasons of 31, 28, and 27 victories. For five years, Lefty Grove (he was "Bob Groves" then) was his Baltimore teammate. Ogden won 213 minor-league games — all in the IL — while losing 103, a .674 winning percentage with a 3.36 earned-run average. He was inducted into the IL hall of fame in 1952.
Ogden was 25-34 in the majors, with 15 of those wins coming at age 30 as a starter for the St. Louis Browns. He had pitched briefly 10 seasons earlier for the New York Giants, but had no decisions in five relief appearances. His major-league career ended in 1932 after two seasons with Cincinnati.
Ogden was born in Ogden, Pennsylvania, part of what is now Upper Chichester Township, southwest of Philadelphia. An Ogden family ancestor came to America from England on the same ship as William Penn. Like Penn, the family members were Quakers. The Ogden family had lived for generations on land in the town, which became known as Ogden Station when a railroad came through. The town's name soon was shortened to Ogden.2
His parents were Harvey T. and Violet W. Ogden. His father was a dairy farmer while simultaneously serving as the longtime supervisor of roads and a member of the township commission. John — he was known as Jack only during his playing career and was usually called John after it — was the oldest of four brothers. The youngest, Edward, died at age 4 in 1907. John was born on November 5, 1897. His brother Carroll, who went by Tim most of his life, was born in 1899 and brother Warren, known as Curly because of his hair, in 1901. Curly Ogden would later pitch for the Philadelphia Athletics and the World Series champion 1924 Washington Senators.
Growing up, all three brothers worked on the dairy farm. "We had to get up at 4:30 in the morning to milk the cows and get the milk to the 6 o'clock train," John recalled in December 1972. "We would take that same train to high school in Chester. We would be in town before the city boys were out of bed."3
John, Tim, and Curly starred in football, basketball, and baseball at Chester High School, which years later sent Danny Murtaugh and then Lew Krausse to the majors. In addition to playing on the high-school team, John also played with older, more advanced, competition in the Delaware County League. Several former major leaguers played in the league.
At age 15, John was recruited to pitch for the first time in the "Delco" semipro league. He won. The team manager, accustomed to paying a pitcher $50 to $75 a game, asked the young man how much he owed him. "Would $5 be too much?" Ogden asked meekly.4 By the end of high school, the right-handed Ogden had grown to an even 6 feet. His playing weight during his career was about 190 pounds.
John, Tim, and Curly all earned degrees from nearby Swarthmore College, and the three again played football and baseball. John and Curly also played basketball.
The Giants' John McGraw signed John Ogden out of college in June 1918 for a $1,200 bonus and brought him straight to the majors.5 He debuted at Brooklyn on June 22, 1918. He faced three batters, hitting one but inducing a double play. He didn't give up a run in his first four short outings, but he surrendered three over four innings in his final relief appearance before McGraw sent him across the Hudson to Newark in the IL. Although his won-lost record was just 5-5 there, he compiled a 1.48 ERA over 79 innings.
In 1975, Ogden told his hometown newspaper that his roommate during his brief time with the Giants in 1918 was the great Olympian Jim Thorpe.6 "Ogden joined the Giants at the close of the college term and looked like a winner," The Sporting News wrote, "but McGraw was overburdened with pitchers at the time."7
Just after New Year's in 1919, Ogden and future Hall of Famer Waite Hoyt were among five players the Giants traded to Rochester in the IL for highly touted catcher Earl Smith. (Hoyt never reported to Rochester and was eventually dealt to New Orleans. The Giants also optioned two players to Rochester.) Ogden was 10-13 as a starter for a mediocre Rochester team, but his ERA was 2.37. Apparently that wasn't enough to impress Rochester's management, which agreed to sell Ogden's contract to Baltimore's Dunn for $1,000.8
That fall, Ogden had returned to complete his class work at Swarthmore and was awarded his bachelor's degree in June 1919. Also the same offseason, Ogden was officiating high-school basketball games in Delaware County and leading a group of college and former high-school players on a basketball team called the Swarthmore Travelers. His brother Curly also played on the team.9
Dunn obviously saw Ogden's potential. "He obtained one of the most attractive bargains of his baseball career. … The collegian proved to be the kind of pupil wise old Dunn loves. He never grew tired of trying to learn," The Sporting News wrote in 1926 about Ogden, by then often referred to as "Swarthmore Jack."10
Ogden married Swarthmore classmate Dorothy Wills Young in April 1920. Their only child, John M. Ogden Jr., was born in July 1923. Dorothy Ogden became an English teacher at Chester High School and was active in local politics during the 1920s and '30s.11
Ogden quickly became a fixture with Dunn's Orioles, teaming with Grove and then George Earnshaw to lead a formidable pitching staff that dominated the IL through the 1925 season. Ogden won 10 games in that span against the American Association champions in the postseason Junior World Series. By 1927, in an effort to keep Ogden, Dunn was reportedly paying him more than the Yankees were paying Lou Gehrig.12
Still, "there wasn't the money in baseball then," Ogden told John F. Steadman of the Baltimore News-Post in 1963. "Most of us felt we'd do just as well with Dunn's Orioles as any place else."13
In addition to his record 213 victories, Ogden still holds several single-season IL pitching marks, his 18 consecutive victories and 33 complete games in 1921 among them. In 1968, he was inducted into Baltimore baseball's Shrine of Immortals.14
Ogden was active for much of his life in amateur sports in his home county during the offseason. In 1923, he became the football, basketball, and baseball coach at Swarthmore Preparatory School, where he stayed until the private school closed in 1930. His football teams had three consecutive undefeated seasons and his basketball squads sent many players on to college teams.15 He continued to officiate at high-school and college basketball and football games into the 1940s. Ogden was inducted into the Delaware County Athletes Hall of Fame in 1956.
Dunn finally let Ogden go after his Orioles team started to fade in 1927. He sold Ogden to the St. Louis Browns for two younger players and $12,500 in January 1928.16 When the famous Baltimore owner died in October, Ogden was an honorary pallbearer at his funeral.17
Ogden had a so-so year with the Browns, going 15-16 for a team that finished 10 games over .500. He stared 31 of the 38 games in which he appeared, completing 18 of them, and threw a shutout. But the 23 home runs he allowed were the most off an American League pitcher. The next season, he started only 14 games, completing seven, but fell to 4-8 with an ERA just under 5. He pitched 20 times out of the bullpen and threw 111 fewer innings than in 1928. His 1-0 loss on April 22, when he balked home the only run, was perhaps an omen for the season.
Cincinnati claimed Ogden on waivers from the Browns in May 1930, but he didn't pitch professionally that season because of illness. "Ogden went down with a nervous ailment and decided to go on the … retired list," Sam Murphy of the New York Sun wrote. "He fought to get back into his old health," and made the Reds' pitching staff out of spring training in 1931.18
He rewarded the Reds' faith in him with a 7-2 victory against the Cardinals on May 31, a game that ended Cincinnati's 25-game losing streak in Sportsman's Park. The Reds hadn't won there since April 1929. On July 15, Ogden beat the Braves 1-0 in Boston, his second career shutout. Although he pitched in just 22 games, starting nine, he had a career-best 2.93 ERA. The Reds finished last, losing 96 games, so Ogden's 4-8 record was hardly indicative of his performance.
Ogden couldn't repeat his effectiveness the following season. Again used sparingly and experiencing arm trouble, he saw his ERA rise to 5.21. He started just three times and pitched his last complete game on June 14, beating Philadelphia 5-2. That also would be his last major-league victory.
Unlikely to make the Reds' staff after spring training in 1933, Ogden was traded in early May with Leo Durocher and Dutch Henry to the Cardinals for Paul Derringer, Sparky Adams, and Allyn Stout. Durocher and Derringer were the big names. St. Louis sent Ogden to Rochester, which let him go back to Baltimore before he appeared in a game. At 35 and after throwing more than 3,100 innings, his arm was starting to give out. He made one appearance for the Orioles.
That fall, with Baltimore looking for a new general manager, Ogden applied for the job. A local hero and a college graduate, he was hired, beginning a six-year run of financial success for the IL franchise. Ogden proved astute at getting solid returns for the players the Orioles sent to the majors, even if the team did not repeat the historic run of success it had under Dunn in the 1920s.19
"He was a master at buying a broken-down castoff, steering him toward a good year and then selling him back to the majors at a remarkable turn of profit," Steadman wrote of Ogden in 1963.20
Ogden was willing to take on tradition. In the mid-1930s he proposed that umpires be required to have eye exams, and if they needed them, to be fitted with glasses. Laughable as it sounds now, he was voted down by International League officials, loath to admit that many umpires had less than perfect vision. The Sporting News endorsed Ogden's idea with an editorial.21
To reduce injuries, Ogden suggested that baseball players start wearing rubber football cleats instead of metal spikes. He had his Orioles team try cleats one spring and said they provided traction as good as spikes.22 He never got permission to replace the metal spikes, however.
Perhaps Ogden's most lasting innovation, for which he was not the only advocate but certainly a prominent one, was his belief in offseason promotion of the game with scheduled appearances of players and the screening of league highlight films. He wanted his players to interact with the fans.
"Selling your club to the fans means something more than merely putting a team on the field during the season," Ogden told The Sporting News. He arranged for several players each offseason to remain in the Baltimore area, not just to attend his promotional events but also to follow workout regimens at local gyms. The Orioles contingent often drew crowds of several hundred to school and college auditoriums, likely making new fans for the team and for baseball.23
Ogden obviously kept busy in the offseason. When professional football tried to gain a foothold in Baltimore during the 1930s, Ogden was part of it. In 1937, he served briefly as general manager of the Baltimore Blue Birds in the Dixie League. At the same time, he was the basketball coach at the University of Baltimore in the 1936-37 season.24
In the late 1930s as more major-league franchises began acquiring minor-league affiliates and developing formal working agreements, Ogden apparently realized the Orioles' long existence as an independent team was in jeopardy. He negotiated an agreement with the Phillies and their owner, Gerald Nugent, under which he moved up to Philadelphia effectively as its first farm director, with the Orioles operating as the top farm team.25
During the 1930s and into the '40s, Ogden continued officiating college football at an increasingly higher level. In 1940, he was on the field for games involving Duke, Penn State, and Army.26 He and his wife and son by then had moved to a farm in Oxford, Pennsylvania, not far from John's boyhood home.
The development of players in the new farm system didn't come fast enough to save Nugent's ownership. After the woeful Phillies lost 111 games in 1942 and with his fortune exhausted, Nugent was forced to sell. Ogden, realizing Nugent didn't have the money to sign the best talent, had left the team the year before. With the war raging, Ogden went to work in a defense job in 1942 at the Sun Oil Shipyard on the Delaware River outside Philadelphia. By then, he had become a minor-league team owner himself.27
Building on his management experience, Ogden made an audacious move as he left the Phillies, buying the Eastern League's Elmira Pioneers franchise from the Brooklyn Dodgers for $7,500 in February 1941. In a dispute with local management, the Dodgers had stripped the team of most of its players, meaning Ogden had to fill a roster from scratch. That he did. His Elmira team finished third and went on to win the league championship in the playoffs.28 During the season, he developed an affiliation with the Detroit Tigers.
By this time, Ogden's son and namesake, John Jr., had followed his father into Swarthmore and was playing basketball and pitching for the college teams.29 When the school year ended, he helped with the Elmira team before his dad had to give up the franchise in March 1943 — a move made necessary by poor attendance and a shortage of players. John Jr. married early in 1944, months after entering the US Army. He shipped out to France in July.
On August 8, 1944, Pvt. John M. Ogden Jr. was killed in action near St. Lo, France. In February 1972, his former teammates donated a new scoreboard for the Swarthmore gym in his honor.30
Before his son was killed, Ogden had begun coaching sports at Prospect Park High School while the full-time faculty coaches were serving in the military.31 Although he stepped aside for the fall football season after his son's death, Ogden stayed on at the school until the following August, when the previous coaches were returning from the military.32
With most major-league teams expanding their farm systems as the war ended, Ted McGrew, scouting director for the Braves, hired Ogden to scout the mid-Atlantic region for Boston.33 Ogden stayed with the Braves until moving to the Cincinnati scouting staff in 1952. He returned to the Milwaukee Braves for the 1953 season with responsibility for Pennsylvania, Maryland, and Delaware.34
Midway through the 1959 season, Ogden became a scout for the Phillies. The man who led the Braves to three World Series, general manager John Quinn, had resigned to take on the task of rebuilding the Phils, and several of his longtime scouts followed him.35
After joining the Phillies staff, Ogden came across the player he described as "my best find." Dick Allen received a $70,000 bonus in 1960 when Ogden signed him for Philadelphia. At that time, it was the largest bonus ever given to an African American player. What gave Ogden the edge was his willingness to sign Allen's older brother at the same time — not that Hank Allen was unworthy. He reached the majors himself with the Washington Senators. Ogden signed a third Allen brother, Ron, in 1964. Ron Allen played briefly for the Cardinals in 1972. "I scouted 90,000 players in my lifetime," Ogden said years later. "Dick Allen was the greatest I ever saw.36 He "had more power to all fields than any man I've seen."37
Ogden remained a full-time scout for the Phillies until his retirement after the 1971 season.38 The year before, Phils owner Bob Carpenter and his son Ruly were among the many baseball figures who attended a 50th wedding anniversary celebration for John and Dorothy Ogden.39
Ogden spent his last years doing some part-time scouting for the Phils close to his Chester County farm. His brother Curly had died in 1964 and brother Tim would die in 1974. Both lived on their parents' farm until shortly before their deaths.
John Ogden died on November 9, 1977, four days after his 80th birthday, at Lankenau Hospital, just outside Philadelphia. His wife, Dorothy, died in 1982. Both are buried at Oxford Cemetery in Chester County.
Acknowledgments
This biography was reviewed by Len Levin and fact-checked by Kevin Larkin.
Notes
1 Bill Weiss and Marshall Wright, https://milb.com/milb/history/top100.
2 Eileen Shomo, "Ogden Era Ends in Upper Chi," Delaware County Daily Times (Upper Darby Township, Pennsylvania), December 29, 1972: 13.
3 Ibid.
4 Bill Burk, "Sports Shorts," Chester Times, April 17, 1946: 12.
5 Ed Gebhart, "Another View" column, Delaware County Daily Times, April 27, 1970: 15.
6 "John Ogden to Be Saluted at Old Timers' Banquet," Sports Briefs, Delaware County Daily Times, January 15, 1975: 13.
7 Weiss and Wright.
8 Charles J. Foreman, "It Was Will to Win That Killed Jack Dunn," The Sporting News, November 1, 1928: 3.
9 "Liberty Basketball Quintet Loses First Game of Season, Chester Times, January 3, 1919: 12.
10 Don Riley, "Maybe the Price Has Jack Ogden Stymied," The Sporting News, December 23, 1926: 2.
11 Gebhart.
12 Ibid. Although Ogden's salary undoubtedly was substantial for a minor leaguer, Michael Haupert's research on contracts (Baseball-Reference.com) shows that Ogden's major-league pay never exceeded Gehrig's.
13 John F. Steadman, "The Orioles' Daze of Wine and Roses," Baseball Digest, October-November 1963: 61.
14 "Salute to Ruth Marks Shrine Night," The Sporting News, August 17, 1968: 8.
15 Riley, "Maybe the Price."
16 "Good Ones Often Enter Back Door," The Sporting News, January 19, 1928: 1.
17 Riley, "Baltimore Knows There Was but One Jack Dunn," The Sporting News, November 1, 1928: 2.
18 "Scribbled by the Scribes" column, The Sporting News, July 16, 1931: 4.
19 Editorial, The Sporting News, August 24, 1939: 4.
20 Steadman.
21 Edgar G. Brands, "Ogden Urges That Umps Wear Glasses, but Fellow Moguls Say Nay," The Sporting News, February 14, 1935: 3, 4
22 "Cleats vs. Spikes," editorial, The Sporting News, January 3, 1935: 4.
23 C.M. Gibbs, "John Ogden, Former Pitcher, Chucking New Curves Over the Plate as Baltimore Orioles General Manager," The Sporting News, April 30, 1936: 7.
24 "Gerry Nugent and John Ogden Kiwanis Guests," Chester Times, November 28, 1939: 11; "John Ogden to Control Phils' Rebuilding Job," Chester Times, August 15, 1939: 11.
25 James C. Isaminger, "Better Days Seen for Phillies With Engagement of Ogden," The Sporting News, August 24, 1939: 1.
26 Burk, "Sports Shorts," Chester Times, October 22, 1941: 16.
27 Burk, "Sports Shorts," Chester Times, November 20, 1942: 22.
28 Burk, "Sports Shorts," Chester Times, October 22, 1941: 16.
29 "Johnny Ogden Jr. Loses for Garnet," Chester Times, May 1, 1941: 27.
30 "Ex-teammates Honor John Ogden Jr.," Delaware County Daily Times, February 18, 1972: 18.
31 "Caught on the Fly" column, The Sporting News, October 21, 1943: 14.
32 "Ogden Leaves Prospect Park," Chester Times, August 10, 1945: 14.
33 Brands, "Big Leagues' Bush-Beating Army Bulges to 227," The Sporting News, April 18, 1946: 15.
34 "Major Flashes" column, The Sporting News, February 25, 1953: 31.
35 Bob Wolf, "Braves Bashers Bit Dust When They Tried to Bunt," The Sporting News, November 25, 1959: 16.
36 Jay Jaffe, "The Cooperstown Casebook Case Study: Dick Allen," Baseball Prospectus, July 25, 2017, accessed online, https://baseballprospectus.com/article.php?articleid=32361.
37 "Phils Scout John Ogden Steps Down," Delaware County Daily Times," January 26, 1972: 24.
38 Ibid.
39 Gebhart.
Born
November 5, 1897 at Ogden, PA (USA)
Died
November 9, 1977 at Philadelphia, PA (USA)
If you can help us improve this player's biography, contact us.
https://sabr.org/sites/default/files/OgdenJack.jpg
600
800
admin
/wp-content/uploads/2020/02/sabr_logo.png
admin
2017-10-23 13:53:20
2020-04-09 14:40:30
Jack Ogden